59% of project managers will run up to 5 projects simultaneously, so it is easy for some or even all of them to fail without proper planning. One of the key elements of planning for a project is having a clear scope of work from the start.
A well-written scope of work ensures all the project deliverables are clear, making the project implementation easier as you know what is expected of you.
But, there are some things that you have to understand about the scope of work, such as what it is, its benefits, its key elements, and how to write a successful one.
This article explains all this in detail. Let's start by defining what the scope of work is.
What Is a Scope of Work (SOW)?
At its most basic definition scope of work is a document that clearly outlines what you need to do for a certain project. It is usually an agreement between the project manager and the clients on what should be done for the project to be considered complete or successful.
Also, these documents make it clear to everyone on your team what they should be doing to meet the project objectives.
An SOW is typically used for projects that entail working with or for people outside your business, and so they need to fulfill the following conditions:
Highly detailed about all project goals and tasks to be performed
Use clear language that everyone involved in the project can understand
Have a clear project schedule
Highlight the major phases of the project
List all the project deliverables
Explain all other services to be offered that are not core for the project
Why Do You Need a Scope of Work for Project Management?
It is easy to run into issues like scope creep and additions when working on a project as you try to make it more successful and appealing to the client.
However, in most instances, these extras are unnecessary, and you will not get any value for them, hence the need to make the agreed-upons clear from the onset with a scope of work.
SOW is more like a map that will guide any project from start to finish by ensuring you do all the tasks the client expects and do not do any extras that will not get paid.
An SOW will also be important in establishing accountability for both the project manager and client. The document eliminates any ambiguity by clearly stating both parties' expectations in the agreement.
You will also need an SOW to avoid miscommunications and disputes on responsibility among your team, as the work scope will be clear for everyone. If employees do not know what is expected of them, they will rely on assumptions, which can derail the implementation of the project.
Other issues like "selective amnesia" that often lead to expensive reworks and redos are also easy to avoid with a scope of work. The employees have something to refer to if they cannot remember what they need to do.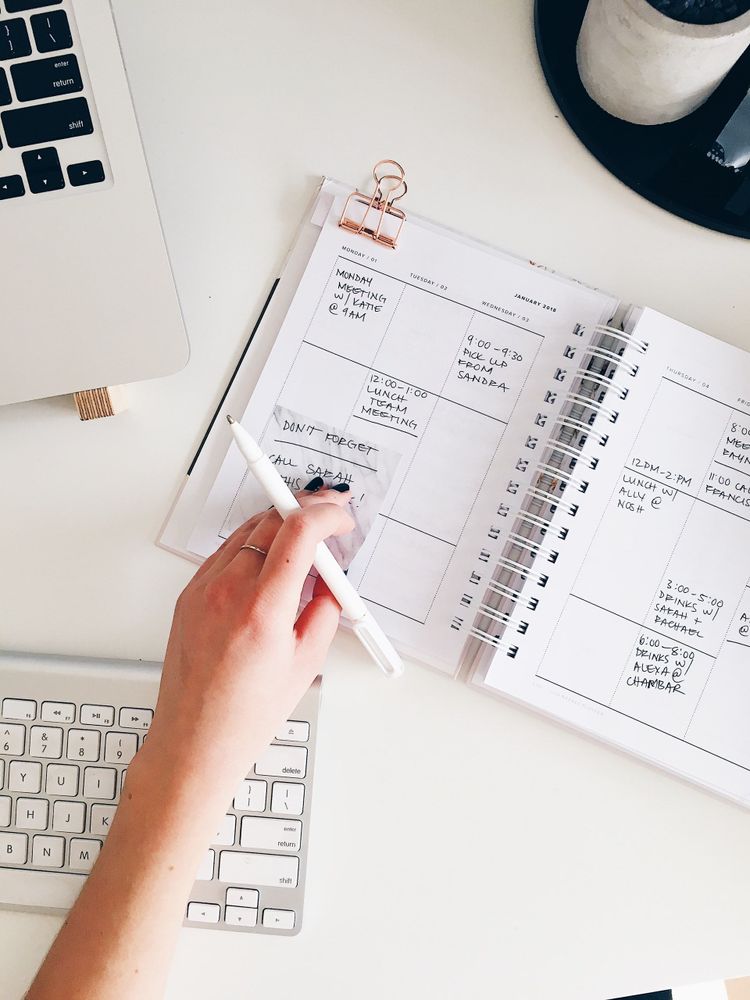 Should You Use a Scope of Works Template?
The scope of work template will simplify things for you as you will not need to craft the document from scratch. These templates already have all the important sections outlined and well-organized to ensure you only need to fill out the form.
Templates help save you time and effort when creating a scope of work as there is less work for you to do.
Additionally, using a template allows you to create a more professional-looking document that will give your clients confidence that you know what you are doing and can trust you.
Templates also ensure that the scope of work document you use has the right language and hence is easier to understand for all parties.
Not just any template will work for you, so you have to choose carefully. An easy way to do this is by using online tools like Indy that provide a scope of work templates for different industries and are also useful for other things related to the project.
Indy will be useful for sending proposals, invoicing, and getting paid as it has tools to support all the project stages.
Basic Elements of a Project Scope of Work
Every good SOW should include a few basic elements:
1. Project Description and Definitions
While project description might sound obvious, it is still important to clarify your scope of work.
It would be best to start by defining all the wording and terminologies that you feel are crucial for the project, as this will help prevent disputes, confusion, and litigations. The goal is to make sure that every term you use is clear for all parties. Definitions are even more crucial for certain jobs, such as construction projects, since there is a lot of jargon and abbreviation.
It is also a good idea to provide a project overview with a short but concise description that explains all the critical objectives to ensure everyone is on the same page.
2. Project Goals
When pitching for the project, you should identify the problem you intend to fix. Once you state the problem, you also need to develop solutions to fix it. These solutions are the project goals that should guide you during the implementation stage.
The goals should include specific expected results to ensure you know what you are working towards. For example, if the project is for SEO services, you should clearly state the expected results, such as increasing traffic and improving page rankings.
3. Project Schedules and Milestones
You have to make the project schedule clear. Make sure your scope of work clearly states when the project will start and when you expect it to end.
If there are projects that have milestones and phases with specific timelines, it is also crucial to state them. Having clear milestones ensures there is something you can use to track the project's progress and measure whether things are going well.
4. Individual Tasks
An SOW should include individual tasks that you should complete for the project to move to the next stage and ultimately to completion.
It will be easy to assign particular tasks to teams or individuals so that everyone knows what is expected of them and their contribution to the project's success.
5. Technical Details
Every SOW should include technical details that explain the specific methods and techniques to be used to execute the project.
The technical details should also include an evaluation of success criteria which both the project manager and client can use to measure outcomes.
6. Payment
You should not forget to include payment matters in your scope of work. Make it clear how much the project will cost and the payment modes that will work best for you and your team.
If you are unsure about the costs when starting, it is still important to provide estimates and make it clear that they are just estimates and not the final cost.
7. Terms and Conditions
The scope of work should also have terms and conditions. Define the terms for engagement as they help create a harmonious working environment and ensure there are clear ways of resolving disputes in case they arise.
Tips for Writing Successful SOW
With the many scopes of work examples and online templates, it should be pretty easy to write one. However, the goal should be to write an effective one that will add value to your project and not just any generic project.
Here are some tips to help you create a perfect scope of work document:
1. Make Sure All Goals are Reasonable
While it is always good to have ambitious goals and high expectations for any project, it is still important to make them reasonable.
Make sure you only set goals and expected outcomes you know you can achieve and make the wording clear so that any parties involved can quickly reference them when measuring project success.
Also, make sure the goals and objectives you set state all the materials required for the tasks. This way, everyone working on the project will know what they need to do and how much time they have.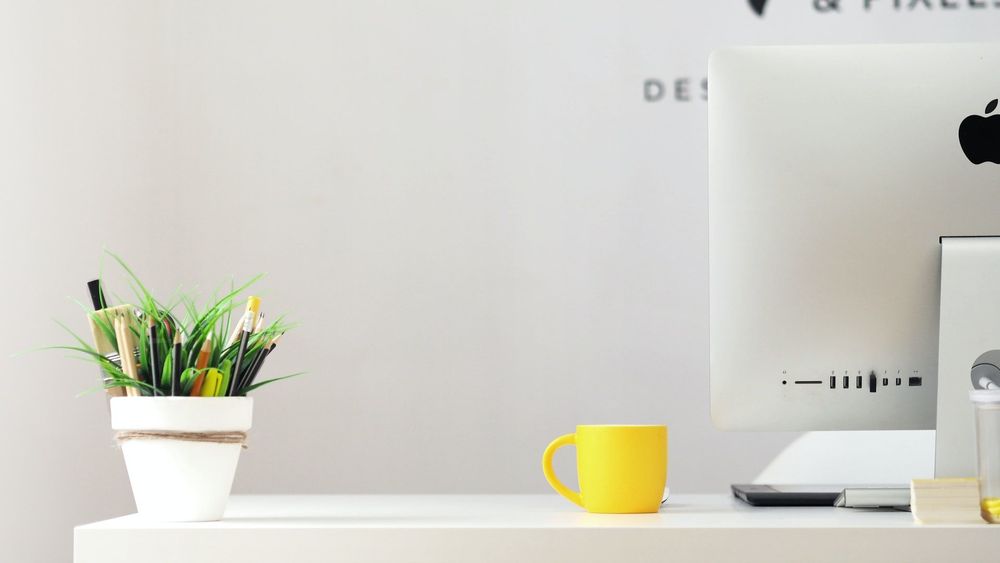 2. Make Use of Visuals
It is always better to show what you are talking about instead of explaining it through writing. Remember that up to 90% of the information transmitted by the human brain is visual, so it will always be easier to catch the attention of your target audience with visuals.
Using pictures, graphs, charts, and drawings make it easy to explain your goals and is an effective way of minimizing misunderstandings.
And you do not always have to create sophisticated plans and models using software since simple sketches can also be effective enough at explaining your points.
3. Involve Your Team
It is important to involve the team as you create a scope of work. Involving others relevant to the project will ensure you get their input which is very useful since they will play a crucial role in its implementation.
Teamwork from the onset helps create a collaborative work environment and fosters cooperation, which is crucial for executing projects. Also, it makes the team more familiar with project specifics since they were involved in creating the scope.
4. Keep Your Statements Clear and Concise
Clarity should be at the top of your mind when crafting and SOW, as the general rules for business writing still apply. Aim to make your document as clear and concise as possible when explaining the scope of work and business objectives.
While there are several things you can do to ensure conciseness and clarity, it always helps to use fewer words and an active voice when writing your scope of work. Also, try to use an actionable tone and make the language easy to understand for everyone involved.
5. Have All the Relevant Parties Sign Off
A good scope of work should accommodate signatures from all the relevant parties in the project, whether they are subcontractors or regular employees.
Make sure that each person signs off on the scope of work to show they understand the project scope and that each one knows what they need to do.
Signing the scope of work indicates that the relevant parties have read and understood their objectives. If the project has milestones, it will be better to have the subcontractors sign off every time an individual milestone is achieved.
Also, make sure the document includes a sign-off process for the client and spaces for other business representatives' signatures.
6. Always Keep Your SOW Relevant to the Project
A simple and general SOW is easier to write, but you should avoid the temptation of using it for your projects. Besides making your document generic, using a general free scope of work templates is not good if you want to present yourself as a professional.
If the SOW is for a construction project, use a template and style that suits the particular industry. Also, everything else, including your language and choice of words, should be relevant to the specific industry.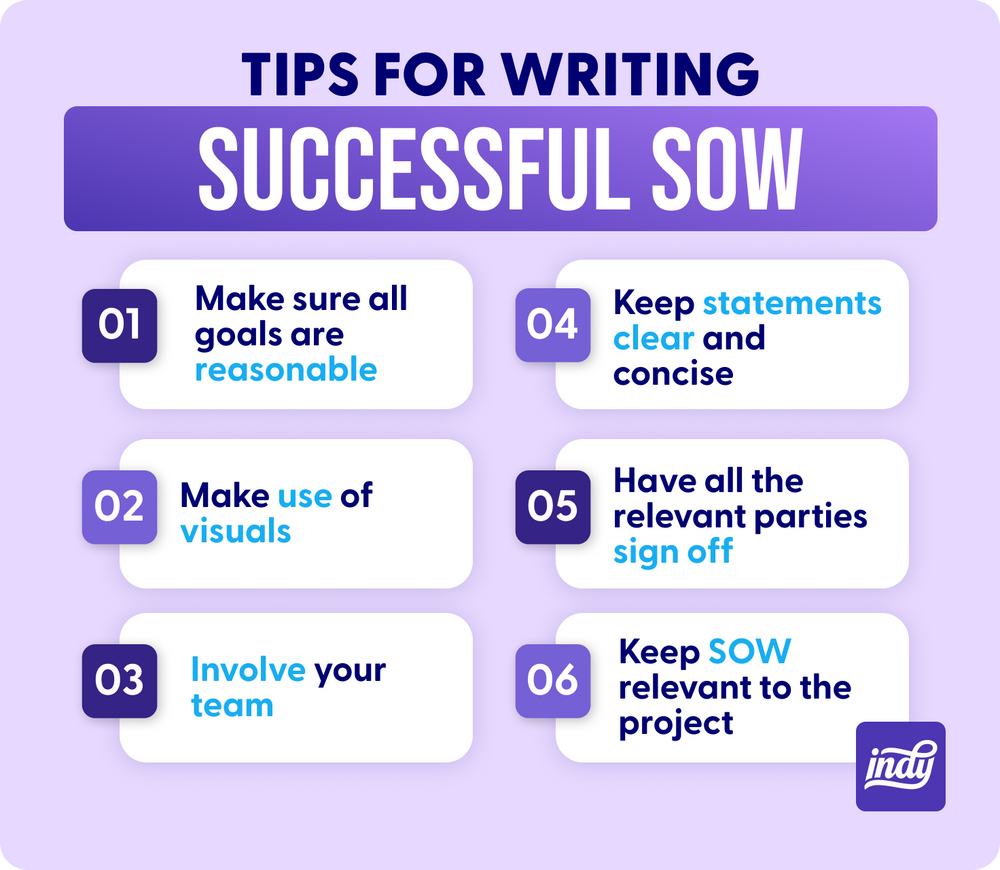 Common Challenges When Creating SOW
Whether you are creating a scope of work for a construction job or even a government agency, there are some common challenges you are likely to face. These challenges include the following 4:
Not Knowing How to Structure the SOW
If you do not have a scope of work example that you can use for inspiration, you are likely to have difficulties when it comes to structuring the document.
A project scope needs to have a good structure that starts with the introduction and covers several other project requirements like:
Project schedule
Project deliverables
Task list
Technical requirements
Adoption plan
Project management.
Scope Creep
Scope creep is one of the most common challenges you will likely face in your SOW creation process. It will typically happen when the client provides extra changes to the project by assuming that they are already accounted for in the SOW.
Scope creep can prolong the project timelines and mean you have to incur extra costs to execute the project, which the client might not be ready to cover.
The best way to avoid scope creep is to make everything clear in your project overview and ensure that you agree on the specific goals to be on the same page with the client.
Lack of a Skilled Team to Help Out
Even a simple scope of work should have some input from your team members. Therefore, it can be a problem when they lack the necessary skills to help you write the document.
The lack of a skilled team can slow up the project planning process significantly and make implementation hard. Team members first need to familiarize themselves with their scope of work.
Bottom Line
A scope of work is a powerful tool that can help keep everyone on your team focused and accountable for their work. Also, it is essential when entering any formal agreements with clients as it explains to them what to expect from you.
However, it is even more important to make sure you create a solid SOW that is well-written and shows you are a professional that knows what to do. You can achieve this by bringing in your team to help you and using a good scope of work templates.
Finally, be careful not to fall victim to common SOW challenges such as scope creep, as they will make your document less effective.