Are you a freelancer in search of the perfect CRM solution to manage your client relationships? While HubSpot is a popular choice, there are a myriad of other options out there. With so many different software platforms to choose from, it can be overwhelming to know which one will work best for your unique needs. Luckily, there are several excellent alternatives to HubSpot that can help you streamline your workflow, keep your clients happy, and take your freelance business to new heights.
In this article, we'll reveal 6 top choices for your inbound marketing automation software that are sure to make your decision-making and lead management process a breeze. Get ready to discover the perfect CRM solution that will take your business to the next level!
Benefits of a CRM and marketing automation software
As a freelancer, managing client relationships is crucial to success. That's why it's essential to have a powerful CRM solution in your toolkit. But what specific benefits can you expect from using CRM software? Here are five key advantages:
Customer lifecycle mastery: Keep track of customer interactions, preferences, and needs to deliver more personalized service and build stronger relationships.
Streamlined operations: Automate routine tasks like email campaigns, appointment scheduling, and invoicing to free up more time to focus on delivering high-quality work.
Improved collaboration: Stay connected with your clients and collaborators on the go with mobile access to your CRM platform.
Increased workflow: Organize projects, tasks, and deadlines to stay on top of your workload and deliver results more efficiently.
Profit boosting: Track key metrics like revenue, customer acquisition costs, and customer lifetime value to make data-driven decisions that optimize your business performance.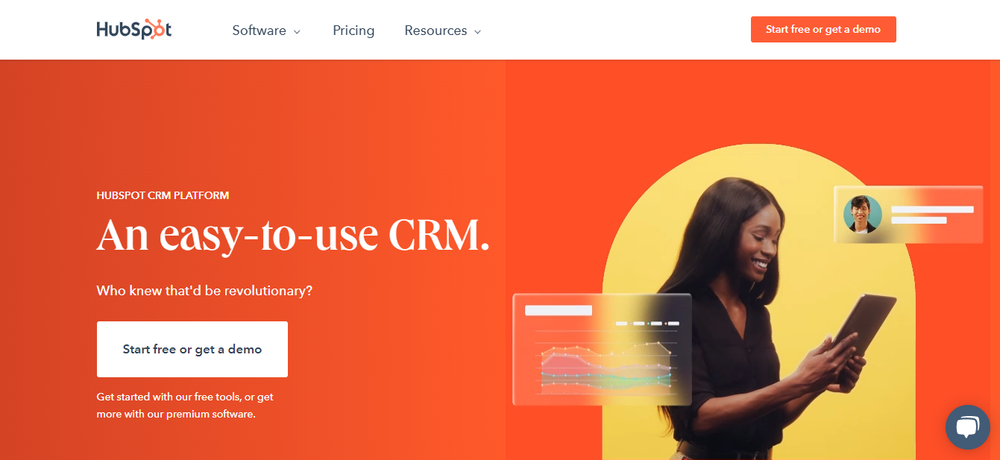 The benefits of using CRM software as your inbound and email marketing tools as a freelancer are many and can help you achieve greater success in your business.
HubSpot CRM overview
Are you tired of juggling multiple platforms to manage your freelance business? Look no further than HubSpot CRM, a cloud-based platform that provides powerful software, integrations, and resources for marketing, sales, content management, and customer service.
Founded in 2005 by Brian Halligan and Dharmesh Shah, HubSpot's core vision is to help businesses grow better by building lasting relationships with their customers. Plus, with a free CRM that offers robust features and marketing automation tools and integrations, HubSpot is a unique solution that can be used by anyone in any industry.
HubSpot marketing automation tool top features:
Contact management: Store and manage all your contacts, companies, deals, and tasks in one convenient place that syncs with your email, calendar, and other tools.
Marketing hub: Launch campaigns, landing pages, blogs, emails, and social media posts, and measure their performance and ROI. This is especially useful for e-commerce businesses or freelancers looking to generate new leads.
Sales hub: Automate and streamline your sales process, track and manage your pipeline, send personalized messages, and close more deals faster.
Service hub: Provide exceptional customer service, manage tickets, feedback, and surveys, and build a self-service knowledge base and community.
CMS hub: Build and manage your website, optimize it for SEO, and personalize it for different visitors and devices.
Despite the many benefits of HubSpot CRM, there are a few drawbacks to consider. For example, upgrading to premium plans and add-ons can be expensive, and learning how to use all the features and integrations can be overwhelming for beginners and small businesses. Additionally, it may be difficult to migrate your data and workflows from other platforms or customize HubSpot CRM to fit your specific needs and preferences.
As a freelancer, budget and time are of the essence, so if these disadvantages sound like deal-breakers, it may be worth exploring some HubSpot competitors and alternatives that offer a more cost-effective and user-friendly solution.
6 best HubSpot CRM alternatives
1. Salesforce CRM
When it comes to cloud-based customer relationship management (CRM) software, few compare to Salesforce CRM. The success of this HubSpot competitor may be attributed to the robust set of automation features it provides to improve both sales and marketing efficiency.
Managing leads and contacts helps freelancers not miss out on potential sales by keeping tabs on their communications with clients.
Better opportunity and pipeline management mean that you can keep track of offers and projections, giving you more insight into your sales funnel.
Salesforce CRM's reporting and dashboard features provide freelancers and small business owners with a comprehensive, real-time overview of key performance indicators (KPIs) that can be customized to their specific needs.
Email marketing automation helps you save time and resources by eliminating redundant steps and minimizing the need for human interference.
The mobile accessibility and in-app collaboration features of Salesforce CRM make it possible for teams to collaborate from anywhere at any time.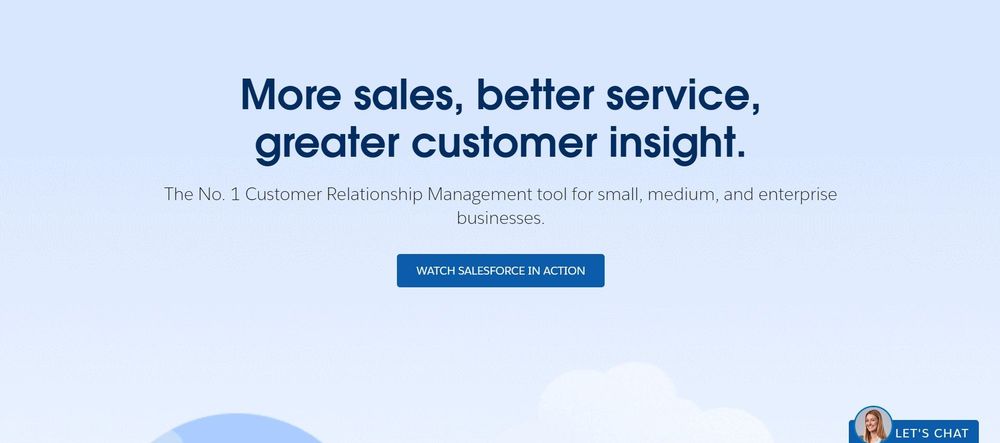 Salesforce CRM provides many advantages, but there are also certain drawbacks that enterprises should think about.
Installing Salesforce CRM may be time-consuming and expensive due to the need for substantial customization and training.
Constant training is required due to the steep learning curve. Because of the extensive training needed to use Salesforce CRM's more advanced capabilities, it may be difficult for certain users to pick up on the platform fast.
While it is very adaptable, the software may be less flexible if it cannot be easily integrated with other systems.
Salesforce's pricing:
Essentials: $25/user/month (billed annually)
Professional: $75/user/month (billed annually)
Enterprise: $150/user/month (billed annually)
Unlimited: $300/user/month (billed annually)
It's clear that Salesforce CRM is a powerful marketing tool that can improve how freelancers manage their connections with clients. Its characteristics offer genuine benefits to anyone who strives to compete in today's fast-paced business climate, but its implementation may be costly and difficult.
2. Thryv
Cloud-based Thryv CRM helps independent business owners manage client connections, messages, appointments, payments, and web presence. Thryv's simple interface simplifies client relationship management for small enterprises. Thryv highlights:
Contact management and segmentation: Thryv's contact management solutions let freelancers manage and segment contacts by interactions and preferences.
Text and email marketing: Thryv helps business owners keep consumers informed and engaged with text and email campaigns.
Appointment scheduling and reminders: Thryv's appointment scheduling solutions expedite scheduling and prevent missed appointments.
Online payment processing and invoicing: Thryv's solutions make paying and getting paid easy.
Website builder and social media management: Thryv's tools help freelancers develop an online presence, making it easier for clients to locate and connect with them.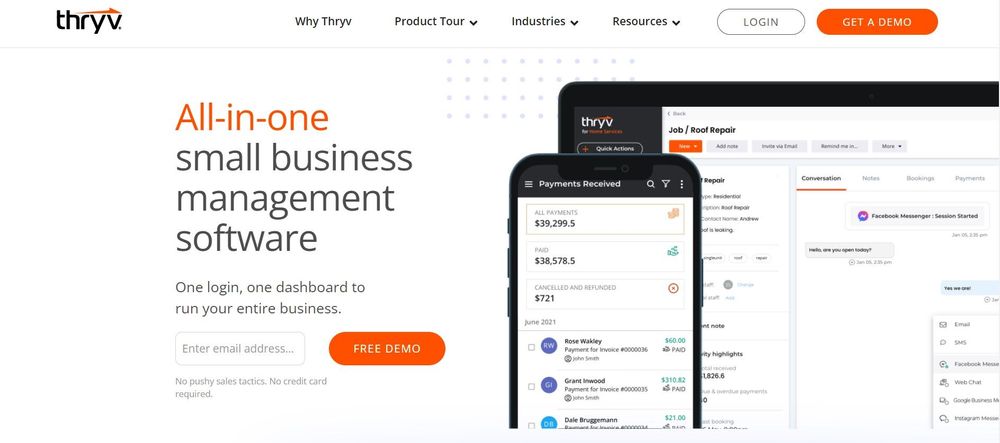 Before choosing Thryv CRM, you should examine its drawbacks:
Thryv CRM offers many critical features for small businesses, however, its restricted integrations and modifications may limit its functionality.
Thryv CRM lacks advanced analytics and reporting options, which may be a negative for anyone seeking deeper client insights.
Bad customer support and service: Thryv's poor customer support and service may frustrate businesses that require immediate assistance.
Thryv's pricing:
$59/month
$199/month
$399/month
$399/month
In conclusion, Thryv CRM is a simple tool for small firms to manage client interactions and streamline operations. It has several drawbacks, but it offers many vital functions at an inexpensive price, making it a good CRM option for small enterprises.
3. Microsoft Dynamics
Microsoft Dynamics CRM is cloud-based or on-premises software that manages customer interactions, sales, email marketing campaigns, and service activities. Its features help freelancers optimize operations and make data-driven choices as part of Microsoft Dynamics 365.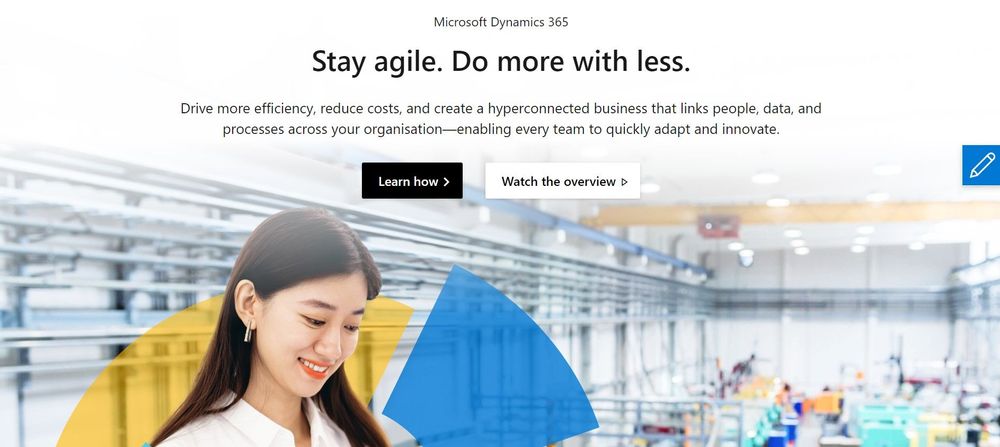 Top Microsoft Dynamics CRM features:
Lead and opportunity management: Microsoft Dynamics CRM lets you manage leads and prospects, track sales, and anticipate income.
Marketing automation and campaigns: You can develop, execute, and assess multi-channel marketing campaigns.
Customer service and case management: Microsoft Dynamics CRM tracks customer history, automates case assignment and escalation, and measures performance indicators.
Customized dashboards and reports: Users may track their business's most important indicators. The program offers pre-built reports, dashboards, and custom reports and visualizations.
Integration with Microsoft Office 365 and other Microsoft products: Microsoft Dynamics CRM interacts seamlessly with Office 365, Power BI, and Azure to provide a complete company management suite.
Microsoft Dynamics CRM has a few drawbacks:
Microsoft Dynamics CRM is pricey, especially for those who need a lot of customization. The program also requires training and expertise to set up and utilize.
Microsoft Dynamics CRM is difficult and takes time to learn. Freelancers may require training and assistance to maximize software use.
Restricted customization and integration possibilities: Microsoft Dynamics CRM offers many customization choices, however, some may find it lacking in flexibility. Non-Microsoft product integration may be restricted or need development.
Microsoft Dynamics CRM pricing:
Customer Engagement Plan: $115/user/month
Unified Operations Plan: $190/user/month
Dynamics 365: $210/user/month
Apps and modules: prices vary.
4. Zoho CRM
Zoho CRM is a cloud-based CRM platform that helps you manage customer interactions through sales automation, marketing, and support. Zoho CRM helps freelancers flourish with lead and contact management, reporting and analytics, sales force automation, customer support, marketing, advertising, e-commerce, and mobile CRM.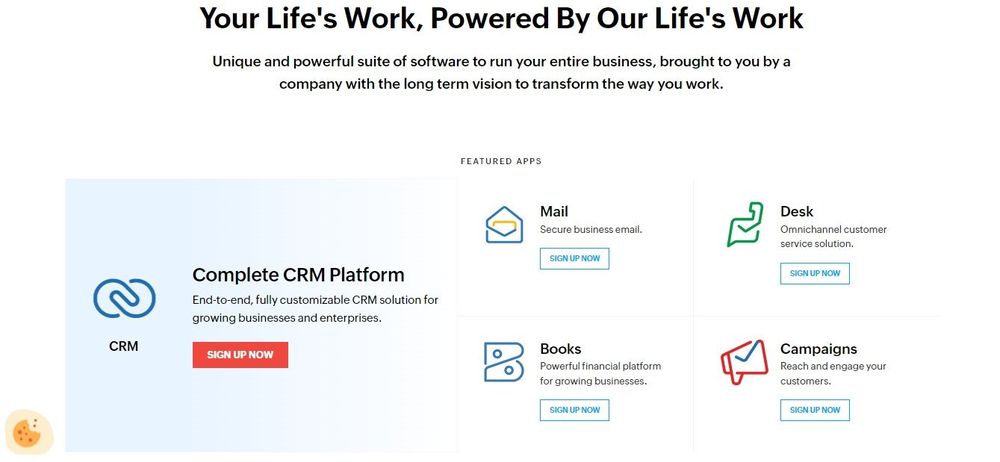 Zoho CRM top features:
Zoho CRM provides features for omnichannel presence, segmentation, KPIs, and predictive intelligence. Predictive intelligence helps independent business owners find sales opportunities and enhance their sales process.
Workflow automation, process management, and campaign management: Zoho CRM automates repetitive operations, manages complicated processes, and executes multi-channel marketing campaigns.
Customizable CRM: Businesses can develop custom fields, layouts, and modules in the CRM software.
Zoho CRM interacts smoothly with other Zoho products and third-party tools like Google Apps, Microsoft Office, and Mailchimp.
Zoho CRM offers two-factor authentication, SSL encryption, and GDPR compliance.
Zoho CRM has a few drawbacks:
Zoho CRM has restricted storage space and file size, which may be a concern for those who need to store significant volumes of data or files.
Complicated price plans and hidden costs: Zoho CRM provides several pricing levels, but some may find them confusing. Features and add-ons may have hidden charges.
Zoho CRM's complexity and bad customer service make it difficult to understand. Zoho's customer assistance has also been criticized.
Zoho CRM pricing:
Free for 3 users with basic features
Standard: $14/user/month (paid yearly) or $18/user/month (billed monthly)
Professional: $23/user/month or $30/user/month (billed monthly)
Enterprise: $40/user/month (annually) or $52/user/month (billed monthly)
Ultimate: $52/user/month (annually) or $60/user/month (billed monthly)
5. Oracle CRM
Oracle CRM, a cloud-based CRM solution, lets you analyze customer data, communicate with customers, and manage sales, marketing, and customer care. Oracle CRM helps freelancers with lead and contact management, opportunity management, lead scoring, sales forecasting, marketing automation, campaign management, customer support, case management, knowledge management, reporting and analytics, AI, and business intelligence.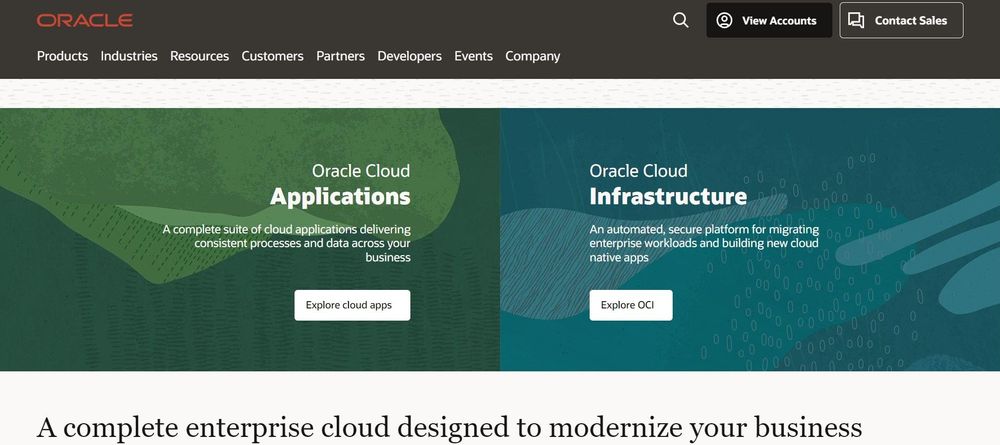 Top Oracle CRM features:
Oracle CRM offers features for lead, contact, opportunity, and sales forecasting.
Marketing automation, campaign management, and lead generation: The software lets organizations run multi-channel marketing campaigns, track performance, and produce leads.
Oracle CRM manages customer service inquiries, cases, and knowledge resources.
Reporting, analytics, AI, and business intelligence: The software helps you analyze consumer data, measure performance indicators, and acquire operational insights.
Oracle CRM also manages e-commerce, loyalty, and subscription programs.
Oracle CRM has a few drawbacks:
Oracle CRM's price plans can be expensive and complicated, making it hard for some to determine the software's actual cost.
Customizing and integrating: Independent business owners with specific needs may struggle to customize and integrate the software.
Several users have complained about poor performance and frequent updates, which might disturb business operations.
Oracle CRM's pricing varies by application and module::
Oracle CX Sales: $65/user/month
Oracle CX Marketing: $10,000 contacts, $2,000/month.
Oracle CX: $90/user/month
6. SAP CRM
SAP CRM is a module of the SAP ERP system that helps manage customer-focused business areas, such as service, marketing, and sales. The software integrates with other SAP modules and external systems, providing a comprehensive solution for handling client relationships.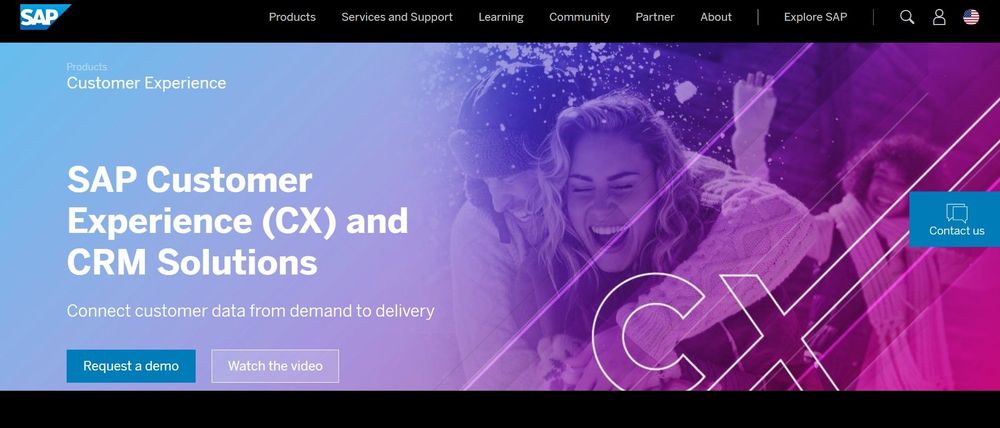 Here are the top features of SAP CRM:
Sales force automation, opportunity management, and pipeline management: SAP CRM provides tools to help freelancers track and analyze sales opportunities and pipelines.
Marketing planning, segmentation, and campaign management: The software allows you to plan and execute marketing campaigns, segment your client base, and track campaign performance.
Service order management, service contract management, and service analytics: SAP CRM provides tools to manage customer service requests, track service orders and contracts, and analyze service performance.
Interaction center, web channel, and mobile channel: The software provides tools to help businesses interact with customers across multiple channels, including phone, email, chat, and mobile.
Partner channel management, loyalty management, and trade promotion management: SAP CRM provides tools to help independent business owners manage their partner channels, as well as customer loyalty and trade promotion programs.
Despite its many benefits, SAP CRM does have some drawbacks:
High cost of implementation and maintenance: SAP CRM can be expensive to implement and maintain, which may be a barrier for some businesses.
A complex and rigid system that requires technical expertise: The software can be complex and difficult to use, requiring technical expertise and training to fully utilize its features.
Poor user interface and usability: Some users have reported that SAP CRM has a poor user interface and usability, which can be frustrating for some users.
SAP CRM's pricing depends on the modules and features chosen:
SAP CRM for small businesses: starts at $23/user/month
SAP CRM cloud: starts at $58/user/month
SAP CRM on-premise: starts at $72/user/month
Why Indy is a grat choice for Freelancer CRM
As a freelancer, your time is precious and valuable. That's why Indy is the perfect software platform to help you manage your freelance business and client relationships. With Indy, you don't need to worry about a steep learning curve—it's intuitive and easy to use right from the start. Plus, it won't break the bank! Indy is super affordable, with a robust free plan and an inexpensive monthly subscription option if you need advanced features like workflow automations, integrations, custom branding options, a recurring invoice series, and more.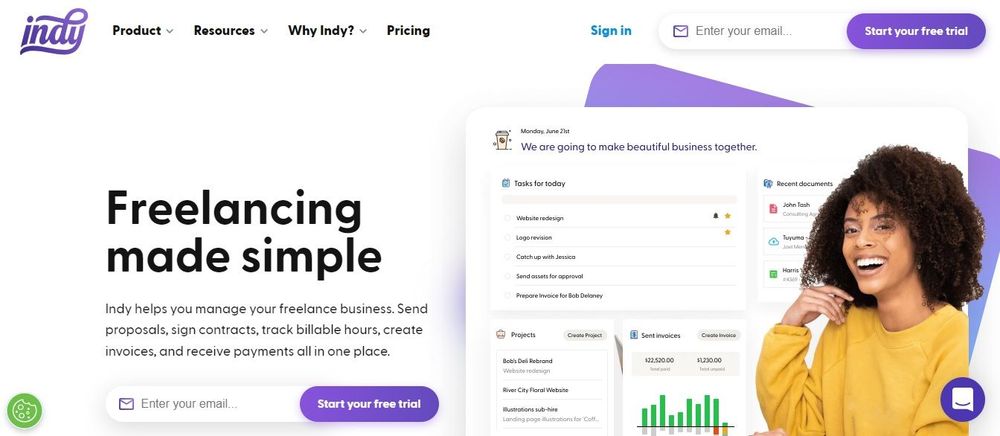 But that's not all. Indy comes with a host of other tools that can level up your freelance work in other areas. Indy helps freelancers manage their projects, clients, proposals, contracts, invoices, forms, tasks, time, schedule, and files, all in one place. Indy also helps freelancers showcase their work, find new opportunities, and grow their network with the Indy Network.
There's also a simple chat functionality that helps with client communication. You can send a quick message, share a file, or even add multiple clients to a conversation in one convenient place.
Indy also offers a centralized hub for managing all of your client communication. This means you can spend less time sifting through endless emails and more time doing what you do best—providing excellent service to your clients. With Indy, you'll have everything organized in one place, outside of your inbox.
Don't let messy emails and inefficient client communication hold you back. Choose Indy and take your freelance work to the next level.
Indy has a robust Free plan that gives you unlimited access to all the core tools. If you want advanced features like workflow automations, integrations, custom branding, and more, you can sign up for Indy Pro for just $9/month with the annual plan.
Conclusion
In conclusion, while HubSpot CRM is a popular and effective tool for managing customer relationships, there are many great alternatives to consider. Salesforce CRM, Thryv, Microsoft Dynamics CRM, Zoho CRM, Oracle CRM, and SAP CRM all offer unique features and pricing options to fit a variety of business needs. Ultimately, the decision of which CRM tool to choose will depend on your business's specific needs and budget.
For freelancers specifically, we highly recommend Indy. Its intuitive and easy-to-use platform, combined with its affordable pricing options and comprehensive tool suite, make it the perfect choice for managing tasks, payments, and client relationships. With Indy, you'll be able to streamline your workflow, organize all of your client communication in one convenient place, and focus on what you do best—providing great service to clients.