Microsoft software has been on the market since long before many who use Microsoft's products were even born. For some, it may conjure up images of dial-up internet, cobwebs, and dust on the screen. However, this would be misleading when it comes to Microsoft Project, even though it was launched way back in 1986!
Microsoft Project is considered to be one of the most technical solutions out there, and with roughly 11.26% of the market share, it is certainly popular.
Microsoft Project, commonly known as MS Project, was one of the first project management tools that were available publicly. It is used by some highly successful companies in the USA, including aerospace and defense organization Lockheed Martin Corporation. There are also thousands of smaller businesses who manage their teams with this solution. Let's take a look at why this is.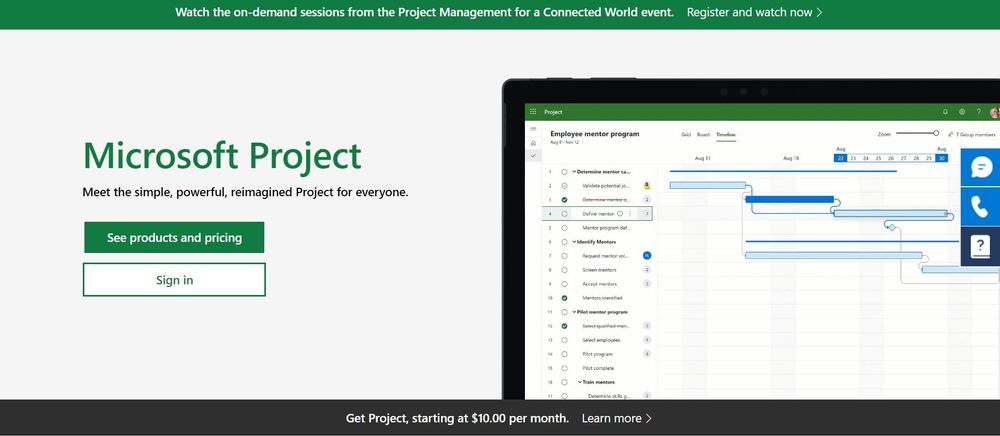 Main features
Microsoft Project has a number of features that make project management easier. Let's look at a few of the most popular ones:
Dynamic scheduling - This involves the use of clever software that will map out schedules for you based on a number of factors. It will take into account staff availability, the overall objectives of your business, and obstacles that are likely to occur. This will lead to workflow management plans for each staff member.
Business intelligence - You can create interactive dashboards to share data across different applications. This helps your team to collaborate on reports and other tasks based on shared information.
Workflow automation - Automating different tasks can save a lot of time and also lead to better working practices within your team. For example, you can create tasks by sending emails and keep the workforce on track with each project.
In addition to these, Microsoft Project has all of the features we have come to expect from project management software, such as kanban boards, calendars, and project management resources. Being one of the longest-serving and most popular project management solutions means it has most of the features you will need. Let's dig a little deeper.
Unique selling points
The revamped Microsoft project, which was rolled out to all customers in 2019 with an updated version in 2021, is much more intuitive than previous versions. It still takes a little training to use, but with Microsoft Teams you can quickly set up tasks and assign them to different team members. You can then display information to track the progress of your projects in grids, tables, or Gantt charts, depending on your personal preference.
The cloud-based collaboration tools of Microsoft Office allow greater remote working possibilities. In the post-covid landscape, this type of work is becoming increasingly popular. And according to Pew Research, 59% of US workers are now saying their jobs can be done mostly from home.
We touched on the capabilities of business intelligence earlier, but let's expand on that feature. Business intelligence will analyze data to help project managers and their teams to make decisions. It can also be used for data mining, which will pinpoint trends in potential clients' searching history in order to offer them targeted advertisements. We have seen a huge amount of this on Facebook in recent years.
Target audience
Microsoft Project is designed for project teams and isn't aimed at beginners to project management. It is designed for those who already have a basic understanding of the principles. It will likely be most attractive to those who are already familiar with Microsoft 365, Microsoft Office, or similar.
When you consider who founded the Microsoft corporation, it may come as no surprise that Microsoft Project was originally created for large companies. Some of the best-known companies that use this software include:
Lockheed Martin Corporation - a US defense and aerospace corporation with some 114,000 employees and revenues of $65.40 billion
Teachers Insurance and Annuity Association - a US insurance corporation with 14,950 employees and revenues of $41.62 billion
CBRE Group Inc. - a US construction and real estate company with 105,000 employees and revenues of 27.75 billion
However, it should be noted that Microsoft Project works for small and medium businesses. In fact, 57% of Project users are small and medium businesses.
Pricing
Microsoft Project has several cloud-based solutions to choose from, as well as some on-premises solutions depending on your business needs.
Project Plan 1: Costs $10/month and features reporting, project planning, and scheduling capabilities, as well as allowing data to be displayed in different ways. This includes Gantt charts, grids, and tables.
Project Plan 3: Costs $30/month and allows for resource management. You can request resources for your team and assign them to different team members.
Project Plan 5: Costs $55/month and has some advanced features like demand management. You can analyze project ideas from anywhere in your organization. This will give inspiration for new ideas and projects.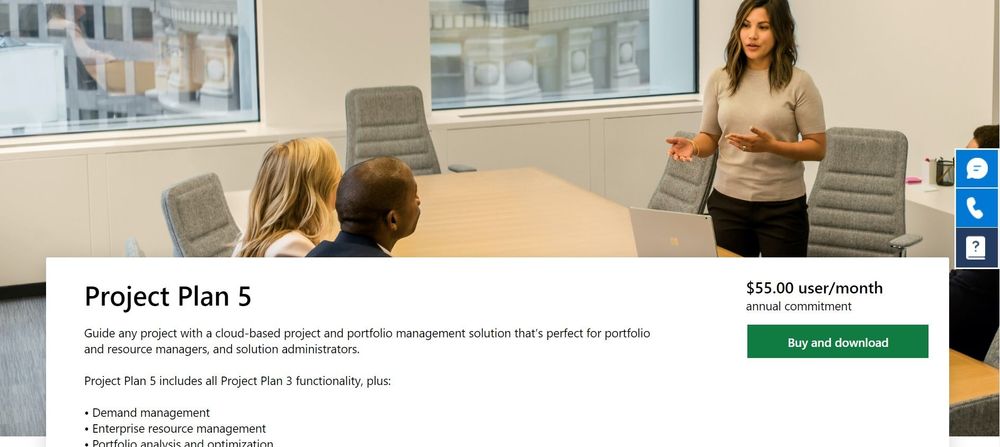 The on-premises solutions have a one-off cost:
Project Standard 2021 comes in at $679.99 and is for project managers who don't need collaboration tools. It is fairly basic but does include business intelligence and task management capabilities.
Project Professional 2021 costs $1,129.99 and is a more comprehensive project management solution with more advanced features. There is invoicing available along with the ability to sync with Project Online so you can collaborate with different team members.
Project Server requires you to contact Microsoft for the price. It has all of the functions of the other platforms but with advanced analytics that will help you come up with project proposals that are most in line with your business goals.
Disadvantages
If you are new to project management software, Microsoft Project can be overwhelming and requires a fair amount of training to use this tool to its full potential. So unless you're already a technical wizard, ease of use is something that will be valuable to you as a freelancer. After all, project management software is supposed to make it easier to get work done.
The cost can also be a negative factor. There are definitely cheaper project management solutions available.
Lastly, a number of users have reported that file compatibility issues can be frustrating. Sometimes if a stakeholder or client is using different software, they may not be able to open the files you share. As a freelancer, you will often need to share files with clients and collaborators. And if they cannot be opened, you will be wasting a lot of time.
Microsoft Project vs. Indy
As a freelancer, your working life will be busy. Therefore, you may not have the time to learn everything you need to know to get the best out of Microsoft Project. Alternatively, Indy is one of the most user-friendly platforms available. Even if you are a complete novice with project management software, there is no training required.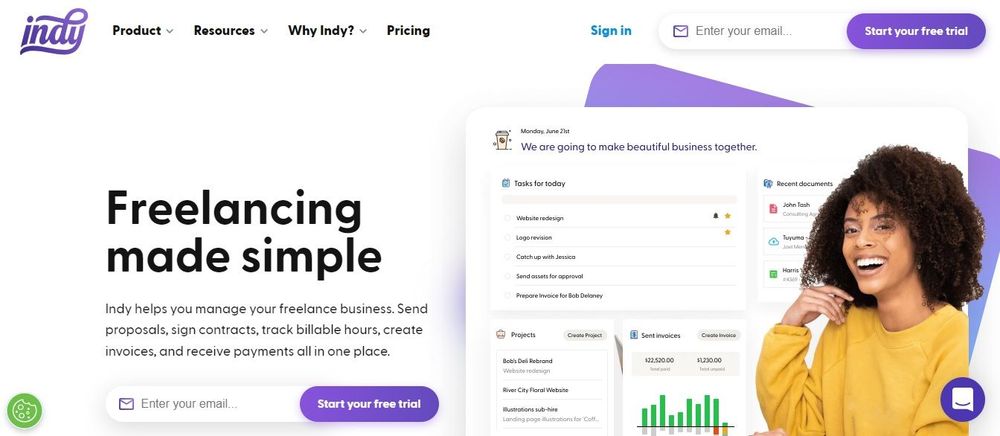 Indy has been designed from the ground up for freelancers to manage their business from start to finish, including templates for proposals, contracts, forms, and invoices, along with built-in time tracking to keep your working hours logged. This lets clients know the hours they should be paying you for and helps you manage your time more effectively.
You can even turn those time tracks into an invoice with just a couple of clicks. Features like these help you save time so you can focus more on project work.
Indy also doesn't have the compatibility issues that Microsoft Project has been known for. You can easily share files with your clients and enable them to leave comments, opening a quick and easy dialogue between you.
Summary
Microsoft Project has many features that are suited to project teams, but it can also be hard to learn for freelancers who just want a simple way to manage their freelancing business. Here's a quick recap:
Microsoft Project is a powerful project management tool used by some of the world's largest companies.
The biggest advantage of Microsoft Project is how it integrates within the Microsoft ecosystem.
Freelancers may find the features and pricing are simply too much for their needs.
That's why Indy has been designed as an intuitive experience for freelancers and comes in at a fraction of the price at just $12/month for Indy Pro. And if you want to explore more of Indy's features, you can start our Free plan today and take full control of your independent business from start to finish.