As project management software goes, Notion could be seen as one of the newer solutions on the block, having only been in operation since 2018. However, it's become a popular platform, and we will take a look at why this is.
But is Notion fully realized, or does it have some catching up to do?
In this article, we'll take a look at Notion's biggest features, unique selling points, its target audience, disadvantages, and pricing. Let's get started!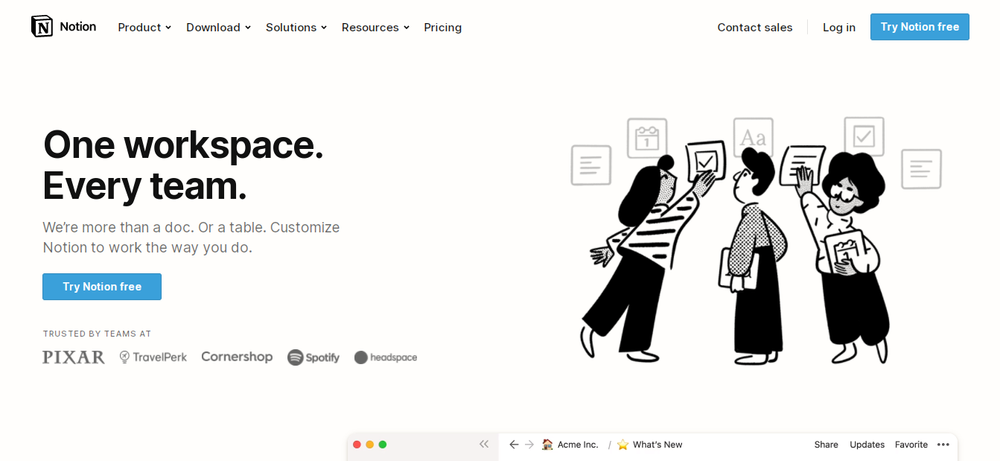 Main features
You will often hear the term 'Wikis' when people talk about Notion, but what are they? Well, think of the Wikipedia website. It's where you might go if you're looking for information on a particular topic. This is what Wikis are. They are documents that will give different categories of information.
There are different things your team members might need to know, so Wikis make them accessible. It can be time-consuming sifting through documents to find relevant information. With this feature, you'll no longer have to. For instance, if you work for a company that has lots of policies and plans, you can group these into Wikis.
Kanban boards are another big feature of Notion. A kanban board displays the workflow visually so you can work on ways to be more efficient. Task tracking is much easier when the information is there for all to see, and it helps you work more effectively as a team. And once a task is complete, you can move it to a different status column, so everyone knows it's done.
Notion database views allow you to see all of the information relevant to a project. This can be as a task list, a table, or a calendar view depending on what you need to know. These will also be sorted into project pages, so each separate task can be looked at in detail.
Unique selling points
Notion is highly customizable to fit your specific organization, so it molds to you rather than the other way around. In fact, the development of Notion has been mostly through online communities. It's said to be a great productivity app by many because of these reasons.
Team members do not have to spend a lot of time learning how to operate the software. In fact, they can customize the software in the ways that make it most useful for them. This makes it a great task manager and a truly flexible platform for a note-taking app.
Target audience
Because of Notion's flexibility, it doesn't target any specific audience. Many can use it and gain real benefits, especially with note-taking. It may not be used by high-profile companies as some of the other platforms, but Smart News Inc. and Assembly AI are known fans. It enables the whole team to stay up-to-date with tasks but was not designed just with teams in mind. This makes it a potential option for freelancers who may need to work well both individually and as part of a team.
However, since it's not a traditional project management tool, it lacks some of the features needed for freelancers to use it as their sole solution. We'll touch on these features in just a bit.
Pricing
As with most project management software, there are different pricing plans available for Notion. Here's what they offer:
Personal: This is Notion's free plan and includes unlimited pages & blocks. You can share with five guests and sync across devices.
Personal Pro: Costs $4/month and allows unlimited file uploads and unlimited guests. It also has a 30-day version history.
Team: Costs $8/month, and the extra features include a collaborative workspace, sharing permissions, and admin tools.
Enterprise: You will have to contact the sales team for a price. It includes everything the other versions have, plus an audit log, a dedicated success manager, advanced security controls, and more.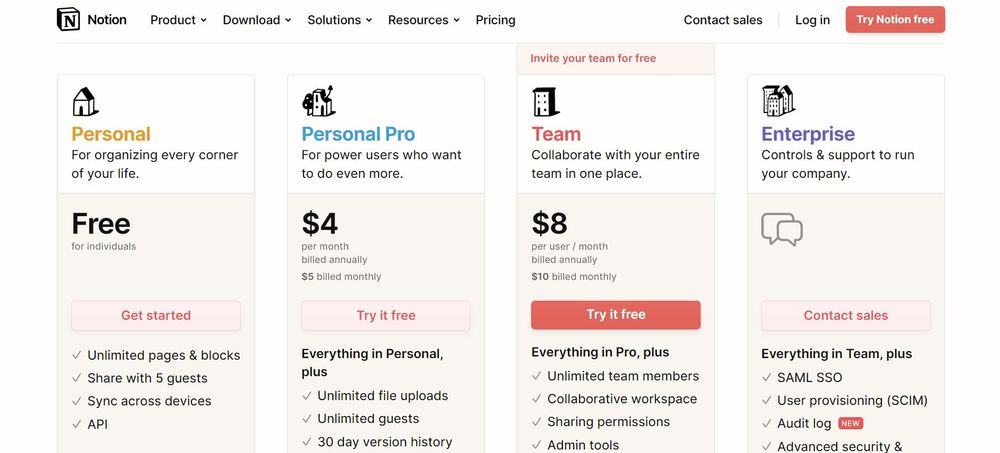 Disadvantages
Notion, at its core, is a collection of databases with a nice user interface. It isn't specifically designed for managing freelance projects and lacks in areas like invoicing, contract management, and time tracking. You can adjust templates and add extensions to create these functions, but it's not as easy as other project management solutions that have ready-made templates for you to easily plug information into.
Some users have commented that the flexibility of Notion can actually make it hard to set up, making it quite a messy platform until you get used to it. Also, the search and navigation function has drawn criticism, with a number of users saying it can take a while to figure out.
As a note-taking app, it works great, but it's also been said that when copying and pasting text from elsewhere, the formatting is all over the place.
And finally, flexibility may also be an issue for people who do not like to be creative or prefer things to be regimented. You could spend your entire life trying to come up with great ways of displaying information, but this can ultimately slow you down when working on projects. Notion is among the better productivity apps but only for those who prefer flexibility over intuitiveness.
Notion vs. Indy
For the more advanced features, you will have to pay more for Notion. And unlike Notion, Indy has been specifically designed with freelancers in mind in both its features and ease of use.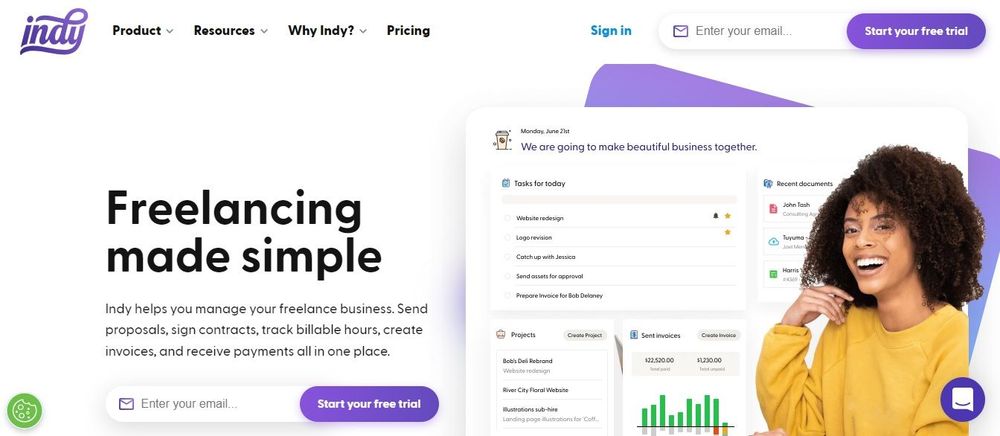 Indy has many of the same features as Notion, including ready-made templates for proposals and forms, but it also has a strong invoicing solution, contract management, task management, and native time tracking. And while Notion offers many customizations, this can also be a drawback. Complexity is not always a good thing.
Notion can quickly get overwhelming, making it a challenge to know where to start. Indy simplifies every tool while delivering powerful ways to execute work, putting its customizations in just the right places for freelancers. What's more? You can customize and add branding to any of the templates for a personalized look.
Another big plus is that Indy never charges extra for payment transactions. In fact, one of the core values of Indy is that its services will never come between you and your clients. You own your business. Indy just gives you the tools to get work done faster.
And you won't have to wonder where to begin or how to get started. Indy has a Free plan, so you can use our basic tools as much as you want each month, free forever. And when you're ready for unlimited access, Indy Pro costs just $12/month.
Summary
Notion enables you to customize in a way that fits best for whatever you are trying to achieve. For taking notes, it is a great solution, and you can create unlimited pages as a resource for information. Wikis are like Google Docs that will store details each team member may need to complete projects. However, the search function may leave something to be desired if you are looking for a specific item though.
While Notion is really flexible, it isn't designed for managing freelance projects. This means it is lacking in features such as invoicing, time tracking, and managing contracts. Freelancers should check out Indy as an option for managing their projects with one toolbox that does everything. Get started today for free.