An objective, strategies, tactics document is a visual representation of what you're trying to accomplish. This can be for personal or professional use and used internally or externally with your clients.
In this article, we're going to break down what are objectives, strategies, and tactics and give a downloadable template for you to use.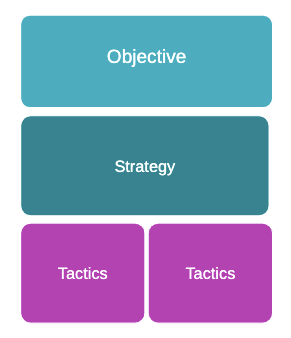 Objectives
For professional use:
Objectives should be agreed upon by everyone working on the project.
Objectives can come from leadership, those creating the task, or those delegating the task
Objectives can be a specific target number hit (# sign-ups, revenue, or conversions)
Objectives can also be to accomplish a specific task
There are several values of outlining objectives: everyone knows what's trying to be accomplished, and are guiding lights of the projects which allow for flexibility in strategies and tactics.
For personal use:
Objectives are what you're working towards personally. This can be either short term or long term (retiring by age 50, saving $5,000,000, or getting a job at Google)
Unlike strategies and tactics, objectives should change less frequently and be a guiding light of what you're working towards in your life
Strategies
Strategies are the different approaches that are used to achieve a goal. There can be multiple different strategies employed or a singular strategy.
There are many different types of strategies that are used professionally. I've included a list here of some marketing strategies that are commonly deployed to help increase traffic, conversions, etc.
Search Engine Optimization
Paid Advertising
Understanding Customers Motivations
Brand Analysis
Improving the User Experience
Understanding Competitors
Understanding Audience
Strategies can vary widely depending on the objectives being accomplished.
Personal strategies look a little different. Let's use the example of wanting to transition to becoming a freelancer full time. Some of the strategies involved in accomplishing this objective are:
Obtaining More Clients
Reaching a monetary amount (hourly wage or project wage)
Learning a New Skillset
Tactics
Tactics are used to help support your strategies that are aligned with your objective. Professionally these typically look like deliverables or analyses and personally are specific tasks and actions that feed into the strategies.
Some examples of professional marketing tactics include:
Audience Research
Competitive Analysis
Market Research
Forum Analysis
Etc
Personal tactics that support our example above include the following:
Attend one networking event per month
Set up one coffee chat per week
Complete an SEO certification course
Find a client who will pay me 25% more than existing clients
Determine my hourly rate based on my full-time role (including benefits)
Tactics vary widely depending on the objectives and strategies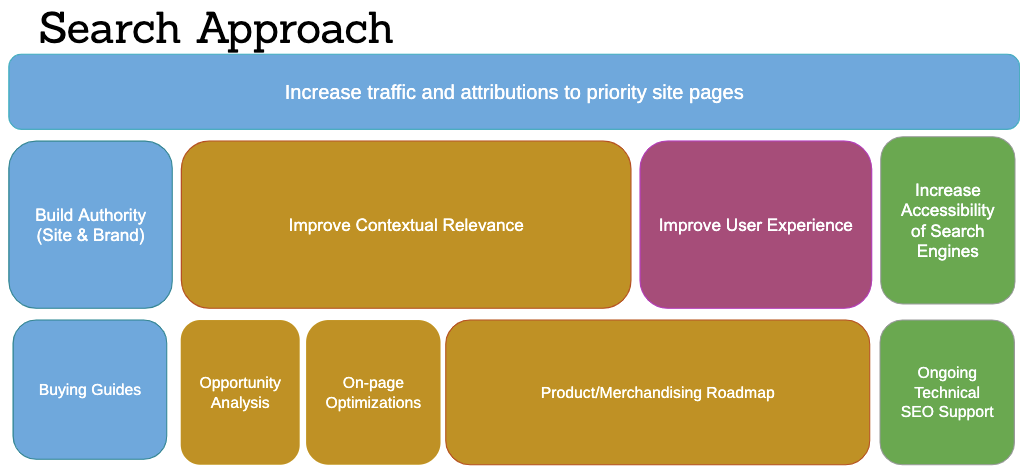 The example above is an SEO OST that I put together for a previous client. On the top you'll find the objective: increase traffic and attributions to priority site pages.
The second-row includes the strategies: build authority, improve contextual relevance, improve the user experience, and increase the accessibility of search engines.
The last row is the tactics: buying guides, opportunities analysis, on-page optimizations, a product merchandising roadmap, and ongoing technical SEO support.
This visual is also color-coordinated which aligns which tactics support the strategies above them. In many cases, tactics can support multiple strategies.
The last example I'll include is a personal OST that I put together four years ago. Many things have changed since then, but this ultimately helped me accomplish my goal of working remotely and having freedom to choose the projects I want.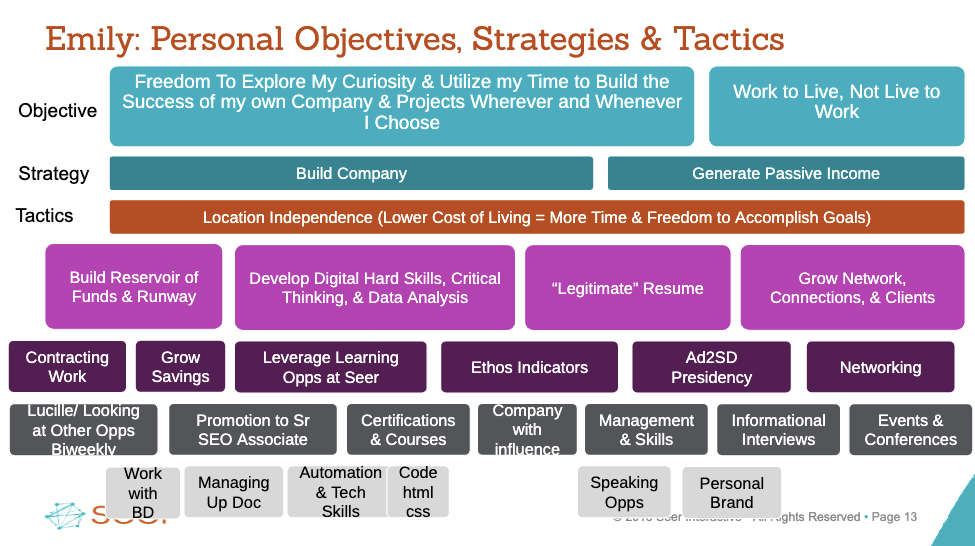 If you're interested in getting started with an OST and leveraging this for your personal and professional use, click here to download a template and get started!
We have also created several resources for you to help you Set Goals at Work, perform a SWOT analysis, and share Our Favorite Examples of Personal Development and Professional Goals