Project management is crucial for getting jobs done on time. With the increase in remote work and team collaboration, teams and leaders are turning to project management tools to get more work done efficiently.
We're going to show you the best project planning tools you can use to manage projects, track project progress, and keep everyone on the same page. First, we'll review some of the key concepts in project planning.
Let's get started by looking at the process of planning a project.
How to plan your project using project planning software
Before turning to a project management tool, project managers spend time planning their work. This is crucial for success, especially when managing multiple projects. Time spent in the planning phase will pay off in the execution phase with better focus for your team, clearer objectives, and a clearly refined timeline.
Let's go over the basic steps to follow to plan projects for just about any goal.
Client kick-off meeting
Never skip the project startup meeting. In this phase, you can determine whether you have the resources to accomplish the project and if your client's goals and requirements can be fulfilled.
Effective project planning tries to answer these questions:
What's the goal?
What are the task dependencies?
When is the deadline?
How expensive is the project?
Who's responsible for specific tasks?
How will you communicate?
Who will monitor progress?
Every plan phase should be written down. You can prevent misunderstandings and be sure your team will act properly.
Draft your project plan
Before starting a project, collect all the details you need, such as the project's name, ID, and client. You might also set the billing method, rates, cost estimate, and workflow in your project planning tool.
The next step in planning is determining the project's tasks. Create detailed to-do lists to arrange your tasks.
All stakeholders must contribute to project planning. If you're not technical, speak to software developers. They'll estimate how long a feature will take to release based on time and resources. If you don't, you won't know what to prioritize when launching your product.
This and other difficult operations benefit from subtasks. When large projects are broken down into digestible pieces, teams benefit from the clarity. Using subtasks enables a teammate to observe progress on a bigger job.
Pick your team and assign tasks
Without a clear team structure, everything will be harder. A project manager or team leader must oversee each project's development. Using project planning tools, you may assign work to a particular person and track their progress. They'll be notified of the task and given instructions.
Choosing a communication method
Effective communication ensures project success. Creating good communication isn't an accident. You can make them happen by designing a communication strategy for your team and project. Good communication and cooperation help prevent project development mistakes.
A communication strategy describes when and how team members connect with each other. Also, the strategy ensures everyone is informed of project updates.
Communication with remote teams is a recurring problem. Teams in the same physical location might ask another team member for clarification, but team collaboration is harder when everyone is spread out. A good communication strategy includes multiple methods for chat and updates.
Assess and avoid potential risks
Project managers make choices and judgment calls that cannot be done with technology. One area where project planning relies on experience and intuition is the possibility of negative results and risks. Brainstorming, design-thinking, and your own project and research background might help you discover risks to your project.
Estimate costs and plan for budget management
Estimations from project planning tools can be unreliable on their own. Instead, project managers utilize multiple calculations and tools to make credible estimates.
Cost estimating typically uses expert judgment. Managers estimate projects or goods based on their own experience and understanding. Any team member, leader, or external partner may add relevant expertise and insights.
Standard practice is to submit a cost estimate to the client before initiating a project.
Project schedule
Next, estimate how long each assignment and the entire project will take. Setting deadlines for team members and tasks ensures timely work. Several jobs could depend on one another, thus, missing one might derail the entire project.
Prioritizing each task is a must. By detailing each action that must come before the next, you can complete it on time without delays. Be generous with your estimates because underestimating the time needed will produce unnecessary stress.
Write a project resource plan
When it comes to resource management, individuals are often considered resources as well. Choosing and allocating team members and creating a system of communication were the emphasis of earlier steps. Now, we'll look at how to recruit, train, and manage your staff.
During the project planning phase, some aspects of the resources plan to think about are:
Plans for incentivizing and rewarding staff personnel
Whether or not to hire outside help
Training methods you have in mind
With regard to personnel, what potential risks does the team face?
The method through which the project group will be graded
Is there anything you can do to help your team work better together?
A resource scheduler helps project planners monitor everyone's availability. This resource, which works like a team scheduler, displays who's doing what and when. You may arrange meetings, vacations, and sick days, depending on the program.
Resource management isn't only about people. Physical factors include equipment, technology, machinery, facilities, vehicles, authorizations, sites (buildings and land), and raw materials.
Check your plan
Never finalize a plan before reviewing it. Before going ahead, make sure everything is clear, so your team understands your project management plan.
Reconsidering a decision is a frequent occurrence for project managers. Project planning must avoid catastrophes, so being open to revisiting a previous point is really useful.
Plans often change when they're implemented. You must sometimes accept the unexpected. Don't be afraid to ask for more time, money, or resources to complete the task and satisfy the client.
Team members could assess their own work in the project plan. Everyone can review their assigned tasks and the overall scheme. With more people looking, you are likely to spot any mistakes before they become disasters.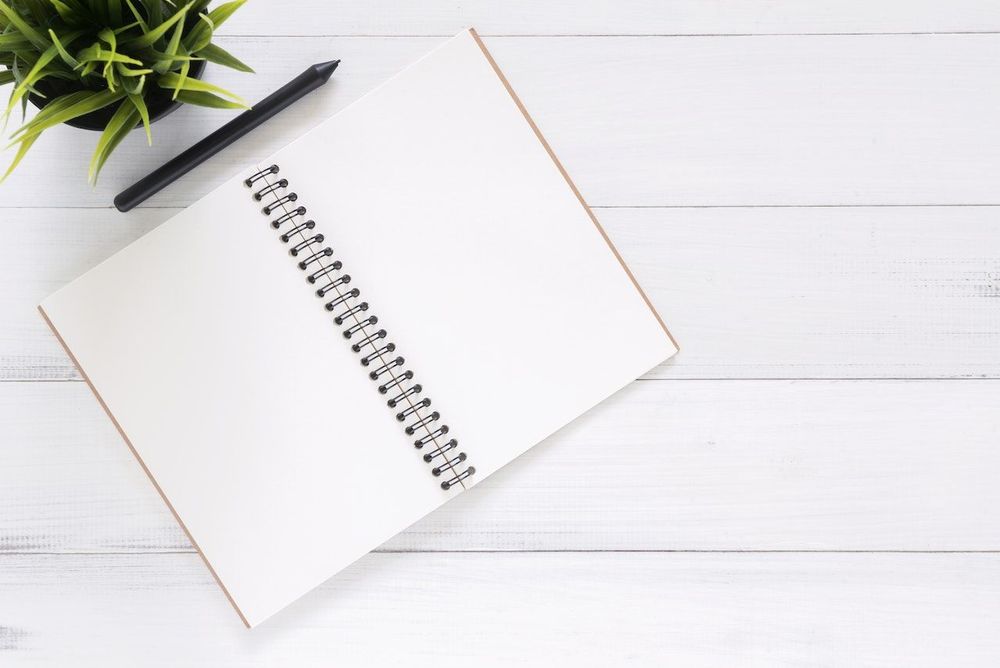 Get your plan approved
The client may have approved your estimate, but a client or stakeholder should always evaluate the project management strategy in detail before you begin.
Clearly communicate your goals to the consumer. Sending an email with the plan attached and asking for input may get approval. Keep a record of the approvals. Note who approved the project, and the date it was approved, and save their emails.
What's project planning software?
Project planning software helps map and visualize a project's critical path. This is the path the project will follow from start to finish. Project planning software optimizes resource allocation across a complex project or several projects. The project management software helps choose the best team for a project based on availability and skill set and maps out the project's stages.
Managers may use strategic "road mapping" to:
Identify key resources
Determine task dependencies and constraints
Identify project milestones
Define project scope, budget, and timeline criteria (the three benchmarks used to determine project success)
Businesses might use project planning and scheduling software or a full suite or project management tools.
Features of project management software
While there is a tremendous amount of variety from one project management app to another, many of them share these common features.
Gantt charts
Used to figure out the critical path of tasks, figure out how tasks depend on each other, and find possible areas of risk. They can also help keep track of how tasks are being done and how far along they are. Tasks are shown as bar charts that move down a timeline or calendar.
Scheduling
Project managers may see team availability and competence. Managers may then allocate resources directly to tasks and projects or create "placeholder resources" for jobs they anticipate requiring but haven't yet arranged.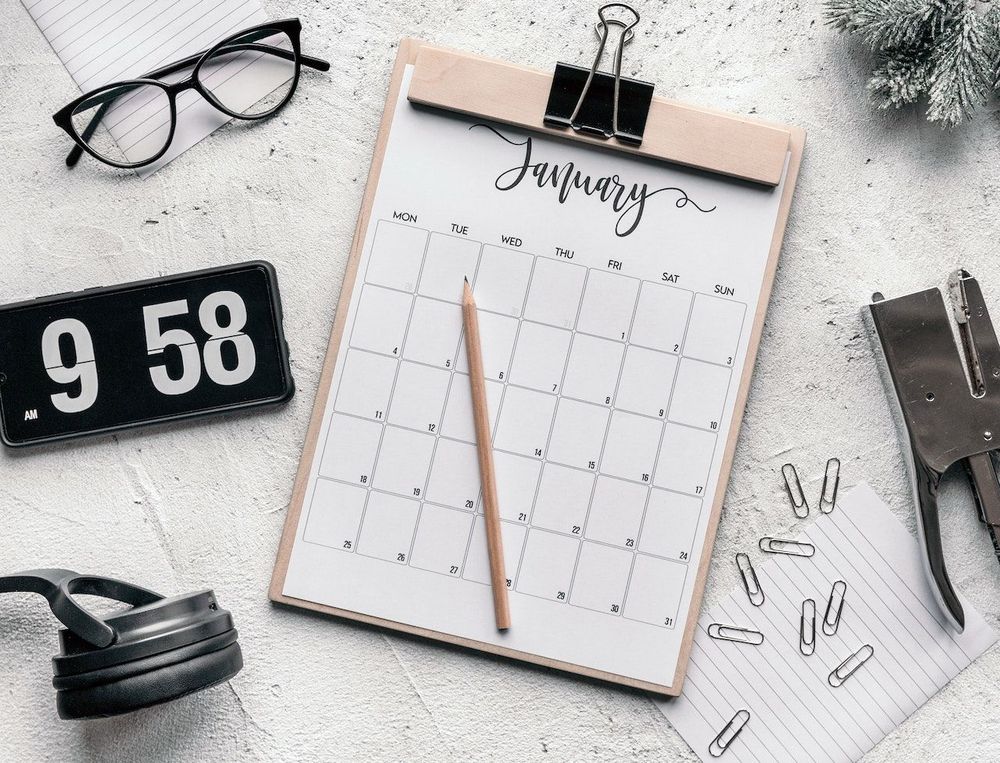 Project progress or timeline
A timeline showing task durations and connections. Project managers have tools to create project schedules, schedule people, and monitor progress.
Risk assessments
Helps monitor and handle project components for risks to the schedule. This could include task dependencies where a delay on one task could threaten the entire project.
Notifications
Allows PMs and their teams to set up in-app or email notifications. These can be used to let the team know when a task is due or to let an employee working on a task that depends on another one know that it is almost done.
Collaboration tools
Helps users work together on a team through comments, chat streams, or discussion forums in the app. For example, users can add comments and status updates directly to tasks or risk items that have been flagged. They can also ask a team member about a question that has been posted.
2022's top 10 project management apps
Now that we've covered the key features of project planning tools and talked about how to use them, it's time to show you our choices for the best project management tool.
Before we do that, though, there is one tool we want to highlight:
Indy.
Indy is a software toolbox designed for freelancers. It has all the tools you need to manage your freelance business, including:
Proposal and contract creators with e-signature tracking
Project management tools, including a super simple Kanban board
Time tracking built in and connected to the billing tool
Professional invoice creator for getting paid
We'll say a bit more about Indy in a bit. But for now, we just wanted to give it a mention because it is, in our view, simply amazing.
1. Monday.com: Great for teams with mixed tech skill levels
Monday.com Work OS is a well-known brand of project management software that has a flexible platform for all kinds of teams. Even though it looks scary at first, the Monday.com interface is full of features and has a lot of options for managing configurations. Other solutions tend to focus on just a few ways to look at project data, but Monday.com gives users the most freedom to add and change valuable visualizations.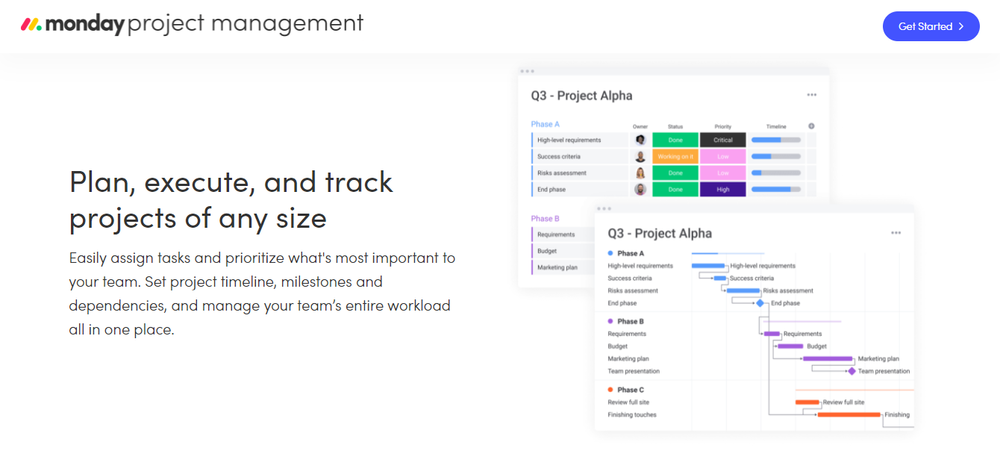 Monday.com features:
You may review project information via tables, Kanban boards, and dashboards.
Customizable user interfaces bring project data to life.
WorkForms let users build and distribute data-collection questionnaires.
Developers, marketers, CRM, and project managers may use the integrations.
Many automations and configurable tools for automating tasks.
Pros:
The platform's user interface is clean and uncluttered.
Robust configurability for team-standard environment and tools.
Designed for many industries and jobs.
Cons:
Learning curves exist for new users and for using the most powerful features.
A defective import engine didn't import most prior data.
Manually checking and balancing data imports was the most irritating aspect.
2. Smartsheet: Best for Excel and Sheets users
Smartsheet's project and task management platform launched in 2005. Smartsheet improves on spreadsheets by offering a user-friendly interface, essential integrations, significant customization possibilities, and no-code capabilities.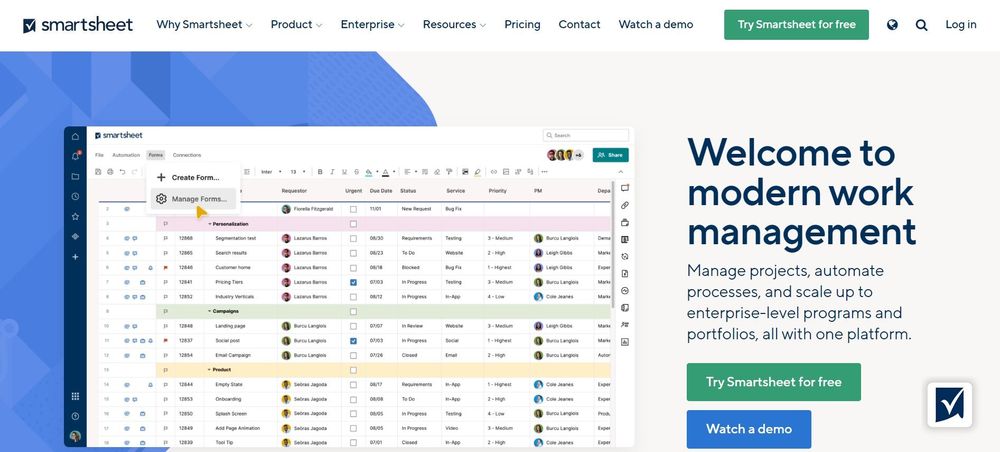 Smartsheet features expensive costs and no limitless free tier. Despite this, I believe small teams to large enterprises should examine the platform.
Smartsheet's features:
A cloud-based platform for managing project data.
Grid, Gantt, card, and calendar displays improve project visibility.
Field information configuration options.
WorkApps is a no-code solution for online and mobile app development.
Filterable change log.
Pros:
A friendly GUI makes switching from previous spreadsheets easier.
Onboarding and documentation help.
Premade project and automation templates speed up your work.
Cons:
You'll need to acquire extra tools in addition to the primary kit.
Enterprise has more security levels that should be available on other plans.
Only top-tier plans get premium assistance.
3. ClickUp: Great for smaller budgets
ClickUp is the fastest-growing project management software. San Diego's startup has become a prominent provider of project management (PM) solutions in only five years.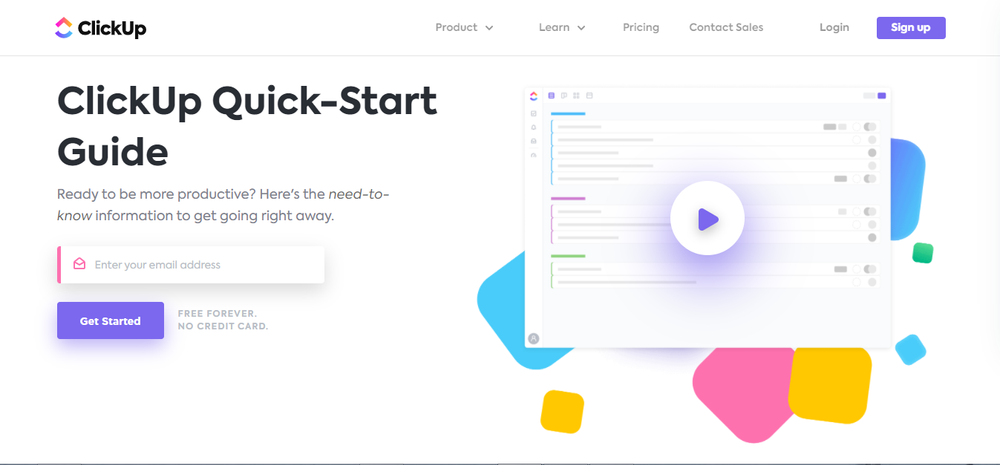 ClickUp's affordable plans make it really accessible for businesses of any size. With its emphasis on affordability and great user experience, this is a project management tool to keep your eye on.
ClickUp features:
You may see project data in List, Board, Gantt, Calendar, Workload, and Map views.
Create and modify tasks individually or in bulk using a menu.
Fine-tune platform security and functionality.
Use Dashboards to check progress and data.
Monday, Asana, Trello, Jira, Wrike, Basecamp, and Todoist data imports are supported.
Pros:
Flexible and affordable solutions for businesses of all sizes.
Customizable and controllable platform procedures.
Developer, business suite, storage, and other connections are in the thousands.
Cons:
The imported file and platform results differ very little.
Some platform functionalities may need extra examination.
Page transitions and platform announcements can slow down or lag.
4. Teamwork: Brilliant for team collaboration and budgeting
Teamwork is software for managing projects, teams, and tasks. The software includes much of the same functionality as other major PM systems, but it is especially good at time tracking, budgeting, and stakeholder management. Teamwork can increase the efficiency of tomorrow's globally distributed activities.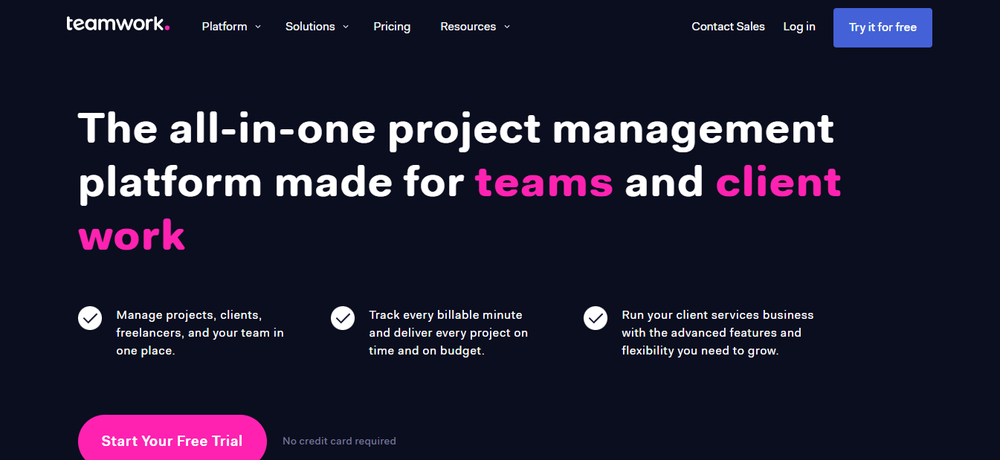 Teamwork's platform and ability to handle team tasks are good, although certain activities are less straightforward than on other platforms.
Teamwork features:
View project data in Gantt, Kanban, calendar, and tabular formats.
Create CSV, Excel, or PDF project progress reports.
Create reusable dashboards, templates, risks, and tags.
Integrations include Zapier, Google Drive, Box, Slack, Microsoft, and HubSpot.
Software for collaborative workspaces, IT support, CRM, and live chats.
Pros:
Very good time tracking and workload management tools.
Modeled after the best project management suites.
Free 30-day trial, free unlimited plan, and affordable annual subscriptions.
Cons:
Agile essentials like burndown reporting and monitoring cost more.
Adjust your alerts or face an overstuffed inbox.
Changes may be delayed.
5. Wrike: Good for managing multiple projects
Wrike was a well-known project management software brand before Citrix's sponsorship. Wrike's feature set includes customizable request forms, risk estimates, billing and invoicing tools, and enterprise-grade security. The platform's adaptability and wide variety of organization sizes, kinds, and team tasks make it very useful.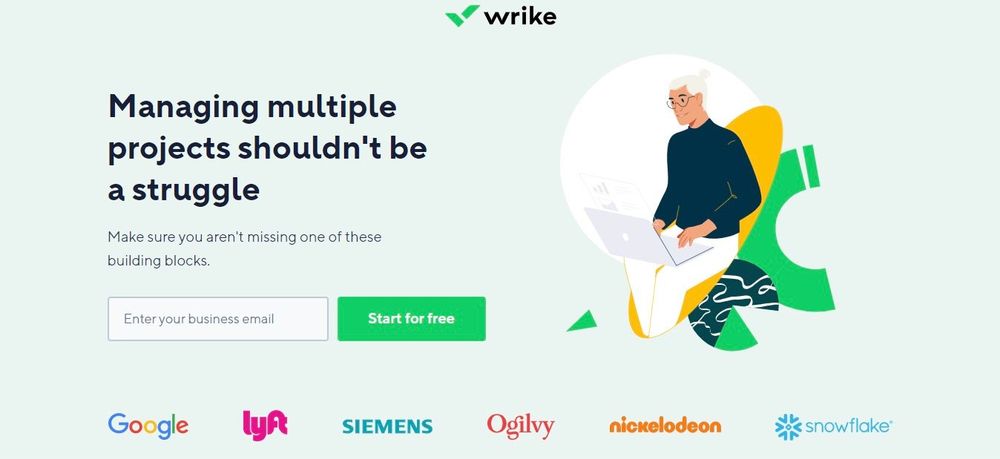 For new users, Wrike has a high learning curve and a confusing UI. However, few vendors offer the same benefits, especially for enterprise-level companies.
Wrike features:
Tables, lists, boards, Gantt charts, time logs, and analytics display data.
Add or update task duration, approvals, time entries, subtasks, files, and dependencies.
Agile, creative, IT, and PM project templates.
Customers handle AWS-stored encryption keys.
Use with 400+ apps and sync with 30+.
Pros:
Groups with heavy workloads, advertising, and professional services.
Strong workflow and mission-critical software integration.
Large enterprises will appreciate its industry-standard safety and privacy features.
Cons:
Probably the most expensive choice.
Effectively using the platform's features takes training.
Some features are only available on pricier plans.
6. Asana: Most flexible
Asana can grow to accommodate many different businesses. The platform's scalability shows why so many firms desire it. Asana project managers can monitor member workloads, include strategic goals, and set user security criteria. Its flexibility and options make it a great choice to manage complex projects and larger team collaboration.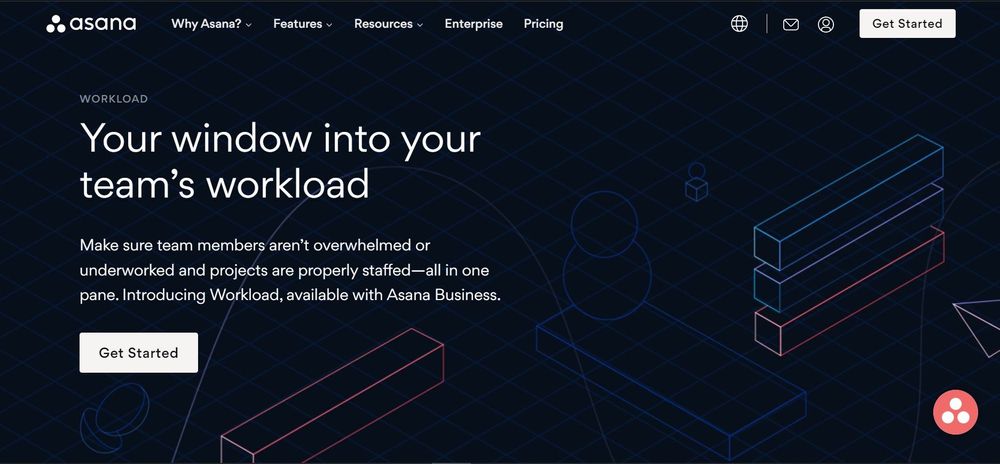 Asana features:
Project data may be shown in list, board, timeline, calendar, and workload formats.
You may organize and produce project information using rules, templates, and custom fields.
Start the timer to check how long you've spent on each task.
Airtable, Google Sheets, Monday, Trello, Smartsheet, or Wrike data imports
Users may integrate communication, files, banking, IT, reporting, sales, and security.
Pros:
Functionality that rivals the best project management tools.
A flexible UI with straightforward controls.
Importable PM software is popular.
Cons:
The UI isn't as user-friendly as other rivals.
Some functions and tools have a high learning curve and are hard to use.
There are occasional hitches and error alerts while switching sites.
7. Airtable: Best for automation and process control
Airtable has raised $1.4 billion in 10 years to develop its project management software. Airtable's user-friendly surface may trick you into thinking it's a lightweight program, but it's a powerful platform that lets teams customize extensions, scripts, and workflows for better process management.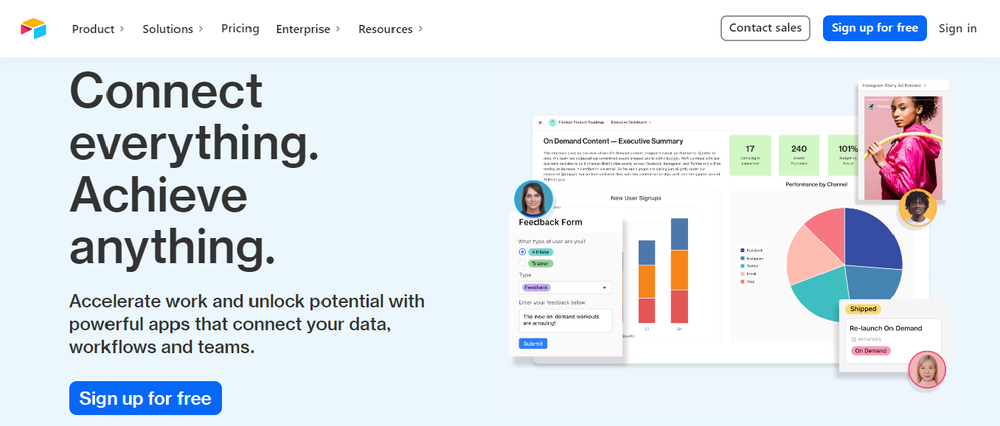 Airtable features:
Grid, Kanban, gallery, Gantt, and calendar formats.
Create a custom app using Interface Designer.
Airtable centralizes Google, Salesforce, and Jira data.
Deploy pre-made and bespoke automations using fine-grained command over rule scripting.
Forty Airtable extensions, 20 scripts, and 150 open-source apps are available.
Pros:
This project management software features the easiest and most accurate import process.
Easy-to-navigate site.
Small- and large-group services.
Cons:
Many subscriptions only provide short-term renewals.
Switching between data-intensive views may be slow.
PM software with less corporate support.
8. Zoho Projects: Great for visualizations
Zoho Projects is one of the solutions offered by Zoho. It gives teams a lot of tools for keeping track of tasks, issues, time, and resources to improve collaboration and productivity. With the Blueprints tool, users can see and change project data in real-time through views like a traditional spreadsheet, a simple list, a Kanban board, or a Gantt chart. They can also automate mapped workflows.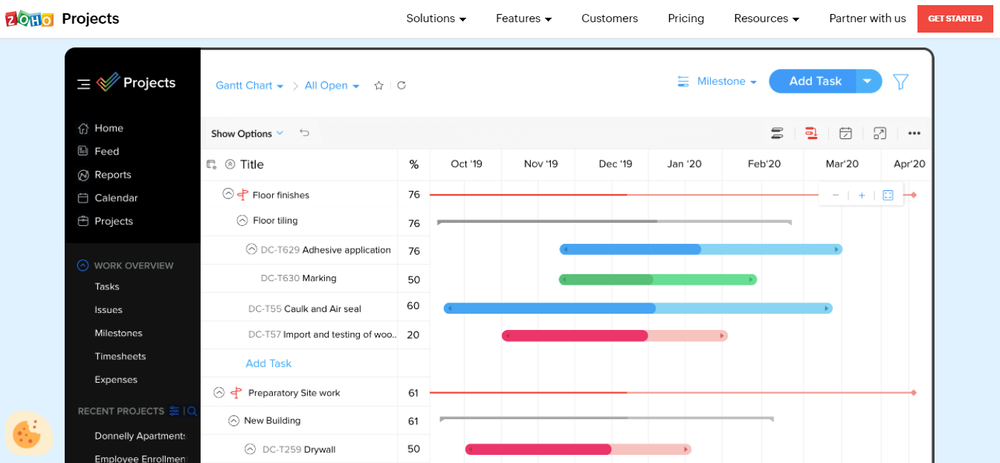 Zoho Projects has a lot of features for how cheap it is compared to other PM software. But it also lacks some of the advanced features and configuration options that the best platforms have.
Zoho Projects features:
Create a spreadsheet, list, or Kanban board to see your project data.
Establish project baselines to compare actual and expected task completion rates.
Time tracking helps manage workload and resources.
Integrates Google, Microsoft, and other apps.
Use Zoho's email, documents, CRM, help desk, analytics, and forms.
Pros:
Cheaper than comparable PM software.
Price-point features are great.
Existing Zoho customers will like the UI and bundle's value.
Cons:
Inconsistent app tab responsiveness.
Comparatively few techniques exist to check the progress of a project.
Multiple subtask creation isn't evident on the platform.
9. Zenhub: Best at GitHub integrations
While not as well known, Zenhub's natural integration with GitHub makes it great for developers who already use GitHub. Unfamiliar managers will have a high learning curve, but their development teams will prefer organizing and visualizing data on a familiar platform.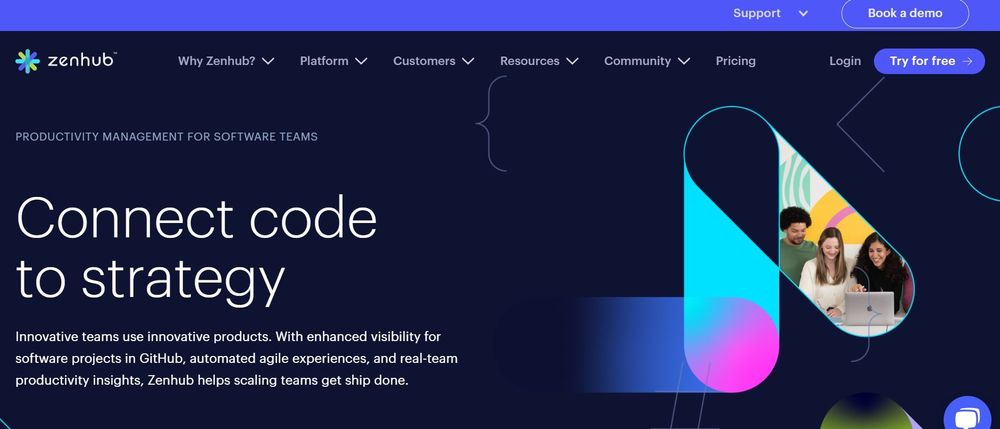 Zenhub adds planning poker, a sprint generator, automated processes, and reporting to GitHub to assist users in managing their projects.
Zenhub features:
Visualize project data using Boards, Roadmaps, and Reports.
Problems may be categorized as epics to define and change team goals.
Combine public and private GitHub repositories into one workspace.
Standardize procedures and make starting new sprints from the backlog easy.
Burndown, velocity, and release reports provide project information.
Pros:
Perfect for GitHub-using organizations.
It's a competitively-priced project management solution.
The well-designed UI integrates well with GitHub.
Cons:
Unhelpful for non-software project managers and teams.
Learning platform terms against GitHub.
GitHub groups only.
10. Jira: Best for software dev teams
Jira is Atlassian's main project tracking, collaboration, and security software. Jira Work Management is an add-on to Jira Software that offers development teams project management functionalities. You may see data from different viewpoints, make reports, and configure the program.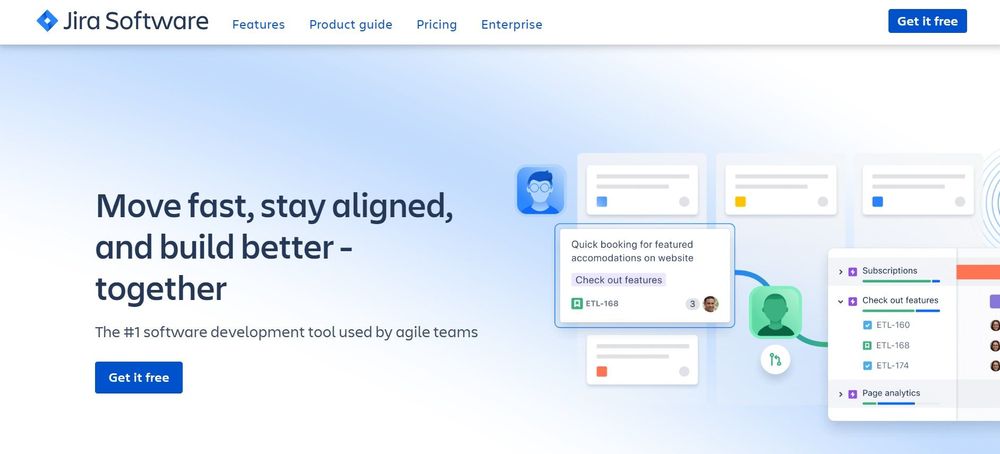 Jira Work Management is brilliant for companies using Jira Software or teams using BitBucket. Its overall PM features are substandard compared to the market for teams that are not software developers.
Jira features:
List, board, timeline, and calendar displays may illuminate project data.
Use current material to create project challenges and fill out forms.
Summary page includes progress, priority, and workload KPIs.
Atlassian's Jira and other products are fully compatible.
Administrative, accounting, marketing, and HR have 20 pre-made templates.
Pros:
3,000 extensions and 500 connections make up the workflow app ecosystem.
BitBucket, Crucible, and Trello are Atlassian products.
Automatic time-tracking tools.
Cons:
Learning curves are steeper for non-software development teams.
It's not as user-friendly as other project management software.
Compared to Jira Software's other apps, it's in beta.
10 project management tool honorable mentions
We could make a list of dozens more larger and smaller project planning tools. In addition to these top ten picks, there are ten more that deserve mention briefly.
1. Hive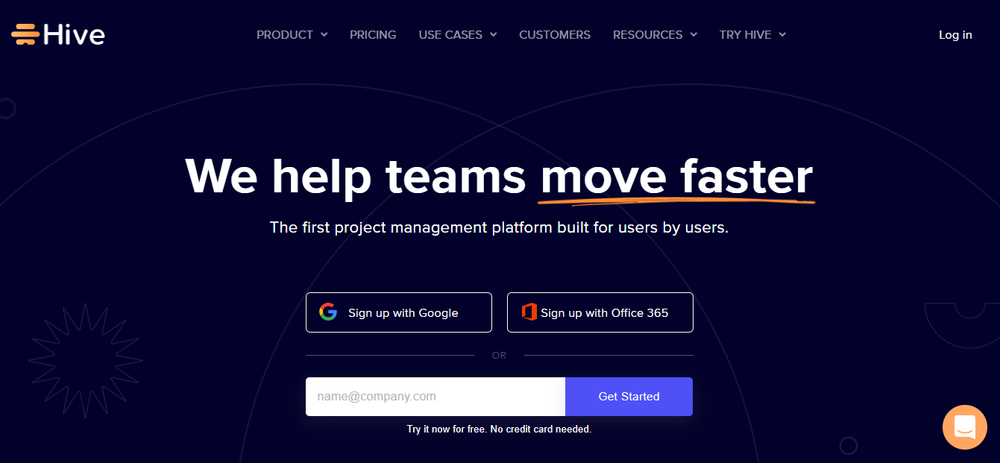 Hive is a complete, easy-to-use project management software that has everything you need in one place. It is the only tool you need to open in the morning to get your work done. Hive is different from other tools because it is the first democratic productivity platform in the world. But what does that really mean? Hive is constantly adding new features based on what users say on the Hive Forum. You know what you need in a tool to work better and faster, and Hive is committed to making project management software that gives you exactly what you need. It's the only tool out there that was made by users for users.
Action cards, which are part of bigger projects, are the building blocks of Hive. Inside these action cards, teams can upload files, give feedback with proofing and approvals, tag each other, and leave comments with @mentions. Hive is a great project management software that is used by teams at great companies like Comcast, Toyota, and Starbucks. Find out more about everything Hive can do here.
Price: After a 14-day free trial, monthly prices start at $12 per user. Hive Solo is free for two users.
2. Trello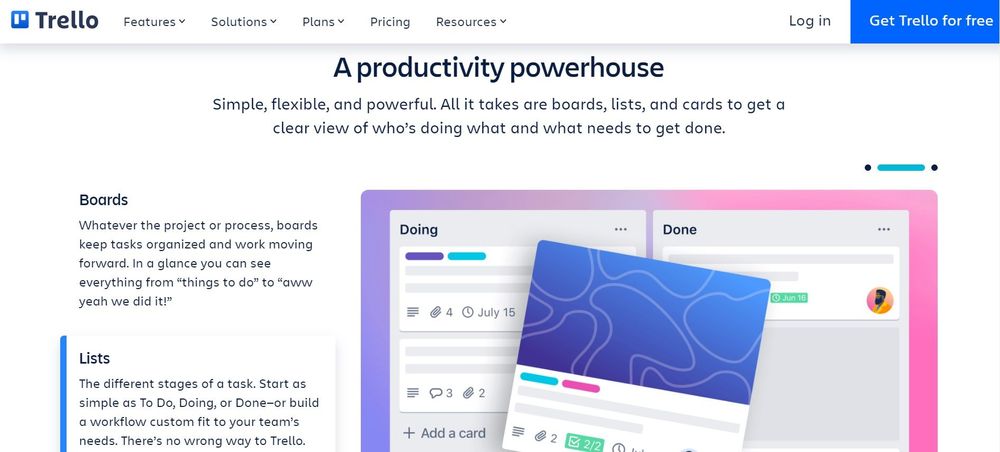 Trello is a good choice for small groups or individuals who want a simple tool for managing projects. The tool is based on the Kanban board method, which was created by an industrial engineer in the 1940s. Cards are the main part of Trello, and you can put them on the board in different phases.
You can also color-code the cards and add pictures or files to them. For a more interactive experience, you can invite team members to work on a board with you. One big problem with Trello is that each board can only be used for one project. If you want to make two bigger projects, you have to make two boards.
Price: The Basic plan is free, and Business Class costs $9.99 per user per month.
3. Basecamp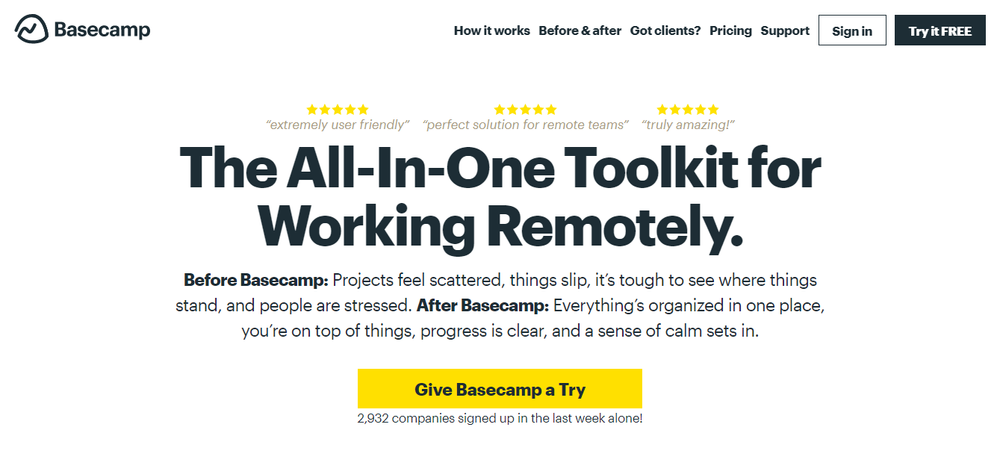 Basecamp is a cloud-based tool that lets people, project managers, or even marketing teams work together on tasks. It has a lot of features and can be used by anyone. Some of the features are to-do lists for tasks that can be assigned to different users and tasks that the system will check up on after the due date passes.
It also has a group chat that works in real-time and a tool that lets the client see how the project is going. Basecamp, like most of the other services on this list, can be used with other products to report, analyze, and track time, among other things. Basecamp works in the cloud, but it can also be used on iOS, Android, Mac, and PC.
Price: The personal package of Basecamp is free for personal use. Plans for businesses start at $99 per month for an unlimited number of users and projects.
4. Nifty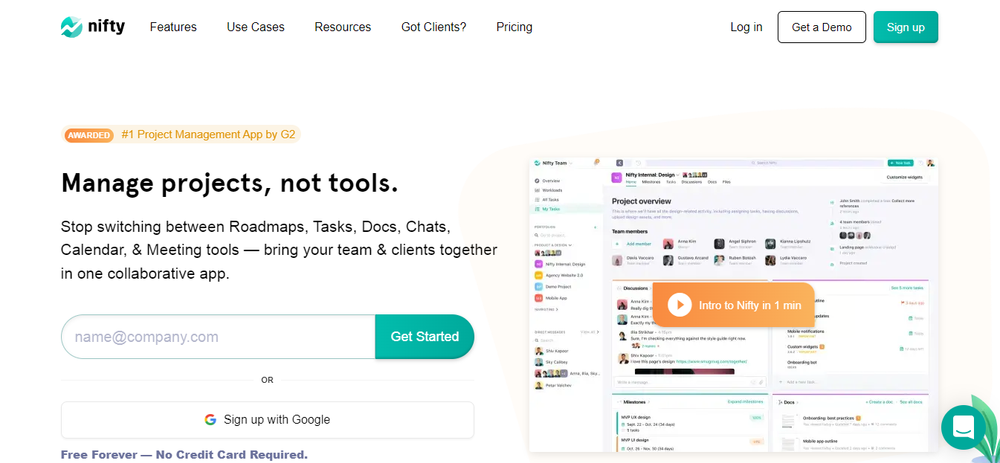 Nifty is an excellent piece of software for managing projects if you are looking for a solution that is both simple and straightforward to use, whether you are working alone or with a group. You and your team will be able to reduce the number of internal tools that they have to juggle by modernizing and consolidating your work processes inside the app. Nifty gives you the ability to manage whole projects, campaigns, as well as individual tasks in views like Kanban or Gantt, which may be arranged in a milestone-based structure.
Price: A 10-person team costs $39 per month.
5. Proofhub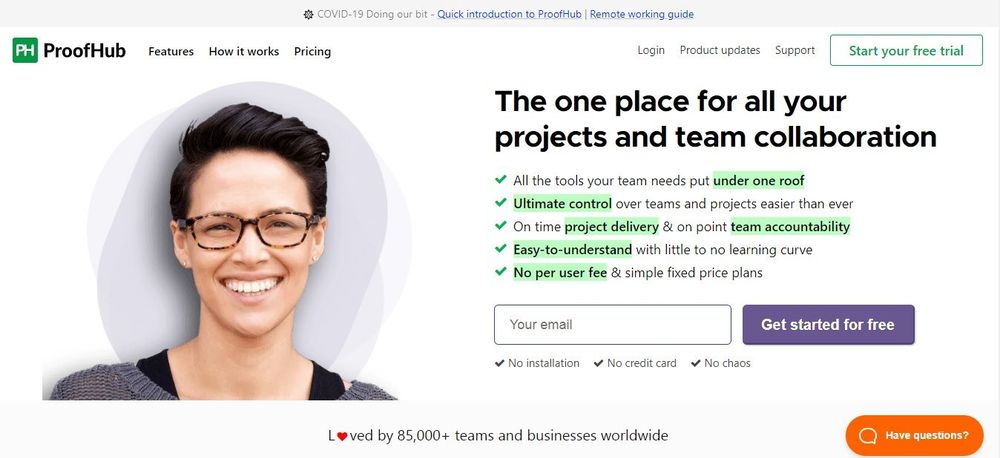 ProofHub enables teams to collaborate on projects throughout a business while also facilitating organization and delivery of such projects. Users have the ability to delegate certain jobs to specific people. These assignments may include a schedule of due dates and can be set to recur at a predetermined interval. In addition to providing a centralized location to store files relevant to all of your projects, ProofHub has a number of different views, including calendar, Gantt, and Kanban views.
Chat, a proofreading feature, timesheets, and reporting capabilities are all included in this platform, which helps provide teams with all of the tools necessary for effective collaboration.
Price: ProofHub costs $89 annually for 100MB of storage (unlimited projects and users).
6. Xebrio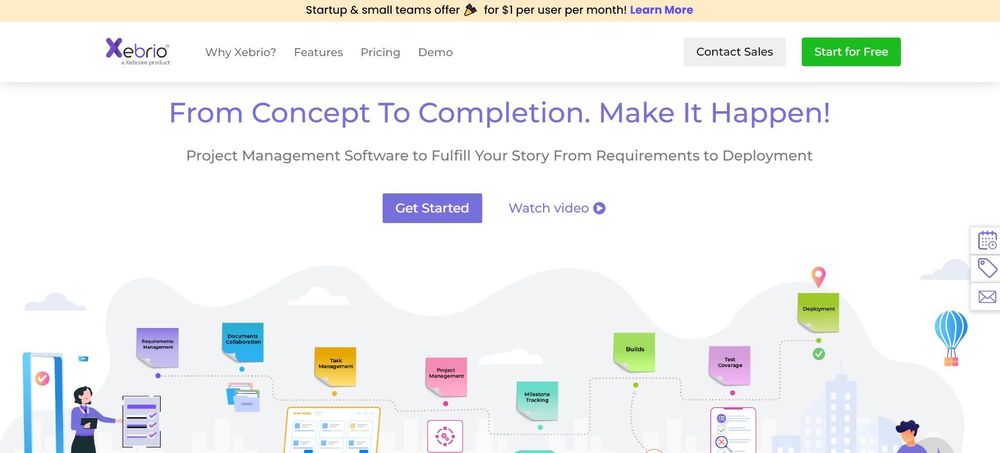 Xebrio is an all-in-one solution for project management that caters to the needs of businesses of all sizes, from small teams to multinational corporations. Because it includes capabilities such as task management, milestone tracking, requirements traceability, test management, bug tracking, and release management, Xebrio makes it simple to manage the many stages of a project.
Because of these integrated capabilities, there is less of a need to rely on integrations or plugins provided by third parties, and all of the project lifecycle data is stored in one location. Regardless of where they are located, teams may simply collaborate thanks to Xebrio. Users have the ability to add contributors, reviewers, and other stakeholders to their projects to guarantee that nothing is missed while working together as a group.
Price: Basic Xebrio costs $1 per user per month.
7. LiquidPlanner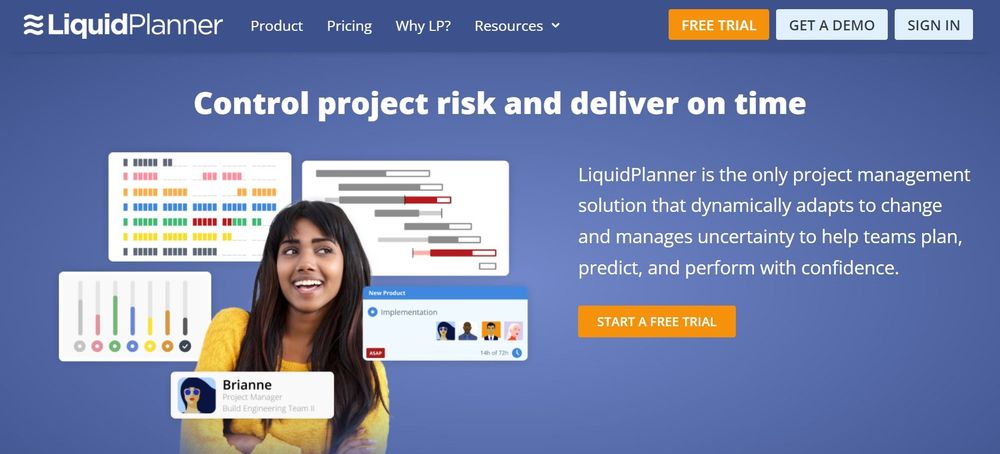 LiquidPlanner is a hybrid of the more classic forms of PM and time tracking. When the resources available for a project change, it automatically changes and rearranges the due dates and projects for those projects. This is one of the most distinctive qualities it possesses. This enables you to better manage expectations for the time at which a project may be finished or the time at which milestones can be achieved, depending on the workload.
A useful budgeting component is also included in LiquidPlanner. There is also a fantastic resourcing feature that displays the number of available hours that each employee has each week.
Price: Annual payment is $39/month/user.
8. Workfront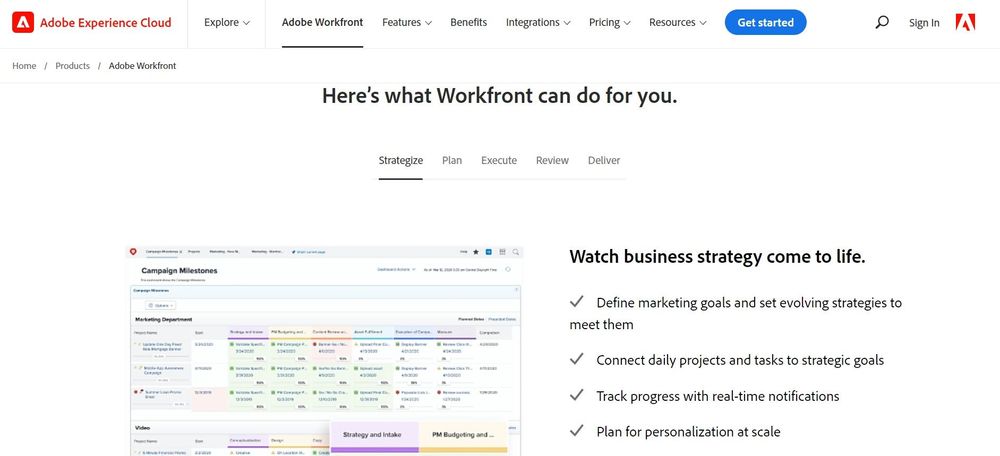 Workfront is one of the top choices for the best project management software because it is a product that allows users a great deal of leeway in terms of how they configure it to best suit their needs. A few of its features include the establishment of priorities for individual tasks, the delegating of those duties to certain team members, the management of a complete project, and the monitoring of its progress. This leading piece of software for project management not only automates the whole process, but it also offers a centralized platform for digital collaboration and integration with a wide variety of other services.
Workfront also provides robust tool integrations, which may assist your team in reaching the next level with their existing technology stack.
Price: Workfront's price depends on which of four plans you pick, and pricing is available by quote only.
9. GanttPro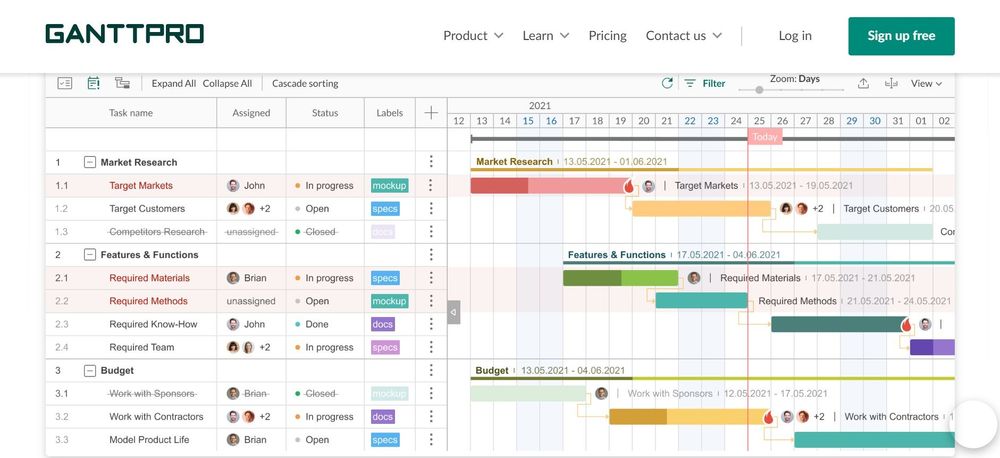 GanttPro is one of the most effective pieces of software for managing projects that is based on Gantt charts, as its name indicates. Users of GanttPro have the ability to plan projects using interactive Gantt charts, divide projects into tasks, milestones, and subtasks, and specify a specified schedule while allocating resources. Users of GanttPro have the opportunity to assess the resources and availability of their teams, as well as estimate the expenses of their projects.
Price: $15/month for a single user.
10. nTask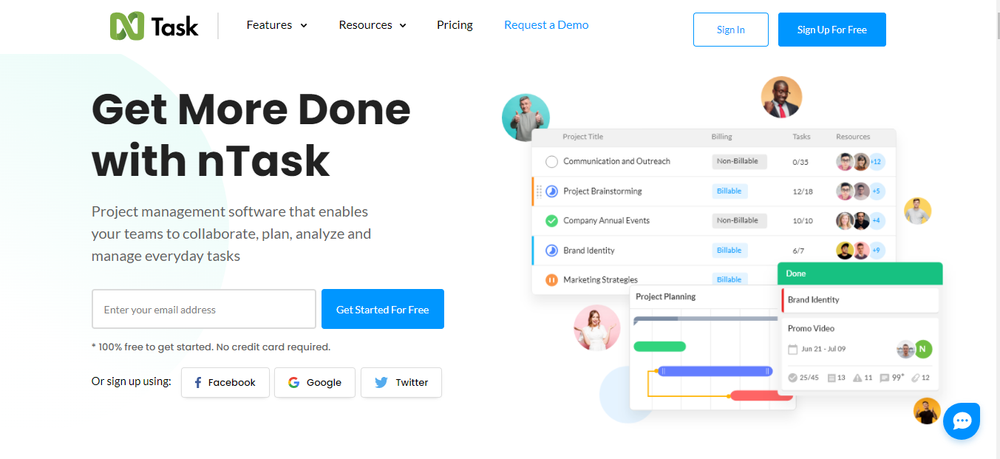 nTask is the industry-leading Gantt chart software, and it can be used by groups of any size, from a single person to a group of fifty. nTask makes it simple to organize and monitor all of your projects thanks to its dependency and milestone-tracking capabilities for tasks. They also have some wonderful tools for meetings, such as the ability to establish an agenda, write down discussion topics, sync recurring meetings, and schedule follow-up tasks in specific time slots.
Price: nTask's premium monthly package costs $2.99 per user.
Indy: Best choice for freelancers
Indy provides all the tools you need to run your independent business because it was created from the ground up with freelancers and small enterprises in mind. While many platforms strive to appeal to as many users as possible by adding as many features as they can, Indy recognizes the value of creating tools that can help you manage your work from start to finish. Project management, invoice sending, and time tracking are all simple processes.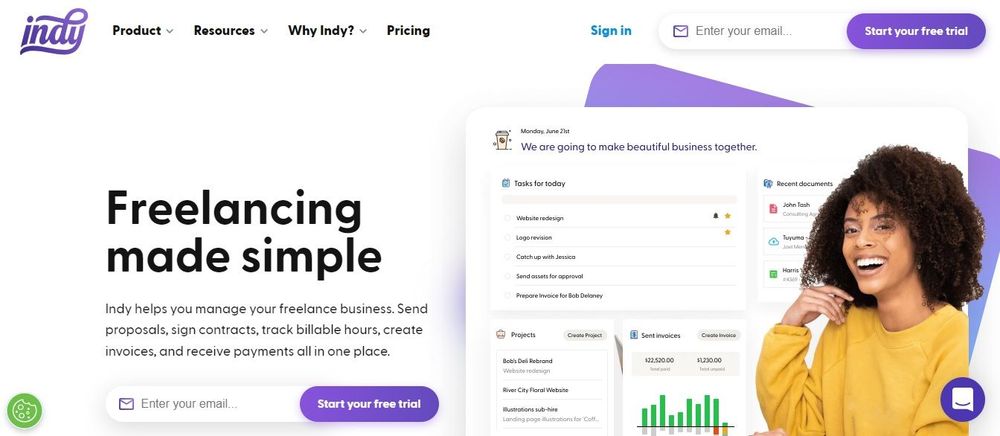 Here are some specific examples of how Indy's nine powerful tools support you throughout the full workflow:
Onboarding: Using pre-made templates for proposals, contracts, and forms, you may generate new leads and welcome new clients. These templates allow you to rapidly fill in the necessary information and may be personalized with your branding and logo. If more information is required, it is very simple to add new content to templates.
Project management: To organize your work and establish a smooth workflow, use task management (boards and lists), file storage, conversations, an intuitive calendar tool, and automatic time tracking.
Wrapping Up: You can quickly create an invoice after a job is complete and customize it with your company's branding and logo. A recurring invoice schedule or a manual invoice can be set up. Direct deposit, PayPal, Stripe, Zelle, and other payment methods are just a few of the ones you can accept.
Indy has two price ranges:
Free Forever: Indy's Free plan gives you free unlimited access to all the basic tools you need to manage your business.
Pro: The Pro Bundle offers unlimited access to all features for just $12 per month.
Could there be a better advertisement than one created by and for independent workers? On Indy's website, there is a plethora of information that can assist you in learning about all the capabilities this platform has to offer.