Are you looking for Proposify alternatives? Proposify is an eSign and proposal management solution. Customers can use Proposify to view analytics, use custom templates, collect payments, access chat support, or integrate with CRM solutions (including a handy Salesforce integration) to manage the entire sales process.
How to use Proposify
Sales teams can use Proposify to create, send, track, and e-sign their proposals, contracts, and agreements.
There are also client input forms where you can ask questions and impress prospects during every stage of the sale.
5 alternatives to Proposify
While Proposify is one of the industry leaders in online proposal software, there are also good alternatives to consider. Let's take a look at a few.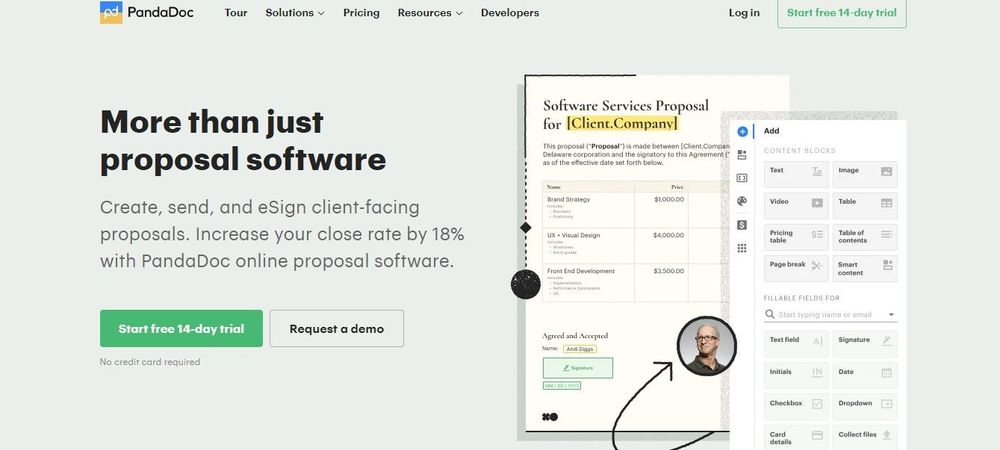 PandaDoc is an all-in-one digital document and contract management solution that enables you to create and track your most important sales documents. It offers flexibility that is perfect for growing sales teams that need support during the closing process.
Just like Proposify, your sales team can upload documents, request signatures, and manage prospects throughout the process. Teams are billed annually or monthly.
Qwilr is a good Proposify alternative for small teams. Unlike Proposify and PandaDoc, Qwilr doesn't place as much emphasis on sales documents. Instead, they offer an interactive website with embedded content.
There are analytics, proposal templates, and standard integrations with tools like CrazyEgg. Qwilr's proposal software comes with interactive pricing options, so you can choose the best pricing for your business.
Proposable is a Proposify alternative designed to give sales teams greater control and insight into sales and the approval workflow. You can create, track, edit, and sign all of your proposals from one single tool. There are several user roles to keep control over the most important stage of the sale, the approval process. You can stay on top of deals that close with email and SMS notifications. On the downside, PDF downloads can be tricky on mobile, and there have been some reports that the user experience isn't as great as Proposify and other competitors.
Marketing and sales teams in larger organizations will love this alternative to Proposify. It comes with payment collection options, eSignatures, document analytics, premium support, and document generation and editing options. Qvidian is great for proposal writers and managers that need to collaborate on proposals. Its most impressive feature is its database. There is no need to scroll through Google Docs or emails to find the previous Request for Proposal documents—it's easy with Qvidian.
It's compatible with Word and Excel, which can be useful as well. On the downside, Qvidian isn't as easy to use as Proposify and other alternatives, and it may be too complex for smaller businesses that do not have in-house IT support.
Indy is a great option for freelancers that need a Proposify alternative. Unlike Proposify, it isn't limited to online proposals. It's designed to help freelancers manage all aspects of their business, from marketing to billing to creating professional documentation to impress their prospects and close more deals. (There are also resources, including free templates and articles highlighting everything you need, from finding workspaces to sharing social selling secrets.)
You can use Indy to create proposals with estimates that turn into invoices once approvals have been received. This means you can capture all of the billing details and automate the entire process, saving time and avoiding back-and-forth communications. Users can adjust their proposals with their own branding, fonts, and imagery. It's perfect for small businesses and freelancers that need a helping hand.
Conclusion
Proposify is a good proposal software solution that can easily handle the early stages of the sales process, but it comes with some limitations. It's focused purely on proposals and approvals.
If you are a freelancer, you need much more than that to run your business. Instead of purchasing additional tools for workflow management, time management, and communications, why not choose Indy? Indy can manage the proposal process—and so much more.