Everybody loves a shortcut. This is what Clubhouse had in mind when they renamed themselves. Their brand grew so quickly that they felt a new name was needed. They wanted something snappy and memorable that summed up how they saw software development. They had become a larger initiative, so the new name was to represent this shift.
As a freelancer, there are some features you may find useful in Shortcut. This software allows you to track progress in a similar way to other platforms. You can assign a number of different projects to a single workflow, which is useful for the freelance way of working as it's rare to have just a single project on the go at one time. What are some of the key features that help this to happen?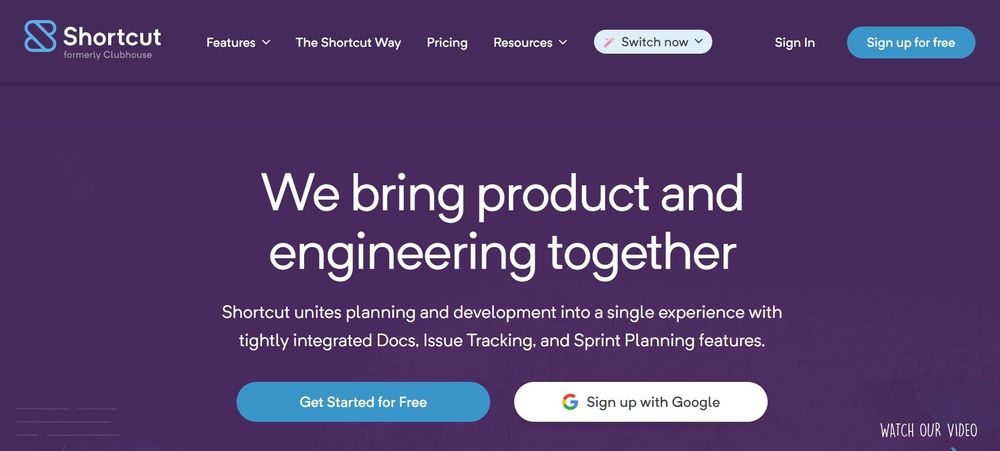 Main features
Shortcut makes use of a number of features to help you work in the way that is most effective for your needs. Most of them are pretty similar to other project management software, but they do show an understanding of what is needed to manage tasks effectively. Let's take a closer look at some of these:
Project management - You can display the current status of projects to see how close you are to completion. Remote teams will be able to work together, and there will be more transparency when progress is updated.
Advanced filtering options - Engineering teams or other teams can find the information they are looking for with a few clicks of a button.
Kanban cards - Kanban is a Japanese principle in which the visualization of workflows allows you to make changes necessary for more efficiency. Kanban cards are smaller parts of a kanban board that allow you to keep track of individual tasks.
Integrations - There are various integrations available through this platform, including Github, Slack, and GitLab.
Unique selling points
An innovation that made Shortcut more attractive to potential users was the creation of 'Voice Rooms,' where you can discuss topics with other users that are driven by the community. This is an organization that takes the needs of its clients seriously and was looking to bring users together so they could get the most out of the platform.
The marketing strategy to launch the Shortcut app involved celebrity endorsements. This made the software projects memorable and actually led to Shortcut going viral. These elements may have helped to give Shortcut an edge in a growing market, but this is still a very competitive field, so time will tell if they can remain at the forefront.
Target audience
Shortcut's target audience is project teams, meaning some of its functionalities won't be ideal for freelancers. In the early days, Shortcut was aimed at celebrities, CEOs, and influencers. The success of this approach meant the platform grew a lot faster than they were anticipating, which meant it was offered more widely.
When the web app was expanded, and the voice rooms were opened, Shortcut gained a broader appeal. A lot of companies are using Shortcut, and while these may not be as big of names as some of their competitors, they do include Makespace and Policygenius. Shortcut is not trying to be as exclusive as it once was. In fact, the company is making extra effort to become more accessible to all.
Pricing
Shortcut has four different pricing plans; the one you choose will depend on the size of your operation. There is a free option for small teams as well as three paid options. These are:
Shortcut Teams: At $8.50 per month, which allows multiple teams to collaborate rather than just a single team to operate.
Shortcut Business: At $12 per month, which is for modern teams to accomplish their goals by distributing work across the organization.
Shortcut Enterprise: You will need to get in touch with the sales team to find out the price. This is for large organizations and has unlimited capabilities.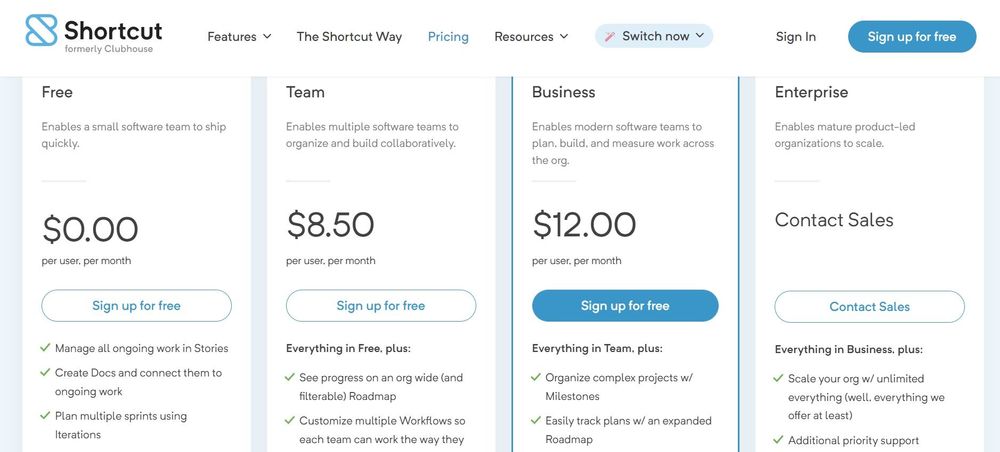 Disadvantages
Shortcut has definitely grown in popularity quickly, but this has also led to some disadvantages that are hard to ignore. For starters, the voice rooms began as a great way of communicating with other users and were genuinely helpful. Nowadays, they are filled with thousands of users, so your comments are likely to disappear almost as soon as they are posted.
Another drawback is that Shortcut is specifically designed for software development teams, so if you aren't collaborating with project teams, you may want to look for an alternative that's been designed with freelancers in mind.
Shortcut also doesn't have native time tracking, which is a critical feature for freelancers to optimize their workflow and get paid accurately. This means that you'll have to seek out a separate productivity app to get this feature, which isn't an ideal solution if you want a platform that can handle it all.
Shortcut vs. Indy
When comparing these two platforms, Indy is specifically designed with freelancers in mind. Shortcut was initially designed to target powerful figures within different industries and has only recently been more accessible to all.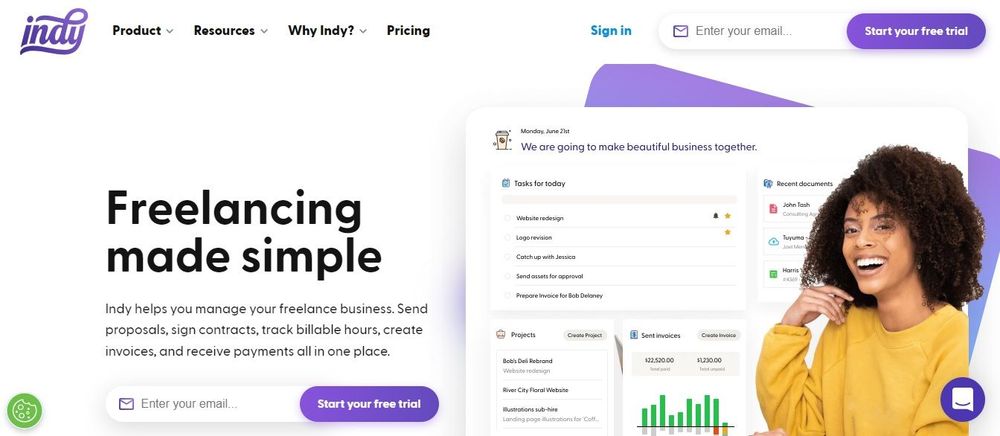 Indy, on the other hand, has all of the features you will need to manage a freelance business, including ready-made proposal and contract templates for lead-generation and client onboarding, native time tracking, task management, 1 TB of file storage, an intuitive calendar app, chats, and invoices.
For unlimited access, Indy costs just $12/month (although you can try an Indy's Free plan that gives you free unlimited access to all the basic tools!).
Summary
Shortcut has gone through a number of changes in recent years. It started off with lofty ambitions of being the go-to option for the industry high flyers. This led to an increase in popularity beyond their imagination, and somewhat ironically, it meant they opened the platform up to people from all walks of life.
However, Indy is a better choice for freelancers. The voice rooms that made Shortcut famous are not as useful for freelancers because the same function can be achieved with Zoom, Meet, Skype, or WhatsApp. And the extra features of Indy make it more useful for managing every aspect of the project process.