To secure jobs as a freelancer, high-quality proposal templates are crucial. Online proposal software can save time and provide pre-designed templates tailored to your needs. With features that streamline proposal development, you can create professional-looking proposals that showcase your expertise and stand out from competitors.
Proposify is a popular solution. However, there are several other alternatives. Let us explore 6 alternatives. We'll then discuss what makes Indy a great option along with some of our unique features.
The Online Proposal Software: Proposify
Proposify is a cloud-based proposal software tool. With the help of various tools and pre-made templates, it enables organizations to develop their business proposals. They provide a content library and a drag-and-drop feature that enables you to select between different case studies, parts, and costs.
Users can also monitor the development of their ideas and gain visibility into the individuals who have viewed their documents. Proposify is a software tool that aims to streamline the proposal process and automate tasks for sales and marketing teams. It is best suited for companies that specialize in web design and startups.
How Does Proposify Work?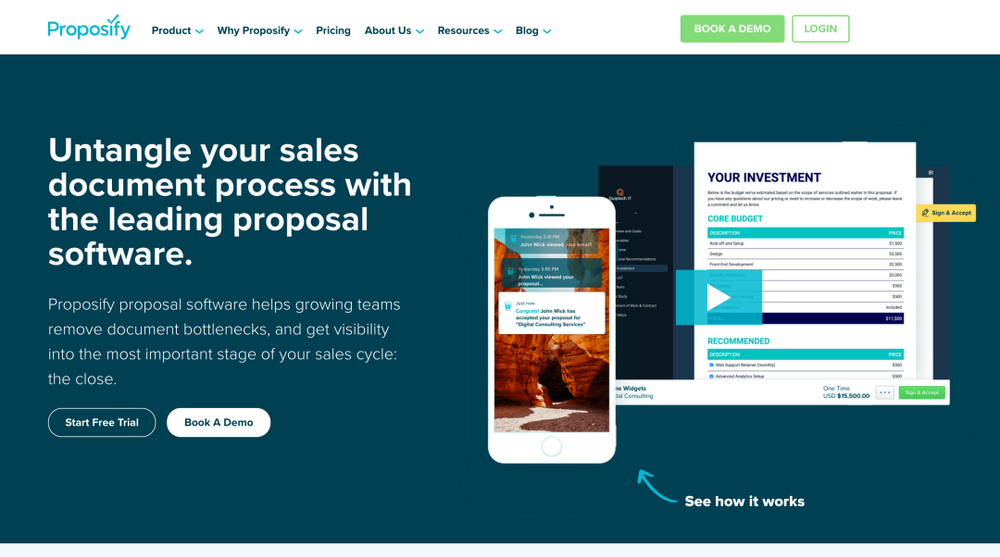 Proposify works by giving you a platform, design components, templates, and collaboration tools to make it easier to create, send, and ultimately close proposals. When you log into Proposify, you can either build your unique template or select one of the dozens of pre-made designs available to you right now. All of these templates have several components including:
An overview and objectives section
Team bios section
Scope of work section, and anything else you would typically include in a proposal
These templates can be modified to reflect your company's aesthetic. Each of these components may be added to your content library so that you may access it later. You can also import previously created templates into brand-new proposals using the drag-and-drop functionality included in Proposify. You can add deadline dates to each proposal, and reminders can be created to help your team manage time better. Other interesting features to note are:
Your potential customers are able to examine the document on their mobile devices or desktop computers
When you click on the Metrics tab, you will be able to see information such as the number of clients who viewed your proposal and also track the data.
Their Pipelines provide you and the rest of your team with an overview of the progress being made by your firm as well as the possible sales opportunities
Proposify gives you access to several third-party tools that will assist you in automating the proposal process and gaining a deeper understanding of your entire engagement. They also provide their customers with a wealth of resources and step-by-step instructions to assist them in better comprehending their platform.
Alternatives to Proposify
1. Indy

Indy serves as a great alternative to Proposify, specifically designed for freelancers who seek a comprehensive platform for managing various aspects of their work, including proposals. The Indy proposals tool is an efficient, lightweight solution that streamlines the proposal process and offers a range of unique features and benefits.
You can start with a template and customize it according to your needs, tracking the status of each proposal at every stage, from Draft to Approved. Indy's proposal tool aims to simplify the proposal process for freelancers, providing a seamless experience from start to finish.
Advantages
Easy-to-use drag-and-drop editor for creating professional-looking proposals
Customizable branding and business details for a personalized touch
Integration with project management software for streamlined workflow management
Wide range of industry-specific templates to suit various needs
E-signature and electronic storage for seamless client interaction
Disadvantages
Limited features compared to some other proposal tools
Not specifically designed for team collaboration on proposal creation
Pricing
Indy offers more affordable pricing than Proposify. There is a free plan, limited to sending 3 proposals per month, and a Pro plan with a cost of $12 per user per month. Apart from unlimited proposals, it includes powerful automations and integrations with external tools. Proposify's basic plan starts at $19 per user per month, based on the number of proposals sent.
2. Proposable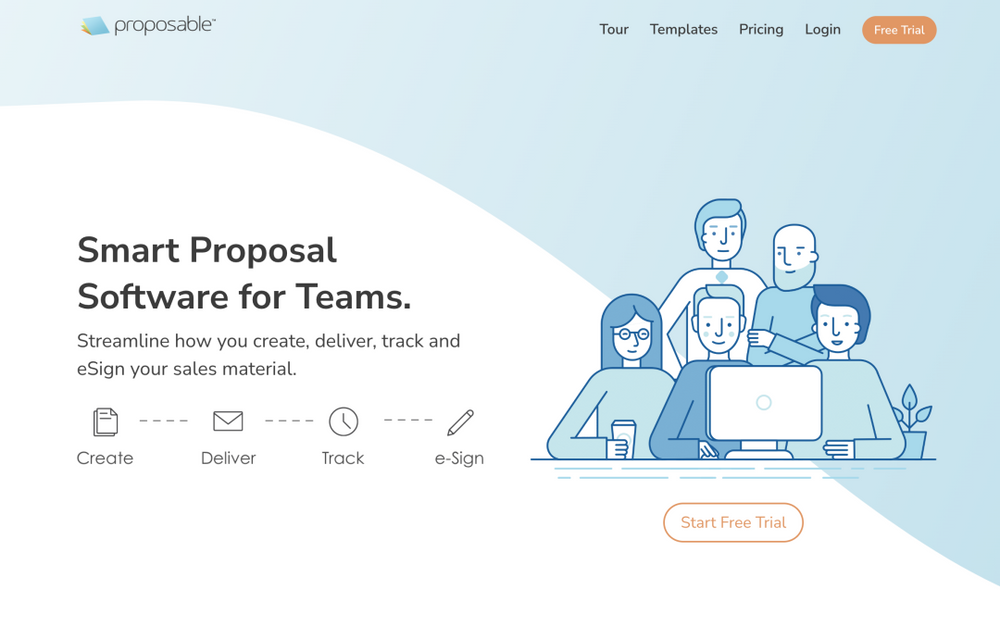 When creating proposals using Proposable, you can choose from various pre-made templates and use an intuitive drag-and-drop interface to easily add or remove components. It is simple to personalize with information about customers, and you may work together with your team to construct the document. Electronic signatures can be generated automatically, enabling your clients to sign off their signatures or initials to show approval of the terms or to sign the final document. It is also possible to add bids and estimates, which can include any applicable taxes or discounts, making it simple for the consumer to calculate the cost of the service.
There is something called a Pricing Catalog that you can use to instantly recall prices for products and services if they are consistent. You can use this when constructing a proposal. The majority of different currencies are accepted here. You also have the option of establishing a payment amount on the proposal, which will require the consumer to pay upon acceptance of the proposal.
Advantages
User-friendly interface with drag-and-drop editor and pre-made templates
Integration with project management software to streamline proposal creation and management
Disadvantages
Pricing
Proposable offers three pricing plans: Professional ($25/user/month), Business ($75/user/month), and Enterprise (custom pricing). All plans include unlimited proposals and e-signatures, but higher-tier plans offer additional features such as custom branding and reporting.
3. PandaDoc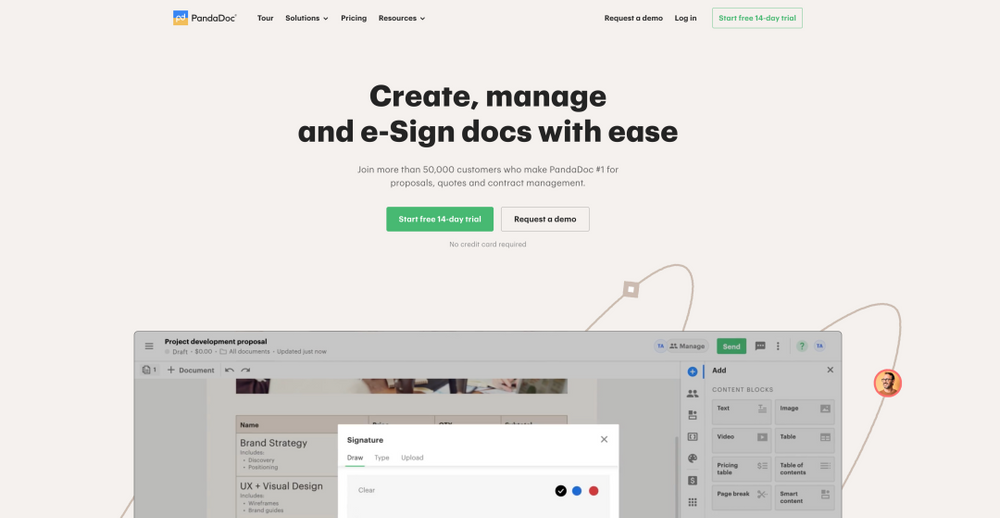 Another alternative to Proposify is PandaDoc, which offers a document automation system to see you through the entire "propose to closure" process. You can generate proposals and contracts with the help of an editor that employs a drag-and-drop interface and enables uploading, and then you can complete the transaction with an electronic signature.
Templates are available that are very easy to customize, allowing you to add your logo, brand name, or overall theme. You will be notified when the customer has opened, seen, and signed the document you sent them. You can even record the templates you employ in content refinement.
An integrated payment system allows your customers to pay using their preferred method. Your accounting software is connected to payments, which speeds up the process of invoicing and paying bills. You may even assign responsibilities within the system so that you and others can use it together.
Advantages
Integration with payment and accounting software for seamless invoicing and payment
Automated notifications and tracking of proposal progress and customer engagement
Disadvantages
Limited flexibility in design customization
Pricing
PandaDoc offers three pricing plans: Essentials ($19/user/month), Business ($49/user/month), and Enterprise (custom pricing). Additional features such as payment processing and integrations with CRM software are available at higher pricing tiers.
4. Bonsai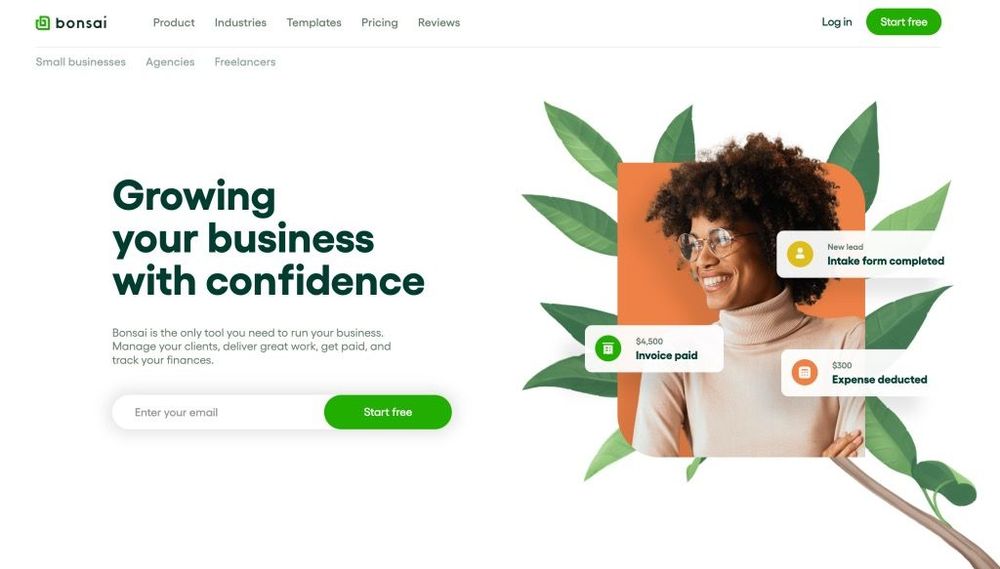 Bonsai is a viable alternative to Proposify because it was developed expressly for freelancers who know the significance of submitting winning proposals. You can use their proposal templates, which already have the critical components proven to win business, and then adapt those templates to create proposals that meet your specific requirements.
Documents can be attached, parts can be added or removed, and the whole thing can be added to a project dashboard. After that, your proposal is integrated with contracts (including e-signature capabilities utilizing the online signature maker) and invoices to control your project from the beginning to the end.
In addition to customer data, you can manage tasks and projects and track time that can be applied to projects. You can set up automatic reminders to be sent to customers, and the system will let you know as soon as the reminders have been read. You'll also receive assistance with accounting and taxes, and you'll be able to transact business in 180 distinct currencies. You can conduct international business no matter where you choose to locate your company.
Advantages
Designed specifically for freelancers with proposal templates proven to win business
Integration with project management and time tracking tools for streamlined workflow management
Disadvantages
Limited customization options compared to some other proposal tools
No option for team collaboration on proposal creation
Pricing
Bonsai offers three pricing plans: Starter (free), Freelance ($19/month), and Business ($29/month). All plans include unlimited proposals, contracts, and invoices, with additional features such as time tracking and custom branding available at higher pricing tiers.
5. Better Proposals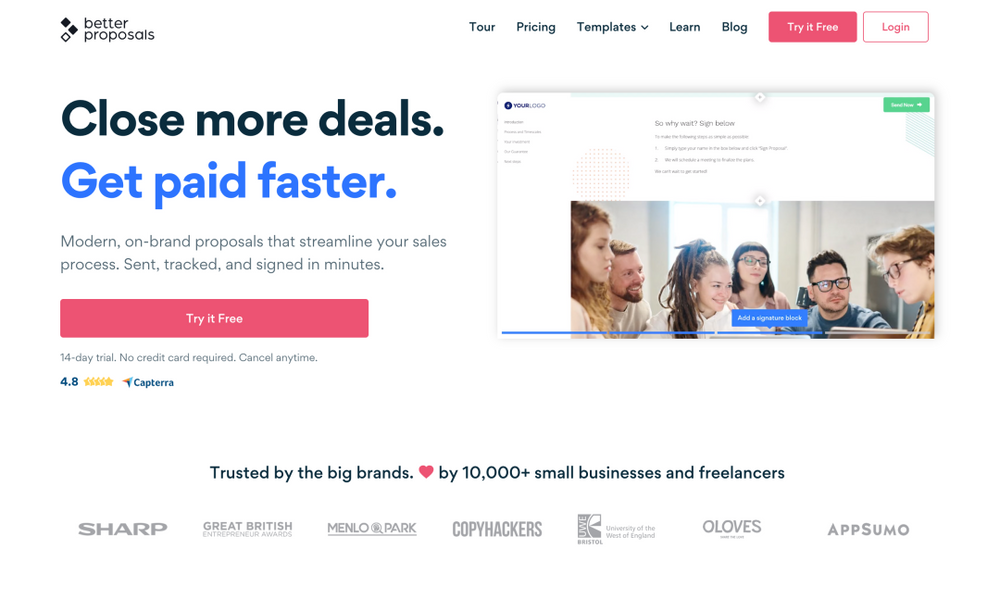 The purpose of Better Proposals is to assist you in rapidly developing proposals with a "high-converting" rate. You may choose from more than 160 templates compatible across desktop computers, tablets, and mobile devices when you use Automatic Designer, which will help you save time.
Clients will have no trouble signing your proposal after they have received it, and they will have no trouble making a payment using the secure link that you send along with the proposal. You will be aware when clients have read the proposal, allowing you to follow up with them if required, and you will be able to track where each proposal is in the sales process. Integration with additional tools, such as payment and project management systems, is another feature Better Proposals offers.
Advantages
Over 160 customizable templates for high-converting proposals
Integration with payment and project management tools for streamlined workflow and invoicing
Disadvantages
Pricing
Better Proposals offers three pricing plans: Standard ($19/user/month), Premium ($49/user/month), and Enterprise (custom pricing). All plans include unlimited proposals and e-signatures, with additional features such as custom branding and reporting available at higher pricing tiers.
6. Qwilr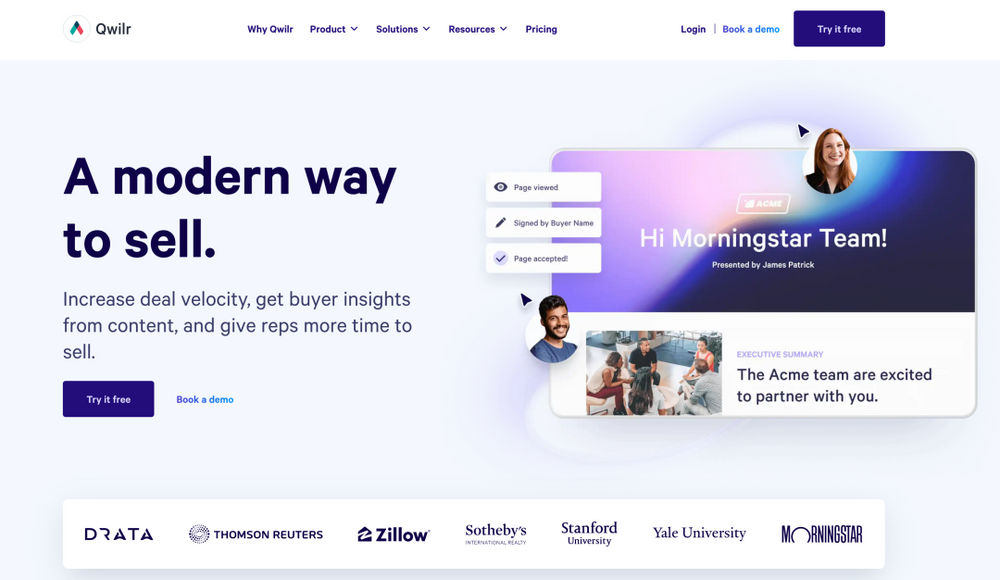 An acceptable substitute for Proposify, Qwilr is a helpful tool for creating interactive quotes and proposals, whether you run an agency or work with a team. It goes beyond the limitations of a static document by enabling you to embed content such as videos, Google Maps, and calendars, and it does so in a responsive format across mobile devices. Templates that provide you with pre-assembled building pieces and a straightforward editor enable you to quickly produce polished and professional proposals.
Customers can select from various pricing information packages thanks to an interactive quotation functionality, eliminating the need to travel back and forth multiple times with pricing information before reaching an agreement. The customer may then accept the terms, attach an electronic signature, and pay simultaneously. You will be informed when your document has been examined and approved, and you will also receive details regarding how customers interact with the proposal and the times at which they do so. Adding features when the system is integrated with other systems is simple.
Advantages
Interactive proposals with embedded content for a more engaging customer experience
Interactive quoting functionality for easy pricing and agreement
Disadvantages
Limited customization options for templates and design
Higher pricing than some other proposal tools
Pricing
Qwilr offers three pricing plans: Pro ($75/month), Business ($150/month), and Enterprise (custom pricing). All plans include unlimited proposals and e-signatures, with additional features such as custom branding and analytics available at higher pricing tiers.
Final Thoughts
Proposify is an excellent software solution for proposals. Yet, freelancers require access to several tools. Despite how well it works, it is not capable of managing projects, controlling contracts, or keeping track of time.
To successfully manage a business as a freelancer, you will need a tool for all the tasks we mentioned above. Why not choose Indy as your workflow management, time management, and communication solution instead of buying extra tools? Indy can manage the proposal process, help you manage your contracts, keep track of time, submit and monitor invoices among several other functions. So go ahead and start here for free.