Smartsheet was launched in 2006, nearly 15 years before global lockdowns forced remote working on so many. It could be said that the designers predicted the way we would one day be working. It was designed as a spreadsheet-based platform where whole teams can track projects from anywhere. Now used by an estimated 9 million people worldwide, including Google and Netflix, this is a project management software that is here to stay!
As a freelancer, it can be useful because your clients will be able to keep track of your progress without having to reach out to you. Any collaborators you have will be able to see your work and you theirs. It is one of the more popular resource management tools on the market because it brings people together in this way.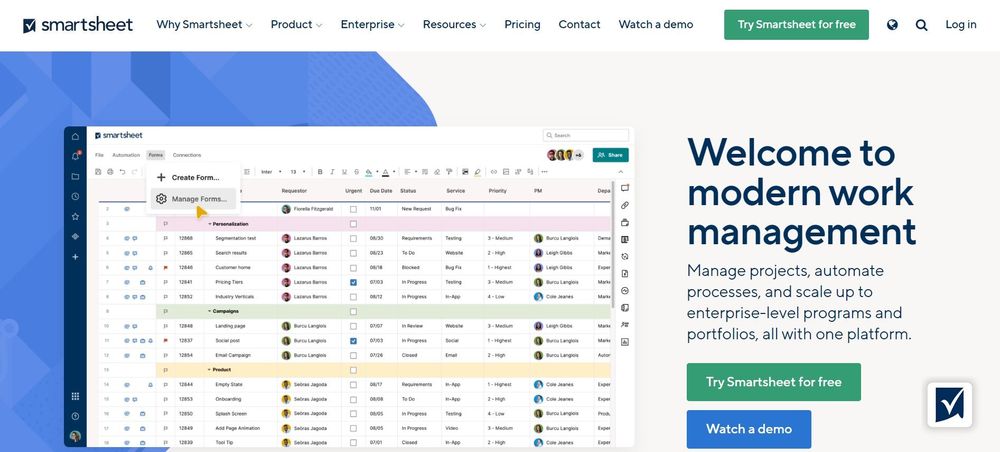 Main features
Smartsheet has many important features—too many to list—but a few of the key ones are:
Shared sheets - Similarly to Google Docs, you can invite users to view and edit your sheets. This can be an unlimited number of people. Alternatively, you can publish sheets to the internet. Either way, this allows collaboration between both small and large teams. The team can include any number of people.
Shared workspaces - Set up a space in which your team can collaborate securely. You can also bring in clients or stakeholders who need to see your projects in action.
Send sheets or updates via email - Sheets can be updated via email without needing to log in. This means anyone on the team can quickly and easily keep you all up to speed with project progress.
Upload files - You can easily bring in files from any source to existing sheets, making it easy to add important information to projects.
All of these features and more can be easily accessed from one place. Drop-down menus make it straightforward to implement different tasks to your projects when needed.
Unique selling points
"The only platform that can scale from a single project to end-to-end work management," yells Smartsheet's website. What's more, no coding knowledge is required to make this happen. The idea is that anyone can make use of this software to manage projects in the way they need to.
Smartsheet has different process guides on its website, including how to build a winning sales platform. They look to empower users with the knowledge to get the most out of this software. Who are these users?
Target audience
Smartsheet promotes a collaborative approach, so in this way, it isn't targeted at one particular group. It is used by some highly successful companies in the USA, including The North Face and Search Engine Optimization Inc., along with the companies mentioned above. The idea behind this software was to automate business processes and make digital asset management straightforward.
Software like Smartsheet allows project managers to assign tasks and carry out process management in ways they never could. Advances in technology are making collaborative working possible no matter where people are. Smartsheet was ahead of the game with this, having been on the market for over 15 years.
Smartsheet pricing
There is no free option for Smartsheet, although you can try the Pro or Business plans for free. When it comes to project budgeting, the cost of software must be factored in, and Smartsheet isn't the cheapest option. Let's take a look at what you get for your money.
The Pro plan is just $7/month and has unlimited sheets/viewers, but storage is quite limited, with 20 GB. There are some integrations available, including Microsoft 365.
The Business plan is $25 per month and allows much more storage with 1 TB of available space, access to professional support, on-demand training, along with many more integrations.
For the Enterprise plan, you will have to contact the company for pricing. There are a wealth of extra features, including unlimited storage, 24/7 phone support, and detailed reports that will help you streamline your work going forward.
Smartsheet is designed for professionals, and to get the best automation tools, you may need to pay a little more. The professional services you could benefit from may be worth the extra money, but as always, you need to weigh your options. As a freelancer, the amount of money you invest on expenses is very important since work won't always be consistent.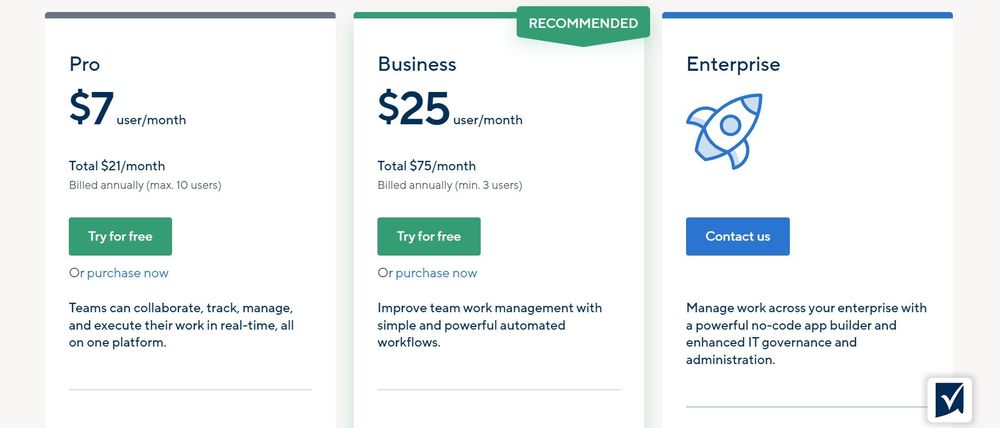 Disadvantages
The cost is one of the main things that puts people off from using Smartsheet, as there are cheaper project management options available. The lack of time-tracking capabilities is also a deal breaker for many. As a freelancer, time tracking is a critical tool to have because time is money.
Some users of the mobile app have also found it to be quite limited. This is an important consideration when over 50% of web traffic in the USA is from mobile devices.
One other worrying drawback that has been mentioned is security concerns. Smartsheet makes it easy to share data, but does this come at a cost? There are different viewing permissions available, so sensitive data can remain safe, but it might be easier to access than you think. Something to be aware of.
Smartsheet vs. Indy
An obvious comparison that springs to mind when comparing Smartsheet to Indy is the cost. Without wishing to keep bringing this up, Smartsheet isn't the cheapest option around.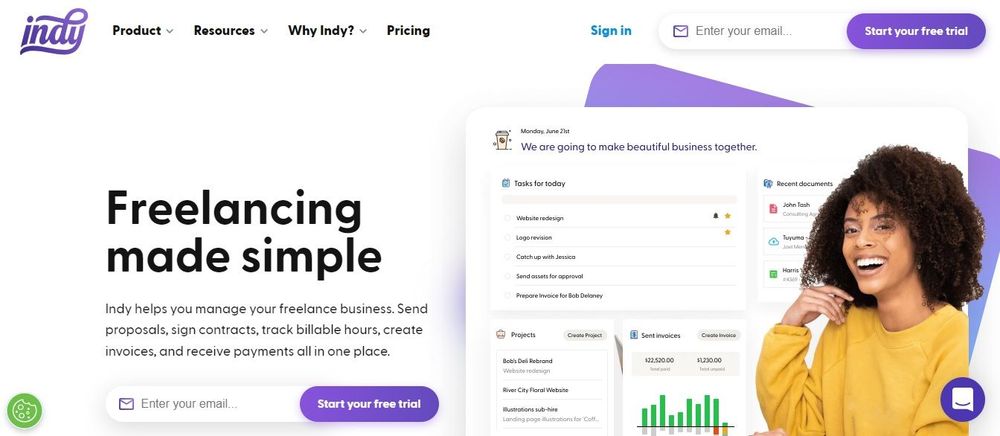 Indy is made to be cost-effective with the needs of freelancers in mind. With Indy, you can manage your business from start to finish with templates for proposals, contracts, and lead-generation forms to onboard new clients. Task management is made easy with board and list views, 500 GB of file storage, chats, and an intuitive calendar app to give you a view of everything that's due or overdue.
Also, thinking of freelancers, automatic time tracking is a key feature of Indy, which Smartsheet doesn't have. Indy's Time Tracker lets you track time automatically with the push of a button or add time manually later. What's more? You can turn those time tracks into an invoice with just a couple of clicks.
Indy is a very secure platform with the capability to unshare files at any time, and SSL encryption helps keep would-be hackers at bay. You can get unlimited access to Indy for just $12/month (or try out Indy's free forever plan to test out how these tools work for you!).
Summary
Smartsheet deserves a spot on the list of popular project management tools. It is user-friendly, and a lack of coding knowledge won't be a disadvantage if you want to make use of its features.
Having said this, it should be noted that not everyone is a fan of Smartsheet. Many are put off by the price, which gets quite expensive if you want to take advantage of all it has to offer. It's also been said that the security features are limited, which of course, is a concern.
If you're looking for a robust project management software that is both budget-friendly and specifically designed for freelancers, check out Indy. It has all the features freelancers need to manage projects, and the price won't break the bank.