As a freelancer, multitasking is second nature, with responsibilities ranging from marketing to client management and, of course, handling finances. With no accounting team to back you up, managing payments and staying financially organized can become quite a task. Enter the world of invoice generators, specifically designed for freelancers, to help streamline your invoicing process and elevate your professional image.
This article will introduce you to the advantages of using an invoice generator, including free invoice templates, and present the top 10 tools to consider for your freelancing business.
How an invoice generator can help freelancers
How can you move from a blank invoice to getting paid as quickly as possible? That's the goal, right? The answer is to start with a blank invoice template and use one of these tools to finish and send invoices in moments.
Stand out to clients with free invoice templates
In the competitive freelancing landscape, setting yourself apart is crucial. Invoice generators offer an array of customizable invoice templates, including free invoice template ideas, that allows you to create eye-catching, professional invoices reflecting your unique brand. By selecting from various ready-made designs, you can quickly create invoices that'll impress clients and distinguish you from competitors.
Be more organized with online invoice generators
Staying organized is vital for a thriving freelancing business. Online invoice generators, including free invoice generator options, help keep your financial records in order by managing your invoices, tracking outstanding payments, and providing an overview of your cash flow – all in one place. With features like automatic invoice numbers, archiving, and reporting, staying on top of your finances and avoiding overdue payments becomes much easier.
Create professional invoices quickly and efficiently
As a freelancer, time is precious, and you don't want to spend hours creating invoices using spreadsheets or word processors. Invoice generators, like online invoice generator tools, simplify the process with user-friendly interfaces, enabling you to create professional timesheet invoices, or project invoices, in just a few clicks. By inputting essential details like client contact details, project descriptions, and payment instructions, you can generate custom invoices in minutes, freeing up more time to focus on your work.
Automate payment reminders and follow-ups with recurring invoices
Chasing clients for payments can be time-consuming and uncomfortable. Many invoice generators offer automated payment reminders and follow-up features, as well as options to create recurring invoices, which help you gently remind clients about outstanding invoices. By setting up custom notifications and reminders, you can stay on top of your receivables without those awkward phone calls or multiple emails.
Manage multiple currencies, languages, and accept payments
Freelancers often work with international clients who prefer invoices in their local currency and language. Invoice generators typically support multi-currency and multi-language options, making it easy to accommodate clients' preferences and maintain a seamless invoicing process. Some tools also integrate with payment processing services, allowing you to accept payments directly through your invoices.
Securely store and access your data with online invoice tools
Most invoice generators, including online invoice generator options, store your data on secure cloud servers, ensuring your financial records are protected from loss, damage, or unauthorized access. This also means you can access your invoices, billing information, and even timesheet invoices from anywhere and at any time, using any device with internet connectivity – providing the flexibility essential to freelancing. You can also use a PDF invoice format to standardize your document storage.
Streamline tax preparation and reporting
Tax season can be daunting for freelancers, but using an invoice generator can help alleviate some stress. These tools often include features like tax calculation, expense tracking, and financial reporting, making it easier to stay compliant and prepare accurate tax filings.
As you now understand the benefits of using an invoice generator, including free invoice generator options and free invoice templates, stay tuned for our in-depth look at the top 10 tools on the market.
Top 7 invoice generators for freelancers
Choosing the right invoice generator tool is essential for freelancers looking to streamline their billing process. When evaluating potential options, keep these key factors in mind:
Customization and ease of use: Look for a tool that offers user-friendly interfaces, free invoice templates, and customization options to create professional invoices that reflect your brand.
Streamlined billing process: Seek features like automated payment reminders, recurring invoices, and integration with payment processing services to make invoicing more efficient.
Support for international clients: Ensure the tool supports multiple currencies and languages to accommodate a diverse clientele.
Pricing and data security: Consider the pricing structure and available plans, as well as secure cloud storage for easy access and data protection.
With these criteria in mind, you'll be well-prepared to explore the top invoice generator tools available for freelancers, each offering a unique blend of features and benefits to suit your business needs.
1. Indy
Freelancers seeking a reliable and user-friendly invoice generator can turn to Indy's free online invoice software. This versatile tool offers numerous benefits that cater to freelancers' unique needs, including:
Quick and easy invoice creation: With Indy, freelancers can effortlessly build and send customized invoices that look professional and are compatible with various devices. The platform streamlines the invoicing process from proposals to time tracking to payment.
Recurring invoices: Freelancers can automate their billing process by setting up recurring invoices, ensuring consistent cash flow without manual intervention.
Multiple payment options: Clients will appreciate the variety of payment methods available, including credit and debit cards, checks, wire transfers, direct deposits, and more.
Branding customization: With over 50 fonts, logo integration, and brand color selection, freelancers can create personalized invoices that leave a lasting impression.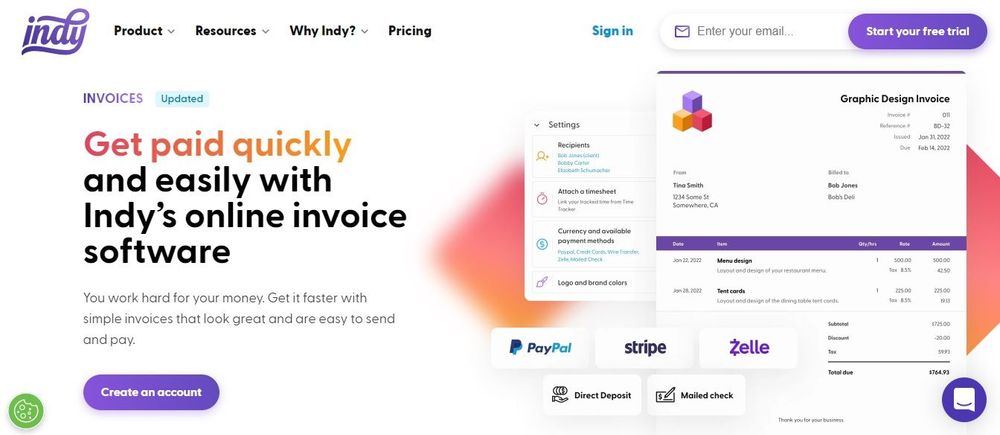 Indy's invoice generator is designed to simplify and enhance the invoicing experience for freelancers. With its range of customization options and payment features, freelancers can efficiently manage their billing process while maintaining their brand identity.
You can send 3 invoices with Indy's Free plan. For unlimited invoices, Zapier integration, recurring invoices, and custom workflows, you can sign up for Indy Pro for just $9/month with the annual plan.
2. Wave
As a freelancer, having an easy-to-use and efficient invoicing tool is crucial for maintaining a professional image while streamlining your financial processes. Wave's Invoice Generator is one such tool that allows you to create customized, professional invoices within seconds. While this free tool is fantastic for freelancers, we encourage you to explore other options like Indy to find the perfect fit for your needs.
Key Features of Wave's Invoice Generator:
Create and send unlimited customized invoices for free
Simple and intuitive interface for efficient invoice creation
Customize your invoices with a variety of templates, logos, and company colors
Generate customer statements and set up recurring invoices with Wave's free invoicing software
Shareable and printable invoice formats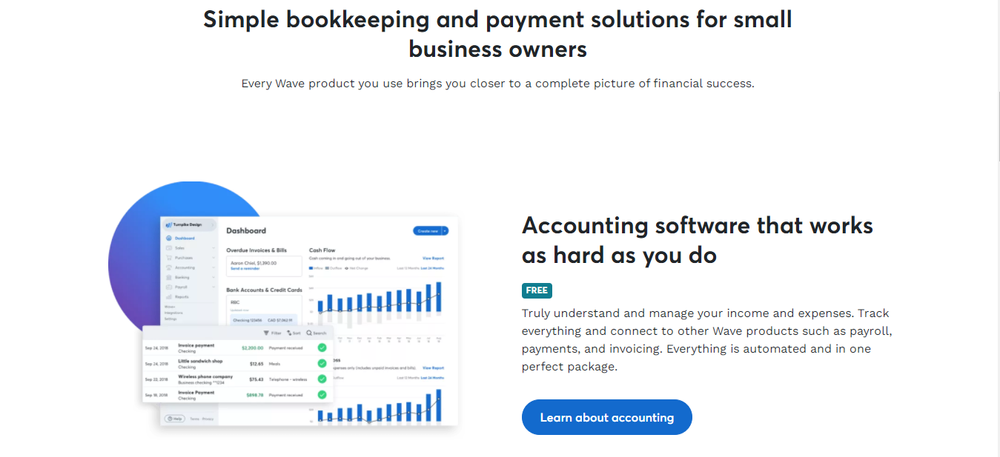 Wave is a good choice for creating invoices. However, it lacks Indy's other tools, such as project management, file storage, and proposal builders.
3. PayPal
As a freelancer, finding the right invoicing tool that meets your needs is essential for maintaining a professional image and making it easy for your clients to pay you. PayPal Invoicing is a convenient and powerful solution that lets you send online invoices to your clients, even if they don't have a PayPal account. With a user-friendly interface, customizable templates, and mobile accessibility, this invoicing tool is perfect for freelancers looking for an efficient and professional way to get paid.
Key Features of PayPal Invoicing:
Create, send, and track invoices from any device with a Wi-Fi connection
Reusable invoice templates with your logo and company information
Schedule recurring invoices and past-due notices to be sent automatically
Streamlined process with estimates that can be accepted and updated within the invoice
PayPal Business app for managing invoices on the go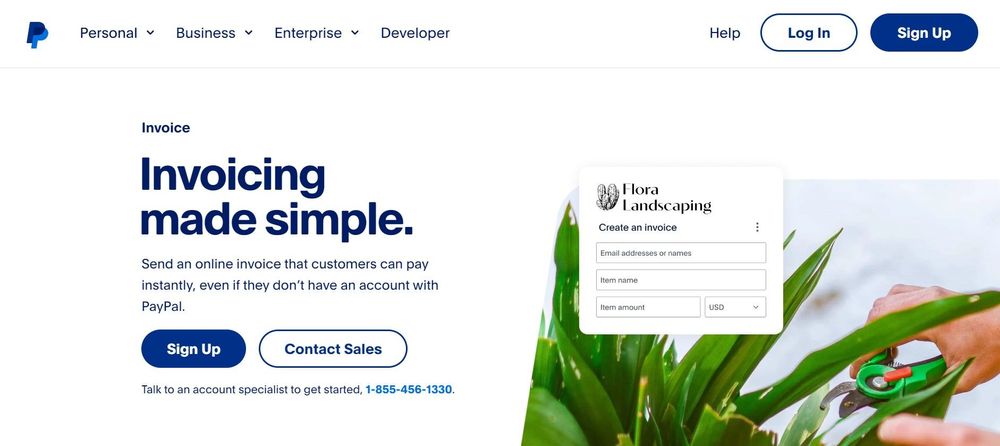 4. Zoho Invoice
Zoho Invoice is an award-winning, feature-rich invoicing software specifically designed for small businesses, freelancers, and sole traders. Best of all, it's entirely free and will always remain so! With a user-friendly interface, automation capabilities, and seamless integration with other Zoho Finance apps, Zoho Invoice enables you to manage billing, take online payments, and send automated reminders with ease.
Key Features of Zoho Invoice:
Create branded, professional invoices in minutes
Take online payments and send payment reminders
Generate detailed estimates that can be converted to invoices
Time tracking and accurate client billing for logged work hours
Expense tracking and reimbursement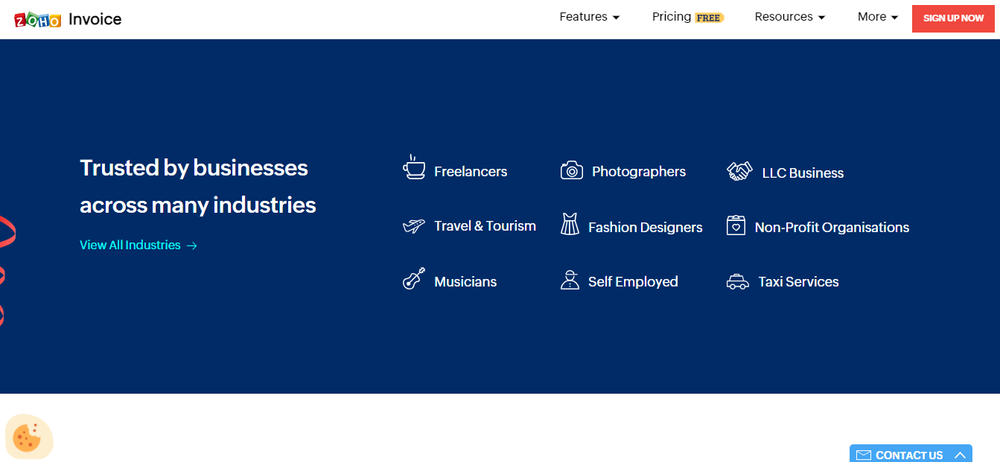 5. Invoicera
Invoicera is a revolutionary invoice software that simplifies the invoicing process, allowing you to create accurate invoices automatically and efficiently. With its custom workflow management, automated invoice process, and custom invoice templates, Invoicera is the perfect solution for businesses looking to streamline their billing and payment processes.
Key Features of Invoicera:
Create and send invoices online in less than 3 minutes
Manage payments and reports within one dashboard
Customize and integrate with your existing legacy setup
Automate invoice scheduling, late fees, and payment reminders
Manage credits and discounts without conflicts in the balance sheet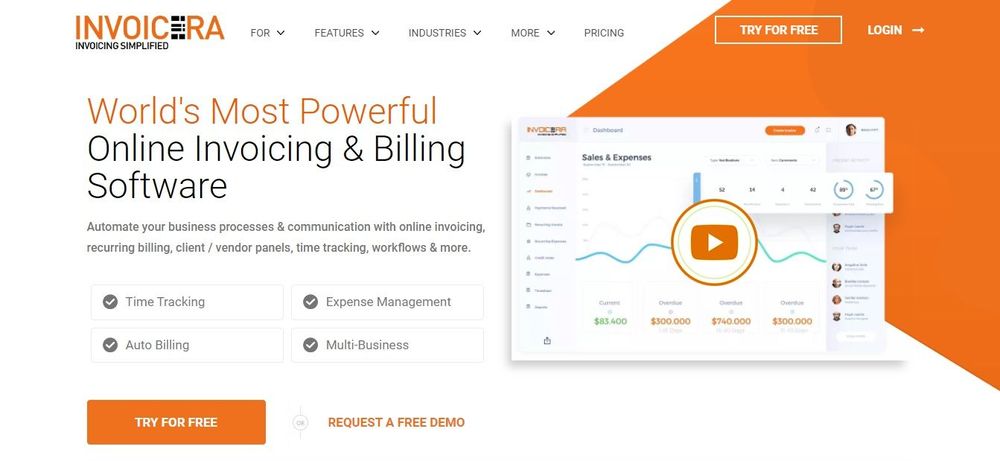 6. Hectic
Hectic is an invoicing platform designed to make invoicing and getting paid online a breeze. With its professional, customizable templates, seamless invoice tracking, and automatic reminders, Hectic helps you get paid faster and more efficiently.
Key Features of Hectic:
Accept online payments with credit/debit cards, PayPal, and ACH in 81+ currencies
Turn tracked hours into invoices in just a few clicks
Professional, customizable invoice templates
Room for transparency with dropdown labels and notes
Automatic recurring invoices, follow-ups, and late fee options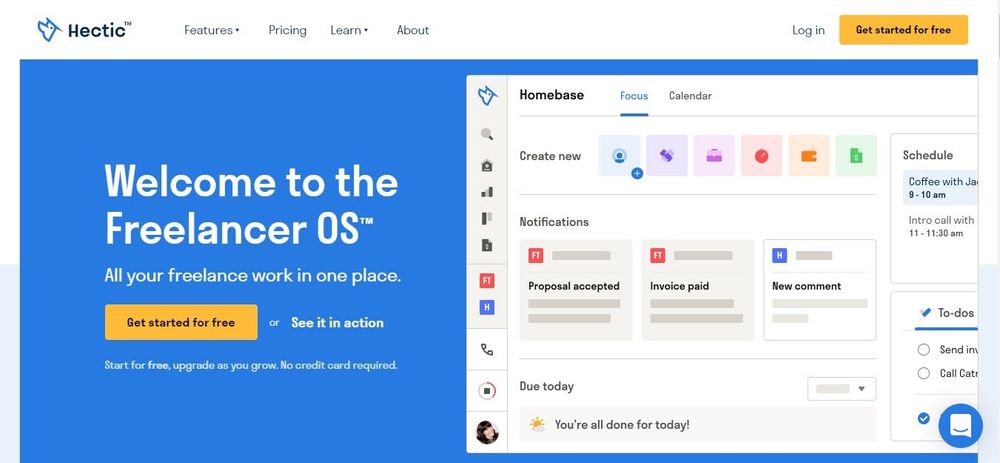 7. Bloom.io
Bloom's free invoice generator, an invoicing solution designed specifically for creatives and freelancers. This powerful tool allows users to create professional, fully-customizable invoices effortlessly without the need for an account. It simplifies the invoicing process with its user-friendly interface and seamless integration with major platforms, making it a good choice for anyone looking to streamline their billing and get paid faster.
Key Features of Bloom.io:
No account required, unlimited use
Integrated with all major platforms
Customizable templates with logo and cover image uploads
Supports multiple payment methods
PDF download and preview options
Easy 7-step invoice creation process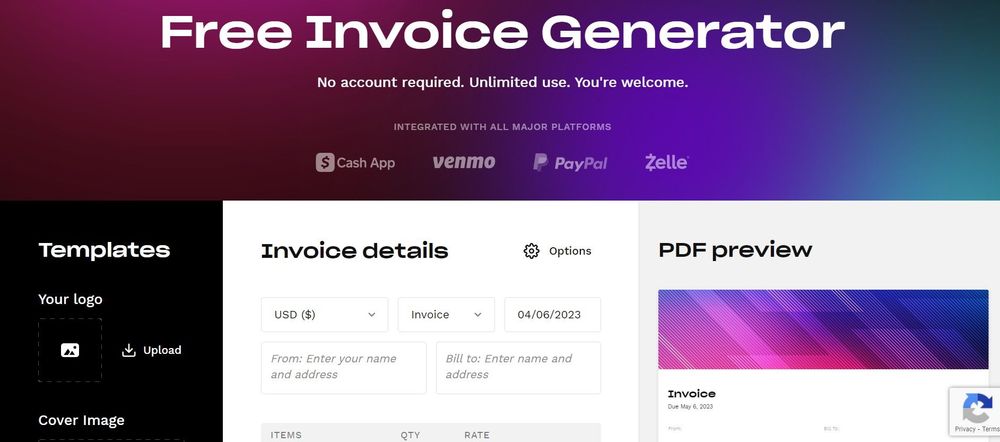 Final thoughts
Those were our picks for the best invoice generators for freelancers, all designed to make invoice creation faster and easier than ever before. When it comes to choosing the best invoice generator for freelancers, Indy stands out as the top choice. With its user-friendly interface, customizable templates, and seamless integration with various payment platforms, Indy simplifies the invoicing process and ensures timely payments for freelancers.
Its features are tailored specifically to meet the needs of independent professionals, making it the ultimate invoicing solution. So, why wait? Try Indy's invoice generator today and experience the ease and efficiency it brings to your freelance business.