Everyone has a different creative process while doing a project. Whether personal or professional, getting your thoughts organized and turning your inspiration into a more collected base for fulfilling a project can be difficult. That is where mood boards come in.
Mood boards are digital or physical collages that include images, text, different materials, and other elements that give you an overall outlook on what you intend to do. It is a board that contains all your ideas during the design process and represents what the final work will look like.
In this post, we'll learn about mood boards, how you can create them, and what they can do for you.
The purpose of mood boards
Mood boards, also known as drawing boards, can be used for several purposes, such as creating a brand design, website design, product design, or even decorating your room.
Creating mood boards has many benefits while doing a design project, such as an interior design project or graphic design. It can be a valuable resource that helps you keep the style and aesthetic consistent with your goals and inspiration.
Your own mood board
Your mood board can serve as a low-cost mockup that visually explains your design ideas. It can be a great way to communicate your design inspiration and style to clients.
For example, if you are an interior designer and use the words "minimalist" or "antique" on your interior design mood board, most people will have no clue what they mean. In such cases, showing them what you mean through a physical mood board can help them grasp the concept more easily.
How does it help?
Creating mood boards can help bring a design team on the same page when working together on a project. A mood board helps in the visual representation of a story. It allows people to understand and communicate with each other creatively by providing visual directions.
For example, an interior design mood board can help an interior designer showcase to their clients and other team members what the final product will look like.
So, if you are an interior designer, an architect, a website developer, or even a client, the simplest way to express your ideas and style can be by creating a mood board.
The benefits of mood boards
If you are still not convinced, here are a few benefits of why you should also be mood boarding:
1. They help you save time
Having a well-defined mood board can seem like an extra forced step. But spending some time creating a mood board can save you loads of wasted time in the later stages of a project as you will have a set guideline for the rest of your activities.
Mood boards focus your vision of where you are headed and provide a solid foundation for the rest of your activities. This can help you make quick decisions regarding project needs and how to schedule them.
When you already have an overall outline, it will also be less likely that you will have to re-do a project.
2. They foster inspiration
It is very common to face roadblocks during the design process. However, a mood board can be the perfect way of triggering your creative juices and help you come up with the best ideas.
Similarly, if you get a new idea, you can instantly put it on the mood board to use in the future. It can be an excellent tool to gather and collect all your ideas and inspiration in one place.
3. They refine your vision
When there are no specific requirements from a client, it can become challenging to come up with something new.
In cases where you have complete creative freedom, mood boards can help you refine your vision and clarify what you need to do. For example, you can begin the process of creating a great website by using a mood board.
You can simply start by adding a few key elements and then follow the theme towards an end result.
4. They can be easily modified
Another benefit of using mood boards is that they allow for modifications. Sometimes, making changes becomes necessary, but this must be done in a way that does not disrupt the workflow or your mood board's consistent look.
Mood boards can allow you to make any changes by helping you visualize what those changes will look like and the effect they will have on the whole project. You can try multiple options to figure out what works the best.
5. They allow you to cultivate stronger relationships with clients
Mood boards can be an excellent tool for learning what your client wants. Through a visual representation of ideas, you can develop a better understanding of whether you and your client are on the same page. This will help improve communication as well.
Creating an inspiration board can help keep everyone on board. An inspiration board is also a great way to get your clients involved in a hands-on experience.
Your clients can also provide you with visual guides or color schemes that you can include in the mood board to help them envision what they want. This way, if they do not like a particular thing, they will be able to point it out sooner rather than later.
6. They can be used for reference
Another advantage of using mood boards is that they provide a potential layout or plan for the rest of the project. This means that you can refer back to your mood boards in the later stages of the project if you lose focus or fail to come up with inspiration.
Mood boards are great for getting ideas flowing.
7. They help keep your goals on track
Mood boards can help you in keeping your project on track if you get distracted or confused during the process. They are a great visual reminder of why you started the project and what you hope to achieve.
The components of a mood board
The process of creating mood boards can be complicated if you don't know where to start. The following four components can serve as a quick guide for helping you design and create mood boards:
1.Focus
You need to start by defining what your mood board is about before you create it. Developing a focus on a particular subject is crucial before you begin working on it.
Your mood board should be focused on a particular design style or idea rather than being scattered.
2.Mood
Your mood board must be visually representative of your mood or a certain feeling you have regarding the project. You can choose a theme and decide what vibe you want to go with when you create a mood board.
3.Color palettes
Adding a color scheme to your mood board can be important, especially in a design project. Colors sometimes do a better job of showing what you feel and can help convey your message.
4.Muse
Having a muse can make the process much easier. A muse is your source of inspiration. It can be people, places, or even objects. It is unnecessary to show your muse on the mood board explicitly, but it can help you develop better ideas.
What should a mood board include?
What you choose to include in a mood board depends on the design project you are doing. For example, if you have to make a mood board for a brand, it will be much more detailed than one for a simple website or package.
Your mood board should reflect your vision. This means you can add as many elements as you think are necessary to bring your vision to life.
Here are some key elements that you can include in most mood boards:
The best part about a mood board is you can add a lot of images. From product images to stock photography, there is no limitation. You can discover images on the internet or on photo-sharing websites, drawings, logos, or use your own photos to show what you feel.
If you want to focus on a specific image element, then crop images and add them to your mood board.
Words that tie into the theme or message of your mood board can also be included. You can even use quotes and book excerpts when you create mood boards.
Your mood board's color palette is also a key element. You can include color swatches or design the overall theme and other design elements by color.
The right font in the right place can contribute to the mood board's overall aesthetic. When you create mood boards, you can even use different fonts to emphasize other words or text.
You can incorporate different patterns and textures to represent your ideas and style on your mood board.
How do you create a mood board?
Mood boards can be made in different formats, styles, and sizes. There is no (or any) right way to make one. After all, your ideas and styles can be as unique as possible. The first step in creating a mood board is to gather inspiration.
Inspiration
Inspiration can come from anywhere. Graphic designers often keep swipe files for inspiration, which can be a great way to start. You can also look at different design galleries, stock photo websites, and typography galleries to get new ideas. Even social media websites like Instagram and Pinterest can be of great use for finding inspiration.
Keep your goal in mind
The key here is to keep your goal in mind throughout the entire process. For example, designing a website for a law firm will be very different from designing one for a clothing store. If you don't keep these differences in mind, the result will not be ideal.
Final design
It is important to remember that not every element on the mood board will relate directly to the final design. You can also include images and textures that evoke a specific feeling and contribute to the design project's overall theme during the process.
Creating a mood board generally involves the following steps:
Gathering inspiration
Creating a storyboard
Choosing your color palette
Adding your style
Selecting images and descriptive words
Sorting all the items in a meaningful way
Where can you create mood boards?
You can either create a digital or a physical mood board. If you like doing things in an old-school way, a physical mood board is a way to go. You can use a simple foam board and glue different images onto it to create something unique.
However, if you want to create one digitally, there are several options to choose from.
Mood board templates
Creating mood boards online has become very easy with different websites and apps that provide excellent mood board template options that can be easily customized.
You can even use pretty much any design program you are already using, such as Adobe Illustrator or Photoshop.
However, both Adobe Illustrator and Photoshop may be complicated for first-time users. Fortunately, there are several other platforms that may be much easier to work with.
Best mood board apps
The best mood board apps available have user-friendly features such as drag-and-drop functions, customizable templates, and intuitive navigation that can help you save time.
The following sites are some great examples with a massive selection of mood board templates you can use:
A fantastic way to get started is by creating a Pinterest board. Pinterest has thousands of images and selections that you can use to design your mood board.
You can even share your Pinterest board publicly with other members or keep it private. Pinterest lets you pin images, YouTube videos, links, quotes, and other things you may find interesting.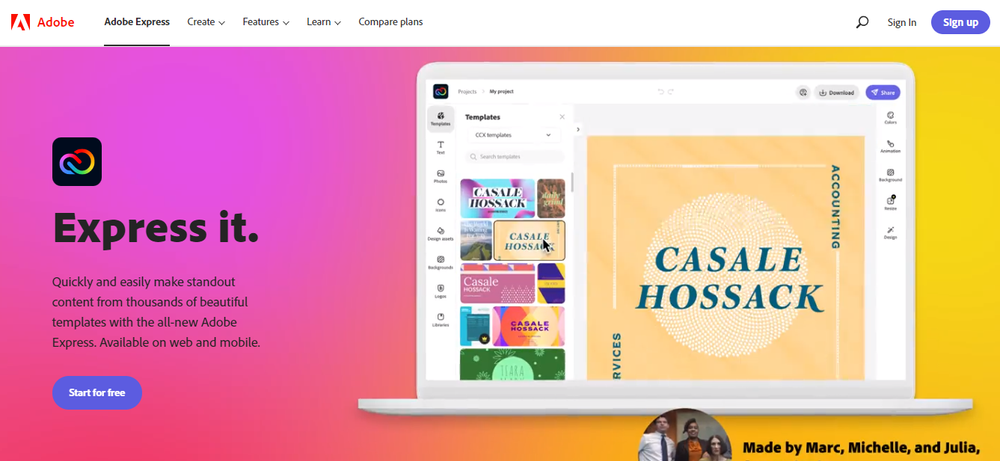 Adobe Express is another great tool that you can use for creating mood boards. It provides a lot of flexibility and a large number of mood board templates that you can use. Adobe Express makes it easy to create mood boards that are compatible with other Adobe products such as Adobe Illustrator.
Canva is a fantastic website where you can use a plethora of built-in design elements, fonts, images, stock photos, etc.
It is a free and easy-to-use design tool that lets you use your own images or choose from their library. You can also save images and crop them as needed.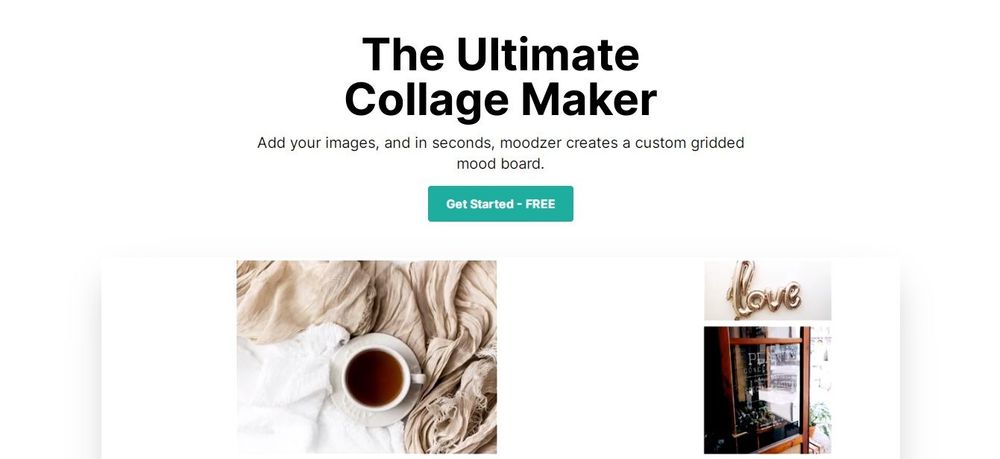 Moodzer is a great app with all the best features and design elements needed to create a beautiful mood board that can easily be shared. It has several templates available to choose from, or you can start with a blank board. Its interface is simple and user-friendly, which is ideal for first-timers.
Mood boards vs. inspiration boards
There isn't much difference between mood boards and inspiration boards. They are usually used interchangeably. The primary difference between the two is mood boards usually influence what goes on an inspiration board.
Inspiration boards are more focused and have more specific elements that end up in the final product or design. They will have a specific color palette and general style that's going to be seen in the final result.
To sum it up, mood boards serve many purposes, but they are more about conceptualizing your feelings through images and other elements. In contrast, inspiration boards contain specific details such as colors, textures, and designs that will be used.
How do you build a brand inspiration board?
Creating a mood board for your business is a great way to develop your brand. It will not only serve as a guide for your business' marketing strategy but can also help you create a clear work path to achieve your goals.
You can easily use a mood board to create a complete identity for your company – especially if you work in the interior design or graphic design industries.
A brand inspiration board consists of a selection of visual directions such as images, colors, videos, text, patterns, or textures that encompass your company's brand and what type of message you wish to convey to your clients or customers.
Creating a mood board at the very start of the design process can help you focus your activities on achieving what you put out on the board. It ensures that your work remains consistent with the essence of your brand values and your desired aesthetic tone.
Interior designers often use these inspiration boards for inspiration and to visualize how different elements can come together to shape your brand. It provides you with a certain creative freedom to mix and match different styles and create something unique for your brand.
Brand inspiration boards are also an excellent tool for presenting your ideas to clients. If you are a store owner, you can use it to see what potential add-on sales you can make by using different product combinations, concepts, ideas, and styles.
Brand inspiration boards also help others analyze your brand's personality and allow clients to make their decision regarding your company. Many consultancies also use these boards during design projects to gain insight into future trends.
Similarly, graphic designers, interior designers, web designers, and other professional designers use inspiration boards for several purposes. Creating a professional mood board for a brand can also be a well-paying job.
The takeaway
An empty mood board is like a blank canvas – full of possibilities. There is no doubt that mood boards can be handy during design. Whether you are creating a personal project or a professional one, a mood board is an excellent tool to create a cohesive style for your project. It can also prove helpful for businesses trying to develop their brand.
One of the most extraordinary things about mood boards is that they allow you a great deal of creative freedom to do as you like. There is no set of rules or guidelines that must be followed. You can spend as much (or even unlimited) time on them as you want and change them whenever you are in the "mood."
Moreover, getting a visual representation of your ideas and inspiration can help you make better decisions for your project and help you focus on the right things. And the right mood board creation tool can help you achieve all this and more.