The online teamwork platform and project management tool Basecamp is widely used. To-do lists, file sharing, and real-time chatting are just a few of its many useful tools for improving collaboration within a team.
When it comes to managing projects, tasks, or people, however, it falls short. These capabilities are no longer optional as the trend toward remote work across teams continues to grow.
For freelancers, Basecamp could be too much. Too much money, too much complexity, and too much hassle for the scale of projects they are trying to manage.
In light of this, we have collected a list of alternatives to Basecamp that provide more powerful project and task management tools.
Okay, so let's begin.
What is Basecamp?
Basecamp is an online platform used for managing projects and coordinating among team members. Approximately three million users have registered with the service by the year 2021.
Basecamp was established in 1999 and now maintains its headquarters in Chicago. Originally known as 37signals, the firm changed its name in 2014 to reflect its most successful product, Basecamp.
Team members from different departments can work together in one place using Basecamp. You can organize your company's activities by setting up boards for various teams and projects.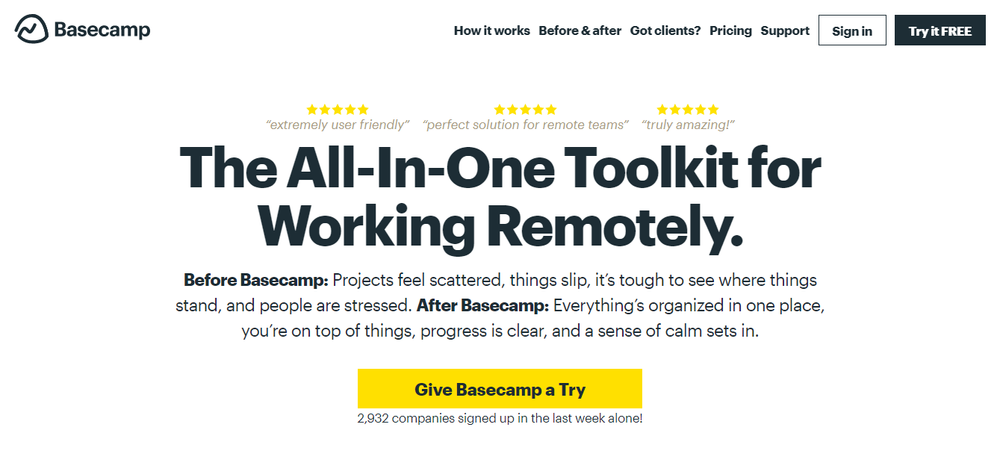 Among the most impressive capabilities are:
Searching for certain groups and tasks with a simple search bar
Easy to start private conversations when needed.
Planning out how you'll get things done and checking in on any duties that have fallen behind
Basecamp is a good tool. Why look elsewhere?
Why would you need a Basecamp alternative?
Every piece of software has to continue to innovate. The lack of the most up-to-date features is probably the biggest complaint about Basecamp. Let's add a few details about this complaint.
1. Not built for workflows and repeated processes
Each function of Basecamp serves a useful purpose. Team members have the option to collaborate on documents, discuss their progress on to-do lists, and have open-ended conversations.
However, if you stick to a process, Basecamp is inadequate. Because of this, you may either:
Lean in to Basecamp's method of operation by simple task management.
You might also just make up a mental workflow model, hope it works, and then educate your colleagues to adopt it.
It would be better if Basecamp facilitated a clearer process that project managers and freelancers could easily follow and repeat.
2. Lacks a simple way to track project progress
Basecamp's Schedule section is where you should go if you need to keep track of time constraints. However, there is no way to quickly see a visual representation of the project's status.
If your team is like Basecamp and doesn't have a project manager or external stakeholders, this setup will work well for you.
If any of the following apply, you may want to try something else.
You are a project manager or connect with project managers.
Your customers want regular updates on the status of a project.
Great project planning and tracking rely on being able to monitor progress. Basecamp doesn't make it as easy as it can be.
3. Limited project management tools for planning
Task management is simplified with the built-in to-do lists in Basecamp. However, there is no way to predict how long a job will take or how many resources will be needed to complete it.
When working on a straightforward job, a to-do list is invaluable. For projects that are even somewhat complicated, however, Basecamp's task lists may not be enough.
You may not be able to use Basecamp's to-do lists if:
You need to schedule tasks, work, and projects in advance.
You also have to use team-wide shared resources.
Basecamp is great for project management and task management. It could be better at project planning and team collaboration by planning a project timeline.
4. Limited task management features
Simple projects are perfect for Basecamp's to-do lists. Tasks may be created, team members assigned, and due dates set.
However, that's not enough for most groups.
Tasks may have more than simply a completed or uncompleted state, depending on your process. The use of a checklist may also help to guarantee the highest possible standard of work. Stakeholders may require a cost estimate at some point throughout a project.
These project management tools are missing in Basecamp.
5. Not enough workload management for a collaboration tool
Fairly dividing up tasks across members of a team is made easier by load management. This way, you won't have to worry about anybody being overworked or underwhelmed. Simultaneously, you may maximize productivity as a manager.
Basecamp doesn't have any tools to help you see how much work each team member is doing. Basecamp is great for team collaboration, but a calendar app may be invaluable when trying to determine who is free to work on a project and divide up the workload.
6. Pricing is geared towards larger teams
The Basecamp Personal plan is the only one that is free of charge. If you decide to keep using it after your first 30 days are up, the monthly fee will be $99, regardless of how many people are on your team.
This could be a fantastic price for groups of twenty or more people. However, this may seem too costly for smaller groups.
To begin using Basecamp, you may need to arrange for training first. Therefore, you may experience additional outlays for the onboarding process.
Features of the ideal project management software
If you're looking for a replacement for Basecamp, you should choose one that retains some of the benefits of the original.
Competitors that are really brilliant will study Basecamp's strengths and then build upon them, making them even stronger and adding new features of their own.
Examples of Basecamp's qualities include a user-friendly interface and a helpful mobile app. But replacement project management software will need to have more affordable pricing, Board and List views, time tracking, task lists, small business tools, and team member management. These are just some of the features needed to replace Basecamp.
20 of the best choices for a freelancer project management tool
There are a huge number of Basecamp alternatives for project management software. The best choice will depend on your work as a freelancer, the kind of clients you work with, and even the level of software you want to work with every day.
To help you, we've put together a great list of Basecamp alternatives you can check out.
1. Indy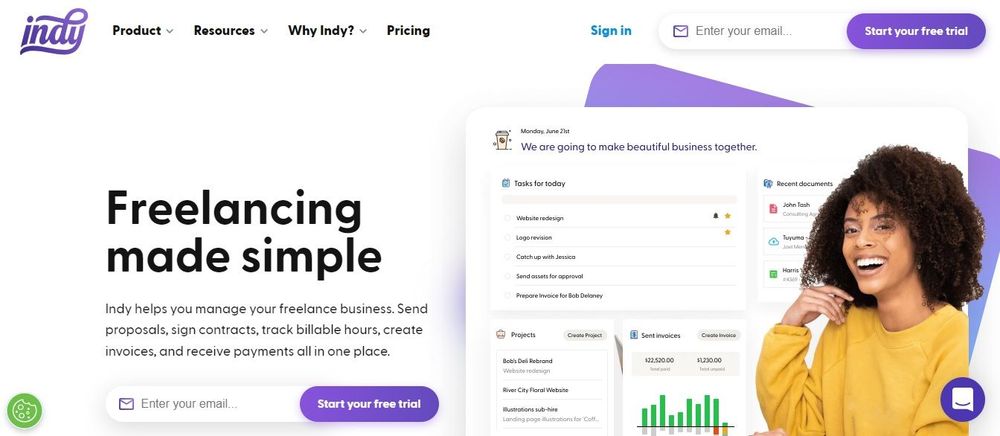 Indy was made with freelancers and small businesses in mind from the start, so it has everything you need to run your own business. While many platforms try to add as many features as possible to appeal to as many people as possible, Indy knows how important it is to make tools that help you manage your work from start to finish. You can easily set up projects, send invoices, and keep track of the time you spend working.
Key features
Let's take a closer look at how Indy's nine powerful tools help you at every step of the way:
Onboarding: Using ready-made templates for proposals, contracts, and forms can help you find new leads and bring on new clients. These templates make it easy to quickly fill in the information you need, and you can personalize them with your brand name and logo. You can also easily add more content to templates to make them bigger if you need to.
Project management: Keep track of your work with boards and lists for tasks, file storage, chats, an easy-to-use calendar app, and automatic time tracking.
When a project is done, you can make an invoice in a few seconds and add your business's name and logo to it. You can send invoices by hand or set them up to be sent regularly. You can also take payments through PayPal, Stripe, Zelle, direct deposit, and other methods.
Pricing
Free forever: With Indy's Free plan, you can use all basic tools as much as you want each month, free forever.
Pro: The Pro Bundle only costs $12 per month and gives you unlimited access to all of the features.
By freelancers, for freelancers - what better way to get the word out? On Indy's website, you can find a lot of information that will help you learn about all of the features this platform has to offer.
2. ClickUp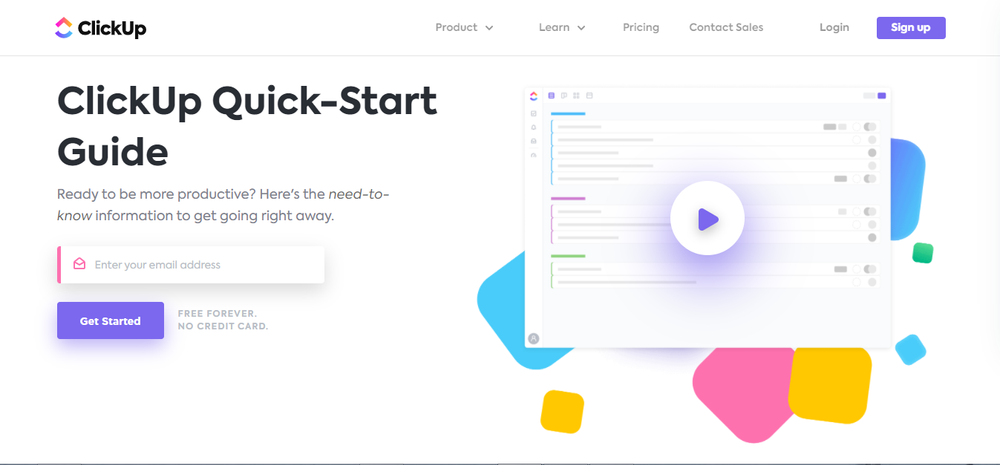 ClickUp is a collaboration platform used by distributed teams, marketing groups, and independent contractors. You can add attachments, tag team members, and communicate without ever having to open your email client. It's flexible enough to meet the basic or advanced requirements of any group.
Key features
Task customization: Choose from over 35 available ClickApps to add features like task automation, sprint points, custom field data, and much more to your workflow. You may simplify several processes with the aid of each of these.
Templates: There are several templates available online to serve as a jumping off point and source of ideas.
Relationships: A beautiful visual database that houses all of your data in one place and makes it easy to locate the specific piece of information you're looking for may be made using the Kanban methodology.
Pricing
Clickup offers a free lifetime plan in addition to monthly payments beginning at $5.
3. Teamwork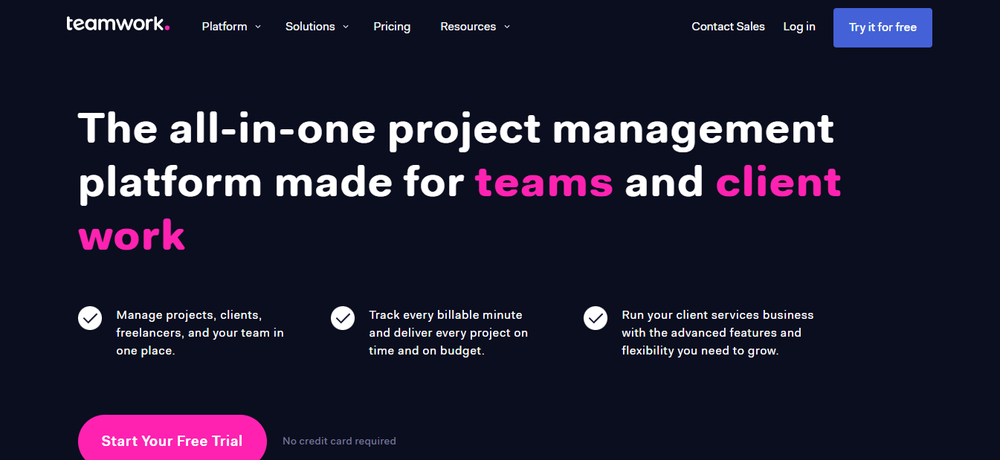 Teamwork is a piece of software that may be used to manage projects, groups, and tasks. The program has a significant portion of the same functionality as other major PM systems, but it excels in the areas of time tracking, budgeting, and the management of stakeholders in particular. The internationally distributed work of the future might benefit from the increased efficiency that comes from Teamwork.
Even if some of the activities on Teamwork are more complicated than they would be on other platforms, the platform itself and its capacity to manage team tasks are both excellent.
Key features
Examine the data for the project using a calendar, Gantt chart, Kanban board, or table.
Produce project progress reports using CSV, Excel, or PDF format.
Develop dashboards, templates, hazards, and tags that can be used again and again.
Zapier, Google Drive, Box, Slack, Microsoft, and HubSpot are among the services that may be integrated.
Software for collaborative workplaces, customer relationship management, information technology support, and live chats.
Pricing
Teamwork has a free plan. After this, the price starts to go up from $12.50 per month.
4. Wrike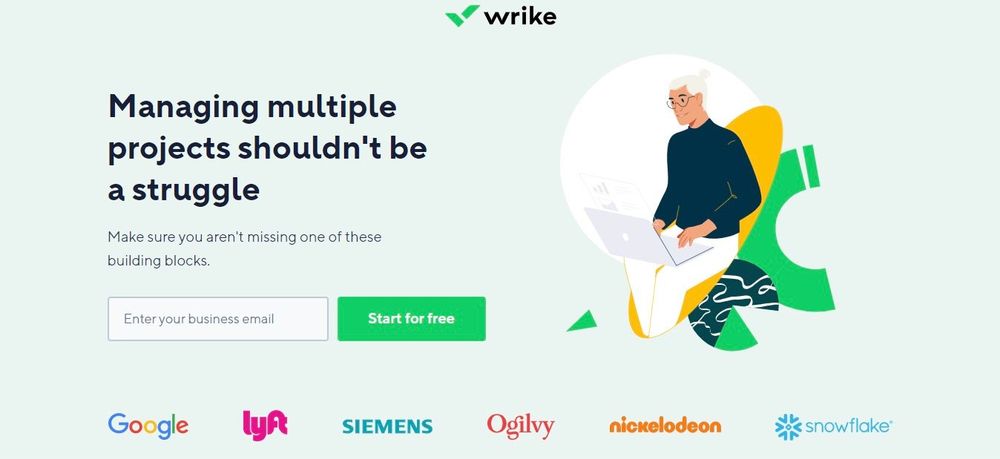 Known for its intuitive interface, Wrike was developed with teamwork in mind, whether it be among a small group or a global alliance. Categories may be anything from departments to individual projects, and they can be used to help you stay on top of your workload. Literally, anything you can think of that may be helpful.
Key features
Manage your tasks with ease by setting due dates, updating their progress, and ranking them in importance. Whenever another person has to assume responsibility for a task, you may have them become the new owner by changing the owner.
Capabilities range from expert to beginner, and everyone in between will find useful features in this program. It is based on the principles of Kanban and includes visual aids that are accessible to everybody while providing advanced functionality for power users.
Modifiability: Pick between a Gantt chart, a list, or a table as your default view. Folders provide a convenient place to keep related files together and separate projects.
Pricing
With Wrike, you can get started for free and upgrade at any time to a premium plan starting at $9.80 per user per month, perfect for expanding teams.
5. Asana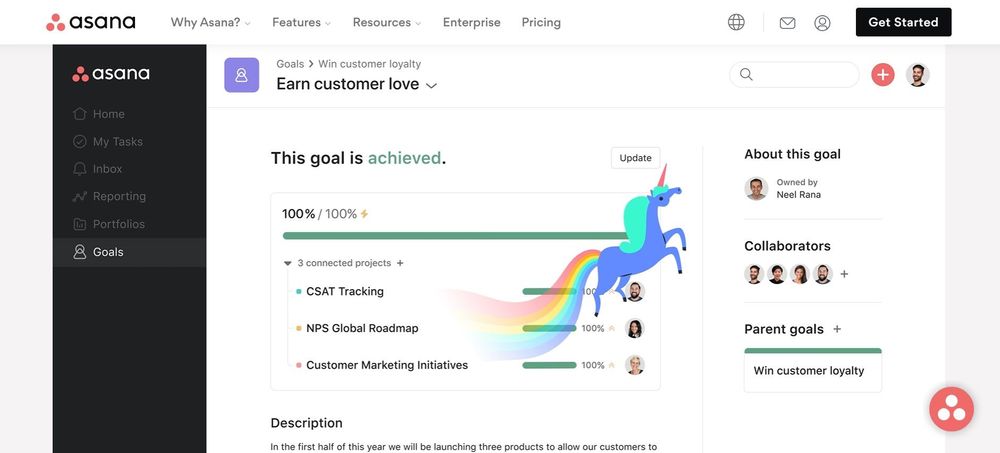 Mark Zuckerberg's college friend Dustin Moskovitz co-founded Asana in 2012. It automates project management and supports Agile, Scrum, and team communication. Asana's Kanban boards, task lists, and calendar views help teams monitor huge, complicated projects. You may add screenshots, documents, and sheets to tasks.
Key features
Asana's mobile app offers exceptional functionality since mobile devices account for more than half of web traffic in the US. The mobile app has most of Asana's features, albeit they may differ by device and desktop version.
Asana features work, project, and task management solutions. This includes the ability to establish due dates, due times, and dependencies to indicate which tasks are ready for work and arrange projects into kanban boards.
Asana integrates with other applications smoothly. Linking Google Drive, Microsoft 365, Salesforce, and other applications helps organize work using diverse platforms.
Pricing
Free Asana Basic. Unlimited tasks, projects, storage, and time monitoring for 15 users (through integrations with other platforms).
Asana Premium costs $10.99/month and contains workflow, reporting, and task management tools. If you pay yearly, you may build up private teams and projects.
Asana Business is $24.99/month. Best feature is connection with Salesforce, Adobe Creative Cloud, and other systems.
6. Trello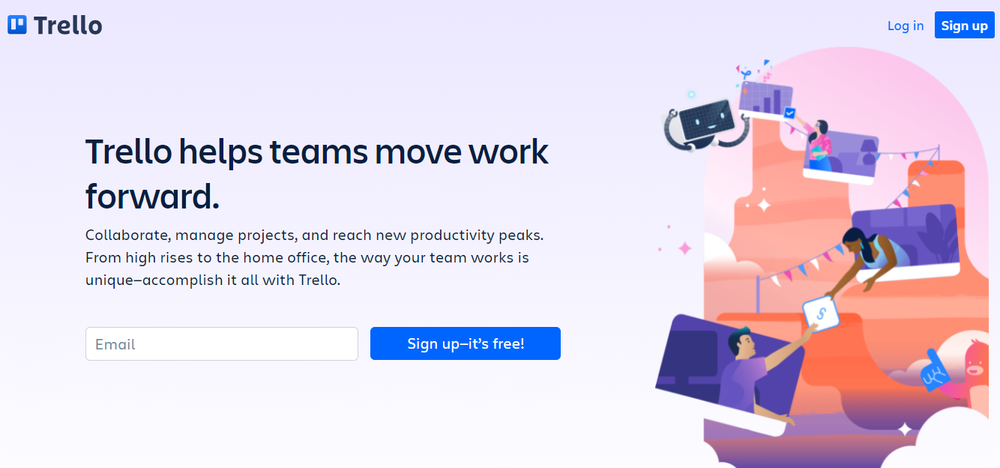 Task-management software Trello is simple. It lacks financial features but is great for freelancers and small teams.
Trello's Kanban-based system makes it easy to handle tasks alone or with a team. It's simple to use, it shows information clearly, and you may add more data to explain each assignment's requirements.
Key features
Kanban: Boards, lists, and cards help teams monitor project timelines.
Every board includes no-code automation. Automate actions using rules, buttons, and instructions.
Labeling, tagging, comments, checklists, and drag-and-drop editing help Trello manage assignments.
Pricing
The free plan includes limitless cards, up to 10 boards per Workspace, unlimited Power-Ups per board, unlimited storage (10MB/file), and more.
Standard: $5/month, including unlimited boards, advanced checklists, custom fields, unlimited storage (250MB/file), and more.
Premium: $10/month for calendar, timeline, table, dashboard, map, table and calendar workspace views, unlimited workspace command executions, admin and security capabilities, and more.
Enterprise: $17.50/month offers unlimited Workspaces, organization-wide permissions, organization-visible boards, public board management, and more.
7. ProofHub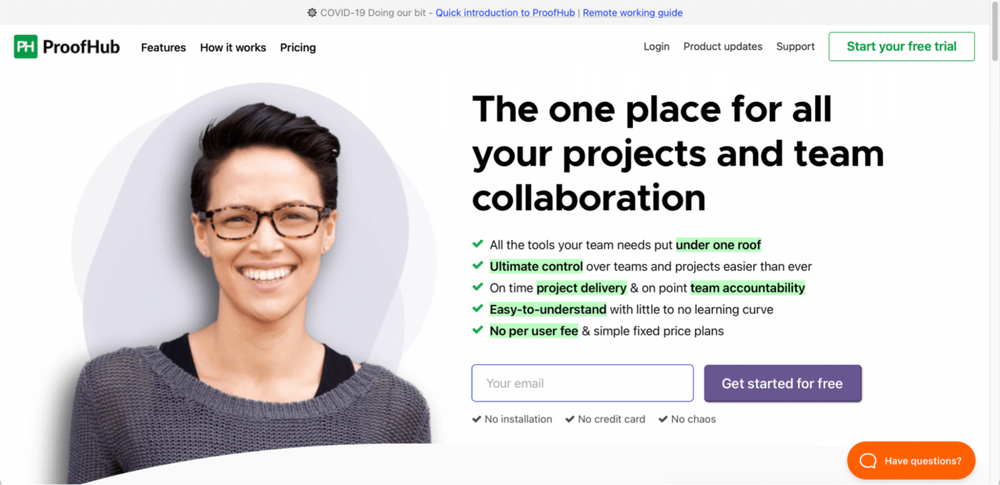 ProofHub makes it possible for teams from different parts of an organization to work together on projects while also making it easier to organize and complete such projects. Users have the opportunity to hand over certain responsibilities to certain others. These tasks could come with a timeline of upcoming due dates and might be able to be repeated at regular intervals that the user chooses.
Key features
ProofHub not only offers a single spot to store files that are pertinent to all of your projects, but it also provides a variety of other views, such as calendar, Gantt, and Kanban views.
This platform includes chat, a proofreading function, timesheets, and reporting features, all of which combine to give teams all the tools that are essential for productive cooperation.
Pricing
ProofHub's yearly price comes out to $89 and includes 100 MB of storage (unlimited projects and users).
8. LiquidPlanner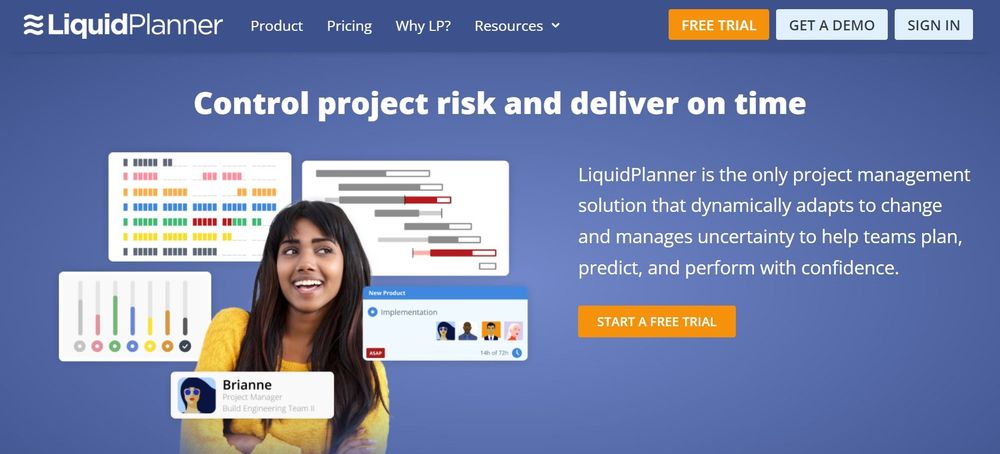 The more traditional approaches to project management and time tracking have been combined to create LiquidPlanner. When there is a change in the resources that are available for a project, the due dates and projects associated with that project are automatically modified and reorganized. This is one of the project management features that sets it apart from others the most. Because of this, you will be able to more effectively manage expectations around the time at which a project may be completed or the time at which milestones might be attained, depending on the workload.
Key features
LiquidPlanner also comes with a helpful budgeting component that you may use.
There is also a terrific feature that indicates the amount of available hours that each employee has each week. This function is part of the resource management system.
Pricing
The price for an annual subscription is $39 per month per user.
9. Nifty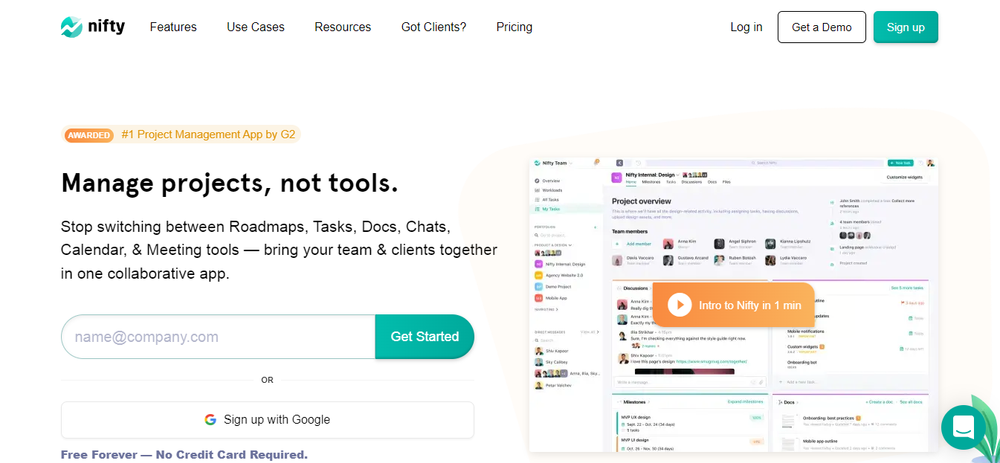 If you're searching for a project management solution that's easy to pick up and use, whether you're working solo or in a team, Nifty is a great tool to have at your disposal. By updating and centralizing your processes inside the app, you and your team will be able to decrease the amount of internal tools you need to manage. Nifty allows you to organize your work according to milestones and see your progress in visual formats like Kanban and Gantt charts.
Key features
Discussions allow project members to work together in a focused way, which makes it easier for them to make decisions that make sense.
Spend less time looking for things by customizing the project homepage to align with your workflow.
With the help of Overviews, you can see the big picture of all your tasks and projects at once.
Project Portfolios may help you get your teams and projects in order.
Pricing
The monthly fee for a team of 10 people is $39.
10. Microsoft Project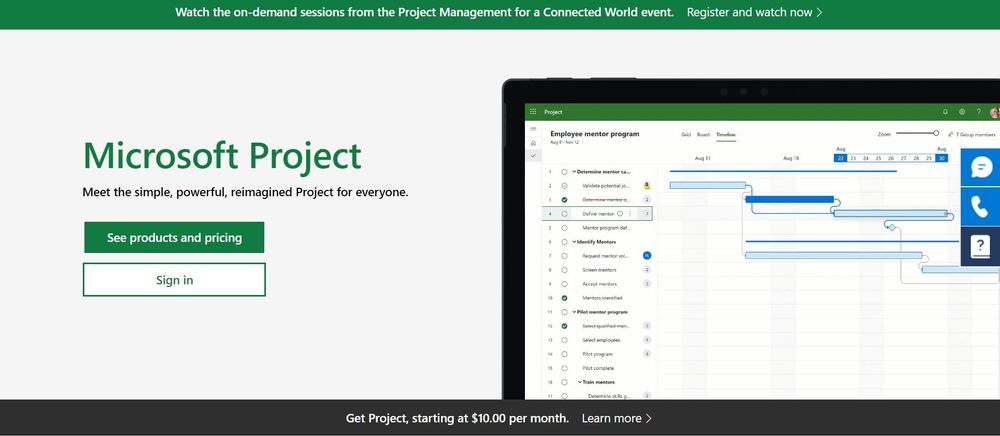 Many Microsoft users weren't born when it debuted. Microsoft Project was one of the original project management tools. Hence, it has many features. Including Kanban boards, calendars, and project management tools. Microsoft Project is a formidable project management application for experienced teams, despite its high learning curve.
Key features
Intelligent software creates a dynamic timetable based on several factors. It considers your staff, objectives, and impediments. This will result in staff workflow management plans.
Business Intelligence: Interactive dashboards may transport data across applications. This makes it easy for your staff to collaborate on reports and other initiatives.
Workflow automation may help your team save time and work more effectively. You may assign assignments through email and track project progress.
Pricing
Project Plan 1 is $10/month and includes reporting, project planning, scheduling, and data presentation options. Graphs, grids, and tables are included.
Project Plan 3 costs $30/month and manages resources. You may request and allocate team resources.
Project Plan 5 costs $55/month and includes demand management. Anywhere in your company may provide project ideas. New ideas and initiatives will be inspired.
11. Monday.com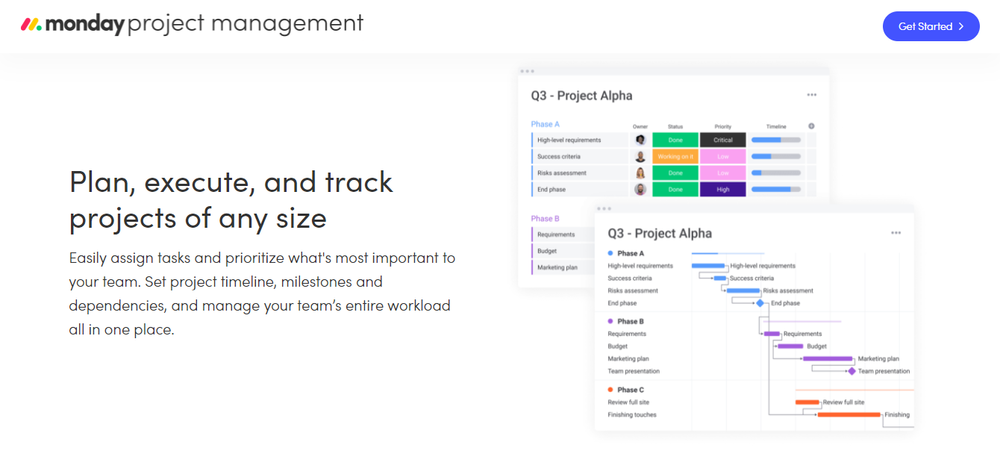 Monday.com is a widely used and feature-rich project management software that may assist teams in working together, finishing projects, and expanding their internet presence. You may get started with a free tool, and there are also premium alternatives available with more advanced capabilities.
Key features
Get the overall picture with the help of Kanban boards, which will provide a large amount of data in an approachable style. These may be arranged in any style that works best for your team, such as timelines, calendars, or any other structure you can think of.
The ability to centralize communication facilitates teamwork by reducing the time spent on administrative tasks like searching through old emails or scheduling unnecessary meetings.
Project templates that can be modified to fit your team's needs. You may pick and choose from a variety of templates to discover the appropriate presentation format for your needs.
Pricing
There is always a free plan available at Monday.com, and the premium options start at only $8 per seat per month.
12. Bitrix24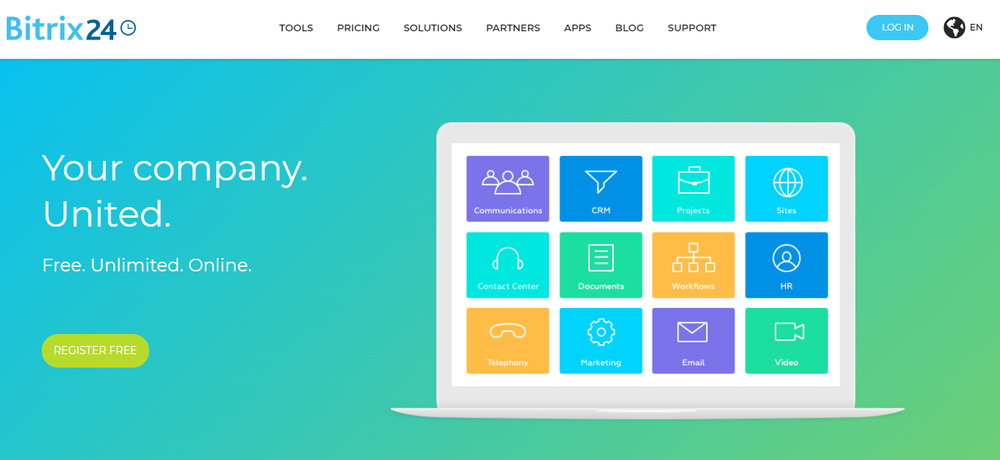 Bitrix24 is a great free option for project management software. It's designed to encourage interaction between you and your coworkers. The main objective of this software is to facilitate communication and collaboration within a team by allowing users to set up specialized groups and a consolidated news feed.
Key features
An interactive activity stream monitors changes to the workflow in real-time.
There is a built-in chat feature for team members to discuss ongoing projects and tasks right in the activity stream.
Team members may benefit from forming workgroups to better communicate about the project's objectives, organize their efforts, and track their progress.
There are a variety of Kanban boards available for use in monitoring progress and showing data visually.
Pricing
Starts with a free bundle, but prices go up from there. Annual plans cost roughly $7 per user every month after that.
13. Airtable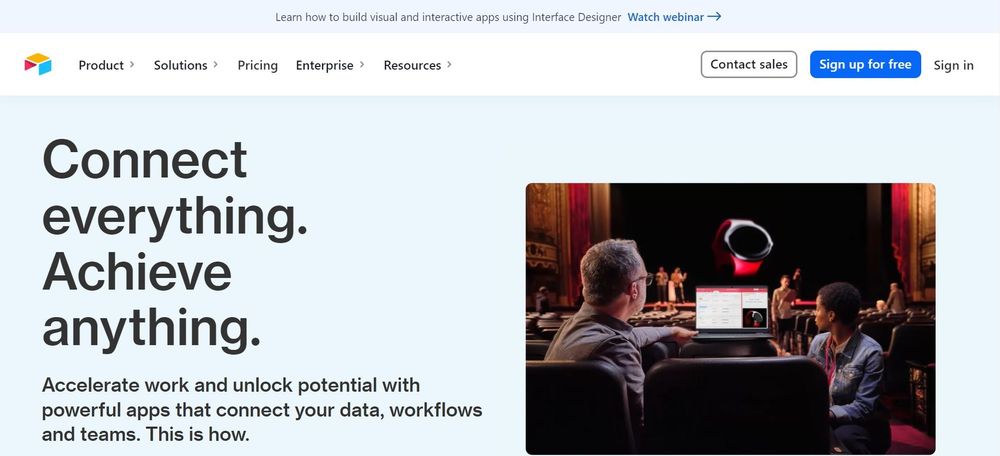 Airtable's best feature is that it includes the basics required to get started very quickly. It's perhaps the simplest project management tool, but this might also mean it's limited. Depending on your needs, this may be a problem. Airtable's simple spreadsheet program automates data types and connects records, making task management easier.
Key features
Templates: Airtable's spreadsheet layouts include hundreds of project templates.
Interface designer: Airtable interfaces don't need code to customize.
Calendar view: Tracks deadlines and project progress. Gallery view helps find files and photographs. In Kanban view, task cards are stacked.
Automations: In Airtable, you may construct a multi-sequence procedure or a single notification.
Pricing
The free plan includes unlimited bases, up to 5 authors or editors, 1,200 records per base, 2 GB of attachments per base, and 1 sync integration.
The Plus package is $10/month and features 5 GB of attachments per base, 5,000 records per base, 3 sync integrations, and automatic table synchronizing.
The Pro package is $20/month and includes 20 GB of attachments per base, 50,000 records per base, 7 sync integrations, Gantt, and Timeline views. More sharing options, integrations, and field/table editing rights are available.
14. nTask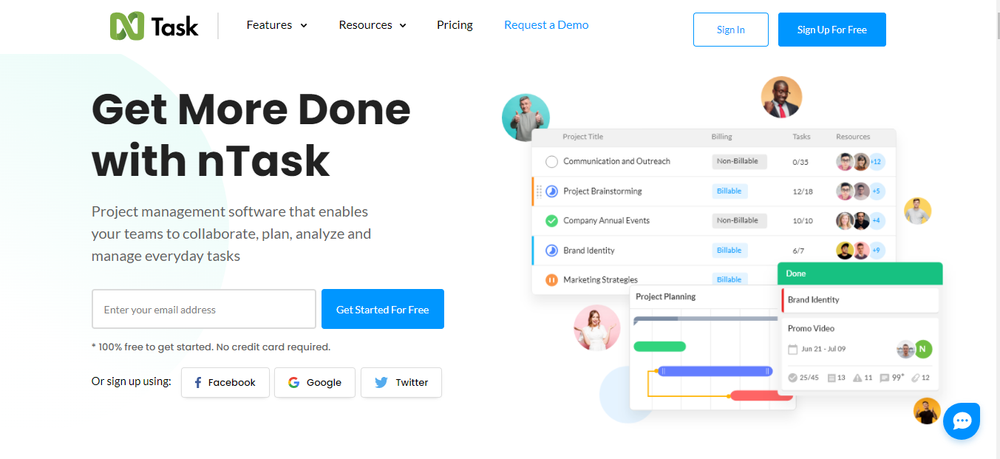 nTask is the best Gantt chart software on the market, and groups of any size, from one person to fifty, can use it. Because you can monitor task dependencies and milestones, nTask makes it easy to keep track of and organize all of your projects. They also have great tools for meetings, like the ability to set an agenda, write down discussion topics, sync meetings that happen more than once, and schedule follow-up tasks for specific times.
Key features
Kanban boards can be used to manage any process or project, allowing for continuous delivery, more flexibility, and four times as much work done in the same amount of time. This will help your team stay focused.
nTask helps you stay organized and meet deadlines 5x faster by letting you manage tasks in List view, Grid view, and Calendar view. You can use it to plan a work project or a family event.
Add your project tasks and due dates to Gantt charts to make them easy to use and clear to look at. With the drag-and-drop feature, you can make tasks depend on each other, which will speed up your decision-making by ten times.
Work with your team to make sure that your projects are accountable and open to everyone. Teamwork and visibility of work need to be improved for tasks to be done well.
Pricing
There are free and paid plans. The best choice is the Premium plan. Each user pays $8 per month for nTask's premium package. A cheaper package is available for $3/month, but it is pretty limited.
15. Notion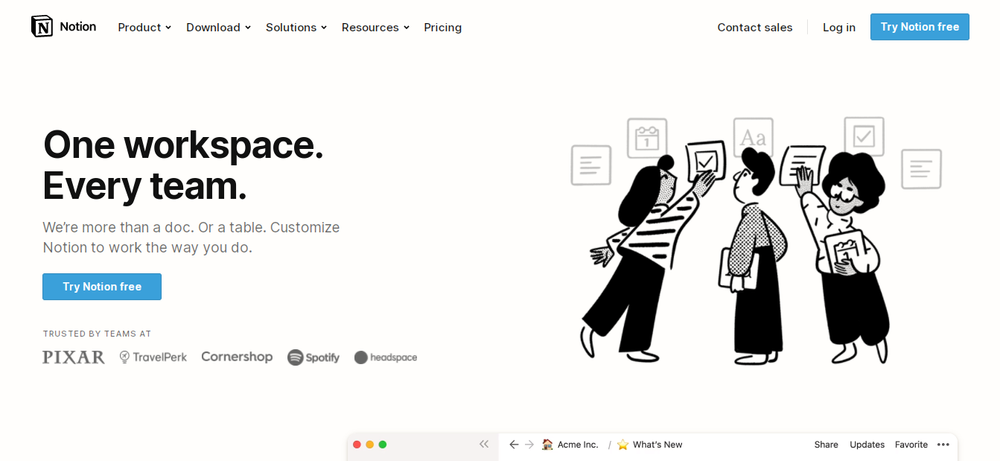 Notion is a powerful note-taking and task-management tool. Pages may be connected and layered to manage notes, reminders, and to-do lists. Notion makes handling everyday activities easy.
Key features
Note-taking: Notion excels in note-taking. You may make a note for anything, from everyday duties and brainstorming ideas to staff training manuals.
Kanban: Notion's project management tools may be limited, but you may utilize Kanban boards to arrange your to-dos.
Calendar, table, and task list database views let you access project data. Assignments may be organized into project pages for comprehensive evaluation.
Pricing
Notion's free plan provides infinite pages and blocks. You may sync with 5 visitors.
Personal Pro: $4/month, unlimited files and guests. 30-day version history.
Team: $8/month for a collaborative workplace, sharing rights, and admin tools.
Enterprise: Contact sales for pricing. It has an audit log, a dedicated success manager, enhanced security measures, and more.
16. Avaza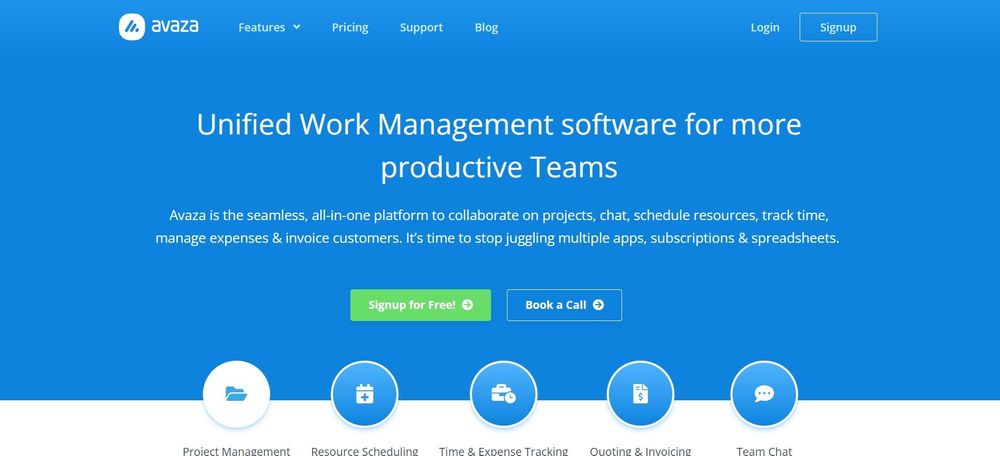 Avaza is all-in-one software for managing projects, keeping tabs on tasks, and monitoring time spent on each. It's a streamlined, effective platform where teams can work together on projects, allocate time and resources, monitor costs, and send invoices to clients. Its comprehensive features include the ability to schedule resources, track time and expenses, generate quotes and invoices, and so on.
Key features
See the big picture of who is doing what and when on any given project. Gain assurance in managing your team's time and make better-informed scheduling and assignment choices.
A corporate messaging service as user-friendly as your favorite messaging applications. You may easily connect with your staff and clients using Avaza Chat for your company.
Simple and straightforward, Avaza Timesheets is a modern approach to online timesheets. Allow any user to log their hours, create custom rates per user or project, and generate simple invoices and reports.
The expenditures of your employees may be better managed using Avaza Expenses. Take images of receipts and send them to Avaza through email, or input them using the website or mobile applications for your team.
Pricing
Avaza has a basic free version, but it is limited in terms of users with advanced access. More expensive and unlimited plans start at $11.95/month.
17. Freedcamp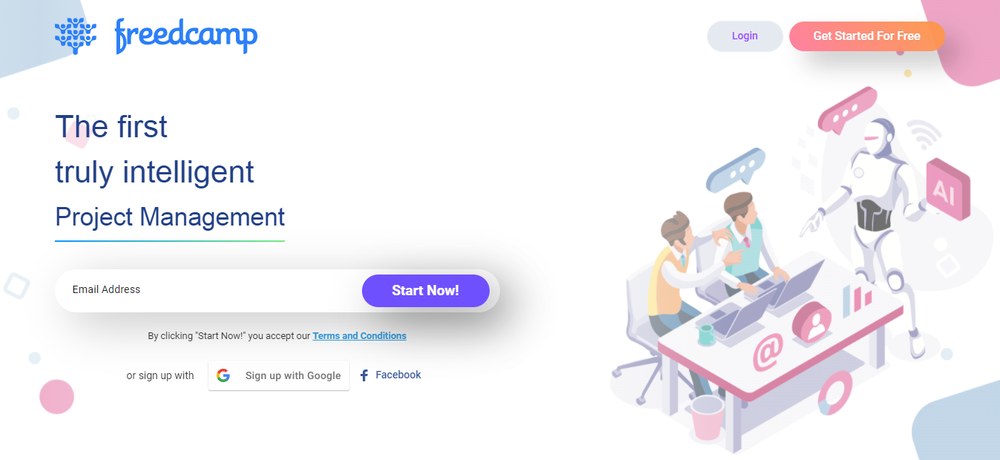 Freedcamp is able to provide you with easy assistance in completing anything, whether you need it for conducting a difficult activity or preparing an event. It is packed with a ton of incredible features, some of which include task boards, CRM, white labeling, and project templates. Freedcamp provides all that is necessary for your team to effectively finish any project. It is a genuine form of teamwork, as well as a tool for collaborating, which makes things both more productive and more pleasant.
Key features
Get a bird's-eye perspective of all the things you need from one spot.
Have all of your team's brainstorming sessions in one convenient location.
You may quickly generate invoices for your customers based on the time tracking inputs, or you can create new list items.
Utilizing the company's mobile app, you may take care of business away from the workplace.
Pricing
Beginning at $2.49 USD per user on a monthly basis. However, the Business plan is probably the minimum for serious work and it starts at $8.99/month.
18. Hive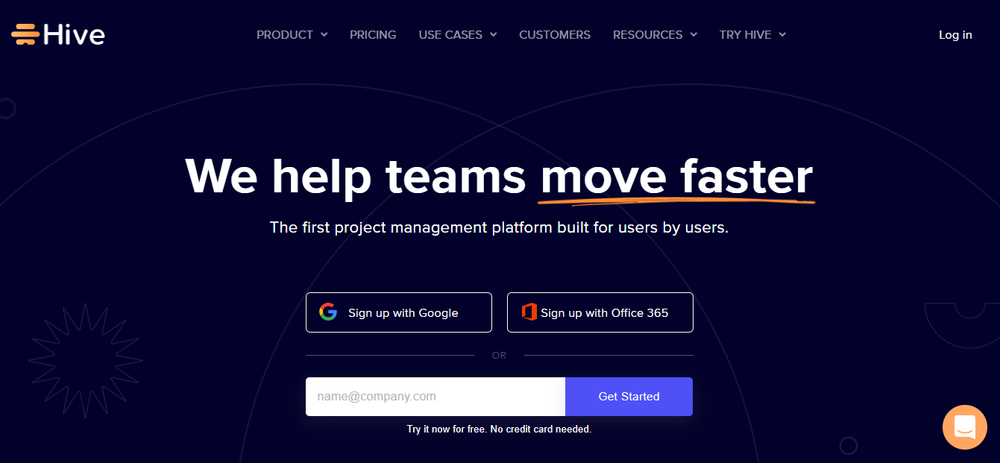 Hive is all-inclusive and simple to use, making it ideal for those in need of a streamlined approach to project management. Since it is the world's first democratic productivity platform, Hive stands apart from other programs in a number of ways. However, just what does it imply? Feedback from the Hive Forum is used to inform the development of new features in Hive. Hive is dedicated to developing project management software that meets your specific requirements for improved efficiency and productivity. It's the only product of its kind, designed specifically with the end user in mind.
Key features
With Kanban view, you can see how tasks and projects are coming along. Quickly see the status of a project, who is working on it, and when it is due.
Make separate projects for each of your projects, or make one main project with projects under it. Create separate tasks and subtasks for each project.
Link cards to show how two actions depend on each other and see how they fit together in a Gantt chart. Change the settings and layout of your Gantt.
Pricing
After a free trial period of 14 days, monthly subscriptions begin at $12 per user. The first two users of Hive Solo are completely free.
19. Smartsheet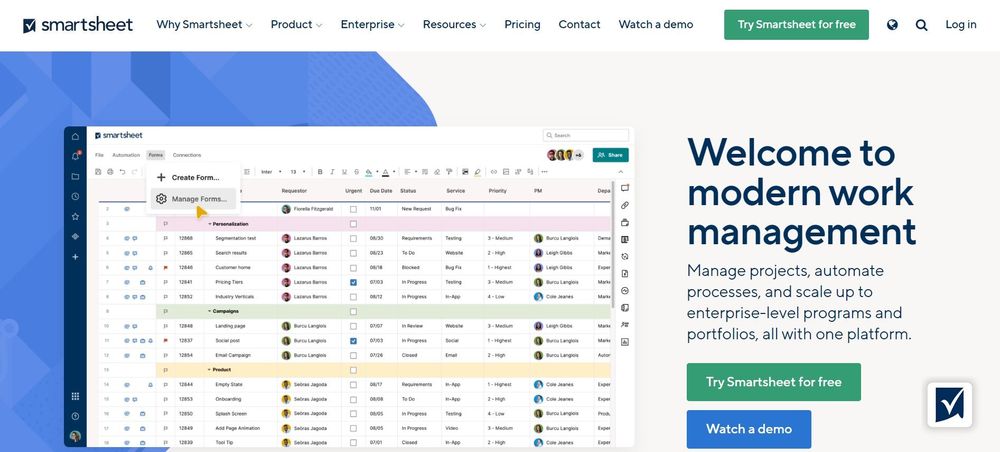 Smartsheet began in 2006, 15 years before worldwide lockdowns forced remote employment. It was built to monitor projects by teams using spreadsheets. Smartsheet's features may be accessed in one place. Dropdown options make adding additional tasks to projects simple.
9 million users, including Google and Netflix, use this project management software.
Key features
Shared sheets, like Google Docs, enable others to see and edit your sheets. Anyone may participate. Online sheets are another possibility. Small and large teams may cooperate. Team size is undetermined.
Shared workplaces provide a safe setting for teamwork. You may also need to include stakeholders or consumers.
Email updates sheets without login. Any team member may quickly inform you on the project's progress.
Adding files from any source to pre-existing sheets is trivial, allowing for quick project inclusion.
Pricing
The $7/month Pro package provides limitless sheets/viewers but 20 GB of storage. Microsoft 365 is integrated.
The $25/month Business package offers 1 TB of storage, professional support, on-demand training, and additional integrations.
Contact the firm for Enterprise pricing. Unlimited storage, 24/7 phone assistance, and thorough reports help simplify your job.
20. Zoho Projects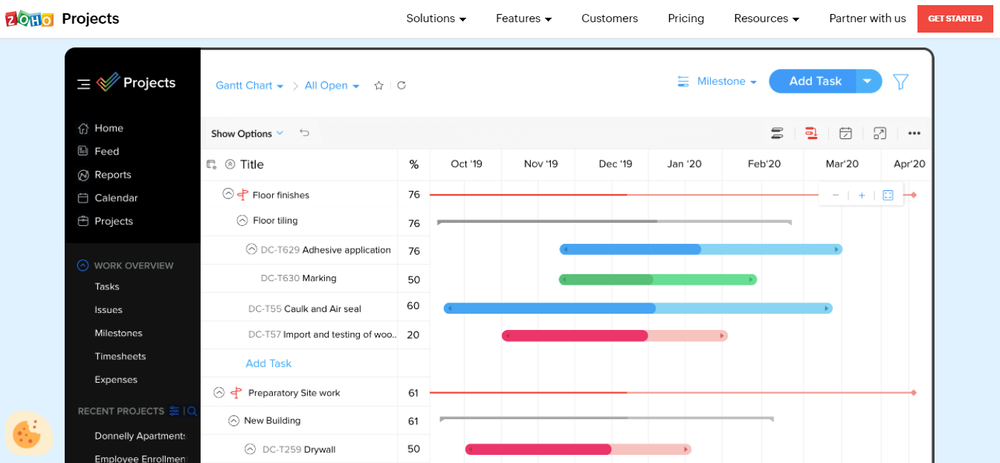 Zoho Projects provides a wide variety of resources to help teams coordinate their efforts and get more done in less time. Blueprints is a project management application that provides users with real-time access to data in a variety of formats, including spreadsheets, lists, Kanban boards, and Gantt charts. The mapping processes may be automated as well.
When compared to other project management tools, Zoho Projects offers a lot of value for its low price. However, it does not offer as many customization possibilities or as many sophisticated features as other platforms.
Key features
Make use of a Kanban board, spreadsheet, or list to track your project's progress.
Create project baselines so that progress can be measured against goals.
Keeping track of time spent on various tasks is useful for allocating limited time and resources.
Includes support for Microsoft and Google services.
Benefit from Zoho's suite of online tools, including their email, documents, CRM, support desk, analytics, and forms.
Pricing
Free: Three users maximum; 10 MB file attachment limit. Gantt Chart Viewer and access to mobile applications are also provided (Android and iOS). There is no cost.
Premium: 50 user cap; 100 GB of files may be attached. includes a cap of 20 project templates and an infinite number of projects. $5 per person each month or $48 per person per year.
Enterprise: There is no user cap and 120 GB of data may be attached. includes a cap of 30 project templates and an infinite number of projects. $10 per person each month.
Conclusion
There are loads of Basecamp alternative apps you can choose from. But if you're a freelancer, then the choice is pretty simple. You want an app that does as much as possible for your entire freelancer workflow. That makes Indy the best Basecamp alternative for independent contractors. Get started today for free.