Freelancers have a lot of roles they have to play in their jobs. They are doing the writing, designing, or consulting that their clients pay them for, but they are also doing the accounting, sales, invoicing, and customer service.
One of the essential tasks for any freelancer is marketing.
Without carrying out any marketing campaigns, it will be hard to find new clients, and freelancers should probably be spending at least a few hours a week on marketing or more.
Every freelancer is different, and you may get a lot of your new clients through word of mouth. Even so, some amount of marketing is always a good idea.
Here, we take a look at 10 of the best types of marketing collateral for freelancers, complete with examples, to get your marketing program up and running effectively—and find more clients.
What is marketing collateral?
First things first: What exactly is marketing collateral?
Essentially, it includes any type of marketing material that can increase brand awareness and connect with potential customers. That consists of both traditional print marketing materials and digital collateral.
Years ago, print was prevalent. These days, and especially for freelancers, digital has taken over. But, as we'll see, there are still a few traditional types of marketing collateral that freelancers can use.
Marketing collateral can build awareness about your freelance business, convince already interested parties to become a lead, or encourage clients to hire your services.
What makes good freelance marketing collateral?
Unlike a large corporation, freelancers have more limited budgets for marketing. But marketing is still crucial.
Therefore, one of the first considerations when creating most marketing collateral is that it should be cost-effective. You want to get more bang for your buck and get results that pay off without having to spend so much that it puts a dent in your earnings.
It should also be effective. There is no point in spending any of your precious hours producing marketing collateral that does not produce results. It's a good idea to test your marketing collateral, from tracking downloads and page visits using Google Analytics to asking existing customers how they became aware of your services.
Creating marketing collateral shouldn't take too much of your time. It should be relatively easy to make, so you don't spend more time on your marketing than on your paid client projects.
With that in mind, let's look at 10 of the best types of marketing collateral you can use in your freelance business.
1. Your website
We'll start with the most obvious and the most important type of marketing collateral. In this day and age, freelancers are expected to have a website. But that doesn't mean that they all do. Some freelancers work purely on job platforms like Upwork, while others use their LinkedIn profiles as their primary online presence.
We won't look into whether that is right or wrong here. All freelancers are different, and you will use whatever works for you. But it's fair to say that you are missing a trick if you don't have a website.
Your website is the hub of your online activity, a place where your prospective customers can go to find out more about you, get a better understanding of who you are, discover what you do, and find out how you can help them.
Here are some of the most important considerations to consider when putting an effective website together.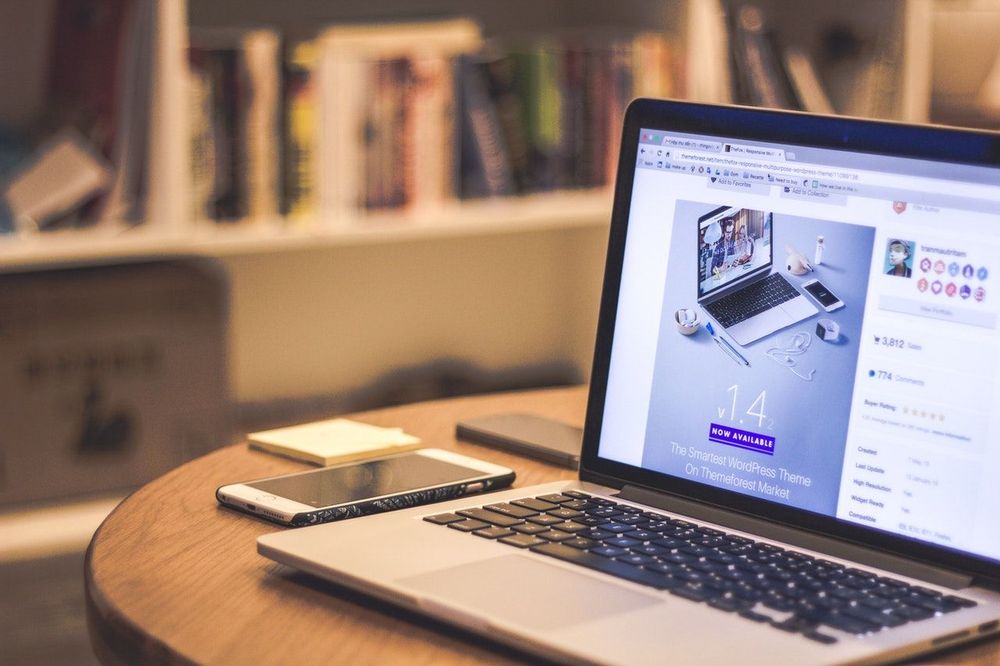 Use your own domain
There are plenty of free website platforms like Weebly, Wix, etc. But even if you use one of these, it's always a good idea to use your own custom domain.
A custom domain looks more professional and gives prospective clients more confidence in you. It also means you can send an email from a custom address, which is always better than a free Gmail address.
Having your own domain also means you have more control over your website. If something ever happened to the platform you are using, you could simply switch to another platform using your same domain name and experience less disruption to your business.
Looking for a good platform? WordPress.org is popular. It's free and open-source, but keep in mind that you will have to pay for hosting.
About page
The About Page is often dismissed as an unimportant page that is usually included as an added extra because it's expected. But it can be one of the most trafficked pages on business websites, and you can use Google Analytics to find out how much traffic your About Page receives.
When businesses hire freelancers, they want to know who they are working with. They're not working with a firm but a person. Your personality, how you come across, and how you communicate all matter and help boost your company's brand message.
Your About Page is a great place to include all this info and set the right tone so you come across as personable, and you should include any relevant information here.
Pricing page
Like it or not, most businesses will want to know how much they will be paying for your services. As a result, the pricing page is likely to be one of the most important landing pages on your site.
Some may use this as their main determining factor when choosing a freelancer, so always have a pricing page.
Set out your pricing strategy on this page. Whether you charge hourly or provide a set price for certain types of projects, make it crystal clear.
You should also include a call to action on the page to encourage people browsing your site to contact you to find out more.
Portfolio
Many clients will want to see what you can do before they decide to hire you, and that means you should include a portfolio of your best work.
You can include your actual portfolio pieces on your website, so visitors don't have to go anywhere else to see them.
Testimonials
Social proof is where you use the opinions of others to convince clients that you are an excellent choice to hire.
Rather than just telling your clients how great you are, you can use social proof in the form of testimonials to show clients what other people think about your services.
Even a simple page with written testimonials from previous clients saying how wonderful you are to work with can be very powerful. Bonus points if you can include photos or videos of your clients alongside their testimonials.
Contact page
Finally, make sure you provide a straightforward and easy way for clients to contact you. A simple contact page with a form is fine, but consider adding more options like your phone number, email address, Skype profile, etc., so clients can reach out in the way that suits them best.
Website example:
Amy Eastment's website is an excellent example of a freelance site covering all the main areas.
2. Blogs
Next on the list, we have blog posts. Blogs have been around since the dawn of the internet, and they are just as effective now for marketing purposes as they have ever been—as long as you go about it properly.
Blogs are great marketing collateral and have many benefits:
Helps you to get found online
Builds your reputation
Provides useful information
Shows your personality
If you want to get the most out of your blog as marketing collateral, it means writing it with both human readers and algorithms in mind.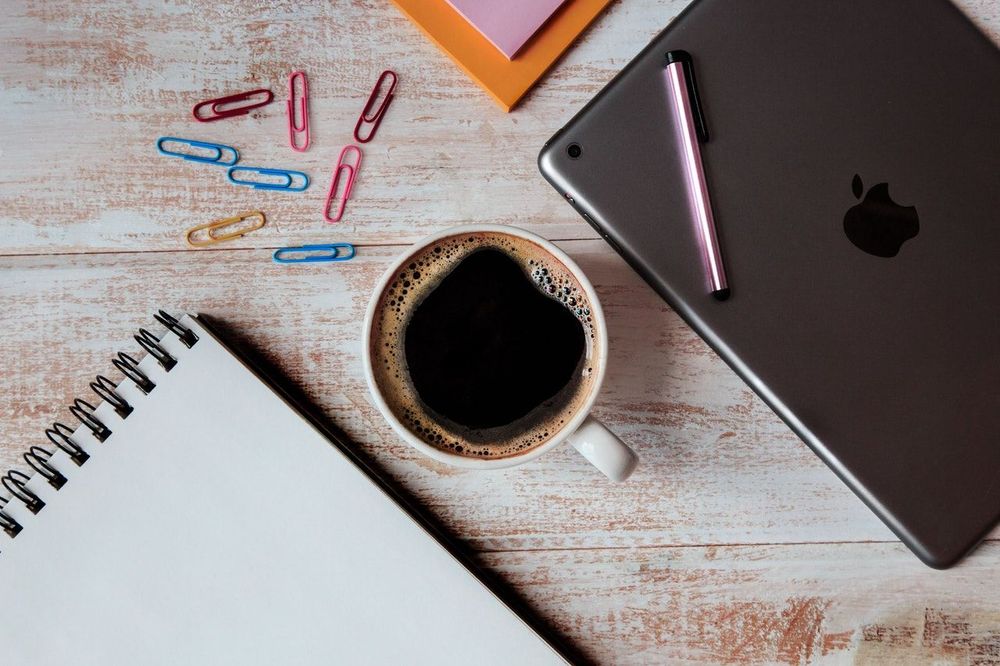 Writing for algorithms
One of the main reasons to publish a regular blog is to get found online. You are competing with many other freelancers on the internet, and it helps when you can get more visibility in the search results. So, when someone searches for a "web designer in Boston," your website ideally shows up.
Having a website with a few service pages will not cut it. A blog, however, means you publish content regularly, keep your site fresh, and can target more keywords. In turn, that will help generate more links and more traffic—which means more conversions and sales.
It all comes down to writing with search engine optimization (SEO) in mind.
SEO is a big topic and worthy of a separate guide. At its most basic, it means using carefully chosen keywords in your content. Going back to the previous example, it would be good to have the phrase "web designer in Boston" included in your blog posts along with similar relevant keywords.
There is much more to SEO, but publishing a regular blog with relevant keywords is a great starting point.
Writing for humans
In many ways, writing for humans and algorithms is intertwined. That's because if you publish valuable content that people enjoy reading, this will help your SEO at the same time.
If your blogs are good, people will read them. They will then share them online, and this can generate more readers. More readers mean more shares, which leads to more backlinks, and so on. All of these are excellent for SEO.
However, always keep in mind your primary reader: your potential clients.
The content you publish should not only be valuable to them, but it should tell them something about you. Do you come across as personable and likable as well as knowledgeable? Are you the sort of person they would want to hire?
Getting this right can make a big difference in whether a blog helps you get more clients.
Start publishing a blog
Blogs are popular because they are affordable. In fact, they are essentially free when you take into account your website hosting costs. You could even publish on a site like Medium instead.
When you publish a blog, the thing to keep in mind is that you are doing it for a purpose. You don't want to spend hours publishing content that no one reads.
The ultimate goal should always be to market your services. There are many ways to do that, but always keep this in mind if you want your time spent blogging to be worthwhile.
Blog example:
Check out Kayleigh Moore's blog for a good example of how to do freelance blogging right.
3. Pillar pages
Moving on from blogs, there is another type of marketing collateral that can be very effective. Like blogs, pillar pages are affordable in that they are virtually free. They just take time—and quite a bit of it.
Think of all the benefits of blogs. With blogs, you want people to read your content, share it, and link to it to boost your search engine presence and build your reputation, get more traffic, and land more clients.
Pillar pages do all of this, but they take it to the next level.
What are pillar pages?
A pillar page is essentially a long-form piece of content that aims to be the definitive piece of content on the topic. The idea is that the page covers a specific topic in a great amount of detail, and it could be published as a blog post or as a page on your website.
Why is this important? Because if your guide becomes the go-to guide on a specific topic, you can expect much better results when it comes to SEO and boosting your reputation.
Authority content
The internet is saturated with content, and it takes a lot to get a web page to stand out from the crowd. That's why pillar pages need to be seriously good.
A pillar page may be 10,000 words to 30,000 words or more. These are huge guides, and they cover a topic in a huge amount of detail and explore everything to do with that particular topic.
You should break yours up into sections, like chapters in a book, including an introduction, the problems your reader faces, your solutions, and a conclusion.
As well as creating written content, make them visually appealing. Use graphs, charts, images, gifs, videos, and anything else that helps to make your argument.
Do whatever it takes to make it into an authority piece on the topic.
Benefits of pillar pages
Pillar pages take many hours to create. You might work on a page of this size for a month or more.
One of the benefits of going to all that effort is that it only takes time and your expertise to create the guide, making it an affordable type of marketing collateral.
If you do it properly and create a genuinely authoritative guide, it can be powerful. People will link to it in their own blog posts and on social media to provide value to their audiences, and not only will this generate more traffic on its own, but it will also boost the SEO of the page.
Your guide could well turn up in the top positions in the search results, directing organic traffic to your site for years.
The argument is that spending 10 or 20 times as long on a piece of pillar content as you would on a blog post is well worth it in the long run. Because while many blogs get forgotten and ignored, a pillar page can generate traffic and clients for your freelance business for years to come.
Always include at least one CTA on your pillar page so readers can contact you or sign up to your email list, but you might want to use several.
Most importantly, make sure it provides value to your target market—your clients.
Pillar page example: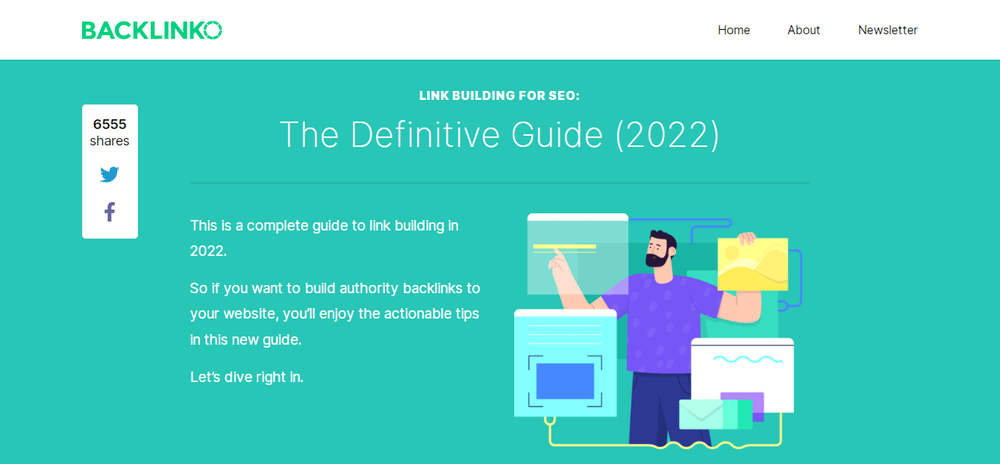 This is a great example of a comprehensive pillar page from Backlinko.
4. Case studies
We have already mentioned social proof in the form of testimonials, which you should certainly have on your website. But there is another, even more powerful, form of social proof: case studies.
Case studies are a great choice for marketing collateral for freelancers. Again, they are affordable, and they don't cost anything if you create them yourself.
They are also powerful because they show what it is like to work with you from a client's perspective and how you help and solve their problems, making you a more appealing prospect for prospective clients.
What case studies should contain
Case studies are relatively easy to create. They are quite short, and they usually include some variation of the following:
An introduction to your client
The problem they faced
How you helped them
The results
They are clear, straightforward, and can usually be read in a few minutes.
How to create case studies
Use the above structure as a basic guide to creating your case studies. But before you can actually write them out or design them, you will need to reach out to your clients and ask them.
Don't create a case study without your client's permission. If you have some clients you know have enjoyed your service, let them know what you plan to do. Tell them they won't have to do anything apart from maybe answer a few questions to make it as easy as possible.
Try to get a quote as well—it's a great way to finish off a case study. Using a headshot of your client will make it even more effective.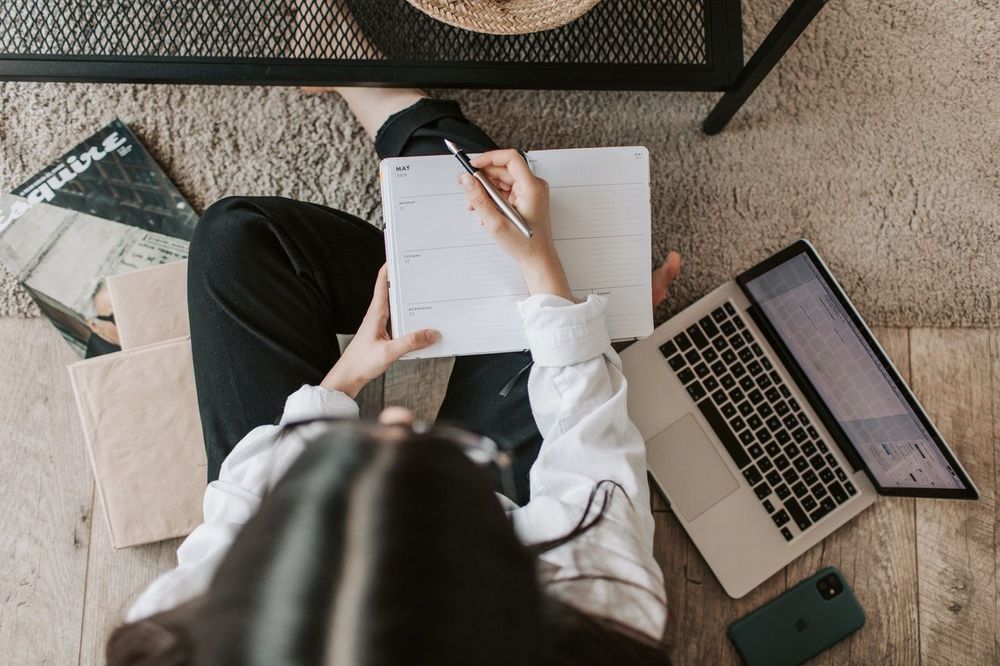 How to use case studies
Case studies can be used in many ways. You can create them as content on your website and design them professionally to make them more appealing to the eye, including images and graphs. You should also structure them using headings so they can be scanned or read in more detail.
Ideally, you should create several case studies and link to them all from a central page on your website so visitors can find them easily and browse through them.
If you work for clients in different industries, try to create case studies for several different types of clients. That way, when a new client from a specific industry checks out your case studies, they will see how you have helped a similar client.
You don't just have to stick them on your website, however. You could also convert your case studies into PDF files that can be downloaded from your site. You could then email them to prospective clients and mention them on your social media platforms.
Case study example:
Here's a good example of a case study from a product designer.
5. eBooks
Ebooks are another excellent type of marketing collateral for freelancers. Once again, they are among the most affordable types of collateral to create. You can probably create an eBook for free. You may want to get a designer to make it look more professional, but this is not essential.
So, what are eBooks?
Forget about the novels you download to your Kindle. These are purely for marketing your business.
They are short but informative guides that are normally PDF documents. They can be downloaded from your website, from social posts, sent over email, and used wherever you want.
In the same way as blogs and pillar pages, eBooks provide useful information. They usually solve a problem of some kind and provide valuable information to the reader—your client. They could provide ideas, solutions, tips, and more.
You should use your specialist knowledge and skills to decide the topic of the eBook. For example, if you are a freelance PR professional, you could create an ebook on reputation management that provides valuable guidance.
Start by creating a list of topics you could write on. If you find that you have many potential ideas, you might end up creating a series of eBooks and linking to them on your website.
How to use eBooks
An eBook can be used in many ways. You may simply want to use it to demonstrate your expertise on a topic. You could send it to potential clients enquiring about your services. You could announce it in a blog post and link to it or share it with your social network.
However, eBooks are most commonly used as lead magnets.
A lead magnet is something you use for generating leads. You offer to send someone your eBook, but first, they have to sign up to your email list.
Using a service like MailChimp, you can create an automated sequence of emails, with the first email being a link to download your eBook.
If your eBook solves a problem and provides valuable information, people will want to read it, and they will be happy to give you their email addresses in return. Once you have their email address, you can continue to send them information that they may find useful.
The great thing about eBooks is that, once you've created one, you can keep using it as marketing collateral for years to come. You could make minor updates and re-release it as a new edition every year.
E.g., An eBook titled "Top Online PR Techniques for 2022" could be updated and changed to "Top Online PR Techniques for 2023" with a new introduction.
eBook example: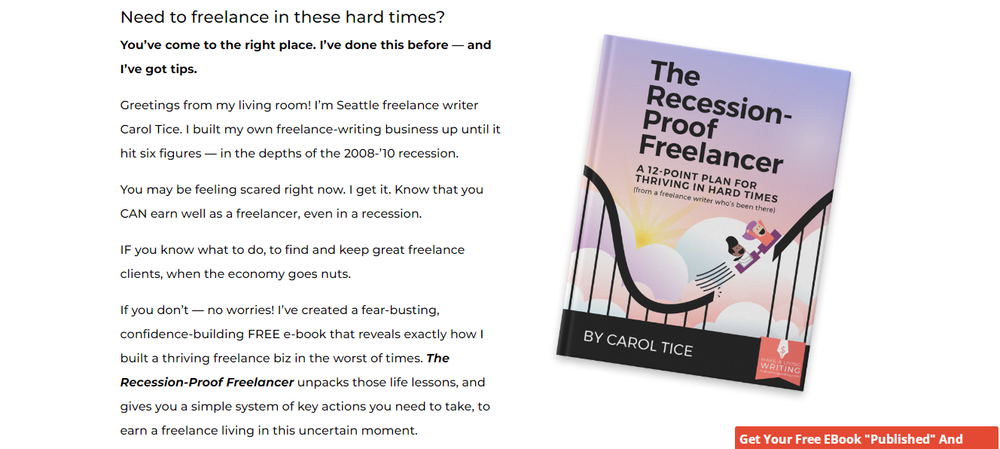 "The Recession-Proof Freelancer" by Carol Tice is a good example of a free ebook.
6. Social media posts
What was the world like before social media? It's hard to remember. One thing's for sure: it's an excellent marketing tool.
Social media posts are one of the best types of marketing collateral that freelancers can use.
Social media is free for the most part unless you advertise on it. It's a fantastic way to get more visibility for your business, improve your branding, reach new clients, share your message, and build your community.
Start with LinkedIn
Many social media platforms exist, and there are countless ways you can use them to grow your business, but LinkedIn is especially useful for freelancers.
LinkedIn articles are an excellent way to get in front of the right audience. After all, this is a business networking site, and it is packed with CEOs, entrepreneurs, and all the people you are trying to reach.
If you target a specific industry, you'll find countless people in that industry who you want to target.
There are different ways to use LinkedIn, but publishing content is an affordable and effective way to grow your network on the site.
This is very similar to blogging, but you are posting directly to LinkedIn instead. It's the same process:
Create high-value content
Post it on the site
Get it in front of the right people
To do that, you will need a LinkedIn marketing plan. That could involve paying for your content to get promoted, or simply building your network, commenting in groups and on other posts, and making yourself more visible.
As more people start to see your content, comment on it, and share it, your network will grow.
Use paid posts
If you are not getting the traction you want from social posts, consider paying for ads. All the main social platforms have the option to advertise, and you can reach a lot of very targeted people very quickly using paid ads.
You might use ads to generate leads for your email list using a lead magnet like your eBook.
Social media posts example:
Check out Elna Cain's Facebook page for an example of a freelancer doing social media the right way.
7. Email newsletters
Like blogs, email newsletters have been around since the earliest days of the internet—and they are more popular than ever.
They are a fantastic type of marketing collateral for freelancers. They are affordable for a start, and while you will need an email marketing tool like MailChimp, plans are not too expensive.
They allow you to develop new relationships by signing people up to your list, so they don't just visit your website and never come back. You can then continue to market to your list and stay front of mind. So when someone on your list is ready to hire a copywriter, designer, or whatever you do, they will think of you.
People on your list may also recommend you to other people who ask about your services.
Newsletters don't necessarily have to involve news. They can just be email updates sent once a week or once a month. You could let your list know about special offers you are running, provide useful tips related to your service, and send links to your latest eBooks and blog posts.
You don't have to design your email newsletter, and it could simply be a text email. As long as the content is valuable, that's the most important thing.
Even if most people just read your email and don't act, you are reminding them that you exist. And it takes very little effort and cost. As your list grows, you will reach more and more people every week, and there is more chance that one of your subscribers will either want to hire you or know someone else who does.
Utilize your email signature
As a bonus tip, make sure you are getting the most out of your email signature. Whether you have a newsletter or not, you probably send dozens of emails every day, and your signature is likely seen by many people, whether you are sending out cold emails or communicating with clients.
Your email signature is excellent marketing collateral, so make the most of it. Add a link to your eBook and sign-up page, add your latest testimonial from a happy client, or link to a recent case study—whatever you want.
There are lots of options. You might want to change it every few weeks to highlight something new, depending on your goals for that month.
Email newsletter example:
Diana Marinova entices people to subscribe to her newsletter with a free eBook.
8. Presentations
Think of presentations, and you probably think of boring company presentations, training tools, and company announcements. But presentations are a fantastic type of marketing collateral for freelancers when they are used correctly.
There are websites like the biggest, SlideShare, where you can upload your presentations for the world to see and get your freelance brand in front of even more people.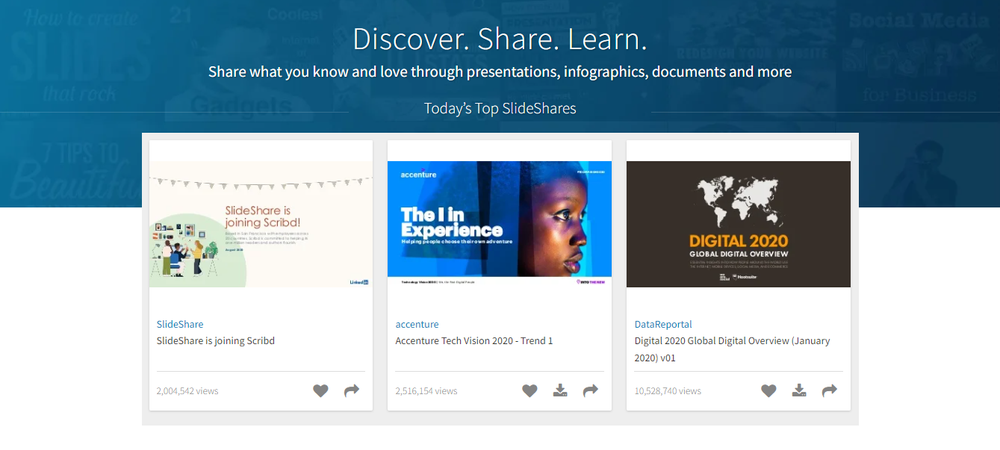 Presentations are popular because they are visual, quick to skim through, convey a clear message, and provide valuable information.
Make your presentations stand out
There are a lot of presentations out there, so make yours stand out. Keep them simple by focusing on a specific topic. Use clear graphics and text so your presentation can be viewed even on a small screen. Don't try to cram too much into it, and make sure you keep it interesting. Break it up into several presentations if you have lots more to fit in.
Share your presentations everywhere
Presentations are great because they can be used almost anywhere. Embed them in your blog posts and social media posts, link to them in your emails and get them in front of as many people as possible to build more links and drive more traffic to your site.
Repurpose content into presentations
Not sure where to start with presentations? A quick tip is to repurpose your existing content. Take a blog post you have recently published, break it up into several parts, take out the most important information, and reuse the content in a presentation by adding graphics.
Presentation example:
Take a look at this example of a good presentation.
9. Videos
No list of marketing collateral is complete without mentioning videos. And on the internet, videos mean YouTube.
There is a huge amount of potential to get found on the platform and get your videos in front of your potential clients so you can direct them back to your website.
Creating videos is a bit more involved than publishing blog posts. You need the filming equipment, editing software, and more. But it can still be relatively affordable these days. You could simply film yourself talking about relevant topics with your smartphone and keep it simple.
If you do anything visual, like graphic design or photography, make your videos visual. Show your tricks and tips in person, rather than writing about them.
People love watching videos, and more people are watching videos online than ever before. Take advantage of this. Use videos as another form of marketing collateral that you can use to generate more business.
Videos example: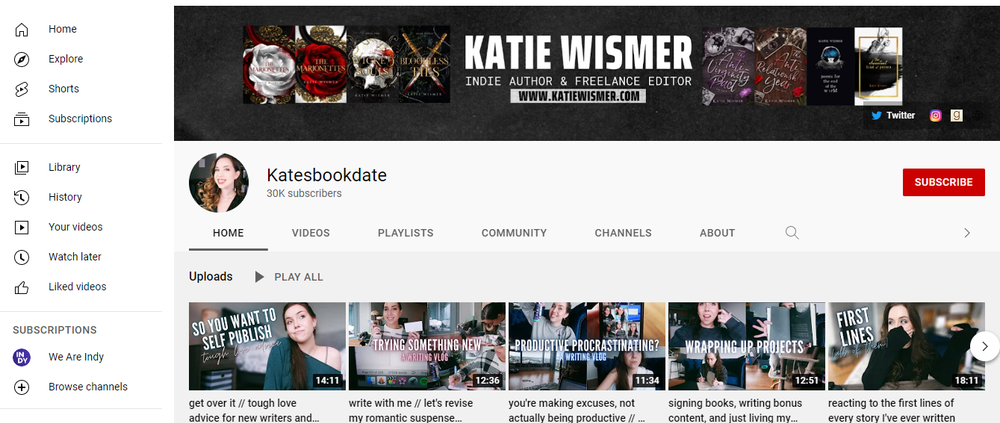 Here's a good example of a freelance book editor marketing on YouTube.
10. Business cards
Finally, this is one that many freelancers miss out on. In this age of online marketing, it's easy to focus on digital marketing collateral and forget about more traditional collateral.
It's obvious why. Digital marketing is more affordable and allows you to reach out to audiences well beyond your local area without extra costs.
But it's always worth getting yourself some business cards made.
Business cards are still popular. The reason is that they are still incredibly effective. Go to any marketing or networking event, and you'll come home with a stack of business cards in your pocket.
As a freelancer, you never know when you might meet someone who needs your services or who knows someone else who does.
It could be a friend, an old work colleague, a family member, or a chance encounter. If you tell someone about what you do but don't give them a way to contact you, they will forget. A business card makes it easy.
A well-designed business card can be handed out whenever the occasion arises. People tend to hold onto business cards, put them in a drawer, or take a photo of them for their digital record keeping.
Include essential information like your name, what you do, your website URL, and your contact information. Make it easy to be found and contacted. Months from now, someone may contact you to inquire about your services after coming across your business card at a friend's house or a colleague's work desk.
They are affordable, help with your branding, and are easy to carry with you. No freelancer should be without one.
Business card example:
This Millo blog is packed with great freelancer business card ideas for inspiration.
Conclusion
Freelancers have a wide choice of options for marketing collateral, and they should make full use of it. Some freelancers stick to a blog and share posts on social media, while others look into other channels like video marketing and presentations. Whatever you do, make sure you use at least one of these types of marketing collateral, or other marketing collateral, to generate more interest in your services.
The freelancer's life is one of feast or famine. But many professionals swear by the power of marketing. Even 20 minutes a day can be enough to keep inquiries trickling in. Make marketing a regular part of your daily routine rather than waiting until word dries up to start marketing.
Experiment with different types of marketing collateral. Try to find one that works for you, that you enjoy doing, and generates results. If you have not enjoyed much success with a blog, try something new. Set up an email list and start sending a newsletter. Get more active on social media and grow your network.
But make sure you give it time. Most of the marketing collateral types on this list take time to pay off, and consistency is the key.