Contracts are essential for protecting your business and building lasting relationships with your clients. Every company, freelancer, and contractor should work with them. But why are they so important, and how can you ensure you're using the right ones?
Why do you need a contract?
There are several advantages to having a legal framework for your business. Contracts can look daring when you're new to them, but the law doesn't need to be complex and confusing. Legal arrangements make regulations more accessible and minimize possible disputes or problems.
Let's go through the advantages of using contracts in more detail.
Contracts can help you navigate the law
Many businesses feel they don't understand the law or believe they will need a law firm or business law attorney to write a contract - and consequently choose not to use one. What happens then is that they get excluded from its protection. Having a good arrangement in place can help all parties involved minimize legal risks and give you the right tools to promote your work from the right side of the law.
A contract can help your client understand your business
We rarely see contracts as an effective communication tool, but they can be one. A contract is a legal agreement, but it can also help your client understand your business. For example, it can convey how your company or enterprise works and what kind of services you provide. It can also explain your methods so they can know what to expect, when, and in what form. Because contracts create certainty (compared to email or verbal agreements), they can also give you and your client some peace of mind.
A contract can help you get paid
For most freelancers, getting paid is a top priority. However, there's always a risk of a client not paying after completing the work (or paying late). A legally binding contract can help you deal with this situation. Contracts communicate when and how clients should expect an invoice and how much time they have to pay their bills. In addition, if they refuse to collaborate, legally enforceable contracts can help you when you take legal action to recover what they owe you.
A contract can minimize disputes and limit liability
You will never be fully covered for every possible dispute. Still, contracts are a good mutual agreement that can protect you by encouraging the buyer to cooperate if there's an issue and avoid court costs. Rather than paying expensive fees to mediate, you can use the contract clauses. Contracts can also limit liability and protect business assets, so you should give them adequate consideration.
A contract can protect your intellectual property
It's always important to try to protect your business' assets. Many clients believe that they own everything you have done for them once they have paid for a service. While this can sometimes be the case, giving away all intellectual property through a written contract is not the only path you can follow. It's essential to ensure your work won't be misused or stolen, and written arrangements can help you do this without needing a licensed attorney.
A contract can help you build trust and improve customer service
If a client has a problem and you have signed a contract, you can point them to the legal information required to solve their query. This can include reviews, returns, warranties, intellectual property, or the correct procedure for making complaints. Having a legal framework for your business shows clients that you care about them and want to protect all of your interests.
Why do freelancers use contract templates?
Contracts are, at their core, relationships. Two people or groups agree to work together, and the contract is the visual representation of that mutual understanding. It's not uncommon to go through a negotiation period while both parties try to get a good deal. Unless the people involved have a legal background, chances are they will do their best to find external resources that can help them in this endeavor.
For this reason, many freelancers and clients choose to use online templates to create their contracts. After all, many legal professionals start with templates to help them work more quickly. And across various industries, managers use pre-approved language and then localize documents as they see fit. Then, depending on the complexity of a contract, they can produce client-ready agreements very quickly.
Time is the main explanation for why freelancers, business owners, and contractors use template contracts. Drafting a contract from a blank, white screen can feel somewhat overwhelming. Using templates can help you create agreements with standardized language and formats.
What are the risks of using online templates for contracts?
Many businesses and freelancers use DIY contracts downloaded from the internet. While not consistently ineffective, these templates rarely reflect all of your businesses' needs in terms of protection.
Some of the principal risks of using online contracts include:
The "unknowns": You're a specialist in your field, so you're not supposed to know how every single clause in a contract works. Legal professionals have years of experience and can plan for many eventualities. Online contract templates might not cover them - so you have to review them carefully to make sure you're protected. You know what you know, and you don't know what you don't know!
Perfecting the fine print: Some say that "nothing in fine print is good news." While this is not necessarily the case, words are extremely important when it comes to legal documents. Vague wording could eventually work in your favor. Or not. Who guarantees their quality will stand in court if you use generic online contract templates?
Costly savings: It can be tempting to use online contract templates to limit costs and get a quick solution. Later, however, you might be unpleasantly surprised because the legal fees you will need to pay to enforce a poorly made contract are high! Small investments can lead to costly pitfalls.
Litigation and arbitration: Many contract templates don't include a clause to opt for alternative resolutions. The lack of an arbitration clause could easily lead to litigation, leaving you and your client unprotected.
Brand reputation crisis: Using a non-compliant contract can damage your company's reputation. This can happen when the language contains mistakes or unclear terminology, negatively portraying a brand.
The rise of Square (and Square Contracts)
Square opened its doors in 2009 when it launched its white reader to facilitate payments. The company soon expanded into software, building integrated solutions to help sellers manage inventory, sell online, hire and pay staff, and engage buyers across different channels. In short, they embedded financial service tools at the point of sale.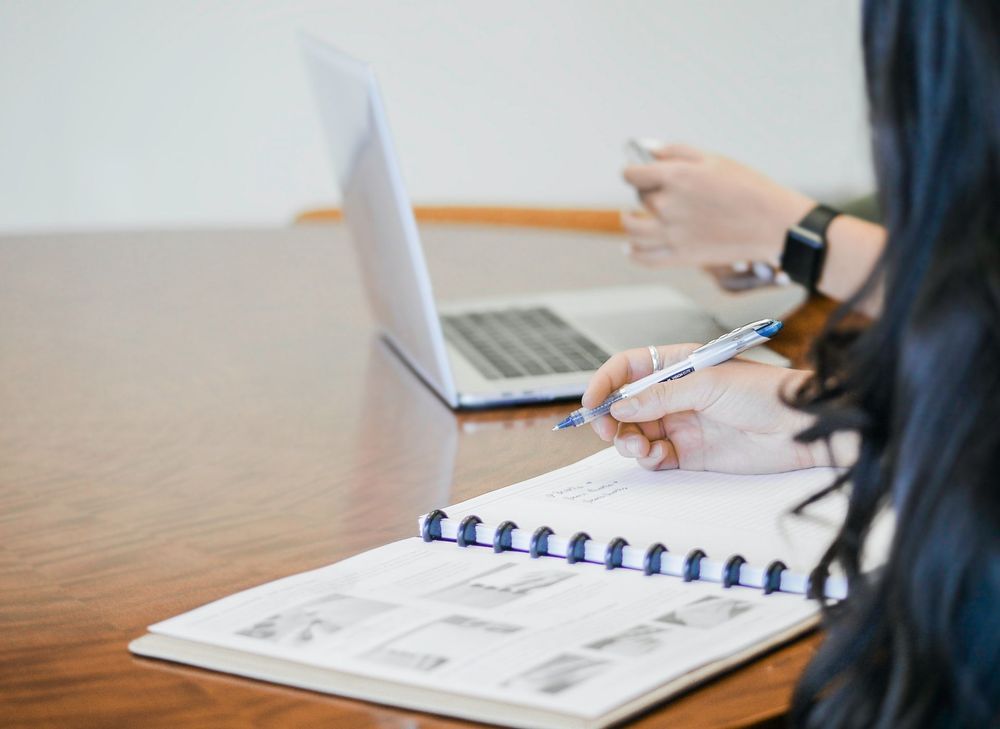 Square Contracts is one of such tools. Users can create and customize contracts directly from their online dashboard. This feature has allowed Square customers to establish clear service agreements, secure digital signatures, and avoid payment disputes.
It's worth noting that Square doesn't provide legal advice or guarantees that any particular contract is suitable for a purpose.
How do Square Contracts work?
Square Contracts uses predefined templates that you can customize to adapt to particular business needs. The platform allows users to:
Create custom clauses from zero
Edit and duplicate clauses within the contract template
Customize a business logo and background for contracts and receipts
Bulk-send contracts to up to 20 people at the same time
Once you create a contract, all you need to do is fill in a recipient's name or email address and add:
The contract name
The contract message (optional, for the email that will contain the contract)
The contract overview (optional, a summary of the agreement included at the top of the contract)
Then, you just need to add payment information (or choose no payment), attach a Square invoice or estimate, and select the clauses you want to include. You can also create new clauses and edit existing ones. Finally, it's time to send the contract. Add the owner's name, an e-signature, and the contract is ready to share.
What templates are available through Square Contracts?
One of the main advantages of Square Contracts is that it includes several pre-made contract templates that come already aligned with specific business needs. These include:
COVID-19 agreement: It includes expectations about safety and liability for visitors during the pandemic.
Services agreement: It sets clear expectations about services.
Completion of services contract: It helps you obtain an acknowledgment from a customer that you completed your work as described.
Sale of goods contract: It sets clear expectations about physical or digital products.
Confirmation of delivery contract: It helps you obtain an acknowledgment from a customer that the products they purchased were delivered as described.
Credit card authorization form: It authorizes you to store a customer's credit card information (and charge it as agreed upon).
What clauses are available through Square Contracts?
Square Contracts' clause library has a set of custom pieces you can add to your contract. There are two types: Default clauses provided by the system and custom clauses created by the user. There are three types of custom ones:
Library clauses: You can only create, edit, or delete library clauses from within the clause library, so this feature allows you to create custom clauses in your clause library.
Template clauses: Custom clauses you can create for specific custom templates.
Contract clauses: Custom clauses you can create for individual contracts.
Is Square Contracts free?
At this time, there's no fee associated with using Square Contracts. They are part of your Square Account at no additional cost.
How much does a Square account cost?
Square's pricing is quite straightforward: The service charges a percentage of transactions fees: 1.75% for in-person transactions (chip and PIN payments, mobile, and contactless payments), 1.9 or 2.9% for online payments transactions (for online stores, checkouts, and access to the API), and 2.5% for manually keyed-in transactions (on the Square Point of Sale app, card payments over the phone, and Square Invoices). The dashboard, reporting and analytics, and marketplace are free when you have an account.
What are the disadvantages of using Square?
Square has many advantages, including predictable flat-rate pricing, good support for low-volume merchants, affordable chip and card readers, and free tools for selling online.
But Square also has some cons. For example, the platform is not ideal for big companies or large transaction volumes. While Square's rates are simple, they are not very competitive when compared to traditional interchange processors.
Because Square has a strict fraud prevention scheme, the platform can freeze your funds if it believes your account is in jeopardy. You will then need to demonstrate you are the rightful owner. If you can't, Square might terminate your account. These blocks can put smaller businesses in a difficult position as they woulnd't be able to access their cash quickly.
Square's customer service is only available thought the phone and require a customer code, even though the calls go through an automated system. There are also some documented stability issues and complications around third-party payment processing.
Square might not be a good choice if you work in a higher-risk industry like infomercial sales, direct marketing, subscriptions offers, or identity theft protection. Businesses that enjoy providing fast customer service usually can't afford to have funds frozen without notice. And those with considerable fluctuations in volume or sales amount are especially at risk ot triggering a flag that can lead to frozen deposits and account holds. Square can also reject high-risk businesses if they deemed appropriate. Some common issues are high levels of chargeback and refunds, bad credit and payment histories, and health and safety issues.
Square Contracts alternatives
Many users consider Square an adequate but not particularly complex feature suite. Store credit and reporting are not very strong, although this is somewhat expected considering there's no minimum monthly fee.
If you're looking for an alternative to Square Contracts, a new player is worth your attention: Indy.
What is Indy?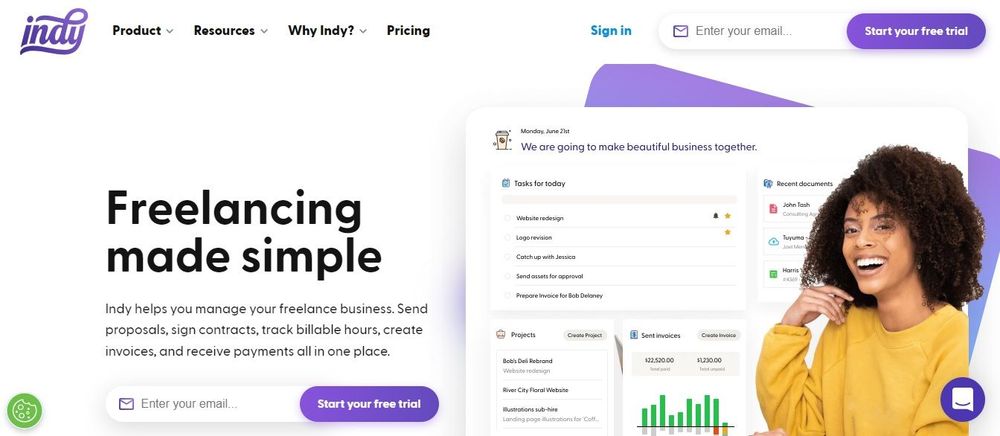 Indy is a platform for independent professionals. They offer an extensive collection of tools and resources to help you manage your freelance business.
Indy is a one-stop shop, a single place with over nine powerful tools. You can use the platform to send proposals, track billable hours, manage calendars, create invoices, share files, receive payments, and create contracts! Because your entire freelance business can run with one subscription and through one website, Indy helps you save money and time.
The advantages of having it all in a single place
You don't need to waste valuable time on admin and spreadsheets with Indy. Instead, the platform organizes all the to-dos for you, linking client and project information in an easy-to-use dashboard.
The system offers customer relationship management (CRM) capabilities, so each person's contact page automatically organizes all contracts, invoices, files, and documents you've shared. Each project is also easier to manage as you can follow chats, tasks, and documents in the same dashboard.
Indy's Contracts
Indy offers legally sound contract templates that can protect both you and your creations. Without a clear foundation, the relationship with your customer could suffer. With Indy, you can edit and customize contract templates quickly. You can add your own information to them and finalize and share them with your clients in minutes. Indy's Contracts include all necessary information for both parties to understand who should deliver what and when.
Another big benefit of using Indy is that the contracts can be connected with other platform tools. For example, you can connect them to a specific client, a proposal, invoices, or the time you have tracked for your work.
What do Indy Contracts include?
Your work is valuable, and as such, you should protect it using a legal contract. With Indy's contractor project agreement, you can easily change the vocation to fit your profession. The contract template sets out performance details, payments, and timelines. They also help you restrict your scope, as it's essential to specify the size of the job to avoid scope creep.
Indy's professional templates can be used for a variety of different jobs and projects. These include:
Artist - actors, cinematographers, directors, freelance 3D artists, illustrators, makeup artists, and singers
Business - artist managers, business coaches, financial advisors, product managers, and virtual assistant
Financial - accountants and bookkeepers
Entertainment - DJs, event planners, party decorators, and wedding planners
IT - freelance Android app designers, programmers, freelance web developers, iOS app designers, front-end developers, game developers, IT specialists, software developers, and technical writers
Design - architects, freelance designers, fashion designers, website and graphic designers, mobile designers, motion designers, product designers, UX specialists, and WordPress developers
Marketing - affiliate marketers, branding experts, content creators, data analysts, email marketers, influencers, market researchers, marketing consultants, PPC, PR and SEO specialists, and social media brand ambassadors, managers, and moderators
Photography - freelance, commercial, wedding, and maternity photographers
Videography - video editors, video producers, and wedding videographers
Freelance writer - authors, copywriters, editors, ghostwriters, interpreters, proofreaders, and translators
Other - bartenders, bloggers, computer repair people, consultants, customer service representatives, e-commerce vendors, florists, models, recruiters, brand ambassadors, interior and landscape designers, life coaches, music teachers, personal trainers, retainers, speakers, and subcontractors
Indy also provides templates for:
Non-Disclosure Agreements (NDAs)
Subcontractor Agreements
Custom Agreements
What can you personalize in Indy Contracts?
Some of the things you can personalize when using these contracts include:
Project deliverables (what you will create, how you will share it, and when)
Deadlines
Payment terms
Intellectual property rights
Termination terms
You can use Indy's contract template contract to go into your next project feeling safer.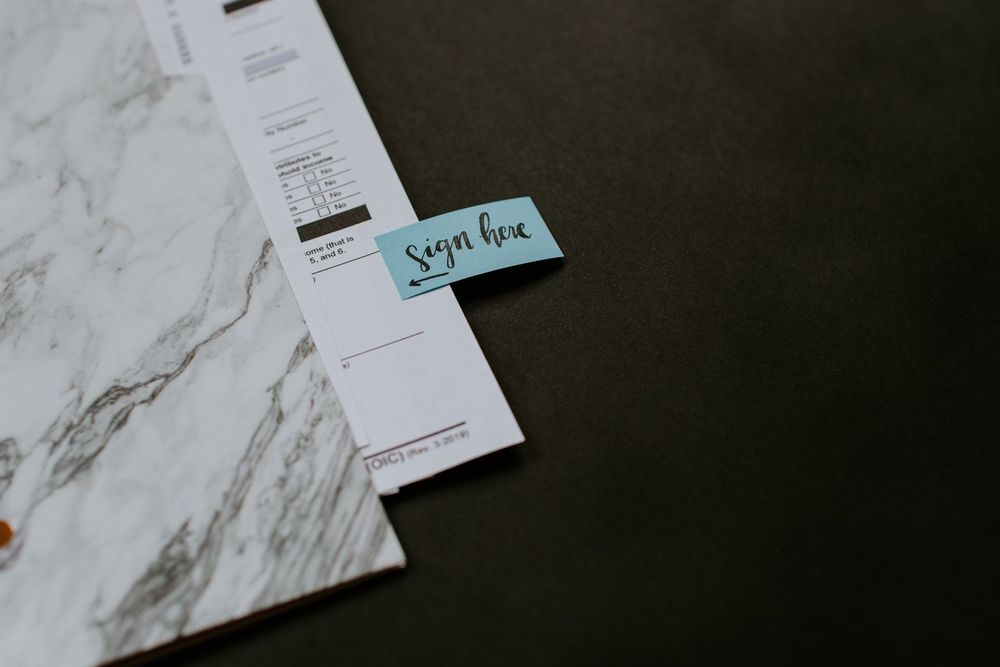 How to create a contract using Indy
Creating a contract with Indy takes minutes.
The first thing you need to do is go to the "Contracts" area using your dashboard or sidebar. Then, choose "Create a Contract."
You will need to select the contract type. The four options are: "Project Agreement" (ideal for specific professions such as designer, consultant, etc.), "Non-Disclosure Agreement" (or NDS. For when you need to protect confidential information), "Subcontractor Agreement" (for when you need to work with other freelancers), or "My Own Agreement" (which starts a new contract from scratch).
When you select "Project Agreement," new options will appear. You must now pick whether you are the Consultant or the Client and fill in your role (Architect, Blogger, Brand Ambassador, etc.) and your client's name. This is where Indy shows its true power. You can create a new client or select a person from your list of existing ones.
Indy is, after all, a multi-tool platform. One of its capabilities is that of a lightweight CRM. The app automatically creates a contact page and organizes all invoices, files, and documents you will share with them when you add a person.
And now it's time to fill in the contract! Indy's interface is divided into two columns. On the right, you will see the preview of the agreement. And on the left, you will find all the fields that can be customized. These fields are organized into steps so they are easier to follow:
Client information (whether they are an individual or a company, their full name and state, and the option to add additional fields)
Consultant information (the same as the previous one but for your information)
Description of services (shown as a text box where you can describe in detail what you're going to deliver and in what terms)
Project timeline (including start time and whether this counts from when you signed the contract or a specified date, end date, and whether the project is considered done when the work is complete, on a specific date, or when either party chooses to end it, as well as the number of days required to provide written notice and end the project without reason)
Payment terms (how the client will pay you, if by the hour, by day, monthly, or other, your rate, whether a deposit is required, how long the client has to pay since receiving an invoice, and whether there will be any fees for late payments)
Who will pay the expenses related to the project
Use for Work Product Licensse (an optional pre-filled field about permissions and rights)
Once you've filled these in, you can review your contract before signing and sending it.
Indy will let you know which areas of the contract template you can edit by highlighting them in yellow. You can also make custom changes by entering the "Custom edit mode," which will allow you to edit all the contract's wording.
Summary
There are significant advantages to using templates for your contracts. First, they provide a legal framework to protect your business and are easy to edit and adjust to your case. They can also help you communicate more effectively with your client and plan for any unexpected situations like late payments or extra reviews.
Many people have been using Square Contracts to create theirs. However, as a freelancer, you might be looking for something more tailored to your needs.
Indy makes creating contract templates simple for artists, consultants, content writers, digital marketers, etc. Even better: When you create a contract with Indy, it will automatically connect it to your client's profile using their lightweight CRM. So Indy is much more than a template editor. It's a comprehensive solution for freelancers, contractors, and small business owners.