Are you spending hours creating proposals and invoices, and your clients are still not paying on time? Close to 30% of freelancers get paid late.
What if there was a concrete way to send professional invoices to your clients and send them automatic reminders if they missed the due date? That's what AND.CO allows you to do. However, AND.CO lacks some features you may need as a freelancer.
Today, we've picked nine AND.CO alternatives for freelancers.
What Is AND.CO?
AND.CO (now Fiverr Workspace) is a freelance business management solution that helps freelancers manage projects, tasks, invoices, contracts, expenses, earnings, and more in one place. Recently, Fiverr — a freelance marketplace — acquired AND.CO and renamed it to Fiverr Workplace.
Since then, the software has received various updates, with new features and functionalities being introduced. The tool helps you automate your business' back-office, administrative tasks like Proposals, Contracts, Invoices & Payments, and Time Tracking.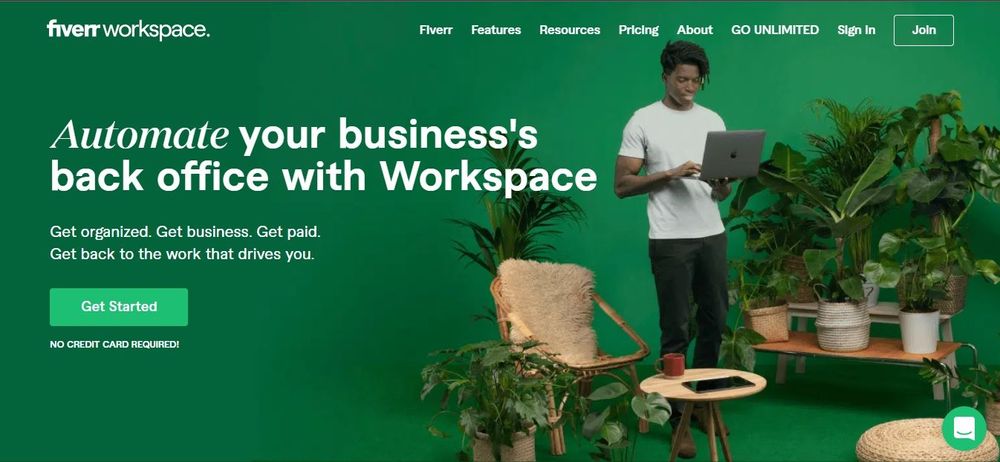 Let's look at some essential features of AND.Co.
Smart proposals
Create ready-to-sign contracts using templates
Automated time tracker and task management
Create and send professional invoices
Reporting and analytics
AND.CO has two plans: Free and Unlimited. The Free plan is quite generous and provides access to business tools, client payouts, and contracts. The Unlimited Plan is available for $18 per month only and offers complete access to the software.
Top AND.CO Alternatives for Your Small Business
Indy is one of the top competitors of AND.CO. It is a feature-rich, robust, and user-friendly freelancing management platform that enables freelancers to manage all their administrative tasks in a hassle-free manner. It comprises an array of helpful features you can use to be more productive and ensure client satisfaction.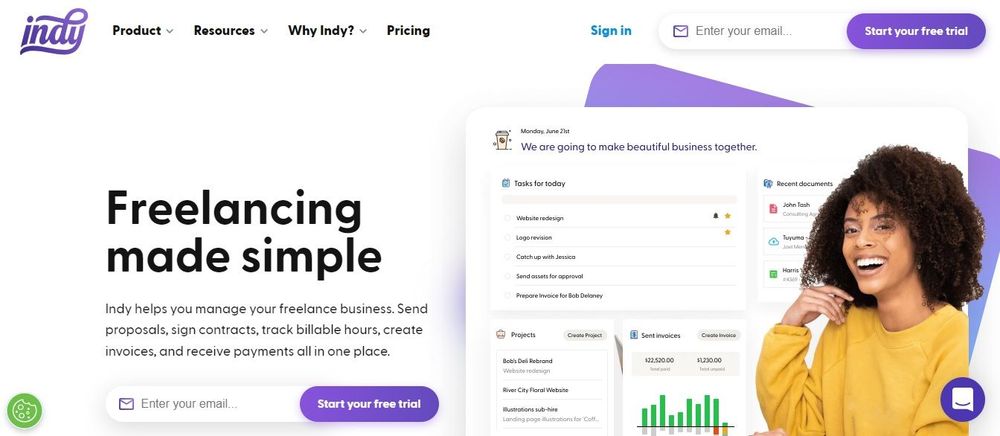 With Indy, you can declutter and organize your processes and achieve better control over your time. The tool allows you to manage all your freelance tasks in one place, so you don't have to move to-and-fro between email, spreadsheets, phone, etc.
Indy Top Features
Invoices: Use hundreds of templates to create professional invoices and get paid on time.
Contracts: Create a wide range of contracts, such as an informal contract, nondisclosure agreement, formal contract, etc.
Proposals: Create and send interesting proposals using successful templates.
Tasks: Manage all your projects and tasks to ensure timely delivery.
Calendar: Stay ahead of your schedule with an intuitive calendar.
Time Tracker: Track your billable hours accurately using Indy's time tracker feature.
Chats: Communicate with your clients and team members using Indy's built-in chat feature.
Files: Upload and share your files using Indy's file hosting system.
Forms: Create and share forms to generate leads.
Integrations: Indy integrates with Google Calendar and other helpful apps.
When compared to AND.CO, Indy provides a built-in calendar, chat system, file-sharing system, and in-app integrations that AND.CO lacks.
Indy also offers better value for money. Like AND.CO, Indy has two plans: Free and Pro Bundle. Indy's Free plan gives you free unlimited access to all the basic tools you need to manage your business, plus 3 free invoices, contracts, and proposals a month, while the Pro Bundle provides complete access to the rest of the tools and advanced features for $12 per month only (or just $9 per month with the Annual plan). If you are looking for more features and better value for money, Indy is the better choice.
Besides Indy, there are several companies that offer tools similar to AND.CO. Let's look at nine solutions you can use instead of AND.CO, along with their features and pricing.
Invoice Quickly
Invoice Quickly is an online invoice management tool that allows you to create and send invoices to your clients. It also has income tracking functionality that helps you track your revenue and profitability. It comes with advanced task management and time tracking features, making it one of the best AND.CO alternatives.
Key Features:
Invoicing, recurring invoices, and expense tracking
Create and send estimates
Accept payments and generate financial reports
Time tracking and project management
Client management portal
Pricing: Invoice Quickly has two plans: Pro and Premium. The Pro plan is available for $9.99 per month, while the Premium Plan is available for $20 per month. There is no free plan, though both plans have a free trial.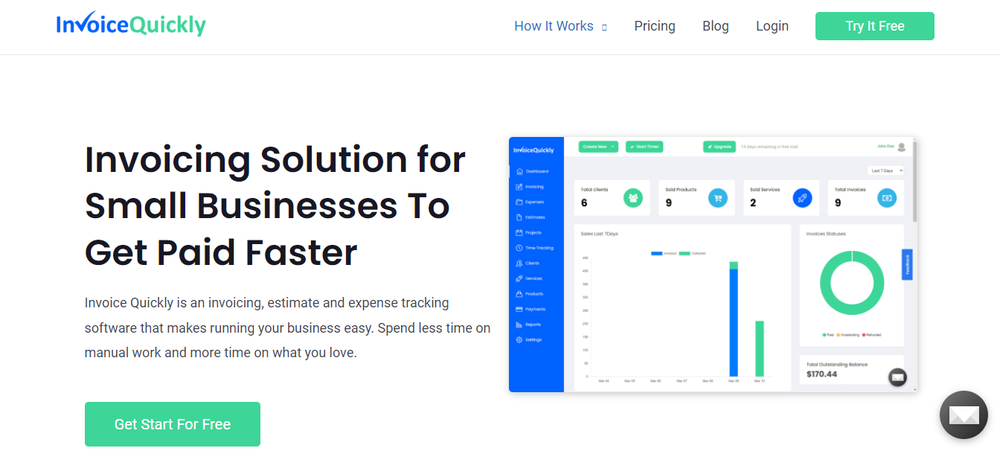 FreshBooks
FreshBooks is a popular invoicing and time tracking tool used by freelancers worldwide. The tool comes with all the features needed to run and manage your freelance business. Apart from freelancers, small business owners, agencies, and service providers can also use FreshBooks to streamline their business operations.
Key Features:
Finances and accounting
Expense tracking and revenue management
Create and send invoices
Proposals and estimates
Time tracking and project management
Pricing: FreshBooks has three plans: Lite ($6/month), Plus ($10/month), and Premium ($20/month). You can also contact sales for a custom plan.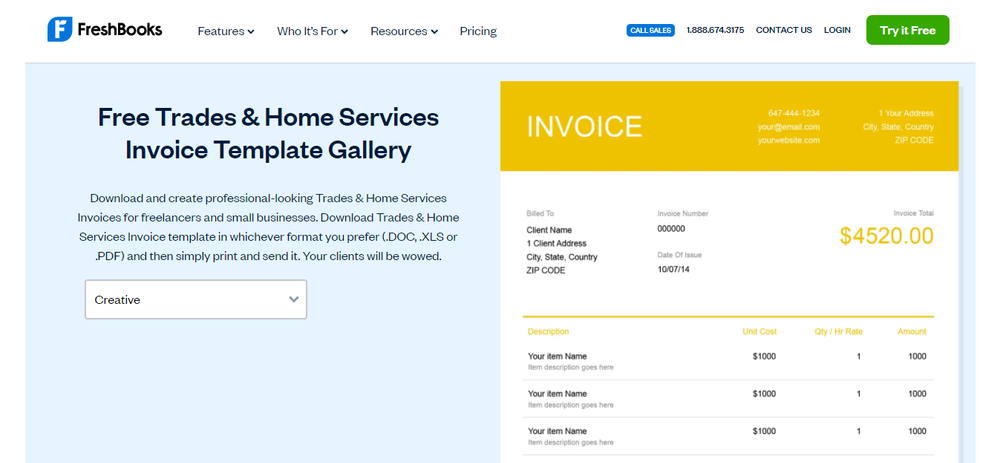 Hello Bonsai
Hello Bonsai is one of the most popular tools in the freelancing industry. Used by over 200,000 freelancers, Helo Bonsai is a freelancing management app that helps you become a more productive freelancer. It comes with all the essential freelance management features, and it's available on Windows, iOS, Android, and Mac.
Key Features:
Invoices and proposals
Contracts
Forms and automation
Task tracking and project management
Pricing: Bonsai has two plans: Workflow for $19 a month and Workflow Plus for $29 a month. You can buy add-ons such as Bonsai Tax and Partners as well.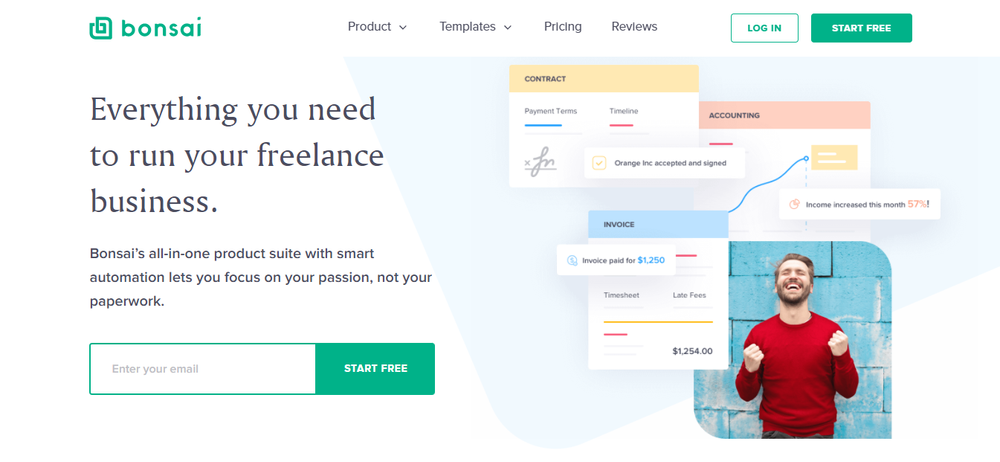 QuickBooks
QuickBooks is a widely used bookkeeping platform for freelancers, agencies, and small businesses. It comes with a complete suite of task and project management features. If you're looking for an AND.CO alternative focused mainly on accounting and bookkeeping, QuickBooks is the ideal pick for you.
Key Features:
Real-time cash flow insights
Date and time tracking
Create and send invoices
Manage taxes
Sync with bank
Pricing: QuickBooks by Intuit has four plans: Simple Start ($12.50/month), Essentials ($25/month), Plus ($40/month), and Advanced ($90/month). There is no free plan, though there is a 30-day free trial on all plans.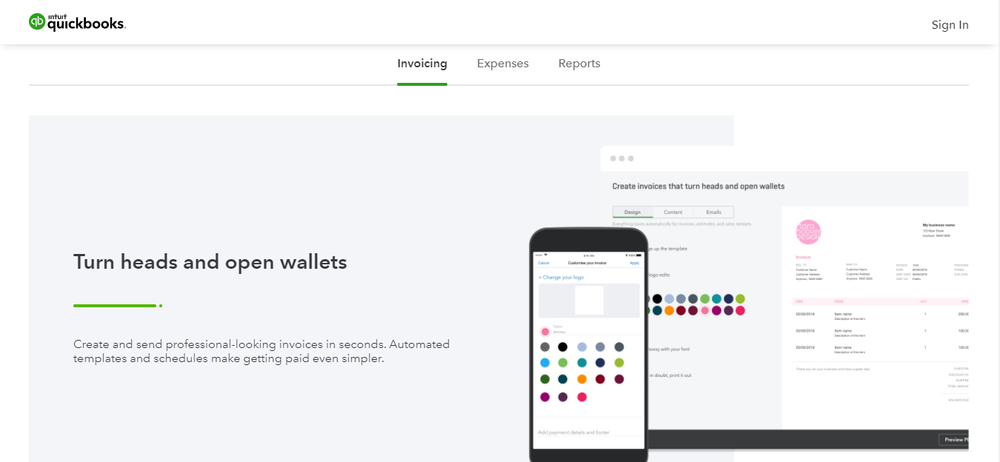 Zoho Books
Zoho is one of the leading providers of business management tools. Zoho Books is an excellent alternative to AND.CO if you are looking for a tool geared towards invoicing and financial management. Zoho Books is a comprehensive accounting and invoicing solution that lets you stay on top of your finances and projects.
Key Features:
End-to-end accounting
Account payables and receivables
Contact management
Banking integration
Timesheet and reports
Pricing: Zoho Books has five plans: Free, Standard ($10/month), Professional ($20/month), Premium ($35/month), Elite ($70/month), and Enterprise ($100/month).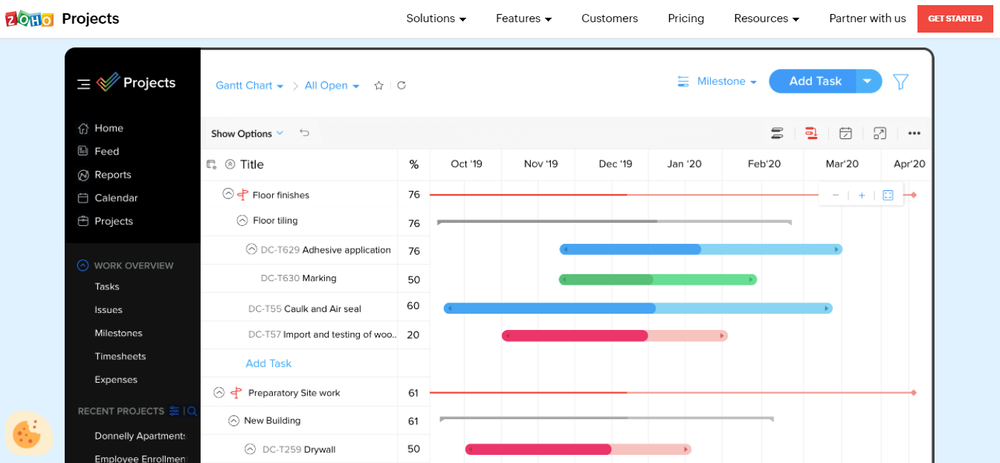 Invoice Ninja
Invoice Ninja is a powerful freelance business management app that lets you streamline your accounts and finances. The Invoice Ninja website mentions it comes with various features to help you speed up your administrative business tasks and become more efficient. Invoice Ninja has a native desktop app, web app, and mobile apps.
Key Features:
Create and send invoices
Payment gateway integration
Dynamic dashboard data
Upload and share files and docs
Set up recurring invoices
Pricing: Invoice Ninja has three plans: Forever Free, Ninja Pro Plan ($10/month), and Enterprise Plan ($14/month).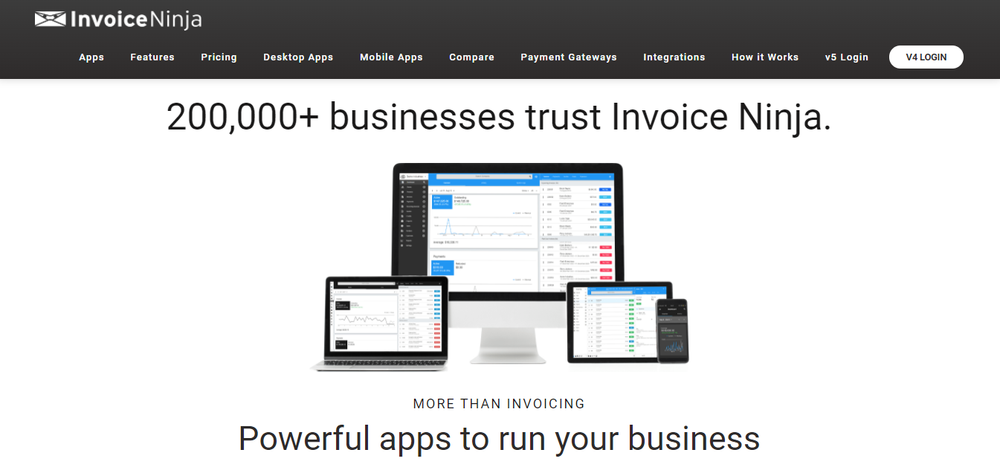 HoneyBook
If you are looking for an AND. CO's alternative that offers everything your freelance business needs, check out HoneyBook. It is a feature-rich project management and client management solution that allows you to track tasks, create and send invoices, collaborate with clients, and more. It also has automation features.
Key Features:
Online contracts and payments
Proposals and estimates
Create and send invoices
Time tracking and scheduling
Task automation
Pricing: HoneyBook has three plans: Starter Plan ($9/month), Unlimited Monthly ($39/month), and Unlimited Annual ($390/year).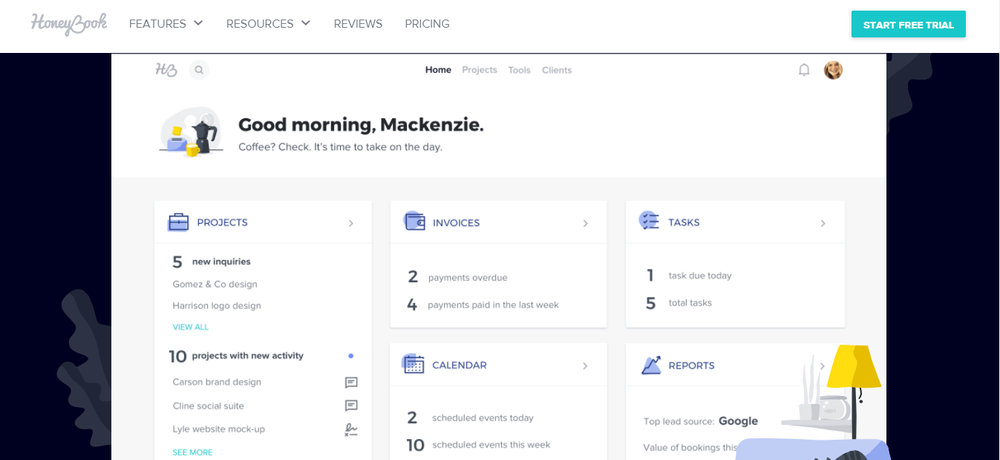 Xero
Xero is a powerful business management tool for freelancers and small business owners. It offers an array of helpful features that you find in other freelance business management tools. Xero also comes with some advanced features like payroll management, making it ideal for large freelance businesses with multiple clients and team members.
Key Features:
Create and send invoices
Accept payments
Track tasks and projects
Bank reconciliation
Manage clients and contacts
Pricing: Xero has three plans: Starter ($22/month), Standard ($35/month), and Premium ($47/month).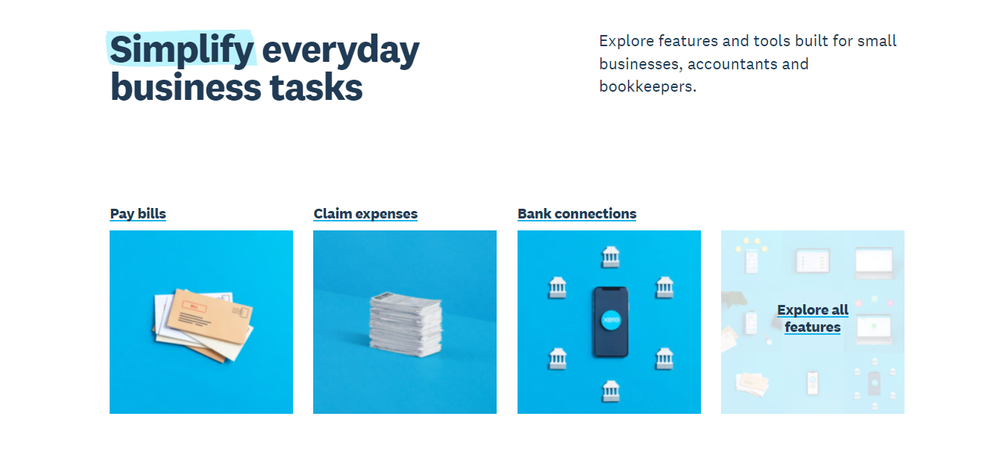 Wave
Wave is an accounting and invoicing solution founded by Blue Fountains International. The software focuses mainly on financial management for freelancers across industries. It allows you to manage all aspects of a small business, like payroll, reports, purchases, etc. Freelancers who sell packages can benefit from Wave.
Key Features:
Create and send professional invoices
Manage accounts receivables and payable
Stress-free business accounting
Recurring billing and invoicing
Invoice templates
Pricing: Wave is completely free! Yes, you get complete access to all the features at no cost.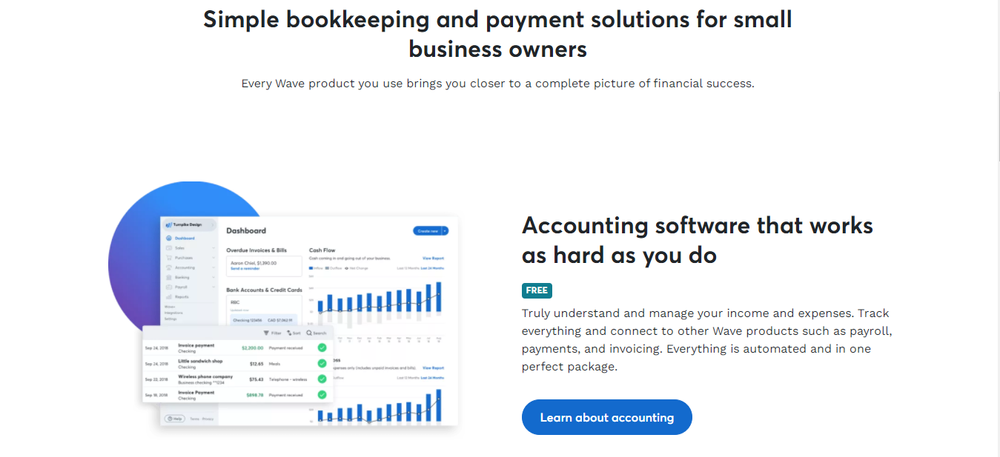 Indy is the best alternative to AND.CO. With Indy, you can manage your entire freelance business in one place. You get access to all features, from invoicing to contract management, at an affordable price tag of $9 only. Other perks include active customer support, a user-friendly interface, and a generous free plan.
Why Do Freelancers Need Invoicing Software?
Creating and sending proposals, contracts, and invoices is part and parcel of a freelancer's work. Freelancers need to perform these tasks every day, and they can be quite time-consuming. An average freelancer spends over 30 minutes a day on admin, non-billable tasks, which include sending proposals, generating invoices, talking to clients, etc.
Now, there's nothing wrong with taking care of your administrative tasks by yourself. You can use notepads, spreadsheets, etc., to keep track of your tasks. However, doing so has two major disadvantages:
It's tedious. Manually doing every administrative task will plummet your productivity, restraining you from spending time on actual work.
It's prone to errors, and sending incorrect invoices or proposals is the last thing you want.
Tools like AND.CO make your life easier. They streamline all your non-billable tasks, so you can spend time on work you get paid for.
There are several benefits of using freelance business management tools, like:
Stay on top of all your projects and tasks
Create and send proposals, invoices, and contracts easily
Communicate effectively with clients and team members
Send payment reminders and get paid on time
Manage your expenses and earnings in one place
With Indy you can become a highly productive and efficient freelancer and will exceed your clients' expectations.
Conclusion
Freelancing comprises a lot of administrative tasks. The key productivity (and success) as a freelancer is to consolidate all these tasks in one place and focus on actual work that matters. Here's where tools like Indy and other AND.CO alternatives come into the picture. These tools help you streamline redundant business tasks, allowing you to be more productive. If you're looking for the best AND.CO alternative for freelancers, check out Indy. It's been designed from the ground up for your unique needs. Get started today for free!