When you're starting your freelance career, you might just have a couple of clients requesting your help. Keeping track of your tasks can then feel reasonably easy. But what happens when your freelance journey progresses and you find yourself dealing with multiple accounts and interactions daily?
A Customer Relationship Management (CRM) system can help you organize your projects and tasks by client, complexity, and delivery date. Of course, you don't need a CRM system to start a freelance business, but you can manage your business better if you do have one.
With a CRM tool, you will be able to track a whole relationship with a client, label your progress, and automate communications using templates. As a result, CRM tools can make your life as a freelancer a little easier - especially if your client base is growing and you require some practical project management tools.
What Is a Customer Relationship Management (CRM) Tool?
CRM is a software system that can help freelancers and business owners keep track of their communications by connecting all data from leads, business partners, and customers. CRM systems also consolidate calls and meetings and handle all email marketing from one convenient place.
The purpose of a CRM system is to store and manage all this complex data so that you can easily access and use it to make strategic decisions. In addition, some CRMs can also help you control finances and organize your calendar.
What Kind of Information Is Stored in a CRM Tool?
CRM systems are powerful project management tools.
We could compare a CRM tool with a large spreadsheet, where each column stores a piece of information. However, unlike spreadsheets, CRM tools are dynamic. As soon as you communicate with someone, the CRM tool updates automatically to incorporate the latest actions. For example, a CRM's actions can include whether a contact has opened an email, what website pages they have visited, and whether they purchased something.
A spreadsheet can store a client's name, email, and phone number. A CRM tool will also include all communications, shared files, notes, and actions. For example, every time you contact someone, you would need to update the relevant rows and columns in your spreadsheet. Using CRM tools, these updates will happen automatically and in real-time.
Other data types in CRM tools include social profiles, geographic location, lead scoring, order history, and personality traits. This is just a short list. CRM software can be made to include anything you consider relevant for your business. For example, you could store the date of the first and most recent interaction, why they contacted you each time, and what they say about you on social media.
A well-maintained CRM database can tell you who your clients are and how to best engage with them. As a result, these contact management tools can positively impact your business and help you provide personalized services.
Who Benefits the Most From CRM Tools?
The two business areas that benefit the most from Customer Relationship Management software are sales and marketing.
Many independent professionals use CRM for freelancers on a daily basis. For example, suppose a designer wants to grow their contact list by offering a free SEO course. They run a Facebook ad campaign that takes visitors to a form containing questions about their industry, their company size, etc. They could also ask if the user has considered redesigning their website and when they expect to do this. Each field for this form can trigger a different follow-up communication. If they have said yes to planning a redesign, this could be tagged as a "hot lead" and start a different sequence.
If you're using a spreadsheet, you will need to input this data manually and prepare all follow-ups as emails or calls. All communication can be handled automatically if you're using a CRM tool. This is just one example of how a freelance business can benefit from marketing tools and marketing automation.
CRM Software for Sales
CRM software can help streamline the entire sales process by giving certain communications visibility and priority. Handovers are also easier because CRM tools store all customer data in one place. For example, you can see what a lead has done and then personalize the conversation to follow.
You can also use CRM systems with VoIP telephone systems to improve the visibility of all calls. The CRM tool can recognize the phone number when a lead calls and show the sales rep their record. Sales managers can also monitor the entire sales pipeline and prioritize efforts through scoring. Lastly, CRMs facilitate following leads by automating responses. The system will initiate follow-ups at the right time, making sure the customer journey remains consistent for all potential clients.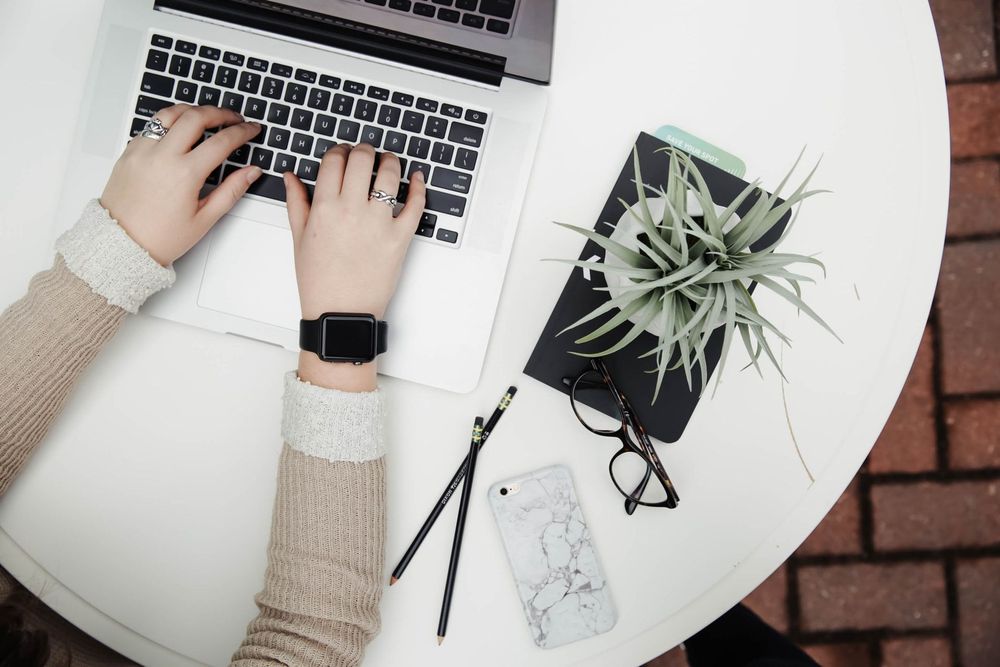 CRM Software for Marketing
Marketers that have begun using CRM software rarely go back. The level of insights and personalization that CRMs can provide are uncontested.
Firstly, a CRM tool is particularly good at analyzing patterns and finding unique insights that we might lose when doing things manually. For example, they can review all lifetime clients and find the things they have in common to help you choose how to spend your advertising budget. If many people buy products in a particular combination, the CRM can also suggest bundles that could increase sales.
More importantly, CRM solutions can ensure you're sending the right message to the right person based on their recent actions. So, you can build great marketing automation on personalized communications.
How Can CRM Software Help Freelancers?
Freelancers tend to be focused on their area of expertise - and this doesn't always coincide with what a specific industry requires. For example, you might be great at project management but struggle with lead generation.
One thing CRM for freelancers can do is make sure you are notified when a potential client has viewed your proposal. Then, instead of constantly checking your inbox, you can follow up on different leads from a single location.
You can also use a CRM tool to handle contracts more effectively. So you don't need to hire a lawyer for each new one and can instead pre-vet legal documents using templates stored in the CRM. The same can be said for invoices. The CRM system can auto-generate invoices tailored to each client based on previous proposals and contracts.
Most CRMs have robust email marketing features and can integrate with your email software and handle other tasks like scheduling meetings and managing ads. Other CRM features include document management, email tracking, and social monitoring tools.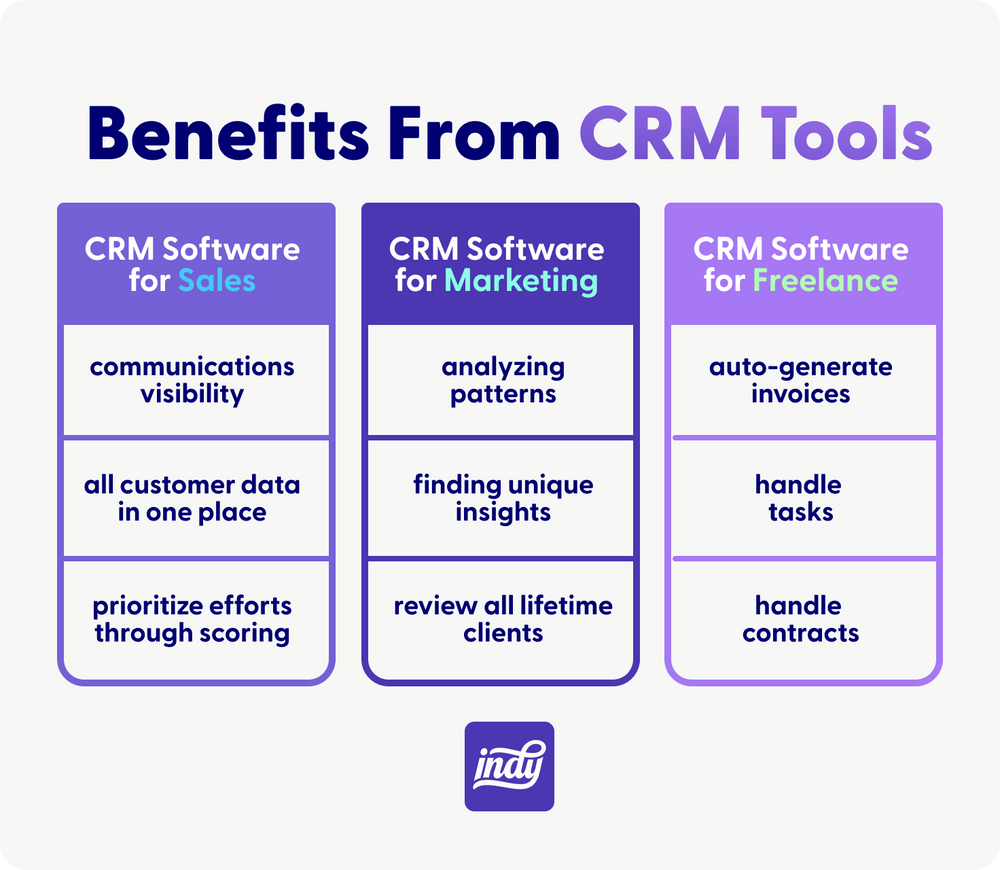 How Do You Populate a CRM Tool?
The essential component of a CRM tool is customer data. But how exactly do you know what to store in your database? And how do you collect this data?
The main communication details you can begin with are what you would typically find in a signup form. These include:
The customer name
Their contact details (such as email address, physical address, or phone number)
The person's preferred mode of contact
How the customer was acquired (for example, through a store visit, social media, google search, or trade show).
If you're using CRM software to promote sales in your freelance business, you should also consider adding:
The items the client purchased and their categories
The time when the purchase was made
The value of the sale
The method of payment (cash, check, credit card, PayPal)
How soon the payments were made if using credit
Other engagement details can prove useful too, such as:
Is the client responsive when receiving emails and other communications?
Does the customer respond more to a certain type of message, for example, promotions or informal?
Records of all emails, social media messages, and calls.
Lastly, profile and feedback details can be stored as well:
Region
Hobbies and interests
Birthday
Income levels
Technology usage levels
Surveys taken
Complaints and returns
Ratings
You can collect this data using a variety of ethical methods. For example, you can start with a signup form and continue with messages through email and social media channels.
You could also run surveys and competitions or use web analytics to calculate things like time spent on a site and what browsers or devices are more popular. Purchase transactions can also help you populate your CRM database.
How to Get Started With CRM Software
If you're looking for a great CRM tool for freelancers, there are a few factors to keep in mind.
One of them is the price. Some CRM tools are costly and more suited for corporations rather than freelancers.
Another thing to consider is the use cases for your business. Many CRM solutions allow users to pick from ready-made email templates and can integrate with email providers like Outlook, Yahoo, and Gmail. The majority can also set up notifications, reminders, and follow-up alerts. Some even have a "click-to-call" feature that allows freelancers to contact clients directly.
Multiple CRM systems come with valuable built-in components like sales forecasting and reporting, which makes them ideal for any freelance business. Other key features include:
Custom fields
Visual sales pipelines
Mass emailing
Two-factor authentication
API access
Data import and export
Mobile apps
Customizable templates
Calendar and activity management
Automatic social profile enrichment
Power dialer
What Are the Best CRMs in 2022?
There are some excellent options when it comes to picking the best CRM system for freelancers. The CRM tools listed below can help you with your project management, email marketing, client management, and pipeline management.
Indy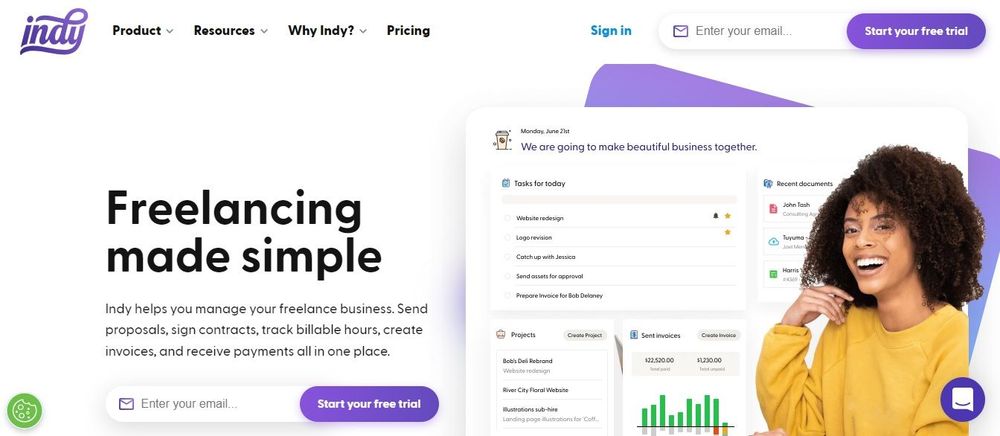 If you're looking for the best free CRM, Indy should be your first option. This system does the hard work of organizing projects for you. It's friendly and easy to use and helps you automatically link your client and project information. One of Indy's most significant advantages is its dashboard - which gives you updates at a glance. In addition, each person's contact page automatically organizes your invoices, files, and other documents you've shared with them. Indy's dashboard also lets you manage each project's status, tasks, chat messages, and related documents. Indy offers a free trial that is ideal for getting a feel for the platform. Their Pro bundle (which includes unlimited invoices, forms, contracts, and chats) is only $4.49 a month.
Pipedrive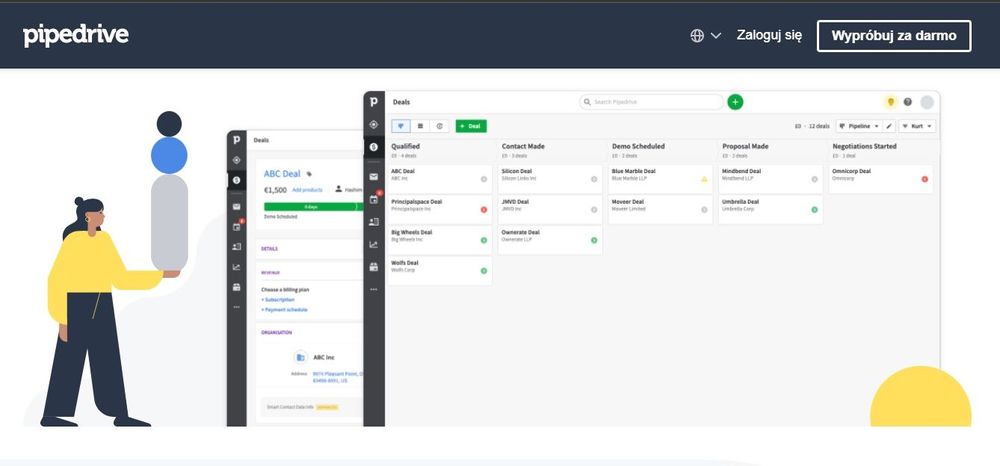 Pipedrive is a CRM system built for small teams with lengthy or intricate sales processes. Their Gold plan allows email tracking, product catalogs, workflow automation, and custom permissions. Unfortunately, this system doesn't offer much CRM functionality outside of sales management and costs from $29 per user per month.
Zoho CRM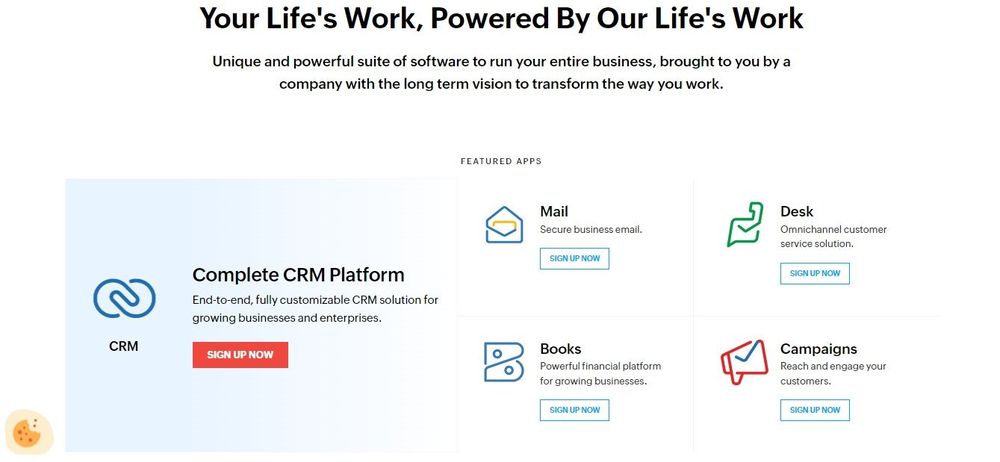 Zoho CRM is one of the largest CRM suites available. The platform integrates many third-party applications and has a multi-user portal, custom modules, and territory management features. The cost of Zoho CRM is $35 per user per month, with extra charges for storage exceeding 1 GB.
Nutshell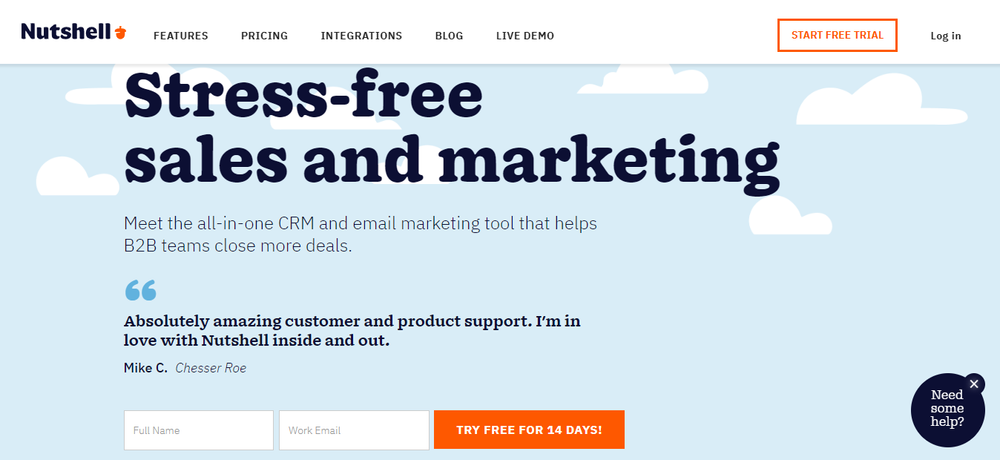 Nutshell is a good CRM for small businesses. They offer telephony and phone recording features, customizable reports, and multiple management options for sales teams. Unfortunately, this CRM tool doesn't provide any marketing functionality, although it can integrate with some third-party apps. Their Pro plan starts at $39 per user per month.
Insightly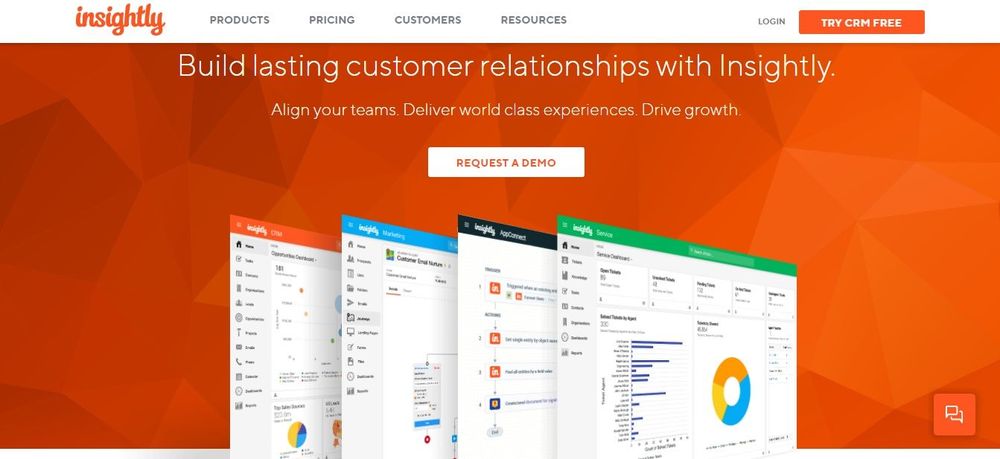 Insightly has been around for a long time: Almost ten years! It recently incorporated a CRM module in the standard product with MailChimp integration, customization options, and a powerful "command center" to display a company's pipeline. Their standard plan costs $49 per user per month.
Summary
CRMs enhance contact management and can automate your sales process and improve customer satisfaction. CRM for freelancers, in particular, can also help you save precious time by automating communications and reminding you when to take action.
It doesn't matter if you have two or two hundred clients. CRM tools have many features that any freelancer or small business owner will be glad to explore. In a sea of sales and marketing apps, perhaps it's time to ditch the Excel or Google spreadsheet and embrace a good CRM tool.