With so many project management software options on the market, it can be tough to choose the right one as a freelancer or small business owner. Maybe, you've been on the search for software packed with project management features that are necessary. If that's the case, then you've probably come across both Asana and Jira.
In turn, you may be wondering which of these two popular project management tools is the best. Both Asana and Jira have their strengths and weaknesses. The best way to decide which is best is to take an in-depth look at all the features. Don't worry, that's already been done for you! So sit back and get ready to learn about these software products.
If you're a freelancer or run a small company and are searching for a place to obtain all of the tools you need to operate your independent business in one location, we'll also go over an excellent option for you to consider: Indy.
What is Asana?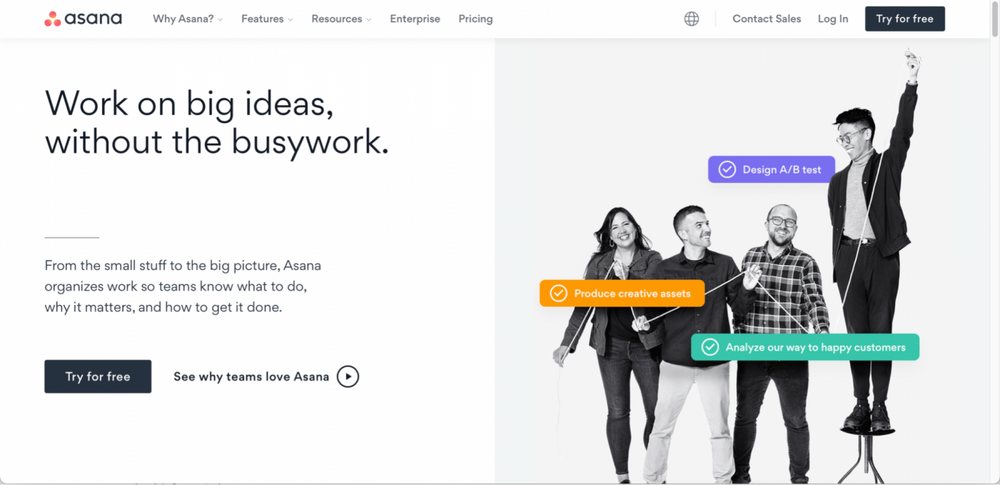 Asana is a project management software that enables users to manage projects, tasks, and to-dos all in one place.
It's a popular tool among both project teams and freelancers. Asana offers a user-friendly interface and various features like:
Creating and assigning tasks
Setting deadlines and due dates
Adding notes and attachments
Creating and managing project boards
Looking for a project management tool to help you manage projects and tasks? Asana is a great option to consider.
What is Jira?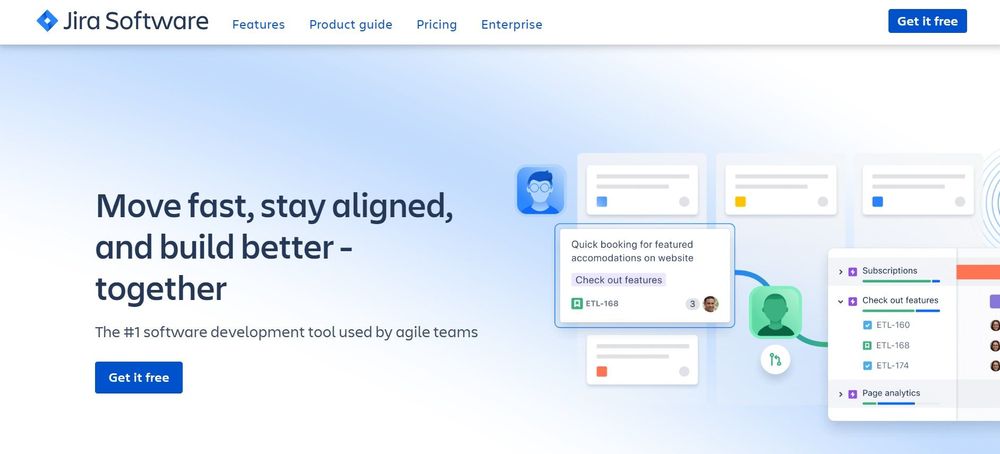 Jira is a software development tool used by agile teams to plan, track, and release software development projects.
It has been designed to foster teams as a collaboration tool. It's also been praised for its organizational features, including some of the best issue-tracking software to date. While Jira is a great collaboration tool for software developers and other development teams, is it still a good option for freelancers?
If you're in a different niche than software development, that's okay! Jira is great for freelancers working with multiple teams. It is also beneficial when working with clients on complex projects. Jira is a great way for freelancers to track tasks and deadlines in one place easily. It also makes it convenient to communicate with large and small development teams.
Asana vs. Jira comparison | Choosing the right project management tool
So, which tool is right for you? If you're not sure, check out this Asana vs. Jira comparison to learn more about each tool.
Asana vs. Jira: Key features
Asana and Jira are two of the market's most popular project management tools. Both have their own unique set of features that make them stand out from the crowd.
Asana key features
Asana is a cloud-based project management tool that helps teams track their work and progress. It offers a variety of features, including:
Work consolidation for both large teams and small teams
Project management software
Task management
Team collaboration
Project tracking
Track progress of multiple tasks
Customizable task management
Task conversation - comment beside tasks
Give feedback
Make team decisions
Easily upload and share files
Detailed reporting
Custom calendar
Asana consolidates all of your work, conversations, and files into one place. You can easily see what needs to be done while also keeping track of progress.
Jira key features
Jira is a project management tool designed for software development teams. It offers various features focusing on software teams. It also provides various general project management features, which support freelancing. Here are the main features offered by Jira:
Issue tracking
Manage individual work items
Tasks
Bugs
Project management
Creating and tracking milestones
Assigning tasks to project members
Agile reporting capabilities
Track project progress
Team performance
Customization
Create custom fields
Custom task management
Advanced search
Added filtering to help find the information needed
Integration with other tools to extend the workflow
Asana vs. Jira: Pricing
Asana pricing
Asana has four pricing plans to choose from. Each plan comes packed with different features and options.
1. Basic Plan
Up to 15 team members
Unlimited project management software
100 MB storage per file
Calendar views
Time tracking
100+ app integrations
Cost: Free version
2. Premium Plan
Up to 30 team members
Goal setting
Time tracking
Portfolios
Advanced features
Workflow builder
Admin Console
Cost: $10.99/month per user
3. Business Plan
Up to 150 team members
Custom fields
Employee onboarding
Lock custom fields
Advanced integrations
Salesforce
Adobe Creative Cloud
Tableau
Power BI
Cost: $24.99/month per user
4. Enterprise Plan
The Enterprise plans are based on the needs of the business and priced accordingly.
Centralized visibility
Centralized control
Centralized support
Advanced security features
Advanced admin features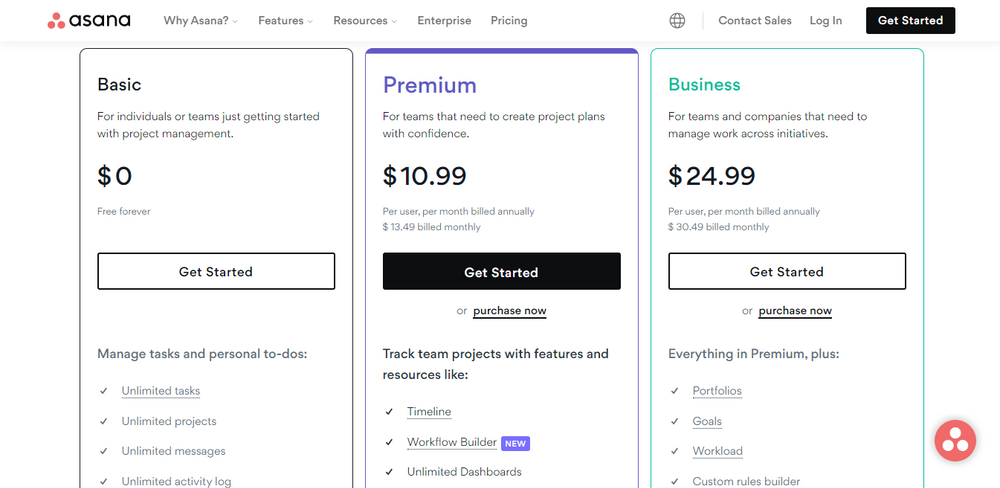 Contact Asana for more information and pricing.
Jira pricing
There are four different pricing plans for Jira:
1. Jira Free
Supports teams of up to 10 users
2 GB of storage
Unlimited projects
Kanban boards
Cost: Free version
2. Jira Standard Plan
Issue tracking
Integration with popular development tools
Unlimited projects and users
10 GB of storage
$7.50/month per user
3. Jira Premium Plan
Project templates
Time tracking
Unlimited storage
Field history tracking
Auditing
Extended security
$14.50/month per user
4. Enterprise
All of the above features
Atlassian Analytics
Atlassian Data Lake
Data Connectors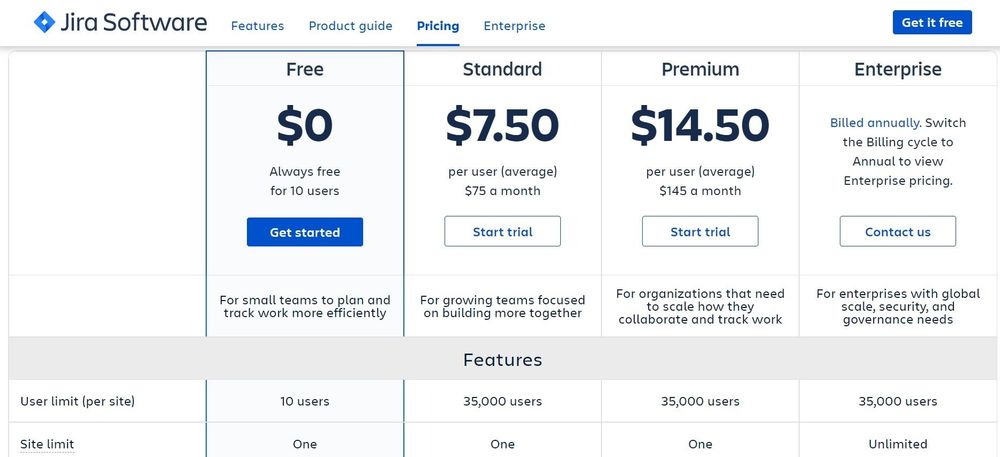 Contact Jira for more information and pricing.
Asana vs. Jira: Ease of use
There's no doubt that ease of use and manageability are very important for freelancers. It mainly allows users to quickly and easily access necessary functions. Asana and Jira are both packed with essential features. But when it comes to manageability, Asana's user interface may take the win. Let's take a look at why.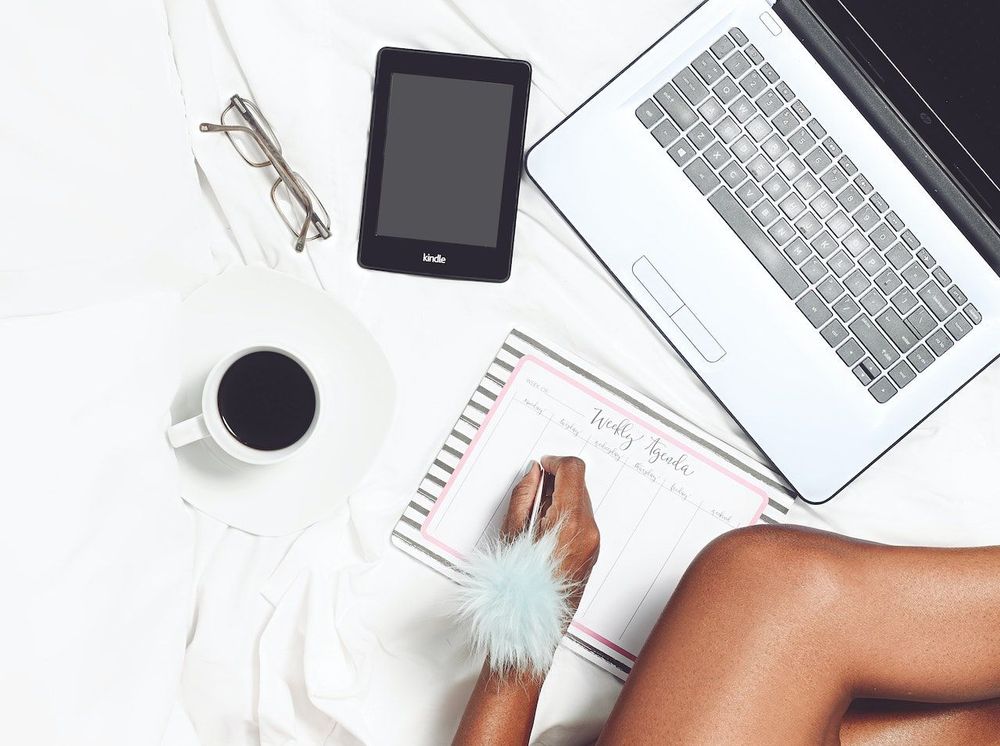 Is Asana easy to use?
When we look at Asana's user interface, it's quickly noted that it was created with the user in mind. Asana is:
Clean
Simple
Straightforward
It's easy to learn. Therefore, if you're looking for a tool that is simple to use and requires little to no training, then Asana may be the right tool for you.
Familiarizing yourself with the basics of the interface is pretty simple. However, there are a lot of features and shortcuts that you can learn to make your experience even better.
Asana also offers a wealth of tutorials and support resources. These are all in place to help users get the most out of using Asana as a workplace. Overall, it's an intuitive and user-friendly platform. The platform makes task management easy and efficient.
Is Jira easy to use?
Jira is designed to be easy for all project team members as a project management tool. Unfortunately, though, for most users, it doesn't come off as easy to navigate. As with most software tools, a steep learning curve comes with using Jira.
For some users, getting used to the interface and the features that Jira offers may take a little time. But once you've learned the basics, Jira is a powerful tool that can help you manage your projects more effectively.
If freelancers and small teams have never worked with this software, manageability may be difficult at first. With that in mind, there's tons of information and tutorials in the web world. These tutorials will help walk you through the basics. Go through this and be sure it's something you're willing to work with. The free version is a great way to take Jira's scrum methodologies for a test drive.
Asana vs. Jira: Customer support
Customer support is super important when learning new software basics and features. It's also a daunting and sometimes annoying aspect to deal with. This is why it's so important to have a project management tool that provides various forms of priority support, even in the free versions. This will help to make your projects run smoothly. Are Asana and Jira worth the effort? Let's find out.
Asana customer support
Unfortunately, Asana doesn't have phone support or live chat. However, they still have excellent customer support. The robust knowledge base will help users quickly work off of each other to find the answers. If the knowledge base can't help, Asana offers 24/7 email support.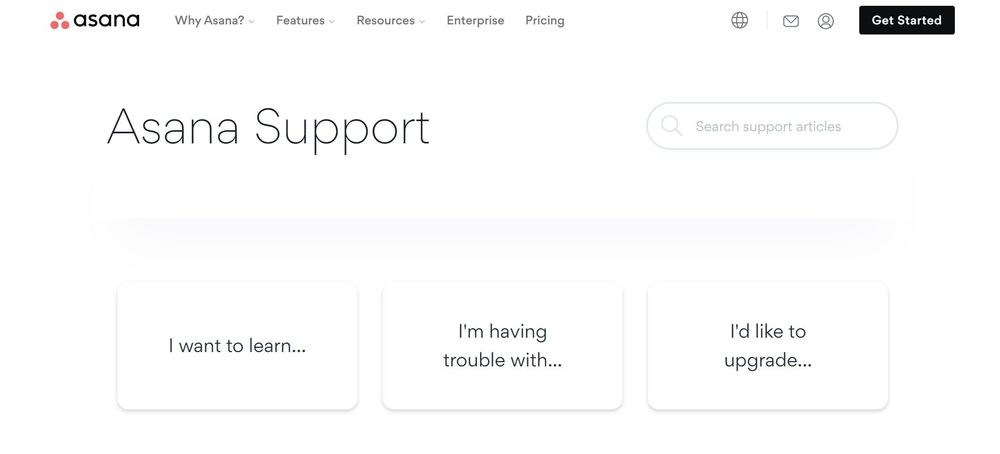 Jira customer support
On the other hand, Jira does not offer 24/7 support in any of the Jira pricing plans. However, they do have a help center that should be able to resolve any issues. Along with the help center, there are tons of community forums. Some are currently being made, and others are already out there. These forums are an amazing place to:
Ask questions
Get advice from other Jira users
Search for similar features that others have had questions about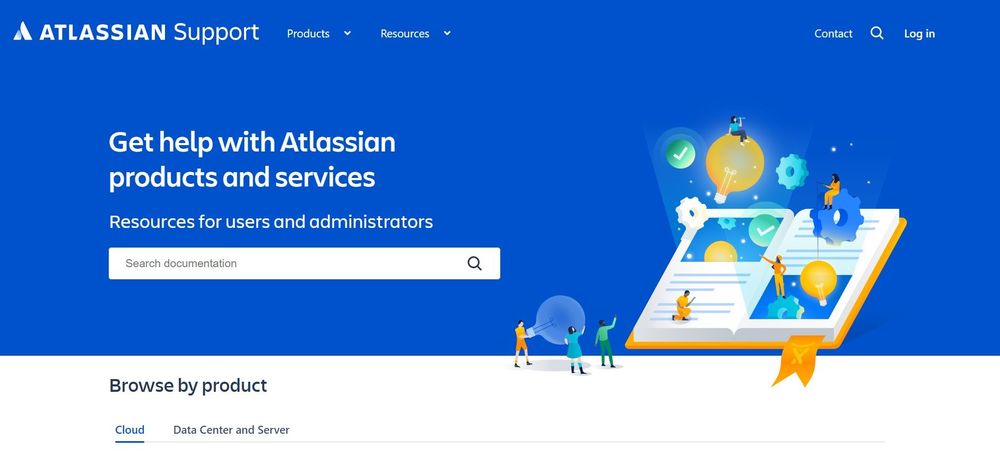 Asana vs. Jira: Security features
Optimal security is always a good idea for any business done online. Asana and Jira both have high-security protocols. This is specific to the information shared and stored on their interfaces. From protected cloud storage to two-factor authentication, here is a breakdown of features on the security end of things.
Asana security
Asana has a direct focus on security, even calling itself a "security-first company." They offer a comprehensive suite of security features. These have been implemented to protect your data and keep your business safe. Here is a breakdown of Asana's security features:
Two-factor authentication
An extra layer of security to your account
Makes it challenging if someone is looking to hack in
Encrypted data
Blocks hackers from being able to read data shared throughout the interface
Access control
Users have complete control over who has access to the data
Control who gets invited to the workspace
24/7 monitoring of security systems
Secure file sharing system
Jira security
Jira is a powerful tool that can help keep your software development projects on track. Jira is enhanced with built-in security features. Business teams and freelancers benefit greatly from these features. Jira's main security features include:
User permissions
Data encryption
Access control
Two-factor authentication
Single sign-on
SSL/TLS encryption
Optimal alternative | Why Indy is the best for freelancers
Asana and Jira are both impressive tools for keeping management under control and at the tip of your fingers. But what if we told you there was another option specifically made for freelancers? Yep, you guessed it. There is one!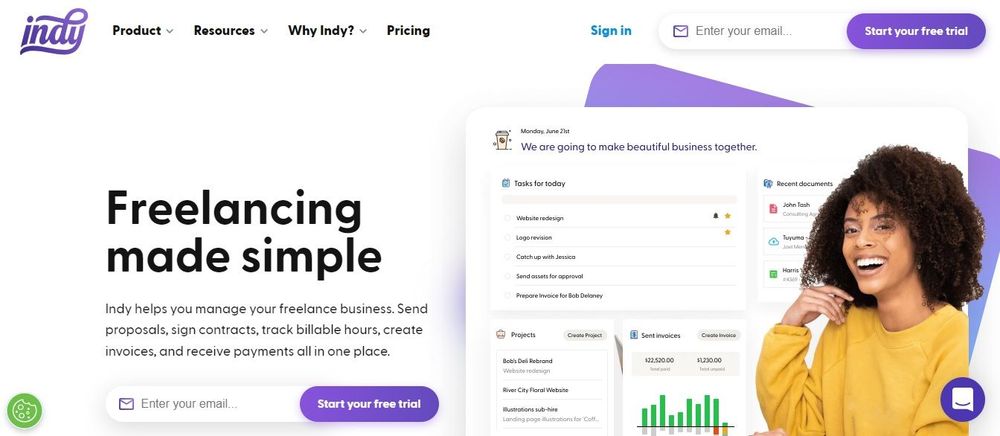 Indy has everything a freelancer needs to become successful. Both reliable and cost-effective, Indy is the perfect addition to your toolbox of freelancing tips and tricks. Indy not only offers a Free plan that gives you free unlimited access to all the basic tools, but their "Pro Bundle" is just $9/month (billed annually, $12.00 billed monthly).
This is it if you're looking for a top-quality management software bundle. It includes everything needed to get started with managing your business. Great for small projects and large projects alike. The main features of the Pro Bundle are:
Unlimited workflow templates
Invoices
Proposals
Contracts
Time tracking
Various methods of organizing tasks
Calendar
Chat features
Accept multiple payment methods
And more!
Not only are Indy's features and tools impressive, they also offer outstanding customer support.
Email/Help Desk
FAQs/Forum
Knowledge Base
Live Chat
There's no need for a high experience level with Indy. Its user interface is super simple and very user-friendly. The features may seem extensive (which is a good thing), but you don't have to worry about being overwhelmed. Unlike Asana and Jira, it's a pretty straightforward interface with an extensive blog ready to answer any questions that come up. So, Indy might just be the right option for you, whether:
You're a project manager with years of experience,
A first-time freelancer,
Or just someone looking for a more straightforward interface.
It's time to check out Indy, sign up for the free version, and get started today!
What it comes down to
Asana, Jira, and Indy are all excellent project management software options. They each have their own strengths and weaknesses.
Asana is an excellent option for teams that must stay organized and on track. It offers a variety of features, including:
Task tracking
Team collaboration
Project management
Although that may be true, some aspects of Asana are a big turn-off for freelancers.
It can be overwhelming with big projects.
Complex workflows can be challenging to deal with.
It lacks agile project management features that other platforms have.
Jira, on the other hand, is a great option for teams that need to track and manage their work. It offers a variety of features, including:
Issue tracking
Project management
Team collaboration
While Jira is a great software that's been used for years, it may be slightly out of date. It also tends to focus on bigger teams and software development rather than teams of one or two freelancers. Along with that, Jira software:
Has a steep learning curve for inexperienced users
Add-on costs can quickly add up
Has some customization difficulties
Can be challenging to see the big picture with multiple projects
Overall, Indy proves to be better than Asana and Jira for various reasons. Indy is more user-friendly and includes everything a freelancer needs to manage their independent business from start to finish. Indy also has several tools, like Time Tracker and Invoices, that integrate with each other to improve your workflow. Get started today for free!