Asana and Monday.com are two of the biggest names in the project management software market. While project management tools have been around for years, the past decade has seen explosive growth in this industry.
Teamwork started in 2007
Jira and Atlassian launched their marketplace in 2012
Trello became its own company in 2014
Hive launched in 2015
And now, there are dozens of other project management software options available. Kanban boards, Agile development systems, and task management tools are all over the place.
But Asana and Monday are near the top of the market. How do these two compare? Let's dig into their features and philosophy to help you decide which is best for you.
If you're a freelancer or run a small business and want to find a place where you can get all the tools you need to run your business in one place, we'll also talk about a great option: Indy.
What is Asana?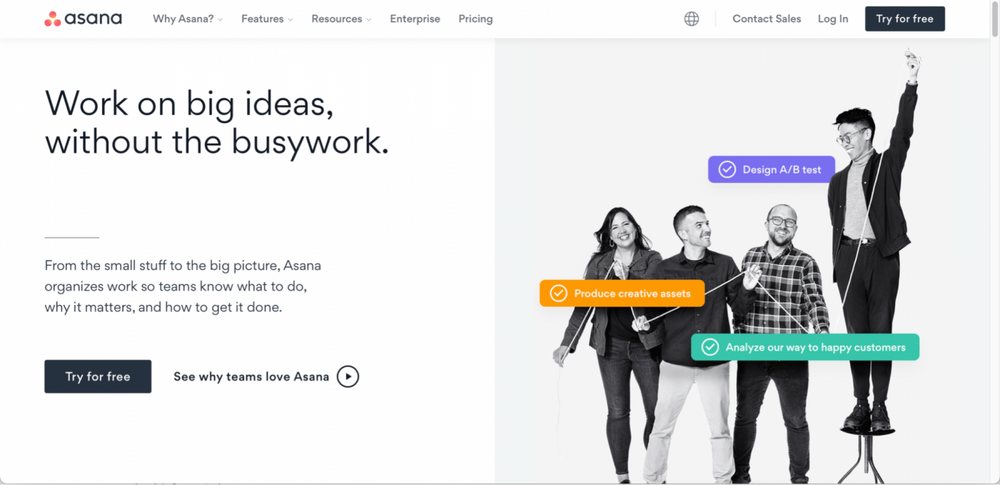 Asana is a web-based tool for managing projects of any size. Asana is a popular option since it was one of the first fully cloud-based PM tools. The system has tools for managing anything from tasks and documents to project workflows and portfolios.
Asana provides several ways to monitor the development of projects, such as lists, calendars, Kanban boards, and Gantt charts. It has four distinct price levels and more than a hundred connectors to help you save time with all the various programs you use. When it comes to project management, Asana is among the best options out there, and many groups report greater output after using it.
What is Monday.com?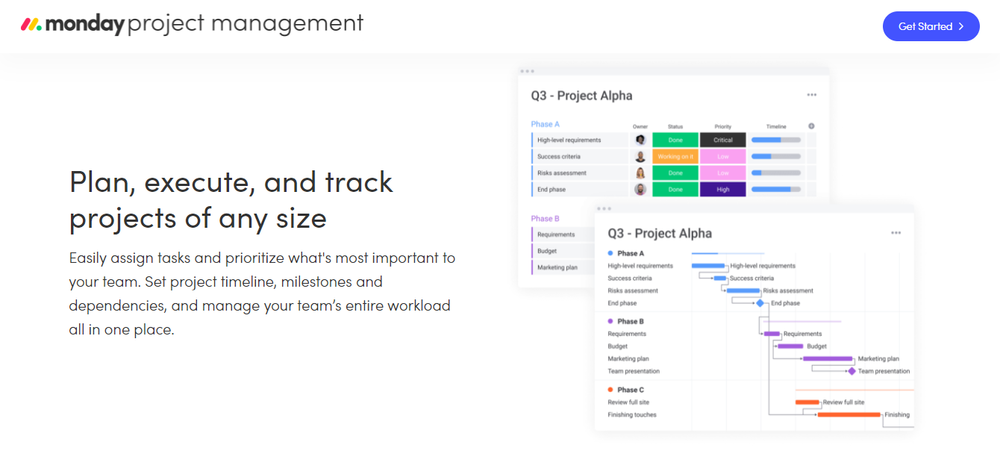 The industry for project management is maturing, but Monday.com is making rapid strides toward being the market leader. Monday is a project management software that, similar to Asana, keeps track of tasks, visualizes progress, facilitates collaboration, boosts visibility, saves documents, and does everything else you'd expect from a PM application.
Monday is able to display the progression of tasks inside a single interface, relieving users of the need to toggle between high-level and more detailed perspectives on the state of their projects. You may see projects in a variety of different formats inside this interface, including Gantt charts, Kanban boards, timelines, and more.
Asana vs. Monday: Key features
Because the project management software market is maturing and stabilizing, many of the top tools are similar. They cover the same core features because project managers require these functions. Yet there are often key differences based on the target market and outcome a software tool is aiming for.
Let's take a look at the key features of Asana and Monday to see which project management tool offers the key features you need most.
Asana features
Asana lacks the functionality of Monday.com's project management suite since it is designed primarily as a project collaboration tool. Asana's main features include task tracking, task sharing, task resource sharing, team communication, and workload management.
The Asana task list and calendar interfaces are very conventional, yet they include all the functionality you may need. Tasks may be created, scheduled, assigned to team members, commented on, updated, and completed, and related files can be uploaded and seen in a team calendar.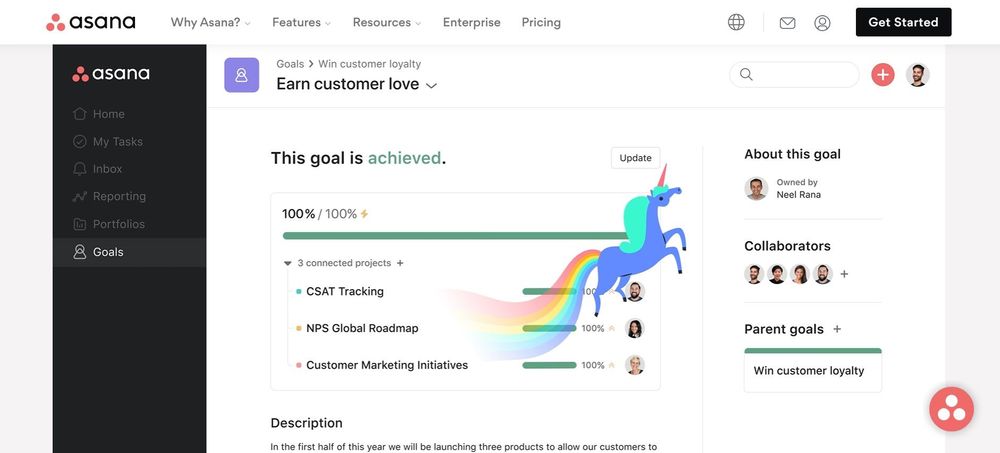 Asana's worker-focused features, such as its workload function, which monitors and quantifies the available time of each team member, are what set it apart from other collaboration apps. Using this instrument, you can guarantee that no one on your team is overburdened or underutilized.
Asana is designed from the ground up to facilitate collaboration between project managers and their teams, streamlining the process of completing projects and fostering greater productivity.
Monday features
At first sight, Monday.com may seem to be nothing more than a reskinned version of a generic to-do list app.
However, Monday.com employs a method it calls a "board system." Individual tasks are organized under larger projects or tasks that are represented by the boards. "Pulses" are the collective noun for these actions. In order to keep tabs on the state of your project in real-time, each pulse gets its own horizontally listed status column along with a set of progress indicators that can be modified to suit your needs.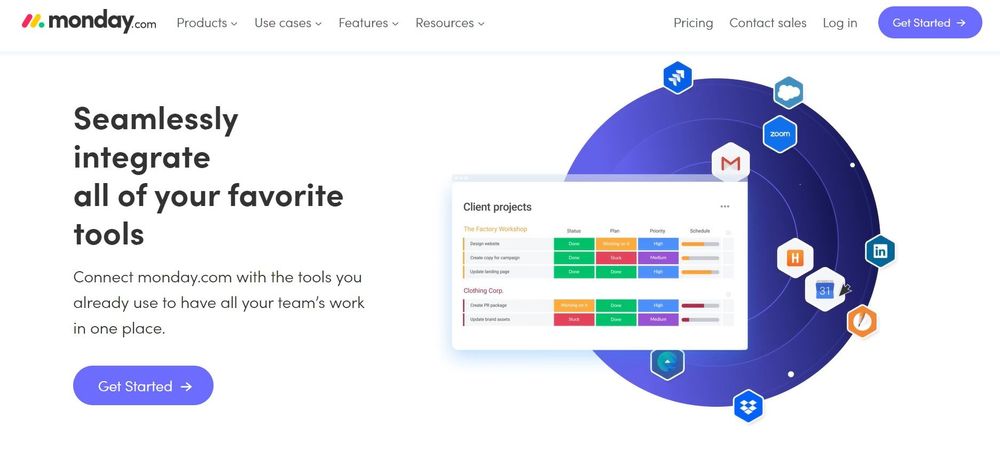 This is like a more powerful version of a traditional task organizer.
Changing the way you see these tasks is as simple as clicking on the drop-down arrow next to the board's name and choosing a new perspective.
While its primary focus is on task management, Monday.com also provides reporting and money management tools in a straightforward interface. Similar to a Microsoft Excel spreadsheet, you may use the formula columns to design a variety of tables (great news for you Microsoft wizards).
In this approach, you can design custom dashboards for monitoring key company metrics.
Asana vs. Monday: Pricing
Freelancers generally pay for the use of their project management systems instead of a company. This makes the pricing structure an important part of the evaluation. Let's have a look at the pricing for each one, including their basic plan.
Asana pricing
Asana's prices might be a little high for some. Fortunately, a basic plan that supports up to 15 people is available for free. To get the same level of features in other project management software, you'd have to pay for it.
Timelines, Workload monitoring, and portfolios are just a few of the unique features that make Asana worth paying for. Although Asana's monthly fee is somewhat expensive when calculated per user.
Free: For up to 15 people, with basic features like to-do lists, Kanban boards, calendars, and app connections.
Premium: Costs $9.99/user/month with an annual subscription. All of the aforementioned, plus timelines, sophisticated searches, and the ability to create custom fields.
Business: Costs $19.99/user/month with an annual subscription. Portfolios, Workload, forms, automated proofreading, and Adobe Creative Cloud integration.
Enterprise: Client-specific pricing covers everything mentioned above, plus user provisioning, data exporting, branding, and elevated support.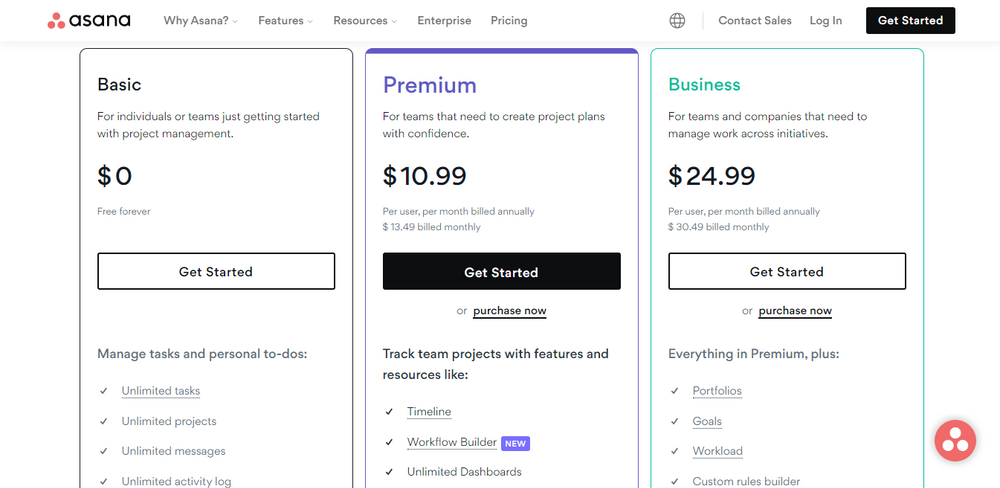 Monday pricing
As far as cost goes, Monday.com has a somewhat different approach to pricing software than its competitors, who typically provide many tiers and assign variable prices depending on the number of users.
There are four distinct price points available:
Basic: Costs $8/seat/month with an annual subscription. Unlimited project viewers, boards, and mobile app access; 5 GB file storage; 1 week of activity logs; 1 dashboard maximum
Standard: Costs $10/seat/month with an annual subscription. All of the above, plus 50 GB of file storage, an infinite activity log, four guest accounts, a timeline view, a calendar view, advanced search, custom forms, integrations access, and a cap of three dashboards.
Pro: Costs $16/seat/month with an annual subscription. This plan includes 10 dashboards, unlimited chart views, formula columns, private boards, and unlimited chart storage, as well as unlimited guest accounts, time tracking, chart views, and guest accounts.
Enterprise: Contact Monday for custom pricing. Add 25 more dashboards, audit logs, user session management, enhanced account permissions, personalized training, and a dedicated customer success manager to the list of capabilities available in this tier.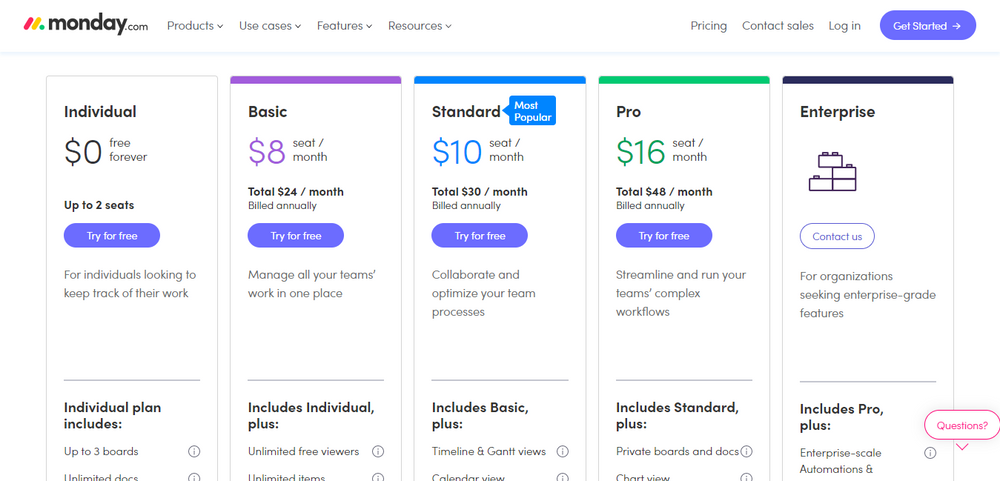 Naturally, the higher the tier, the higher the price, but there are other price variances across tiers. Additionally, Monday.com has nine different price tiers based on the number of users.
After adding additional functionality and users, the cost of Monday.com gradually escalates. This isn't the priciest solution for managing projects, but it's not the cheapest, either.
Asana vs. Monday: Ease of use
Unless you are a freelance project manager, you don't have a lot of time to master the best project management software. Instead, you should be looking for something that has all the project management features you need and is easy to learn to use.
Asana usability
The time it takes to grasp the fundamental features of software without any prior training is a major factor when evaluating its ease of use.
Experiment with the program by adding new tasks, setting due dates, assigning team members, communicating task specifics through chat with peers, uploading necessary materials, and advancing tasks via a project workflow.
If the basic features can be grasped in less than three minutes with no training, then the project management application may be considered intuitive. Asana is an easy tool for organizing projects.
Asana's user interface is more conventional than that of Monday.com, comprising a single menu on the left side of the screen that links to other sections of the app, such as the homepage, the inbox for sending and receiving messages, and the various lists of tasks.
Asana's streamlined features are a big part of why it's so popular. It's designed more as a communication tool than a full-fledged project management software. Therefore, it lacks functions like reporting and financial management.
Although knowing Asana's mindset for software development, the developers will try their best to keep the same level of simplicity whenever new functionalities are added.
Monday usability
Monday.com provides a different approach to task management, but one that is similarly straightforward and easy to comprehend. Unlike the majority of workflow management software, it does not provide the standard task list system with steps to finish and checks to indicate task progress.
The user experience is hard to surpass since all of the features and activities are easily accessible and can be found with little effort. There is no need to use any specialized plugins, add-ons, or integrations in order to get everything set up. You can create tasks, do all your team management, and monitor complete progress status at a glance.
Monday.com provides customers with the ease of use that is typical of most of the market's alternatives for collaboration software, besides the comprehensive functionality that users want in order to manage all elements of their projects, including reporting and financing. Because of this, Monday.com is in a league of its own when compared to the majority of its rivals.
Asana vs. Monday: Customer support
The availability of support is something that software purchasers often ignore. However, it's an important factor to consider in case something goes wrong right in the middle of your project. We've analyzed the customer service choices that are provided by both systems so you can incorporate this aspect into your choice.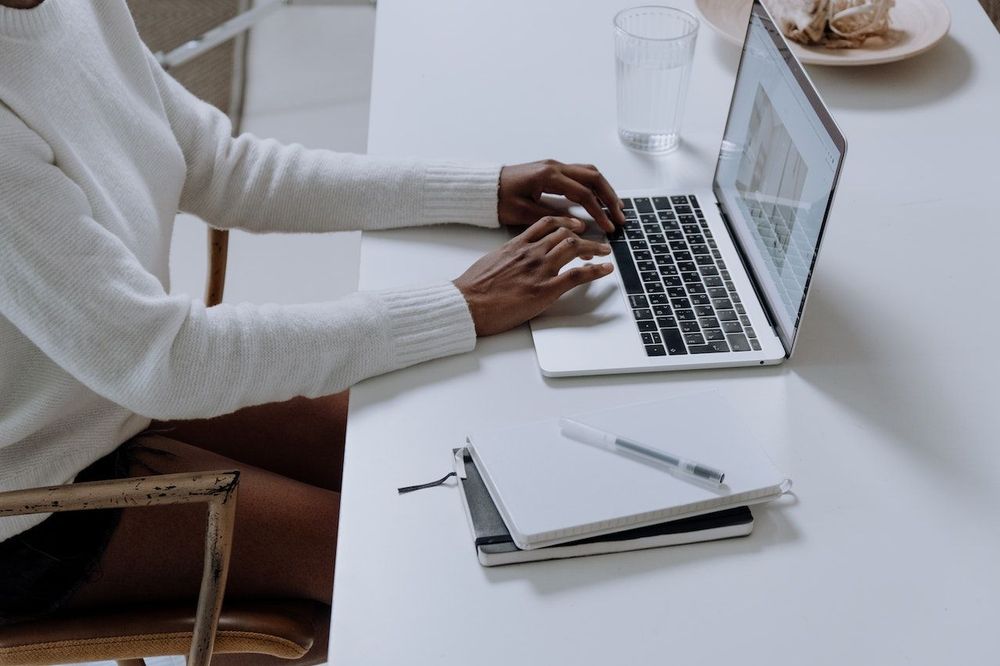 Asana support
You can locate and solve any problem you're having with Asana's platform by consulting the platform's help manuals, frequently asked questions (FAQs), forums, webinars, and use cases. Actively contacting Asana is a little trickier. Their contact forms and phone numbers are not easy to find.
Response times to support queries can extend to up to a day. This could cause problems for those whose tasks are usually time sensitive.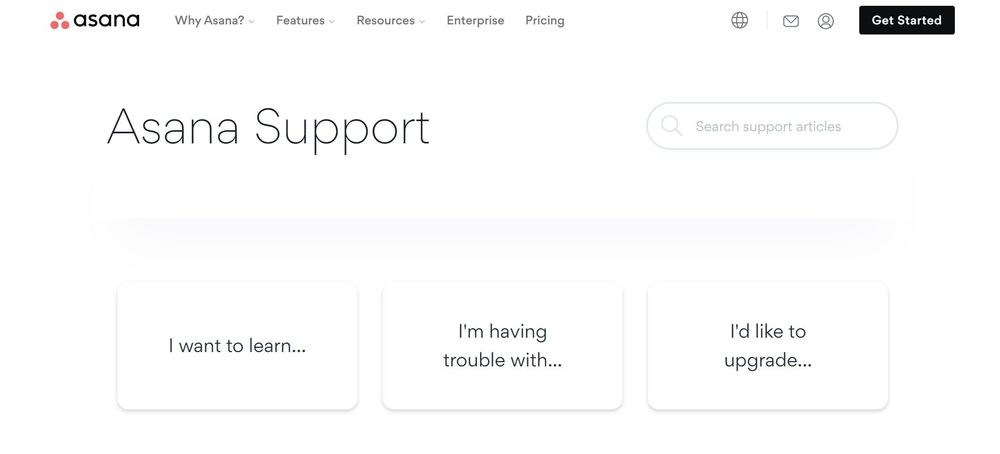 Monday support
For providing assistance to customers, Monday.com has it all. Besides providing lessons, help manuals, forums, webinars, and a knowledge base, it also provides assistance by phone.
That phone support is really beneficial for purchasers who have time-sensitive support concerns, and it's fantastic to know that you can have a representative on the line in a reasonably short period of time in comparison to the length of time it takes to get assistance by email or via the contact form.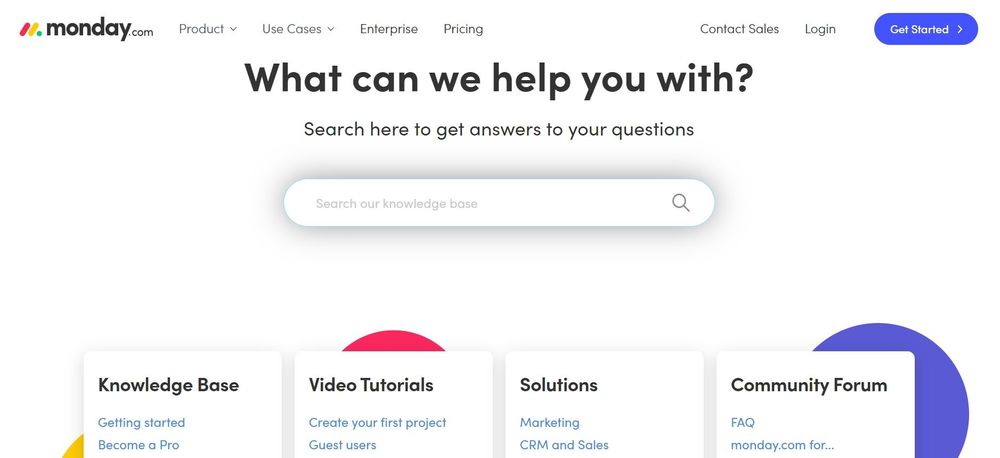 Asana vs. Monday: Security features
Each and every business IT service provider is concerned about their customers' data protection. However, both Asana and Monday.com have protected their customers by adhering to industry-standard security regulations.
SOC 2 and ISO/IEC 27001:2013 certifications have been successfully completed by Asana. The business does not license the software for use with on-premise corporate systems. They have maintained everything on the cloud and installed firewalls to protect their customers' privacy.
Using Amazon's Web Service, Monday.com ensures that its customers' information is always accessible (AWS). In addition, Monday.com employs the safety measures implemented by the Google Cloud Platform. Also, the business has met all of the requirements of ISO 27018 and ISO 27001.
Overall, the safety of users' information is a top priority for both services.
Asana vs. Monday: App integrations
Everyday, most of us rely on a variety of programs to help us get our job done, so every bit of time we can save by consolidating our resources is a win. To what extent do these programs integrate with other apps?
Asana integrations
Many third-party applications may be seamlessly integrated with Asana to provide additional functionality for project management. Included among these meldings are:
DropBox
Adobe Creative Cloud
Microsoft Outlook
Slack
Google Calendar
Everhour Reporting
Trello
MailChimp
And many others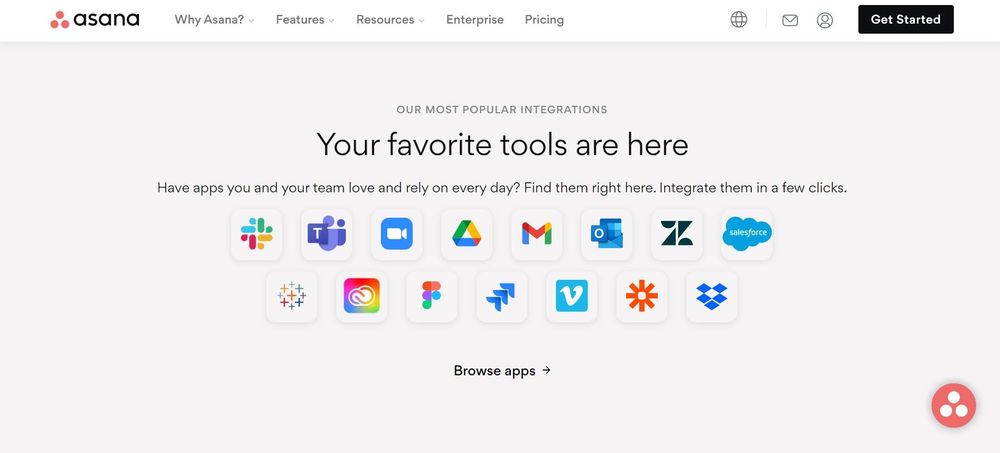 Monday integrations
Every aspect of your daily project work may be performed and tracked with the aid of Monday.com's many beneficial integrations, such as:
Dropbox
Jira
Slack
Outlook
Zendesk
Trello
Google's Office Suite
Basecamp
Tools Like MailChimp and many others
Surprisingly, Monday.com works hand-in-hand with Asana.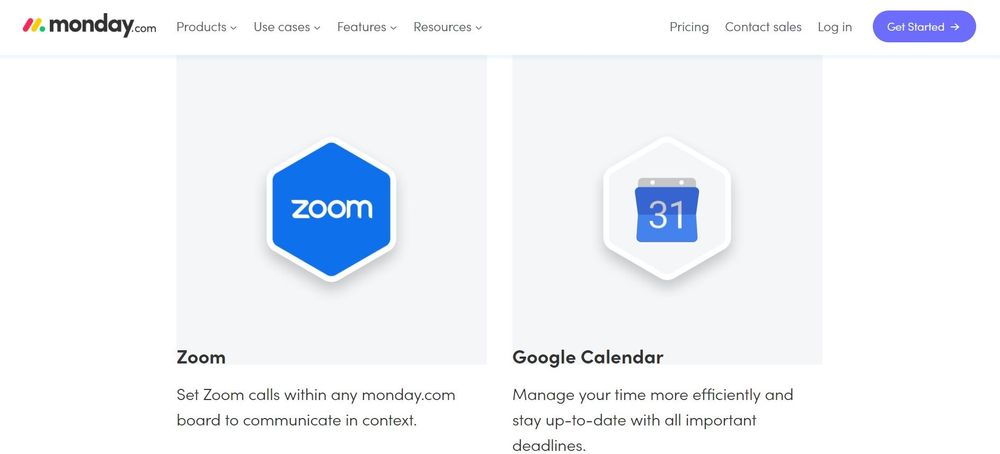 Who wins?
Although both products provide a great deal of connectivity with other programs, Monday.com comes out on top because of its compatibility with Asana and Jira, two of the most well-known project management applications. If you intend to use more than one project management platform, Monday.com appears to go out of its way to make your interactions with each of them as smooth as possible, even via connectors.
Indy: A freelancer's alternative to Asana and Monday
Indy is designed to help freelancers take charge of their independent business. You can handle projects from proposal to payment with its intuitive UI, streamlined task management, and built-in time tracking.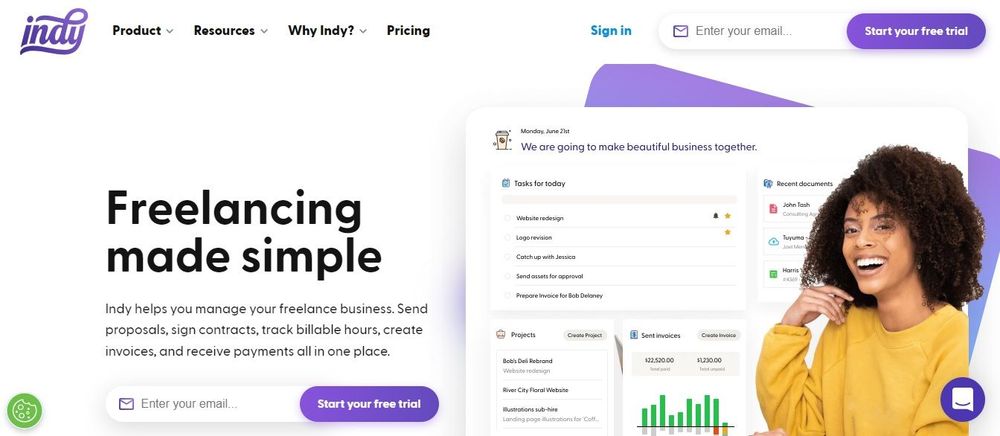 Here are some of Indy's most notable features:
Management of invoices and agreements
Indy includes proposal and contract management features. Starting with ready-made templates is a simple way for you to create high-quality proposals, contracts, and invoices. Templates can be customized with branding colors, logos, and different fonts. Documents can be created and sent in a matter of minutes, and electronic signatures make it easy for you to get the signatures you need.
Freelancers' all-in-one project management software
Built-in project management tools help you manage the entire project timeline—manage tasks with boards and to-do lists, keep track of time, chat with clients, upload and store files, and get a bird's-eye view of everything that's due or overdue.
Forms and invoices for finishing projects
Freelancers rely heavily on payment and feedback mechanisms built into project management software. Time tracking and billing are integrated with Indy, thanks to its simple yet powerful invoicing system. Turn time tracks into an invoice with just a couple of clicks, type in your details, and send it off to clients to get paid fast. The best part? Indy doesn't charge you for transactions like other project management software. Once you're finished, you can send out a survey to your satisfied customers and start collecting success stories to help land future clients.
Indy has a Free plan that gives you unlimited tasks, forms, an intuitive calendar app, 10 GB of file storage, and free forever access to the rest of Indy's basic tools. For unlimited access and 250 GB of file storage, Indy Pro costs just $9/month when billed annually and $12/month when billed monthly.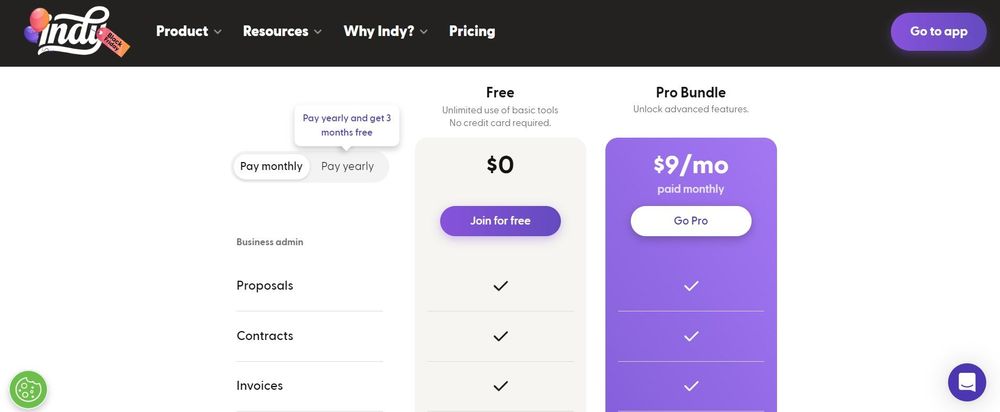 Final verdict
Asana and Monday.com are both strong platforms. They have all the key task management features, collaboration tools, and other project management tools many people need. They can be used for portfolio management, team projects, and running multiple projects at once.
However, Indy might be a better option if you're a freelancer looking for all the tools you need to manage your independent business in one place—including proposals, contracts, task management, time tracking, invoicing, and more. Get started today for free!