Asana and Smartsheet are both project management tools that were set up with team collaboration in mind. They both help you manage projects with others, keeping everyone up to speed on where progress is at. Which one will fit your needs best as a freelancer? Keep reading to find out!
What is project management?
Project management refers to the management of the task dependencies of a team within a specific timeframe to achieve a certain result. It differs from simply 'management' in that it has a fixed deadline, whereas management is ongoing. Of course, project management is an ongoing process, too, with multiple projects taking place over time, but each project has a timescale.
Project management software has been developed in order to allow project managers to assign a team's workflow more efficiently and keep everyone on track. There are numerous features that most project management solutions share, including workflow templates, a timeline view, and kanban boards to help display information. Microsoft Project was the first software of this kind, being established in the 1980s, and remained the only project management software for a number of years.
As online working has become more prevalent over time, there have been a whole host of new providers. Two of the more popular platforms in 2022 are Asana and Smartsheet. In this article, we will look at how they began, what they provide, and which would be the better solution for you as a freelancer based on features, pricing, and disadvantages.
Each is a powerful tool in its own way. Determining which one's right for you depends on what you are trying to achieve, your level of technical know-how, and perhaps your budget as well. First of all, let's sum them up.
What is Asana?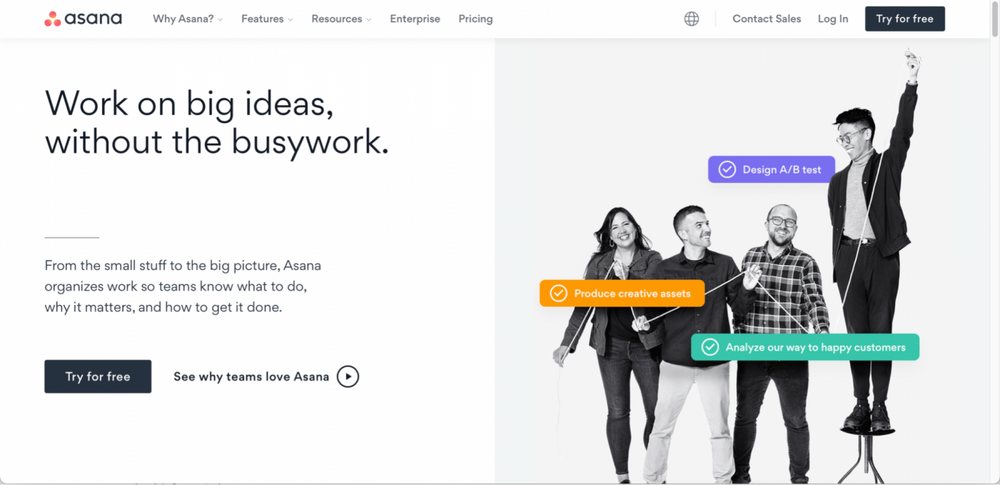 Asana comes from a Sanskrit word that describes a meditation pose within yoga and is about shutting out all distractions. They chose this name because their vision for the platform was to create easy-to-use project management software that would allow team workflow to be effortless.
Asana takes an agile approach to project management and has a variety of options to help you plan work, including kanban boards, Gantt charts, and features like workload management.
What is Smartsheet?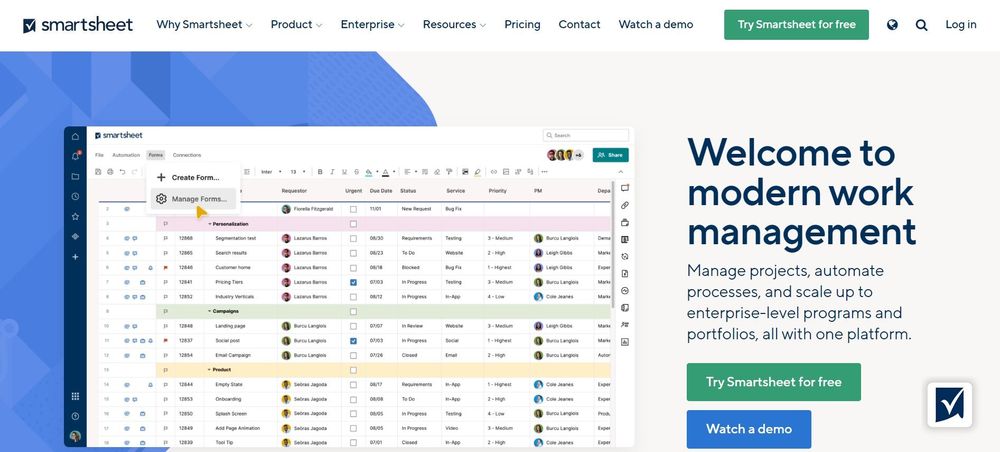 Smartsheet has been on the market for longer than Asana, being founded in 2006. It was set up as a project management tool that allowed collaboration from anywhere. It may not have been founded by a social media guru, but the principles were in line with the growing presence of Myspace and Facebook. It was aimed at allowing teamwork to be more of a national or even global initiative through its task management capabilities. Automated workflows would allow all team members to keep up with progress through a central dashboard.
Asana vs. Smartsheet: Key features
Asana features
Asana has a wealth of features you can access, although not all of them are part of the basic plan. Some of the main ones are:
Workflow builder - This new feature allows you to streamline project management. You can create automated processes and use visual tools to make tasks and progress visible to all. Any team member will be able to contribute to this, so managing projects is a collaborative effort.
Timeline - This is one of the most powerful tools Asana has. It allows teams to see the connections between all of their tasks and deadlines so any potential conflicts can be sorted out before they happen. This works equally well for small teams and large enterprises.
App integrations - Asana offers integrations with most other software solutions. They realize that not everyone uses the same software. With this in mind, they partner with Google, Microsoft, and others to ensure that file sharing can take place without the inconvenience of stakeholders and collaborators not being able to view what you send.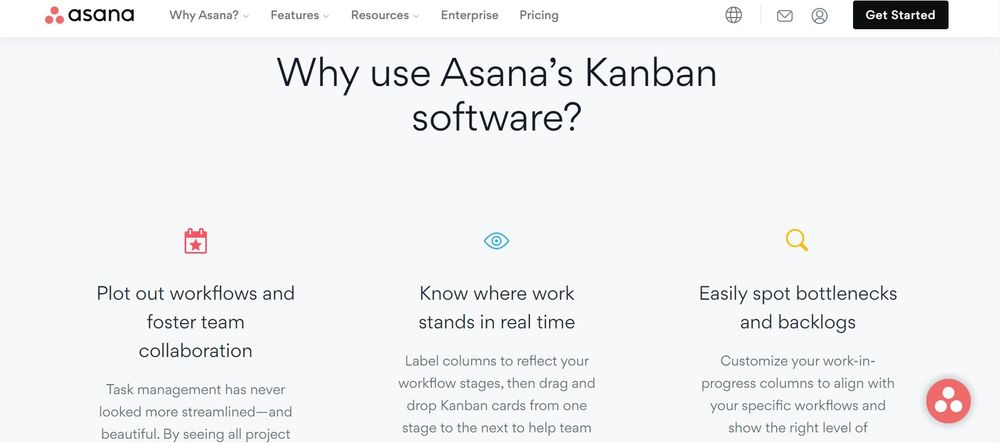 Asana offers many other features that you would expect to see from project management software, such as a time tracking app (via an extension), kanban boards, and a calendar view. It has been designed to have an intuitive interface that integrates well with other software, so if there is a feature that is not available, there is likely an app you can integrate with.
Smartsheet features
Smartsheet prides itself on its ease of use. It is worth noting that Smartsheet and Asana require no coding knowledge to use for project management. What does Smartsheet offer? There are a lot of features, but here are some of the key ones:
Shared sheets - Collaboration is possible between any number of people. These are similar to Excel or Google Sheets, where you can set permissions for different team members to view or edit documents. This can be set up through your task management boards or published on the internet.
Shared workspaces - These are set up between the members of your team, so they can collaborate securely and effectively on projects. If anyone else needs to view progress, they can also be brought in.
Send sheets or updates via email - You won't need to log in to your email in order to send email updates about tasks or projects to different team members. This makes it easier to keep track of any key elements of the project.
Upload files - Sometimes, there will be important information missing from projects, but you can upload files from outside sources so that this is easily accessible.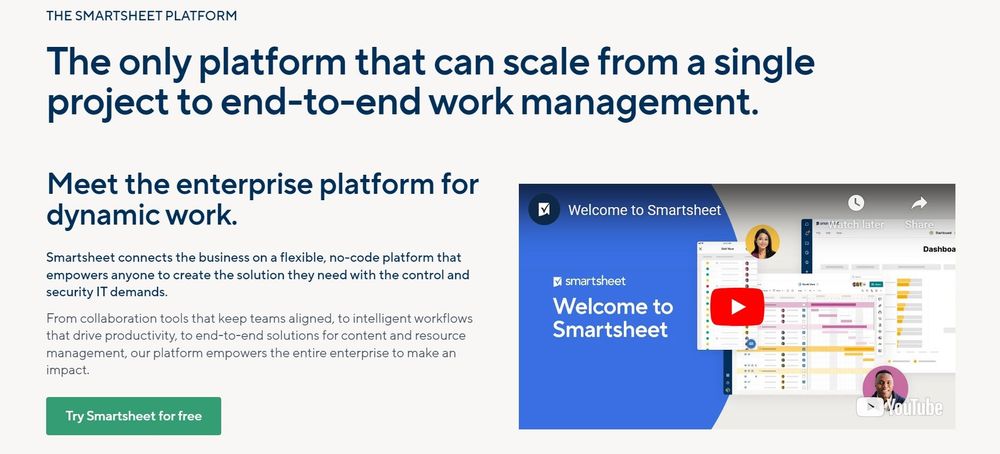 Asana vs. Smartsheet: Pricing
As a freelancer, you will be looking to minimize unnecessary spending. What kind of costs are involved in using this software?
Asana pricing
There are several different pricing plans available through Asana. They are as follows:
Basic plan: Asana's basic plan is free and is designed for anyone just starting out in project management. The features offered are quite modest, but you can still manage unlimited projects at once. There are different project views, including board view and calendar view. Time tracking is also available. For a free plan, it's impressive what can be done.
Premium plan: Costs $10.99/month if billed annually. It comes with all the features above, plus task dependencies, a timeline and workflow builder, as well as unlimited dashboards.
Business plan: Costs $24.99/month if billed annually. It offers everything the Premium plan has, along with advanced integrations with Salesforce, Adobe Creative Cloud, and other platforms. Other features include portfolio management, form customization, and approvals.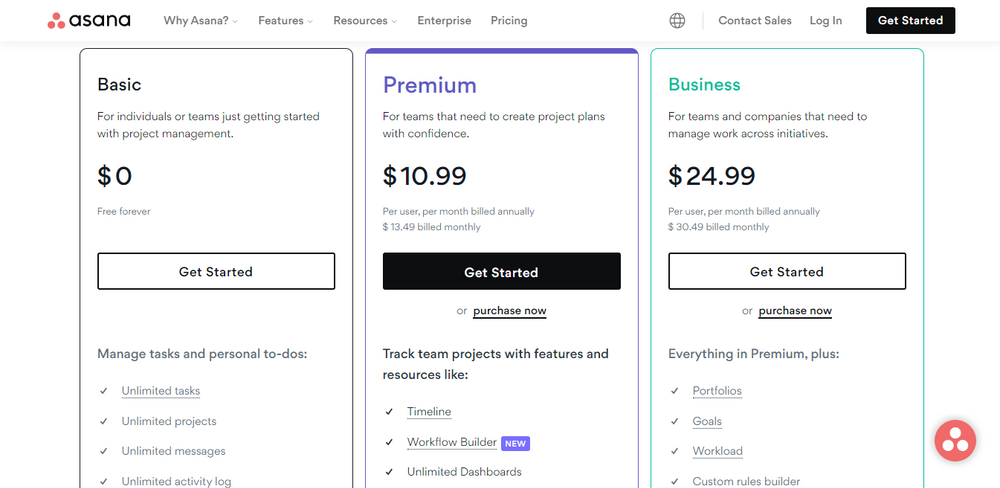 Smartsheet pricing
There is no free plan available through Smartsheet, which makes Asana a clear winner on that front. However, Smartsheet offers a lot of great features in its paid tiers.
Pro plan: Costs $7/user/month. It offers integration with Microsoft Teams, Microsoft 365, Dropbox, and others, but there are definite limits to what you can put in place. 250 automations per month are possible, which may not be a small amount but is still limited. 20 GB of attachment storage is available. Again, this is a lot, but across a whole team over time, it may not seem like much.
Business plan: Costs $25/user/month and comes with 1 TB attachment storage. There are plenty more features, including an activity log, a document builder, and access to a high level of Smartsheet support options to help you make the most of your favorite tools.
Enterprise plan: You will have to contact Smartsheet to find out pricing and the full range of features available.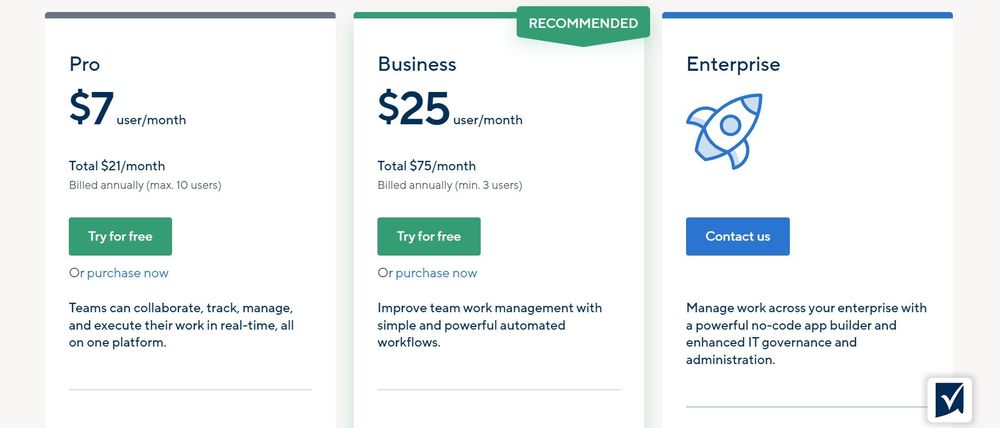 Both Asana and Smartsheet are relatively low-cost project management software, but Asana seems to offer more value for money on the surface. Smartsheet pricing certainly isn't excessive, but the lower-cost version doesn't offer as much as the free version of Asana. Something to bear in mind.
Asana vs. Smartsheet: Disadvantages
When comparing any two project management solutions, you have to look at the drawbacks—from usability to the lack of certain features. Here are the disadvantages of Asana and Smartsheet.
Asana disadvantages
When assigning tasks with Asana, you can only do this to one person. The idea was that there would be less confusion if it was clear who was responsible for each task. But the drawback comes when that person is no longer available. You must assign the task again rather than change ownership, which may sound simple enough, but it's an inconvenience that doesn't need to be there.
Asana isn't always the best for basic projects done by small teams. There are a lot of features available through this tool, but sometimes you just need a few basic features to get a task done. The number of features can be overwhelming for users who like to keep things simple.
Sometimes when exporting files from Asana, the formats available can be limited. Microsoft Excel and PDF cannot be used, which is a major drawback for those who like these file types.
Smartsheet disadvantages
A lot of cloud-based software will autosave your work in real-time. However, Smartsheet requires you to click 'save' while working. This can be frustrating if you aren't aware of this before you refresh the page or close out of the software.
In project management, it can be useful to see who has viewed different tasks, including updates, and what has been shared in relation to them. This can be a time-consuming process when using Smartsheet. You will often need to go looking for the information, whereas on many other platforms, it will be clearly displayed.
Smartsheet is aimed at being user-friendly. The website describes it as "An easy-to-use work execution platform." However, not all users find this to be the case. A number of reviews talk about there not being a user-friendly interface, meaning the data is not always easy to analyze. You will have to do a lot of this yourself as the reports that can be generated are quite limited.
If looking at these two sets of disadvantages objectively, it would seem that Asana could be a better choice for freelancers in terms of cost. However, the bombardment of features it offers can be a distraction for Asana users.
Non-technical freelancers and teams can use either solution, but there are some aspects of both Smartsheet and Asana that can be time-consuming.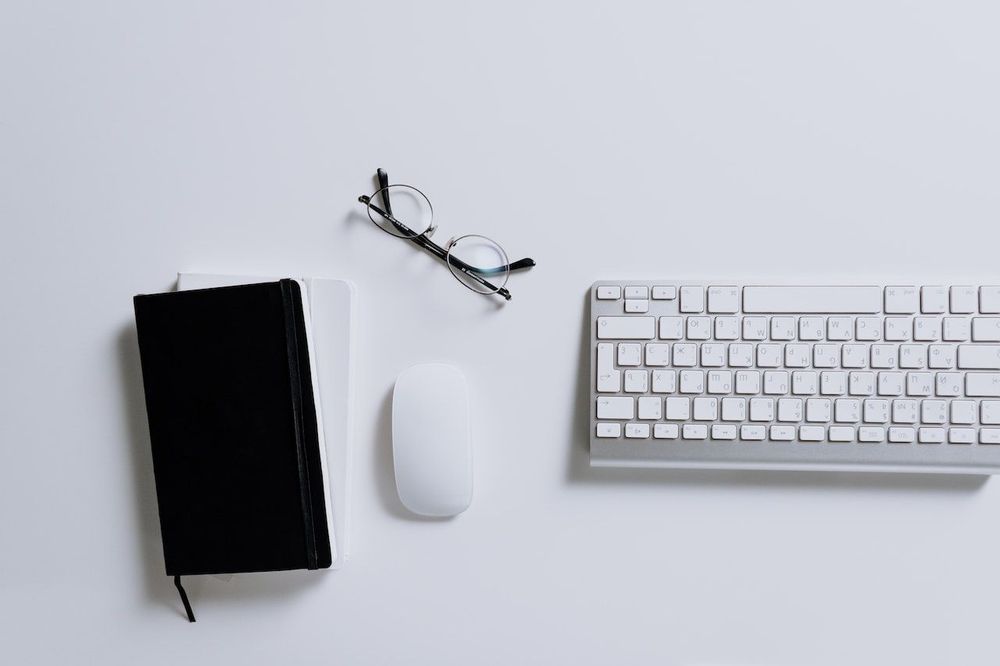 Asana vs. Smartsheet: Security features
Asana security
Asana takes security seriously and has a number of measures in place to ensure that sensitive data does not fall into the wrong hands:
An email will be sent to the account holder whenever a login is noticed from a new device. Of course, sometimes these logins may have been intentional from a mobile instead of a desktop device, but it will also help to alert you when there has been a hacking attempt.
Asana uses an SSL (Secure Sockets Layer) connection to secure any sensitive data. All data access requires checks to ensure that only those who have been granted permission will be able to view the data.
Anyone can be given permission to view data, but they will only be able to if you allow it—you will be able to set permissions.
Smartsheet security
Smartsheet also has a number of security features in place. Although some users have reported that it doesn't feel like the safest platform, you can tell from the website that they do take this seriously:
All data is stored with NIST-approved ciphers, meaning the risk of cyber attacks is significantly reduced.
Smartsheet is connected to HackerOne, a firm of cybersecurity researchers who will regularly test for hacker activity.
Penetration testing will regularly take place, which ensures that Smartsheet complies with security standards.
When it comes to security, it has to be said that there is not much to separate these two. They are both security-conscious and have measures in place to keep your data safe.
Indy: An alternative to Asana and Smartsheet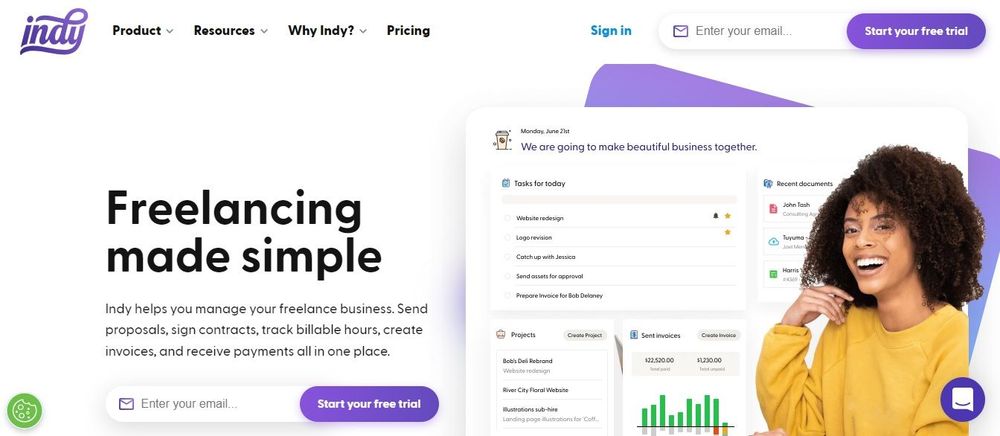 When it comes to project management for freelancers, there is another solution that is custom-built to meet your needs: Indy.
Indy is designed from the ground up to give freelancers and small businesses all of the tools they need to manage their independent businesses. You can kick off projects by creating and sending proposals, contracts, and lead-generation forms through ready-made templates that make it easy to add your branding's colors, logos, and fonts.
And when it's time to get to work, you can manage the entire project timeline with task boards and to-do lists, automatic time tracking, file storage, chats, and an intuitive calendar app that lets you get a bird's-eye view of everything that's due or overdue. Indy Calendar even integrates with Google Calendar, so you can schedule meetings and have everything in one place.
Finally, you can wrap up projects with a simple but powerful invoicing system and accept multiple payment methods, including PayPal, Stripe, Zelle, wire transfer, and other options. What's more, Indy is known for its low pricing.
For just $6.75/month when billed annually, you can get unlimited access to all of Indy's features plus 250 GB of file storage. Indy also has a free version that gives you unlimited tasks, chats, an intuitive calendar app, 1 GB of file storage, and limited access to the rest of Indy's features.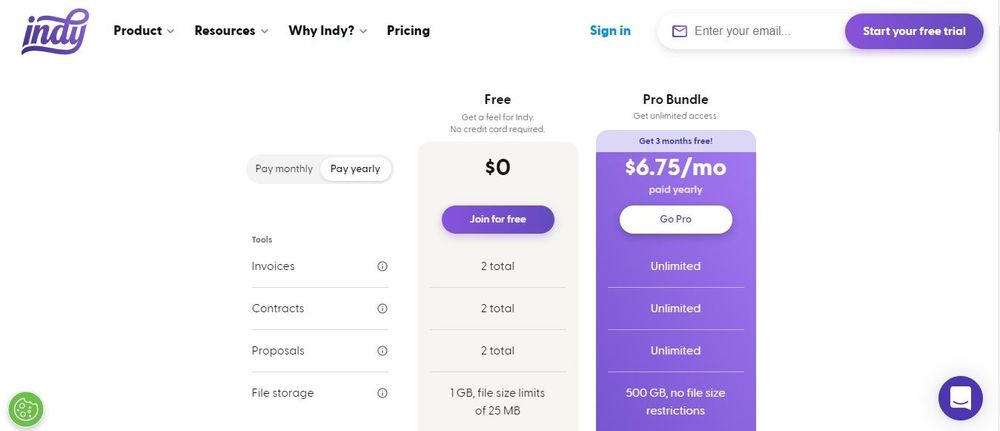 Final verdict
Smartsheet and Asana both have their advantages and drawbacks when it comes to project management. Asana is more cost-effective, but the impact of this may be overshadowed by it forcing users to have to jump through extra hoops to get the tools they need (like downloading extensions to get access to time tracking).
On the other hand, Smartsheet's features may be a little limited compared to Asana, and its spreadsheet-style approach to project management could hold it back from being the comprehensive project management platform freelancers need (again, no native time tracking for freelancers).
Indy might be the perfect solution for you if you're a freelancer looking for all the tools you need to manage your independent business in one place—including proposals, contracts, task management, automatic time tracking, invoicing, and more. Get started today for free!