The gig economy is booming, as a third of the US workforce has done freelance work at some point in life. Upwork alone has over 12 million registered freelancers.
If you're a full-time freelancer, you probably already know how tedious it is to manage projects and tasks. Poor project and task management can cause burnout and productivity issues. In fact, 20% of working professionals cite poor workload management as the primary cause of burnout.
Therefore, freelancers need to manage these tasks efficiently. Many freelancers use Asana, a project management tool, to keep track of their projects and tasks. However, Asana lacks some crucial features.
Let's look at some Asana alternatives and why you should use them.
9 Best Asana Alternatives for Freelancers to Manage Projects
If you are looking for an Asana alternative for freelancers, Indy is the best option.
Even though Asana is robust project planning software, it's best suited for project managers working on complex projects and handling a team of several associates. Hence, some of Asana's features, like task dependencies, custom fields, Gantt charts, task assignees, may not be relevant to most freelancers.
Moreover, Asana is only project management and team collaboration tool. If managing projects is your only requirement, Asana will get the job done. However, most freelancers need to do much more than just manage unlimited projects. They need to send proposals, create contracts, generate invoices, manage tasks, communicate with clients, and more.
Why not have a solution that helps you do everything in one place? Here's where Indy comes into the picture.
Indy is a comprehensive freelance business management tool that helps you handle all your requirements as a freelancer. Whether you need a tool to send proposals, create contracts, or generate invoices, Indy has got you covered.
Let's look at some key features of Indy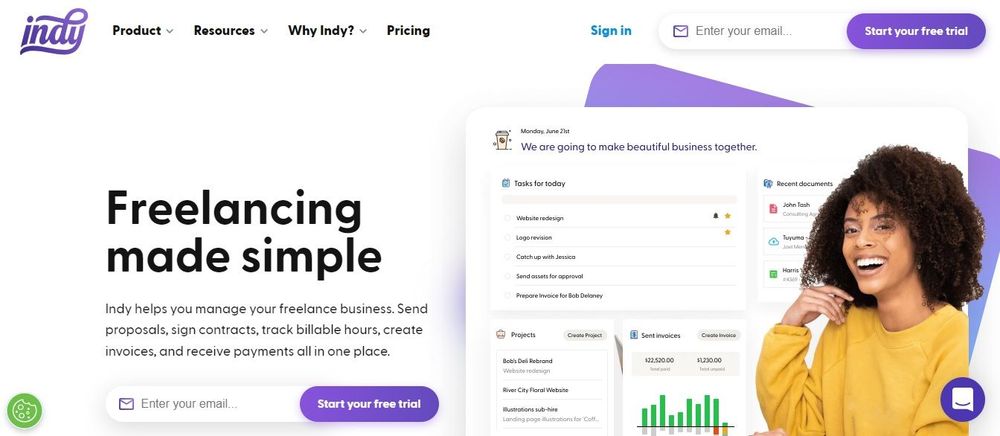 Besides the project management capabilities like task management, calendar, and time tracking, Indy lets you handle most freelance business tasks.
Indy also has a seamless pricing structure. Both Asana and Indy have free and paid plans. However, Asana has three paid plans, all offering different benefits and features. The plans are priced at $10.99-24.99 per month, which is quite expensive.
Indy has only one paid plan that gives you full access to the platform. It's priced at $12 only, which is highly affordable and offers enormous value for money. And with the Free plan, you'll always have access to the tools you need to make freelancing simple—free forever!
So, if you are looking for a comprehensive, feature-rich, and affordable alternative to Asana, Indy is the best pick.
Apart from Indy, there are various Asana alternatives freelancers can use to track the progress of their projects and manage their work better. Let's look at some other project management apps, along with their features and pricing.
Jira
Trusted by over 65,000 companies worldwide, Jira is one of the most powerful project management software tools out there. It comes with agile project management tools to help busy freelancers stay on top of their projects and deadlines. Jira comes with a robust project management suite with an array of features.
Key Features:
Knowledge management
Project planning and tracking
Development workflow and automatic issue updates
Seamless and continuous integration and deployment
Pre-configured solution with Atlassian Open DevOps
Pricing: Jira has three plans: Free, Standard, and Premium. The Standard and Premium plans are available for $7.50 per user/month and $14.50 per user/month, respectively.
Trello
Trello is one of the most popular project management tools out there. It is an easy-to-use, feature-rich project management app that lets you assign tasks and track recurring tasks using Kanban boards. The software also has workflow automation and management functionalities.
Key Features:
Easy-to-use Kanban boards
Trello cards for organizing work
Seamless automation without coding
Integration with various apps
Web-based with mobile app
Pricing: Trello has four plans: Free, Standard, Premium, and Enterprise. The Standard plan is for $5 per month/user, Premium for $10 per month/user, and Enterprise for $17.50 per month/user.
Proofhhub
Proofhub is an all-in-one project planning and management solution that helps you get more control over your projects, teams, and clients. Freelancers looking to excel at workflow management and complex project management can use this tool to stay more productive. Compared to Asana, Proofhub has some more powerful features.
Key Features:
Tam collaboration and discussions in one place
Table view for effortless management
Kanban boards for task division and workflow management
Gantt charts for precise planning
Calendar integration
Pricing: Proofhub has two plans: Essential for $45 per month and Ultimate Control for $89 per month. There is no free version, though there is a free trial.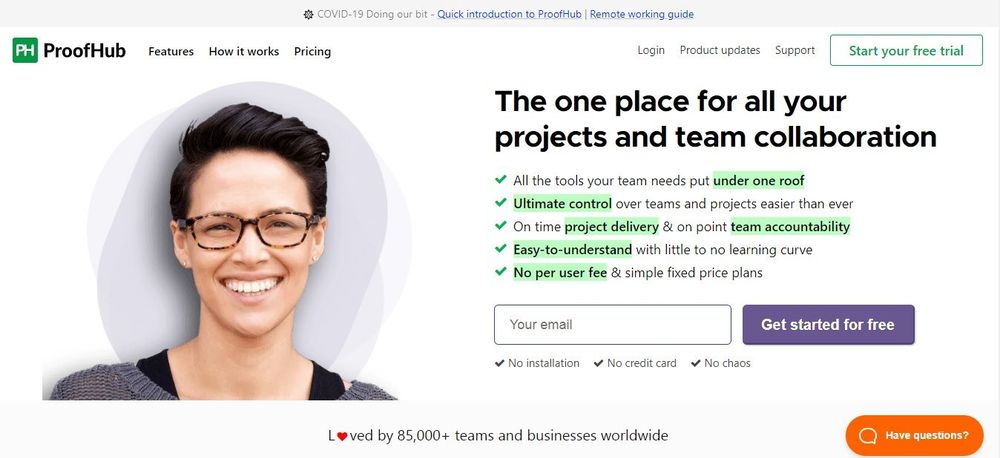 Wrike
Wrike is an enterprise-grade project development system used by software development companies and other service-based agencies. It can be an excellent Asana alternative for busy freelancers who work with multiple clients and other freelancers. It's a powerful project management tool with financial management and resource management features.
Key Features:
Create custom workflows
Interactive Gantt charts
Interactive dashboards
Collaborative proofing and approval
Robust reporting and analytics
Pricing: Wrike has five plans: Free, Professional, Business, Enterprise, and Pinnacle. The Professional and Business plans are available for $9.80 and $24.80 per user/month, respectively. You'll need to contact sales to get a quote for Enterprise and Pinnacle plans.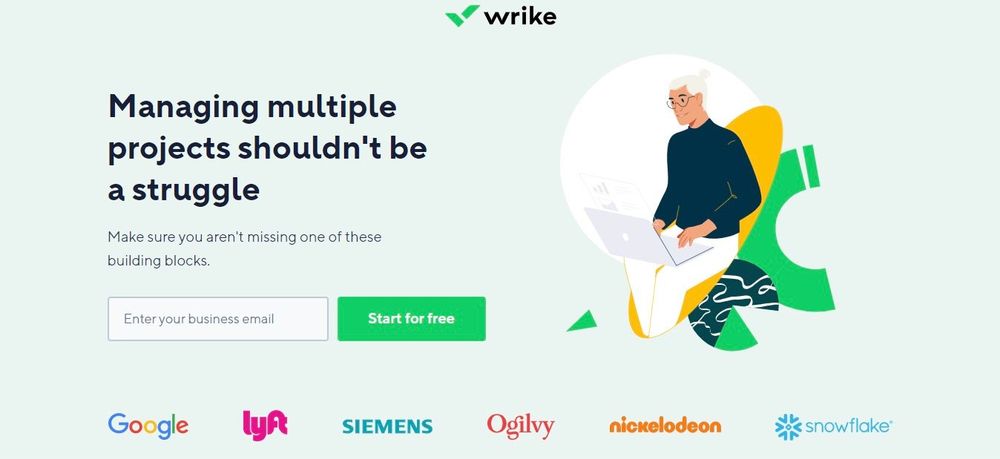 Slack
Slack is one of the most popular project management solutions available. It offers a wide range of tools and features, along with various customization options. Though Slack has powerful project management features, it's primarily a team communication tool best suited for improving team performance.
Key Features:
Leverage multiple communication channels
Voice and video calls
Integrate with over 2,200 apps
Workflow builder and task management tool
File storage and sharing
Pricing: Slack has four plans: Free, Pro, Business+, and Enterprise Grid. The Pro plan is available for $2.67 per month/user, and Business+ is available for $5 per month/user. You'll need to contact sales for the Enterprise Grid plan.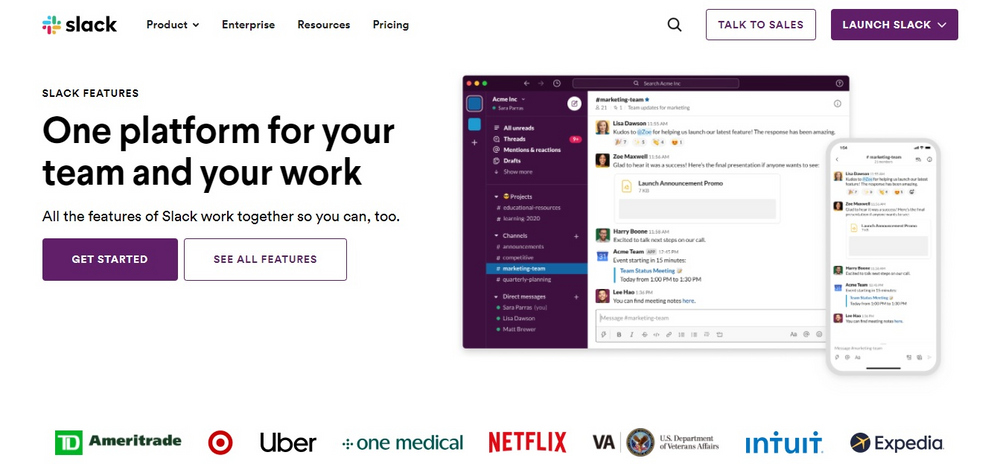 Toggl Plan
Toggl Plan is an easy-to-use project management solution for small teams and is one of the best alternatives for project management. It primarily focuses on project planning, resource planning, and task management. If you are looking for a user-friendly project management tool for an affordable price tag, Toggl Plan has got you covered.
Key Features:
Team timelines
Simple and clean task cards
Project planning and management
Resource planning
Task management
Pricing: Toggl Plan has three plans: Solo, Team, and Business. The Solo plan is free, and the Team plan is available for $8 per month/user, and Business for $13.35 per month/user.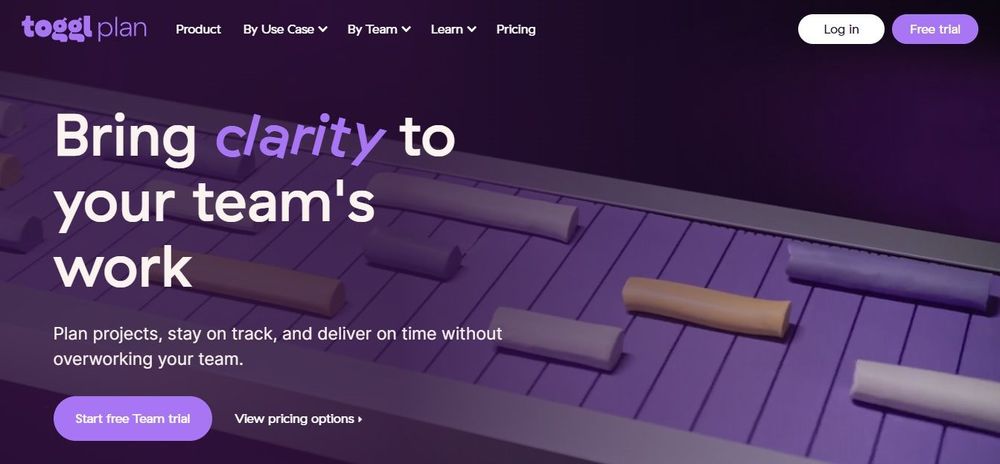 Basecamp
Basecamp is a comprehensive project management and team communication solution. It offers various project management and collaboration tools to help freelancers and small businesses stay productive and efficient. As of 2021, over 3.5 million users use Basecamp.
Key Features:
To-do lists
Client access and collaboration
Integrated calendar for better scheduling
Automatic check-ins
Real-time communication
Pricing: Basecamp has two plans: Free and Business. The Business Plan is available for a flat monthly fee of $99 per month.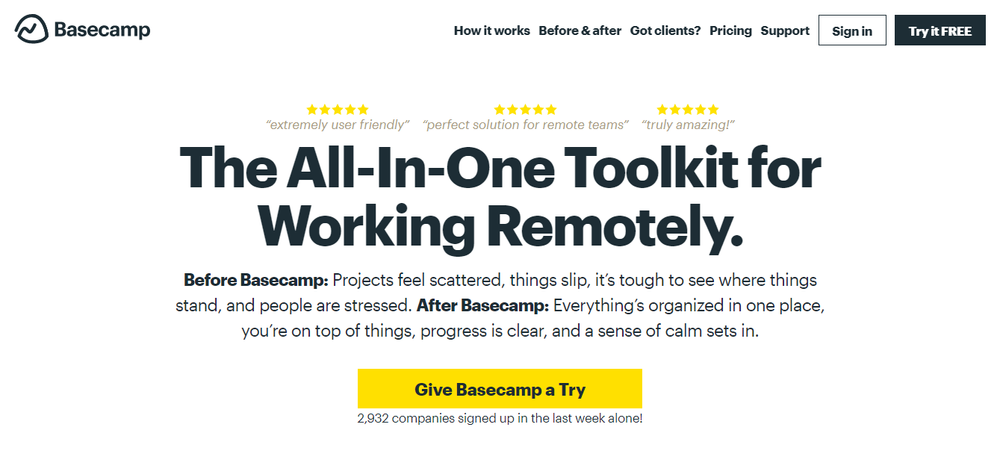 Notion
If you are looking for lightweight, easy-to-use team collaboration and productivity tool, Notion is the right pick for you. Though Notion isn't as powerful as Asana, it's great for freelancers. It has all the essential features available in other project management tools for an affordable price tag.
Key Features:
Unlimited blocks and pages
Sync blocks across devices and workplaces
File uploads and sharing permissions
Version history
Unlimited team members
Pricing: Notion has four plans: Free, Personal Pro, Team, and Enterprise. The Personal Pro plan is available for $4 per month, and the Team plan is for $8 per month/user. You'll need to contact sales for the Enterprise plan.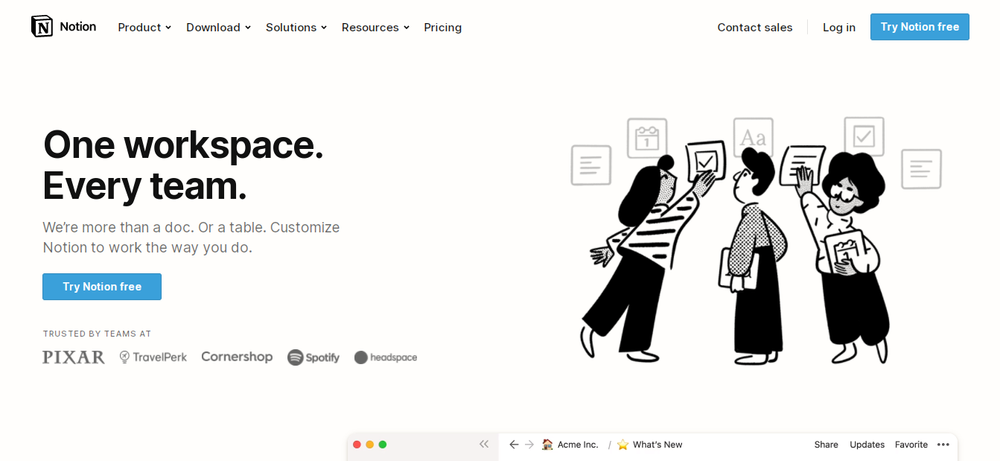 Todoist
Todoist is a team workload management app that helps users get work done quickly and efficiently. A freelancer or project manager can use the project management applications and project templates offered by Todoist to manage your time better. It also has robust features of task management and team collaboration.
Key Features:
Manage project tasks
Document management and sharing
Visual project tracking
Unlimited tasks for business users
Tailored solution for freelancers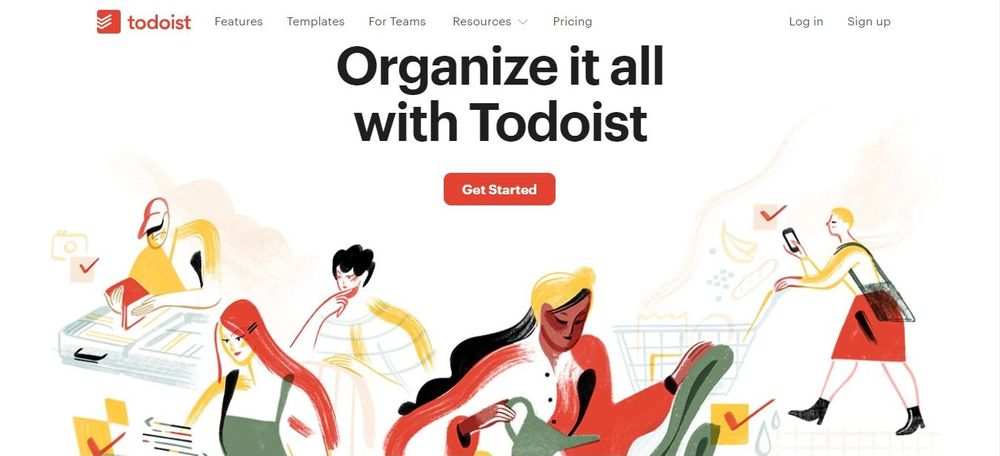 We recommend Indy for freelancers because it offers advanced collaboration features, a centralized file system, invoices, proposals, and other functionalities a freelancer needs. It has affordable pricing and freelancer-centric features, making it ideal for freelancers.
Importance of Project Management Software for Freelancers
Before delving into project management software and why freelancers need it, let's discuss what project management is.
Project management is a strategic approach to planning, completing, and delivering projects successfully and on time. It comprises distributing a project into smaller tasks, dividing those tasks among teams, and tracking their progress to ensure the timely completion of the project.
In freelancing, project management comprises planning, prioritizing, and delivering projects to various clients within the specified deadline. Proper project management ensures time management and enhances productivity, which is the key to success as a freelancer.
Project management software is a solution that helps you manage all your projects in one place. Instead of maintaining handwritten registers or complex spreadsheets, you can track the progress of each project in the project management solution. These tools come with high-level project management features that assist you in managing multiple projects seamlessly.
Here are some benefits of a project management software solution for freelancers:
Create multiple projects easily
Seamless project planning, tracking, and task management
Track project progress from one place to ensure timely delivery
Collaborate with team members and clients
Leverage helpful features like time tracking, file sharing, and workload management
Wrap Up
Though Asana is a powerful project management tool, there are several reasons to look for its alternatives. If you are looking for Asana alternatives for project management, you can choose from dozens of great tools. Indy is the best choice for freelancers, thanks to its freelancer-centric solutions. Check out Indy and other tools mentioned above, and find the best Asana alternative as per your requirements.