Whether you charge a flat price or an hourly rate, determining how much time you spend on numerous projects is the only way to make your design freelancing projects profitable. And believe us, it shouldn't be a headache simply to track time for your designers.
Once you choose the right kind of time tracking tool, time tracking desktop app, or web app for yourself, you'll be able to calculate the average amount of time spent on a project. Then you can confidently set your project rate with this information in hand.
This article will talk about track time design, why you should try tracking time, and which time tracking software is best for your time tracking needs.
How do you track time?
Time tracking is simply the task of documenting your everyday duties and the time it takes to execute them.
It can be done at a firm, where employees log their work duties and hours worked, or you can do it on your own by using time tracking software or a web tracker, either for billing purposes (if you're a freelancer, for example) or to become more productive.
But time management or accurate time tracking can be complex without using time tracking software.
Fortunately, there are many free time tracking apps created by software developers on the market. These free time tracking tools allow managers or development teams to track time spent on projects, conduct employee monitoring, create to-do lists, log hours, organize tasks, make time entries, etc.
Time tracking for designers
For freelance designers, these desktop and mobile apps can be a boon. Some of the key features of these apps include:
Helping you track time
Offering detailed reports
Allowing you to create monetary or time budgets.
How do freelance designers track time?
Historically speaking, it was typical for a workplace to track the time employees spent at the office by using card machines, geolocation, and clock-in and clock-out methods.
But because most of us now work from home, we can use time tracking applications like Clockify for task management, tracking project progress, and tracking time.
You may keep track of time using time tracking apps in three ways:
1.Timesheets on paper
The easiest way to keep track of time is through manual time tracking – usually done on paper. Jot down your duties, the business function, and the time it takes you to do them. You may keep track of time by making time entries in 15- or 30-minute increments.
Because this time tracking method is manual, you can use it everywhere, even if you don't have access to the internet. You can also track unlimited projects.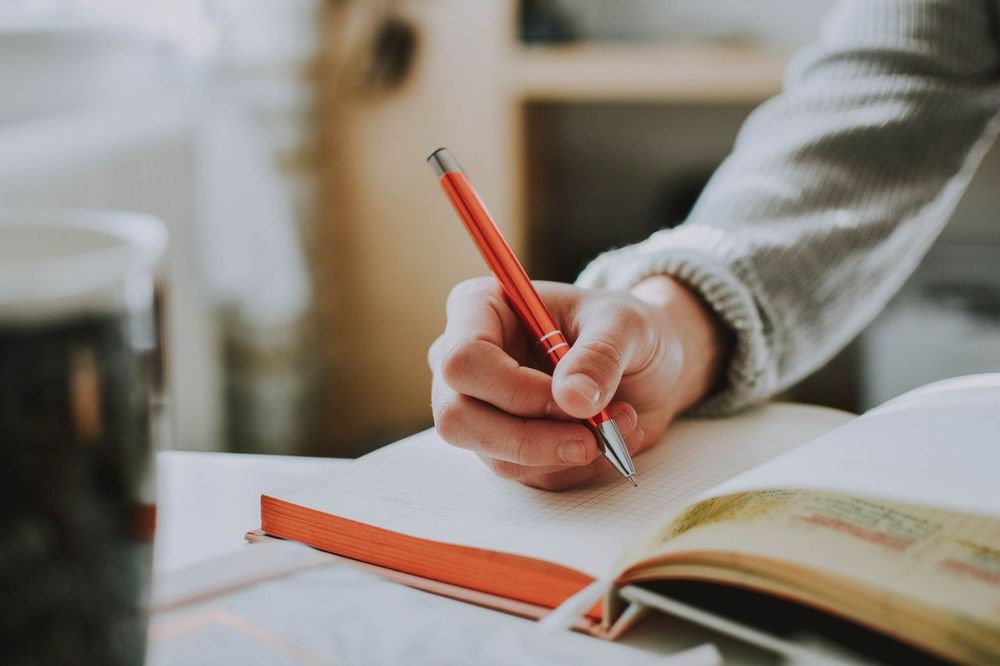 However, the primary issue with timesheets is that they are prone to inaccuracies since you can forget particular tasks and other details, particularly when switching projects.
It can be tough to keep tangible records if you're using it to track billable time.
2.Spreadsheets
Excel spreadsheets are another way to keep track of time and project progress. They can help speed up the manual time tracking process.
The advantage of using paperless spreadsheets is that you can reuse a template for various projects after you've created it.
Spreadsheets, unlike paper timesheets, can be easily backed up and stored. They also help you generate performance reports.
However, while Excel spreadsheets may be a more efficient way of keeping track of time spent on all your projects, they do not capture the time spent on each task. It can also be tiresome and time-consuming to update your tracked hours manually.
3.Software for tracking time
You can also track time spent on each task with time tracking apps, time tracking solutions, and time tracking tools, including project management software like Basecamp.
Small enterprises and freelancers (like software developers, graphic designers, and editors) who bill by the hour are the most common time tracking software users.
Some of the best time tracking software can be found in mobile apps, desktop apps, Chrome extensions, and other apps.
If you're using a mobile app, you can start the time clock, commence the proposed task, and hit the stop button when you're done. The Clockify app, for example, is a free time tracker that typically tracks time in the background without disturbing you.
Time tracking apps typically have a user-friendly interface that allows seamless integrations to create detailed reports. They allow you to keep track of timesheets for your team members and assign time to tasks.
How do I track my time as an independent contractor?
Time tracking and billing are crucial aspects of running your own business. Whether you charge clients by the hour or the project, knowing how and where you spend your time will allow you to maintain efficiency.
Billable and non-billable hours
Managing your billable and non-billable hours as an independent contractor influences how much money you make. The time spent directly with a client or working on client tasks is billable hours.
Time spent on advertising or administrative chores, such as billing and invoicing, is non-billable. Non-billable hours aren't directly charged to clients, but they determine how you calculate your bill rate.
Regardless of the invoicing technique you use, you'll need a system that allows you to keep an eye on the amount of time you spend working for clients in a precise and ethical manner so you can bill appropriately.
Accountability
Time tracking shows your clients that you are accountable and helps you to give them a thorough report of what you have done for them and when.
Here are the different types of automatic time tracking software or web apps you can use to start tracking time spent on projects:
1.Software for do-it-yourselfers
There are numerous software alternatives available today for independent professionals that can help with task management, automatic time tracking, software development, account management, billing, etc.
There are a few key features to keep in mind when looking for software that will work best for your time tracking needs:
Integration: Check the time tracking software's integration. If you want to access the time tracker on the move, be sure it will function with your computer or laptop configuration and your other devices.
Exporting capabilities: Examine the time tracker's exporting capabilities as well — does it supply you with a basic template or summary that you can send to your clients? Try the time tracker before you buy it, if feasible, to get a true sense of how it operates and what it can achieve for you.
Price: Finally, consider the prices. Does the software platform you've chosen offer a free trial or free plan? Several software platforms offering time tracking services charge a monthly fee; however, they do offer free trials.
In contrast, other software, while offering free trials, also offers free plans — usually with limits.
However, if you're a software developer and have experience creating other apps, then you can develop your own simple time tracking app or Chrome extension.
2.Mobile apps for making time entries
If you frequently travel for work, your smartphone can help you track your billable time and idle time, and client spending. Time tracking applications like HoursTracker and Toggl may help you keep track of your day fast and effortlessly, and many of them are free or offer free trials.
Other mobile apps like Proposify, Harvest, and Tiny Scanner can help with proposal drafting, invoicing, and scanning and signing documents, among other things.
So, instead of investing in a time entry system, you can choose the exact tasks you need assistance with applications. On the other hand, apps may not be for you if you prefer to put all of your tasks in one task manager.
3.Desktop apps for time tracking
Desktop apps, like mobile apps, can make it easier for you to create projects, track idle time, manage unlimited users, and measure the hours tracked. Also, editing time entries is easier on desktop apps rather than mobile apps.
The purpose of time tracking and billing your time is to keep your business as productive and lucrative as possible at the end of the day. Choose a system that best suits your working style and is the most user-friendly.
Why do design agencies track time?
It can be incredibly challenging to track time. Sometimes, it can feel like time tracking is getting in the way of an otherwise very productive day.
However, keeping track of your time is one of the most beneficial things you can do for your company.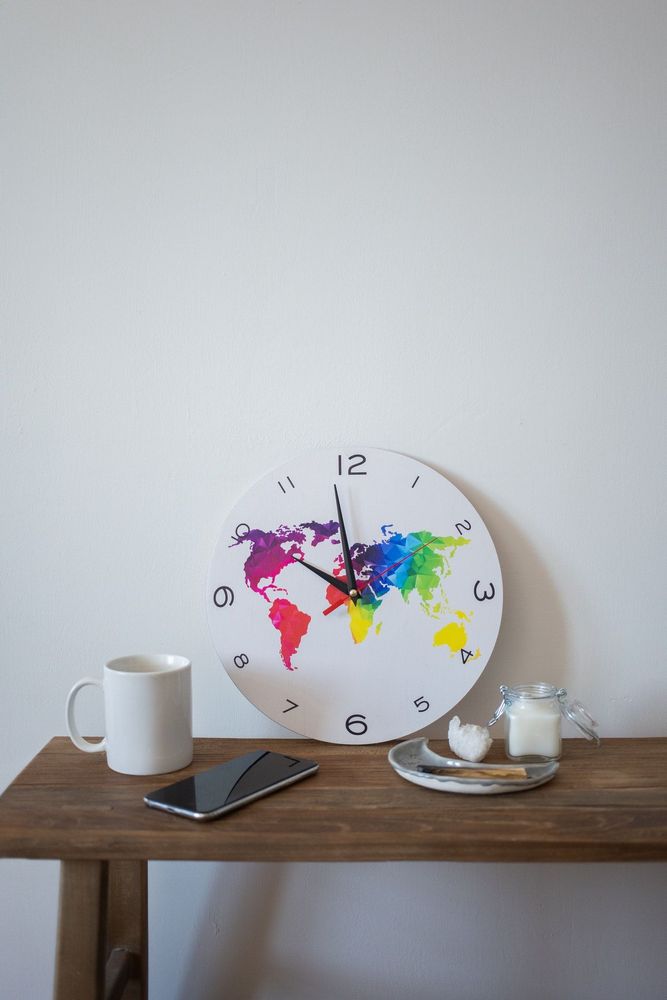 Time value of money
Every hour you record is another hour you can bill, and if you're working on fixed-price projects, you can track which clients and projects are the most profitable.
For design agencies, the following key features are critical in a system to track time:
Budgets
Budgets are essential for tracking your team's effectiveness. The ultimate purpose of tracking time is to help you determine which initiatives generate revenue and which do not.
Invoicing
If your agency charges by the hour, you'll want to keep your billing process simple. You'll need time tracking software that includes billing or interfaces with your existing invoicing system.
Freelancer tracking
Many agencies use freelancers on a part-time or as-needed basis. If your agency does this, make sure your time tracking software provides for different authorization levels, so they don't have access to all of your projects and clients.
You'll also want to make sure they can enter their time entries immediately. You may also want to watch the automatic time tracker embedded in your tracking software to ensure no one is editing time entries.
Project management integrations
Integrating your project management software is another crucial aspect of lessening the friction of implementing a system to track time.
If you have a robust integration, you can avoid cloning all of your projects, individuals, and to-dos. Thanks to integrations, you may also track your time within your project management software.
Indy – is it the best time tracking app?
The app allows development teams to track time spent on development tasks, helps designers and web developers keep their billing hours straight, and even doubles as an expense tracking app.
Indy's clean layout and straightforward functionality are enough to make any designer drool. Still, the true brilliance resides in its powerful design purpose. You'll never have to keep track of time manually again.
What's so great about Indy's time tracking software?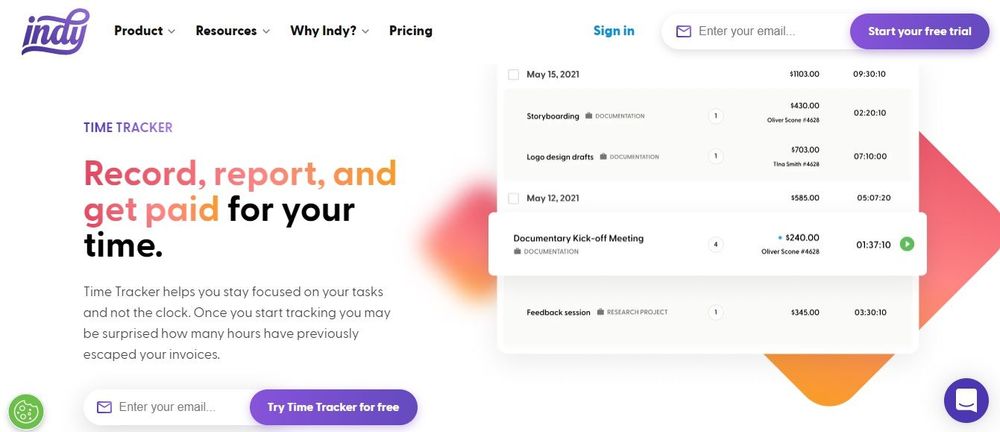 Here are some of the key features of Indy:
It tracks performance and profitability
If you bill project work by the hour, Time Tracker gives you a real-time summary of how much time you've invested in a project.
By using customizable reports with unique branding, you can share all relevant documents with clients with just a click.
Designers can proactively notify their clients, swiftly alter team efforts to stay within budget, and identify genuinely lucrative projects by tracking all project costs in one spot.
It helps you keep track if you go over budget
Do you spend most of your billable time developing and modifying projects or managing a jumble of design files in task managers? Is your team wasting time experimenting with and refining concepts?
Indy helps designers identify what prompted them to go over budget by laying down precisely what transpired for a specific project, enhancing project management and future forecasts.
It helps balance your design workflow
Indy's time tracking app lays out how much time you spend on each stage of the process, from research to first conceptions, layouts, and prototypes, through revisions and testing. Designers can spot inefficiencies and reorganize objectives to ensure that everything gets the attention it deserves.
Designers can see where administrative procedures and interactions need to improve by analyzing time spent in consultations, project planning, and marketing.
It records billable time
Designers generally succeed in the same area on the same device, and multitasking makes it difficult to remember everything they've done. Indy solves this problem entirely by keeping track of everything you do on macOS, Windows, iPhone, iPad, Apple Watch, and Android.
Every billable hour is collected and logged in one spot, no matter how chaotic or irregular your working day is.
Is there a free trial?
If you're looking for a free time tracking app or a free trial, you can check the demo of Indy's Time Tracker tool for you to try out. You can visit the web app and desktop app and explore different options before you begin.
Indy offers a free plan and even offers a free trial if you want to try an advanced time tracking solution or need unlimited users to track time.
The bottom line
Time tracking is an excellent way to boost your productivity and make tasks that can be tedious, such as billing or estimating the cost of your next big project, easier. It also gives priceless data that can assist you and your company become the best they can be.
To spend time effectively and efficiently, you must first understand where it is going – and then point it in the appropriate direction. The good news is that it's never been simpler to do so with all of the apps and tools available.