As a freelancer, choosing the right project management software can contribute to the success of your business. Whether you're a self-employed independent contractor or a freelancer who works in a marketing team, you'll find a use for project management tools to help organize your workload.
ClickUp is one of the best project management programs out there for freelancers. It comes with a range of features that you will find helpful. However, we don't think it's the most affordable option for freelancers looking for some support with their project management. ClickUp has several pricing tiers but is more tailored toward multiple teams.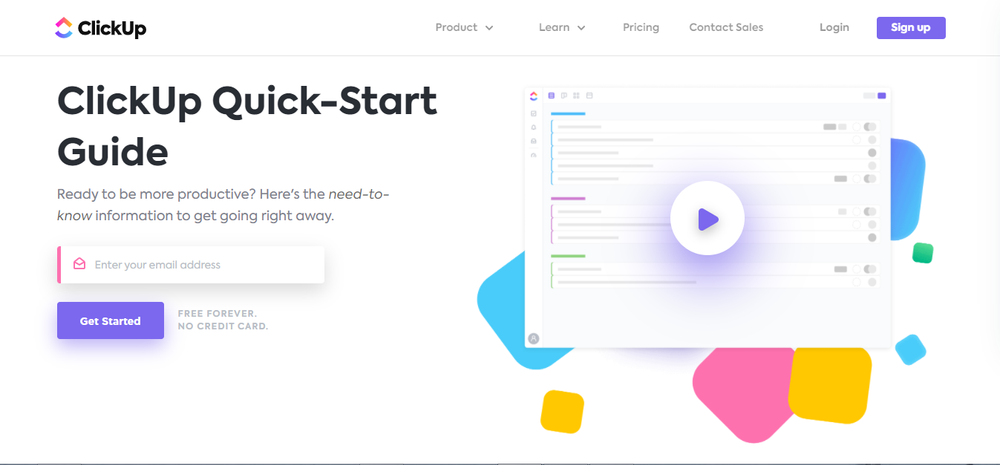 We're offering an alternative user-friendly project management software that we think comes with all the features you'll need on one single platform.
First, let's explore the benefits using the proper project management tools can give you as a freelancer.
What are the benefits of using a project management tool?
As a freelancer, using project management software to support you when you're working can help you with every aspect of the job. Let's not forget that when you're self-employed, you're responsible for everything. You have to network, manage client relationships, do your marketing, not to mention complete the work you've been asked to do and deliver on time.
Work more efficiently
Using project management software allows you to track your deadlines and tasks to ensure you meet them. You can manage your workload utilizing a calendar and create lists to track your progress with your projects accurately. This allows you to understand better the ongoing flow of work you're handling, so you know how much additional work you can take on.
Time management
When you use additional software to support you with your project progress, you can see the whole project and understand how much work is needed to complete it. You'll be able to use this information when quoting for future projects, as you'll know how to value your time.
Some project management tools integrate with Gantt charts, allowing freelancers to stagger their tasks and deadlines against time. This enables project manager's to understand the amount of activities needed, where these overlap, and the time expected for each activity. The activity is reflected by a bar, and the timescale is from the beginning to the end of the project. It's a standard integration with project management software and is helpful when there's a team working on a project.
File sharing
Sharing files with clients is pretty integral to being a freelancer. No matter what industry you work in, you'll be working on tasks that need to be sent to your clients. It could be a word document, a slideshow, potentially a spreadsheet, or duties relating to a project. Either way, you'll be file sharing. A good project management tool will allow you to share files in one easy place, so you can handle multiple clients at once from one dashboard and keep your files organized.
Invoicing and budgets
Managing invoices and budgets is a time-consuming task when you're a freelancer. You need to budget your time accurately. You need to ensure you're not undervaluing your work and charging too little for what you do. All the while, it's also your responsibility to send professional invoices to your clients.
If you haven't completed invoices before, it's a daunting task to know where to begin. What information do you include? What do you leave out? What's essential for tax purposes?
Project management software can support you with all these dreadful jobs. Most come with templates for invoices, so you'll never leave any essential bits out, and they can help you manage your budget.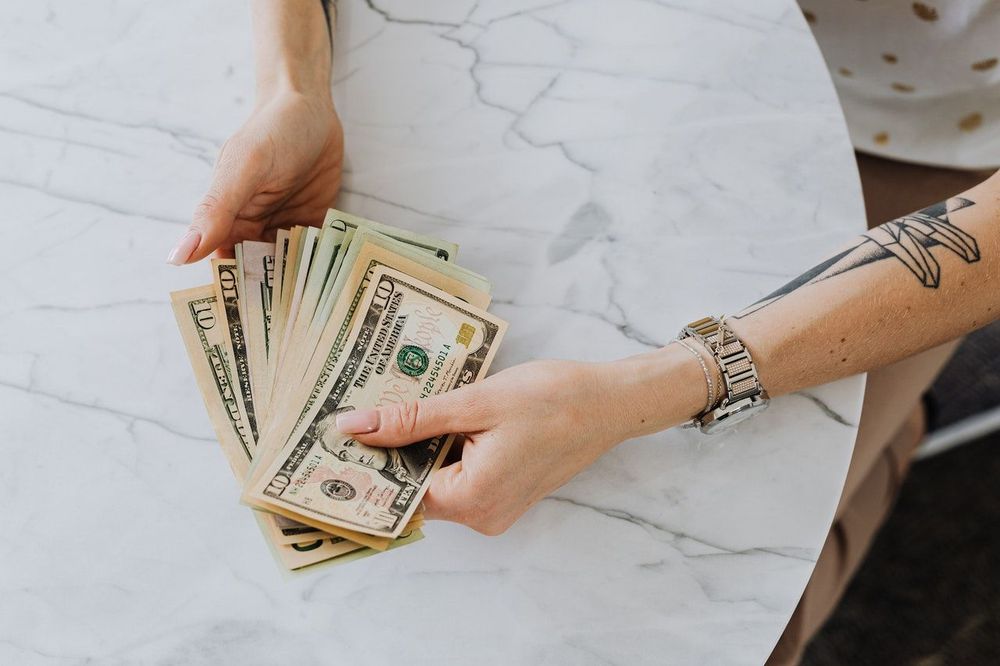 Analytics and reporting
One of the most essential tools for a freelancer is tracking your revenue and productivity. It's vital to learn if you're improving month on month. Are your sales higher, and are you getting more work from your clients? Tracking your jobs is a helpful tool to measure which clients provide you with the most work and which ones you earn the most money from. They're not always the same.
Understanding this information about your daily tasks helps you with your client relationships. It's the sort of stuff you might not think to track, but once you do, you'll be kicking yourself that you didn't do it sooner!
Tracking work does take time away from actually completing jobs, though, so it can be helpful to get a project management software to do the bulk of the work for you.
ClickUp project management software features
ClickUp is a popular project management software used by remote teams, marketing teams, and freelancers to manage their workload effectively. You can use it to manage deadlines and organize your task load. It comes with plenty of excellent features for allowing team members to manage projects and make things faster for freelancers.
ClickUp's mission is to save freelancers time. That's what they set out to do, and based on their remarkable features, they're succeeding.
Let's look at all the features ClickUp has to benefit freelancers.
Automation
The app is set up to create automation to make your day easier. There are lots of different routine tasks that you can automate on ClickUp. Things such as assigning tasks, setting deadlines, and applying templates can all be automated. You can also automate moving a task into different queues depending on where it is in the process. For example, if you're writing ten articles and change the status of one to 'complete', it will automatically move the piece into the completed queue.
Little things running smoothly in the background give you more time to focus on the important stuff. ClickUp allows automation for up to 50 items, and you can set customized automation too. You make it work for you, automate the things that take up the most time in the background, and you'll get time back to focus on the job.
Task management
Whenever any project manager takes on a new project, it needs to be broken up into bitesize tasks to make it easy to complete. ClickUp tasks are perfect for big projects as it lets you set up sub-tasks within the overall project and assign these to your team (if you have one). These can be arranged and edited in bulk or highlighted if further attention is needed. You can also use time estimates to set how much time you expect a task to take, and organize tasks by priorities or task dependencies.
You can also create to-do lists based on tasks to ensure that nothing is missed and the project is completed right down to the fine details. Setting different statuses will allow you to see the progress made on specific tasks and understand why some are taking longer than others. You could set a 'waiting on' tag, which allows you to see which tasks are waiting on additional work, or other tasks being completed before they can be finished.
As part of their task management software, users can access ClickUp checklists, a handy tool that keeps track of to-do lists so users can manage tasks from anywhere.
Using management software to track tasks helps you see the big picture of the project in a snapshot view and understand how much work is necessary to complete it. ClickUp has integrations, allowing freelancers to use Gantt charts to monitor their activities and progress.
Communication
As a freelance project manager, you can use ClickUp to communicate with the larger team or liaise with your clients if you have one. It's an excellent software for chatting, collaborating, and sharing files with clients and other team members. ClickUp allows users to put comments on tasks, share links, and embed files in conversations, meaning you can get real-time updates on project progress.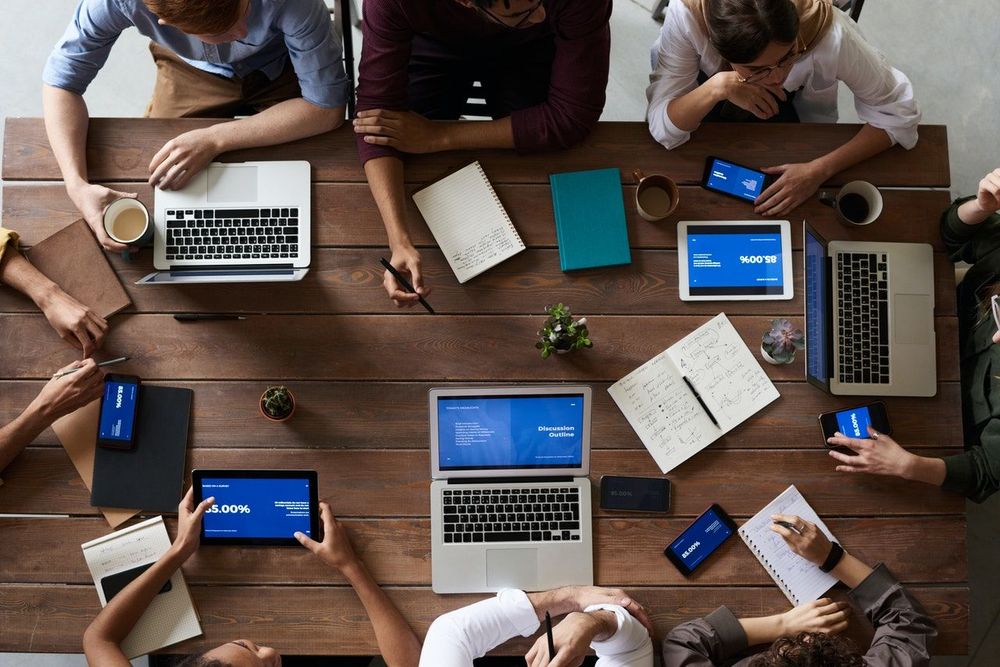 ClickUp also lets users organize their chats however they see fit and will send you a notification every time you have a new message. So you can keep on top of things as they come in.
Templates
Another excellent tool ClickUp has in its project management kit is an extensive section of templates for every occasion. No matter what type of business you're involved in, whether it's clothing design, engineering, agile management, marketing, or IT, they have a range of templates for users to customize for their own uses.
These templates allow you to set up your project tailored to your career and are helpful for larger teams or individuals. They have a variety of templates suitable for individual freelancers and personal use, like budgeting or simple task management.
Using an already made template gives freelancers the ability to spend less time on the set-up and project planning stage and more time producing the work.
Documents
ClickUp docs work in a similar way to Google docs. They allow for ongoing collaboration as multiple people can access and edit a document at once. Their docs feature can link in with their tasks feature so users can assign tasks within documents and manage their workload. Documents can be divided into categories to simplify navigation and organize the project.
Users can also archive no longer useful documents and see all the necessary information, like the word count and total pages in a snapshot. There are also plenty of templates stored away, so you can start with a template and follow it, saving you time instead of having to create an entirely new document.
Whiteboards
The collaboration tools for teams to work together on ClickUp are excellent. They've introduced a whiteboard feature that allows everyone working on the same project to discuss ideas and create workflows from one helpful screen.
Users get real-time updates from their team members, project managers can monitor everyone's activity, and people can add notes. It streamlines the process. You no longer have to go to your project manager alone with an idea. Discuss it with them before bringing it up at a meeting with their approval to get people on board. All you need to do is pin it to the board to get the whole team to agree.
You can link ideas together, and whiteboards integrate with documents to ensure everything is as smooth and easy to use. Everyone learns differently, and the whiteboard can benefit those of us who are visual learners and need to see something.
ClickUp pricing
Now we've looked at all the key features available on ClickUp. It's time to explore their pricing. When you're self-employed, money is everything. You need to justify your costs and track all your outgoings. So it would be best if you only got a project management tool that you can afford and that is cost-effective.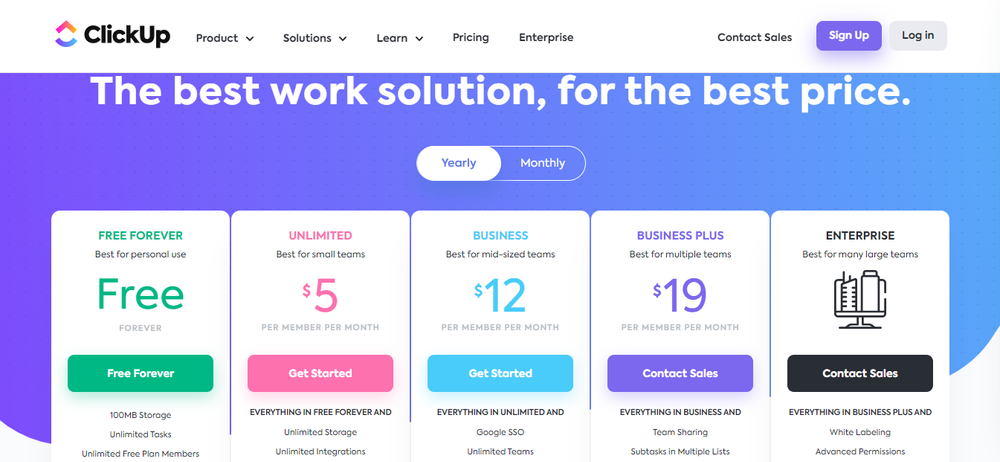 ClickUp has five different pricing tiers, starting with a free plan and going right up to plans aimed at larger teams and businesses.
Free forever
The free plan is specifically aimed at individual freelancers or for personal use. It's not for a bigger team or agency. Users who sign up for the free plan get access to 100MB of storage, the ability to set unlimited tasks, and access to the chat, whiteboard, and time tracking sections of the project management software.
People in the free plan can also set up Kanban boards, custom statuses, emails, and sprint management and get access to ClickUp's 24/7 customer support team.
Unlimited
ClickUp recommends their unlimited price plan for small teams. Sometimes this can come in handy if you're working as part of a small team for a client on the same project but still based as a freelancer or independent contractor. Users get access to all the free forever plan features but also have resource management, agile reporting, Gantt charts, custom fields, forms, and unlimited storage. They can also set up user groups to work as part of a team and access forms and templates. It costs $5 per member per month.
Business
The next plan up is their Business plan, priced at $12 per member per month. This gives access to advanced features, including timelines and mind maps, and more advanced time tracking, automation, and dashboards. Users also get access to better workload management capabilities, and the third-party integrations have improved. People on this plan can integrate ClickUp into their GoogleDrive, OneDrive, and Dropbox. They recommend this plan for medium-sized teams.
Business plus
On the Business Plus plan, users get access to a priority ClickUp customer support team, create up to 25,000 automation, and have unlimited custom tags, additional admin training, team sharing, custom roles, and higher security settings. This plan is suitable for a big project team or even multiple teams. It's priced at $19 per member per month.
Enterprise
The final plan doesn't have an actual pricing point, as interested parties must contact sales to get an individual quote based on their company and what they'll be using it for. But they have access to all of ClickUp's extensive list of features, including everything users on all the other plans can access. They have the highest security measures, white labeling, enterprise API, an onboarding guide, and a dedicated success manager from ClickUp.
Indy - an affordable alternative project management tool
While ClickUp is an excellent project management software, the price bracket can be high. Their free version is quite limiting, with only 100MB of file storage available. There are other more affordable project management tools out there for freelancers. We want to recommend Indy as an affordable alternative for freelancers looking for an excellent tool to help with their project management.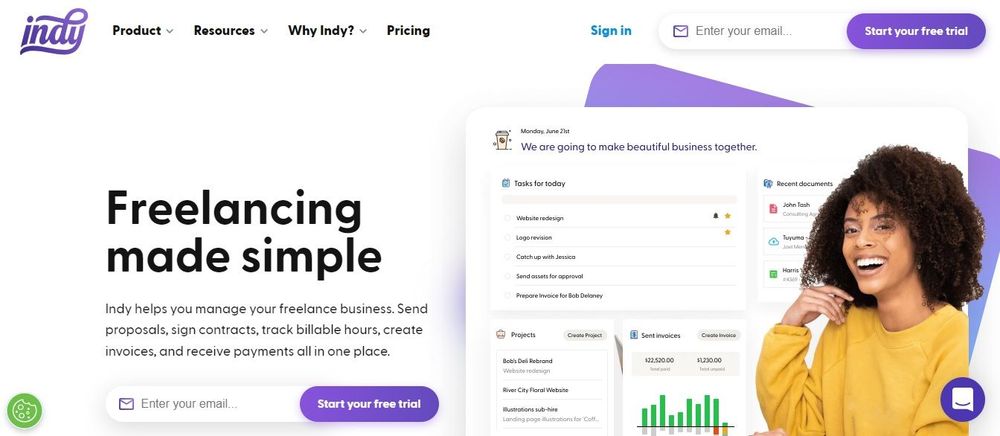 So let's look at all the features you can get at Indy for a lower price.
Communication
Indy has a range of communication tools for freelancers to give clients and other team members real-time updates as they work. You can also set up chat rooms with multiple clients or teams, which comes in handy if you're working on a project requiring you to update more than one team member.
The chats app has a friendly user interface and allows you to manage all your communication from one centralized dashboard.
Calendar
Indy's Calendar app allows users to schedule meetings and manage deadlines. You can set up tasks and to-do lists in the calendar to know when deadlines are. That means you'll be able to manage your workload accurately and give clients an informed amount about how much work you can handle.
It also links with Google calendar to see all your upcoming meetings and deadlines on your phone. That means you can keep up to date with your workload from any place, at any time.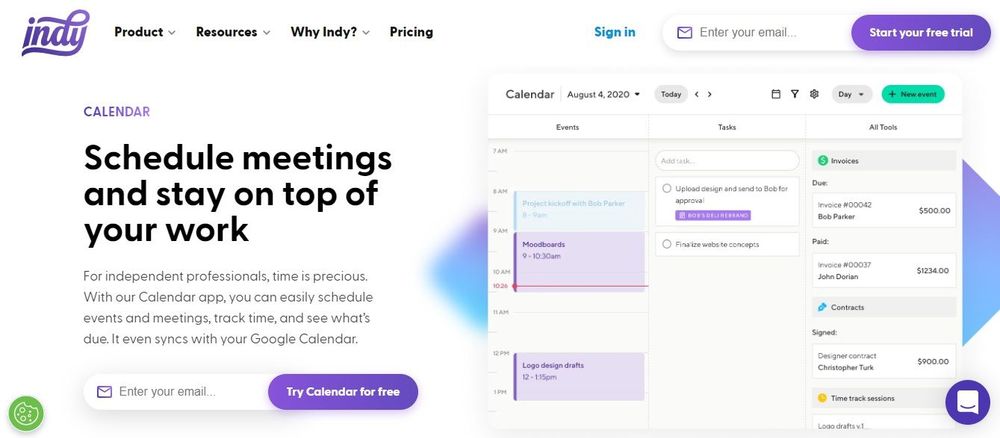 You can integrate the calendar with your time tracking to know exactly how long it took you to complete the work when you're billing clients hourly.
File sharing
When working as a freelancer, file sharing is integral to your business, so it's frustrating when emails have such small file sharing limits. Indy allows you to send files easily to clients, so it doesn't matter how large the file is - you'll know it gets there without any reduction in quality.
Any good project management software will have a file storage function to allow you to keep your documents, videos, articles, or whatever it is that your business is based on in one place.
Invoices
Indy has an excellent online invoice app that means you can send simple invoices with all the essential information. It only takes minutes to create a professional invoice, and you can create recurring invoices and automatically bill clients monthly, taking away one of the most repetitive tasks in freelancing.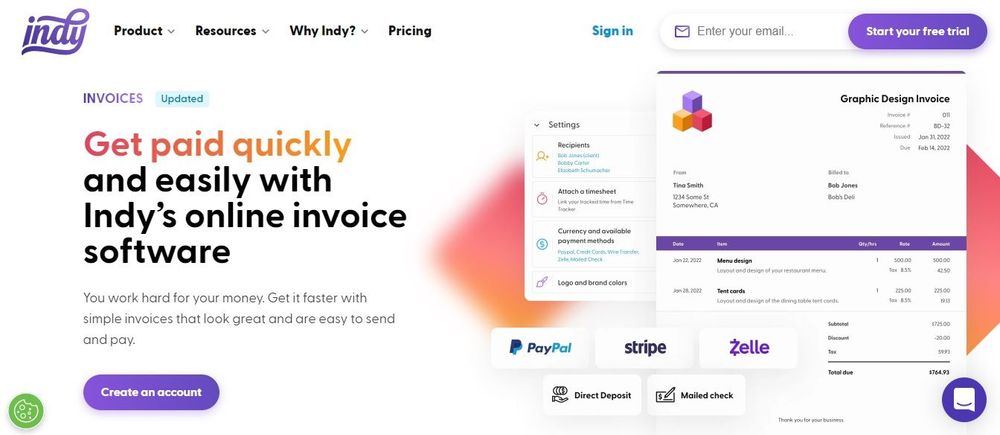 Multiple payment options are accepted, and you can customize your invoices by adding your logo and branding to the invoices. You've also got the opportunity to add messages as a personal touch to your clients.
Time tracking
Accurate time tracking allows freelancers to plan projects with a greater reflection on how much their time is valued. In Indy, it's simple. All you need to do is click start, and you can accurately use time tracking while working on jobs and press pause if you decide to take a break.
You can also use manual options for tracking time, adding it in later once you've finished. You can use the time tracking software to add payable timesheets and insert them into your invoices to reflect your time working for that client.
Proposals
Indy has a comprehensive proposal app in its project management software tools that will allow you to create professional proposals and estimates for your clients.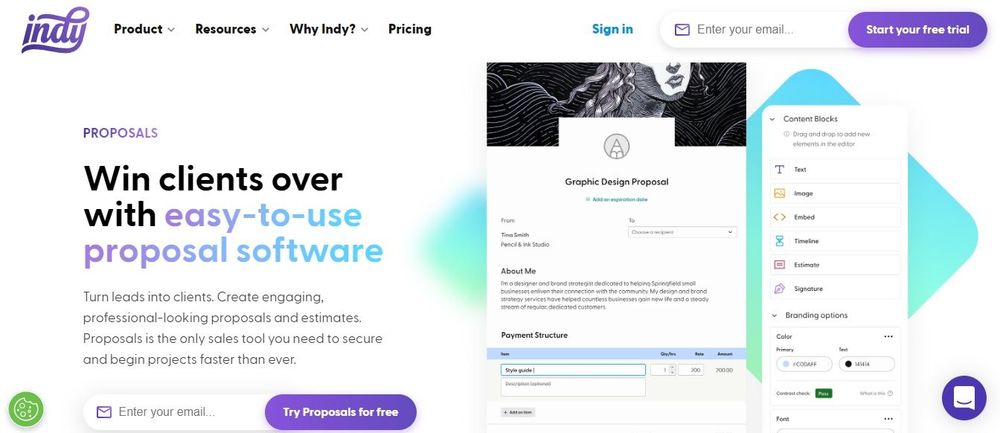 Proposals are an essential part of being a freelancer. The better they are, the more clients you'll win. So it's something you want to ensure is perfect. You can use one of Indy's many proposal templates, use the estimates you've created in the proposal to form the basis of an invoice further down the line, and assign statuses to your proposals. This allows you to keep track of whether they've been sent and read by the client.
Task management
The tasks app on Indy has a user-friendly dashboard allowing freelancers to manage their tasks and deadlines accurately. It's fully integrated into all the other apps on Indy, meaning jobs with deadlines will appear in the calendar (and on any third-party integrations). Users can also filter, organize, and manage their tasks via the dashboard.
This gives you a greater understanding of your work across different projects and how many tasks will be associated with the same project. Accurate task management software helps you organize your time and accurately quote estimates for future projects.
Indy pricing
Instead of having complicated pricing plans, Indy only has two pricing tiers. A free version and a paid version. Let's look at the features of each.
Free
Indy's Free plan gives you free unlimited access to all the basic tools you need to manage your business.
The free plan is simple and an excellent way to try Indy before committing to the pro version. You can get a feel for the project management software and decide if it's the right choice for you. If so, then you can upgrade to their affordable pro plan.
Pro
The pro plan comes at $9 per month when making an annual payment and $12 if you decide to pay it monthly. The pro option gives users access to unlimited contracts, proposals, invoices, and up to 500GB of storage for sharing files.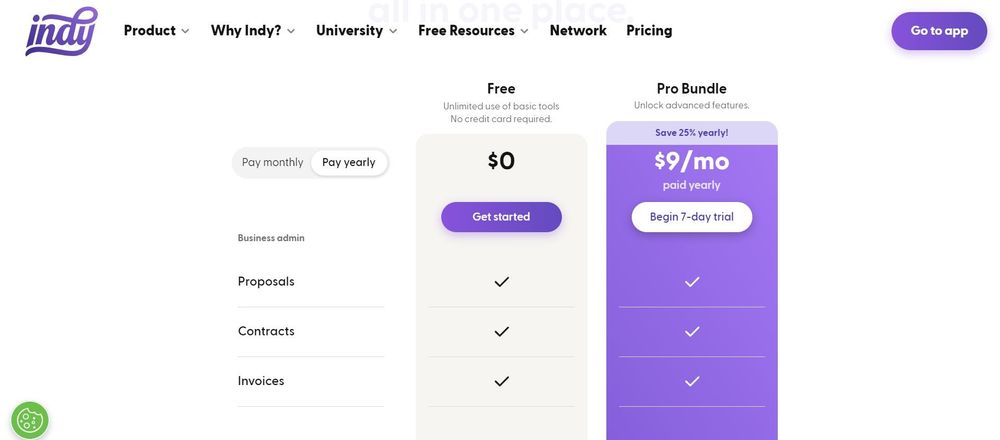 Pro users can also access unlimited forms and time tracking and all the functions a member of the free plan can, like the calendar, chats, and tasks. You'll be able to accept multiple payment methods as part of your business and customize branding and profiles.
Conclusion
Comparing software to find the right project management tool is a good option when you're a freelancer. When you're self-employed, time is money, so having software that will support you with repetitive tasks can only benefit you. However, there are so many different project management software on the market it can be difficult to know which is right for you.
ClickUp offers a variety of functions to support freelancers but seems more aimed at project managers who are running multiple teams or even a small business. In comparison, Indy is a project management software aimed at freelancers who are working for themselves. The affordable software has all the tools to run your own business and manage projects.
If you're looking for project management software, you can try Indy for free.