Poor business management costs a load of money each year. Solopreneurs with fewer than 100 employees can lose up to $420,000 per year. Larger businesses could risk up to $62 million.
HoneyBook was created to reduce tedious paperwork, emails, vendors, and phone calls. It can improve your client management and communications and help you keep track of what has been sent to whom. This streamlines business processes and automates those tedious daily tasks like bank transfers, ERP software, online calendar management, and sending invoices.
Let us help you discover a few things about this client management tool:
Why you need HoneyBook alternatives
A few options that may be better and more affordable for your freelance business
Let's get started because small businesses can really thrive when effective project management software is used. Happily, many of these platforms assist with various small business administration tasks including managing workflow, sending online payments, signing contracts, sending proposals, managing calendars, and communicating with collaborators.
When you use technology to your advantage, you save huge amounts of money and time and can focus on the important stuff, like business growth and how to manage clients. You will also be able to meet (and exceed) those all-important business needs to grow your sales pipelines and develop more sales opportunities.
So, let's take a quick look at HoneyBook and examine some tip-top alternatives that could offer a fantastic return on investment (ROI) for freelancers and break the bank a little less.
Why do you need a HoneyBook alternative?
HoneyBook is among the top leaders in the industry when it comes to project management software for small businesses, but it isn't without a few drawbacks. Here we will talk about a few of those flaws while listing the best alternatives in each.
HoneyBook has a steep learning curve
Most users find the project management platform a little bit overwhelming. HoneyBook makes this a little easier with their complimentary account migration "Concierge Service." However, the learning curve after account setup is still a lot for many people to learn while also doing their normal freelance work.
Rather than investing copious amounts of time into learning a somewhat complex system, opt for user-friendly alternatives that save you on time. Consider spending the extra time working on exciting projects, focusing on task management, building strong customer relationships, and launching stellar marketing campaigns.
Alternative project management platforms with an easier learning curves include:
Indy for freelancers
Dubsado for robust automated workflows
There are better mobile apps for business management
HoneyBook mobile app, as with any mobile app version of the software, is a little more limited. You cannot use the app to create new templates, add new timelines, or access advanced sections of your workspace, such as bookkeeping, contact management through forms, and workflows.
This can make the platform a little tricky for freelancers on the road. One of the best perks in the digital world is being able to manage projects while you are out in the world. Whether you're commuting to a client meeting, riding the exercise bike at the gym, or enjoying a well-deserved break on the beach, you should be able to access all project management tools via your mobile phone to make life easier.
Other mobile apps give you a few more options for managing your work on the go, making them super handy for freelancers on the move. If you are a mover or shaker, an app like Indy is ideal, since it is fully scalable to both desktop and mobile applications.
Fewer payment options on offer
HoneyBook forces its clients to use its integrated payment method. HoneyBook acts as the payment processor for any bank transfer or credit card. You cannot offer payment through personal accounts like PayPal, Stripe, and Venmo.
If you have multiple clients from all over the world, this probably isn't as ideal, and you might require more comprehensive invoicing software that considers multiple payment options and systems. As a business owner you want to ensure that clients can pay you as quickly and efficiently as possible.
HoneyBook is more expensive than other options
After the 7-day free trial, HoneyBook's cheapest subscription is $9 per month. However, this isn't unlimited. After you earn a specific amount, you'll need to move to the $39 per month subscription. This is almost 7x what you'll pay for the HoneyBook alternatives on our list.
Affordability is paramount for any small business owner, especially when starting out in the field. If you can find better alternatives for half the price, it is certainly worth exploring the other options around.
Alternative project management platforms
To know the best HoneyBook alternative, we will look at a few competitors around the marketplace and explore why these platforms might be the best thing for your small business. Each of these platforms have some fantastic features and similar features, and some boast a super affordable price tag, too.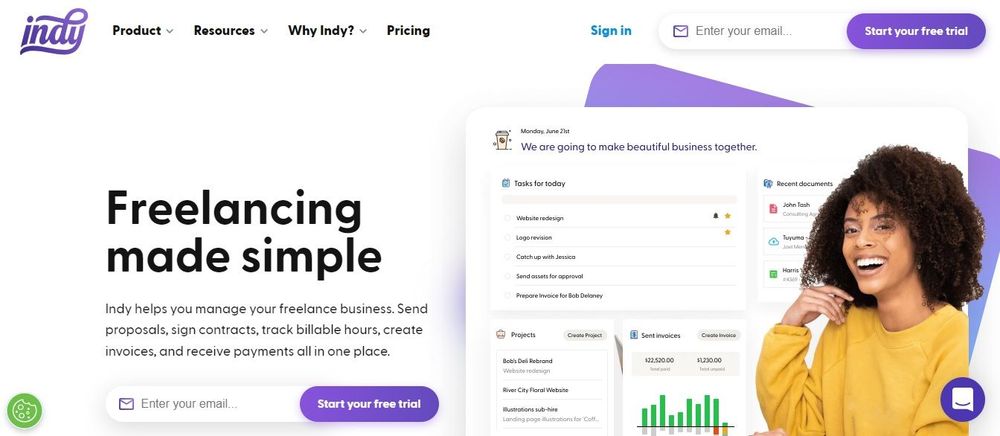 Indy is an all-in-one sales productivity platform that helps creative freelancers, contractors, and consultants run their businesses by providing a simple solution for their workflow. With one platform (accessed via a central dashboard), freelancers can begin creating proposals, drawing up contracts, sending invoices, receiving payments, tracking their billable hours, and managing the document sign-off process.
So, what else can you do with Indy and its easy to use platform?
Manage your entire workflow
Indy's unique offer is the ability it gives you to do a lot of work on one platform. This helps freelancers because you pay fewer subscriptions, saves time that you would otherwise spend looking for the right app for whatever you're doing, and helps you keep important documents organized. If you are juggling numerous projects and clients, this also keeps everything in one place and avoids any confusion.
Power through admin faster
Indy is designed to make it easier for you to move through your admin jobs. As you add information, like customer details in a client portal, you can reuse all of this data to save time for your next invoice, proposal, or contract. If you are just starting out and do not have the resources to hire an assistant, this automates the admin process, freeing up your time to focus on business growth.
Proposals, contracts, and invoices
Speaking of these, Indy makes it easy to create proposals, contracts, and invoices. There are dozens of customizable templates for each stage of the business process. Launch a proposal template, spend a few minutes customizing it for your business, and send it on to your customer or client. When the customer accepts, the information can be brought into your contract and then connected to an invoice later. This saves time and ensures that you have a clear record of every business interaction.
Clients can also make online payments, which help improve your cash flow.
Moreover, these proposal and contract templates prioritize professionalism. These proposals are often the first contact you make with prospective clients and if they exude proficiency and expert design, you will have a much greater chance of getting the gig.
Other tools make freelancing life a little better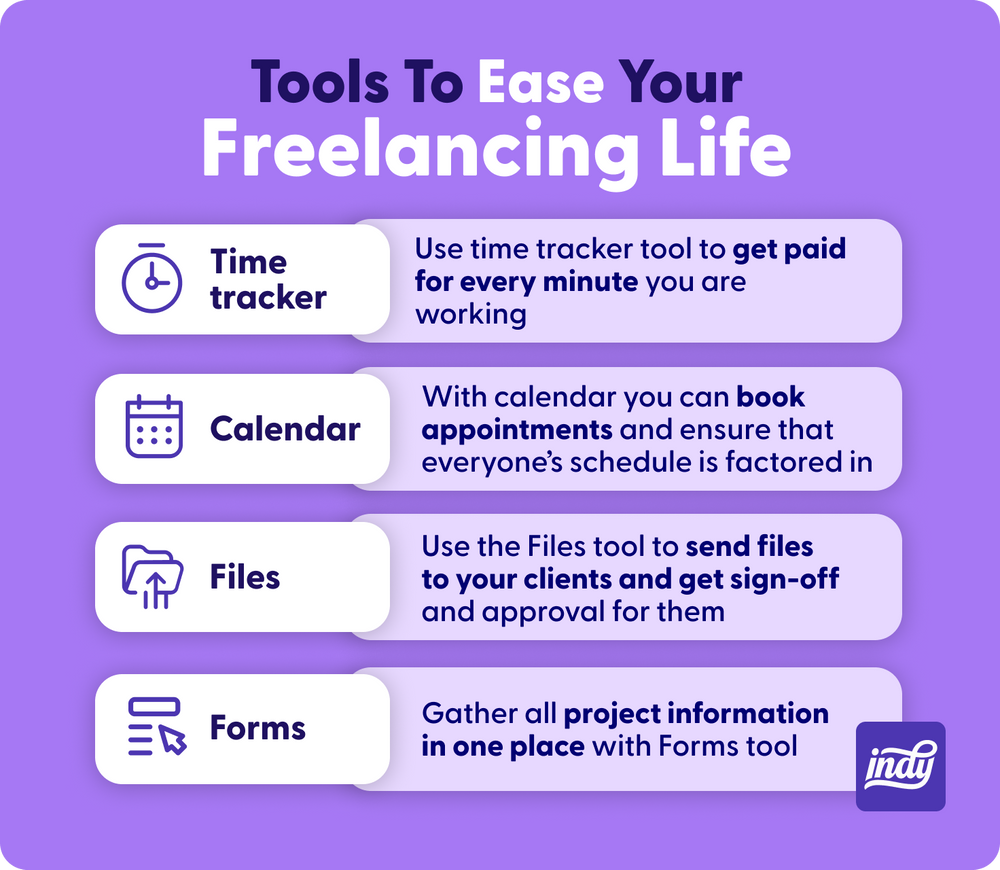 What else do you use as a freelancer? Indy has more tools to help you. Here are a few worth mentioning:
The time tracker tool makes it easy to get paid for every minute you are working. So often freelancers lose out on billable hours in the chaos of managing numerous projects. This easy-to-use feature allows you to keep a log of all working hours, so you never miss out on payments again.
PayPal Fees, Time Card, and Working Day calculators make it easy to work out some of the common conversions and math problems freelancers see regularly. Payment schedules and online payment options mean that you can get the money owed to you fast. Multiple payment options make Indy a super accessible option and mean that you can reach more clients. When clients can pay you without hassle, you will get your money on time.
Use the Files tool to send files to your clients and get sign-off and approval for them to help you wrap up projects faster.
Enjoy the online calendar feature that effortlessly links to your Google apps calendar for added ease. This allows you to liaise with fellow freelancers and collaborators and plot project deadlines together. When you can all make use of a centralized calendar, you stay on the same page and this speeds up every collaboration effort. In the event of group meetings, you can book appointments with ease and ensure that everyone's schedule is factored in.
Indy is also the most valuable and cost-effective HoneyBook alternative because of its attractive price tag of just $9 per month. This is a steal for the full suite offering that Indy has for freelancers and small business owners, making it one of the best HoneyBook alternative on the market.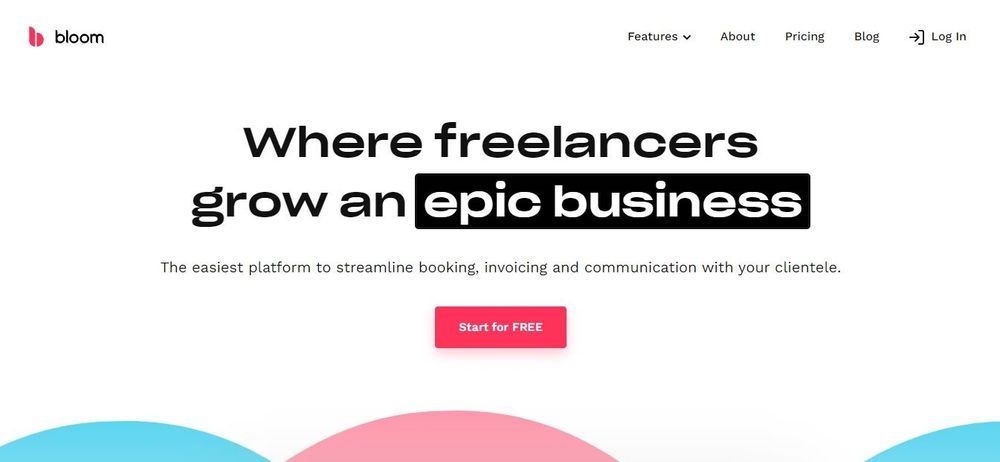 Bloom's client portal has proven to be a top selling sales CRM for both photographers and creative professionals on the market today. Bloom features everything you need to streamline your customer management process.
If you work with high-res images and photographs, Bloom has some great perks, including allowing you to send clients photographs in specially curated galleries. Other features include:
Automated follow up messages and emails
Tracking lead management so you don't miss a beat
Creating a specialized website portfolio so you can show potential clients examples of your work
While Bloom's starter package is free, to access more comprehensive features and manage various projects at once you will need to pay between $39 and $79 a month, making it a pretty pricey alternative. It therefore won't suit freelancers with numerous projects and clients who will make use of features such as the Bloom calendar, unless you are willing to fork out each month. If you want to build multiple customer relationships (CRM), you will have to invest in the more costly version.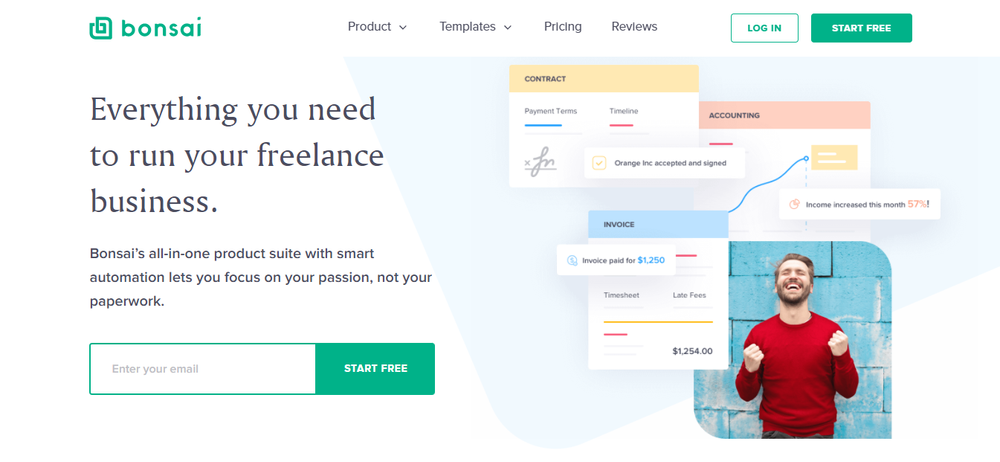 Many freelancers and agencies rely on Hello Bonsai, a full-featured product suite with automated workflow. The program assists newcomers and other professionals with thriving enterprises in completing all of the duties necessary to run their businesses. It's also designed to support people who work in various freelancing fields.
Hello Bonsai is cheaper than HoneyBook with the pro features starting at $17 per month and the Professional level costing $32 per month. There is also a business level costing $52 per month.
There are numerous features, such as a time tracking app, client portal and other tools that make it a great HoneyBook alternative.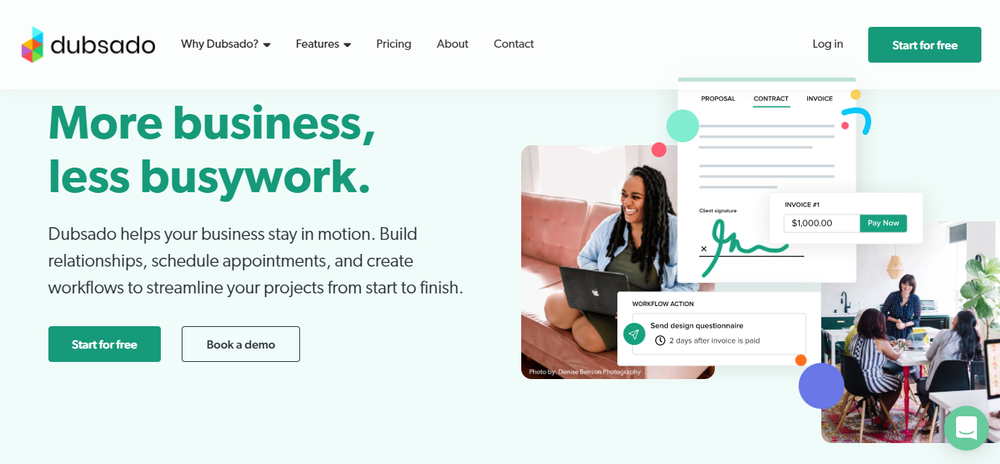 Dubsado is another full-featured CRM solution for solopreneurs who want to track the progress of:
Their Financial Goals
Client Relationships
Invoices
Inventory Management
The software includes dashboard reports that show sales, income, expenses, and net profits over time. Solopreneurs can prioritize their duties and actions in this way, focusing on what matters most to their bottom lines. Dubsado's management solution also offers a free trial.
There is also the chance to utilize a client portal to improve client management.
The costs for Dubsado is $200 per year for a freelance business or $400 a year for Premium business. There is no time limit on the free trial, either, but you are limited to three clients.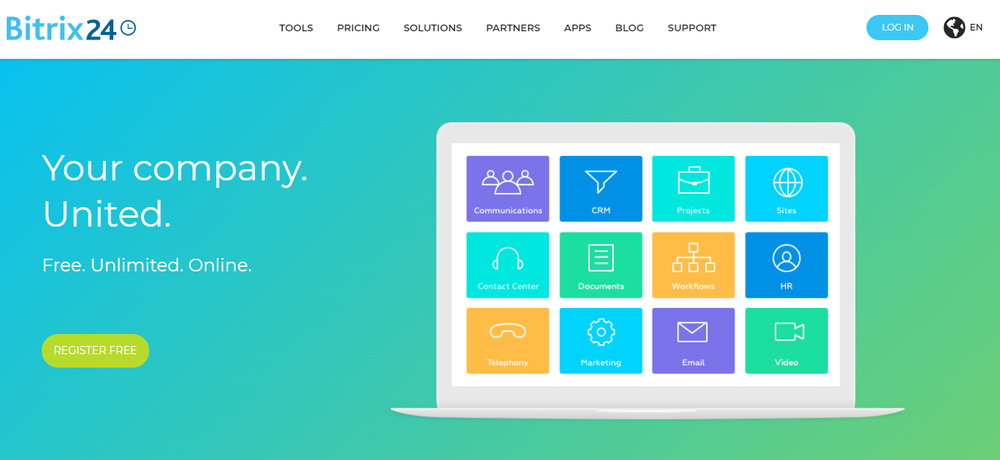 Bitrix24 is a solopreneur-focused CRM and team collaboration tool. It's a dedicated solution with various functions broken down into:
Communication
Client Portal
CRM
Customer Support
Websites
Bitrix24 provides chat and video, calendars, a social intranet, email, document management, and user groups for communication. With Bitrix, your team will be able to communicate in real-time, share calendars with a scheduler and invitations, and create infinite workgroups and user groups for the entire organization, depending on the size of your company. Bitrix24 also helps you organize your documents by allowing you to store and share files.
The business management solution also has a customizable Kanban board for your projects and tracks. You can use the time tracker to manually or automatically track your time, with reports on how you spent it. This is great if you need to bill hours and send a comprehensive breakdown on how you have spent the allocated project time before you send invoices.
Websites are another feature in Bitrix24 that is more comprehensive. Bitrix24 provides free hosting for Bitrix24-created websites, a visual editor, industry-specific website templates, landing pages with capture forms, free eCommerce stores, and a free domain name. Bitrix24 also offers a 30-day free trial compared to 7-day free trial HoneyBook offers.
There are several pricing points for this app. The cheapest is a free option and their highest price is $199 per month. It depends on the number of users, the storage space and other features that you want.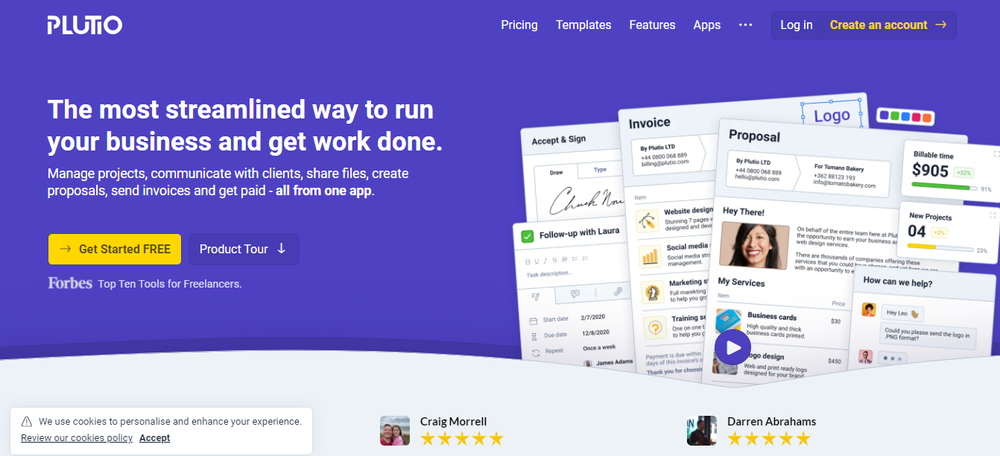 Plutio is a feature-rich project management software designed specifically for service-based freelance businesses and solo professionals to help them manage their work and businesses. The program allows you to manage administrative tasks, time tracking, and create beautiful proposals. Plutio also offers professional billing software through an all-in-one platform, ensuring that you get paid faster. Plutio has tools to assist you in managing your projects and tasks. Top Plutio features include:
Custom Fields
Recurring Commissions
Reusable Templates
Real-time Collaboration
Custom Fields
However, after the free trial, the cheapest option is $19 a month and this only allows for three clients at a time. More comprehensive packages can go up to $99 a month, making it a slightly pricey option annually. You can tailor your package by adding features which are included in other tiers, for a monthly fee.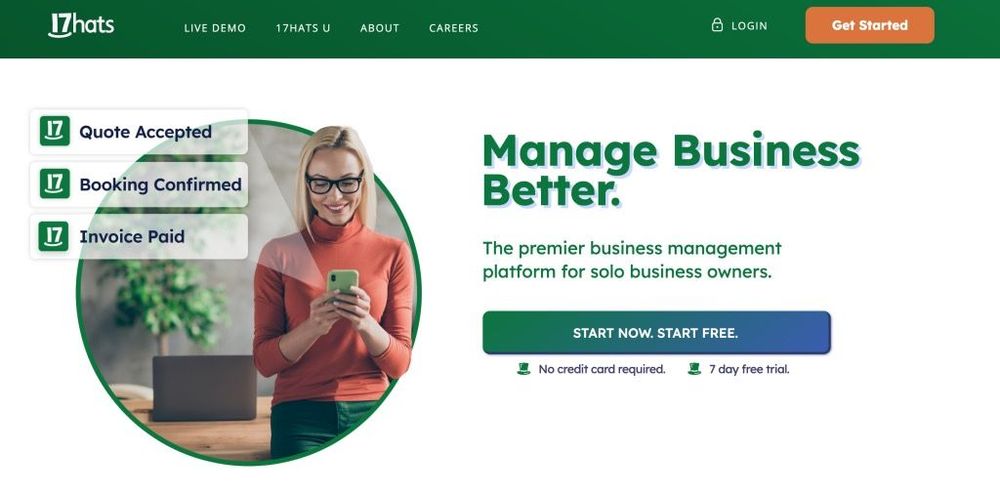 17hats is an all-in-one business management solution whose name is inspired by the fact that entrepreneurs have to wear so many hats to manage their businesses. Contacts, calendars, and invoices can be integrated into one place with features that make organization, contact management, time management, and lead management easier. 17hats breaks its tools down into categories for managing:
Documents
Money
Branding
Online scheduling
Reporting
Marketing automation
And has even more categories to keep you organized. While 17hats doesn't offer a free trial, it does let you try up to three projects for free. No credit card required. Paid plans start at $13/month when billed annually and go up to $50/month annually.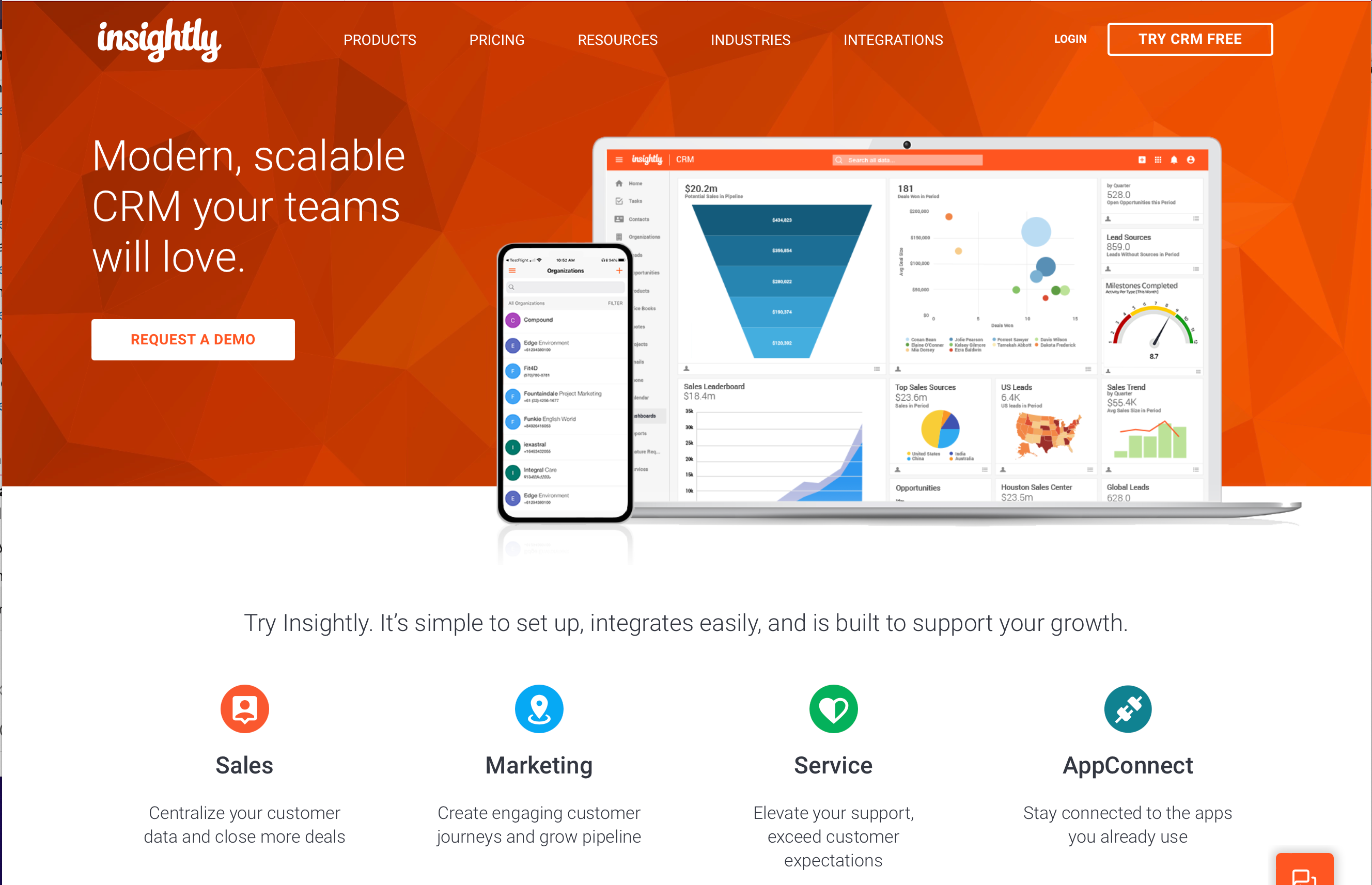 Insightly is a CRM tool that helps you manage clients and build client relationships. It can help you create a sales pipeline and centralize your customer data. Insightly can also help you with marketing to your clients by providing enterprise-grade reports and dashboard insights to help you tailor the effectiveness of your email marketing campaigns. It'll show you engagement metrics like open rates, click-through rates, and bounce rates, and you can A/B test emails to see which performs better.
While Insightly is largely used for CRM, it does have project management tools and it integrates with Google Apps and Office 365 to streamline your workflow.
Some of Insightly's key features include:
Email marketing automation
Email and landing page designer
A/B email testing
Journey builder
Real-time marketing insights
Built-in business intelligence dashboards
Insightly has 3 pricing tiers, but the features that would interest freelancers most can be found in the entry plan. The plans start at $29 per user per month and go up to $99 per user per month.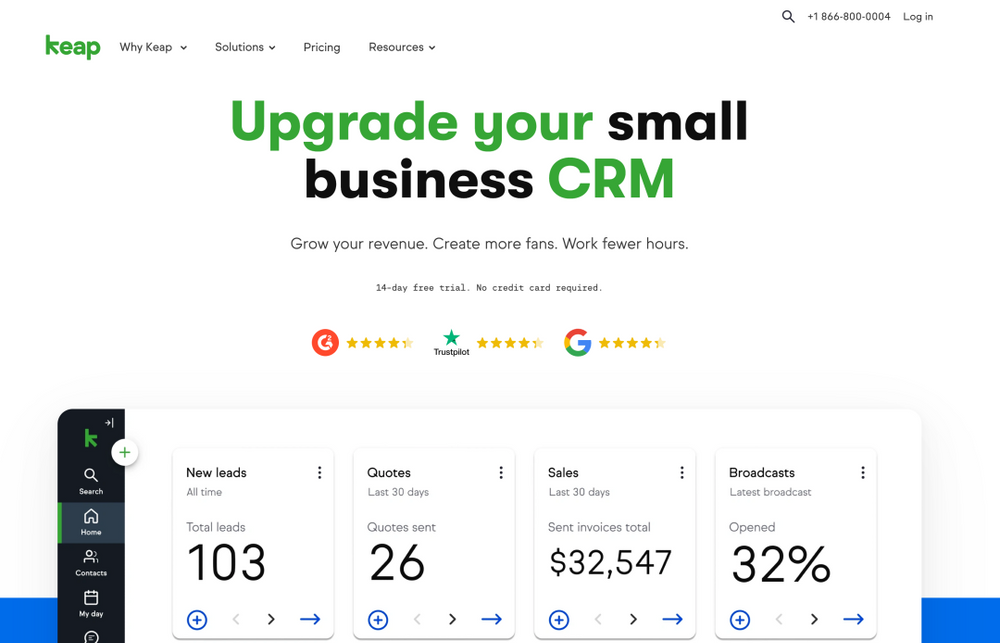 Keap is a great option for service-based freelancers due to its CRM capabilities, sales, and marketing automation. You can organize leads, set up email marketing, track outstanding invoices, and know the status of deals with a drag-and-drop sales pipeline. Once you set everything up, it can run in the background through Keap's marketing automation. They also offer on-demand customer webinars to teach you new goals and strategies to implement into your business.
Some of Keap's key features include:
Lead management
Reporting & analytics
E-commerce & payments
Text marketing
Email marketing
Sales & marketing automation
Customer relationship management
17hats offers a 14-day free trial, so you can see how these tools work for you. However, the platform doesn't offer a free forever plan. And while 17hat comes with a comprehensive set of CRM tools and interesting webinars for you to learn from, you'll have to pay a pretty penny for it all. 17hat has the most expensive paid plans on this list, starting at $159/month when billed annually. It's quite an investment, so you'll have to decide if the high cost is worth it or not.
Best business management software verdict
To select the ideal tool for your needs, you must consider several aspects that will assist you in determining the best premier business platform to manage your business. These key features include:
Reasonable cost per month
The user interface (UI) is easy to manage
Specific features for your freelancing or solopreneur company
Management tools for workflow automation
Project and task administration, including automation of administrative tasks
Multiple payment gateways are accepted for payment processing and excellent accounting software. When there are more options to process payments, you can work with people from all across the world
CRM features and customer relationship services channels such as email, live chat, social media, marketing automation, etc.
Accessible via desktop and mobile applications for extra ease
Final thoughts
Your business is only going to be as successful as the business processes you use. This is why automation project management systems are so popular. They streamline every element of small business, saving you a great deal of time and offering you huge money savings.
There are loads of options for freelancers to make managing projects easier. HoneyBook has a large following, and the others have their value. However, when it comes to choosing automation software, you really have to crunch the numbers and see what you are able to afford and whether the program is worth investing in. An expensive management system might not be the best idea if you are starting out and struggling to manage the bills.
Naturally, Indy is our favorite choice as the perfect HoneyBook alternative. Of course, we're a little biased! But only because we know that it works. Still, we think there are four great reasons to choose Indy:
Indy has all the features you need for freelance admin in a single app (invoicing, processing payments, proposal templates, online calendar, task checker, time tracker, space to upload files and forms, and a chat feature)
Indy is simple to use and has just the right amount of depth to suit freelancers
Indy offers great value for just $12 per month. This can result in huge monthly cost savings and means that every element of your business is covered. This saves you on having to hire additional admin help and thus bolsters the financial components of business too. And with the Free plan, you'll always have access to the tools you need to make freelancing simple—free forever!
Indy is easily accessible via desktop and mobile device, meaning that you can utilize the platform while you're on the road
Indy is really a great one-stop shop and is a must for any freelancer or small business owner looking to boost and expand their business with more leads. When every element of your small business works smoothly, client relationships are enhanced, and every aspect is streamlined to enable huge success. Since you can access it wherever you are in the world, Indy ensures that your business is only ever a click away and that is why it makes for a great HoneyBook alternative.
What are some of your favorite CRM platforms? Share with us below, we would love to hear! If you are an Indy user, share your experience below. We would love to know how our platform has helped you. If you need some CRM support, get in touch!
FAQs for project management software
Q: Why do freelancers need project management software?
Freelancers wear many hats that traditional employees don't need to think about. You have to be your own boss, your own office assistant, your own project manager, and your own accountant. This leads to an endless list of tasks to do each day, and it can quickly lead to chaos if you're trying to do it all on your own (or using multiple different software to help out). An all-in-one project management platform gives you all the tools you need to manage your business in one place. By having a strong system, it makes it easier to get work done so that you can focus on growing your freelance business.
Q: What features do freelancers need?
While there are plenty of project management software for you to choose from, many are designed for teams rather than independent workers. Because of this, these platforms include features that freelancers don't need at the sacrifice of the tools they do need. The tools that freelancers should be looking for are proposal, contract, invoices and form templates. Other must-haves include automatic time tracking to track your billable hours, task management tools to manage projects, file storage and file sharing, a calendar with scheduling capabilities, dashboard insights to track your deadlines, and workflow automations that can cut the amount of time you spend working on tasks in half. has all of these features (at half the price of other Honeybook alternatives).
Q: Is project management software easy to use?
Yes, but it depends on the software you choose. The platforms that are designed to serve teams can come with a bit of a learning curve. While other software, like Indy, has been designed specifically for freelancers. Its software is known to be some of the easiest tools to use, and many freelancers worldwide have expressed how simple it was to get started the moment they signed up.