Poor business management costs a load of money every year. Solopreneurs with fewer than 100 employees can lose up to $420,000 per year. Larger businesses could risk up to $62 million.
HoneyBook was created to reduce tedious paperwork, emails, vendors and phone calls. It can improve your client communications and help you keep track of what has been sent to whom.
Let us help you discover a few things:
Why you need a HoneyBook alternative
A few options that may be better for your freelance business
Let's get started!
Why do you Need a HoneyBook Alternative?
HoneyBook is among the top leaders in the industry, but it isn't without a few drawbacks. Here we will talk about a few of those flaws while listing the best alternative in each.
HoneyBook has a steep learning curve.
Most users find the project management platform a little bit overwhelming. HoneyBook makes this a little easier with their complimentary account migration "Concierge Service." However, the learning curve after account setup is still a lot for many people to learn while also doing their normal freelance work.
Alternatives with an easier learning curve include:
Indy for freelancers
Dubsado for robust automated workflows.
There are better mobile apps for business management
HoneyBook mobile app, as with any mobile app version of the software, is a little more limited. You cannot use the app to create new templates, add new timelines, or access advanced sections of your workspace, such as bookkeeping, contact forms, and workflows.
Other mobile apps give you a few more options for managing your work on the go.
Fewer payment options on offer
HoneyBook forces its clients to use its integrated payment method. HoneyBook acts as the payment processor for any bank transfer or credit card. You cannot offer payment through personal accounts like PayPal, Stripe, and Venmo.
HoneyBook Is More Expensive Than Other Options
After the 7 day free trial, HoneyBook's cheapest subscription is $9 per month. However, this isn't unlimited. After you earn a specific amount, you'll need to move to the $39 per month subscription. This is almost 7x what you'll pay for the alternatives.
Alternative Project management platforms
To know the best HoneyBook alternative, we will look at a few competitors.
Indy
Indy is an all-in-one productivity platform that helps creative freelancers, contractors, and consultants run their businesses by providing a simple solution for their workflow. With one platform, freelancers can create and send proposals, draw up contracts, send invoices, receive payments, track their billable hours and manage the document sign-off process.
What can you do with Indy?
Manage Your Entire Workflow
Indy's unique offer is the ability it gives you to do a lot of work on one platform. This helps freelancers because you pay fewer subscriptions, save time you would otherwise spend looking for the right app for whatever you're doing, and helps you keep important documents organized.
Power Through Admin Faster
Indy is designed to make it easier for you to move through your admin jobs. As you add information, like customer details, you can reuse all of it to save time for your next invoice, proposal, or contract.
Proposals, Contracts, and Invoices
Speaking of those, Indy makes it easy to create proposals, contracts, and invoices. There are dozens of customizable templates for each stage of the business process. Launch a proposal template, spend a few minutes customizing it for your business, and send it on. When the customer accepts, the information can be brought into your contract and then connected to an invoice later.
Other Tools Make Freelancing Life a Little Better
What else do you use as a freelancer? Indy has more tools to help you. Here are a few worth mentioning:
The time tracker tool makes it easy to get paid for every minute you are working.
PayPal Fees, Time Card, and Working Day calculators make it easy to work out some of the common conversions and math problems freelancers see regularly.
Use the Files tool to send files to your clients and get sign-off and approval for them to help you wrap up projects faster.
Indy is also the most valuable alternative to HoneyBook because of its attractive price tag of just $5.99 per month.
Bloom
Bloom's client portal has proven to be among the best CRMs for photographers and creative professionals on the market today. Bloom features everything you need to streamline your customer management process.
Hello Bonsai
Many freelancers and agencies rely on Hello Bonsai, a full-featured product suite with automated workflow. The program assists newcomers and other professionals with thriving enterprises in completing all of the duties necessary to run their businesses. It's also designed to support people who work in:
Hello Bonsai is cheaper than HoneyBook. The pro features start at $19 per month.
Dubosado
Dubsado is another full-featured CRM solution for Solopreneurs who want to track the progress of:
Their financial goals
Client relationships
Invoices
Contract management
Inventory management
The software includes dashboard reports that show sales, income, expenses, and net profits over time. Solopreneurs can prioritize their duties and actions in this way, focusing on what matters most to their bottom lines. Dubsado's management solution also offers a free trial.
Bitrix24
Bitrix24 is a solopreneur-focused CRM and collaboration tool. It's a dedicated solution with various functions broken down into:
Communication
Client Portal
CRM
Customer Support
Websites
Bitrix24 provides chat and video, calendars, a social intranet, email, document management, and user groups for communication. With Bitrix, your team will be able to communicate in real-time, share calendars with a scheduler and invitations, and create infinite workgroups and user groups for the entire organization, depending on the size of your company. Bitrix24 also helps you organize your documents by allowing you to store and share files.
The business management solution also has a customizable Kanban board for your projects and tracks. You can use the time tracker to manually or automatically track your time, with reports on how you spent it.
Websites are another feature in Bitrix24 that is more comprehensive. Bitrix24 provides free hosting for Bitrix24-created websites, a visual editor, industry-specific website templates, landing pages with capture forms, free eCommerce stores, and a free domain name. Bitrix24 also offers a 30-day free trial compared to 7-day free trial HoneyBook offers.
Plutio
Pluto is a feature-rich project management software designed specifically for service-based freelance businesses and solo professionals to help them manage their work and businesses. The program allows you to manage administrative tasks, create beautiful proposals, and time tracking. Plutio also offers professional billing software through an all-in-one platform, ensuring that you get paid faster. Plutio has tools to assist you in managing your projects and tasks. Top Plutio features include:
Custom Fields
Recurring Commissions
Reusable Templates
Real-time Collaboration
Custom Fields
Best Business Management Software Verdict
To select the ideal tool for your needs, you must consider several aspects that will assist you in determining the best premier business platform to manage your business. These elements include:
Reasonable cost per month
The UI is easy to manage
Specific features for your freelancing or solopreneur company
Management tools for workflow automation
Project and task administration
Multiple payment gateways are accepted for payment processing and excellent accounting software
CRM features and customer relationship services channels such as email, live chat, social media, etc
Final Thoughts
There are loads of options for freelancers to make managing projects easier. Honeybook has a large following, and the others have their value.
Indy is our favorite choice, though. Of course, we're biased! Still, we think there are three great reasons to choose Indy:
Indy has all the features you need for freelance admin in a single app.
Indy is simple to use and has just the right amount of depth to suit freelancers.
Indy offers great value for just $5.99 per month.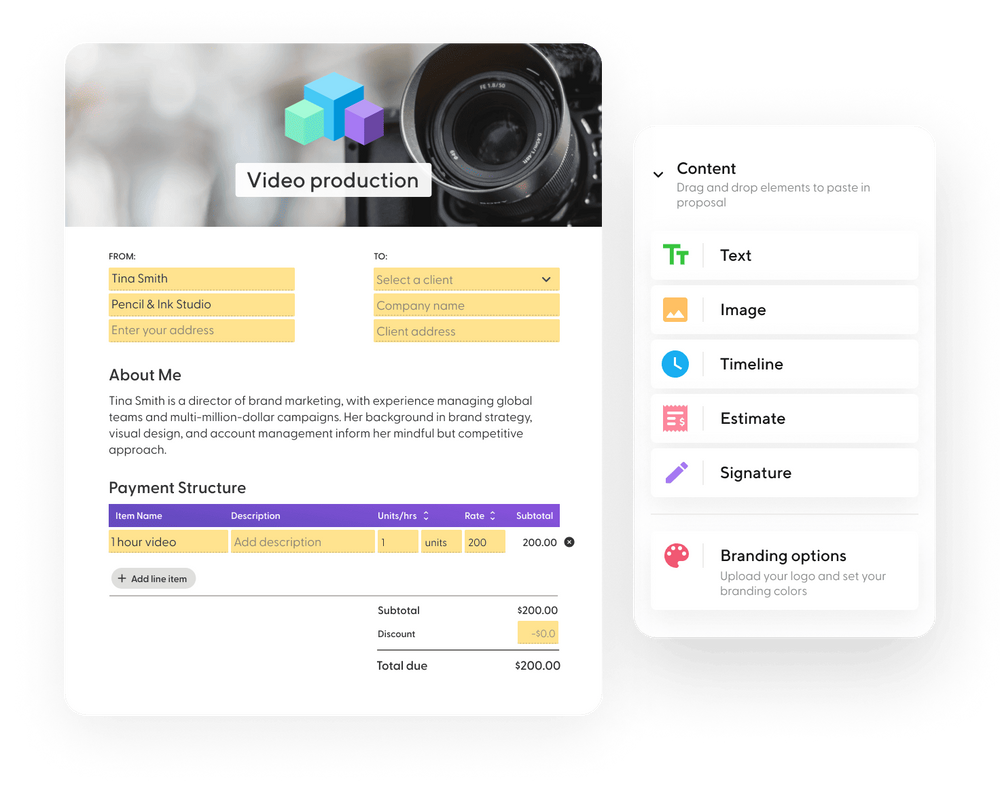 Want to impress potential clients with a professional proposal?
Add your logo, branding, terms, and portfolio to one of Indy's proposal templates. In just a few minutes, your professional proposal will be ready to send to your lead.
Try Indy's Proposal for free
If you're interested, please sign up for a free account and try out some of the features Indy offers.