If you love working independently without a co-founder or employees, you're probably a solopreneur. Solopreneurs like seeing a business idea from concept to completion, performing all duties alone. That's right, if something needs to be done, they roll up their sleeves and get to work.
One thing that can make your life easier as a solopreneur is having access to good customer relationship management tools or CRM software. But CRM solutions are just part of what life as a solopreneur means. This article will cover everything you need to know about this new work style to help you determine if it's the right choice for you.
It's an excellent time to be a solopreneur. Independent workers report higher job satisfaction and an overall better work-life balance. Solopreneurship is a perfect path for those who appreciate their flexibility and don't have an issue sitting down and working out all their business details. There are, of course, challenges as well. One of them is keeping everything organized and well-managed. We're here to help. So let's jump right to it.
What's the Difference Between a Solopreneur and a Freelancer?
Many consider solopreneurs and freelancers to be the same. While the job descriptions are similar, there are, however, some important differences. For example, freelancers will likely focus more on personal growth and developing their skills so they can take on higher-earning, more complex projects. While solopreneurs, on the other hand, will find more value in growing their business until they can generate a reliable passive income.
Being a freelancer or a solopreneur can seem pretty similar. In fact, many solopreneurs are freelancers (running, for example, e-commerce dropshipping, affiliate link, or Print on Demand small businesses) or started as freelancers. However, in general terms:
Freelancers tend to provide one-time services for clients.
Solopreneurs usually start and develop a business (with no employees) that is scalable and produces passive income.
As we mentioned, established freelancers can count as solopreneurs, and most freelancers would like to be a one-person team running a profitable business. Solopreneurs want to scale their business, and that ultimate goal defines much of their daily activities.
What's the Difference Between a Solopreneur and an Entrepreneur?
The majority of entrepreneurs build a business with employees so they can eventually sell it off to a larger company. Solopreneurs are a one-person shop. They don't build a business with the intention of selling it, and they don't want to be managers.
The focus of most solopreneurs is placed on the work rather than the networking. They don't want to build an empire; they want a reliable foundation they can slowly grow into a durable business model. While entrepreneurs have no problem delegating tasks, solopreneurs prefer to run more manageable enterprises that allow them to make all decisions on their own.
The ultimate goal is a sustainable, passive income and a vision that they can fulfil on their own, at least initially. Many solopreneurs eventually find partners, stakeholders, and employees, but only to make sure things continue to run smoothly. In some cases, freelancers see solopreneurship as a way to train their management skills to become full-fledged entrepreneurs. The three are really interlinked; the focus is just placed on different things. And the mindset is slightly different.
A solopreneur tends to be a worker by nature and has no intention of bringing other persons on. In fact, many of them struggle to let go of tasks even when the day comes for them to outsource some of the work.
Advantages of Being a Solopreneur
There are many reasons why so many people have decided to try (and have stuck to!) the solopreneur route. Although for some, it doesn't feel like a choice at all. It's practically a personality trait, a way of handling businesses that feels right for them.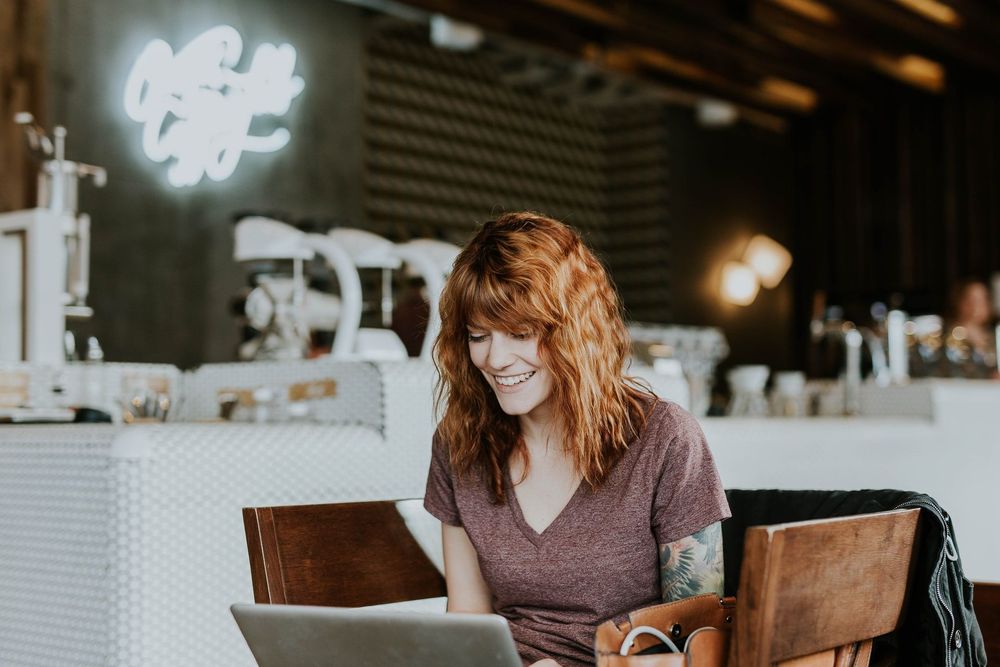 You can, however, make a choice to become one. Some of the advantages of being a solopreneur include:
Less Logistical Decisions
If you own a traditional company, and it grows as you expect, every day, you will face crucial decisions that can feel rather demanding. Solopreneurs don't need to worry about payroll, benefits, and employee taxes. They also don't need to compare overhead with profit margins.
Single Focus
Solopreneurs tend to have a single focus because they are in it for the long run. Unlike entrepreneurs, who often build multiple businesses throughout their career and hope to one day sell their companies. Once an entrepreneur makes a sale, they move on to the next project. A solopreneur tends to build their business more slowly, ensuring it's sustainable at every stage.
Complete Control of a Business
This is probably the main reason many people choose to run their businesses as a solopreneur. By choosing this model, you can be in control of all aspects of your company, from planning to implementation. You can also prepare for its growth and make adjustments to make sure it fits your schedule and lifestyle.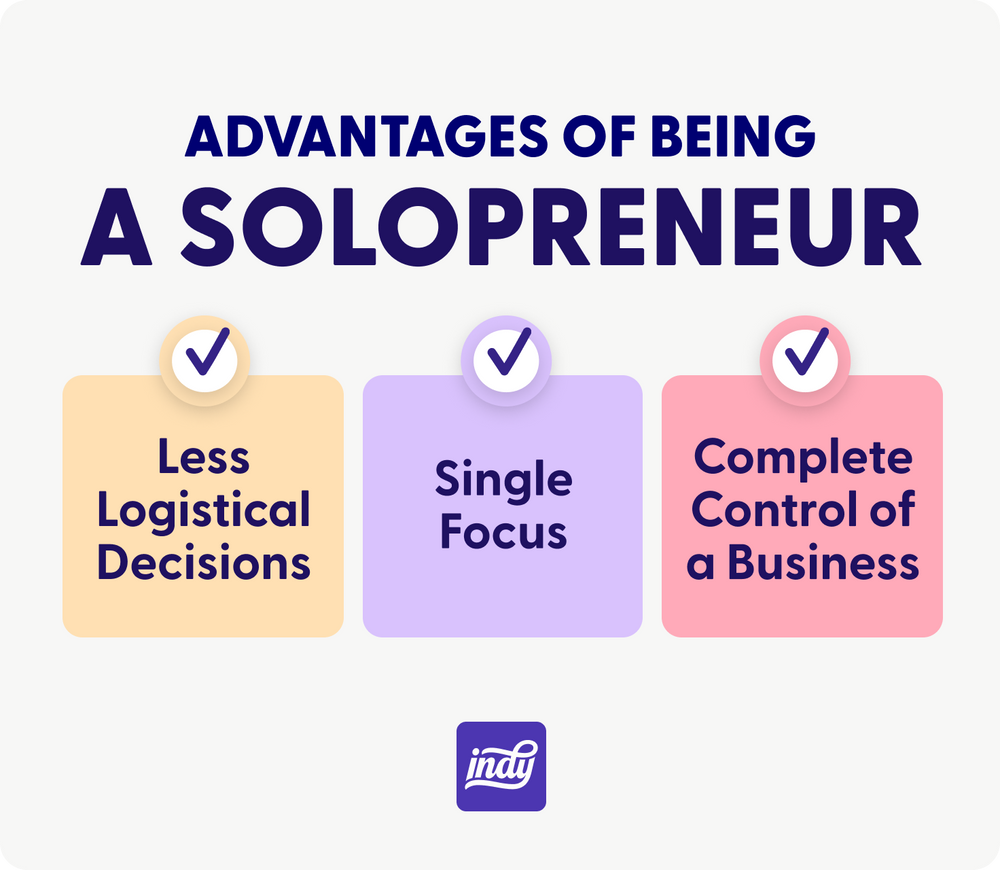 How to Become a Solopreneur
The first step to becoming a solopreneur is to identify your desire. You will most likely spend a lot of time working on your idea, so it's essential that you find it inspiring.
Do you see yourself doing this activity for the long term? Why? It's also important to understand the reasons behind your interest. Do you want to be a solopreneur because you want to be your own boss? Because you want to learn and practice a new skill? The more questions you ask yourself, the better the place you will be in when the ball starts rolling.
Then, it is time to define your product. You are the best judge of your own competency; focus first on what you can do well already. For example, you are a writer. Is there a niche you excel in? Or you are a designer. Is there a style you prefer, for instance T-Shirt design? Then that might be a good starting point. You can always grow your business by expanding into new areas. However, it helps to start with a good foundation so you can see quicker results and feel more motivated to continue.
Solopreneurship encompasses a broad spectrum of activities. You might already be working on a business idea similar to the one mentioned below, or perhaps you are looking for inspiration. There isn't a single way to run your own business, so make sure you take a look at what's possible and pick the areas you think you could excel in. These are some things solopreneurs normally do:
E-commerce and Dropshipping: Most e-commerce projects don't require a significant upfront investment. Many solopreneurs, for example, use a dropshipping model, running their own stores without having to keep an inventory. The seller instead makes a purchase from a third party who fulfills the orders. Dropshipping has relatively low-profit margins and can be highly competitive, but if you spend time doing market research and choosing the right suppliers, you can have a profitable business that you can run on your own with very little investment or running costs.
E-commerce and Affiliate Links: This is a similar model to dropshipping, but it's based on commissions rather than reselling products. The way it works is: You agree to promote items, and the online merchant pays a fee in exchange for advertisement and a link to their website. You are rewarded for driving new customers to them. Your value as a reseller is persuading potential customers that a particular product is beneficial to them. Popular affiliate networks include Amazon and eBay, although hundreds of companies regularly look for affiliate partners.
Freelancing: Freelance businesses are booming, so many solopreneurs are also freelancers. They can work in marketing, content writing, video editing, programming, and social media management, among many other areas. Freelancers tend to think of themselves as professionals, while solopreneurs feel more like a one-person team running a business. A lot of freelancers would like to become solopreneurs eventually, but some might be contempt only dealing with clients when they want to and not regularly.
Selling Digital Content: Selling content online is one of the best ways to generate truly passive income. For example, you can sell your designs for print-on-demand shops, create interactive templates, and sell 3D models. You can definitely make sound money each month if you have the skills and good ideas. Most shops don't require exclusivity, so you can upload your designs to multiple platforms and profit from all of them. Other ideas for digital content include ebooks, software, and mobile apps.
Coaching and Consulting: Many coaches and consultants have leveraged their skills and values as solopreneurs. There are many topics you can help others with, for example, fitness, sales, business, and leadership. The list is practically endless - if you're an expert at something, others will want to learn from you.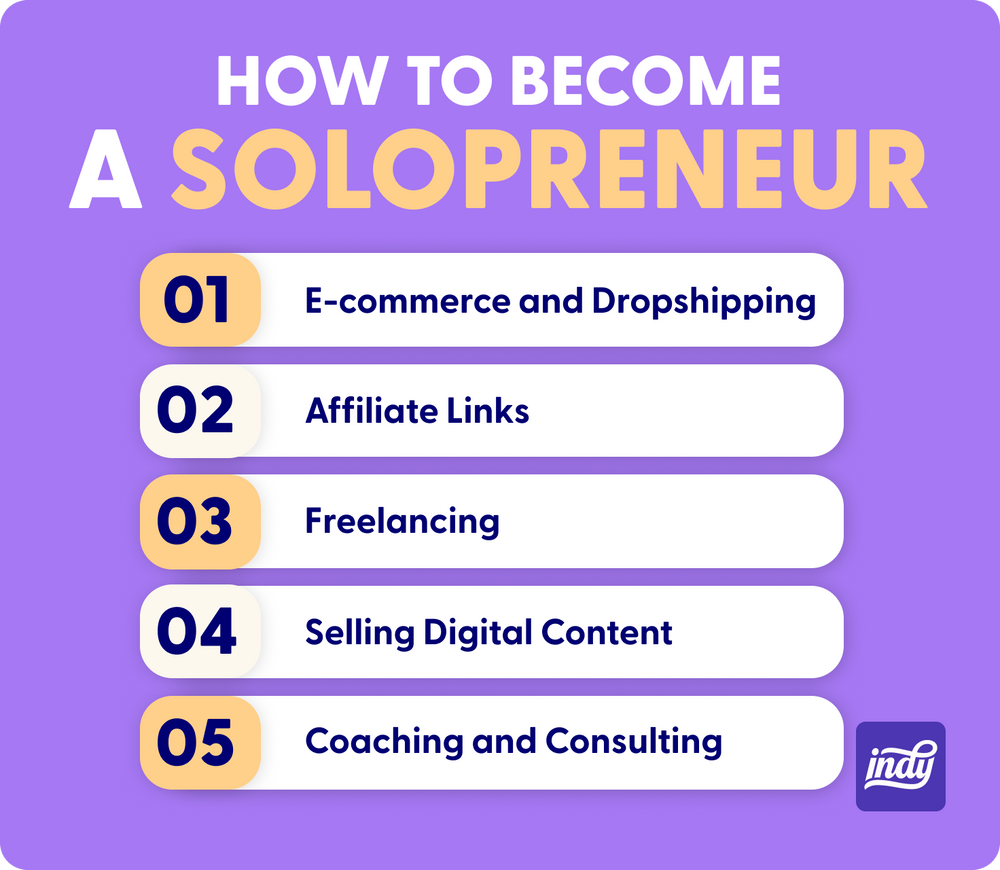 Tips for Becoming a Better Solopreneur
There are only so many hours in a day. Solopreneurs need to quickly pin down the business model that they want to have and make sure they don't exceed their capacity, especially when they are just starting.
It can sometimes feel overwhelming (and frustrating) to grow a business from scratch, so here is some advice on keeping your numbers high and the inspiration flowing.
Time Management Tools
Solopreneurs probably feel the pressure of time management more than others. As an independent worker, you need to strike the right balance between staying productive and remaining focused. And, of course, not burning out. As a solopreneur, you are your own boss, so planning your time should include considerations not just for your business activities but for your sanity as well. Many solopreneurs like using time trackers to make sure they are not spending more than necessary on specific tasks. Calendars are helpful too because they let you see your most important activities and commitments.
Automation
Talking about automation might bring some futuristic images to mind, but the implementations suitable for solopreneurs are much simpler. For example, using CRM software can help you automate many time-consuming tasks that could otherwise inundate your calendar. You can also automate specific jobs like order fulfillment if you are doing dropshipping, email campaigns, social media posts, invoices, etc. And if you are using comprehensive CRM solutions, you can also manage all your contracts, proposals, and invoices from a single place. Automation is easy to implement and has a powerful impact, so it's one of the essentials of the solopreneur toolbox.
Training and Growth
Many solopreneurs start their business because they feel (or know) they are good at something. They have the experience, the tools, and the motivation. For some, this model is a way to explore different types of jobs and see which ones stick out the most. Or to learn new skills to apply to other potential projects and ideas. Because you manage your own time, you are also the one that can determine how much training you want to do. You can try courses, certifications, and learn-by-doing. One thing is sure: you will never be entirely bored because you are your own planning department.
Buying the Right Tools
As a solopreneur, your tools will be essential to your work. If you make videos, you need a good camera, microphone, lights, and editing software. If you do programming, you need a computer and a lot of coffee. Whatever your business is, you shouldn't be scared to pay a little more for the right app. You should always consider buying high-quality tools that can also adapt with you as your business evolves and grows.
Customer Relationship Managers (CRM) for Solopreneurs
When running your own business, you are usually the accountant, the salesperson, the designer, and the coder, all in one. That is a lot of responsibility, and things will only get more complex as your company does better.
There are several ways in which you can improve your performance and make sure you're always staying on top of all things related to your business. Organization is crucial; there is no time to waste looking for documents, tracking down emails, and making sure you're sending the correct invoice to the right client.
Using CRM software can have a substantial positive impact on your business and simplify your daily activities, so you can focus on what you do best: Your work.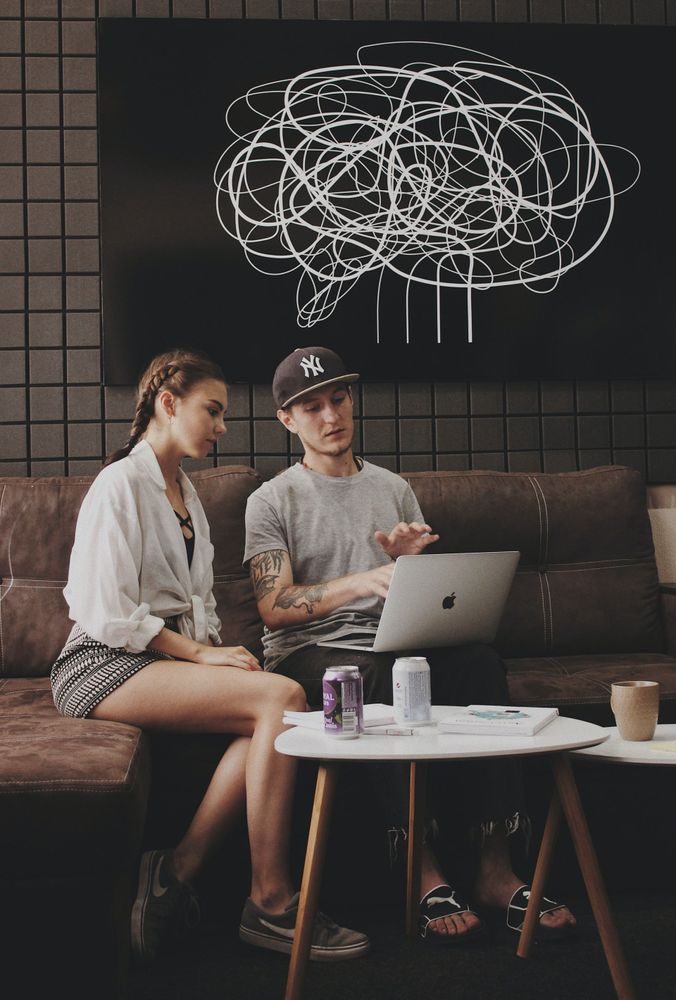 What is CRM Software?
CRM software can help you collect customer data and analyze all your interactions to provide better services, drive sales, and build stronger relationships with them. Without a CRM system, it's likely that your customer information will be spread around endless piles of emails, contact forms, and calls. With a CRM platform, all the client's information such as name, email, phone number, as well as the history of all previous interactions and purchases are stored in a central place.
As a small business (the smallest, if it's just you!), solopreneur CRM can significantly improve your customer relationships. And the good news is: You don't need to spend a lot of money to buy a CRM solution. There are plenty of extremely affordable and even free CRM software options out there.
Why Use Customer Relationship Management CRM Software as a Solopreneur
Good client relationships are built on personalized experiences, regardless of your company size and marketing strategies.
When you're just starting, the last thing you want to do is to spend countless hours managing your business contacts and customer information. And once your one-person company has grown, you definitely don't want contact management to be a large part of your business processes. Managing customer information is time-consuming and, let's face it, not particularly inspiring. You're the captain of your ship, and your time is precious.
As a small business, it's unlikely you will have to deal with customer information silos (a problem many companies face and one that eventually leads them to implement a CRM solution). However, it's always helpful to have a 360º view of your customer data. And there's no better way to do this than by using a personal CRM app.
Single User CRM Software and Personal CRM Apps
Some CRM software is built with single users in mind (they are called single-user CRM, although many larger CRM solutions will also have great personal CRM functionality). Their user interface can sometimes look a little different when compared to more traditional platforms like Zoho CRM or Hubspot CRM.
This is a good thing, though! Personal CRM software can help your one-person businesses deal with repetitive tasks and sales management from one easy dashboard. This dashboard, and all the tools it contains, are sometimes explicitly designed for people like you. You won't need to plan workarounds for doing things without a team of employees. Everything you need to handle your solopreneur business can be laid right in front of you.
What Can You Do With Personal CRM Software?
Small businesses can take advantage of several personal CRM app tools that tend to be part of the product offer. As a solopreneur using CRM software, you can, for example:
Manage all customer interactions and, in many cases, do project management directly in the CRM system.
Access your sales pipeline and CRM data from your mobile device, computer, or tablet.
Manage all your social media accounts.
Create and manage contracts and email marketing campaigns.
Integrate third-party apps.
Import data from other systems.
Keep track of business performance and business processes, create a customized sales pipeline, work with sales automation, etc.
Additionally, a CRM platform can help you with:
Scalability: Your CRM can grow with your business. You can use more advanced tools and integrate them with your existing customers, calendars, time trackers, etc.
Security: CRM systems follow industry standards to help you run your business without worrying about your client's data getting compromised.
Mobility: You can use all CRM capabilities at all times and from a variety of devices such as phones, tablets, and computers.
Migration: The best CRM platforms allow you to migrate your existing information so you can continue your good work without any interruptions.
Luckily, there are many options for single-user CRM software. For example, a platform that was created specifically with freelancers and solopreneurs in mind is Indy.
Using Indy as a CRM Solution for Solopreneurs
Indy is a sophisticated all-inclusive platform with a large variety of tools ideal for freelancers, small businesses, and solopreneurs. With Indy, you can centralize all your activities (such as tracking billable hours, creating invoices, signing contracts, and receiving payments) to save time and money.
In particular, you can easily keep tabs on your clients, contracts, invoices, and documents using Indy's "People" feature.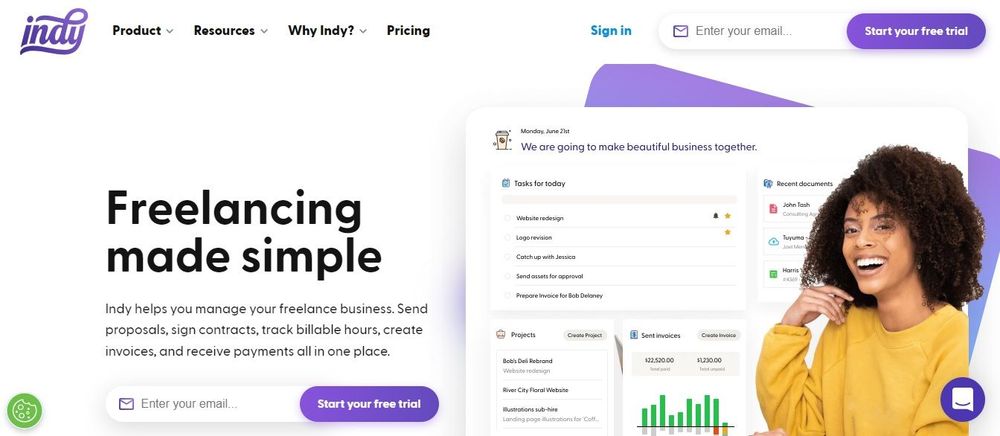 This section lets you manage your work relationships easily. Each person's contact page automatically organizes all of the relevant documents you have shared with the individual. You can create a Person page manually or import your contacts and let Indy set them up for you. The fields supported include:
First and last name
Email
Phone number
Contact type (Client, Lead, or Other)
Company name
Address
And any private notes about the contact (which only you will see).
Other Useful Indy Tools for Solopreneurs
Indy is an all-in-one platform, meaning you will find a variety of handy tools to manage your business. And the best part is: You can get started for free. Unlike most other CRM and manager platforms, Indy has a free plan that lets you access all of their tools and resources. And when you are satisfied the app is the right choice for you, you can upgrade to their Pro Bundle for just $4.49 a month.
Many solopreneurs have to maintain several accounts and software services. Indy is an all-in-one solution, so you don't need ten different subscriptions to manage your work. You just need one smart platform.
Some of Indy's best tools for solopreneurs include:
Time Trackers
Indy has powerful time trackers that can help you know exactly how much time you spend doing each task - and bill for them if you're working for a client. You can input your time manually or click a button to start and pause recordings and add notes to your entries at any time. All your time tracker information will be automatically integrated with your client list, calendars, etc.
Calendars
Indy's calendars let you schedule events, meetings, and tasks and see what's due at all times. The calendars can be displayed in day, week, or month views and integrate, of course, with the rest of Indy's tools (and with Google Calendar as well).
Files
You can keep all your files neatly organized in the cloud using Indy's file system. Upload spreadsheets, ZIP files, images, and movies - they are all fair game. Indy keeps a log of versions, and you can share the documents and files with anyone outside the platform without them needing to sign up for an account. Your files can also be made public (so anyone can comment on them) or private (for your eyes only!).
Tasks
As a solopreneur, organizing your projects and tasks is of paramount importance. It's likely your day-to-day routine includes all sorts of varied activities, like design, accounting, marketing, etc. With Indy, you can always be on top of your to-dos and get reminders when you begin to feel uninspired. Indy is a great companion for the independent worker because it can help you make sure you place your focus on the right things at the right time.
More Indy Tools
Indy includes several other tools like invoices, proposals, contracts, forms, and chats. These tools can all work together and use your CRM data to help you organize your projects like a boss. The platform also offers legally-sound templates you can work on using a simple editor to create, sign, and send documents easily.
Solopreneur life can feel, at times, exhausting. It's not easy to set up your own company, especially if you're doing everything yourself. You are entitled to a bit of help, and you shouldn't have to spend a fortune to manage your tasks. Indy simplifies your workload by providing you with excellent CRM capabilities and a collection of powerful tools that work together to make your life easier. You don't need to convince yourself you've got it all together. You got this!