Project management tools and client communication tools are essential to a successful business. Whether you're a photographer, accountant, or digital marketer, projects are run better when there is an online software to help business owners make the most of their time, take online payments, manage the scheduling of work, and improve lead generation.
HoneyBook and Monday are two of the most commonly used management tools online. There are lots of businesses that use either of these two. Both have very similar features to help business owners manage their business processes. In this article, we will look at both HoneyBook and Monday to see which is better. Or perhaps neither is better and other apps, like Indy, should be used instead.
Overview of HoneyBook

Running any business is challenging. Numerous tasks need to be done, including managing projects, scheduling meetings, communicating with clients, and the many other tasks required to run a business successfully. With the average business owner working 44 hours or more a week, HoneyBook can reduce this through automation.
Using HoneyBook helps to reduce 'busy work' by improving workflows within the business. Here are some of the tools and processes that help users to improve their business.
Invoicing Operations: Payments, especially online payments, are important for the success of any business.
CRM Software: If you can increase retention of clients by just 5%, you can increase profit by up to 95%. To help you do this, you need to manage your clients. HoneyBook has CRM software to keep all client data safe and secure.
Contract Management: HoneyBook has contracts that can be customized for the customers, your brand, and the project.
Scheduling Tool: For managing project timelines and tasks that are on the list, there are lots of ways that HoneyBook members can manage their work. They can also integrate tasks with Google Calendar.
Numerous Users: Small business owners tend to have lots of people that they coordinate with. HoneyBook allows for contractors to have up to 10 users.
Accept Payments: Invoicing is just one part of the process. You will need to ensure you can accept payments to get the money into your bank account as quickly as possible.
Works on Mobile Devices: Running a business on the go? HoneyBook is a great app because it has both desktop and mobile apps to help you manage your business processes when out and about.
HoneyBook Pricing: HoneyBook offers numerous plans that are available for small business owners. Their pricing ranges from $10.28 per month to $52 per month. It depends on the features you would like for your business. And the HoneyBook subscription is different depending on whether you pay per month or want an annual plan.
Overview of Monday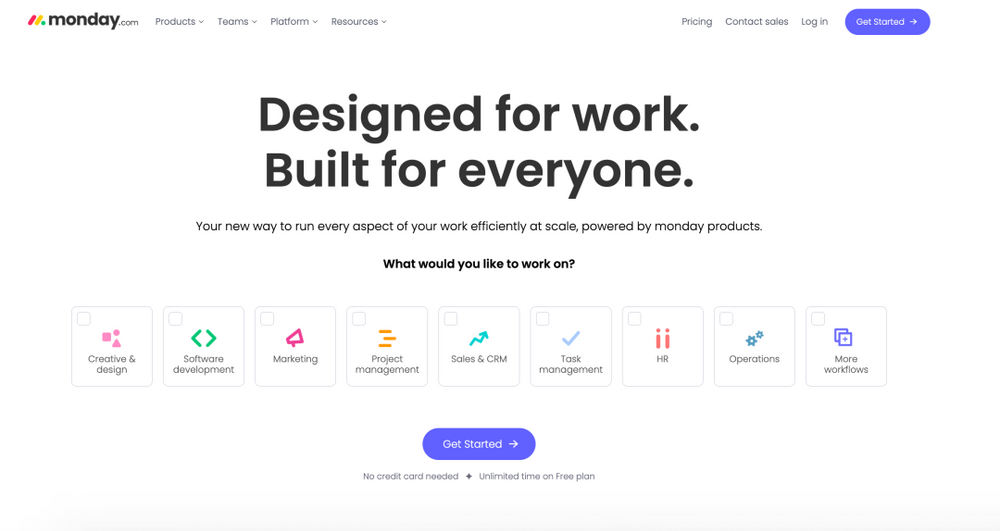 Monday is another option for those who are looking for a CRM and task management tool. In the essentials plan, there are lots of great options which help users to book clients, manage tasks, send invoices, and assist with business needs. Here are some of the features that you can expect from Monday.
Task Management: Organize your workflows by prioritizing tasks, organizing projects, and collaborating with other people to complete your company goals.
Sales Pipeline: Book clients with ease thanks to the great features that include lead capturing, lead management, email synchronization, and more. There is also an option to ensure you can keep a record of all your communications with clients.
Performance Tracking: Ensure you are getting the best work out of yourself and others in the company. There is performance tracking to analyze your efforts to find ways to enhance your performance.
Monday Pricing: The starting price for Monday is free. This free version is for those freelancers that want to keep track of their work. After this, pricing can be more complicated. There are several pricing options for you, up to $20 per month. Therefore, compared to the HoneyBook cost, Monday is much more effective. And there is no free version of HoneyBook.
Integration: There are numerous third-party integrations that you can take advantage of with Monday, including common software like Microsoft Outlook.
Choosing the Right Platform for Your Business
There are several steps to choosing the right platform for your company. Here are some of the things you need to consider.
Identify your specific needs and requirements
The first thing to do is consider what you need the software for. For example, do you need access to a Google Drive or Google Calendar to manage your business processes better? Or do you need to create more proposals?
All small businesses need something different, so it is completely up to your specific needs as to what is most important.
Evaluate which features are most important to your workflows
Monday and HoneyBook integrate with different systems and have unique features. Therefore, you need to determine what features are most important for your workflows. If, for instance, you need to have something that will allow you to communicate with team members, or allows for client portals, then this is something you must check with each platform.
It is important to consider what you need above budget and pricing plans because not having a feature can reduce your value proposition with clients. It means you can't offer as much or that your profitability is lower as you attempt to do the work manually.
Another fact is that for larger organizations, HoneyBook isn't the best as it only caters to up to 10 users.
Consider budget and pricing plans
Compare your company budget with the available pricing plans. HoneyBook pricing is relatively straightforward, but it doesn't have a free version, and the free trial is only for seven days.
In comparison, there is a free version of Monday; therefore, many small businesses choose Monday when they are trying to keep costs down. However, if you need a feature on HoneyBook, that might be the better option considering other costs.
Seek user reviews and testimonials
Always check what the users think of the two platforms. There are lots of review websites and independent reviewers that can give you an unbiased opinion of both systems.
Comparing HoneyBook and Monday
There are lots of ways to compare HoneyBook and Monday. Here are some of the basic comparisons you might want to consider.
User interface and ease of use
Between the two, there isn't much to tell them apart. Monday and HoneyBook integrate well into the user's workflows and are simple to understand. It can take some practice to get used to them, but that is generally because people haven't made using the software a habit yet.
Key features and capabilities
Both have numerous features and capabilities that make both attractive options. Both allow you to book clients, send invoices, and communicate with clients. However, there are some differences.
In comparison, HoneyBook is known to be better for offline use, payments, and notifications. However, Monday is known to help users scale their small businesses into large organizations.
Project management is also considered to be much easier on Monday, with more features and a large ability to include numerous parties in projects.
For clients, communication and collaboration are relatively the same. Especially when it comes to building forms for collecting information.
File sharing is something HoneyBook does well, with a client portal possible. However, Monday does win with integration options.
Pros and cons of each platform
There are numerous pros and cons for each product. Productivity with both platforms can be improved. However, HoneyBook pricing is higher, and you don't have the capabilities to have a large team. Though what you do get is a slick platform that can communicate well with clients, as well as a client portal.
Monday has the advantage of a free version, which is like having a long free trial of the software. And sending invoices is much easier. In addition, you can scale with Monday; it might cost more money, but when you need to scale, there is going to be a plan for you.
Target audience and use cases for each platform
Both Monday and HoneyBook are for different audiences. HoneyBook is more for the solopreneur, those that work alone and need to have a small team to help them out. On the other hand, Monday is for small businesses that like to scale.
Is Indy the Best Choice?
While Monday and HoneyBook might have the limelight, there is another option for small businesses—Indy. Indy is the all-in-one solution that has the best of both worlds to help your small business grow, be more productive, and manage your communications with clients easier. Some of the benefits of using Indy include:
Send invoices with ease and get paid faster with online payments.
Manage contracts, communications, and workflows from one simple dashboard.
An easy pricing plan, including a free version that allows you to manage your workload.
Indy takes the best of both platforms and provides you with a platform that can help you scale your business while keeping costs down.
Conclusion
Monday or HoneyBook might be a question that many people ask when looking at project management. However, these aren't the only two options on the market. There are numerous other platforms that you can use.
Indy is one of those options and has all the features you need to make your business a success. Why not give it a try today for free?