Invoices that are paid late are frustrating for both small and large businesses as they hurt cash flow and prevent the smooth flow of business.
But did you know that:
39% of all invoices sent in the USA are paid late
11% of customers never even receive the invoices at all
At least 61% of late invoice payments are due to invoice errors
While some of the problems that lead to late and unpaid invoices are beyond your control, there are some that you can easily solve yourself, such as ensuring proper invoice numbering.
Invoice numbers make the invoices easy to track and come with many other benefits. In this article, we look at these benefits and also show you how to generate invoice numbers.
But let's start with a quick definition of invoice numbers!
What are Invoice Numbers?
An invoice number is assigned to each invoice you send to clients to make it easy to track. It is typically a unique and sequential number, and if used correctly, it can be very useful for tracking incoming payments and filing income taxes.
You can use any invoice number format you want, but it is vital to ensure the number is clear and is somewhere easy to find, such as at the top of the invoice.
A typical invoice number will have 3 to 5 digits, and it is often alphanumeric, meaning it contains both numbers and letters with no special characters.
Invoice numbering follows a specific system that assigns a unique invoice number to each invoice you generate. Also, some formats may include clients' initials or even their names on the invoice number.
Importance of Having an Invoice Numbering System
An invoice numbering system is essential for ensuring your invoices are well organized and easy for record-keeping. Also, you get the following benefits if you number invoices:
It makes income tax filing easy
Even if you use the best accounting software, you can still have difficulties filing your taxes if you cannot track invoices.
Numbering invoices sequentially can help with this as you can easily tell the number of invoices you have sent within the tax year. It will be easy to know how much you have earned so you can calculate the tax you owe quickly.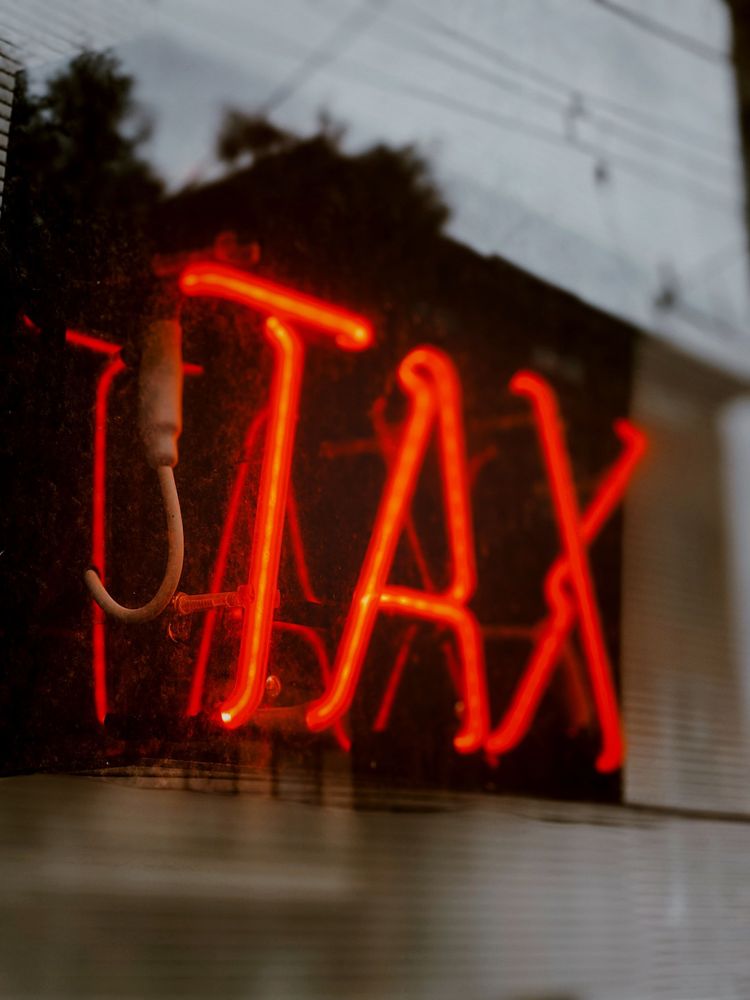 Tracking pending payments is a breeze with invoice numbers
Whether you are using sequential invoice numbers or any other invoice numbering system, it will be easier to tell which invoices are yet to get paid.
With invoice numbering, tracking your payments is as easy as marking specific invoice numbers as paid and others as unpaid. This way, it becomes easier to follow up on pending invoices to ensure faster payment.
Enhances professionalism
How you present your documents to your clients is a big indicator of your level of professionalism.
An invoice that includes elements like numbers, logo, clear pricing information, and a detailed description of the job looks more professional.
Many clients will trust businesses that appear professional and are more likely to do business with them again. Hence professional invoices can, in a way, also help with customer retention and win you more business.
Numbers ensure you do not forget to invoice a client
If you use sequential invoice numbering, it will be easy to determine how many clients you have invoiced and how many clients remain. This way, you won't forget to send out any invoices.
No matter how organized you are, it is still possible to forget to send an invoice, and this is more so for businesses that have to send multiple invoices every month.
A proper invoicing system eliminates the risk of this while also helping deal with other issues such as duplicate payments resulting from duplicate invoicing.
Invoice Numbering Options
There are several ways of assigning invoice numbers. Here are some examples of the easiest and most common ones:
1. Sequential numbering
Sequential or consecutive invoice numbering entails giving invoices numbers in an ascending or descending order. It is usually a straightforward numbering system, and you do not even need invoicing software to generate the numbers.
Since invoices typically have 3 to 5 numbers, an example of this numbering system is 2001, 2002, 2003, etc. What this means is that if the first invoice generated is 2001, then the second one will be 2002
2. Chronological order numbering
With chronological numbering, the invoice number will include both a unique invoice number and a date. Examples of a chronological invoice numbering system are 20220421-2001 and 20220421-2002.
3. By client and project number invoice
It is also quite common to number invoices by client and project number. Here you can assign an individual number to a client and use this when writing their invoices. For example, if you assign 50 to a client, their invoice numbers can be 50-2001, 50-2002, etc.
Like with a client number, you can assign a unique number to each project. Therefore, if a project number is 20, invoices associated with it can be 20-2001, 20-2002, or even 20-01 and 20-02.
4. Alphanumeric invoice numbers
An alphanumeric invoice numbering system will mix client names and numbers. For example, if you invoice John Paul, their invoice number can be something like JPaul2001, JPaul2002, etc.
How to Generate Invoice Numbers
Generating invoice numbers is easy, provided you have a specific numbering system. You can even automate the process when using spreadsheets like Microsoft Excel.
However, the process is even more straightforward and less tedious with dedicated accounting or invoicing software.
Invoicing Software
An invoicing software like Indy makes the invoice numbering process almost effortless as every paid or free invoice template you generate will have a unique number.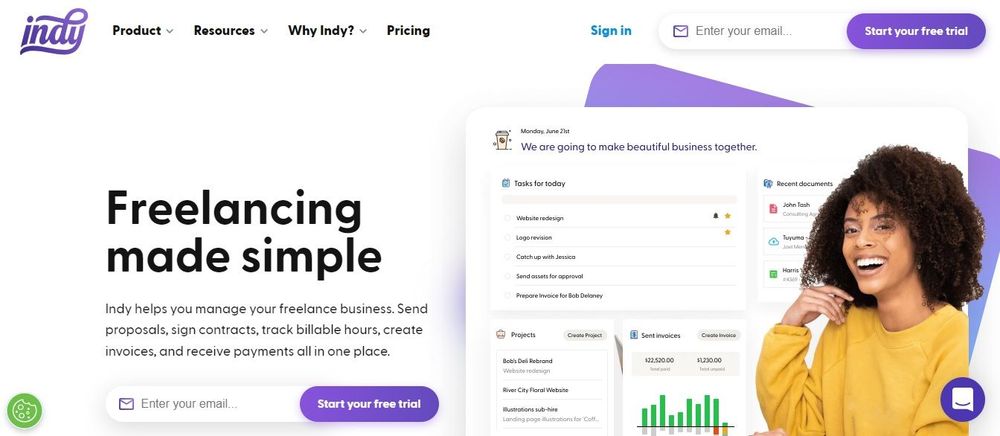 Indy will also give you greater flexibility since you can choose the invoice numbering system you want.
However, the invoice generator will only create an automatic, sequential numbering for every invoice you create at the default settings.
Indy's Invoice template can be customized with your business logo and branding, while workflow automations and recurring invoices keep your business running even when you're resting.
The best part? Invoicing is just one of Indy's many tools to help make freelancing simple for you. You can also send proposals, contracts, and forms, keep track of time, store and share files, and keep tabs on the week with an intuitive calendar app.
You can even connect Indy to over 1,000 apps through Zapier integration to create custom workflows that automate your repetitive tasks.
Indy's Free plan gives you unlimited access to the core tools like tasks, files, time tracking, forms, chats, and calendars, plus 3 free invoices, proposals, and contracts a month, so you can see just how easy it is to create professional invoices.
You can upgrade to the Pro plan for only $12/month (or just $9/month with the annual plan) for unlimited invoices, proposals, and contracts, plus get access to powerful integrations, automated workflows, recurring invoices, and plenty of ways to showcase your branding.
Accounting Software
The invoice number generation process will be automatic if you have automated your bookkeeping with accounting software like QuickBooks.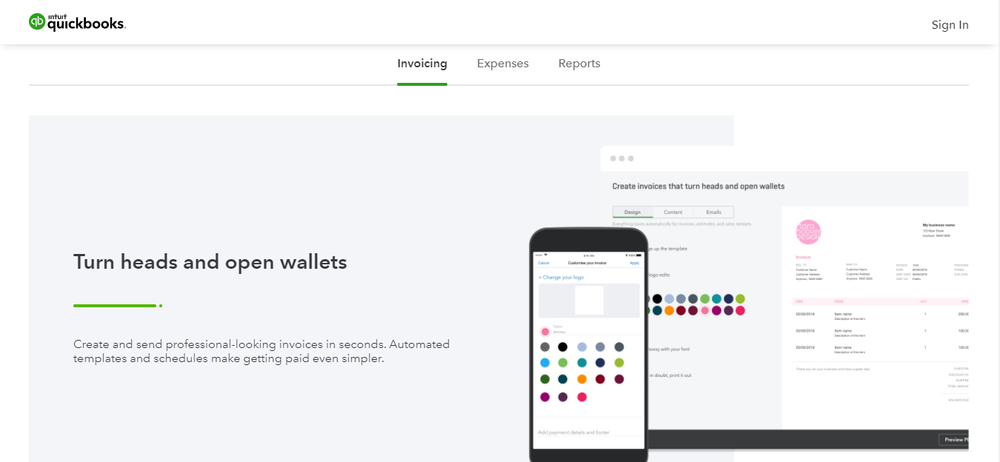 QuickBooks will assign an invoice number automatically to every invoice you generate, and the default numbering starts at 1001 for the first invoice.
However, QuickBooks and most other accounting software, such as FreshBooks, allow you to customize the numbering system to suit your specific business needs.
Best Practices When Using Invoice Numbers
As a business owner, you can choose the particular invoice numbering system or invoice templates to use. However, there are some best practices you should know before you start the invoicing process.
These best practices will help you avoid incorrectly numbered invoices and create an invoice number system that will work for your establishment for many years to come.
Ensure your invoice numbering system is unique
Any invoicing system that you choose, whether you prefer to use a simple sequential numbering or alphanumeric, should be unique above all else.
A unique invoice numbering system makes invoices easy to locate and helps you avoid problems like duplicate charging which is bad for business.
When using a sequential system, make sure that besides the numbers being unique, you do not skip any number in the sequence to avoid confusion.
Use an invoicing tool to ensure consistency
An invoicing tool like Indy is the best way to ensure consistency in your invoicing. Consistency helps avoid confusion and makes it easier for customers to identify invoices from your business.
Always confirm the invoice number before sending invoices
It is important to review all your invoices before sending them out to confirm that everything is correct, including the invoice number.
Confirmation is important even when you use an invoice template or invoicing tool to create invoices, as it is still possible to get incorrect numbers due to glitches in the system.
FAQs
Can You Invoice Without an Invoice Number?
Technically, you can still invoice without an invoice number. However, if you want to get paid faster and have an easy time tracking the specific invoices, an invoice number is crucial.
Also, it depends on the laws and regulations where you are doing business, as proper invoices (with clear information and unique numbers) are mandatory in some countries.
Why Is an Invoice Number Important?
An invoice number makes it easy to track your invoices and follow up on payments. Also, it is vital for ensuring you avoid duplicate payments and even forgetting to invoice some clients.
How Long Do I Need to Keep Invoices?
It largely depends on where you operate, given the difference in invoicing regulations.
The USA - IRS recommends that a business owner keep business records like invoices for 3 to 7 years in case you need them for tax purposes.
The UK - In the UK, the HRMC recommends that you keep invoices and other accounting documents for at least 6 years.
Canada - The Canadian revenue agency recommends keeping invoices up to 6 years.
What Should You Do if You Get Invoice Number Errors?
You should never delete any finalized invoice, even if the invoice number is incorrect. Therefore, if you notice errors in invoice numbers, you should prepare a new invoice with the correct information and send it to the client with a note of correction as evidence of the change.
Wrapping Up
A proper invoice number system is vital for ensuring you can keep track of all your invoices and follow up on payments. Also, such a system makes tax filing easy and prevents duplicate invoicing.
You can use a sequential, alphanumeric, or even by client name/project system to assign invoice numbers, but the most important thing is to make sure the numbering is unique.
That said, creating unique numbers for invoices should not be tedious when using an accounting or invoicing software as it automates the process.