You may not have realized, but 86% of your clients or customers will pay you more for a better experience. Besides, 82% of consumers take their business elsewhere if you won't meet their expectations. Therefore, it's critical to get feedback from your consumers and act on it.
Feedback forms are the best way to collect feedback from clients and customers. These forms are intuitive and straightforward, and they make it easy for the clients to submit feedback. Here's a comprehensive guide to using feedback forms to get valuable feedback from your consumers.
What is a feedback form?
A feedback form is a form filled by a client or customer to give feedback on your product or services. Feedback forms allow freelancers to collect feedback from their clients in a professional and hassle-free manner. These forms allow clients to rate the products/services from one to five and leave a note explaining their experience.
What is a feedback form template?
A feedback form template is a single file containing the format of your feedback forms. Templates are reusable and editable, and hence, you can use them to collect feedback from all your clients. It eliminates the need for manually creating a form every time you need to get feedback from a client. A feedback form template also reduces the risk of error and makes you look more professional.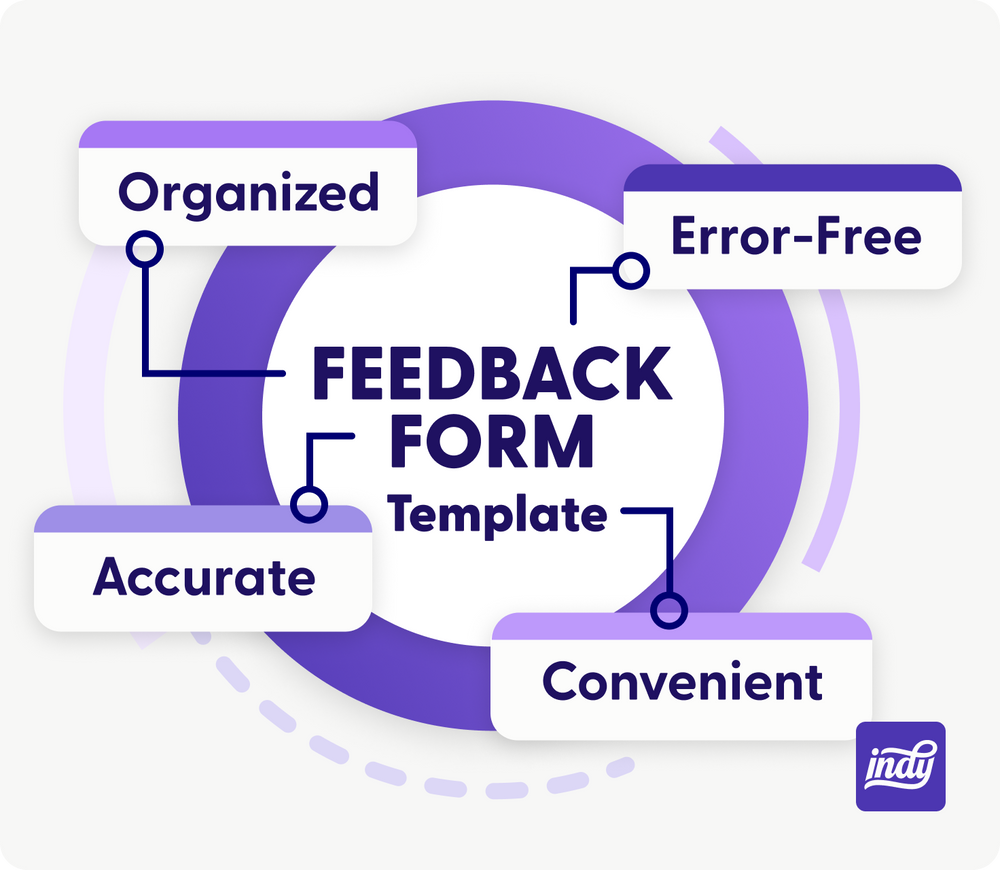 Importance of collecting customer feedback
Collecting feedback from your clients is critical. You must know whether your clients are satisfied with your services and how you can improve their experience. Let's discuss the importance of conducting a customer satisfaction survey and taking feedback from your clients.
Improve your valuable service and products
Measure client satisfaction
Show your clients you value their opinions
Gather information and make informed business decisions
Offer the best experience for your clients
Only 1 in 26 consumers bring up their complaints. The rest take their business somewhere else without a word. A customer feedback survey helps you get more feedback and determine what your clients like and don't like.
Why should you use a feedback form?
The benefits of collecting feedback are apparent, as discussed in the previous section. Now, what's the right way to collect feedback?
You could directly call a client and ask them if they're happy with your service. Sending them a message or email asking for feedback is another option. You could even meet them in person, if possible. However, all these methods have some drawbacks.
A client may not be comfortable in sharing their transparent feedback on call. Email is a suitable medium, but providing written feedback takes time. A customer feedback form helps you overcome these hurdles. It allows the client or customer to provide feedback in a few seconds without the need to interact with you or meet you in person.
You can send customer feedback forms by email, and your clients can fill them at their convenience. Besides, email customer satisfaction surveys have a completion rate of around 25%.
In all, using your own feedback form has three significant benefits:
The feedback submission process becomes seamless for the client. Instead of writing text to express their feedback, they can rate your services from 1 to 5 and provide additional comments, if any.
More clients will provide feedback if you collect customer feedback using an online feedback form.
Feedback forms can help you increase client retention rates. When you ask for feedback professionally and work on it, your clients will want to continue working with you.
Benefits of using a feedback form template
Collecting feedback from your clients and customers is essential, but you shouldn't spend too much time on it. It's vital to automate the feedback collection process, and that's what templates allow you to do. Let's look at some benefits of using a template for submitting feedback.
They are organized
With form templates, you can keep your templates consistent. You can ask the same questions to all your clients, which will help you gather feedback and calculate metrics like the Net Promoter Score (NPS). Besides, feedback forms help you systemize gathering customer feedback and provide a similar customer experience to everyone.
They are convenient
Form templates are convenient for both you and your clients. You can use the same template and form fields to collect feedback from everyone. It helps you save time, as you won't have to create a form every time you need feedback.
They are accurate and error-free
A great feedback form is accurate and thorough. Spelling errors and other mistakes can turn users off and make you look careless and less professional. Using a form template ensures that your feedback forms are free of errors, and you can gather feedback without any hassles.
Top 4 feedback form templates
Having discussed the benefits of form templates, let's look at some form templates you can use to get actionable feedback. Here are the five most popular templates used for gathering feedback.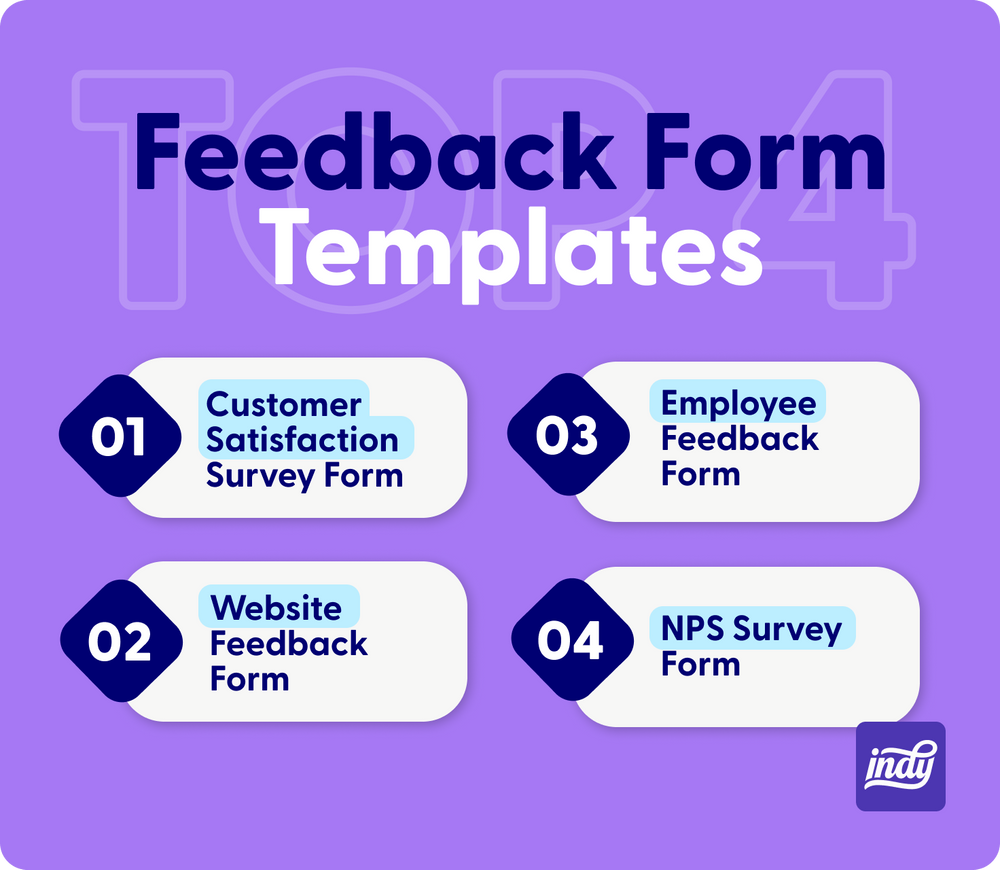 Customer satisfaction survey form
A customer satisfaction survey form is one of the simplest feedback form examples. The form directly asks the client or customer if they are satisfied with the product or service. They can choose from three options: Yes, No, and Maybe. An additional section for comments allows consumers to provide detailed feedback.
NPS survey form
An NPS survey form is an advanced version of the customer feedback surveys form. Instead of asking for a simple Yes or No answer, the form asks the consumer to rate the product or service on a scale of 1 to 10. The form has two more sections:
Reason for giving the score
How can we exceed your expectations?
Website feedback form
A website feedback form is ideal for freelancers or businesses who rely on their website to generate leads and sales. If your website is an integral part of your business, getting feedback on it can help you upgrade and optimize your website.
The fields of a website feedback form can vary, but they all focus on the usability and performance of the site. Some examples include:
Overall website experience
What can be improved?
How did you find the website?
Employee feedback form
The success of any business relies on its employees. If you have employees, be sure to collect their feedback using an employee feedback form. Happy employees lay the foundation for a successful business. Getting feedback data from employees can help you ensure employee satisfaction. You can also use a training feedback form if you conduct training sessions for your employees.
How to use customer feedback for your business?
You did a great job of collecting feedback from your consumers. Now what? The next step is to turn this feedback into a valuable asset for your business. Here are three ways to use consumer feedback:
Display reviews and testimonials
If you have a website or a portfolio, you can show your customer reviews and client testimonials there to make yourself look more credible. Since over 70% of consumers won't take any action without reading reviews, it's essential to share your satisfaction ratings and customers' opinions with potential consumers.
Improve your services
Customers' feedback includes constructive criticism and detailed information to improve your services. By collecting relevant information and working on it, you can enhance the quality of your product or service and provide the best possible experience to your customers.
Build case studies
Case studies are some of the most impactful content formats in the middle of the funnel (MOFU). If you want to convince a potential client or customer to buy from you, case studies can act as a powerful tool. A case study tells a client that you have helped others before, and hence, you can help them too.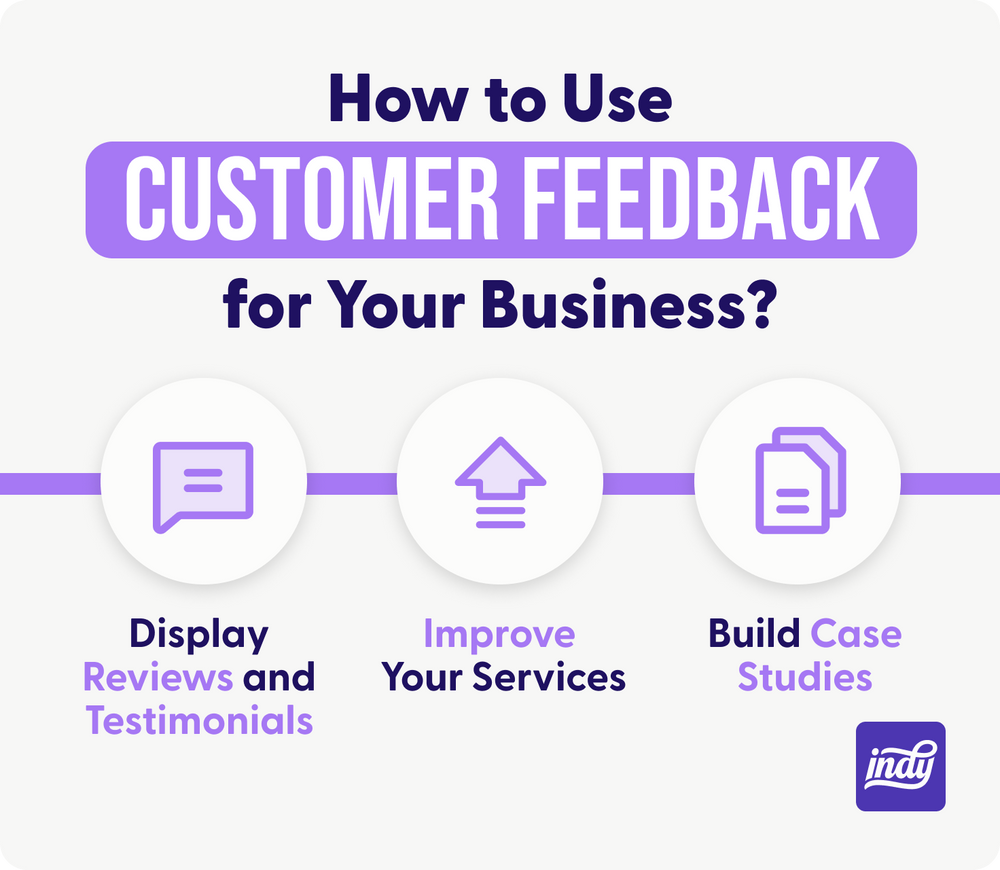 Conclusion
Feedback forms make it super-easy to get feedback from your clients and customers. In this competitive business landscape, collecting feedback plays a vital role in achieving customer loyalty. With feedback form templates, you can create user-friendly online forms that allow your consumers to submit feedback and valuable insights in just a few clicks. Also, make your form mobile-friendly, as many consumers give feedback on their mobile devices.
Frequently Asked Questions
How do you create a customer feedback form?
You can create a customer feedback form manually or use a form template. To create a feedback form manually, you can use MS Word. In MS Word, use the table function to organize the form fields. Alternatively, you can head to the templates section in MS Word and choose Forms to make a form in just a few minutes.
What should I ask in a feedback form?
Your feedback form should be short and to the point. In the most basic version, you can ask a client if they are satisfied with your service. You can also use an NPS form and ask your clients to rate your service from 1 to 10.
How do I make a feedback template?
Creating a feedback template is incredibly easy, and you can do it in any word processor tool like MS Word or Google Docs. Every word processor has a templates section, where you can find an option of forms to create and edit a template. You can choose a template for customer feedback, event feedback, employee feedback, and more.