Readers will spend an average of 37 seconds reading a web article!
This is all the time you will get to pass any message you have to your readers. Well-written copies are the only way to make good use of these few seconds.
Here are a few other copywriting stats to keep in mind:
73% of readers will only skim through blog posts instead of reading them.
59% of people can avoid buying from brands that make grammar/spelling mistakes in their copies.
Page visitors read an average of 20% of its content.
It is clear from these stats that there is high demand for copywriting services as brands seek to create the best copies, but the industry is still highly competitive. Hence, the best way to stay ahead of the pack is to sell your copywriting services using well-written proposals.
This article provides an overview of what you need to know about writing good proposals to win you more freelance writing contracts.
Let's dive in, starting with defining what copywriting proposals are all about!
What is a Copywriting Proposal?
As a freelancer, you will come across several job openings as you hunt for opportunities. But before you can land that copywriting contract, you have to reach out to prospects through emails, followed by negotiations.
However, there is an easier way to eliminate or at least reduce all the back and forth as you negotiate for prices or show the clients what you can offer, which is sending them a copywriting proposal.
Copywriting proposals are documents prepared by copywriters and sent to prospective clients to pitch for their job openings. It will typically consist of an overview of what you are offering, how you can help solve the client's problems, timelines, and cost breakdown.
Sending proposals simplifies the job-hunting process for freelancers and shows potential clients you know what you are doing, hence building trust.
Also, proposals make it easy to keep track of the job status and ensure easy copywriting agreement signing, as most proposal management software also supports e-signature. In simple words, a copywriting proposal is meant to streamline the job application process for freelance copywriters.
5 Tips for Writing Winning Copywriting Proposals
Now that you know where to get your copywriting proposal templates, another essential thing you should understand is how to write a proposal that will appeal to most clients.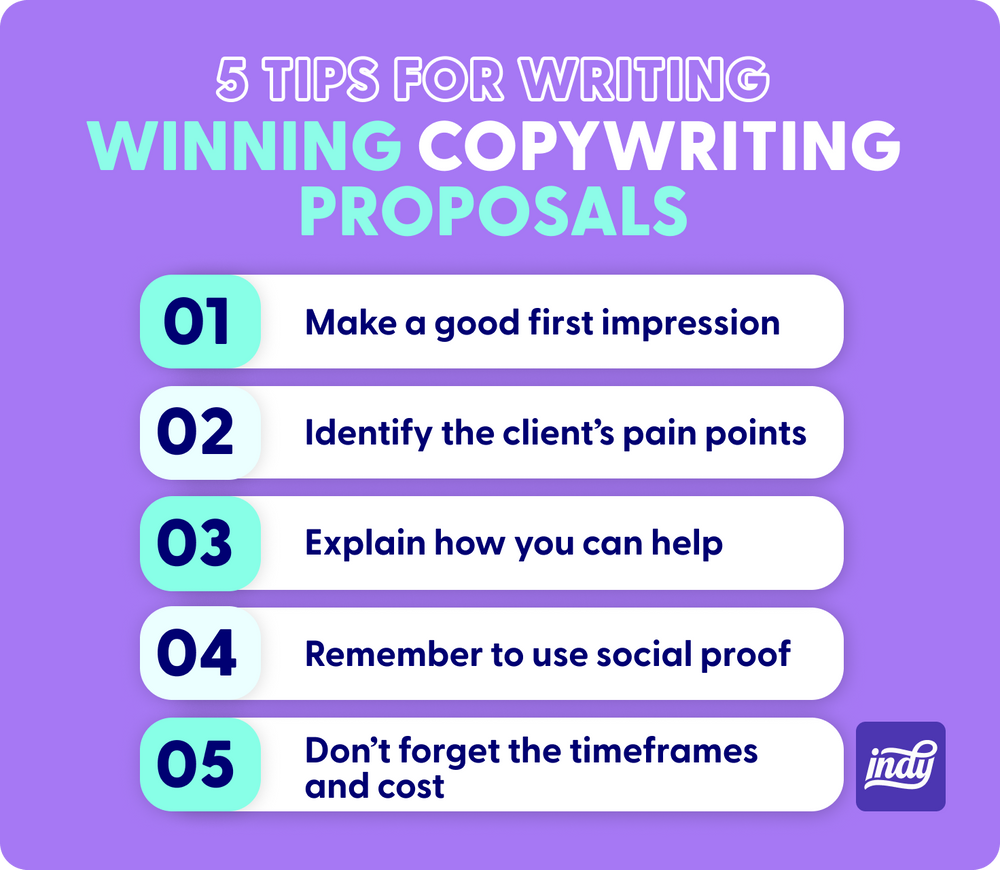 Here are 5 tips that will help you deliver the best proposals:
1. Make a good first impression
You will not get a second chance to make a good first impression, so you must make good use of your time. Here you should start by ensuring that your cover page is attention-grabbing and represents your brand in the best way possible with your logo and colors.
Also, make sure your branding and fonts are aesthetically appealing and that your content is easy to skim through by carefully writing headlines that clearly explain what each section entails.
Other things you can do to make a good first impression include keeping your proposal short and to the point. Also, ‌ensure you deliver them in a format that is easy for clients to open and read.
2. Identify the client's pain points
Another vital tip to keep in mind is that your prospects have to know that you understand their problems.
Do you think that the client's email marketing is failing because they do not have good email marketing copywriting templates? Or do you think they need to use better social media copywriting templates to encourage more engagement and sharing?
You have to do good research and explain what you think your client's pain points are and make sure you show them how they are affecting the success of their copies
3. Explain how you can help
A successful copywriting proposal should offer actionable solutions to your client since you already know their pain points.
Explain to them how you can help improve their social media engagement with better templates or how you will help them craft winning email templates.
These are just a few examples of the solutions you can offer. The exact solution will depend on what the client wants, and it should be clear in the written contract you sign before the job.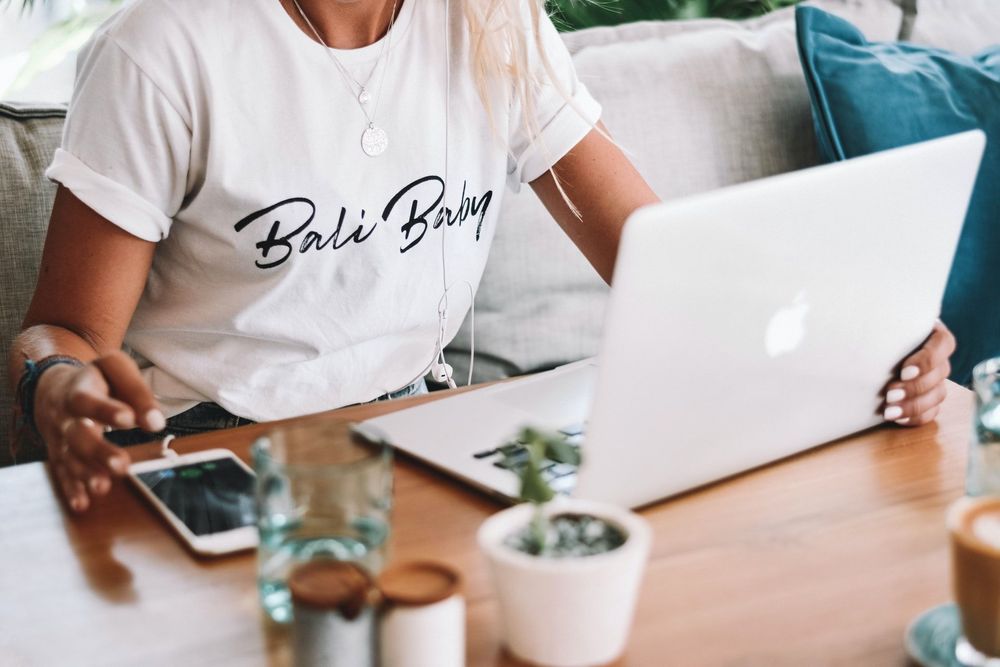 4. Remember to use social proof
Social proof sells, and you should take advantage of it to convince your new client or prospects you have a solution for their problem.
Use case studies from your previous copywriting jobs to explain to the client how you have helped others facing the same problems in the past.
As you use social proof, try to explain the specific process you used to help your other clients, as this will be more convincing.
You should also include testimonials in your proposals, as this gives your work a stamp of approval and builds clients' confidence in you.
5. Don't forget the timeframes and cost
A winning proposal should include clear timeframes and costs. Every client wants to know how much time it will take to see results and how long they need your services.
The client needs to know when you can deliver the agreed scope of work. If you are a blog post writing service, you should make clear the turnaround for each post.
When it comes to the cost, you should itemize different aspects of the job and provide a cost estimate. Also, it is a good idea to make the payment terms clear.
8 Places to Get the Best Copywriter Proposal Templates
Writing a copywriting proposal from scratch can almost be as hectic as trying to land a good copywriting contract through email correspondences.
But with a template, things become much easier for you. Using a template means you only need to edit and customize it before sending, which takes only a few minutes.
Here is an overview of some of the best proposal management software where you can get some beautiful copywriter proposal templates:
1. Indy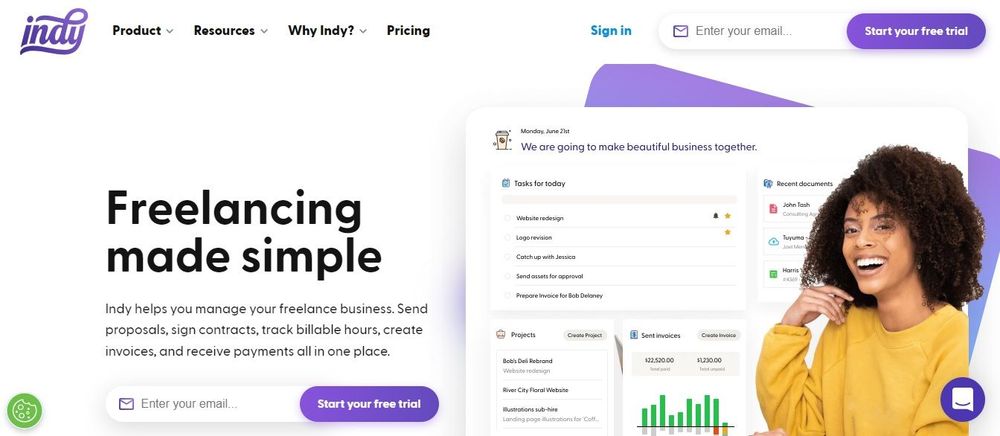 Indy is an affordable proposal management software that will give you access to hundreds of proposal templates that you can quickly edit and send out to your prospects.
The platform provides all the tools you need to craft, edit and optimize your freelance copywriter templates. They even allow you to add different elements like videos, images, timelines, and estimates to create a more detailed and immersive proposal.
Indy allows you to add your logo, custom cover page, and titles to all your proposals. You can even set the invoice to convert into an estimate when the client accepts it.
Pricing
Freelance copywriters can use Indy for free. With their Free plan, you can use Indy's basic tools as much as you want each month, free forever. If you want unlimited access to more advanced features, ‌pick their Pro Bundle. The Pro plan will cost you $9 per month for every user if you pay annually, or $12/month for every user for monthly payments.
2. Better Proposals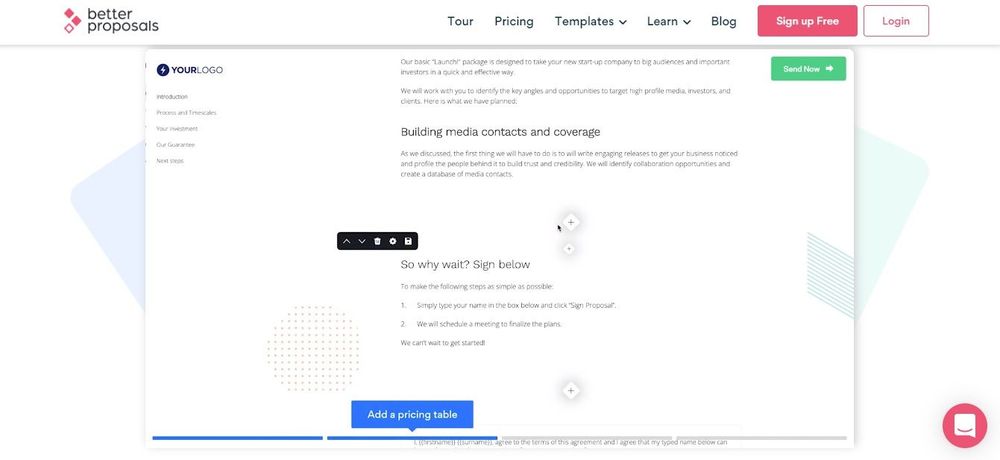 Better Proposals provides modern templates to help you create winning on-brand copywriting proposals guaranteed to win you more contracts.
One element that sets their templates apart from the others is that they make it easy to create stunning cover pages that will grab the attention of any prospects. Also, they will populate most of the sections, such as the service section, with content to give you an easier time writing your proposal.
Their templates are also designed to streamline the entire sales process. Besides creating and sending custom proposals, you can also track them through notification and have them signed by potential customers using e-signatures.
Pricing
Better Proposals allows you to choose from 3 pricing plans: Starter, Premium, and Enterprise. If you prefer to pay every month, the cost of Starter is $19/user, while Premium costs $29/user, and Enterprise charges are $49/user.
3. REVV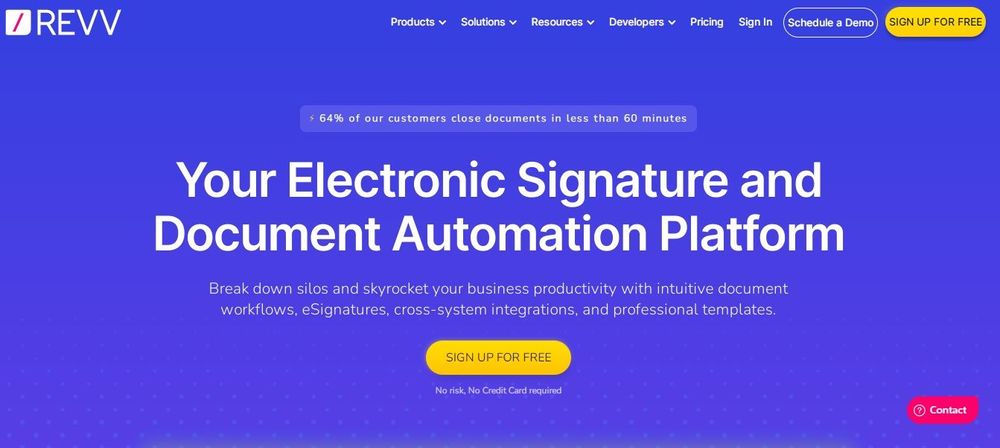 REVV is all about streamlining your business productivity by helping you automate your documentation. Hence, besides just sending out proposals, you can use the platform to create a copywriting contract template that you can use to deal deals.
There are more than 1,000 professional templates designed to be highly customizable to allow you to create winning copywriting proposals instantly.
Also, the software supports the execution part of the process by allowing you to send the proposals straight from the platform and facilitates their signing through e-signature.
You can also use this powerful tool to drive the decision through love tracking and advanced analytics, which will allow you to engage the clients at just the right time.
Pricing
REVV allows you to sign up and get a feel of their platform for free. However, they focus more on creating customized plans that will suit specific customer needs when it comes to pricing. And so you have to contact them to know how much they will charge your business.
4. PandaDoc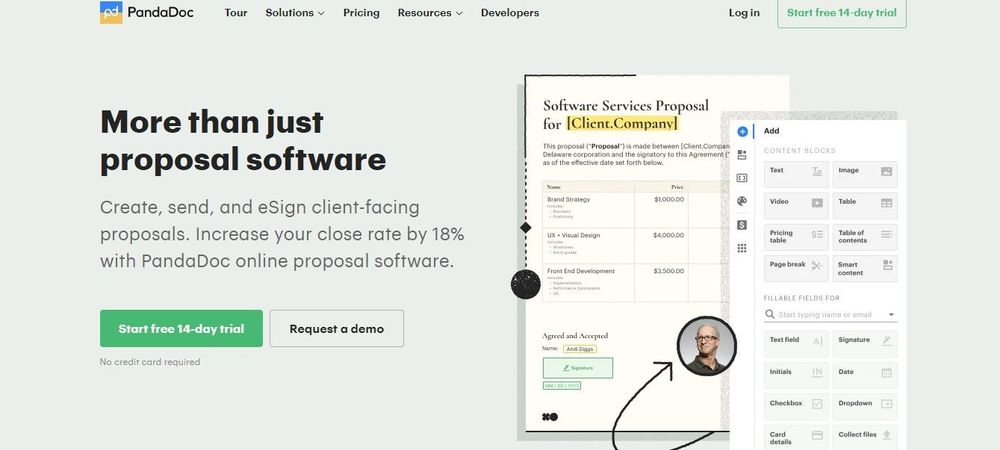 PandaDoc is one of the most reliable platforms for creating proposals and processing other legal documents for businesses, such as invoices.
They are a good choice because they offer you more than just customizable copywriting templates. Their tools also make it easy to track the proposal status through real-time notification and advanced analytics.
Whether you are pitching for a simple blog post creation job or a large copywriting contract, the tool increases your likelihood of getting a conversion as it keeps the conversation going.
Also, you can further influence a client's decision with auto-reminders, and when they are ready to seal the deal, the e-Sign capability eliminates the need for any other tool.
Pricing
There is a 4-day free trial, and you can still request a personalized demo of what the tool offers. The plans start at $19/month/user, but you have to talk to them for a custom package if you want an Enterprise plan.
5. Bidsketch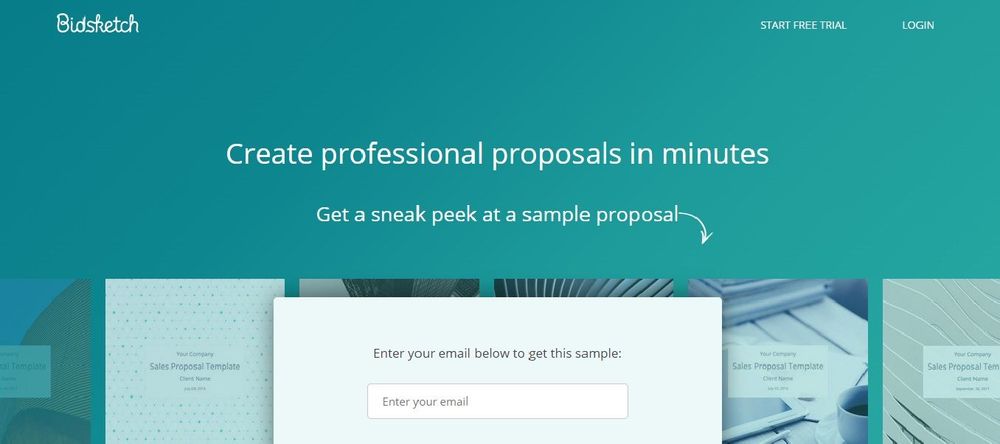 Bidsketch is a time-saving software that will save you the many hours you would have spent collecting material to create the perfect copywriting proposal.
The tool simplifies the process by allowing you to drop in content and designs to create a persuasive proposal. But they do not just give you a blank screen since their templates already have the crucial sections auto-populated.
Bidsketch also provides other marketing channels for copywriters, such as custom landing pages, and helps ensure faster turnaround by supporting electronic signatures.
You will also know what your prospects do with the proposals through their advanced analytics and instant notification. This feature can be helpful for your marketing efforts, as you can intervene if there is a need.
Pricing
Bidsketch offers 3 plans: Solo, Team, and Business. The Solo plan should be good for your freelance work if you work alone and you only have to pay $29 per month. Also, all 3 plans have a 14-day free trial period.
6. Qwilr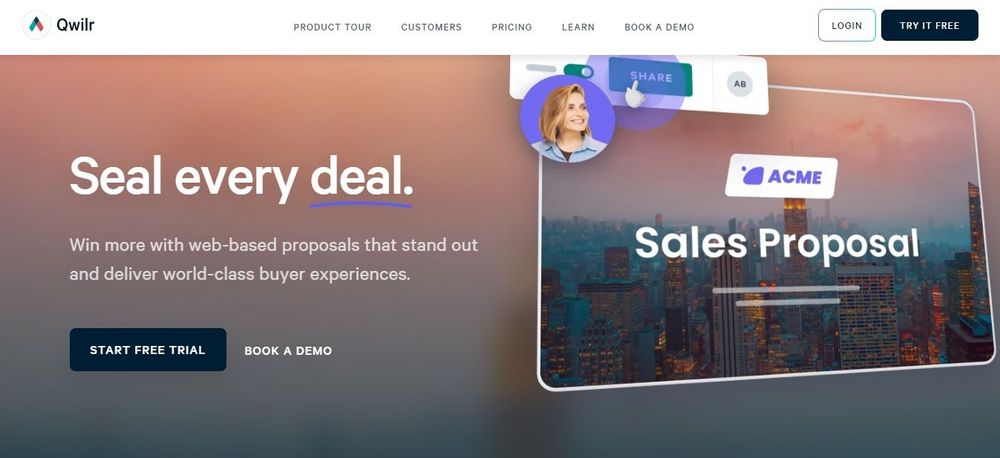 Qwilr will help you create web-based proposals that will stand out and win you more copywriting contracts.
Also, the tool can create some highly personalized proposals by merging customer data from your other systems.
You will hardly ever need any other tool even when it comes time to sign the copywriting contract, as Qwilr also supports e-sign and includes configurable pricing and on-page payment.
Pricing
Qwilr offers two plans: the Business plan for $35/month for each user and an Enterprise plan for $590/month. The business plan has a free 14-day trial, and you can request a demo for the Enterprise plan.
7. Fresh Proposals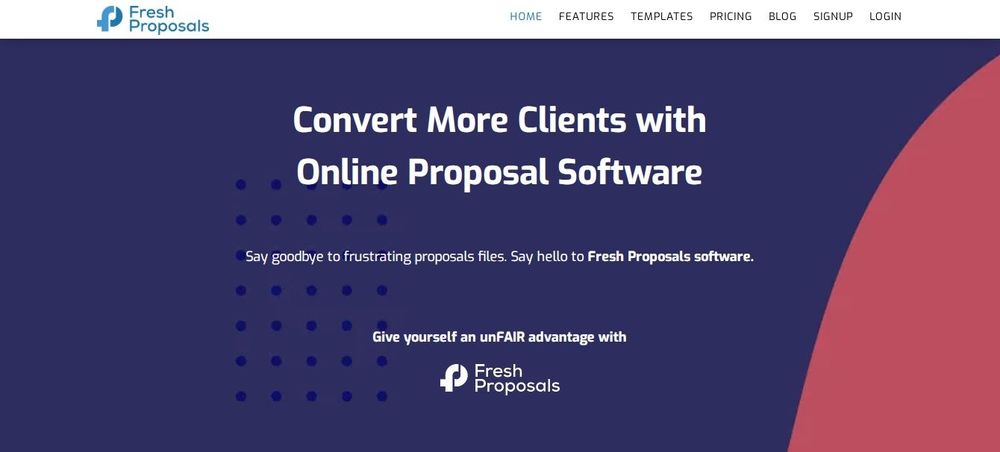 Fresh Proposals aims to give you more power and confidence when pitching for copywriting jobs. They do not just give you generic copywriting templates as many others will, but instead equip you with all the tools you need to customize them.
You get access to some powerful online editors that will allow you to style then proposals to suit any copywriting job by adding images, video, and graphics instantly.
You can also customize your own contracts and make it easy for the clients to sign them using their e-signature feature.
And you do not have to send the proposals and wait for the clients to act as you can also keep track of the progress through instant notification when the prospects receive and open them
Pricing
You can choose from 2 plans and whether to pay monthly or annually. The charges are $18/month/user when paying annually and get up to 10 proposals for every user. If you want more proposals, you can pay $29/month/user and get 15 proposals per user.
8. Prospero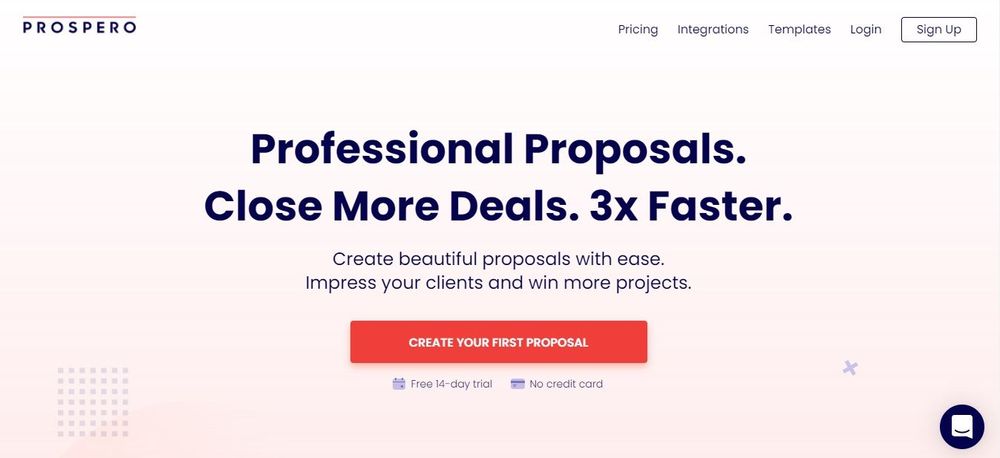 Prospero supports more than 35 different proposal templates, and you can customize most to fit your copywriting proposals needs.
There is also some ready-made content that you can use and other things like flexible elements and a content library that will be very useful for your copywriting templates.
The software also allows you to track the proposals you send to know when the client sees them and how long they open the documents.
Signing the deal should also be smooth as the platform supports digital signature and allows prospects to sign from almost any device. You can also be sure of legal protection since their e-signature is legally binding.
Pricing
Prospero has a 14-day free trial, and after that, you have to part with $8/month/user if you choose the annual billing options of $10/month/user if you prefer to pay every month.
Bottom Line
Writing a copywriting proposal should not be a hectic task, especially for an experienced copywriter, as you already know what sells.
However, it is a great idea to use proposal management software. These tools simplify things for you and allow you to craft aesthetically appealing and professional-quality proposals with little effort.
With a good proposal template, you will land more clients, get higher fees, and have an easier time managing your own copywriting contract, as most provide tools for this.
FAQs
What is a copywriting proposal template?
A copywriting proposal template is a document that outlines all the elements you need to include in your proposal, making it easier to create a professional-looking copywriting pitch.
Should you use a copywriter proposal template?
Yes, a copywriting template will make writing winning proposals easier. It will not only give you the proper outline to use but also helps with the language and embedment of essential things like videos, images, and timelines that help make your proposal immersive. Using a template reduces the time and effort it takes to craft a copywriting proposal.
Do you need a proposal to win freelance writing contracts?
While you can still win jobs with regular email cold pitching tactics, they are less effective. A proposal shows the client that you know what you are doing and also provides an excellent opportunity to explain that you understand their pain point and the solutions you can offer.
What question should you ask before signing a copywriting contract?
Here is a list of some questions you should ask clients to ensure you have enough information on the project:
What is the definition of your project?
What are the best starting times, and what turnaround do you expect?
What is the desired end goal for the project?
Do you want a long-term/continuous copywriting service or just a one-off project?
What is your budget for the project?