When you're working as a freelancer or a small business, you need to find a way to offer your services to prospective clients. One of the most important parts of the sales process is sending a proposal.
Many small business owners struggle with this, which is why a professional proposal generator can be an excellent tool to have available. In this article, we will talk about the use of a proposal generator, why you need one, and how Indy can help you create your own proposal.
What Is Professional Proposal Software?
An online proposal maker is a computer application or program designed to help individuals and businesses create professional proposals, presentations, and RFP responses.
You can do a proposal design based on your own proposal requirements. You can also normally create and edit a proposal template to help speed up the process when pitching to new clients.
Besides creating proposals, the software will also streamline and automate the entire proposal-making process. Most allow you to send and keep track of the pitch at different stages with real-time analytics and email/SMS notifications.
There are several free proposal software that allow you to make and manage business proposal documents. However, if you want to enjoy premium features, you should go for a paid proposal software package.
Benefits of Proposal Software
Business proposal software helps streamline the entire proposal-making process. Here are more specific benefits you can expect by investing in this business tool.
Using templates saves time
Using a professional proposal generator tool helps you save a lot of time. You will not need to gather information and craft your proposals from scratch. You can just make a proposal template and use it every time, editing it as required for the customers.
Ready-made proposal templates
A proposal generator provides templates with most of the sections already filled out. And so, it saves your sales team a lot of time as they only need to customize it a little to suit the specific situation.
Increased accuracy and consistency
According to the 3rd annual RFP Response Benchmarks & Trends Report, proposal teams using RFP software respond to an average of 142 RFPs annually. Those who don't use the software react to only 125 RFPs.
What all this means is that when using the software, you can apply for more opportunities consistently. What's more, your applications will be free of the many human errors that characterize manually-generated proposals.
Beautifully designed proposals
The pre-formatted templates you get when using most paid or free software are designed by experts after thorough research.
Professional designers are keen on everything, including minor things like font sizes and spaces across templates, to ensure you get a perfect document.
The design experience when editing these is really good. Anyone on your team, even a non designer, should be able to edit them for the next client. When it comes to editing fonts or if you need to add images, it is just a click of the button.
There are other elements that can be changed as well with just a click of a button. You can really fully customize your business proposal templates.
Designed by experts
Also, the experts behind the software have a deep understanding of what works for different industries. And so, besides being beautiful and well-structured, the proposals will be tailored to suit specific industries.
Blank canvas
While many people want to create a proposal from a template, not everyone is keen on this. Therefore, there are options to use a blank canvas to create unique designs.
Safe and quick deal sealing
Besides creating beautiful and professional-looking proposals that will appeal to clients, proposal generator software can help you seal deals quickly.
Most of these software provide handy tools like e-signature and payment gateways. Therefore, clients can sign the document and make payments on the platform.
Track your client's interactions and record the time
When you use a proposal generator, you can track your client's interaction with the proposal to know if you need to make further interventions to increase the likelihood of conversion.
These tools provide advanced analytics that provide essential data on how prospective clients interact with your document. You can also get real-time notifications on when the prospects receive the document or when and how long they open it.
Wide integrations
Proposal software will integrate with most of the other tools you use for your business such as CRMs, Slack, and QuickBooks. Therefore, you can keep track of all your business operations from one central location.
Overview of the Proposal-Making Process
Overall, you can break down the professional proposal-making process into four phases: capture, pre-proposal, final, and post-proposal.
Capture phase
In this phase, a business identifies an opportunity, contacts the customer, and collects information to make a proposal.
Pre-proposal phase
In the second phase, the business or its sales team takes a preliminary bid decision and comes up with a proposed management plan. At this stage, you plan how to create a proposal and source templates, annotated outlines, and data calls.
Final phase
Analyze the proposal plan and make a final decision. Once this is done, you have to write a proposal or fill out the template, review what you craft, and then send it to the prospects. Remember to include case studies of past successes, and ensure your brand identity is included.
Post-proposal phase
The last phase comes once you send the proposal. It will entail responding to prospect questions and identifying weaknesses and deficiencies. You can then submit a final revised proposal that fixes the original draft issues and answers any queries the prospects have, or create a new proposal from scratch.
Creating Effective Sales Proposals That Connect with Clients
Have you ever wondered what you should include in a great proposal?
While you can use some readily available proposal templates, below are some pointers you should consider when creating proposals to enhance your sales process.
Make the proposals look professional to seal the deal
Whether you're creating a professional proposal for project funding, business partnerships, or new clients, the design and functionality are essential elements to consider.
A professional proposal hooks your target audience and shows them you are an expert at what you do, and they should trust you with their job.
Design customized, on-brand proposals
Proposals are not just about closing a deal, as they are also a representation of your brand. Therefore, when making a proposal, make sure it can leave a remarkable impression of your brand on the client.
You can add your logo, icons, and unique branding text to the custom proposal to make it more on-brand and show your business's credibility.
Also, remember to save your brand text, fonts, logo, own photos and colors for easier branding and consistency when sending future proposals.
Proposal Templates
Beautiful proposal templates make the proposal-making process smooth and save time. However, the best proposal template design for you depends on your brand and the kinds of projects you want to win. Here is an overview of a few common ones.
Mobile app development proposal templates
Developers use a mobile app development proposal template to persuade clients you can help them develop their apps and offer other related services. Remember to make a proposal design that is readable by non designers.
Consulting proposal templates
Almost every business person will depend on a third party or in-house consultant at some point. Consulting proposal templates are the best way to pitch your consulting services as it explains why the businesses will benefit from your services.
Business proposal templates
Business proposals are more general, and you can use them to pitch for almost any business opportunity. However, when using these templates, make sure you choose something that suits the specific industry.
Project proposal templates
If you are pitching for a project management role or want to take up any other position for an upcoming project, you should use a project proposal template. You have to make precise project proposals to suit different projects and industries.
Sales proposal templates
A sales proposal template can help you convince potential clients to buy your products and services. Creating stunning proposals is an integral part of the sales process as it explains to the client why your products/services are better than what others are offering.
How Do I Write a Free Proposal with a Proposal Maker?
Some websites provide free proposal generation tools. Here are the steps to follow if you want to write a free proposal using one of these tools:
Step 1: Sign up for a free online proposal-maker website.
Step 2: Pick a customizable proposal design that suits your specific needs like project, sales, app development, etc. You can use a search bar to find the right business proposals you need.
Step 3: Customize the template using the drag and drop interface and adding different elements. You should then arrange everything to create an appealing and professional page layout.
Step 4: Once you create your page layout, you can customize the color scheme, fonts, free images, and other design elements to match your brand identity and impress clients.
Now, you can download your proposal in high-quality digital or print format. Also, you can send it to the clients directly from the proposal management software if it supports this functionality.
Top 6 interactive proposals management software
1. Indy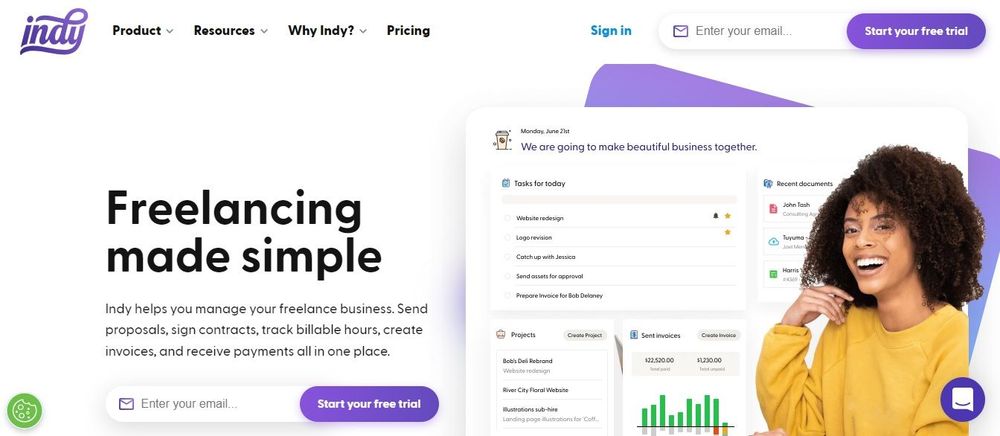 Indy is one of the best proposal management software out there. Indy offers a library full of industry-specific and customizable templates to ensure you have something for any project that requires a proposal.
Additionally, our web-based online graphic design software will allow you to enhance the proposal appearance further and make it even more attention-grabbing in just a few clicks.
Indy allows you to download a copy of your proposal in high-quality PDF or PNG formats. You can even download the document as an interactive PDF.
2. PandaDoc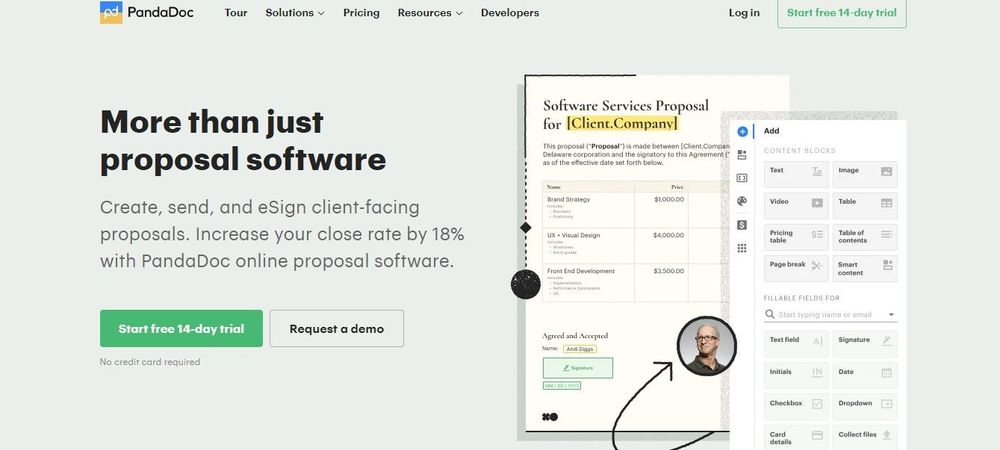 PandaDoc is a proposal maker that helps you deliver fantastic proposal documents with workflows, insights, etc.
PandaDoc is an all-in-one automation software for businesses that you can use for the entire proposal process, from crafting the templates to approval and payments.
Also, the tool allows you to create invoices and quotes, and you can sign all your contracts quickly with the built-in e-signature tool.
3. Better Proposals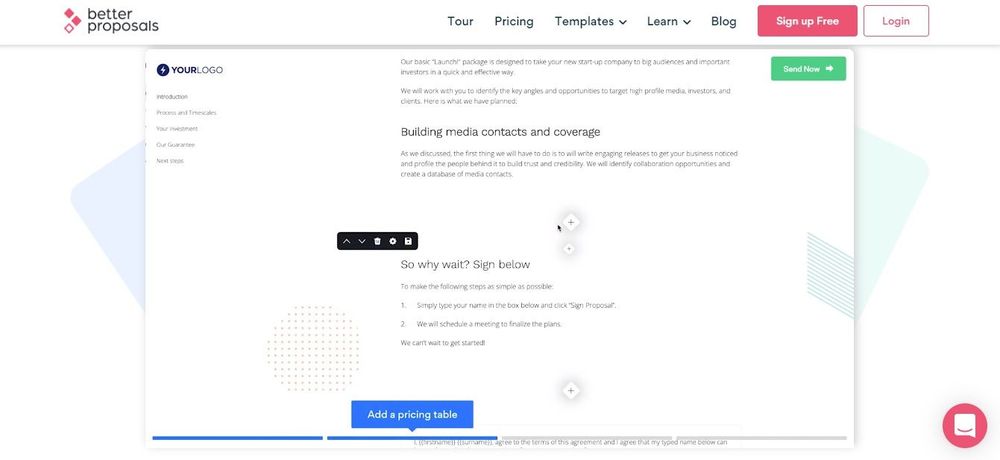 Better Proposals is an easy-to-use proposal maker with auto-formatting, contact and pipeline management, collaboration, and much more to offer a complete proposal generation solution.
Like many other top proposal software, it provides over 200 ready-to-use templates with a drag-and-drop editor and other functionalities like real-time tracking.
With the tracking function, you can quickly know when the client reads and signs the proposal electronically using their e-sign feature.
4. Prospero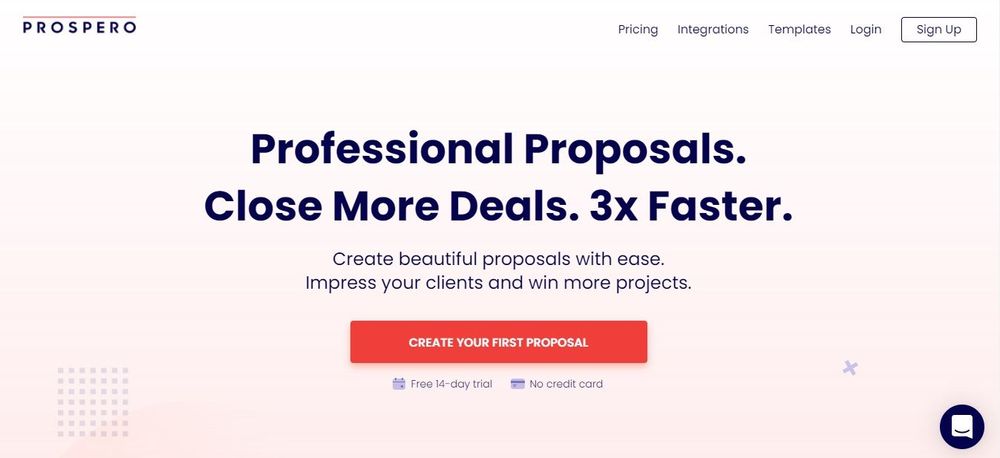 Prospero provides more than 30 templates for making proposals for different industries. Their templates also support several elements like logos images, videos, graphics, and texts in several fonts.
You can send unlimited proposals using Prospero if you choose one of their paid packages. Besides creating and sending the pitch, the software also makes it easy to track the progress with email notifications, and it also supports digital signatures and a variety of integrations.
5. Proposify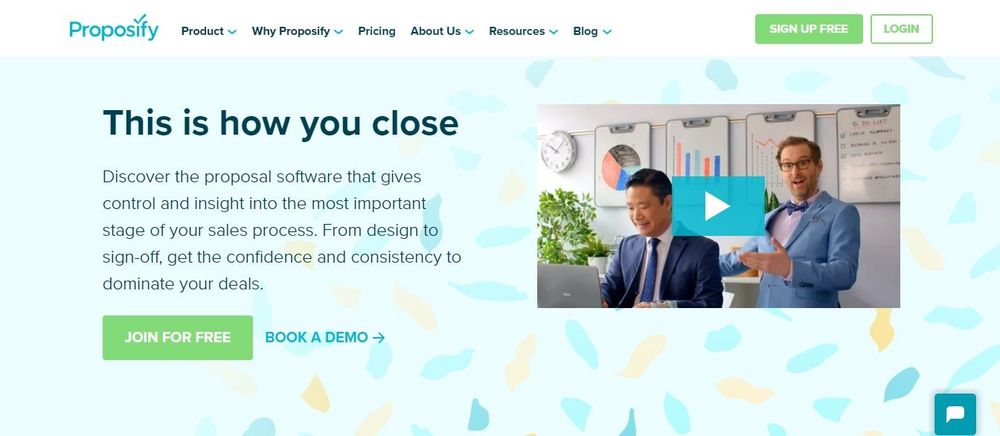 Proposify is a top-tier proposal maker that offers customizable, readymade templates organized in different industries and several components that you can edit. For example, you can add or remove sections like overview, goals, team bios, the scope of work, etc.
The software takes care of the entire process as you can send proposals directly and track them with real-time metrics and notification.
Proposify will also support e-signature for legally binding signatures and provides secure payment gateways to make it easy to seal the deal.
6. HoneyBook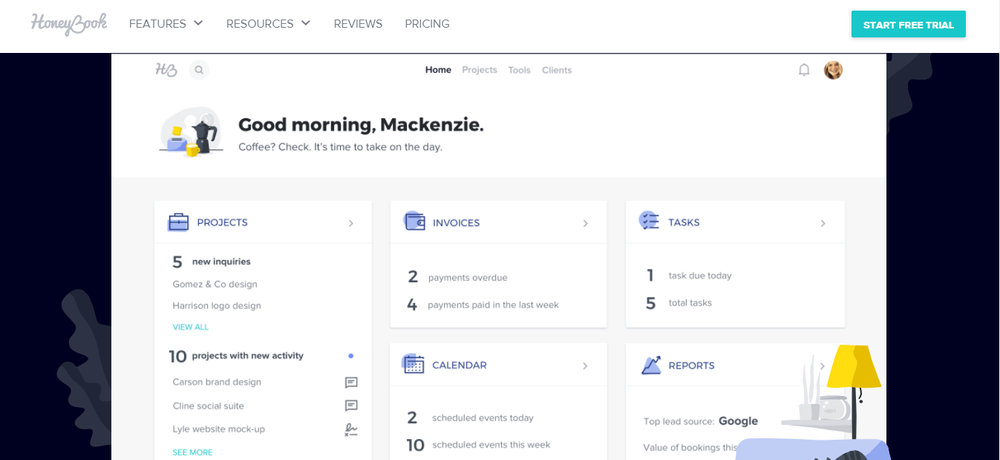 HoneyBook is a customer relationship management tool that also allows users to create proposals. The software aims to provide an all-in-one solution for all your business activities.
You can use it to manage your projects, sign contracts, book clients, send invoices, and receive payments.
HoneyBook also supports several integrations, including Calendly, Google mail, Calendar, and Quickbooks, to allow you to work more efficiently.
Conclusion
Using a proposal generator is a great way for small businesses to create a proposal to sell to potential clients. When you start with a template, it makes the proposal much easier and more effective. Therefore, sales teams can close more deals, and brands can make more revenue.
Indy is an all-in-one business tool that includes professional proposal templates that can be used. The online proposal maker can help brands to demonstrate their brand identity and why a prospective client should use them. You can use Indy for free on up to three contracts per month—try it out today!