A proposal management software helps save you the many hours it would take crafting content for your proposals and makes creating proposals more hassle-free. But, did you also know?
75% of senior business executives think investing in technology to better business processes is a top priority.
44% of proposal managers do not use any software, but a PWC study found that commercial project management tools improve overall satisfaction and performance.
Organizations that have dedicated proposal professionals and technology submit at least 3.5x more responses.
With proposal management software, you can quickly create professional and easy-to-ready proposals that will increase your chances of getting hired. This article looks at some of the best proposal management software you can use to craft the best proposals.
But first, it is important to understand why you need proposal software and how to choose the right one.
Why You Need a Proposal Software
Here are a few key reasons a proposal software will be a wonderful addition to your business tools:
It saves you time and effort
Writing a proposal manually will mean that you will have to reach out to different departments in your organization to gather material.
Also, you have to spend many hours curating images, coming up with service scope, determining project timelines, and calculating cost estimates. The worst part is that you have to do all this every time you want to send out a new proposal.
You will only need to customize the provided proposal templates and send them to your clients when using proposal management software. And so, you only need to spare a few minutes to create proposals and use far less effort.
You can create more professional proposals
Also, the templates you get from the software are created by professionals after thorough research. Therefore, they have the perfect outline and use the right language, ensuring you create the right perception in your client's eyes.
Overall, the software will allow you to create better proposals as you will have a clear idea of other things like where to place your logo and how to arrange your content.
It can take care of the entire sales process
Using proposal management software tools also takes care of the entire sales process. You can create and send the proposals, and most software will also allow you to keep track of the proposal with notifications on when the client receives and opens them.
Some will even support e-signature and payment gateways to ensure you can seal the deal and start working without having to use any other tool.
How to Choose the Best Proposal Software
While proposal management tools will be handy for your proposal creation process, not just any will work for you. It is important to choose something that suits your specific needs by considering the following points.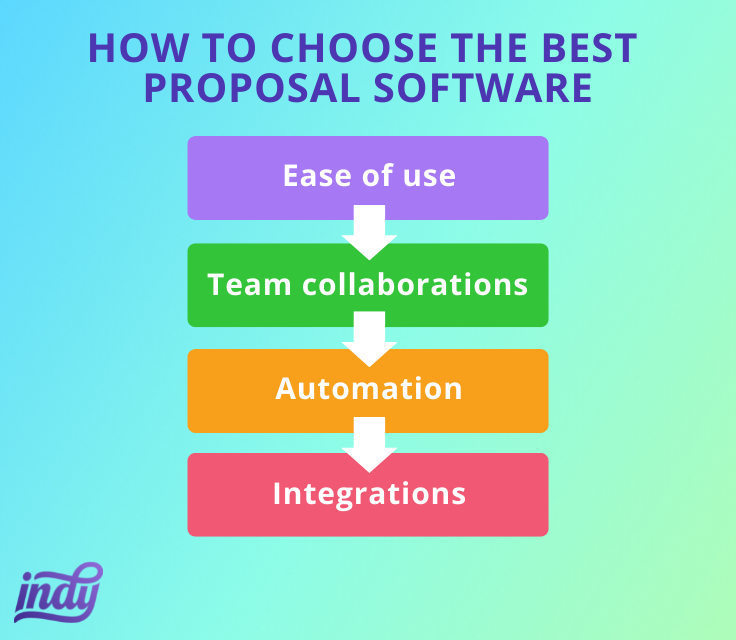 1. Ease of use
A proposal management software is meant to make things easier for you, and so the first thing to consider should be its ease of use.
Something that includes a powerful editor that allows for quick customization of the proposal templates will give you an easier time. Also, make sure the software has an intuitive and user-friendly interface.
2. Team collaborations
Do you want to use the software alone or allow your team access? Most companies that offer proposal management software will charge per user, so you should keep the number of users in mind when deciding which one to use.
3. Automation
Good software should simplify the proposal writing process by automating most things that take up a lot of your time and effort.
Some key automation features to look for are variables and content libraries. Variables are placeholders that will be filled out using the right company and client information to eliminate the need to do it manually.
Content libraries provide a catalog with all the proposals material you often use, such as fee structures and service descriptions. With these content libraries, you can speed up proposal creation by dragging and dropping the items.
4. Integrations
There are already several other tools that your business uses to ensure smooth operation. As you decide on the software to use, consider whether you can integrate it with your other tools by reviewing the list of integrations.
12 Best Proposal Software
1. Indy - Best Overall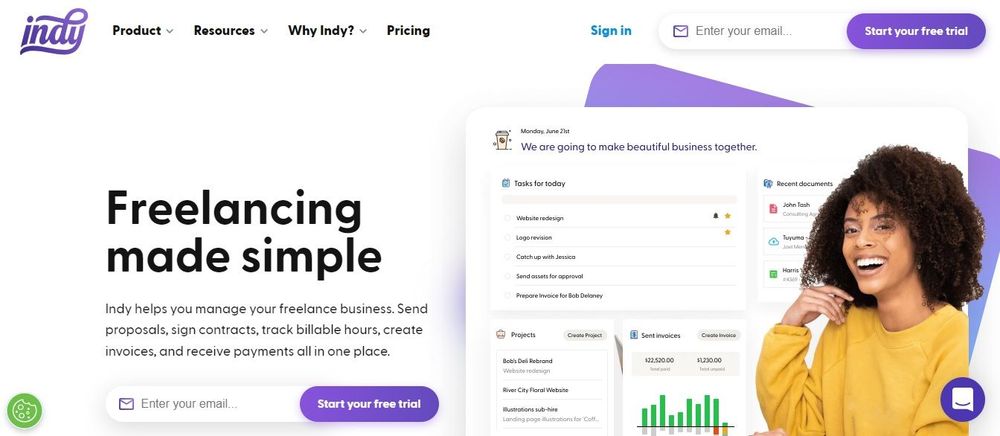 Indy takes the top spot as, besides offering all the tools you need to create custom and professional-looking proposals that will win you jobs, it is one of the cheapest proposal creation tools.
Their proposal software takes care of the entire process, from proposal creation to keeping track of it. You can quickly create some professional proposals from their more than 100 templates and add 6 different elements: text, image, timeline, estimate, and signature.
Indy allows you to create a custom cover page, add a logo, title, and even set an expiration date for the proposal. You can send the proposal straight from the Indy dashboard and even download them in PDF to send to other clients any way you like.
Pricing
Start Indy's Free plan today and take full control of your independent business from start to finish. Their paid plan will cost $9/month when paying annually (you save 25% choosing the annual plan) and $12/month for monthly payments.
2. Proposify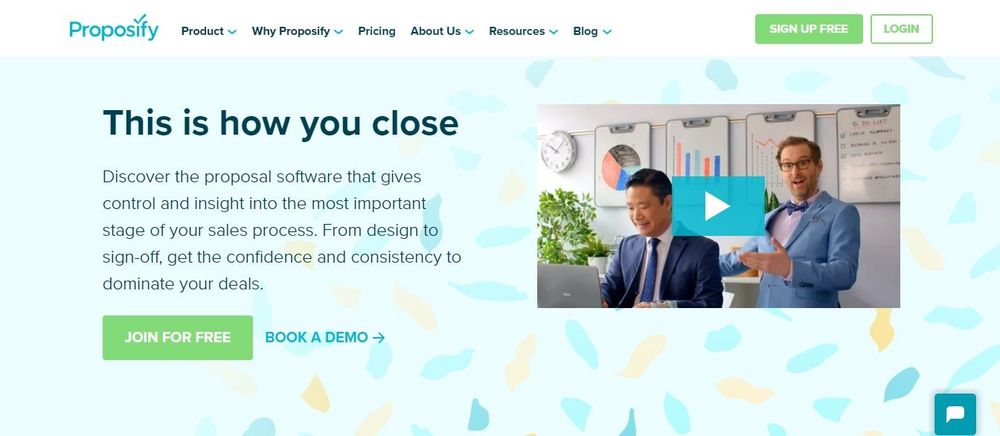 Proposify is made to ensure creating customized proposals takes little effort. It has a drag-and-drop interface that allows you to quickly add different sections to your proposal document.
You can create, send and track your proposals from the Proposify platform without requiring additional tools. Proposify allows you to share your proposals via a link, email, or even an attachment.
Once the proposal is sent out, you can keep track through notifications when the client receives and opens it, activity feeds, and real-time metrics.
If the client accepts it, you can seal the deal with their legally binding e-signatures and get paid through their secure payment gateways like Stripe.
Pricing
You can try Prposify for free or even use their free plan that allows 1 user to have 5 active documents. Their other plans are the Team Plan for $49/month for every user and the Business Plan for $590/month, which supports up to 10 users.
3. PandaDoc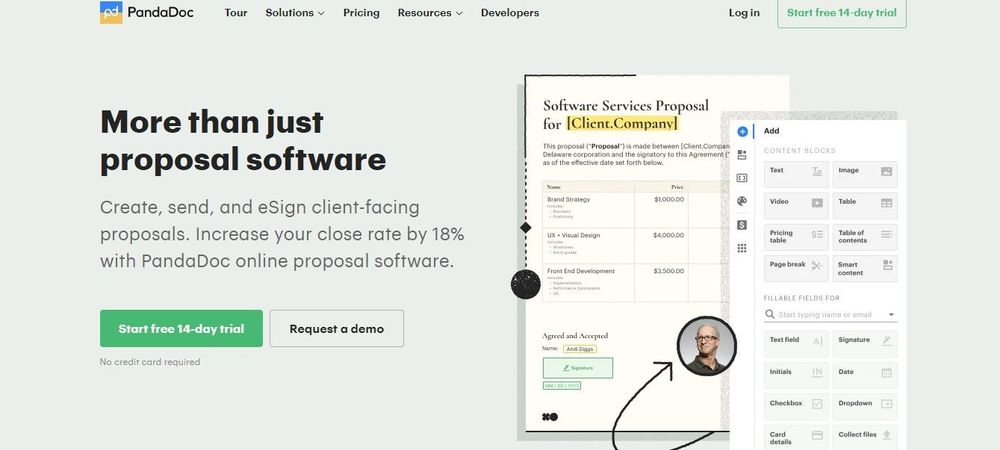 PandaDoc is more than just software that gives you access to proposal templates. It is designed to manage the entire proposal creation process, from crafting the documents to sealing the deal and even getting paid.
You can create personalized on-brand proposals in just a few minutes using the pre-built templates. There are more than 750 templates in the library, so they have something for you, whether you want to send a simple business proposal or a more detailed SEO proposal. Their template collection covers different industries.
PandaDoc simplifies things further with the drag-and-drop content library and from your CRMs. Other integrations include Zoom, Slack, Monday.com, and Google Workspace.
Besides sending and tracking proposals, PandaDoc will also be useful for other things such as contracts renewals and works as an HR solution to streamline the hiring process.
Pricing
PandaDoc has a 14-day free trial that will let you get a feel of everything they have to offer. After the trial period, you can choose from 4 main plans. They include Free eSign, which gives you unlimited signatures for free, a $19/month Essentials plan, a $49/month Business plan, and the Enterprise plan, which is customized to meet your team's specific needs.
4. HoneyBook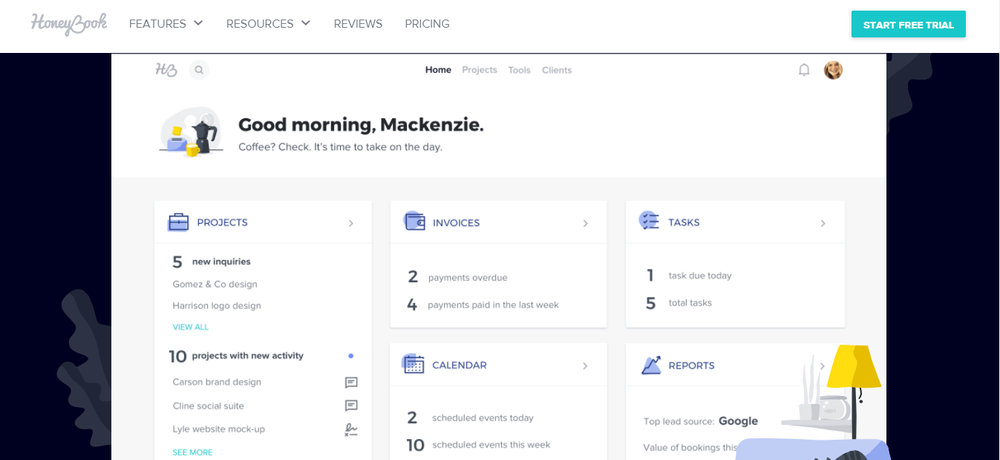 HoneyBook creates a platform that will ensure a seamless experience for all your clients. Their proposal management software can auto-populate client information to make things even easier for you by reducing the need for manual editing.
You can also be sure your clients will have a seamless experience when using HoneyBook, as it brings together invoices, contracts, and payments to allow you to manage everything from one place.
Hence once you send the proposal, you will not need any other tool to take the customers through the sales process.
Pricing
You can try the HoneyBook proposal software solution for free. Once you get a feel of the platform, you can pick between 3 plans: Starter plan for $9/month, Unlimited Monthly for $39/month, and Unlimited Annually for $390/year.
5. Better Proposals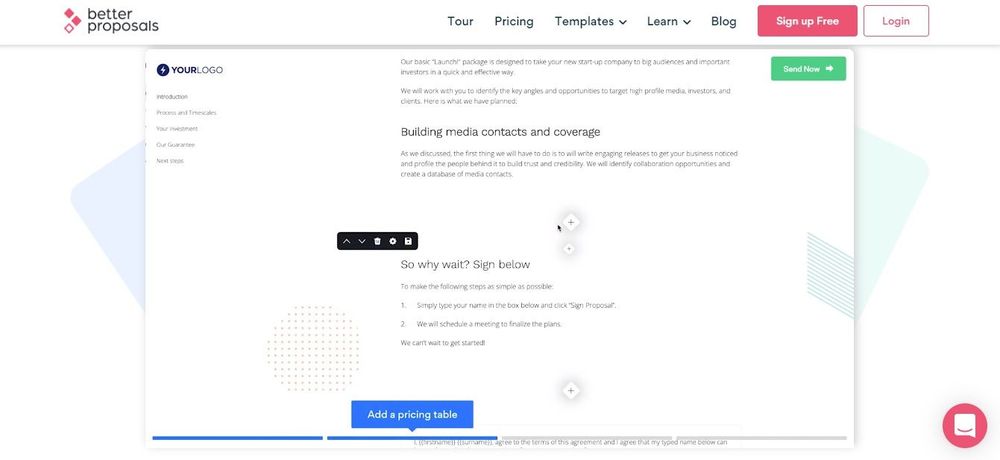 With Better Proposals, you get everything you need to create error-free, professional proposals. You will also not need any skills to create the proposals, as the software provides over 200 different proposal templates for almost anything you can think of.
Better still, the software will give you a highly intuitive editor that will make it easy to customize your proposals. You can also keep track of your proposals with a real-time notification when prospective clients read and sign the documents.
Better Proposals uses AI to give you automatic suggestions of what is working for your industry. These suggestions can be very effective at increasing your conversion rates.
You can also automate your sales process with all your favorite tools as Better Proposals supports dozens of integrations, including Salesforce and Hubspot CRM (customer relationship management). Also, clients can pay you immediately using PayPal, Stripe, or GoCardless.
Pricing
Better Proposals has a 14-day free trial and 3 paid plans. The plans will depend on whether you are paying annually or monthly. For annual payments, the plans start at $13/month for every user on the Starter Plan.
6. Prospero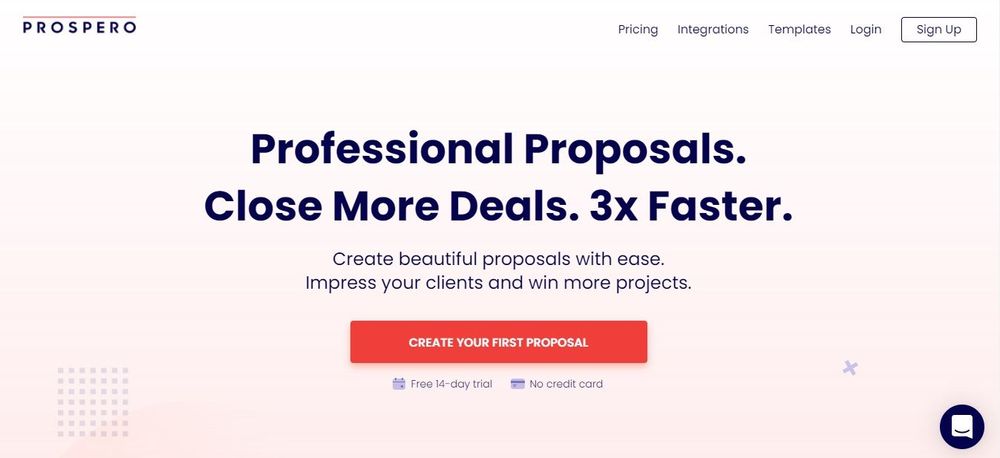 Prospero is all about helping you create beautiful proposals with ease. The proposal management software has a collection of highly responsive proposals that you can customize to suit different industries and projects.
There is also a content library and flexible element that you can use to create proposals that best represent your brand. Once you send them out, you can keep track of the number of times they are open and also how long clients open them through email notifications.
Prospero can also help you seal the deal as it supports e-signature and allows the client to sign from any device. Moreover, you also get an email notification when the prospects sign the document.
You can also integrate the proposal software with other apps that you often use, like Zapier and Freshbooks, for an even smoother business operation
Pricing
Prospero will give you a 14-day free trial without having to provide any credit card. They only have one plan, but the cost depends on whether you are paying monthly annually. For annual payment, the price is $8/month, and if you prefer to pay every month, the price is $10/month.
7. RFP360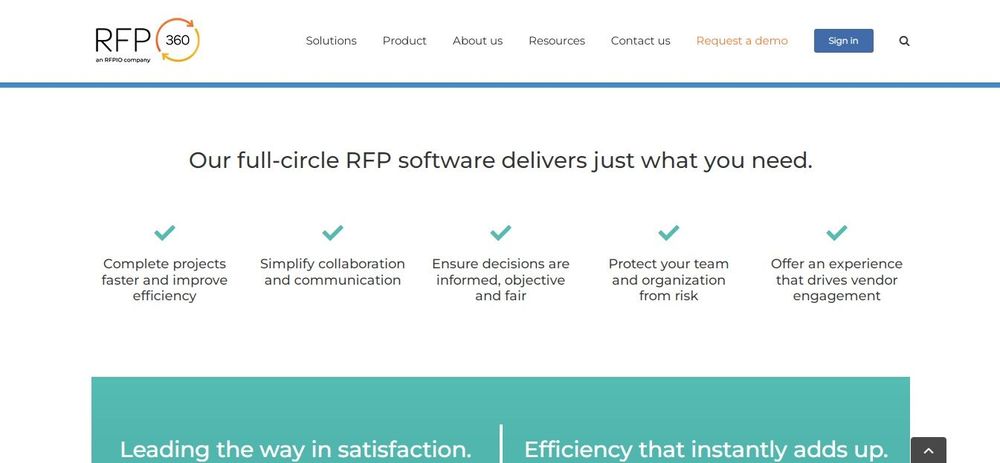 RFP360 provides a centralized place where you can collect valuable insights, evaluate customer responses and work with both your team and clients from a single digital space.
The software also provides proposal automation to ensure you can quickly create and send proposals to all your prospects without doing much.
You can also import RFPs (requests for proposals) and use AI to suggest the best responses. This increases your chances of converting a prospect into a client.
Additionally, the platform supports several integrations like MS Office files and online forms to allow you to use RFP360 without leaving those apps.
Pricing
RFP360 does not have a free trial, but you can request a demo to get a feel of the site. Also, they do not specify the price for their plans, but you can contact the team and request a quote to know how much they will charge you, depending on the products you want.
8. Bidsketch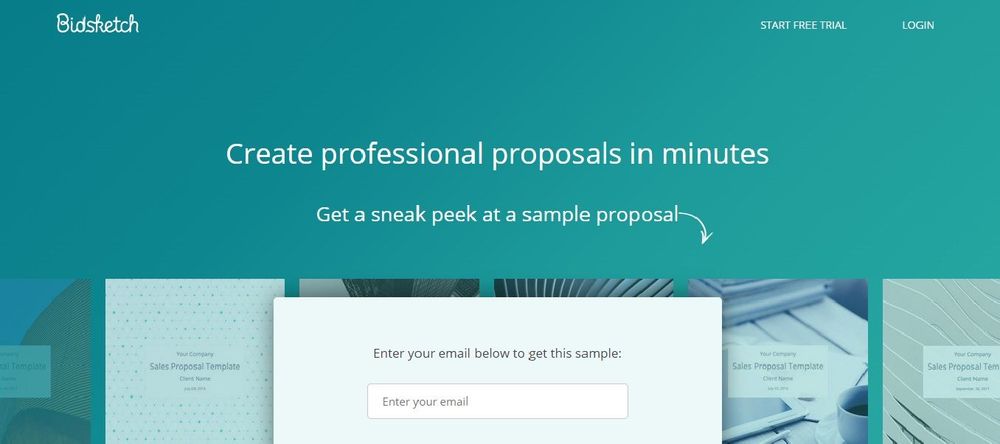 Bidsketch simplifies the proposal creation process by providing more options for building the perfect proposals. You can create a proposal using previously used material from their content library, use their proposal sample language, or customize one of their templates.
Their online proposal software is perfect for salespeople and sales teams looking for a tool that will increase their chances of closing new deals.
Bidsketch allows you to take advantage of cross and upselling by providing a section on their proposals where you can include optional fees.
Also, you can be sure of a faster turnaround as the tools also include an e-signature that will ensure your sales proposals get signed faster and more conveniently. Also, Bidsketch proposal software can work with all your favorite apps, including Zapier, Harvest, and Freshbooks.
Pricing
Bidsketch has a free trial, and their plans will depend on the number of users. The software charges $23/month for single users, $47/month for 3 users, and $119/month for 8 users.
9. Venngage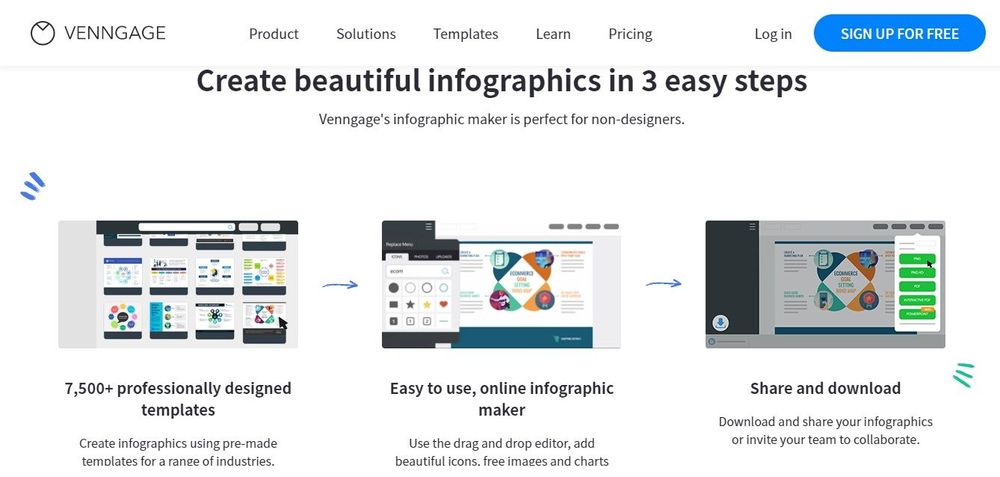 If you have made infographics in the past, chances are you already know about Venngage as it is one of the most popular tools for their creation. The company also has a proposal maker to help you create professional-looking and customized proposals.
Venngage offers an extensive library of content that you can use to create professional proposals, and they also have several templates that will help speed up the process. And editing the templates should be hassle-free, thanks to the drag and drop editor.
The interface is beginner-friendly to accommodate all kinds of users, and the software works entirely on the web, meaning you can create and send proposals on the go.
Pricing
Venngage allows you to sign up and use their platform for free with limited functionality. Their other plans include Premium for $16/month for every user, Business for $39/month per user, and $499/month for up to 10 users.
10. QuoteWerks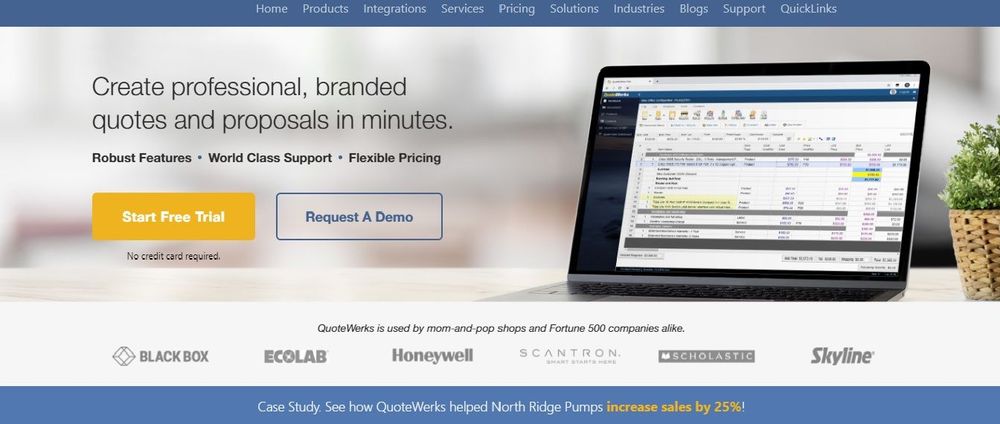 QuoteWerks is designed to allow you to create professionally branded proposals in minutes. It is a handy tool for reducing errors and misquotes, and it will allow you to create PDF proposals using one of their many templates and customize it to suit any project.
Users can integrate the tool seamlessly with all the top CRMs and accounting apps for easy data transfer and smooth operation, as you can use QuoteWerks without leaving these apps.
The software makes the proposal management process even smoother by providing real-time notification when your proposals are viewed. Also, it supports electronic signature and acceptance to eliminate the need for clients to print and sign the documents.
Payment should also not be a problem as the software supports more than 80 payment gateways, ensuring you never need any other tool to support your sales process.
Pricing
QuoteWerks has 3 plans: Standard, Professional, and Corporate. The cost of each plan will depend on whether you are paying monthly or annually. Annual payments give you the best deals as you pay $13.75/month/user for Standard, $18.33/month/user for Professional, and $26.58/month/user for Corporate edition.
11. Qwilr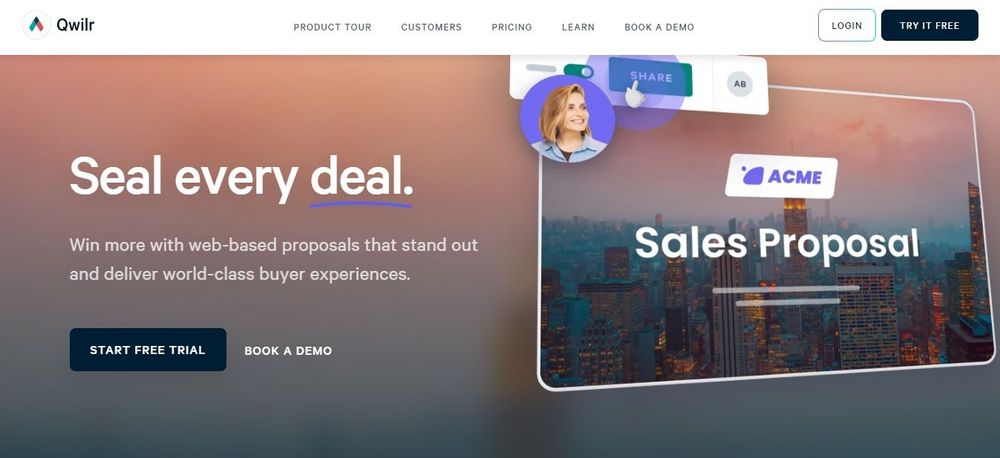 Qwilr is all about helping you win more business by giving you all the tools you need to create attention-grabbing proposals that will increase your conversion rates. Their platform is also more user-friendly to ensure you have an easy time creating your proposals.
The tools include dozens of beautiful templates, an intuitive editor, a library of reusable blocks, and style settings to ensure you create some top-notch on-brand proposals every time.
Also, the software allows you to stand out to every client by providing an interactive calculator you can use to demonstrate the ROI and video embedment capability.
You can close your deals faster when using Qwilr. It supports e-signature, allows you to set dynamic pricing, and accommodates various payment gateways to ensure it can work for all prospective clients.
Pricing
Qwilr will allow you to try their Business plan for 14-days without providing any credit card information. When the trial is over, you can use their Business plan for $35/month for every user or the Enterprise plan for $590/month for up to 10 users.
12. Proposable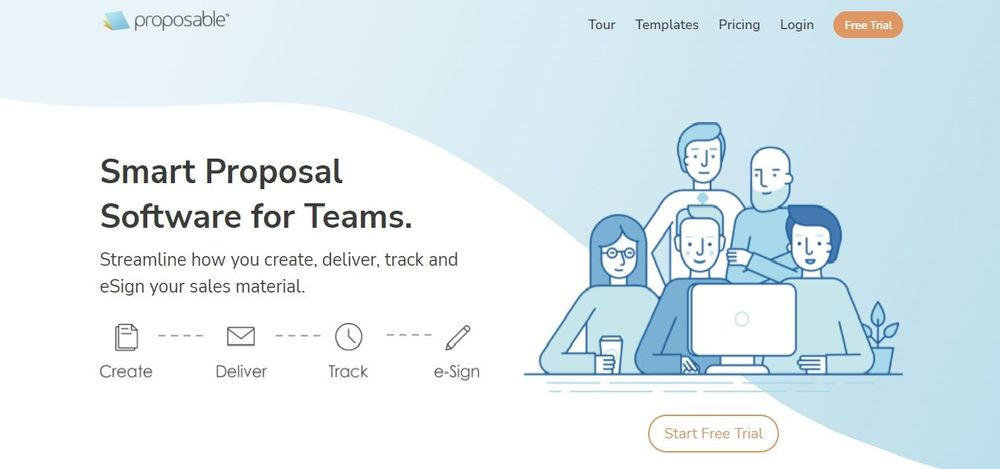 Proposable allows you to create, deliver, track, and e-sign your proposals. You can create proposals from their highly customizable templates that are guaranteed to wow your clients.
The templates also support the embedment of various elements, such as images and videos, allowing you to create a more immersive sales pitch for higher conversion rates.
You can then send your proposals on the platform by sharing links or through emails and keep track of them with detailed analytics. It is also possible to get real-time notifications via email or SMS when the clients view the proposals and other major events like signing.
The proposal management software allows you to collect e-signatures and any other important data that you need to seal the deal. Collecting payments is also easy with Proposable as you only need to set the amount, and the system will prompt the client to pay once they accept your proposal.
Pricing
Proposable will also allow you to try their 3 plans (Solo, Team, and Enterprise) for free. Once the trial period is over, the charges for the Solo plan are $19/month for every user, while for Team, you pay $39/month for each user, and Enterprise costs $500/month.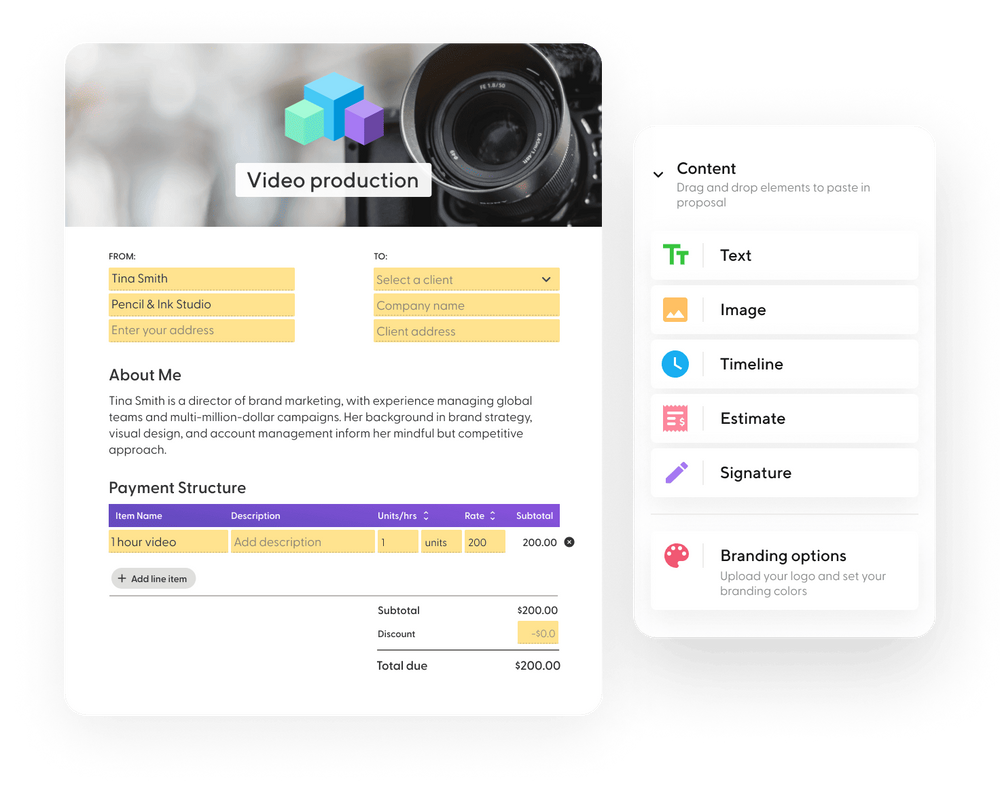 Need a proposal for a potential client?
Create a professional proposal in minutes with Indy's Proposals tool. Use your logo and branding, add terms, and include portfolio items.
Join Indy
Bottom Line
Proposal tools provide an easy way to ensure you always send professional-looking proposals that will help increase the likelihood of winning more business with a high lead conversion rate.
They will also save you time and effort as you do not have to spend a lot of time collecting and curating the material you need to include in your proposal since the template does most of it for you.
However, the most important thing is to choose a good software that can help you create professional proposals. The comparison above provides some excellent recommendations, and you only need to decide what you think will work best for your specific needs.
FAQs
What will proposal software do?
A proposal software will give you a complete proposal creation solution. However, what it can do for you depends on the specific type and the plan. However, most will allow you to do the following:
Customize your proposal using templates and other tools,
Send the proposal straight from the platform as a link or email
Keep track of the proposals through analytics and real-time notifications
Seal the deal with e-signature and also accept payment by supporting payment gateways.
Which is the best proposal management software?
It depends on what you are looking for, as each seems to have something that sets it apart from competitors.
For example, Indy is a perfect choice for those looking for something more budget-friendly, easy-to-use, and offers all the tools you need to create customized professional-looking proposals.
However, if you are looking for something that offers a complete solution for RFP management and supports other business processes such as invoicing, RFP360 is a good choice.
What is the proposal creation process when using software?
Like everything else, the actual process will depend on the specific software. Most will provide templates, so you only need to choose one that suits your needs and customize it by adding your logo, titles, and custom colors.
Others allow you to drag and drop material from a content library and embed interactive content like videos and images to make the proposal more immersive.
Some proposal creation tools can also auto-populate some sections with your company and client information or even use content from your previous proposals to simplify things.
Does software improve/enhance the proposal process?
A proposal design software will make it easy to craft proposals by providing templates that only require a few minutes to customize.
Additionally, they enhance the process by making it easy to send the document to clients and keeping track of it so that you always remain in the know.
Proposal management tools also enhance the process by facilitating the document's signing through e-signatures and payments through different payment gateways like Stripe and PayPal.