75% of internet users will not scroll past the first search engine results page. And so businesses have to make sure their content ranks high by doing proper SEO to capture attention. Here are a few other interesting SEO stats you should know.
As an SEO expert, you already know all this, but the same is not the case for your prospective clients. Therefore, you'll need to make it clear to them by writing a good SEO proposal.
This article explains the key things you need to know to create a winning SEO proposal. Let's start by looking at what an SEO proposal is.
What is a Proposal for SEO Services?
An SEO proposal is your sales pitch as a digital strategist, SEO consultant, or marketing agency that offers SEO services. The proposal is submitted to potential clients, and it is meant to convince them how you can help their SEO strategy.
Besides interesting your prospective client a lot that they would want to hire you, an SEO proposal also provides an opportunity to demonstrate that you understand the scope of the project and the prospect's expectations.
Remember that the prospective client will receive several proposals from other experts and most likely contact many other SEO agencies. Therefore, the proposal you send needs to hook them by providing precise and actionable solutions for their search engine optimization campaign.
An SEO proposal also needs to be easy to read to ensure the client can understand what to expect from you and when you can deliver.
The good news is that you will not need to spend several hours writing and editing as you can always use a free SEO proposal template to craft the perfect one in minutes.
10 Best SEO Proposal Management Software
As an SEO agency or consultant, you will have to send out several proposals, as this is one of the most effective ways of pitching to prospective clients.
It is a great idea to have dedicated proposal management software to help you craft professional-quality proposals every time. Below, I summarize some of the most reliable ones out there.
1. Indy - Best Overall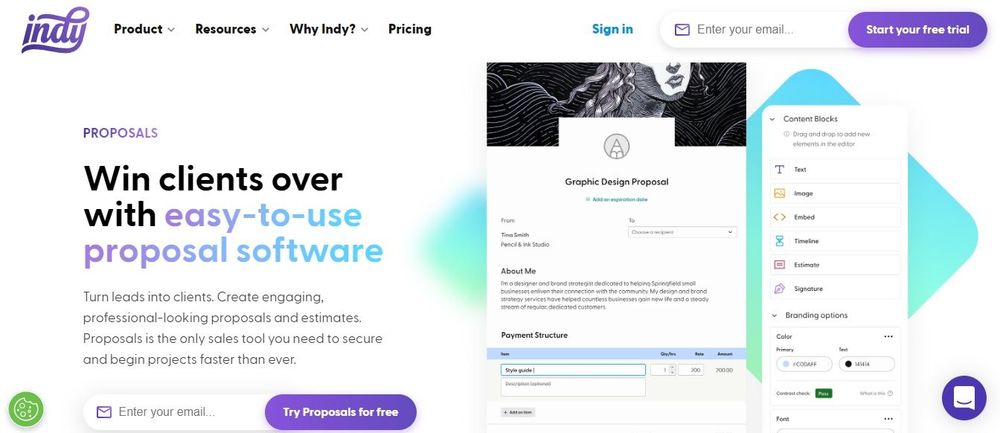 Indy has a proposal template for almost anything you can think of, including several you can use to pitch your SEO services.
Unlike the many other proposal tools out there, they try to make things as simple as possible to ensure you only need a few minutes to craft a professional SEO proposal
Their free SEO proposals have 6 available elements: text, embed, image, timeline, estimate, and signature. You can also give the proposal a custom title, add a logo, and even set the expiry dates, making it as personalized as it can get.
You can send an SEO proposal straight from Indy in just a few clicks and even download it in PDF format and send it out any other way you want.
Pricing
Indy has a Free plan that gives you free unlimited access to all the basic tools you need to manage your business. However, if you want to send customized proposals and access everything Indy offers, you should go for their paid plan. The full plan is only $12 per month, so it is easy for most freelancers to avoid.
2. PandaDoc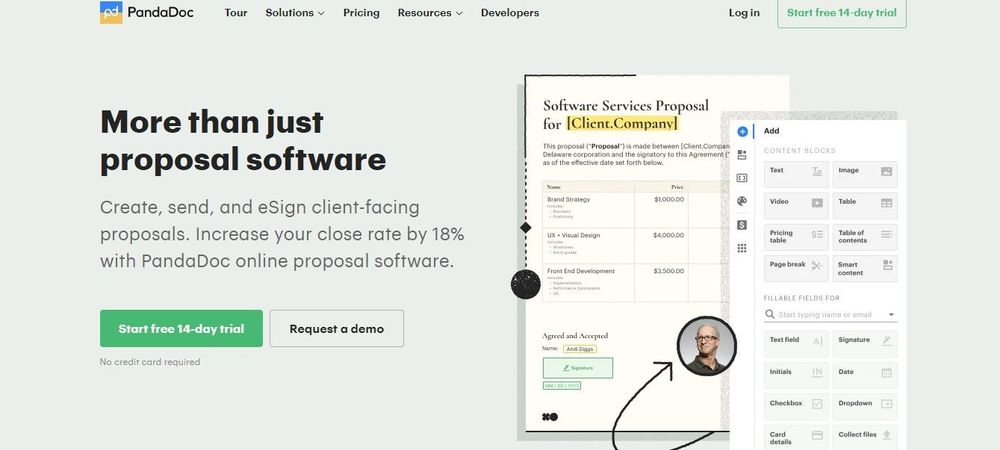 PandaDoc allows you to create, send, and eSign proposals for your SEO services and hence eliminating the need to use any other proposal management tool.
The proposal management tool makes it easy to create and customize proposals using smart collaboration tools and integrates with the most common CRMS. Additionally, they also provide a rich content library with a lot of material that can help you craft a winning proposal for SEO.
Integrating all the tools you love allows you to create and fill out your SEO proposal template without leaving the app you are using. The most popular integrations include Salesforce, Slack, Google Workforce, and Zoom.
With PandaDoc, you also get real-time notifications when the client opens, views, or comments on the proposal, so you always stay in the know.
Pricing
PandaDoc will give you a 14-day free trial and free eSign for unlimited documents. Their paid plans include three packages: Essentials, Business, and Enterprise. Their Essential plan goes for $19/month, and the Business plan goes for $49/month for every user.
PandaDoc does not specify the price for their Enterprise plan as it is customized to suit your particular needs, so the cost varies.
3. Proposify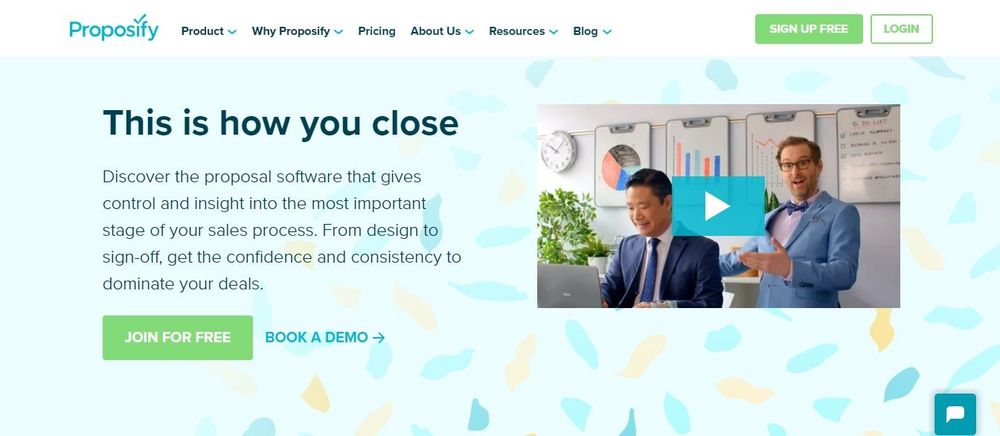 Proposify aims to give you an insight into the most important things you need to know about the sales process so you can write and send a winning SEO proposal.
The online proposal software will have all the aspects of writing the pitch covered, from its creation to tracking and closing the deal.
They will help you create the perfect SEO proposals with customizable templates that you can fine-tune to suit your specific brand. Also, they make it easy to send the document via email, link, or as an attachment.
You can keep track of the invoice after sending it through the activity feed, real-time metrics, notifications when the client opens, or comments on your pitch. When it is time to seal the deal, the software will also help you with legally binding electronic signatures and secure payment through Stripe.
Pricing
You can try Proposify for free, and you will not even need to provide your credit card information. This can be very helpful when you just want to look at one sample SEO proposal to understand what to write. They have two paid plans: the team plan for $49/month for every user and the business plan for $590/month.
4. Venngage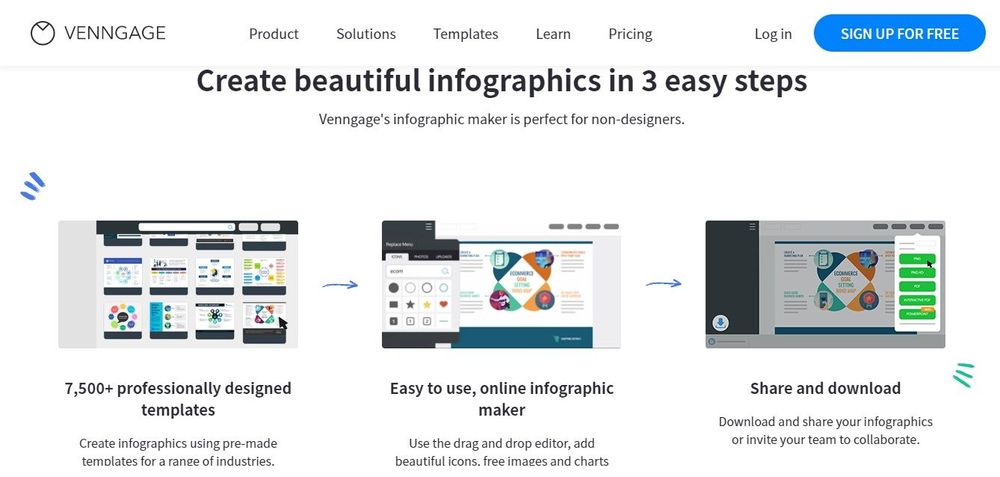 Venngage is a top-rated online tool for making infographics, but they also now offer a proposal maker that you can use to craft your SEO proposal template.
Their extensive library of templates and a powerful editor will allow you to customize a professional proposal to convince clients to hire you for their SEO campaign. Also, the editor will make life easier for you, thanks to its drag-and-drop feature.
The software is also more beginner-friendly as it has an intuitive interface and offers 24-hour support to ensure prompt resolution of any challenges you may face.
Since Venngage does more than just create SEO proposal templates, it will be a helpful tool for your client's overall SEO strategy.
Pricing
You can sign up and use Venngage for free and get a few free SEO proposal templates. But if you want to experience everything the platform offers, you need one of their paid plans. They include Premium ($16/month per user), Business ($39/month per user), and Enterprise ($499/month for more than 10 users)
5. RFPIO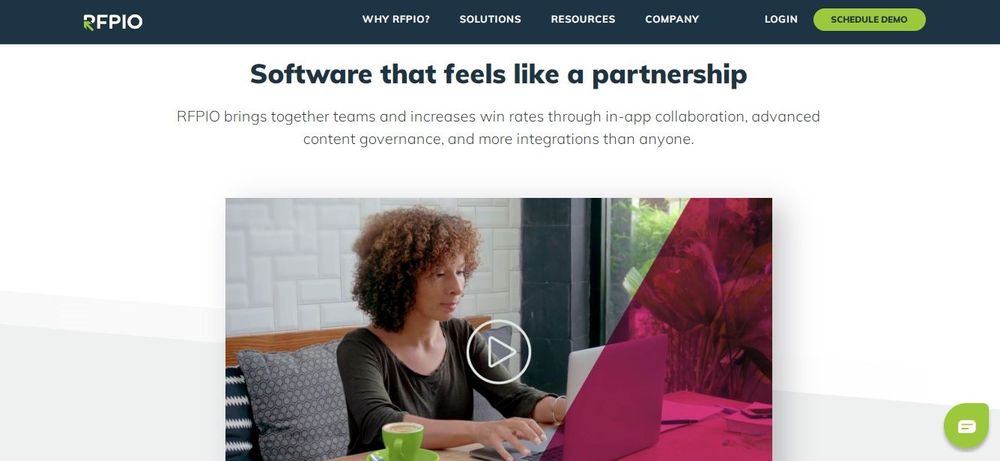 RFPIO is not a dedicated proposal management software, but it is still a valuable tool if you want to write a proposal that will convince prospective clients you can help them rank well in all major search engines.
The response management platform uses AI to enable you to import your draft proposals to their platform. You can then work on the proposal to create a professional and flawless copy before exporting it again in any format you want.
The tool uses AI to suggest the best content in your library to include in specific proposals and hence ensuring you always send clients your best pitches.
Pricing
RFPIO will give you a free demo so that you can know the value it will add to your SEO proposals. However, ‌contact the team to get the full pricing.
6. Better Proposals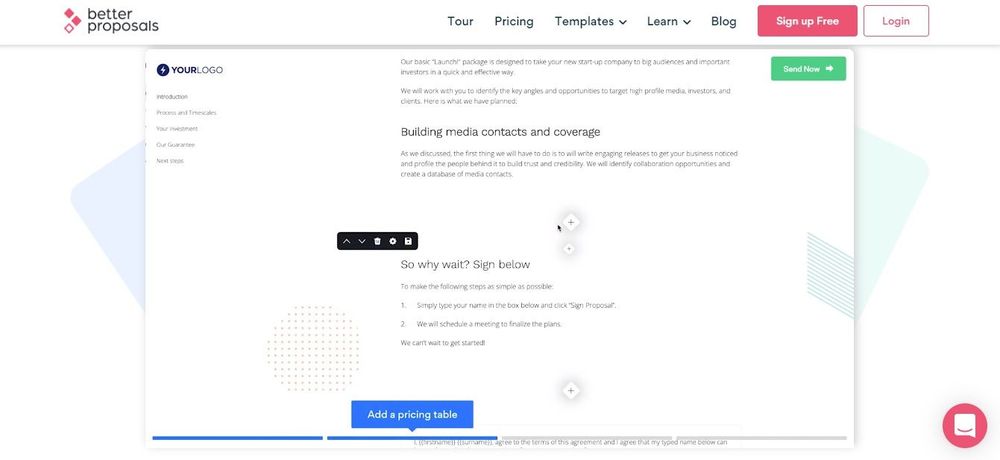 If you are looking for modern and on-brand proposals that will help streamline the sales process, Better Proposals is a good bet. It is also an easy-to-use software that you should figure out in just a few minutes.
The software has extensive tools you can use when crafting your SEO proposals, including auto formatting, collaboration, contact management, e-signature, and more.
There are over 200 free templates ‌you can customize to suit your specific needs and an intuitive editor to help you with the customization process.
Better Proposal also gives you page-by-page analytics and has integrated payment and signature features that will allow you to close the deal without using any other tool.
Pricing
Better Proposals has three pricing plans: Starter ($19/month for every user), Premium ($29/month for every user), and Enterprise ($49/month per user). Premium and Starter plans have a free trial, while you can book a demo for Enterprise.
7. Prospero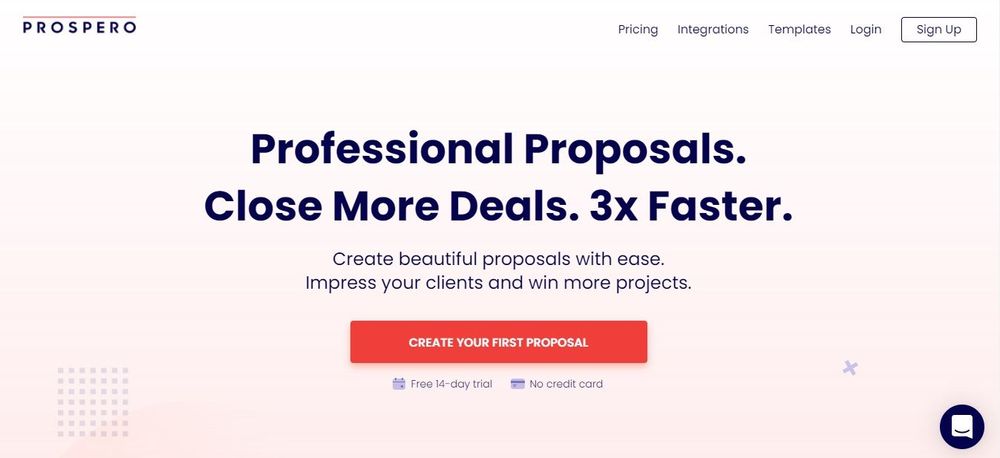 Prospero is an ideal proposal management software that will work well for anyone looking for an easy-to-use tool for creating a proposal. The tool allows you to craft professional proposals much faster with its collection of highly customizable templates.
The proposal process will also be hassle-free as the software includes a handy drag-and-drop interface. Also, you can add other elements like images, videos, and icons to ensure you get a compelling proposal that will convince more clients to buy your SEO services.
Moreover, Prospero also has an e-signature and supports various integrations such as Stripe for payments to ensure you have an easy time sealing deals with potential clients.
Other integrations like Zapier and Quickbooks will help streamline your business processes as an SEO expert.
Pricing
Prospero has a 14-day free trial. Once you complete their free trial, you can choose from two pricing plans, which are $8/month when you pay annually and $10/month if you prefer to pay every month.
8. Qwilr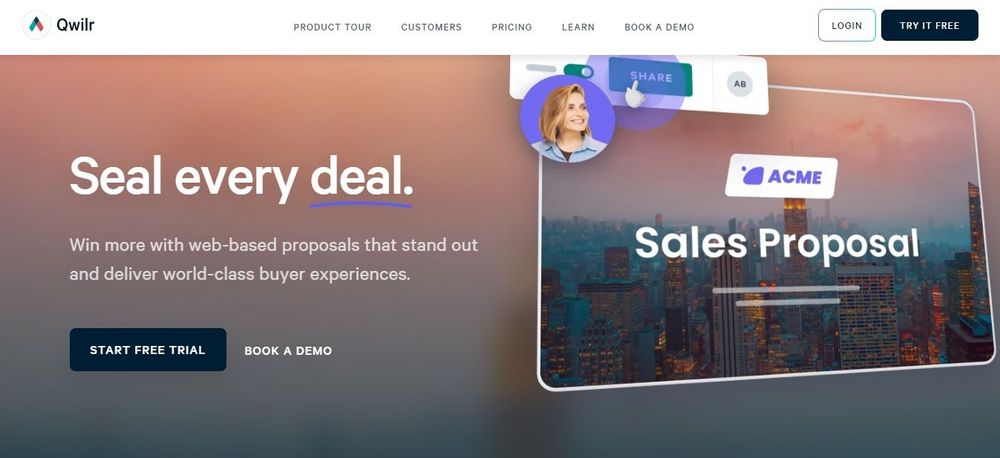 Qwilr gives you access to various web-based proposals that you can quickly customize to suit your SEO project pitch. The software makes it easy to create clean and visually appealing proposals with a simple editor.
Their editing tool works more like a regular document editor, so you should not have difficulties figuring out how to fine-tune the templates to your liking.
Besides the easy-to-use editor, the software also allows you to embed images and other interactive elements like videos and Google Sheets, to create an even more attention-grabbing proposal for your target audience.
You can also use Qwilr to measure engagement levels for your SEO proposal, as it can track how many people view and click your web-based proposal.
Pricing
You can try Qwilr for 14 days without having to sign any contract or give them your credit card information. When you complete the trial, you can choose to use their business plan for $35/month for every user or the Enterprise plan that includes up to 10 users for $590/month.
9. Nusii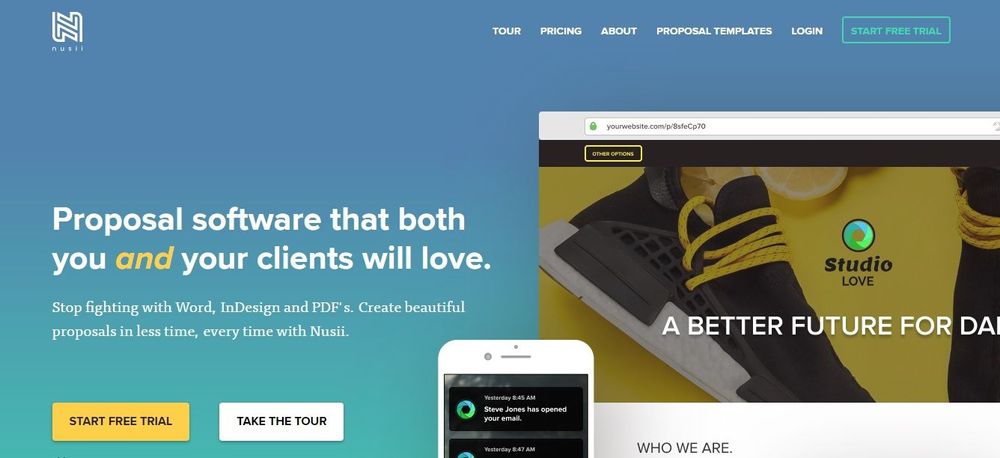 Nusii has an elegant interface that makes it stand out compared to other proposal management software options. Besides being elegant, the interface is also highly intuitive, making proposal crafting easier for first-time users.
While their SEO proposal template is already attention-grabbing out of the box, Nusii still allows you to add your own branding, domain, and email. The high personalization helps build customer trust and sets you apart from other marketing agencies that use generic templates.
You can also set reminders when using Nusii to ensure you make follow-ups after sending the proposals to prospective clients. The software will keep you in the know with notifications when the client opens the proposal.
Pricing
You can start using Nusii with their 14-day free trial, and when this is over, choose from their 3 plans: Freelancer, Professional, and Business. If you pay annually, the price for Freelance is $290, while Profesional will cost you $490, and the Business plan goes for $1,290.
10. Proposable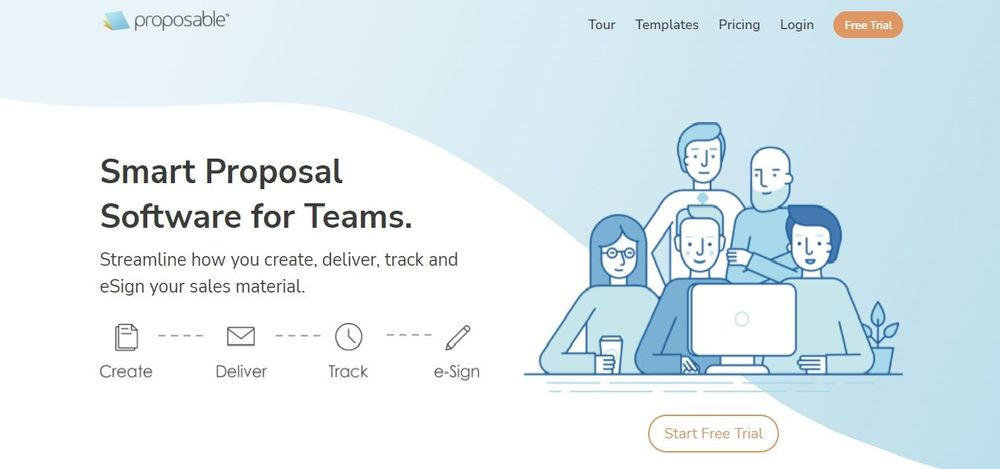 Proposable is a smart proposal management software that will be perfect for teams. Hence, if you are a marketing agency that helps businesses improve search engine rankings, this is one of the best tools for you.
The software will help you streamline the entire proposal process, from creating and filling out the SEO proposal template to tracking and signing to seal the deal. Their templates are easy to edit thanks to the powerful editor, and you can also add videos and other rich materials that will convince clients to try you out.
You can even keep track of the documents in real-time as the tool provides SMS and email notification when the proposals are opened and viewed.
With the inclusion of analytics, you will better understand your sales process. Sealing the deal and payment should also be easy as the software has built-in eSignatures and integrated payment gateways.
Pricing
You will get a free trial for all the plans on Proposable. Prices for these plans start at $19/month for every user on the Solo package, $39/month per user on the Team plan, and $500/month for the Enterprise plan.
Elements of a Good SEO Proposal
Every SEO proposal needs some key elements to show your prospective client you can add value to their SEO process.
It is essential to make sure you include each of the following elements, whether you are using a paid or free SEO proposal template: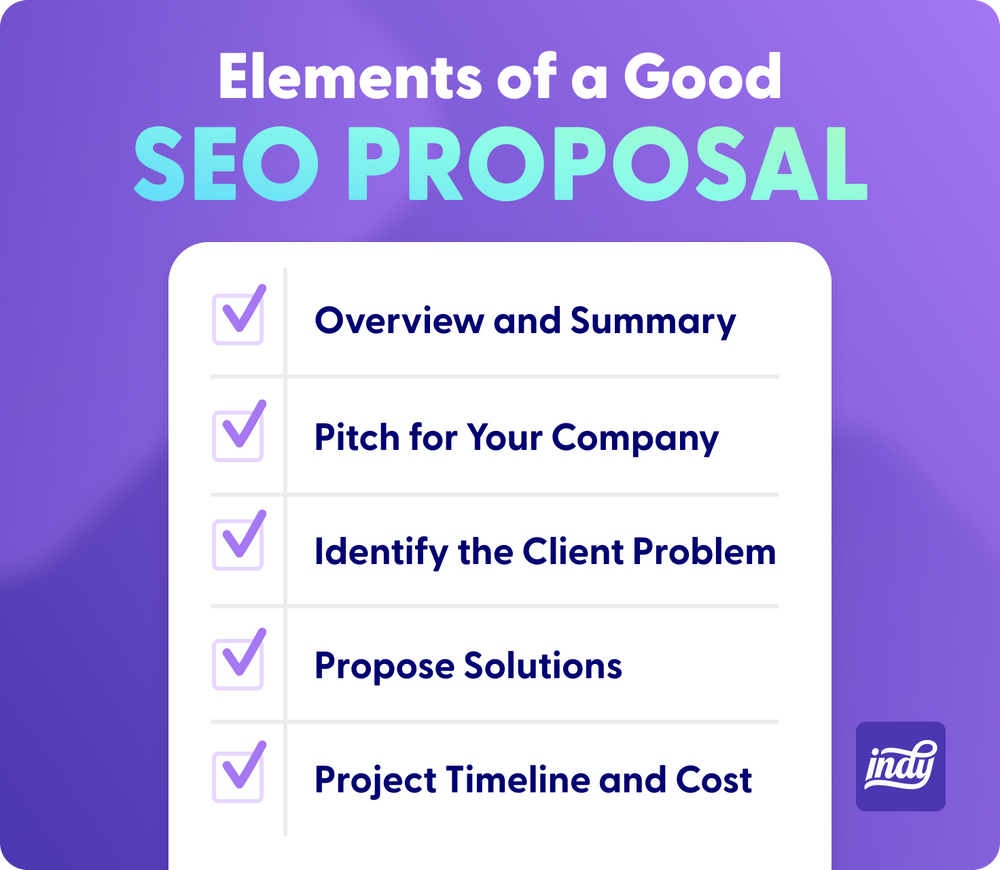 1. Overview and Summary
Your SEO proposal should always start with an overview of why you are writing it in the first place and an executive summary. Here you should provide an overview of the client's problem and how you can help.
Also, your executive summary should show the client what they are missing out on in their current state. For example, you can show them the organic traffic they are missing or their poor SERP position because of their lacking SEO.
2. Pitch for Your Company
You know your company can deliver a customized SEO campaign and help the client rank better, as you have already done it for several others. However, the client does not know all this, so you have to explain it to them.
Make sure you do not spend a lot of time telling the client how your SEO agency has won many awards and instead use case studies of your previous clients to show them what you have to offer.
3. Identify the Client Problem
While the executive summary has already outlined the client's problem, you have to go into more detail. You should use data and statistics to show the client how much revenue they are missing out on and also make it clear how much money they can save on marketing with better SEO.
However, be careful not to hit clients with complicated maths that will only confuse them. Instead, use the data to show them what they are making now and what they can make with your SEO services.
Some research would be beneficial here are you need to know things like the client's current conversion rate and average search volume for their main target keywords.
4. Propose Solutions
Now that you have made it clear there are problems with the client's business, you should propose solutions, which is where you sell your service.
Do you think the clients' website needs an SEO audit or better keyword research? Well, it is your time to let them know using clear and simple language that they will understand.
As you propose solutions, try to show the value that your specific solution will give them compared to the others they might be thinking of trying.
5. Project Timeline and Cost
You should also remember to give the client the project timelines and cost estimates. Let them know how long you will need to do the jobs, and the best way to do this is by breaking down the task into several milestones and allocating a specific timeline to each of them.
When it comes to the cost estimates, you should clarify what the client is paying for by providing a breakdown of your charges. Also, remember to factor in taxes when estimating the cost and let the client know if you can give discounts for certain services.
Final Thoughts
An SEO proposal is the keystone of your sales process as an SEO consultant, digital strategist, or SEO marketer, as it is what you will use to promote your services to prospective clients.
Your SEO proposal should not just be well-written and visually appealing but also identify specific client problems and provide possible solutions.
Writing one does not have to be hectic, as you can always use a template and customize it to suit your specific situation.
FAQs
Should I use a free SEO proposal template?
Yes, a free SEO proposal template can save you money and time. If it is a good one, you will save the cost of paying monthly subscriptions for proposal management software and the effort/time it takes to craft one from scratch.
What does an SEO service offer?
The scope of service will depend on the specific client requirements. However, a complete SEO campaign for new clients will include the following:
Full web audit, including content audit and keyword mapping
Off-page optimization like content promotion and broken link building
Few tips and guidelines for content development and link building strategies
Online brand enhancements and messaging adjustments