While there's a wide variety of social media apps you can use to share pictures, Instagram is best suited for photographers. The platform was designed with pictures in mind and offers several helpful tools that both budding and experienced photographers can use to promote their work.
With over one billion users, Instagram exposes your work to lots of potential clients. It is also a great place to interact with other photographers and get feedback from your clients. However, to get the most out of Instagram, you need to have clear and informed marketing strategies.
Let's dive straight into how you can get photography clients from Instagram.
19 Ways to get more Instagram clients as a photographer
Photography clients are everywhere on Instagram, but it can be challenging to find them if you don't know where to look. Here are 19 tips to help your Instagram profile attract new clients and where you can find them.
1. Brand your photography business
Your Instagram account will represent your business. As a result, it's important to set up a high-quality business profile for your photography practice if you haven't done so already. While you might take some interesting pictures from your daily life, post those on your personal Instagram account to keep your image professional.
While filling out your business information:
Enter a short description of your business in the name field, eg. Jane Doe wedding photographer
Describe your services with a detailed bio description
Add a link to your portfolio
Provide your location details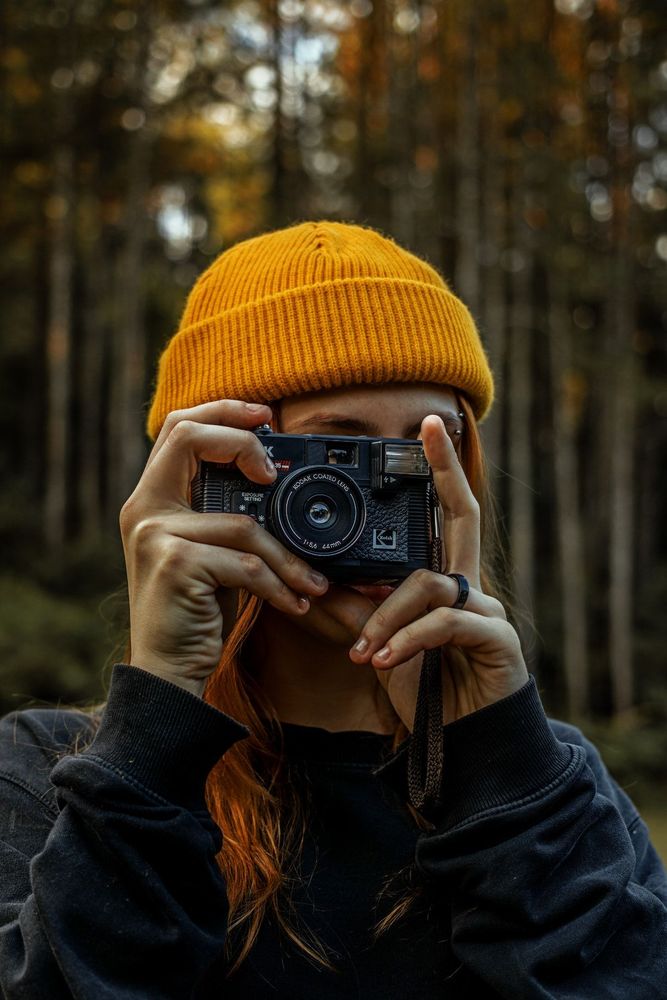 2. Maximize your profile
When creating your Instagram account, choose a name that is instantly recognizable and easy to remember. This is especially important if you have a common name. For example, "John the nature photographer" is better than "John Smith."
Use this name across all social media if possible to make it easier for users who saw your work on a different platform to find you.
Use a captivating photo of yourself or a business logo as your profile photo. This picture will define your whole brand, so if it's offensive or not appealing, you'll have a hard time getting new clients.
3. Don't lock the profile
Instagram gives you the option to lock your profile so that only your followers can see and interact with your posts. While this is great for keeping spammers and trolls away, it's not ideal for a photography business account.
Even if you have a sizable number of followers, your community will not grow because no one will be willing to follow you without seeing your work. It will also limit your visibility because Instagram promotes accounts with high engagements.
4. Focus on one niche
Treat your Instagram account as your portfolio and use it to develop your brand. Use your feed to post photos that revolve around your work's central theme. This could be a specific subject such as architecture, weddings, nature, fashion, sports, or even people. For instance, if you're an architectural photographer, your potential clients will come to your feed more often if you post pictures of interesting architectural designs.
Most Instagram users visit your profile and decide whether to follow you based on your last several images. Therefore, you should always ensure that the images at the top of your feed represent your work as a photographer.
5. Only post high-quality images
Although it's important to remain active on Instagram, flooding your feed with pictures every 5 minutes will do more harm than good. Treat your feed like the highlight reel of your portfolio by only posting your best work.
To get more photography clients, ensure that each post has a distinct "wow" factor, but still blends into the collective aesthetics of your feed. By using a common theme and consistent color palette, style, or saturation, your target audience will become engaged followers.
If you have a few pictures from one photo shoot but can't decide which one to use, use the multiple photos option. This way, only one will appear on the feed, but your visitors have the option to view the rest.
6. Think about your audience
To be successful on Instagram, you need to think about your target audience and how to appeal to them. Think about your photography clients and ask yourself:
What do they like?
Where are they located?
How old are they?
How do they use Instagram?
Answering these questions will help you create the type of photos your target audience would like to see on Instagram, making it easier for you to get more clients.
7. Post regularly
If you take too long between posts, even your existing clients will forget about you. You should post strategically and aim to appear in the timeline of your target audience several times a week. When they continuously see your work, they'll eventually get interested and check your profile.
That said, as explained earlier in the article, you should focus on quality over quantity. Publish only the pictures you're confident about.
Developing a consistent posting pattern will capture the attention of your target market and turn them into engaged followers. It also helps you grow as a photographer, as you try to outdo your previous post in the next one.
It might also help to post in the morning, as studies show it's the most popular time of day for people to scroll through social media.
8. Work on the captions
Even the most beautiful photos will feel lifeless without an appropriate caption. so share a story about what the image is about to get more engagement from your viewers. A well-crafted caption is enough to get potential clients engaged and feel a personal connection towards your work.
Captions are a great way to elicit an emotional response from your followers. Viewers are likely to click "Read more" on an engaging caption and spend more time on your post.
If you're out of caption ideas, you can write an open-ended question, which will prompt your viewers to comment on the post. For example, if you're a fashion photographer, you can post two pictures of models with the same outfit but different accessories and ask, "Who wore it better?"
9. Post on Instagram Stories
We've already established that you should only post your best work on your Instagram feed. So what do you do with the rest of your "average" photos?
Instagram Stories is ideal for all the pictures you'd like to share with your followers, but they're not good enough to stay on your feed permanently. Since these posts disappear after 24 hours, you can post new ones every day without flooding your followers' feeds.
Additionally, posting on stories every day gives you a deeper connection with your followers than posting on the feed every few days. In fact, this is one of the most reliable ways to get new clients because most Instagram users spend more time on stories than on the feed.
10. Don't forget about Instagram Reels
After the rise of TikTok, every major social media platform created a short video segment. While Reels is not as popular as TikTok, it's still part of Instagram and feeds on the one billion users.
Currently, Instagram is trying to shift into the short video space, so the algorithm heavily favors accounts that actively post on Reels.
You can use this service creatively to capture the attention of potential photography clients. For example, you can film short behind-the-scenes videos of a photo shoot or the work that goes into editing photos. This helps your audience develop a more personal connection with your brand.
Here are a few other tips you can use to get more clients from your Instagram Reel:
Show your target market a side of photography they aren't accustomed to
Share video testimonials from existing clients
Give your audience a studio tour
Talk about your photography business
Do a "what's in your camera bag" video
11. Use hashtags
Hashtags are another great way to get photography clients on Instagram. They are a great way to direct your photos to a target audience.
Use appropriate, specific, and popular hashtags to boost your post's exposure. While this practice has been common, it's even more popular now that you can follow specific hashtags. You can hashtag your business, location, brand, subject, client, or even the equipment you used. You could also create a unique hashtag for your photography business.
Community and hub destination hashtags connect like-minded Instagram users around a certain subject. This helps potential clients who are interested in your niche find you more quickly.
12. Build a community
As a photographer, you need to build a community to get more clients on Instagram. You need to be less concerned about your follower count and focus on engagements.
Follow photographers you admire and comment on their work. They are likely to reciprocate, which will boost your Instagram presence.
You can also build a community around your photography niche. For example, if you're a car photographer, you can follow car brands and car content creators. This is another great way to increase your brand awareness to potential clients.
13. Engage with other Instagram users
Most photographers just post on Instagram and ghost. Connecting with potential clients also means engaging with them outside your feed.
Leave thoughtful comments on any interesting photos you see and follow potential photography clients.
14. Don't ignore your comments section
The best place to get new customers on Instagram is your comments section. Take time to engage with everyone who has commented.
Appreciate their response, even if it's just one word or an emoji; answer all their questions and thank them for the time they've taken to comment. It is good etiquette and an excellent opportunity for feedback.
Additionally, the Instagram algorithm identifies posts with high interaction (likes, comments, and replies) and boosts them higher up in the feed. Therefore, engaging with your followers increases your posts' visibility and increases their chances of crossing the eyes of your ideal clients.
As you meet potential clients, you can seal the deal by reaching out to them with a proposal template. Templates make it easy to generate proposals that help you win clients.
15. Tag businesses, people, or clients
Increase your engagements by tagging people who are in the photo, the clients you took it for, or the business where it was taken. For instance, if you took a picture of your friend at a Starbucks, you can tag them, Starbucks, and the location.
This will expose your post to three more groups of people who wouldn't have seen it otherwise. As a bonus, these photos will remain in their tagged library and help you build your community.
16. Find Instagram Hubs
Instagram Hubs are accounts that share other users' images like an online gallery. These galleries solely focus on a specific subject matter, photography genre or even color scheme.
Find as many relevant hubs as you can, follow them, interact with them, use their dedicated hashtags, and hope your photos will get featured. When they do, they're exposed to the hub's wide audience.
17. Add some personality to your feed
Although it's important to separate your personal life from your business Instagram feed, adding some personality will make it feel more authentic and strengthen the bond between you and your community.
On Instagram, it is your personality, authenticity, and professionalism that will attract the ideal client to your business. Use your feed to communicate to your clients who you are so that they understand your style and methods. Give an insight into your shots or share important moments such as when you get new equipment, etc.
However, you must remember to keep the 80/20 rule: 80 percent photos within your central theme, and 20 percent other photos that might boost engagements.
If you'd like to share more personal photos with your community, you can add a link to your personal blog on the bio. You can also document interesting day-to-day scenes on Instagram Stories.
18. Be professional
Being professional means not leaving offensive or distasteful comments on anyone's posts, whether they follow you or not. It's also unprofessional to go to your competitor's profile and follow all their followers.
Don't just follow people for the sake of it; follow only profiles that make sense to your business. As a rule, you should aim for a 3:1 ratio. This means you should follow one person for every three followers you get.
19. Be authentic
Although it's important to draw inspiration from your favorite photographers, make sure your feed does not look like a copied version of theirs. Create some fresh ideas of your own and experiment widely. Use your audience's feedback to improve or restrategize.
To wrap it up
Social media might seem challenging when you're starting out and need instant results. However, just like a website, you'll need to work on your social media profiles before you can start earning from them.
The best way to get new photography clients on Instagram is to build a community around your brand. Interact widely with other photographers, existing clients, followers, and anyone else on your list of potential clients.
As you get new photography clients on Instagram, it is important to use contracts to protect your work, invoices to get paid quickly and easily, and task management software to organize your projects. Indy gives you all these and more under one productivity suite. Get your free trial today!