Grant writing is a specialized skill. It's not something that just anyone can do. Grant writing is a process that requires you to think strategically, be organized, and show your funders how their money will be put to good use with a proposed project.
With so many different types of grants out there and the competition they tend to bring, getting your application accepted can prove challenging. In fact, many people are so afraid of rejection that they don't even apply for grants.
This is a big mistake! An effective grant proposal is a detailed document that explains why your organization deserves money and how you plan to use it. They also act as a selling document, outlining why the funding agencies should trust you with their money. The trickiest part of grant writing is thinking like your potential donor and proving why they should trust you with their money.
That's why we're here to help! Whether you're new to the world of grant proposal writing or need a refresher on best practices, this blog has useful tips and advice for anyone looking to get funded. Here are some tips to help you write an engaging and persuasive grant application that will increase your odds of success when applying for funding from granting agencies.
What are grant proposals?
Grant proposals are a way for people to ask a funder to work with them to reach certain goals. It is a request for money (a particular grant) that goes to profit or nonprofit organizations.
Every year, many companies, organizations, and government agencies give billions of dollars to companies in the form of grants to help them work on issues that are important to them. A grant application should be a compelling and well-supported case for change.
Successful grant applications have a clear project narrative and have done their own research and literature review. Winning a grant proposal will be easier if you have a great cover letter as well.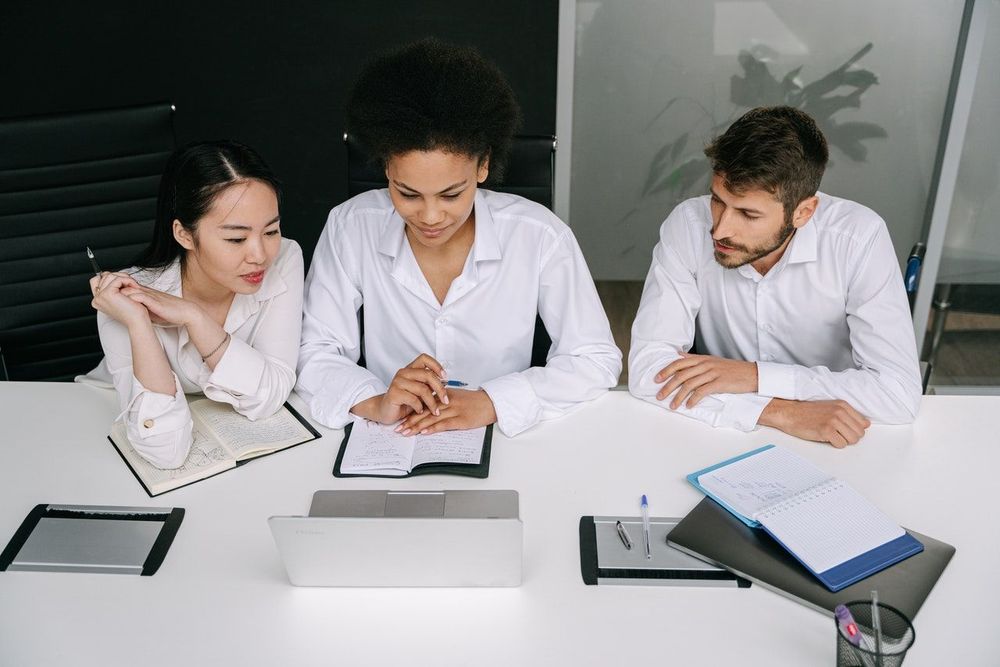 Why is grant writing important for freelancers?
Every year, more than 50 billion dollars are given in the form of grants to nonprofit organizations with successful proposals.
To be able to have success in securing funding for your organization's mission, you'll have to put in a lot of effort, and the standards might be rather stringent.
There are different grants available for any project size. Additionally, grants can either be project-specific or unrestricted, allowing you to use the money for general running expenses or capital campaigns.
The writing process includes a concise project narrative that will secure the project budget and show grant reviewers that you are serious about spending the money where it counts. An effective grant proposal can open many doors for freelancers, especially if you are doing community work where you get to network a lot.
You may even secure additional funding if you can meet a board president or even just an executive director of the granting committee.
Where can freelancers look for grant funding?
In the last few years, there has been a lot more competition for all kinds of grants. Most nonprofit organizations also struggle with not having enough time, staff, money for database subscriptions, and not knowing enough about grants.
Prospective grants are a great way for nonprofits to raise the money they need to run well-thought-out programs.
Here is a list of all the places you can look for grants:
1. Grants.gov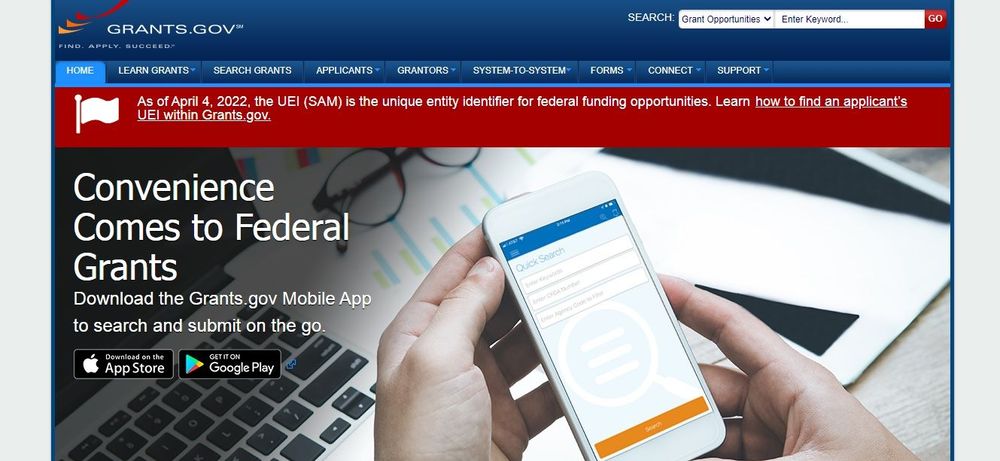 If you live in the United States, you can use an online database of government grants that you can search through to find what you need.
On the left side of the page, click "Find Grant Opportunities." Then, click "Basic Search" to use a keyword or a group of keywords to find the right federal grants for your work.
Sign up for their mailing list to get a list of current federal funding opportunities every day or every week.
2. Foundation Center
Foundation Center is especially helpful because it has a large directory and many free resources. This is the best place online to find grants from private foundations, corporate foundations, and other nonprofits that accept grant proposals.
3. Google.org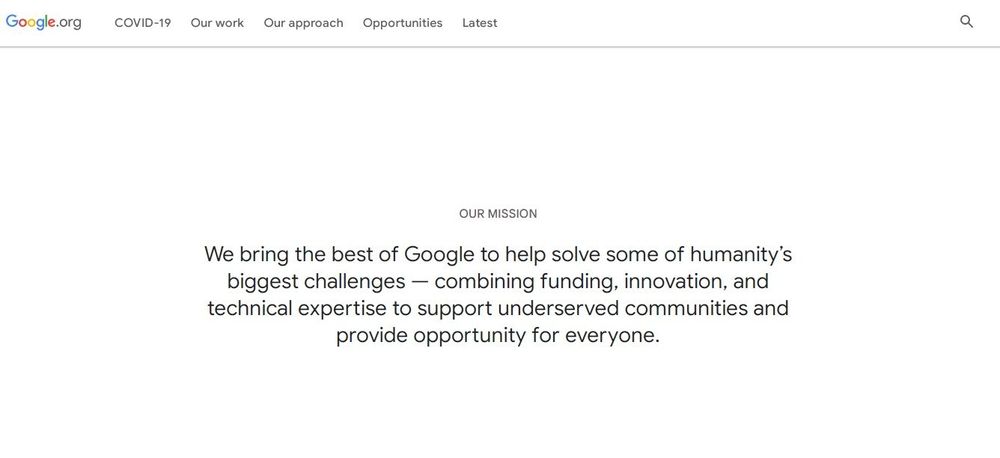 Google.org plans to give away more than $1 billion over the next 5 years. On their Google Impact Challenge page, nonprofits can find out about new tech grants as they are announced.
4. Ad Grants from Google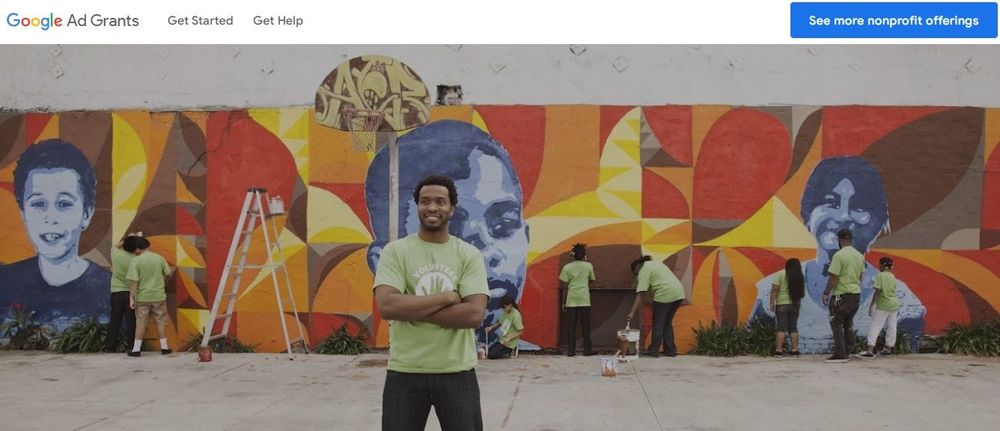 Every month, the Google Ad Grants program gives away $10,000 USD worth of free advertising from Google Ads, Google's online advertising service.
5. Grantwatch.com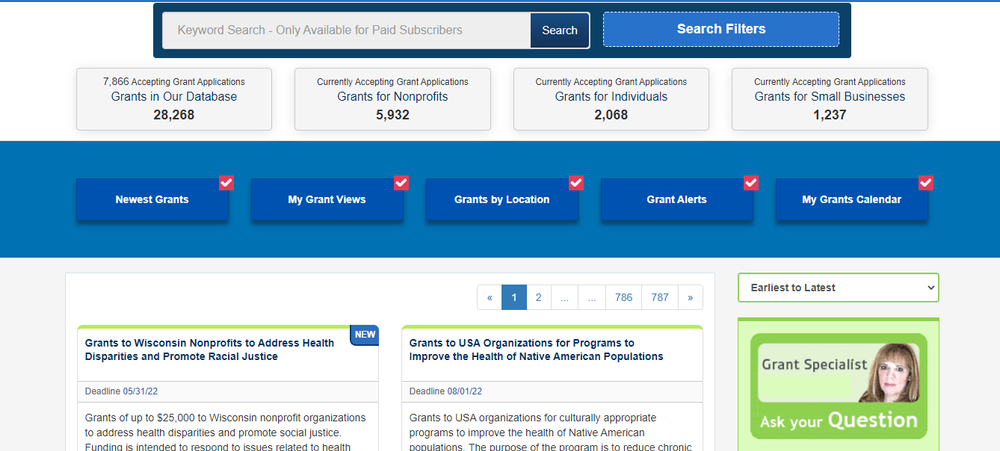 Using their search engine, you may find grants for:
universities
hospitals
government agencies
schools
community-based organizations
faith-based organizations
research institutions
some small businesses and individuals
6. Local/state funding
Depending on where you live, you may want to look for grants at the city or state level.
You can call or look at the websites of the relevant local or state departments. You could try contacting the Departments of Health, Jobs and Family Services, Human Services, Development, Small Business Development, Education, Transportation, or the City Councils. Find out about what grants they have and what project goals they would like to achieve.
Choose the department that fits your mission the best. For example, if you run a nonprofit that helps people learn, the Department of Education is your best bet.
7. Search engines
Sometimes, all you need is a good old Google search (or a search on your preferred search engine).
But in order for that search to work, you need to have keywords ready. What are 10–20 keywords that fit the project description and executive summary of your grant application?
Your criteria can include keywords, topics, locations, the type of people you want to reach, their gender, race, or ethnicity, and any other key elements. Make a list ahead of time so you can easily narrow down your research question and focus your search.
8. Guidestar
Guidestar has information about all kinds of nonprofits, including foundations. You can sign up for free and then use the advanced search options.
9. Board members
Your board is a resource that is often underused, but it could be a goldmine for grants. As you look for funders, write down the names of foundation trustees and staff. Then, send these names to your board so they can see if they have any connections.
Also, you could ask your board members directly if they know of any family foundations, corporate foundations, or other grantmakers who might be interested in supporting the work of your nonprofit and if they would be willing to make an introduction.
9 Essential components of a good grant proposal
Grant proposals have a relatively fixed structure that is expected to be followed. The writing process is fairly easy once you get the hang of the structure and present a good fundraising plan.
Proposal summary
The first section of your proposal is called the proposal summary, and it should be brief. You only have a few sentences to make your case, so summarize what you are proposing in one sentence.
Include both the money you're hoping to get from the grant and the help you'll get from others.
Introduction to the applicant
Foundations and corporations are looking for organizations that are well-established, have a history of success, and will use the money wisely. After writing a compelling introduction to your organization, you should include information about your current projects, goals, and accomplishments, as well as present some measurable outcomes.
Give an overview of your nonprofit and argue for its legitimacy. Tell the donors why they should put their faith in you to manage the money wisely. Tell them about the history of your company, your track record of accomplishment, and why you think you're the best choice for the job. You can put this in your cover letter as well.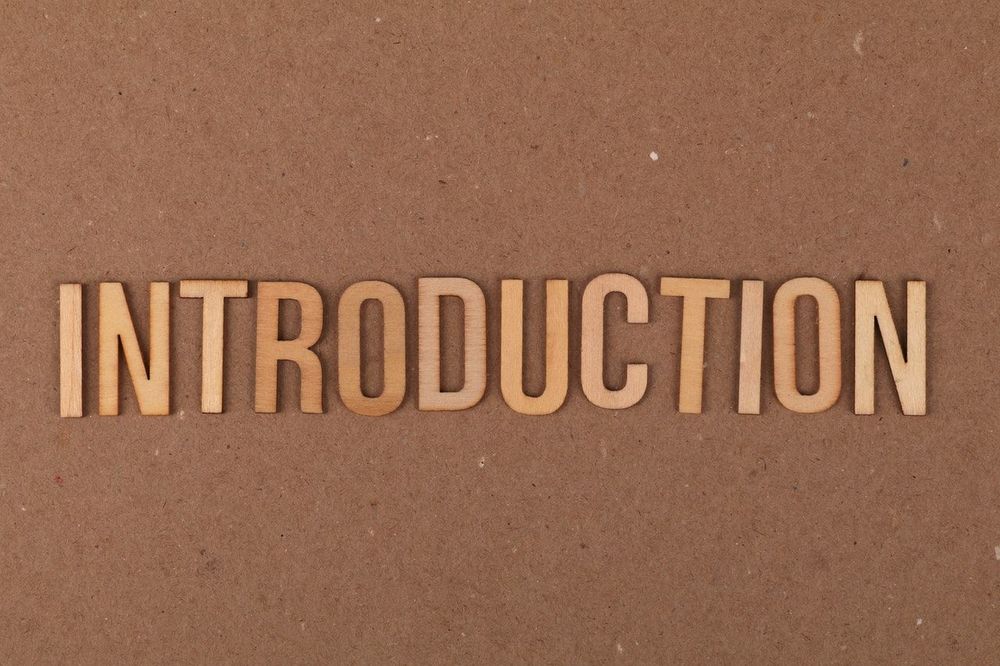 The need/the problem statement
The first paragraph of a grant proposal is called the "need/problem statement." This paragraph is the basis for your entire proposal, so it's important you get this right. The need/problem statement should cover two things: Why money is necessary and what specific need(s) the money will be used to fulfill.
Make it clear who will profit and how. Be straightforward about what would happen if the project was not funded and the needs were not met. You can present an accurate, well-documented account of the issue here. Share something you care about and why it's important to you.
You can even include a real-life case study of a person your organization has helped. For confidentiality concerns, use a pseudonym for this person's real identity.
The objectives and outcomes
Your first step is to define your objectives. What are you trying to accomplish by requesting this grant? Where do you want to go with it? Be clear and specific about what you want to achieve.
Next, figure out the outcomes of your project. How will this money improve your organization in the long term? What will be different if you get a yes? And what if you get rejected?
Third, think about the best ways to show that what you're asking for is within their mission statement. Remember that foundations and corporations have mission statements for a reason - they want their donations to have an impact that aligns with their goals. The grant applications that align with their goals have a better chance of getting funding!
The last thing to consider is how the funder can measure success - this way, they know whether or not your proposal was successful after completion of the project. One way is by providing them with quarterly reports on how much and in what way the project benefited the organization.
Program plan
Every grant proposal should include a thorough outline of the program plan or project scope, including:
the problem being solved
the objectives and desired outcomes
planned activities and responsibilities
timetable
budget
This section should be detailed enough to give your funder an idea of what they are funding. For instance, if you're applying for $20,000 to fund a new after-school program that will teach kids how to play music, you should include in this section a clear description of what that program would look like:
Who would be teaching the kids?
What is their background?
How many hours a week would the new program be running?
What musical instruments will be used?
Will students be performing for the public?
Describe in detail how you plan to attain your goals. What are your most important responsibilities? Give as much information as you can about what you aspire to achieve.
The capacity
One of the most important parts of a grant proposal is how you plan to use the funds. You need to convince the donor that you have the capacity to make good use of their money.
You want them to feel confident that you can handle the funds responsibly and that you have a realistic budget with no indirect costs.
It's important to include details about your organization's financial health, what specific goals you plan to accomplish with the funds, and how you will measure success.
In addition, you must describe the steps taken by your company in order to get ready for the job. Do you, for example, have a board of directors and a community that supports you and your organization and have appropriate, skilled staff? Tell the donors how they can help you help them.
Evaluation plan
What will you do with the grant money once it's awarded? It is imperative that you know how you intend to evaluate the success of your project.
Asking for a grant without an evaluation plan is like asking someone to lend you money without any kind of repayment plan.
Program budget
Before you can write anything, you have to know how much money you are asking for. A program budget is the first thing that a funder wants to see in your proposal, so it's worth figuring out your needs.
Provide a detailed and reasonable estimate of capital expenses. It is imperative that you include information about projected costs as well as additional sources of revenue (like other funding) in your strategic plan. Examples include the resources provided by the applicant organization or by third-party collaborators, for example.
To do this, ask yourself these questions:
How large of an organization is my nonprofit?
What does my nonprofit need?
What funds are previously allocated for my nonprofit's programs?
How much will each program cost?
The answers to these questions will help you determine the best way to prioritize your request for funding. This will also help show the funder that you understand what kind of commitment they're making by investing in your project.
Sustained impact
When you're writing a grant proposal, you need to think about the big picture. Is your project a one-time endeavor, or does it need ongoing funding? How will you continue to make a difference when the grant time is over?
To have better chances of receiving a grant, you should demonstrate how your organization is constantly striving for growth. This is what separates you from other nonprofits that use their funding as soon as they get it.
It's important to show that you have a plan for the long term and that you plan on using the funding for purposes of growth. When writing, be sure to emphasize how your funding will positively affect lives in the future.
General tips for successful grant proposals
Pay attention to the key interests of the granting agency
As previously stated, if the call for proposals includes keywords—or if the objective or aim of the funding agency includes keywords—be sure to incorporate some of those phrases throughout your proposal. Don't go overboard, though. You don't want to go into too much detail on the links between your project and the reader's goals.
Organize ideas through numbered lists
There are some grant writers that structure their thoughts in numbered lists. Lists like "This project's three key aims are..." or, "The four stages of this plan are as follows:" Using numbers in this manner may not be elegant, but it may be an effective technique to convey your knowledge in a simple and readable manner.
Write grant proposals that are customized
It is possible that you will have to apply for many grants from different funding sources because grant money is so scarce. It's best to tailor each proposal to the specific needs, expectations, and criteria of the funding source to which it will be submitted. Even if you utilize pieces of one proposal in another, never use the same proposal again.
Be smart about the organizations you ask for funding from when applying to many sources at the same time, as well. Identify the sources that are more likely to support a request for materials and those that are more interested in covering the costs of staff, for example.
Go after grants and funding agencies of all sizes
Be on the lookout for both modest and large funding possibilities. In fact, obtaining a lesser grant might sometimes make your application for a bigger award more appealing. Your project's credibility might be enhanced if you can demonstrate the backing of one or two key stakeholders.
Grant proposal writing takes practice
It takes a lot of effort to write a grant submission. It involves a careful examination of your vision and a critical examination of how your solution can successfully address an issue. As a result, even for experienced grant writers, this procedure typically ends in failure.
Grant writers, on the other hand, find the process of articulating and defending their goals and methodology to be worthwhile, even if they don't obtain many of the funds they apply for. Your project will benefit by writing about it in great detail regardless of whether or not the grant committee agrees to fund it.
Your project will benefit by writing about it in great detail regardless of whether or not the grant committee agrees to fund it. Even if you're awarded a grant, your work isn't done. Many grants need regular updates and progress reports, so be prepared to keep writing!
Conclusion
Writing a grant proposal is no small feat. It takes an incredible amount of research, thought, and organization.
But at the end of the day, your proposal can be the difference between your nonprofit organization being awarded grant money or not. If you need to write a grant proposal and want it to be successful, there are a few things you need to keep in mind.
First, make sure you have a strong, clear need or problem statement. Second, back up your proposal with plenty of supporting data, research, and statistics. And finally, make your proposal even stronger by including an evaluation plan and budget.
With these factors in mind, you can give your grant proposal the best chance of being funded!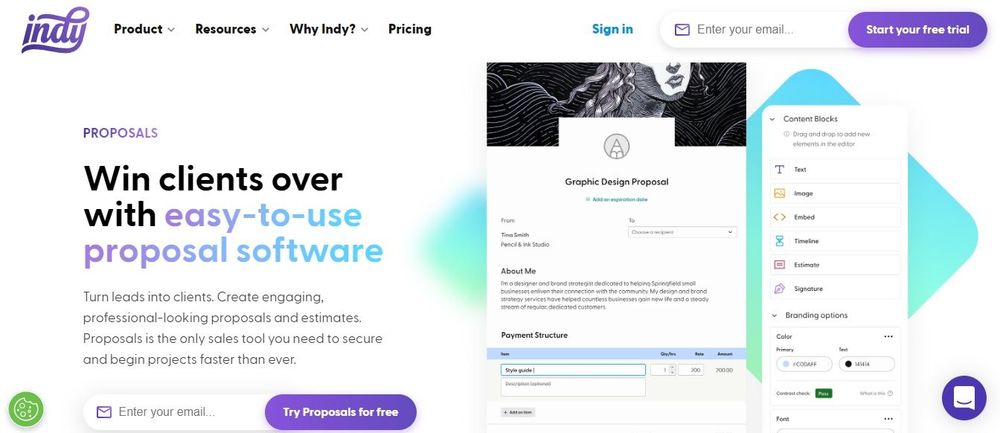 And if you're a freelancer, Indy has a Proposals tool that lets you create customized proposals. We make freelancing simple by giving you all of the productivity tools you need to manage your business–like proposals, contracts, forms, task management, scheduling, file storage, invoicing, and time tracking. Get started today for free!