Old school vs. young blood. Traditional vs. modern. Is the battle between Asana and Microsoft Project really this simple? Which one is the better choice for project management software this year?
In this article, we'll cover four key areas of each project management tool, so you can see how they match up and which might be the better option for you.
What is project management software?
You probably already know the answer to this question, at least generally. But in case you aren't familiar with the term, we can summarize what these tools do for you.
At the core of project management tools is a system to manage tasks. Simpler systems have clear to-do lists and not much else, while more sophisticated systems offer task management for multiple projects and team members.
What separates project management software from a simple checklist is some form of project timeline view. This could be a kanban board with cards or a Gantt chart showing tasks and their dependencies.
It is almost impossible to manage projects without a collaboration tool. This allows the manager to contact and work with each team member, either individually or in working groups. Software accomplishes this with a native tool or by integrating with another app.
These are three of the core features of project management software. There are dozens more advanced features, such as automation, resource planning, and more.
If you're a freelancer or run a small company and are searching for a place to obtain all of the tools you need to operate your independent business in one location, we'll also go over an excellent option for you to consider: Indy.
Now, let's look at each of these platforms in a little more detail.
What is Microsoft Project?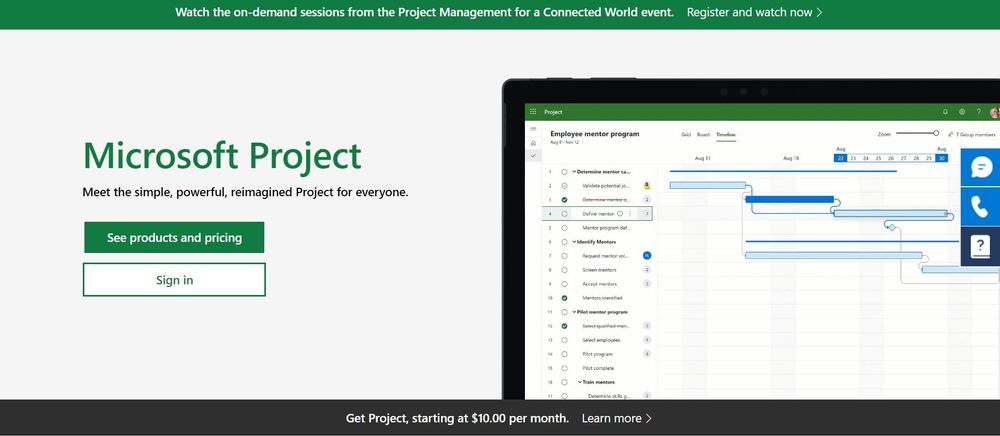 Microsoft Office 365 includes Microsoft Project. It's a Project Management solution for all sizes of businesses. It lets teams plan projects, create and allocate tasks, and monitor project progress. Teams may utilize the platform to organize brainstorming sessions, coordinate marketing operations, create charts to assess task progress, and give solutions to problems.
Microsoft Project is used to generate budgets and predict project costs, assess project cost performance using Earned Value Analytics, and produce task and project execution reports.
Microsoft Project has both on-premise and cloud subscriptions with several price structures for its tool.
Key features:
Team Calendars alert members of upcoming activities and meetings.
Project Timeline View lets you see your complete project from above, share it with stakeholders, and change its format and colors.
Microsoft Project enables file, dashboard, and client data sharing. Team members may examine project details easily.
Microsoft Project lets you build reports to track progress. The report shows project costs, ongoing tasks, and fulfilled objectives.
What is Asana?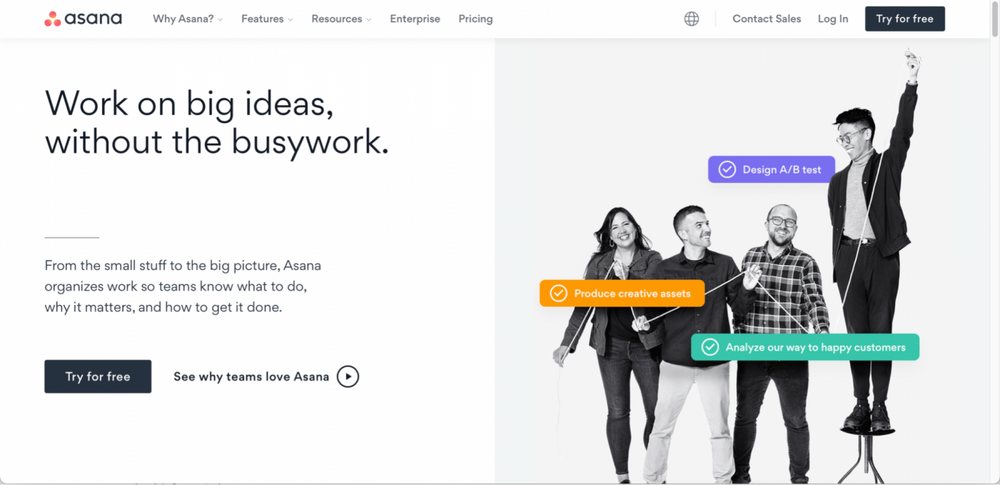 Asana is a web and mobile management solution that helps teams monitor, organize, manage tasks, and communicate. It's extremely adaptable, promotes real-time team communication, and works for all-sized enterprises with many projects.
Asana helps break down tasks. Teams may create projects, allocate work to peers, set deadlines, communicate and assess task progress, and resolve difficulties easily. It removes needless meetings, emails, and memos.
You can utilize Asana's reporting tools to track project progress, connect files, and see projects and tasks in Calendar View. Google Drive, Dropbox, Zoom, Salesforce, Outlook, Tableau, and more can be integrated to add additional functionality.
Key features:
Users may establish projects, tasks, subtasks, task assignees, sections, and columns. Tasks break down work into manageable chunks and can be added to projects at any moment to assist, organize, and execute plans. Subtasks are created beneath a task to reduce it into phases.
Asana enables teams to interact by monitoring projects and commenting directly on tasks, offering input on photos or PDFs, discussing a project's progress, and mentioning peers in projects, so everyone is linked in real-time.
Asana lets you create a prioritized to-do list, get alerts on projects, tasks, and chats, and filter them. Calendar View shows tasks, due dates, etc.
Reporting helps define, measure, and manage objectives in Asana. You can use milestones and portfolios to track strategic efforts. Dashboard charts show project progress.
Create teams to organize and manage projects, connect members with a shared calendar of chats, add followers and visitors, and control the team's privacy settings. Departments, projects, or job functions may form teams.
Microsoft Project vs. Asana: Key differences
Both Microsoft Project and Asana are effective tools for a project manager, but their differences are connected to their philosophy and development. We've already listed the main features of each platform, so let's look at the key differences.
Microsoft Project
The big difference with Microsoft Project is its extensive connection with the rest of Microsoft's ecosystem. You can access Microsoft Project as an extension of the Microsoft Office package. You can organize projects and then assign tasks using all the Microsoft collaboration tools such as Teams, Outlook, and Skype.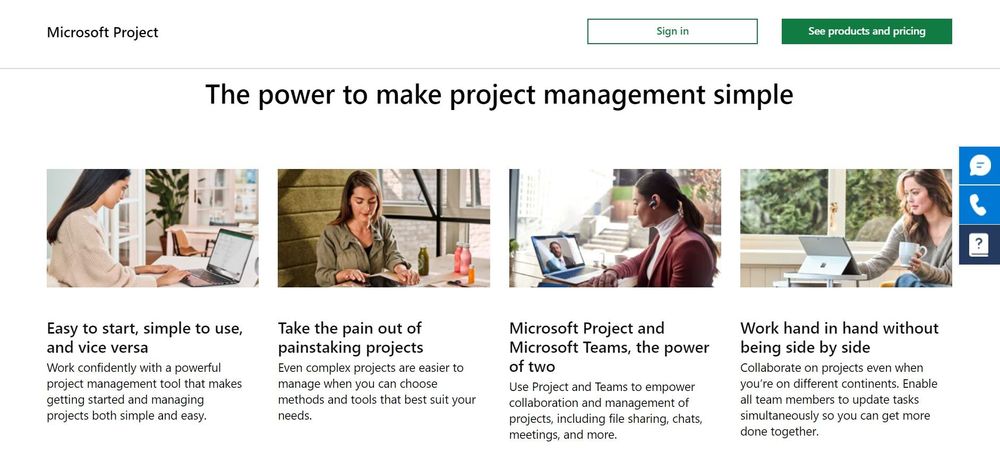 MS Project is well suited for complex projects and large business applications. Its extensive integration brings more data into use. This means Business Intelligence can be used to create reports and dashboards.
Asana
Asana seems more suited to some users because of its design and integrations. Asana's flexible approach uses kanban boards, lists, and timeline view options to schedule projects. This makes it easy to monitor task distribution and enhances scheduling capabilities.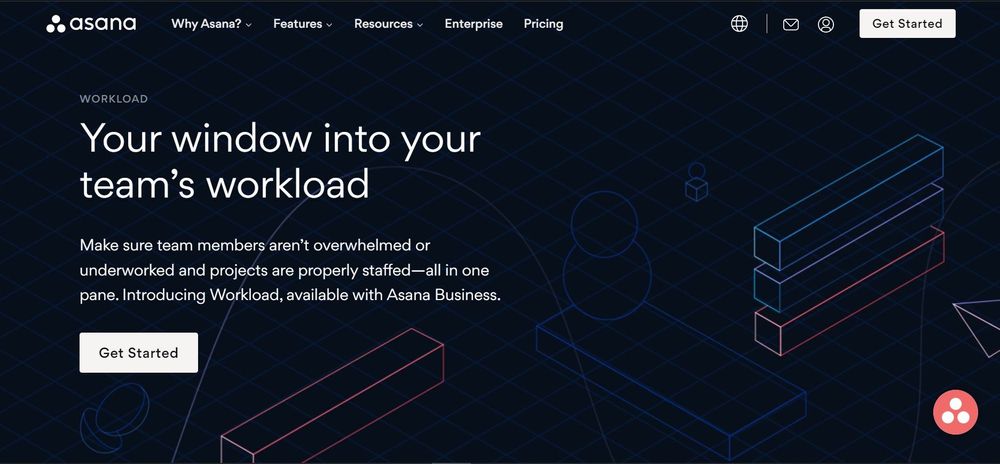 Asana also works with hundreds of other apps. This makes it more flexible because it works with other tools such as Slack, Dropbox, Google Drive, and more. When teams use many options, being able to integrate all of them is hugely important.
Microsoft Project vs. Asana: Pricing
Microsoft Project and Asana aren't the cheapest options available, but they have plenty of plans to fit your needs. Here's what they offer.
Microsoft Project pricing
Microsoft Project has 8 price tiers: Project Online Essentials, Professional, Premium, Standard, Professional, Server, and Pro for Office 365. Plans include on-premise and cloud implementation.
Cloud-based solutions:
Project Plan 1: Costs $10/user/month and has reporting, project planning, and scheduling capabilities as well as allowing data to be displayed in different ways. This includes Gantt charts, grids, and tables.
Project Plan 3: Costs $30/user/month and allows for resource management—you can request resources for your team and assign them to different team members.
Project Plan 5: Costs $55/month and has some advanced features such as demand management, through which you can analyze project ideas from anywhere in your organization. It also has portfolio selection and optimization, and enterprise resource planning and management.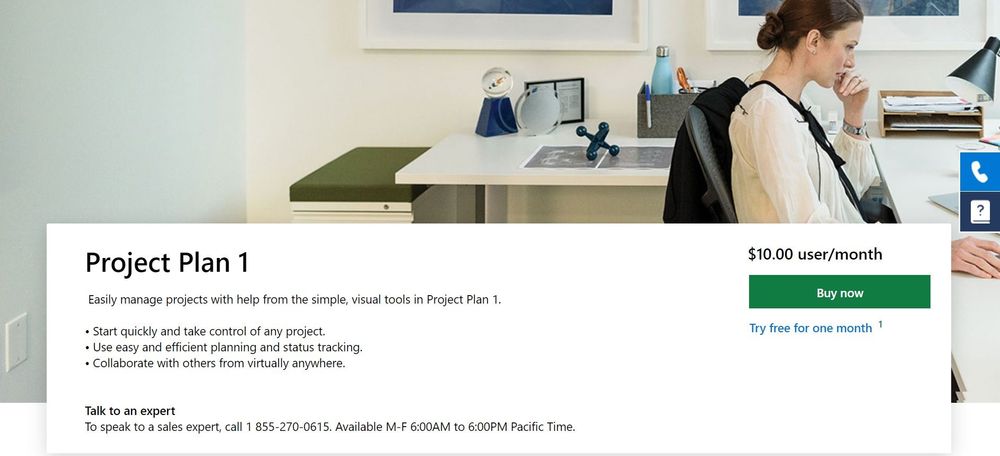 The on-premises solutions have a one-off cost:
Project Standard 2021 costs $679.99 and is for project managers who don't need collaboration tools. It is fairly basic but does include business intelligence and task management capabilities.
Project Professional 2021 costs $1,129.99 and is a comprehensive project management solution with more advanced features. There is invoicing available along with the ability to sync with Project Online, so you can collaborate with different team members.
Project Server requires you to contact Microsoft for the price. It has all of the functions of the other platforms but with advanced analytics that will help you come up with project proposals that are most in line with your business goals.
Asana pricing
Asana has four pricing plans:
Free: For up to 15 people, with basic features like to-do lists, Kanban boards, calendars, and app connections.
Premium: Costs $9.99/user/month with an annual subscription. All of the aforementioned, plus timelines, sophisticated searches, and the ability to create custom fields.
Business: Costs $19.99/user/month with an annual subscription. Portfolios, Workload, forms, automated proofreading, and Adobe Creative Cloud integration.
Enterprise: Client-specific pricing covers everything mentioned above, plus user provisioning, data exporting, branding, and elevated support.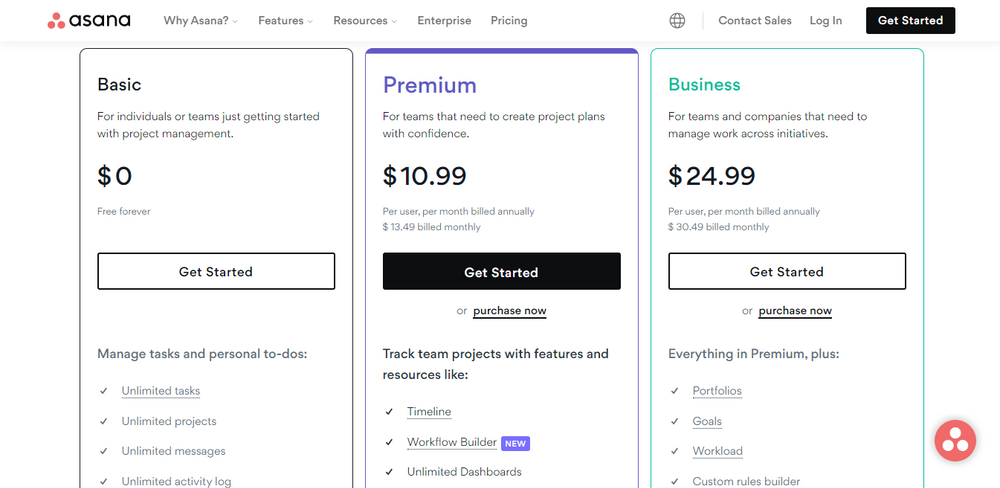 Microsoft Project vs. Asana: Ease of use
Here's where Microsoft Project and Asana take different approaches to project management. Microsoft Project is known for being a more challenging software to use, making it difficult for freelancers to jump in and start managing projects. This is because of its advanced functionality designed for experienced project managers. Asana, on the other hand, has a flexible and clear way of organizing more than one project and many tasks.
Microsoft Project usability
Depending on your experience, Microsoft Project has a steeper learning curve than most project management software. However, if you're well-versed with the ins and outs of advanced project management, or you are a freelance project manager, this may be more of a plus than a negative. Microsoft Project's interface has many useful properties for project administration. You can compare and contrast multiple projects and activities on one timeline by using Microsoft Project's Timeline View, while the dashboard provides an overview of your most important projects and tasks, including their current state. However, if you're looking for easy software to get started quickly, there are other intuitive options available.
Asana usability
Asana's interface consists of a main page and a left-hand sidebar for quick access to various settings and features. The primary window lists your projects and to-dos, and its layout is readily modified to fit your preferences. The dashboard in Asana also provides a high-level view of all projects and their associated tasks, including their current state.
Microsoft Project vs. Asana: Security features
Microsoft Project, Asana, and every other app in use by businesses need to prioritize security. Cyber attacks and scams are a constant threat. Team communication and the project server being used are specific vulnerable points. Let's see how each one handles security.
Microsoft Project security
Security features, including anti-phishing, anti-spam, and anti-malware, are included in Microsoft 365 for business subscriptions. Additional features such as device security, enhanced threat prevention, and data protection are available in Microsoft 365 Business Premium.
Microsoft also publishes its four-part pledge to protect your data. It mentions these four promises:
You control your data.
We are transparent about where data is located and how it is used.
We secure data at rest and in transit.
We defend your data.
Asana security
Password hashing, regular security audits, least privileged access, security-focused software development, and a public bug bounty program are all part of Asana's comprehensive approach to security. Asana's data centers, networks, and IT devices are constantly being monitored by the information security team for any signs of malicious activity.
Which is better for you?
If you serve on a large team, Microsoft Project and Asana both have attractive features to help you collaborate more efficiently. Microsoft Project has many advanced functionalities but requires a learning curve to take advantage of its best features. Asana is more easily accessible but is missing some important features for freelancers, like native time tracking.
Given a choice, there is a better and more affordable option for freelancers:
Indy.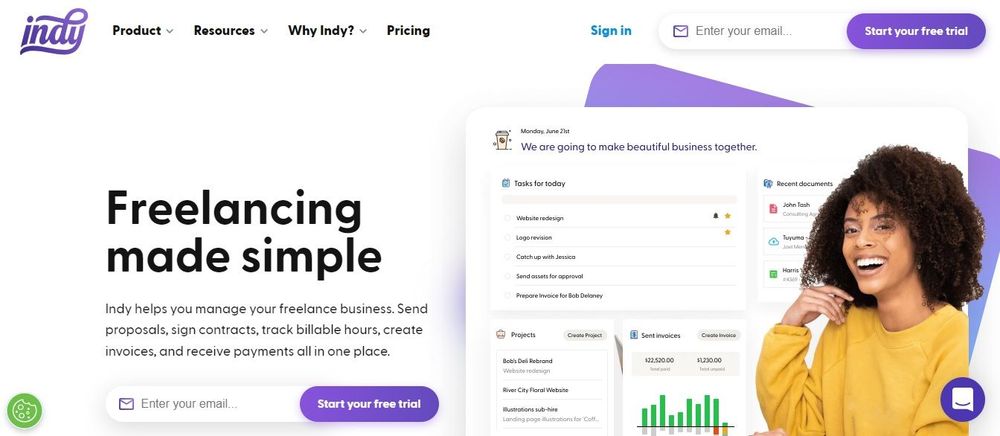 Indy is an all-in-one toolkit for freelancers. It includes project management capabilities such as:
Task management with boards and to-do lists
Templates for proposals, contracts, invoices, and lead-generation forms
Automatic time tracking and integration with invoicing
Communication with built-in messaging via email connection
File storage
An intuitive calendar app for scheduling and managing tasks
Simple yet powerful invoicing software
Indy is also great for freelancers because of its low price. For just $9/month when billed annually, you can access all the project management tools you need to manage your independent business from start to finish. And with the Free plan, you'll always have access to the tools you need to make freelancing simple—free forever!