When Smartsheet project management tool appeared on the market back in 2005, Microsoft Project had already been available commercially for 20 years. Does the seasoned veteran or the younger contender offer better project management capabilities? And which tool is better for freelancers? Read on to find out!
If you're a freelancer or run a small business and want to find a place where you can get all the tools you need to run your business in one place, we'll also talk about a great option for you to think about: Indy.
What is Microsoft Project?
Microsoft Project was one of the first project management tools that were available publicly back in the 1980s! It is used by some highly successful companies in the USA, including aerospace and defense organization Lockheed Martin Corporation.
What is Smartsheet?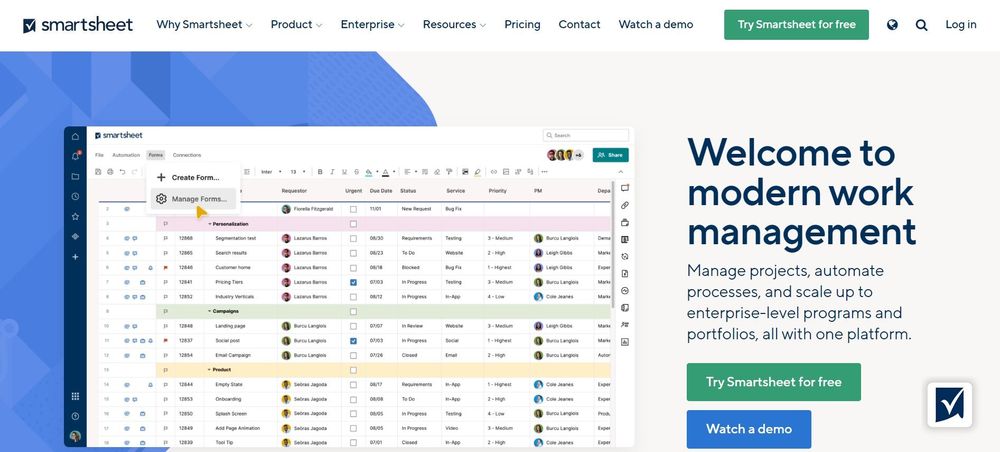 Smartsheet was launched in 2005, nearly 15 years before global lockdowns forced remote working on so many. Being at the forefront of hybrid workplaces, you could say that Smartsheet was ahead of its time. It was first set up as a spreadsheet-based platform where whole teams could track projects from any location. It is now used by an estimated 9 million people worldwide, including Google and Netflix.
Microsoft Project vs. Smartsheet: Key features
Both platforms have many great features to help project teams and freelancers get work done. However, Microsoft Project and Smartsheet take a bit of a different approach to project management based on their functionalities.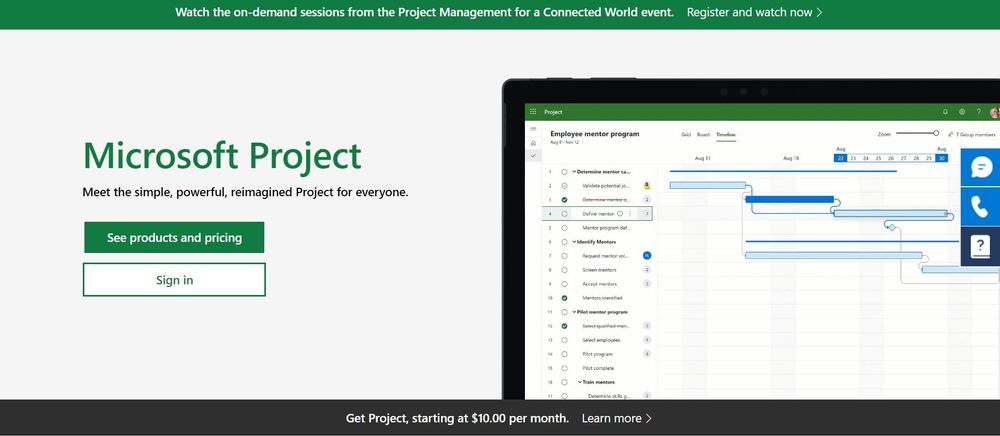 Microsoft Project features
Microsoft Project has a number of features to make project management easier. Let's look at a few of the most popular ones:
Dynamic scheduling - This involves the use of clever software that will map out schedules for you based on a number of factors. It will take into account staff availability, the overall objectives of your business, and obstacles that are likely to occur. This will lead to workflow management plans for each staff member and better resource allocation.
Business Intelligence - You can create interactive dashboards to share data across different applications. This helps your team to collaborate on reports and other tasks based on shared information.
Workflow automation - Automating different tasks can save a lot of time and also lead to better working practices within your team. For example, you can create tasks by sending emails and keep the workforce on track with each project.
In addition to these, Microsoft Project has all of the features we have come to expect from project management software, such as Kanban boards, calendars, and project management resources. It is one of the longest-serving and most popular project management solutions. This means it has most of the features you will need as a freelancer.
Smartsheet features
Smartsheet has many important features—too many to list—but a few of the key ones are:
Shared sheets - Similarly to Google Docs, you can invite users to view and edit your sheets. This can be an unlimited number of people. Alternatively, you can publish sheets to the internet. Either way, this allows collaboration between both small and large teams. Teams can include any number of people.
Shared workspaces - Set up a space in which your team can collaborate securely. You can also bring in clients or stakeholders who need to see your projects in action.
Send sheets or updates via email - Sheets can be updated via email without needing to log in. This means anyone on the team can quickly and easily keep you up to speed with project progress.
Upload files - You can easily bring in files from any source to existing sheets, making it easy to add important information to projects.
All of these features and more can be easily accessed from one place. Drop-down menus make it straightforward to implement different tasks to your projects when needed. When comparing Smartsheet to Microsoft Project, you might choose Smartsheet if you're looking for a collaboration tool. It was set up with exactly this in mind. However, if you are already a fan of Microsoft products, you may prefer Microsoft Project because it has the feel of Office 365.
Microsoft Project vs. Smartsheet: Pricing
When it comes to pricing, Microsoft Project isn't the cheapest option. If you are starting out with a modest budget, Smartsheet is a good solution for small businesses and freelancers due to the relatively low pricing. Let's take a look at what they will cost:
Microsoft Project pricing
Microsoft Project has several cloud-based solutions to choose from, as well as some on-premises solutions, depending on your business needs.
Cloud-based solutions:
Project Plan 1: Costs $10/user/month and has reporting, project planning, and scheduling capabilities, as well as allowing data to be displayed in different ways. This includes Gantt charts, grids, and tables.
Project Plan 3: Costs $30/user/month and allows for resource management—you can request resources for your team and assign them to different team members.
Project Plan 5: Costs $55/month and has some advanced features such as demand management, through which you can analyze project ideas from anywhere in your organization. It also has portfolio selection and optimization, and enterprise resource planning and management.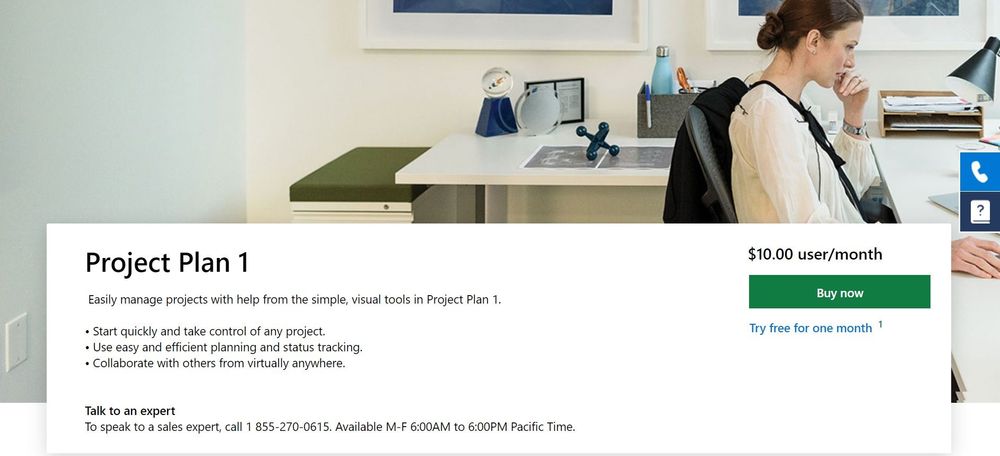 The on-premises solutions have a one-off cost:
Project Standard 2021 costs $679.99 and is for project managers who don't need collaboration tools. It is fairly basic but does include business intelligence and task management capabilities.
Project Professional 2021 costs $1,129.99 and is a comprehensive project management solution with more advanced features. There is invoicing available along with the ability to sync with Project Online, so you can collaborate with different team members.
Project Server requires you to contact Microsoft for the price. It has all of the functions of the other platforms but with advanced analytics that will help you come up with project proposals that are most in line with your business goals.
Smartsheet pricing
There is no free option for Smartsheet, although you can try the Pro or Business plans with a free trial.
Pro plan: Costs $7/month and has unlimited sheets/viewers, but it may be quite limited when it comes to storage. There are some integrations available, including Microsoft 365.
Business plan: Costs $25/month and allows much more storage, access to professional support, and training, along with many more integrations.
Enterprise plan: You will have to contact Smartsheet for pricing. There are a wealth of extra features, including unlimited storage, 24/7 phone support, and detailed reports that will help you streamline your work going forward.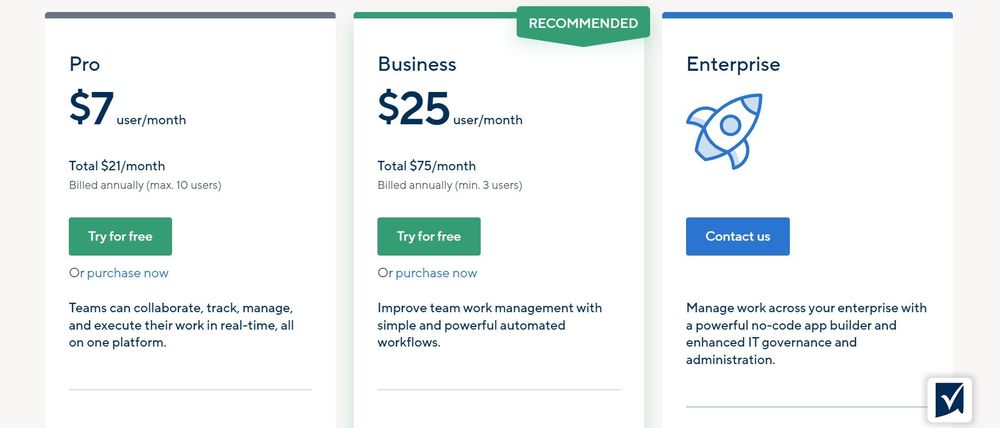 Smartsheet is designed for professionals, and to get the best automation tools, you may need to pay a little more. The professional services you will benefit from may be worth the extra money, but as always, you need to weigh this up.
Microsoft Project vs. Smartsheet: Comparing the drawbacks
So we've established that cost-wise, Smartsheet may be the smarter choice. This is not the only consideration, though:
Time tracking is something that is lacking from Smartsheet that Microsoft Project offers. As a freelancer, this is something that will be crucial to your workflow.
Microsoft Project integrates well with other Microsoft products but not always with other software. This can be an issue if a client needs to view a file but does not have Microsoft software installed. Smartsheet has many software options to integrate with.
Smartsheet has some security concerns. It may be easy to share files, but does this come at a cost? Several user reviews have certainly reported so. Microsoft is known for its robust security, although cybercriminals are constantly developing new methods of attack.
In Microsoft Project, communication with your team can be done through Microsoft Teams. Assigning tasks and following up can be managed this way. But it's not as easy as some other project management tools that include instant messaging.
Microsoft Project vs. Smartsheet: Ease of use
As a web-based desktop solution, Smartsheet has many built-in templates that require no coding knowledge to use. This means you can execute projects with ease as a beginner to project management software. Microsoft Project will require some training to use effectively.
Having said that, Smartsheet's mobile app has been widely reported as not being very user-friendly. This is a problem when over 50% of web traffic in the US is from mobile devices. Whereas Microsoft Project's mobile app has an average 4.8 out of 5 rating on the App Store, which allows project plans to be implemented on the go.
Alternatively, when using the desktop version, Smartsheet will be the easier software to get going with. You can be a tech novice and still start strongly. But if you spend a lot of time out of the office working from your mobile, then Microsoft Project has the app to make this easier.
Which is best for you as a freelancer?
Having looked at a range of comparisons between Smartsheet and Microsoft Project, there are a few key takeaways:
Smartsheet is easy to use for non-technical freelancers. If you're familiar with Microsoft Excel, user-friendliness won't be a problem.
Freelancers usually manage their time carefully. Smartsheet's absence of time monitoring may be problematic. Microsoft Project can monitor your billable hours.
Smartsheet helps freelancers communicate successfully from anywhere. Microsoft Project isn't well-integrated with non-Microsoft programs.
Smartsheet, on the face of it, is the winner. Although Microsoft Project has some capabilities that Smartsheet does not, Smartsheet is simpler to use, has more flexibility for collaboration, and is more cost-effective for the budget-conscious freelancer. Hopefully, this has given you food for thought to make your decision.
Freelancers have a better choice, though:
Indy.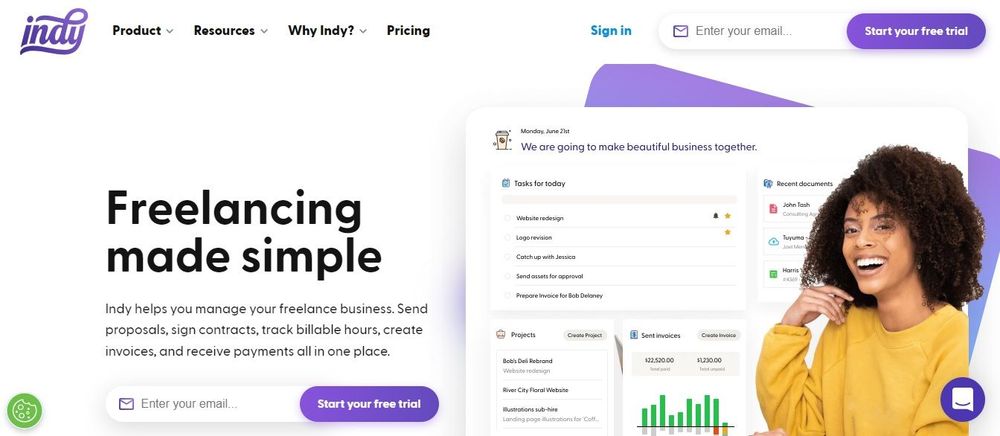 Indy has all the tools you need to manage your independent business from beginning to end. Capabilities for managing projects include:
Ready-made templates for proposals, contracts, forms, and invoices
Managing multiple projects with boards and to-do lists
Automatic time tracking integrated with a robust invoicing system
Message-based chats for communicating with clients
File storage and file sharing
And more productivity tools for handling admin
For independent contractors, Indy's low cost is a major benefit. You can get unlimited access for just $9/month when billed annually, or see how these tools work for you with Indy's free forever version. Learn more about Indy, so you can decide which is best for you.