There are usually two names that rise to the top when discussing the finest free project management software, and those names are Trello and Asana. Both have acquired popularity due to their simplicity and effectiveness in their respective fields.
In this blog, we'll be breaking down Trello and Asana's key features, pricing, usability, support, and security to help you determine which platform is better for you.
We'll also discuss a great alternative for freelancers and small businesses: Indy. This is a brilliant choice if you're looking to get all the tools you need to manage your independent business in one place.
But let's kick things off with a closer look at Trello and Asana.
Quick comparison between Trello and Asana
Let's get you a quick answer to the question of which of these project management apps you should choose.
Trello: Brilliant for task management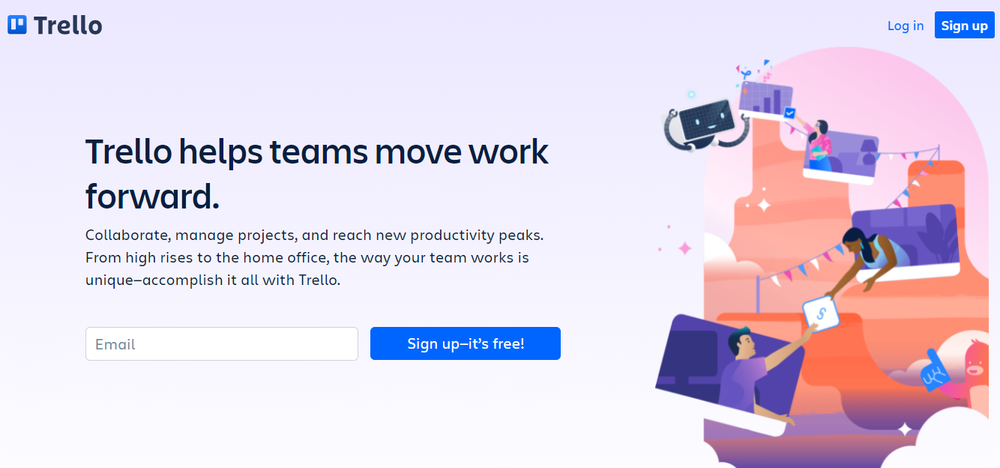 Trello is a project management tool that enables users to create boards and cards to organize tasks. When it comes to kanban-style project management, Trello is the finest software available. However, there are no tools for managing money, including creating a budget or billing clients, with this program.
Trello is best used for internal projects, team management, and communication, such as managing a content team or directing new marketing initiatives, unless you currently have alternative solutions in place to meet those gaps we mentioned.
Asana: Best for experts managing multiple projects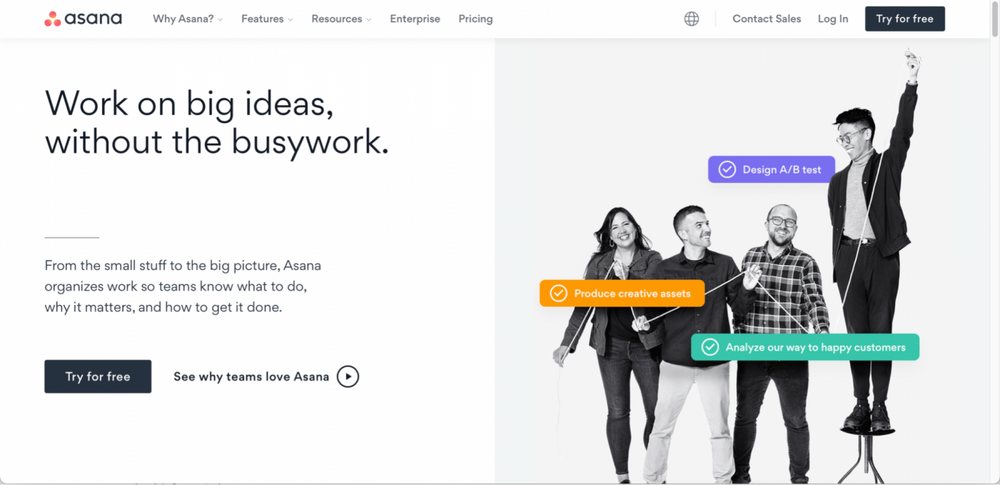 Asana competes with Trello by offering a comparable set of capabilities; the difference is that it expands on the fundamentals of project management. Asana is not limited to a single method of administration; rather, it provides a variety of options, including but not limited to task lists, kanban boards, Gantt charts, and features like workload management.
Asana, like Trello, is primarily a platform for internal collaboration on projects that don't need to be managed financially.
Additional tools will be required to manage things like customer billing and project finances.
Trello vs. Asana: Which is right for you?
Now, we'll get into the details of why you should choose one of these over the other. We'll take a look at their features, pricing, ease of use, support, and security. Once we're done, we'll show you why Indy might be a better choice.
Trello vs. Asana: Key features
Just what benefits do these two platforms provide? Here are the main tools that Trello and Asana have to help you get project work done.
Trello features
If you're familiar with project management software, you'll know that Trello only provides a kanban board layout, which seems like a basic tool. However, Trello is a powerful version of a kanban system.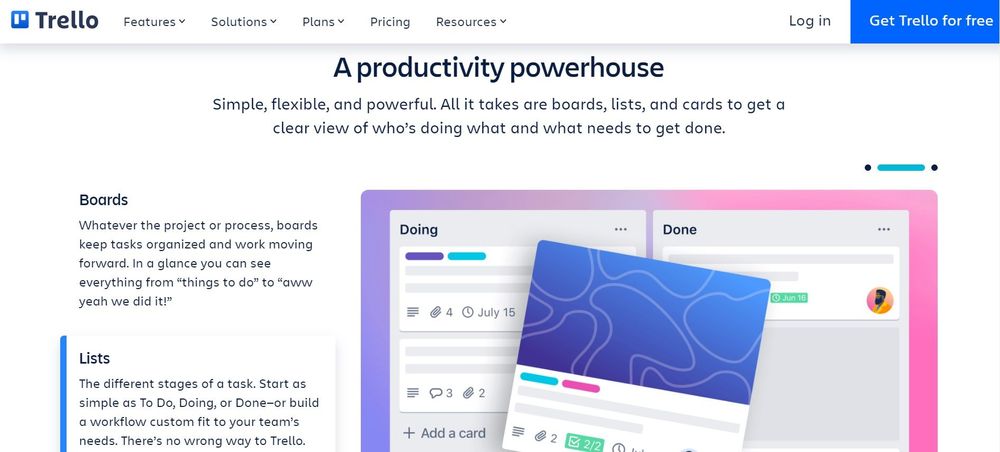 Trello appears comfortable with refining its specialist style rather than expanding into other methods where it may not be as informed, and this shows. Simple task management, resource sharing inside tasks, task comments for team discussion, a shared calendar, and time tracking are just some of the project management basics that are easy to grasp with Trello.
Trello makes it simple to implement and control the typical procedures involved in project management.
If you're looking for financial management tools, you'll need to use an external application to sync with Trello since it doesn't have any built-in support for it. There are integrations available for this, though.
When it comes to standout features, Trello takes a seemingly small feature and expands it into a powerful capability. In most circumstances, a percentage of completion is the most useful statistic for a project's success. However, other apps provide you the choice to use a standard scale, such as 25%/50%/75%/100%.
Trello improves upon this by linking the completed task's percentage to custom internal checklists you may establish. If your task has a checklist with 10 items, the progress bar will be split into ten sections.
Asana features
Asana is a collaboration platform that provides a wealth of features for managing your team and your projects. While it lacks built-in tools for managing finances or generating comprehensive reports, Asana more than makes up for it with a wealth of customization choices when it comes to managing your projects.
Using Asana, you and your team can collaborate to plan and execute projects more effectively with tools like task lists, Gantt charts, kanban boards, and shared calendars.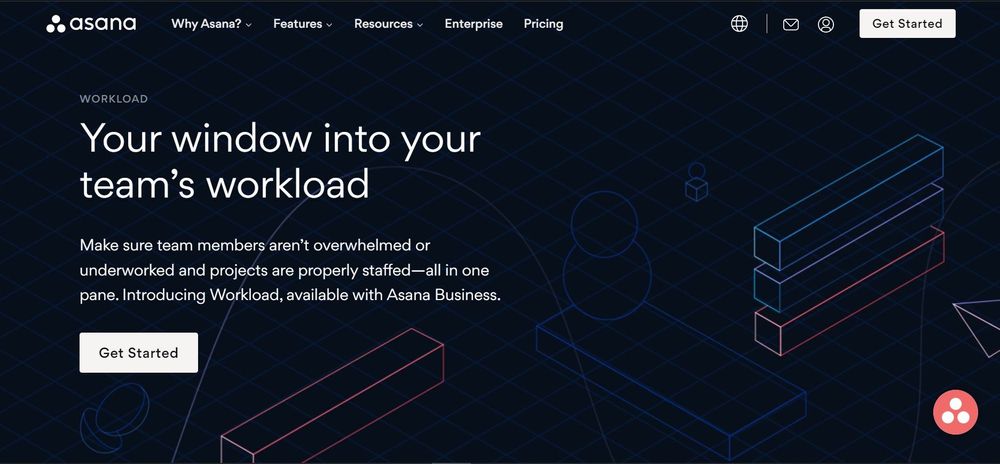 Asana shines when its special features are put to use, including its own take on workload management. With this function, you can keep tabs on how much work each team member is taking on at once and establish parameters to reduce stress and burnout.
Even while other project management apps have similar functionality, Asana does it better. The workload is shown graphically as a timeline, drawing attention to the times when team members are at or below their individual workload levels.
Asana provides a new spin on these standard capabilities by aiming to bridge the communication gaps between project managers and their teams. The software was designed around the principles of openness, communication, and cooperation amongst all team members and upper management at all times.
Trello vs. Asana: Pricing
It's going to be tough to decide between Trello and Asana, given their comparable cost structures. Ultimately, it will come down to whatever program provides the most valuable features at various pricing ranges.
Trello pricing
When compared to similar services, Trello's prices are quite competitive. As long as you don't need any budgeting or customer invoicing capabilities, Trello is a fair value for what it delivers.
The free version of Trello comes with a number of useful features. You get 10 team boards, unlimited users, unlimited cards, unlimited lists, and two-factor authentication.
Although this isn't often seen in free software, it's comforting to know that Trello's security measures are robust regardless of cost.
Free: Unlimited storage (10 MB/file), cards, lists, teams (up to 10), power-ups (up to one per board), automated commands (up to 50 per month), and two-factor authentication.
Standard: For $6/month, you get all of the above, plus 250 MB per attachment, priority support, unique board backgrounds, unlimited team boards, custom fields, a calendar view, app connections, 1,000 automated command runs per month, and expanded administrative privileges.
Premium: For $12.50/month, you get all of the above, plus unlimited automated commands, multiple project views, workspace views, admin & security features, and workspace-level templates.
Enterprise: Monthly pricing begins at $20.83 per user and drops with each additional user. In addition to everything already mentioned, you also get unlimited command runs, attachment limits, power-up management, and individualized training.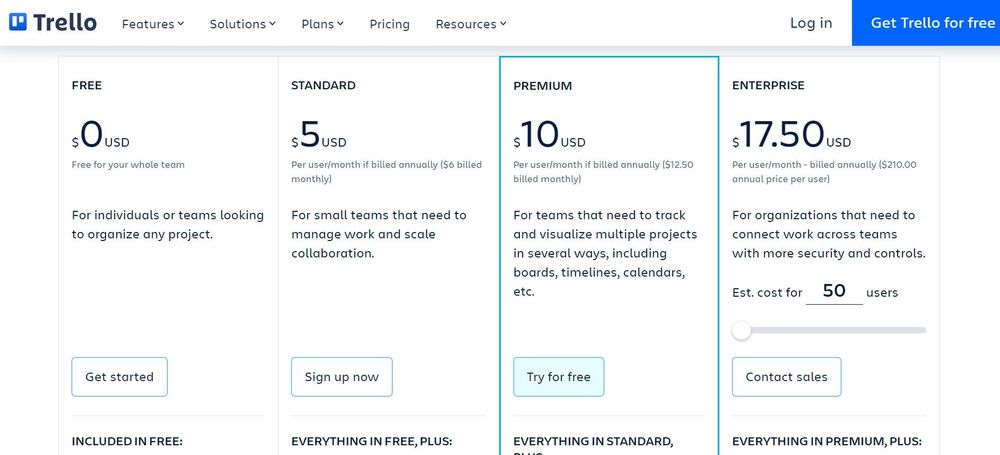 The paid edition of Trello is competitively priced in comparison to other task management and collaboration software solutions, but the free version is where Trello really shines.
Asana pricing
The fact that Asana provides a free version of their software is a terrific starting step, especially for those who are just getting their feet wet in the world of project management tools. While the free version has several advantages, it also has restrictions that are more severe than those placed on Trello's free users.
Yet, Asana is a strong rival to Trello since its premium price levels are very equivalent to Trello's.
Basic: Up to 15 people and basic features like to-do lists, kanban boards, calendars, and app connections are all included in the free plan.
Premium: For $13.49/user/month, you get all of the above, plus timelines, advanced searches, creating custom fields, premium Asana Academy material, and Admin access.
Business: For $30.49/user/month, you get all of the above, plus portfolios, workload, forms, automated proofreading, and Adobe Creative Cloud integration on top of everything else.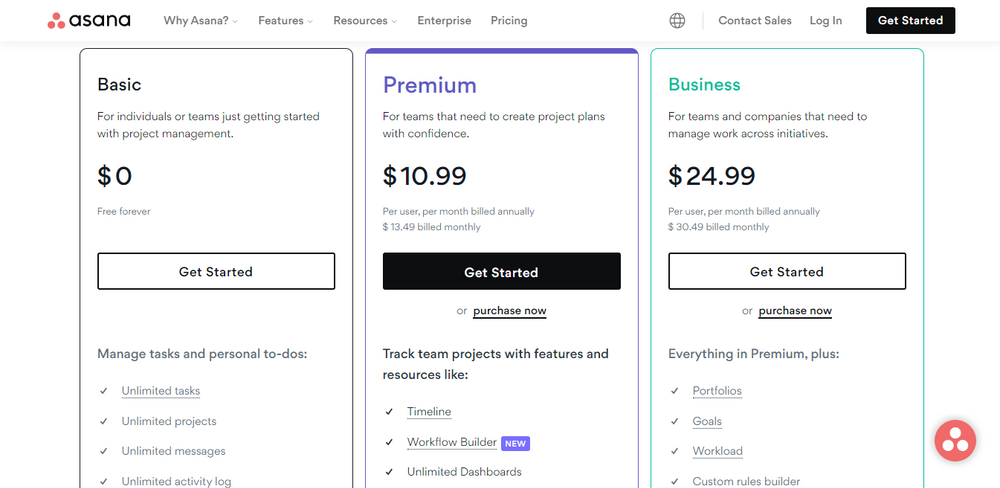 The free version of Asana is great for small teams and freelancers just getting started with project management software, but it won't be long until most teams outgrow that and need to switch to the premium or business plan.
Trello vs. Asana: Ease of use
Managing projects is hard work. Learning how to use a project management tool shouldn't be its own project. So, it is great to evaluate two project management apps that make it as easy as possible for the user.
Trello usability
When it comes to user-friendliness, Trello is the only project management solution to ever get a perfect score of 10 out of 10. Trello's interface is completely logical from the get-go. During the Trello board setup process, it makes sure you know the essentials of how to use the app.
Start to finish, Trello will guide you through the process of making your own board, from making lists to adding multiple tasks. The workflow functionality is all laid out in an easy-to-follow sequence of steps.
Project stages, task cards, task due dates, extra checklists, users, task labels, and a method for advancing tasks along the board are all part of this procedure.
In the Trello software's onboarding process, you'll see how to fill up a card with a title, description, checklist, and comments.
Trello provides users with guidance and context for everything that goes into a card.
Trello is one of the most intuitive project management tools because of how well it implements the kanban board methodology. That's saying a lot, considering how widespread the kanban method is.
Asana usability
The company's primary focus was to create a product that would allow customers to do as much as possible while providing the simplest interface imaginable. If the ordinary user couldn't figure out how to utilize a certain feature with little guidance, the developers were forced to go back to the drawing board.
Asana follows a conventional layout for project management applications, with menus on the left, settings and support resources in the right corner, and task-management panes in the middle.
The introduction and setup process for Asana is likewise quite typical. Creating a new task, adding task details, and advancing a task through the execution process are all covered.
Not every feature of this program is explained in detail; rather, you'll have to explore it on your own to find out all it can do.
In addition to its intuitive design, Asana's interface provides users with a number of various perspectives on task management from which to make strategic decisions. Managers that are tasked with carrying out a wide variety of projects with varying requirements will find this a welcome development.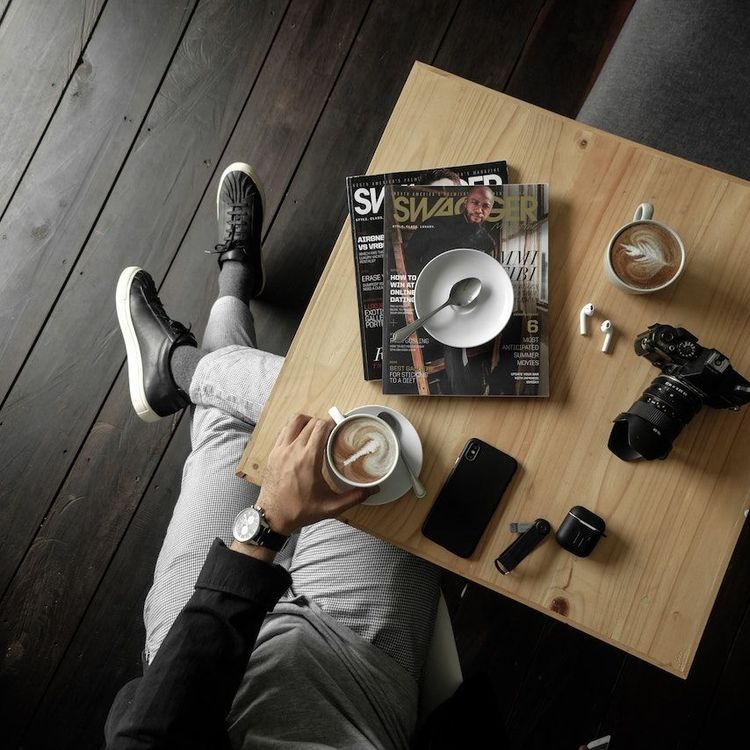 Trello vs. Asana: Customer support
It doesn't matter how nice an app is or how many features and integrations it offers if you can't get support when something goes wrong. It is crucial to assess the quality of customer assistance while selecting a project management solution.
Trello support
Atlassian, the parent company of both Trello and Jira, provides identical customer service for both products. In most cases, sending a support request will get you the help you need. However, customers with Business Class and Enterprise accounts have access to priority phone assistance, which guarantees a faster response time.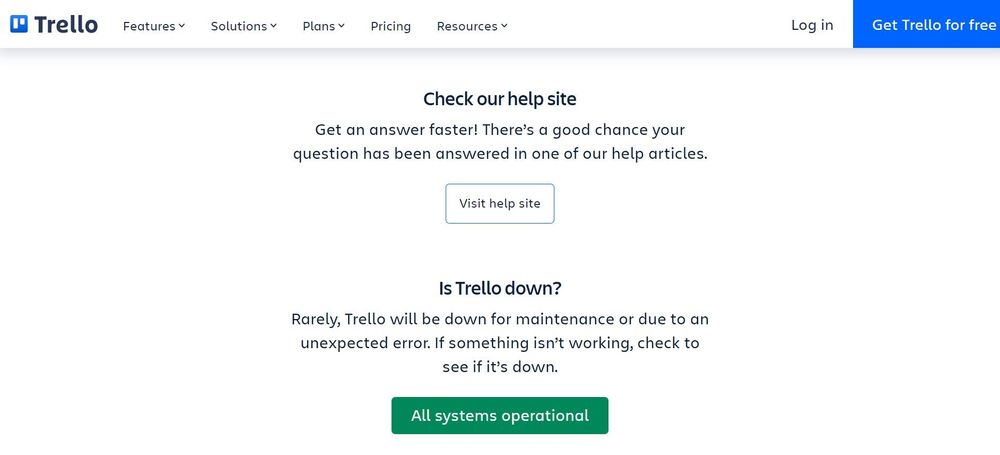 When it comes to customer service, Trello thrives because of its in-depth knowledge base and blog, which not only cover questions about Trello itself but also provide helpful articles and instructions for managing a team.
Asana support
Asana doesn't offer the same level of phone support. Instead, they use a web contact form to open support requests. This isn't unusual, but users report response times in excess of 24 hours.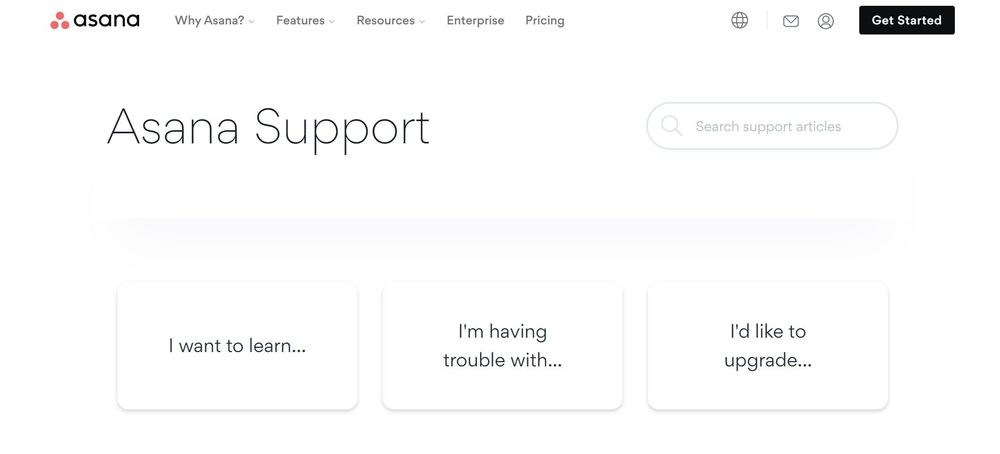 However, Asana does have a strong knowledge base and set of help articles. There are guides, FAQs, and webinars. Users also support each other through active community forums.
Trello vs. Asana: Security Features
Cybersecurity should be important for every business. If you're using a complex project management solution, this only means you are also creating and maintaining large amounts of data. You'll want a robust tool with strong security to keep all your data safe.
Trello security
Trello is Level 1 PCI DSS certified, meaning they fulfill all six areas of the PCI DSS standards.
The Shared Responsibility Model protects cloud-based Trello data, meaning both you and Trello are liable for your account's data.
Trello manages software, infrastructure, and disaster recovery. You are responsible for keeping your password secure, granting other users and applications rights, and backing up your data.
Asana security
Asana offers four key approaches to security and privacy for those using its software. These are some of the best practices in the industry.
Privacy controls: With Asana, you can manage your team's access to third-party apps, set permissions at the user and object levels, and more.
Data governance: Through the API, users of Asana may schedule periodic full-domain exports, remove whole organization data, and delete specific pieces of data inside an organization.
Data residency: The flexibility of Asana's worldwide data residency choices gives users greater say over where their data is kept.
Enterprise key administration: When you use your own encryption key on data saved in Asana, you have greater control over your data and can more easily fulfill your organization's most important compliance demands.
Indy: A freelancer's alternative to Asana and Trello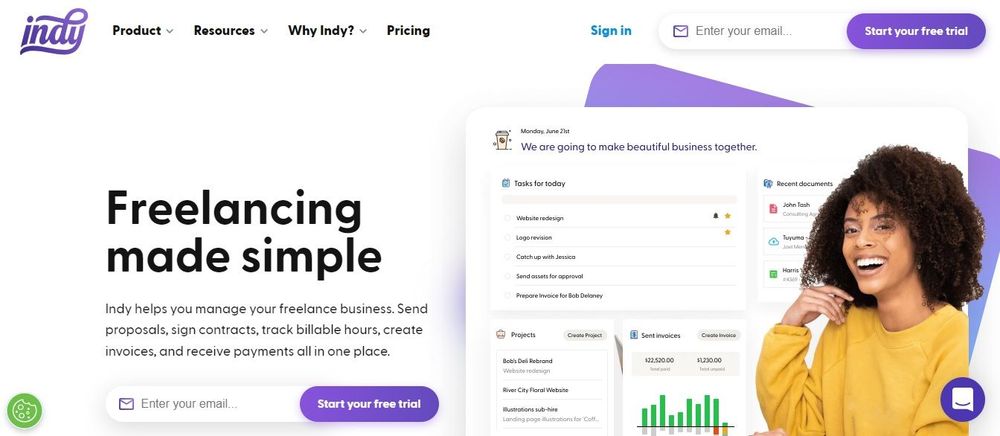 Indy has been designed from the ground up for freelancers to manage their work. Its user-friendly interface, efficient task management, and built-in time tracking make it possible for users to manage projects from proposal to payment.
Notable characteristics of Indy include:
Controlling contracts and invoices
Features for handling proposals and contracts are available on Indy. Start with ready-made templates that make it easy to create legally-vetted contracts. You can also customize templates by adding your branding, including logos, colors, and different fonts. The ability to electronically sign documents makes it easy to keep tabs on who signed what.
Freelancers' all-in-one project management software
To guarantee the smooth running of your projects, you can use Indy's built-in project management module in conjunction with its other capabilities. The lightweight CRM system supports chats with clients, task management, file storage, and automatic time tracking.
Forms and invoices for finishing projects
Using Indy's invoicing system, you can generate a template, fill in your details, and send it off in minutes. Accept multiple payment methods, including PayPal, Stripe, Zelle, wire transfer, and more. When you're done, you can start collecting success stories by using Indy's Forms tool to send surveys to your happy clients.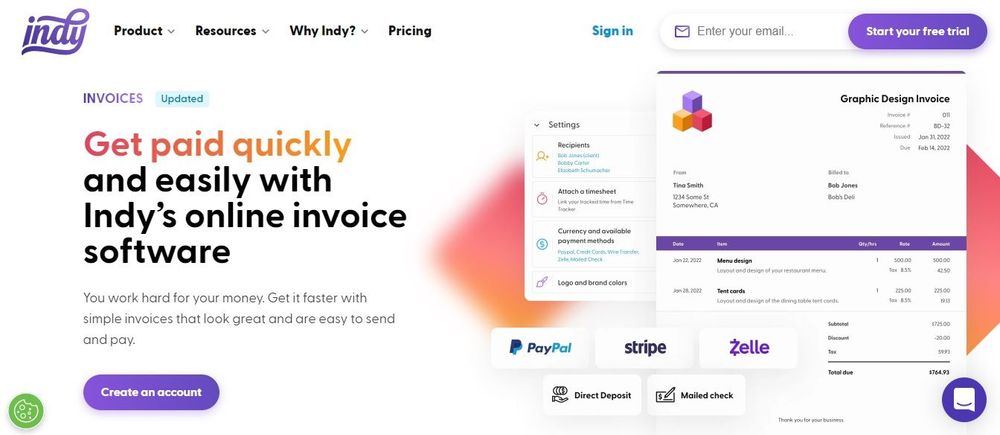 Indy's Free plan gives you free unlimited access to all the basic tools you need to manage your business. For unlimited access to advanced features and 1 TB of file storage, Indy Pro costs just $9/month when billed annually and $12/month when billed monthly.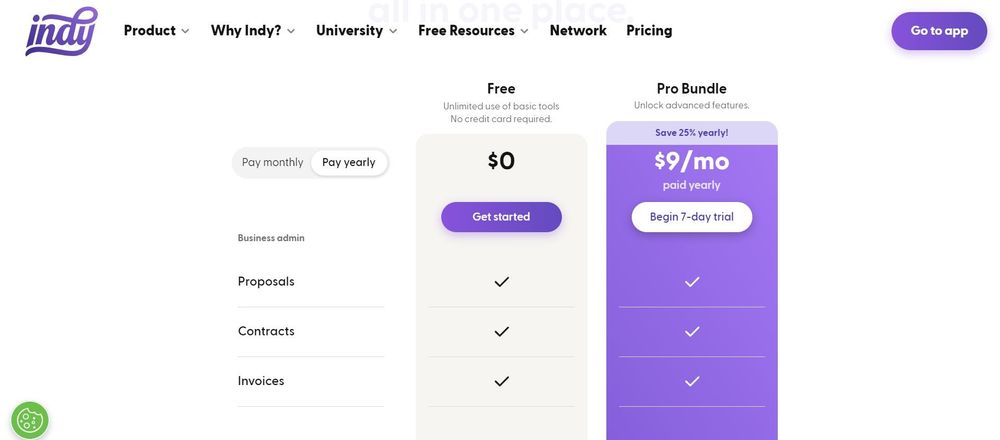 Final verdict
In terms of project management software, you can't go wrong with either Trello or Asana. They provide the essential capabilities for managing tasks, coordinating with others, and completing projects that so many people need.
However, Indy might be a better option if you're a freelancer looking for all the tools you need to manage your independent business in one place—including proposals, contracts, task management, time tracking, invoicing, and more. Get started today for free!