If you are thinking of starting your own virtual assistant business, one of the first considerations is training.
During Covid lockdowns, inquiries to virtual assistant agencies increased by a huge 52%! There has never been a better time to make use of your virtual assistant services.
You will need to enroll in a virtual assistant training program to ensure that you can run a successful VA business. With so many courses on offer, wouldn't it be great if 10 of the best ones were gathered in one place? Read on, and you may receive a pleasant surprise!
3 quick reasons to start a virtual assistant business
Low Start-Up Costs: Do you have a laptop? Do you have an internet connection? If the answer is yes to both questions, then you have all you need to start a virtual assistant business. Neat, huh?
Work From Home: All virtual assistant jobs are done remotely. This means you can become a successful virtual assistant from the comfort of your own home.
Control Your Income: How much money you will make is pretty much in your hands. If you want to make more, you can take on more clients or learn some skills that will enable you to charge more per hour.
Why and how virtual assistant training can help you
There are many virtual assistant training programs out there. But do you even need the training? Well, you might be confident about landing a virtual assistant career in your chosen industry, but the skills required to run a small business are different. Virtual assistant courses are run by people who have been there, done it, made mistakes, and learned from them. What they learned the hard way, they will teach you the easy way. Many of these courses have a private Facebook group so you can share your learning with others in the same position. The best virtual assistant training depends on your personal requirements.
From the 10 virtual assistant courses outlined below, you could perhaps narrow them down in the following ways:
Which of these fit best within my budget?
Which of them seems best suited to my industry?
How long will the course take, and do I have time to make the most of it?
Try to make a shortlist of 2-3 courses and then research them in more depth to find one that will help you start a successful virtual assistant business.
Top 10 virtual assistant training courses
1. Fully Booked VA
Gina Horkey started her own VA business, which became very successful. Now she has established her Fully Booked training course to help you set up your own business and make money fast.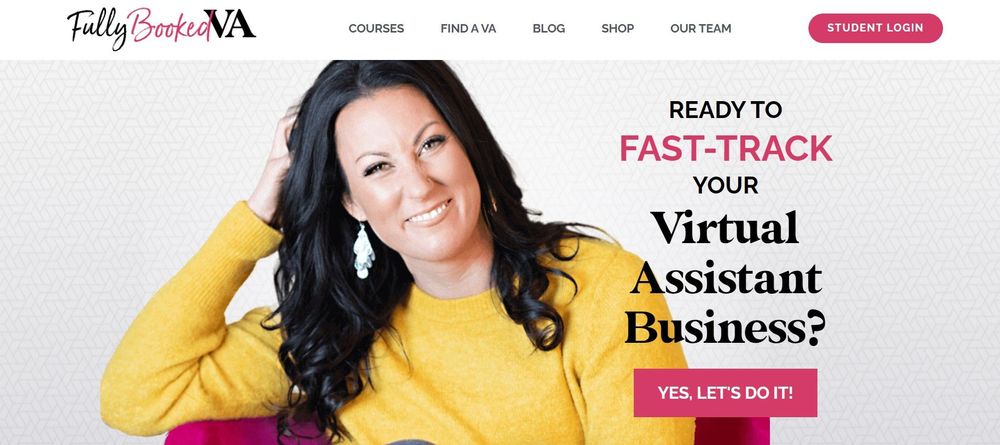 This course has a lot to offer. You can work at your own pace. There is a big focus on finding your first client. Some key features include:
Marketing tips and how to build your online presence
Learn about building client relationships with a view to ongoing success
Contracts, onboarding, and everything that will help you run your business successfully
Help with where to find new clients
Receive virtual assistant certification on completion of the course
When you enroll in the course, you will be given lifetime access to the VA Foundations training program. This includes various templates that will assist you as a professional virtual assistant. You will also have the option of joining live weekly group coaching calls as well as 12 months of client leads to help you get up and running.
You can even test the waters with the 2-hour mini-course 'Jumpstart your Business' for $100. This will tell you if being a virtual assistant will work for you. The full course is $1,000, which may seem expensive, but the potential rewards are huge, looking at everything you can see above that is on offer.
2. The Savvy System
Since Abby Ashley set up this VA course in 2016, over 1,500 students have used it to become their own bosses as virtual assistants. You can learn at your own pace over 14 modules but will get access to monthly group coaching calls along with a range of templates. Some of the best features are:
The best way to package and price your services
Help in designing social media accounts, a logo, a website, and a brand kit
Financial considerations, including invoicing, taxes, and legal concerns
How to market yourself to potential clients
Advanced topics, including how to scale your business for the long term, hiring the best team, and increasing prices to earn more going forward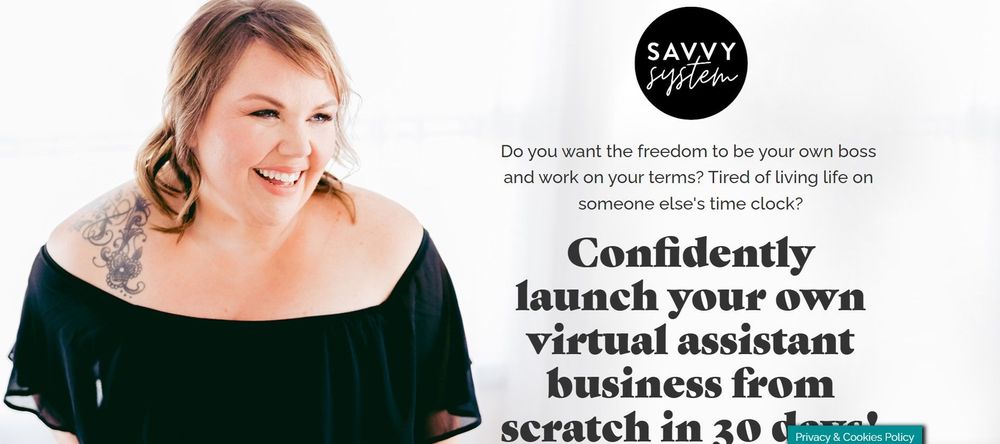 You can try before you buy with Abby's free webinar, 'How to become a fully booked virtual assistant.' This is free training that will help you become a virtual assistant. If you want to buy the Savvy System, it will cost you $1,497, but this will give you access to a wealth of templates, contracts, group coaching sessions, and all of the course modules. If you also want access to The Savvy Vault, which features ongoing support from Abby and learning specialist tech skills that will be of use to your clients, it will cost you $2,997 (including the price of The Savvy System.)
With the different price options and flexible pace of learning, this is a course that will be desirable to many.
3. Udemy Virtual Assistant Training Course: Work From Home as a Virtual Assistant
If your budget is limited, but you want to learn some of the basics of being a virtual assistant, then Udemy offers a range of courses that fit the bill. This is a VA foundations course and is not hugely comprehensive but it still offers a great starting point. Some of what it includes:
Will help you determine if being a virtual assistant is right for you
Teaches you what you will need to put in place before opening for business
Shows you how to set your prices
Helps you to prepare your business for launch
Offers full lifetime access to 3 hours of video content, 1 hour of audio content, 5 downloadable resources, and a certificate of completion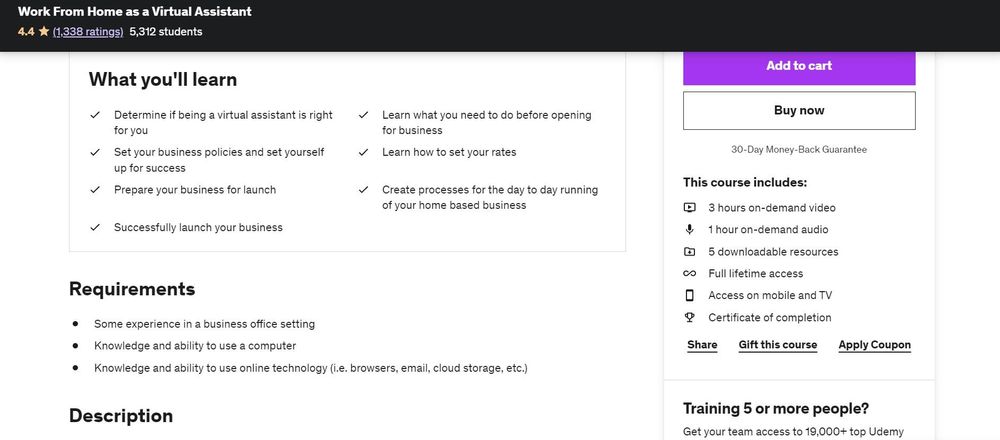 At around $60, this course offers quite a bit of information. It does not include the live coaching sessions or ongoing support that a more expensive course will give you. If you work well independently and like to teach yourself, then this will give you the means to get yourself up to speed about what freelance virtual assistants need to do to start their own business.
4. VA Fast Trak
Designed by Bri Stanford, this course is aimed at getting you up and running within a short space of time. It covers various aspects of the virtual assistant industry, with some of the main areas of focus being:
The setting of goals and how to be productive as a business owner
Developing social media skills, including how to generate leads in this way
Website development and effective branding
How to source clients, pitch to them, and communicate effectively with them
How to achieve a good work-life balance with your business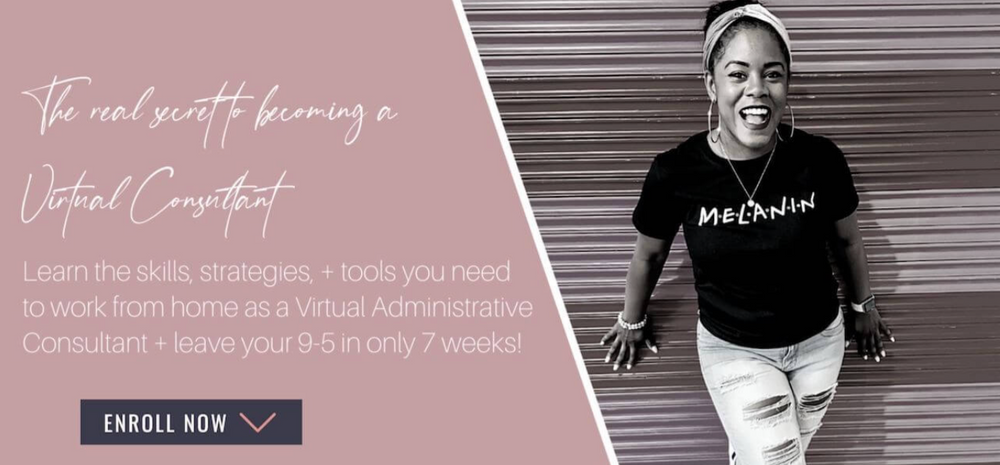 The course has seven modules, with the idea of doing one per week (it is designed as a 7-week course.) There are also over 30 templates on offer to help with the running of your business. The three pricing plans are:
Fast Trak DIY plan: For $199, you can get the full course content, but you'll work at your own pace and without additional support.
Fast Trak + Group Coaching Plan: For $997, you will get the full course plus weekly group coaching and individual 1-2-1 coaching calls. The extra money will get you much more support, both tailored to your own needs and shared with others in a similar position.
Fast Trak Private Coaching Plan: This is by application only and is for established virtual assistants who want to get mentoring support to improve their business.
5. The VA School by Elite VA Hub
The idea behind this program is that you will be able to start your own VA business in a month or less. There are 19 lessons across 5 modules, which will include:
How to identify your virtual assistant niche and target market
How to price your services
Creating all of the necessary behind-the-scenes systems to allow your business to operate effectively
Social media management and how to build your online presence with this, along with website development and branding
How to generate leads, impress prospective clients, and hold on to them once they are on board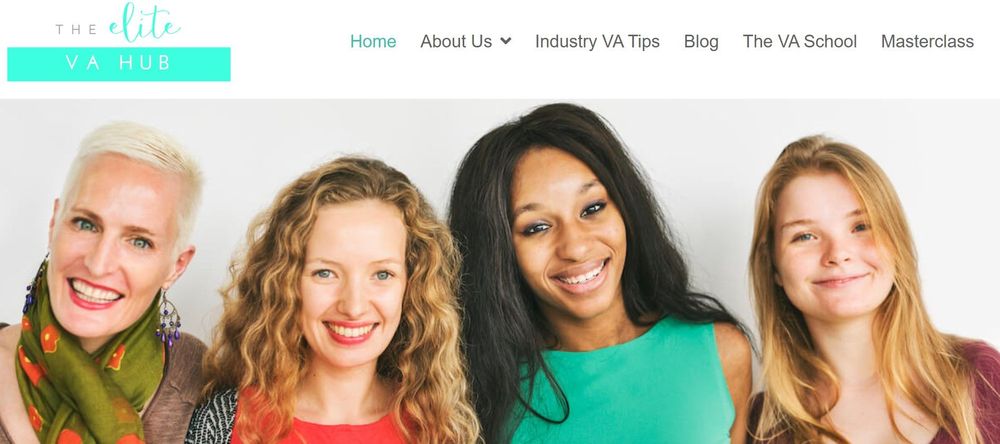 There is a private Facebook group connected to the course, along with weekly live Q&A sessions. Client leads are also available through a job board that only members of the course can access. You will also get a 30-minute coaching session with Laura, the creator of the course.
At $397, with a payment plan available, this course should suit most budgets and offers excellent value for money.
6. The In Demand VA Course
This 8-week course was created by Sabatini Ferdinand. Over 13 modules, you will learn:
What software and systems will be used with your clients in the future
How to find clients and market your business
How to keep hold of clients once you are working with them
What should be included in your VA resume
How to manage workflow and keep organized as your business grows more successful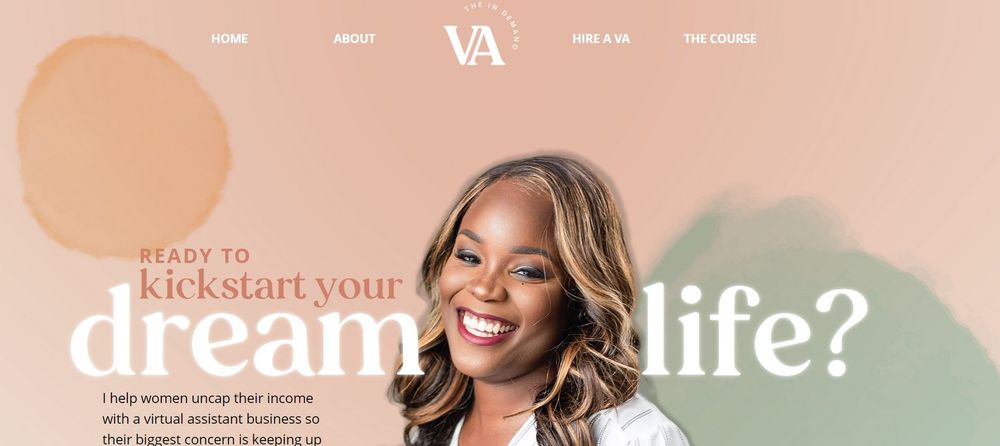 Once enrolled in the course, you have access to the material for life, which will include any updates that are made going forward. There are templates for pitching to clients as well as leads that may help you secure business. Monthly live coaching sessions, along with an active Facebook group, mean there will be plenty of support on offer.
The price of $2,000 may not be the cheapest but there are flexible payment plans available, so you will not need to pay everything at once.
7. Laptop Lifestyle Bootcamp
Established by Amanda Kolbye, this 12-week course has a high success rate when it comes to students thriving as virtual assistants. It is designed for anyone who wants to start their own online business, and you will meet a number of others who share your goals.
During the 12 weeks, some of the main targets are:
Developing a CEO mindset, which is the key to long-term success
Help with the financial side of your business and how to stay on top of it
Harnessing the power of social media and creating great content for your business
Email marketing and automation of services
Planning for continued success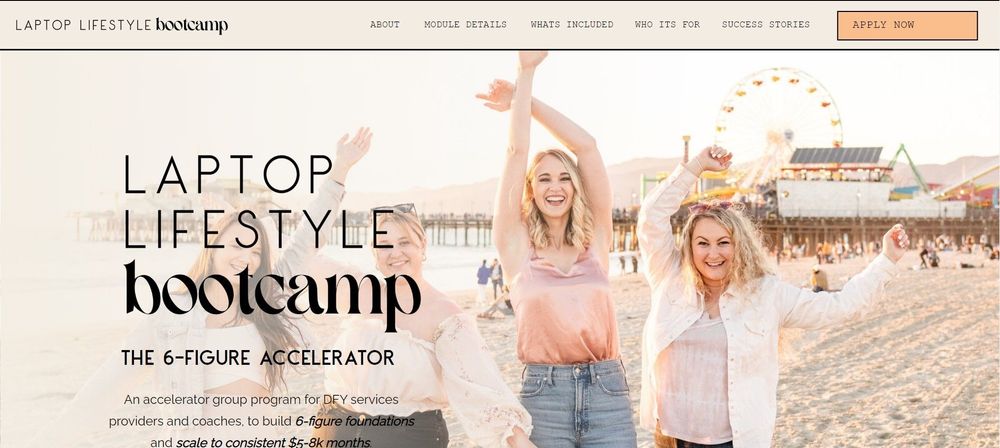 Included will be five different masterclasses from entrepreneurs with skills you can use as a virtual assistant. These include copywriters, email marketers, and Instagram managers.
The price of $2,997 reflects the success rate that you should be aiming at if you want to take this course.
8. 90 Day VA
This course was set up by Esther Inman and is aimed at getting you working in virtual assistance as soon as possible. Some have reported landing VA jobs before the course has even ended! The course is designed to be taken over 12 weeks (90 days), but you can go at your own pace. It looks at a range of VA possibilities, which will include:
Blogging and copywriting skills
Social media management skills
Podcast management skills
Website and project management
How to find virtual assistant jobs and clients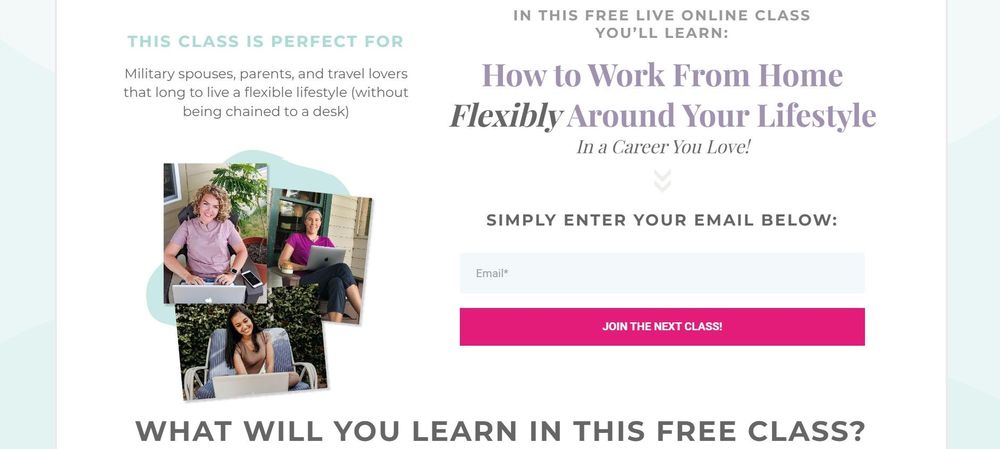 In addition to this, you will have access to Esther's VA Starter Pack, which includes information on everything from networking to taxes. You will also get 6 months' membership to the VAI Membership Club, which gives you plenty of client leads as well as monthly coaching calls.
You can get all of this for $797, which represents excellent value for money compared to some courses of a similar length. Payment plans are available. There is a free mini-VA course Esther runs, where you can learn some absolute basics about being a virtual assistant and get an idea of whether you will want to pay for the full course.
9. Ninja Pinterest VA Course
This course, run by Megan Johnson, is pretty niche in that it is focused on you becoming a virtual assistant using Pinterest. Megan is a Pinterest marketing expert and is keen to share the skills she has learned. You will get:
Step-by-step lessons on what a Pinterest VA does and how to make offers to potential clients
How to land clients, and how to onboard them when you do
A range of templates for you to access, along with live monthly group coaching sessions
How to manage financial and tax issues along with banking
The opportunity to list your services in a private VA database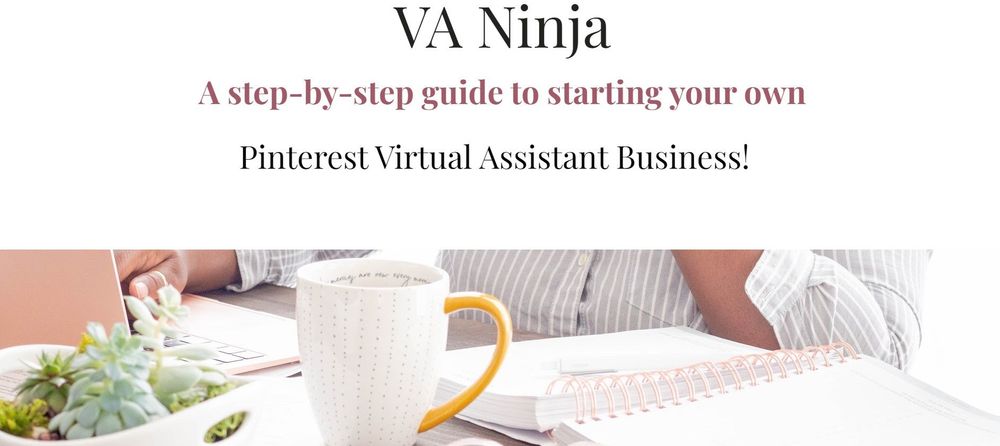 The Pinterest VA Ninja course costs $225. It is an advantage to have a good handle on Pinterest before commencing the course, but this is not essential.
10. $10k VA
This course was established by Kayla Sloan. She wants to teach you the lessons she learned the hard way through trial and error so you can earn $10k per month in less time. This will include:
How to decide what services to offer
The skills that will help you truly succeed as a virtual assistant
How to stay productive day by day
Other essential knowledge to help you run your business, including taxes, marketing, and contracts
Looking to the future - how to turn your successful business into a VA agency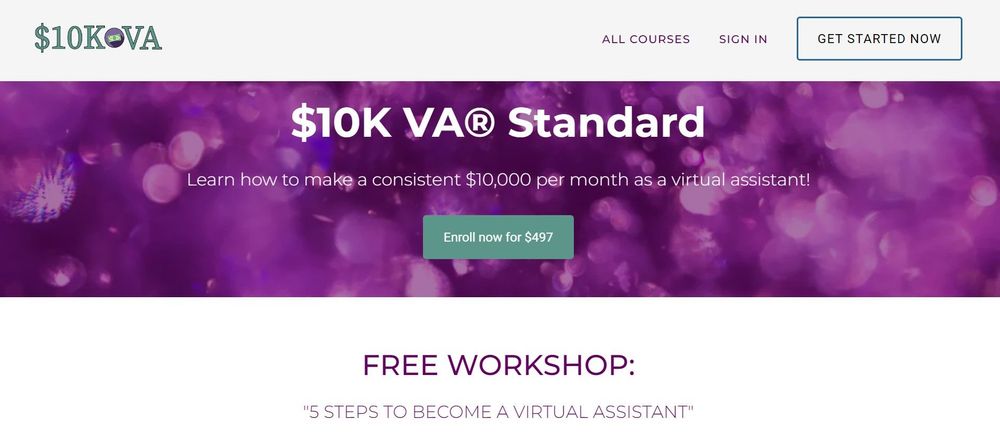 There are lots of templates and workbooks on offer, as well as a highly supportive private Facebook group, which includes prospective clients and job boards. The standard course is available for $497, which may seem very cheap for the amount it is aimed at helping you earn! There is a more expensive option available, which you can enquire about. It includes two private coaching sessions, bonus video modules, and a private VIP Facebook group with a lot more prospective clients. You can learn at your own pace.
Conclusion
Those were our picks for the top 10 online schools to turn you into a professional virtual assistant! We recommend that you take a closer look at each school to determine which teaching style and courses are best tailored for you. In our growing digital world, being a virtual assistant is a great career path with high demand. So, brush up on those administrative skills and take your first steps into this new venture!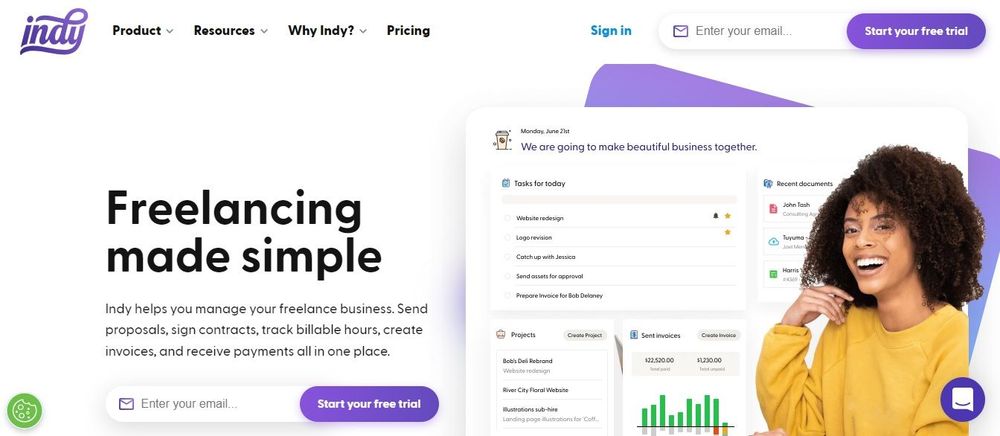 Want to learn more about being a virtual assistant? Check out our guides to find out how much money virtual assistants make, how to grow your client base, and the essential tools every virtual assistant needs.