Writer's block is every creative's worst nightmare. The slump authors face in the writing process when they are unable to think clearly can leave you short of words for hours, days, weeks, or months! You're staring at a blank page or computer screen, unable to string a single sentence together. Your creative juices have run dry...
Many writers struggle with this loss of knowing what to write at all stages of their careers, from first-time writers to full-time professionals. It is incredibly disruptive to the writing process. It can dramatically impact the quality and speed of your work, not to mention the negative impact it has on your belief in your writing abilities and the endless frustration you feel.
Seeing as you're here, you probably know how challenging writer's block can be first-hand and need an actionable solution. Thankfully, several known methods for overcoming writer's block exist. Here we look more closely at the causes of writer's block and reveal ten strategies you can try next time you're facing writer's block, so nothing is holding back your creative flow.
Why does writer's block happen?
As creatives, we all know the frustrations of being unable to finish a piece of writing due to your brain simply not having the words. Finding continuous inspiration is hard, and being totally lost for words makes writing even more challenging! What's more, many assume they're terrible writers if they struggle with writer's block, making it even harder to be productive.
In truth, most writers face a creative block at some point in their careers. It is thought to be extremely common due to the high cognitive expenditure writing requires compared to many other types of work. As such, this loss of inspiration is no testament to your writing abilities; there is something psychological underpinning your loss of words that prevents the cognition required for your creative juices to flow.
The precise causes of writer's block are different for everyone, so you need to consider what is causing your creative blockage. Below are some questions to ask yourself that may help you dig deep and identify the issue:
Have you lost interest in the piece you're writing and no longer feel engaged?
Have you taken a break from writing and now feel intimidated about getting back into writing?
Are you lacking confidence in your writing abilities and being over-critical in everything you write?
Do you have a lot of external pressure forcing you to write, such as pressure from parents or teachers or competition from peers?
Have you been tired or under the weather lately, or have you undergone recent emotional trauma?
Take time to think about each of these questions carefully. All the methods below are tried and tested by writers across the globe and proven to bring some zest back into your writing. But knowing the precise trigger for your block helps you figure out the best way to combat writer's block quickly in the way that's right for you.
Methods for overcoming writer's block
Overcoming writer's block can seem like an impossible task, especially when you've been starved of creativity for weeks or months! But once you've identified the problem, use the tips below to help you get back into the groove.
1. Build your writing routine
As a writer, your routine is one of your most powerful tools and, when used correctly, can help you overcome writer's block. This comes as a surprise to many; as a creative skill, how can having a consistent writing schedule be beneficial? Isn't writing something you should do when feeling at your most creative? Won't setting a time to write each day only make you feel more stuck if you're not in the right headspace?
In reality, this counterintuitive approach to creativity is proven to be effective. Writing only when you feel creative gets you feeling stuck, but working steadily and sticking to a routine helps you push through and get something written.
However, you can't set any old schedule and expect to see results; you must find the best practice for you. Are you an early riser or a night owl? Do you prefer working under pressure between other commitments or on days when you have nothing else planned? Build your routine around your preferences.
If you already have a writing schedule and regularly suffer from writer's block, your routine is likely unaligned with your natural needs. You need to work out your most productive work time. To do this, consider tracking your time over thirty days and maintaining a time log. After the month, you'll have a more accurate picture of the best writing time for you.
2. Change your writing methods
All writers have a technique that works for them, but almost every writer initially puts themselves in the shoes of the main characters and starts the story from the beginning. This is a perfectly acceptable way to write, but one way to overcome writer's block is to switch up this linear way of thinking and try new writing methods.
Instead of viewing the story through the main character, switch perspective to a minor character in the scene. You can even imagine the scene from the perspective of an inanimate object. This change of viewpoint can give you new angles and ideas to incorporate into your writing. Alternatively, spend time looking into the background of the main character before the story begins; how can their past provide a new outlook on their actions in the current chapter?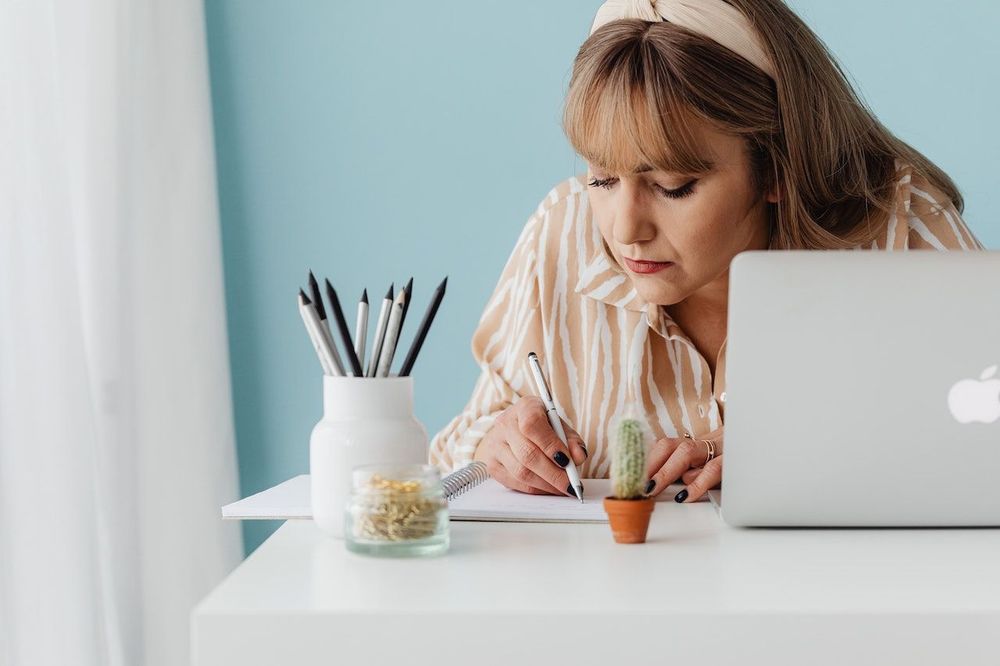 Likewise, starting your story in the middle can give you the shift in perspective you desperately need. Starting from the beginning might make more sense, but if you're excited about the middle or the end, start from there instead. The words will likely flow more when you work back and fill in the blanks.
3. Use writing prompts
Many writers swear by using writing prompts as a means to overcome writer's block. A writing prompt is a cue that focuses on a specific topic or task. They're a great place to turn to when you've been endlessly staring at your blinking cursor and need something (anything!) to inspire you and help you relax into your writing.
Anything can be made into a writing prompt, be that a photograph, a short video, a small text passage, themed word lists, a piece of poetry, or a real-world event. Take your writing prompt and write as much or as little as you want, and feel free to leave the prompt behind if it isn't providing you with enough inspiration. This should help to loosen up your writing style and give you a new focus point, which you can use to cultivate more focused and meaningful work once you're in the flow.
4. Get anything down
One of the main causes of writer's block is the pursuit of perfection. Writers struggle as they put too much pressure on every word to have meaning and every sentence to be flawless. Overcoming writer's block requires you to forget this idea of perfectionism and allow some fun back into the writing process.
Your first draft provides the ideal opportunity for this imperfect writing. Allow yourself to loosen up and write ineloquently. If you're struggling with this, set a timer and force yourself to write a few lines. Before you know it, you'll have at least one page. And it might be imperfect, but there is no problem revisiting your work later on; at least you've stopped overthinking and have something down on paper.
5. Upgrade your writing tools
Writing requires the most basic tools; you need nothing more than a pen and paper to start writing! In the modern world, most people have ditched paper for simple computer software to quickly and accurately type their work, but other online tools are often seen as an unnecessary luxury to writers.
However, switching up your tools can be a great way to overcome writer's block and help get your creative juices flowing. There are many tools available to help combat blocks at different stages of the writing process. Topic generation tools can help inspire new ideas for your story or article's direction.
An online task manager is another beneficial tool for writers. The Tasks tool from Indy enables you to write to-do lists and boards so you can clearly see what lies ahead. Use this to break down your writing into more manageable chunks or organize lists to help plan out your writing schedule. Ticking tasks off your to-do list also helps provide the motivation needed to keep on keeping on and get that pen to paper!
6. Write something different
Sometimes the cause of writer's block is a lack of inspiration for your current project. If you're struggling with your current project, take a step back and try to write something else. You don't have to ditch your old piece of work entirely, but taking time out to write something different can leave you feeling refreshed, inspired, and energized. The wonderful thing about writing is that you are in control.
7. Spend time doing something else
Writing something else is a fantastic way to overcome writer's block, but sometimes a complete break from writing is just what you need. If you're sitting staring at a blank page, take a short walk or take a shower. This can give you the mental reset you need and provide you time to think creatively without the pressure of getting something down on paper.
If your writer's block seems more permanent, you might need a more extended break from writing, and that's okay! Try and fill up your time with something else creative, such as playing a musical instrument, going to the cinema, or attending a concert. Even cooking a nutritious meal can be a form of art and creativity. These activities can help your brain harness its imagination in a new way that, when you eventually return to your desk, ends up inspiring your writing.
8. Change your scenery
Our environment affects us more than we realize, impacting how we think and feel. This directly affects our ability to focus on any given task, in this case, writing. With this in mind, overcoming writer's block might require something as simple as a change of scenery. But what locations are best for writing? What is the optimal environment to cultivate creativity and gain new insight?
There is no "perfect" writing environment, but somewhere surrounded by inspiration is an excellent place to start. Libraries with endless shelves of books, cafes with constant streams of interesting people (not to mention unlimited coffee), or museums steeped in history are all good options.
Introducing nature to your workspace is also beneficial when overcoming writer's block. A report from Human Spaces Global found that workplaces incorporating more natural elements had a 6% boost in productivity and a 15% increase in creativity than those that don't. Many famous writers have writing spaces in nature, such as poet Emily Dickinson who spent her days in her conservatory surrounded by plants and wildlife. Switch up your scenery and see if this gives your writing a new lease of life.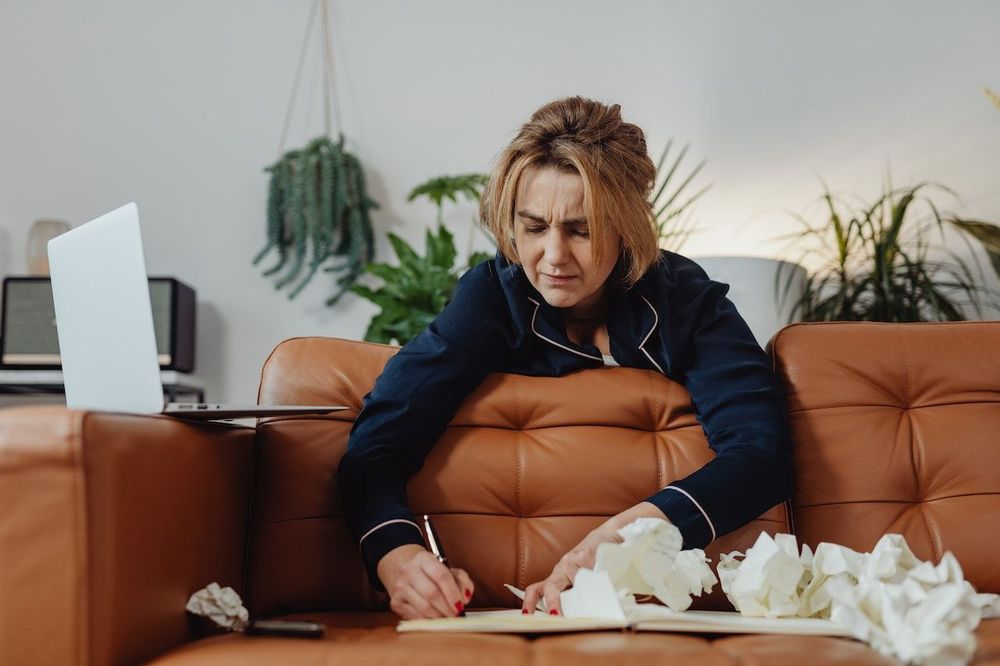 9. Find new inspiration
Writer's block is often caused by a loss of inspiration. Have you lost sight of why you fell in love with writing in the first place? If so, take time to list all your favorite authors and books and find a new appreciation for this beautiful art form. Pay close attention to each writer's unique style and message. What do you love about them? How have they powerfully used words and phrases? How can their style or themes help inspire your own work?
At first, this might seem disheartening. When you're struggling to put pen to paper and feel like you're a bad writer, analyzing the work of successful novelists can be challenging. However, this is not a comparison exercise. This is an opportunity for you to regain respect for writing to energize and motivate you (and is an excellent excuse for reading a few of your favorite books!).
10. Stop self-criticizing
It isn't easy to write well! Good writing requires considerable cognitive brain power and a natural flair for choosing the right words to make every sentence shine.
Being a freelance writer can sometimes be frustrating, especially when dealing with writer's block. However, being self-critical and annoyed with yourself for lacking creativity and inspiration only worsens the problem. Nobody is perfect, and it's important to remember that no one constantly performs at their best.
Next time you're having a bad writing day, try the tips above and remind yourself that writer's block is normal. This in itself can be all you need to overcome writer's block! But being less self-critical is easier said than done. Hopefully, these daily mantras can help you combat that negative self-talk by talking to yourself as you would a best friend:
"I am a brilliant writer facing only minor setbacks."
"It doesn't matter how long it takes, as long as I don't stop."
"All great writers have been in the same position."
"No mental blocks are permanent; they're only temporary."
"I can always edit a bad page, but I cannot edit a blank one."
"I am striving for progress in my writing, not perfection."
You can overcome writer's block!
Writer's block can be a terrifying thing, sending writers into a frenzy of panic, frustration, and self-doubt. When looming deadlines are approaching, and you cannot seem to get your creativity back, you can put a tremendous amount of pressure on yourself and lose all inspiration entirely.
But whether you're a journalist, copywriter, novelist, or any other freelancer within the industry, the tips in this article can help. There is no surefire way to overcome writer's block, but the advice here will help give your productivity and creativity a much-needed boost. Start ticking off your to-do list and make small steps toward completing your writing project with Indy's Tasks, and the rest will follow!
Remember, though, that your best free tool is a shift in your mindset. Writer's block is a psychological issue often caused by fear that you allow to impact your work. You're a brilliant writer, and setbacks are only temporary. Be proud of yourself for the progress you have made, no matter how small or insignificant it might seem right now. Accomplishment, determination, and a little bit of self-love can go a long way!