Think about the problems you face as a freelance copywriter. Whether it's improving your writing skills, managing your time and project workload, finding new clients, or increasing your efficiency when writing, someone has probably already created a tool to help you with all of these problems (and more). Fantastic, right?
And as a freelancer, you always have to be one step ahead by getting to know these copywriting tools.
SEO research tools
AI writing tools
Tools to check your writing
Time management and productivity tools
1. SEO research tools
SEO content is vital in copywriting. After all, you want your target audience to find your content easily on search engines. Keywords—important in SEO—will help you streamline your content and rank it higher on search engines.
The purpose of keywords is to let search engines know what your content is about, so they can easily match it to searchers' queries.
Answer The Public
You need to know what questions people are asking or "Googling." And your content should answer these questions as best as possible.
Answer The Public is a free keyword research tool that helps you determine what questions people ask about a certain topic. It will give you potential topics that you can write about. Just type in a keyword, and the tool will generate a list of questions related to that keyword.
For example, we used this tool to search for the long tail keyword "yoga for beginners."
Source: Answer the Public
Answer The Public autocomplete tool will then give us a visualization of the why, how, where, who, and what questions of this keyword we want to write about.
Source: Answer the Public
Once you know people's questions, you can start creating content that answers those questions.
Moz keyword explorer
Moz platform offers a variety of SEO tools, and their keyword explorer is one of them. The keyword explorer helps you see:
Keywords people are searching for.
Keywords that are ranking.
Strength of your competitors who are using the same keyword.
When you research a keyword on the explorer tool, you will see its monthly volume, an estimate of how difficult it is to rank higher than your competitors, and an estimate of the click-through rate on SERP.
Source: Moz
You can also see SERP Analysis for that keyword.
Moz has a new feature called Keyword Gap, where you can find keywords that your competitors rank for.
Source: Moz
Google Trends
Google Trends is a free tool that shows how popular a keyword is. You can also use this tool to compare multiple keywords and get an idea of which keywords are more popular.
This is helpful to understand whether people are actually searching for a keyword you want to rank for—if the keyword is on the rise or declining. For example, let's say you are copywriting for a yoga studio and want to write about "yoga for beginners." You can check how popular this keyword is on Google Trends.
Source: Google Trends
Also, in the "Related queries" section, you can see the most popular search queries. You can use this category to optimize your copy on the "yoga for beginners" topic.
Source: Google Trends
You can also use this tool to find related keywords.
UberSuggest
UberSuggest is a powerful free keyword tool that offers keyword suggestions and shows you long-tail keywords.
A long-tail keyword is a specific, unique, and low-competition keyword. It is specific because it is very detailed—for example, "yoga for beginners." It is unique because it is not a general keyword like "yoga." And it has low competition because not many people are targeting this keyword.
You can use this tool to find long-tail keywords that you can rank for easily.
Source: NeilPatel
Type in your seed keyword, and the tool will generate a suggestion list with long-tail keywords.
BuzzSumo
This platform shows you the content that is most shared on social media. You can see keywords, trending stories, and customer questions on the platform.
For example, you can type in the keyword "copywriter tools". It will show you some of the most popular articles on that topic and their engagement on social media.
Source: BuzzSumo
To sum it up, as a freelance copywriter, these tools will help you:
Research keywords
Find questions people are asking
Understand your competition
Optimize your content
2. AI writing tools
AI-powered writing assistants are becoming increasingly popular, as they can help you write faster and improve the quality of your writing. They use natural language processing (NLP) to create content that sounds more like a human wrote it.
However, AI writing assistants are not perfect, and they should not be used as a replacement for human copywriters. They are best used as a tool to help you with the writing process.
Jasper (Formerly Jarvis.ai)
Jasper is a premium AI writing assistant and one of the best copywriting tools for generating content. It can write 5x faster than humans and has a 96% accuracy rate.
You can use Jasper to write emails, social media posts, blog posts, product descriptions, and even website copy.
Pricing
Free five-day trial - You will need to provide credit card details.
Starter - $29/month for 20K words to $49/month for 35K words
Boss Mode - $59/month for 50K words to $600/month for 700k words
Business - Custom plan & price for 700,000+ words
Copy.ai
Copy.ai uses GPT-3 to generate content for freelance writers, copywriters, and digital marketers. With the Copy.ai freelance writing tool, you can generate high-quality content for your website, blog post, case study templates, social media, and even video content.
However, the quality of content produced by Copy.ai is not consistent. It can range from being really good to completely unusable.
Pricing
$0/month - 2,000 words per month - no credit card required
$49/month - 40K words
$99/month - 100K words
$279/month - 300K words
Custom Pricing - 300K+ words
Copysmith
This tool uses artificial intelligence to help you write copies that sell. Copysmith can help you with ad copy, website copy, and even email subject lines.
Its features are very similar to Copy.ai. You can use Copysmith to write product descriptions, headlines, blog ideas, and meta descriptions.
You can integrate Copysmith to Google Chrome with the Chrome extension, which enables you to generate content on any webpage. Other integrations include Zapier, Google Docs, WooCommerce, Microsoft Word, etc.
One disadvantage of Copysmith is it doesn't generate very high-quality content. It also has fewer templates compared to other AI writing tools.
Pricing
$19/month - For individuals looking to get started.
$59/month - For growing teams and power users taking their copy to the next level.
Contact Copysmith - For businesses that need unlimited content creation at scale.
Writesonic
Writesonic is, at the moment, one of the best in automated copywriting. One of the best features of Writesonic is content rephrasing.
With content rephrasing, you can take an existing piece of content, and Writesonic will automatically rewrite it. This is great for when you need to create multiple versions of the same piece of content, such as when you're doing A/B testing.
Another great feature of Writesonic is its ability to generate content in multiple languages (24 languages). This is perfect for when you need to target a global audience.
Writesonic works better with short content like product descriptions, SEO meta descriptions, short press releases, and more.
Pricing
Free Trial - $0 a month - 6,250 words
Short-form - For hobbyists starting out - $15 a month - Starting at 30K words
Long-form - For bloggers, freelancers, & businesses - $19/month - 47,500 words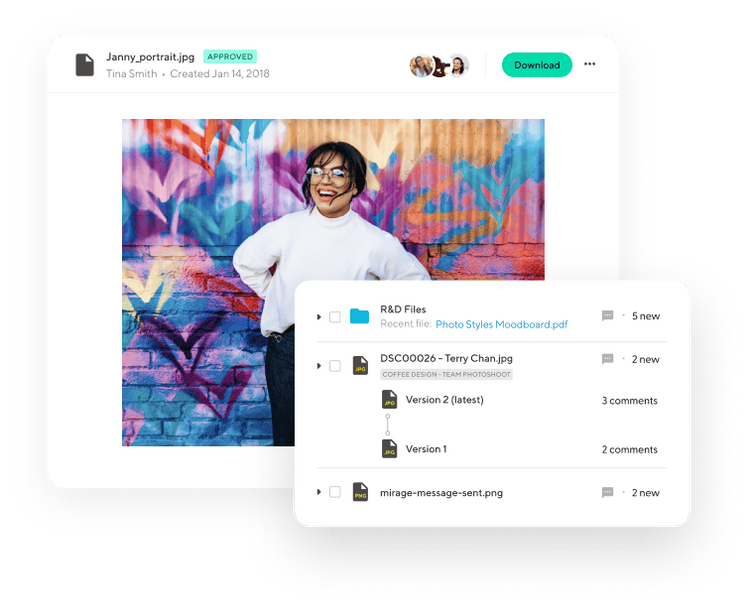 Have more admin than you know what to do with?
Tame your admin inbox with an Indy account. Use smart templates and clever tools to manage your proposals, contracts, invoices, payments, and files all in one place.
Try Indy for free
3. Tools to check your writing
After writing your copy, you will want to check it for spelling, typos, grammar mistakes, and whether the sentences are easy to read.
This is especially important if you're writing for a global audience, as different countries have different rules for grammar and spelling. In fact, 59% of people will avoid a website with poor grammar. You, therefore, don't want your copy littered with grammatical errors.
There are many tools that you can use to check your writing, but here are some of the best:
Grammarly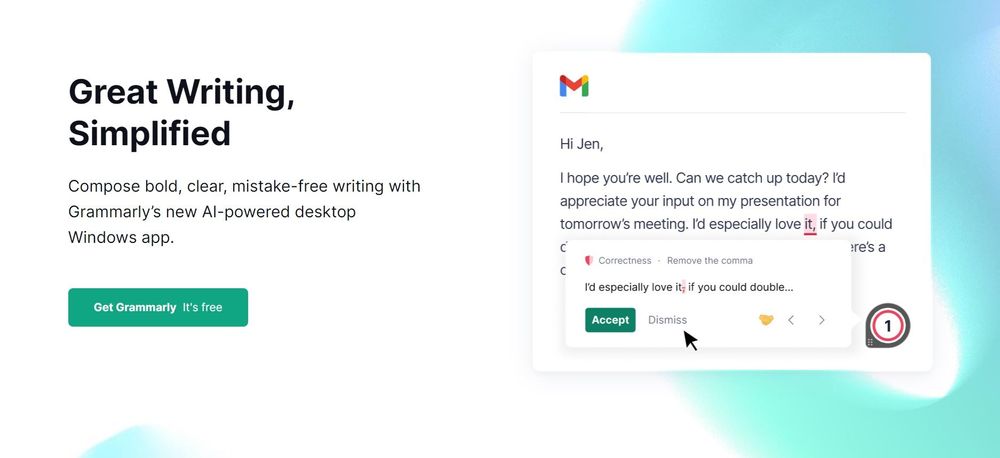 After you proofread your work, it's almost certain you will not capture every grammar or spelling mistake. Grammarly is a spelling and grammar checking editing tool that you can use to check your writing for mistakes.
It has a free and a premium version. The premium version is more expensive, but it gives you more features, such as advanced grammar rules, plagiarism checking, and vocabulary enhancement.
Be careful when using Grammarly because, like any other AI tool, some of its suggestions are not always correct.
You can use Grammarly in Microsoft Word and also in Google Docs.
Pricing
Free - Basic spelling and grammar checks
Premium:
$25/member/month
3 - 9 seats: $180 per seat annually / $15 average cost per month
10 - 49 seats: $174 per seat annually / $14.50 average cost per month
50 - 149 seats: $150 per seat annually / $12.50 average cost per month
ProWritingAid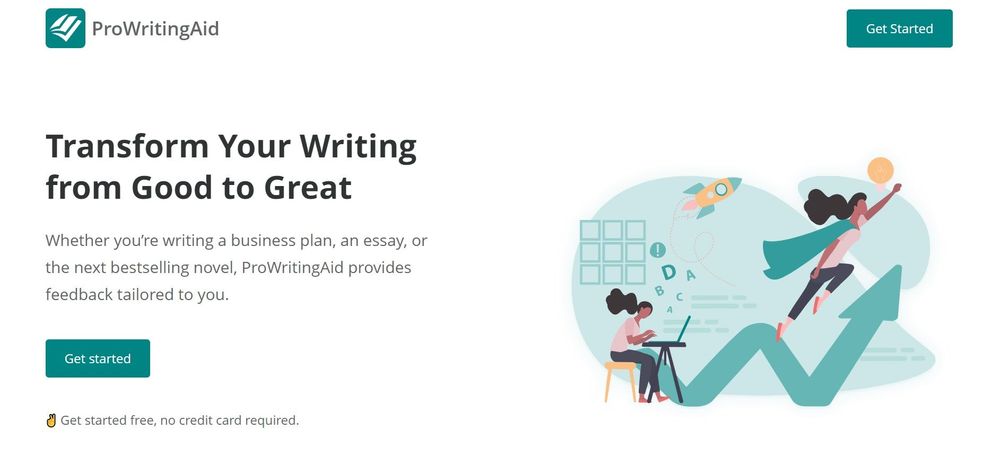 ProWritingAid is a grammar-checking tool that also helps you improve your writing style by giving you in-depth reports on how to strengthen your writing.
It has a free and premium version. The premium version is more expensive, but it gives you more features such as advanced grammar checking, style suggestions, plagiarism checking, and more.
ProWritingAid has more integrations than Grammarly. However, for the premium package, we recommend Grammarly.
Pricing
Monthly Subscription - $20
Yearly Subscription - $79
Lifetime - $399
Hemingway Editor
As a copywriter, you want your copy to have simple language that anyone can understand. Using hard business jargon will only drive the reader away.
Hemingway Editor is a tool you can use to make your copy easier to read. It does this by highlighting long, complex sentences and common errors that you need to address. It will also highlight the excessive use of adverbs and passive voice.
Correcting these suggestions will make your writing simpler and easier to read.
Just copy and paste your content into the Hemingway web editor.
Hemingway Editor has a free and premium version. The online version is free. However, a desktop version costs $19.99 for either Mac or Windows. The free and paid versions all highlight the same corrections.
CopyScape
Plagiarism is a serious problem in the writing industry. It's not only unethical, but it can also get you into legal trouble if you're caught. Plagiarized content will also not rank on Google.
CopyScape is a tool you can use to check if your content has been plagiarized. If you notice your content matches another, you can either rewrite it or attribute the source.
Pricing
3¢ per search (up to 200 words) plus 1¢ per extra 100 words
Copysentry (Copyscape's advanced protection against online plagiarism) costs $4.95 per month for up to 10 pages, $0.25 per month for each additional page up to 500 pages.
4. Project management tools
As a freelance writer, you will have multiple projects you're working on most of the time. And keeping track of all client projects can be hard as you grow your business.
This is why it's important to have project management tools to help you keep track of all the different projects, deadlines, and client expectations.
There are many project management tools available, but here are some of the best:
Indy
Focusing on your contracts, proposals, and paperwork can be challenging, especially as you scale up your freelance writing services business.
Indy is a project management tool designed for small businesses and freelancers. It has all the features you need to manage your projects:
Indy Forms - This feature helps you create web forms to gather leads. This is especially helpful when you want to pitch to new clients. The form has a Contacts area that you can use to keep track of your client's information.
Indy Contracts - This tool helps you create the right contracts to bind the deal. It has customizable contract templates that you can use for different projects.
Indy Calendar - This is a great feature to keep track of your writing project. You can also use it to create deadlines and send reminders. It's also very helpful when you want to schedule meetings with your client.
Indy Project Tools - Indy helps you organize your work, set deadlines, and track your progress with Time Tracker, Files, and Tasks for seamless coordination.
Pricing
Indy is very affordable. Indy's Free plan gives you free unlimited access to all the basic tools you need to manage your business. You can use it for free with no credit card required. However, Indy has a Pro Bundle package that lets you create customized contracts, invoices, proposals, forms, etc., for just $9 a month. Get a 30-day money-back guarantee if you're not satisfied.
Asana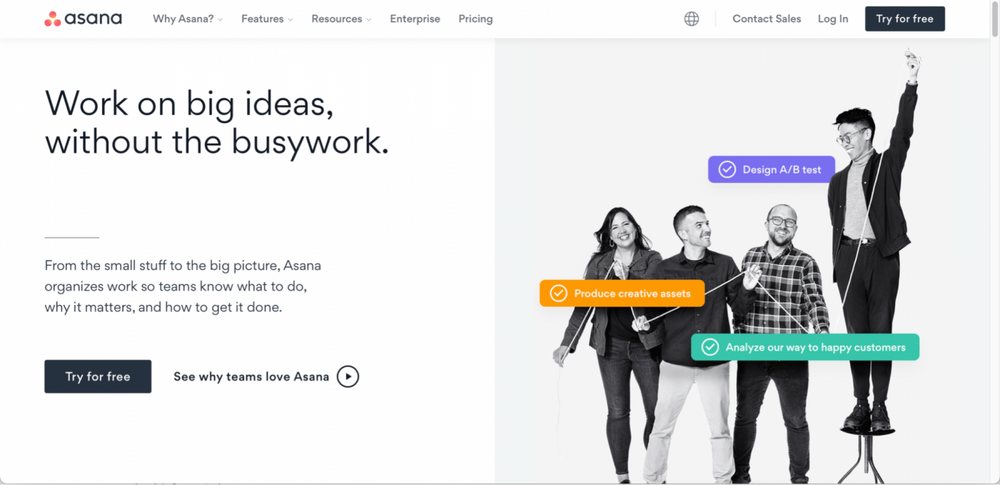 Asana is a project management tool that helps you keep track of all your projects in one place. It's a great task management software for managing deadlines, assigned tasks, and communication with your team.
You can also use it to automate communication and collaboration tasks. Some of the benefits of Asana include:
Project Segmentation & Prioritization - You can easily break down projects into smaller tasks, prioritize them, and track their progress.
Gantt Charts - Asana has a built-in Gantt chart feature that helps you visualize your project timeline and progress.
Asana Templates - You can use Asana templates to quickly create projects with a similar workflow. This is especially helpful if you have recurring projects.
Integrations - Asana integrates with many popular software programs such as Google Drive, Slack, Zendesk, GitHub, and more.
Secure Storage - Asana offers secure storage for all your project files.
Pricing
Asana has a free and premium plan. The free plan is $0 for individuals or teams just getting started. The premium package is $10.99 per month, and the Business package is $24.99 a month.
Trello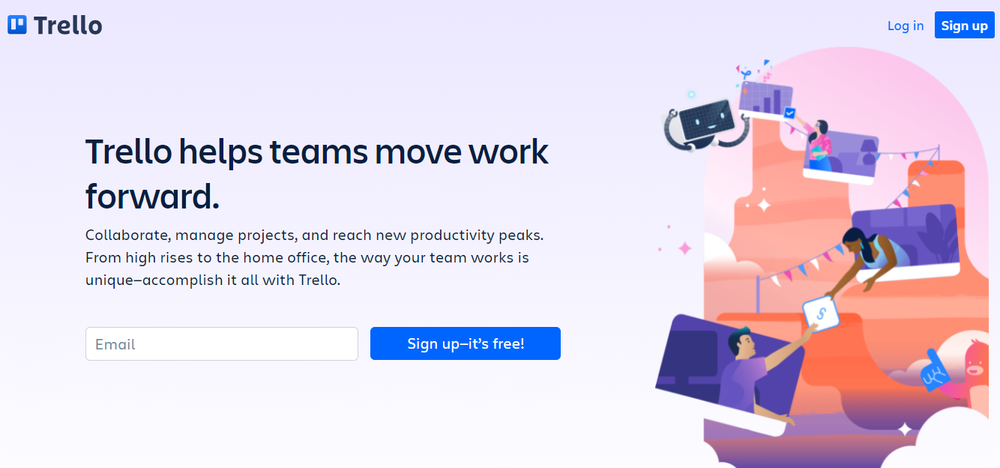 Trello, a project management tool, is great if you want a visual way to organize your projects. It uses the Kanban method, which helps you see the progress of your work visually.
With Trello, you can create boards to represent different projects. Each board has lists that represent the different stages of your project. And each list has cards that represent the tasks. The workflow is represented as "To Do", "Doing", and "Done."
You can also add people to your boards and assign tasks to them. This is great for collaboration. Trello also has a mobile app so you can manage your projects on the go.
Trello integrates with many popular software programs such as Google Drive, Slack, GitHub, and more.
Pricing
Free - For individuals getting started.
$6 per user/month - This is for small teams that need to manage work and scale collaboration.
$12.50 per user/month - For teams with multiple projects.
$210 per user for 25 users - For organizations that need to connect work across teams.
5. Time management and productivity tools
Time management is one of the challenging aspects of the freelance writing business. This is because you must juggle your time between writing, client work, and marketing.
It's also important to ensure efficiency, as every aspect of your freelance journey needs quality work. You need to remove distractions, take breaks, and even set time aside to re-energize.
Here are some great time management and productivity tools:
Focus Booster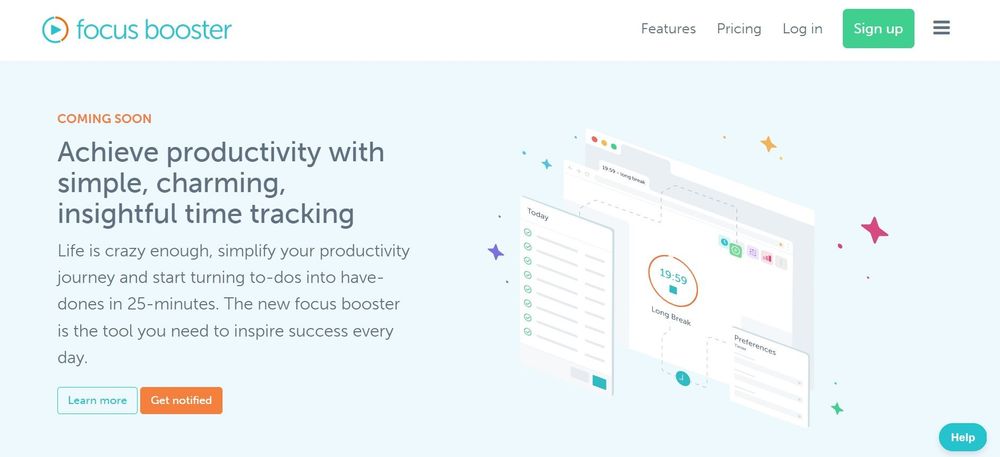 Focus Booster is a great tool to help you stay focused on your work and improve productivity. It's based on the Pomodoro Technique, a time management method that breaks down work into intervals.
With Focus Booster, you set a timer for 25 minutes and work on your task until the timer goes off. Then you take a 5-minute break. After four Pomodoro sessions, you take a longer break of 20–30 minutes.
This tool is great for managing your time and staying focused on your work.
RescueTime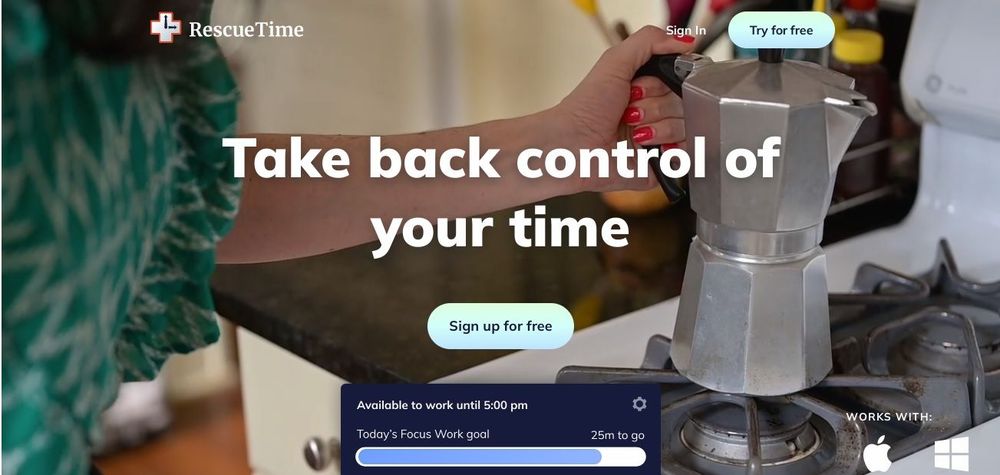 This desktop app, browser extension, and mobile app help you understand your productivity patterns. It gives you insights into how you spend your time so you can make necessary changes to improve your productivity.
It gives you a report every five to fifteen minutes showing you the applications and websites you've used and for how long. It also categorizes them as "productive" or "distracting." It's very accurate, and you can even set goals to improve your productivity.
RescueTime puts the ball in your court to make necessary changes to ensure better productivity.
Toggl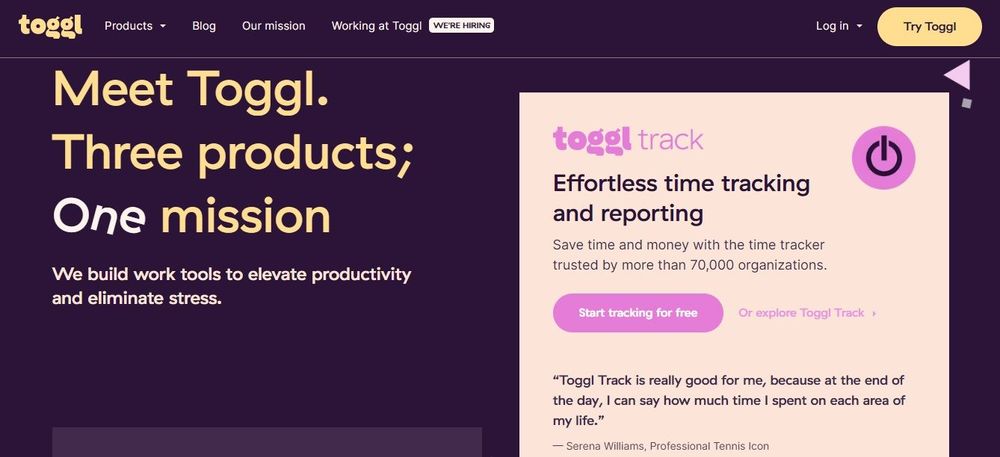 With Toggl, you can track the time you spend on tasks and projects. This is great for billing clients and understanding how long certain tasks take.
Toggl also has a Pomodoro timer that you can use to break down your work into intervals. It's accurate, and you can add notes to your entries.
You can use it for several projects and clients. You can also generate reports to see which projects are taking up too much of your time.
TMetric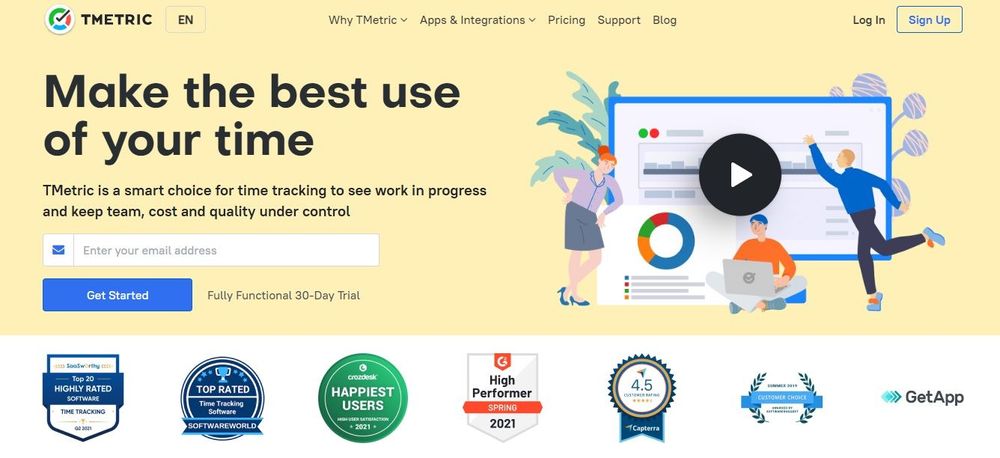 TMetric will help you capture billable and non-billable time. It's an excellent tool for understanding your work process and improving efficiency.
With TMetric, you can start and stop the timer with just one click. You can also add tags, notes, and even screenshots to your entries.
This is a great tool for understanding how you spend your time and improving productivity.
F.lux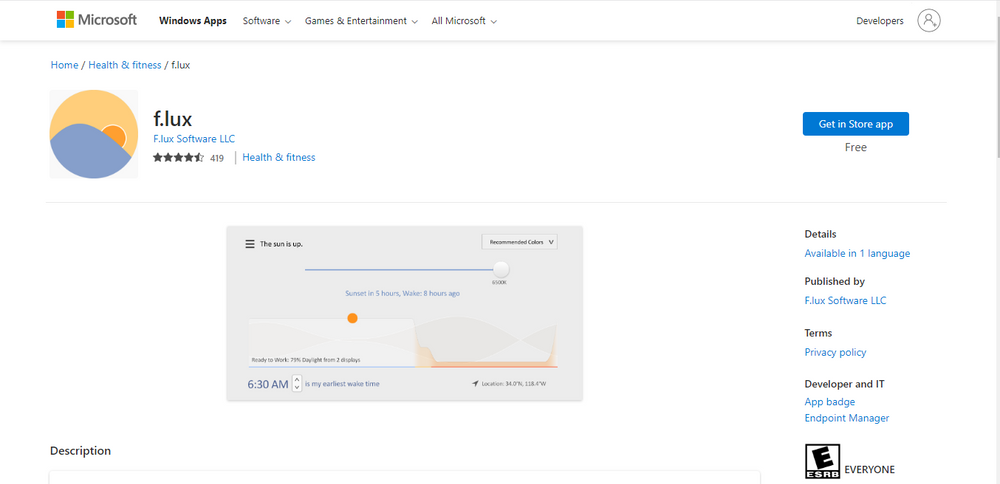 This is a desktop app that automatically adjusts the color of your screen according to the time of day. This is to reduce eye strain and improve sleep.
F.lux makes the color of your computer's display adapt to the time of day, warm at night and like sunlight during the day. It's even been shown to help some people who have trouble sleeping.
This is a great tool for ensuring you're getting enough sleep and reducing eye strain.
Move your copywriting business to the next level
Success for a freelance copywriter is multifaceted. You not only need to write well, but you need to be great at time management and be productive.
Leveraging platforms like Indy will help you track leads to find more clients, get better-paying gigs, and reduce the hassle of paperwork. Using the freelance writing tools mentioned above will help you to improve your productivity, write better copy, and manage your time.
What other tools do you use to help you in your freelance journey? Let us know in the comments below. And if you need a more efficient way to create and send proposals, contracts, and invoices, you can get started with Indy for free!