Let's be real. Keeping track of your time and your projects are one of the most important parts of being a freelancer.... But it's also the most time-consuming. And can be the hardest!
Project management tools aren't just for big agencies who are managing hundreds of clients, and multiple staff. They're for the small team of 5. The solo entrepreneur. Project management software solutions are for everyone.
So if you are a freelancer who is missing key due dates with your clients, or need to visualize your week, you're in the right place.
We've done the research, and today we're taking you through the Top 11 Best Project Management Tools for Freelancers.
Affordable & easy to use
Project Management Tools don't have to be expensive. All of these software solutions offer free trials and are really easy to use.
They have premium features, which you need paid plans for, but quite often the free version will work well for a team of one.
1. Indy - try for free. Subscribe when you're ready.
An all-in-one project managing software designed from the ground up for freelancers.
You can onboard new clients with ready-made proposals, contracts, and forms that can be sent in minutes. These customizable templates make it easy to add your own content, branding colors, and logo.
Indy makes project management easy through to-do lists and Kanban boards that help you manage any project that comes your way. Indy also has automatic time tracking, an intuitive calendar app, and file storage, so you can manage the entire project timeline in one place.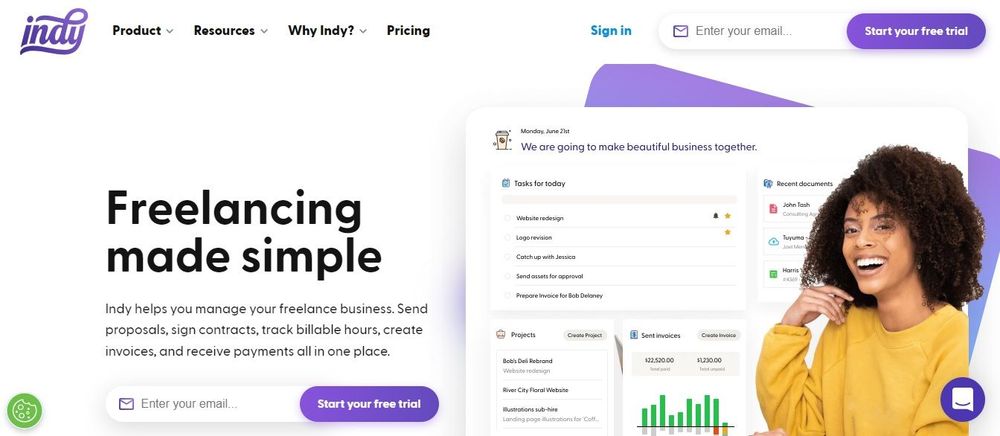 When you're ready to wrap up a project, Indy lets you send single invoices or set up an automated invoice system, accept multiple payment methods right through the platform, and get notified as soon as clients pay you.
You can connect Indy to over 1,000 apps through Zapier integration and create powerful workflows that automate your daily tasks.
It's everything you need to run an independent business from start to finish.
Indy's Free plan gives you unlimited access to all the core tools. Or you can go with Indy's Pro plan for just $12/month (the most affordable Pro plan on the market) and get advanced features like automations, integrations, and plenty of ways to showcase your brand.
This is our top choice for affordability & ease of use.
"Indy is profoundly redesigning the workspace. It's pulling together many pieces of all the software I already use." Gabriel Fisher
2. Trello - affordable tool for the visual learner
If you are someone who jots down your to-do list all over a notebook, with no structure, and no eye for keeping things looking visually appealing - a tool like Trello probably isn't for you.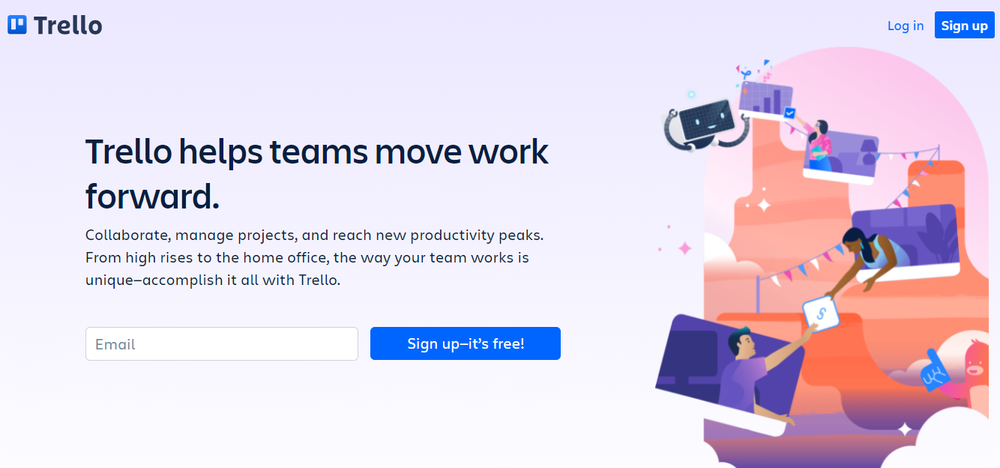 If you prefer to look at your To-Do list in a clean, easy-to-follow format - it is most definitely something for you to look into!
Trello is best known for its Kanban board style. This is a pretty popular format for freelancers - especially creatives - as it is so easy to visually manage your projects.
It's a great effective tool for teams. You can easily brainstorm and organize ideas, set deadlines and see what your team members progress is on each project.
The free version of Trello is great for individual freelancers and teams with less than 10 major clients. When you're working across multiple projects (10+) and managing a larger team, you'll need to upgrade.
From just $9.99/mo for Business Class or from $17.50/mo for Enterprise, it's still a very affordable option for your Project Managing needs.
3. Milanote - one for the creatives
This is THE app for Creatives. Milanote is essentially somewhere you can brain fart your ideas onto a mood board, then turn it into a project.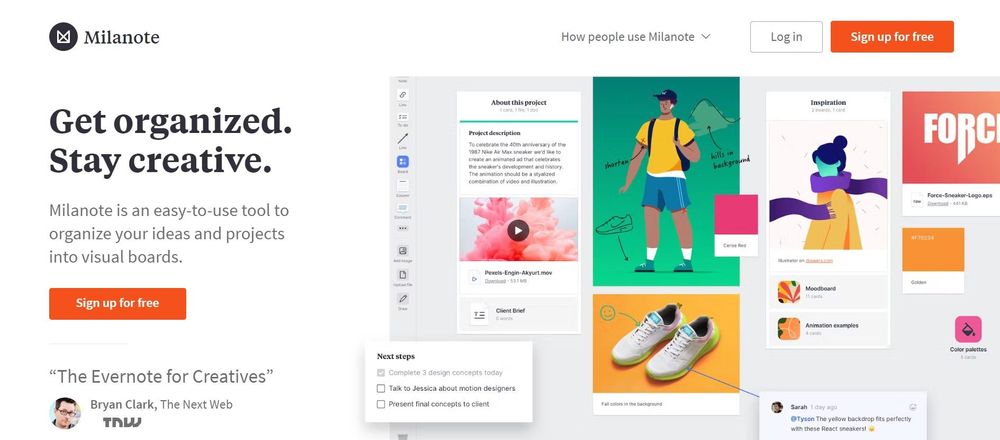 I mean… it's a little more sophisticated than that. With templated boards you can visualize an entire business plan or create a storyboard. Or, you can start from scratch and build something up with all of the tools yourself.
It's easy to share with clients. There's a mobile app, you can save ideas directly from any website, upload any type of file, write notes, add to-do lists… and just make things look good!
One of the key features to point out in this one is working in real-time. Your team can be working on the same board at the same time, and you can track their changes (much like Google Docs). And when you're finished working on a project, it's very easy to share the result with your client or partners.
Best part? It's free to start (up to a 100 notes / images or links) - so you can get a feel for it before committing to it for all of your creative projects. And you can upgrade to unlimited storage from just $9.99/mo.
"Milanote is a visual extension of my brain. An exquisite app for collecting, organizing & generating ideas." - Jeremy Perez-Cruz (Brand Design Manager, UBER).
4. Freedcamp - free project management
The marketing tactic behind Freedcamp is that you can literally use it to plan your whole life - not just your professional projects! Which is probably how it took off.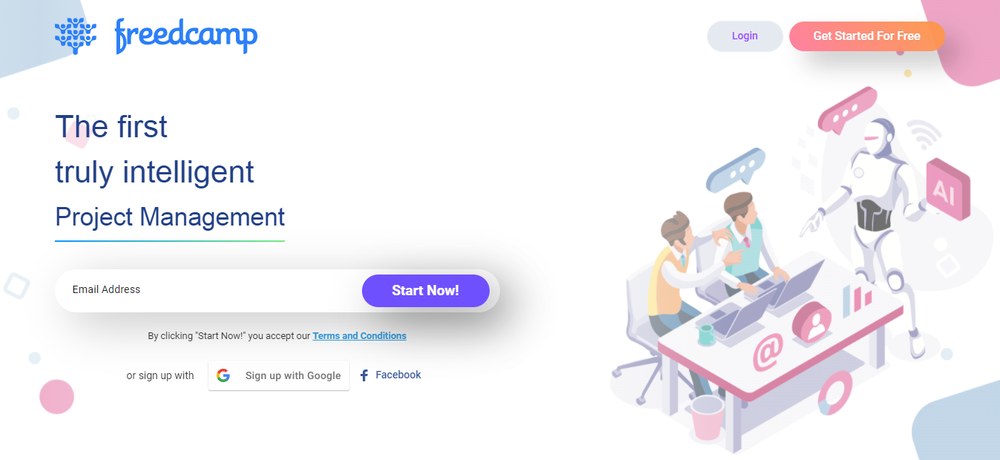 It's made for individuals that are planning their wedding, through to professionals with large teams juggling multiple projects at once.
As their name suggests, Freedcamp is "absolutely free" for everyone!
In the free version you get everything you need to add tasks, manage deadlines and view your team members weekly schedule, plus up to 10MB file size.
To get access to premium products such as Gantt charts, adding start dates to projects, Google integration you need to upgrade to the Minimalist account. The good news… This starts from as low as $1.49 per user, per month.
Their most popular plan is Business - starting from just $7.49 per user, per month.
Needless to say, the free version of Freedcamp is a great option for smaller projects, and upgrading is certainly not going to dent your wallet!
"I am crushing on Freedcamp, the free project management tool. Organize any group activity today with ease." - Lisa Laskey Parks
5. Asana - perfect for teams!
The free version of Asana is great if all you want out of the software is to assign jobs and create a to-do list. However, if you want to make the most out of Asana, you'll need to upgrade.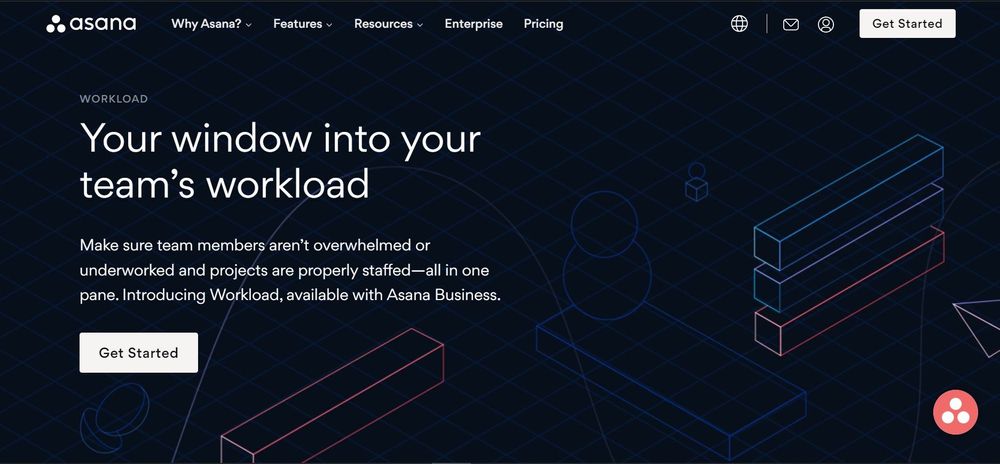 Asana offers List View, Kanban Boards, Timeline View & Calendar View, and it is very easy to get your head around. You can track different projects, assign tasks to different members of your team, and pay as you go - depending on how big your team grows!
We found that the free version of Asana is "fine" for writing a to-do list, but in order to track timelines and really get a sense of your time, you almost need to upgrade.
It's a small investment from just $10.99 per user, per month, but a tool that will help you to streamline your processes, and keep track of your time (and your teams time too!)
6. Wrike - takes managing a team to the next level!
Wrike is an excellent Project Management tool with Gantt charts and calendar views, managing projects has never been easier!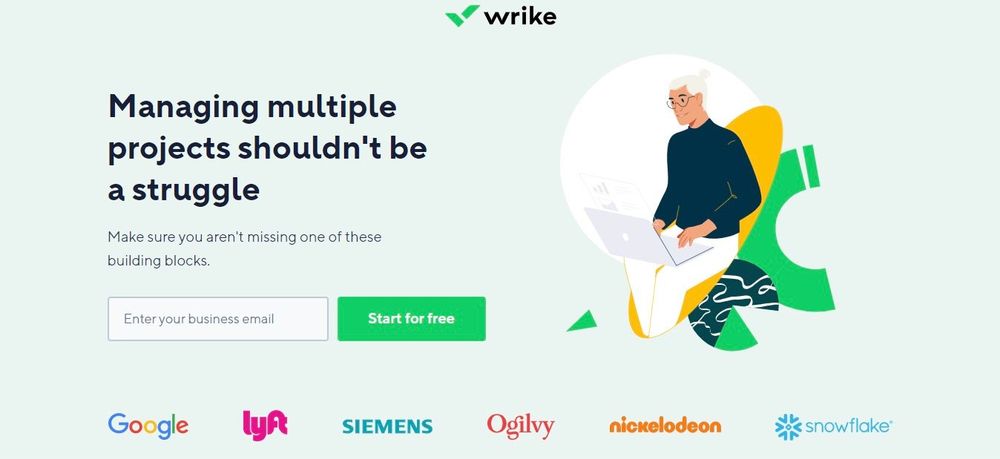 Wrike is excellent if you are working with a team of remote freelancers, with the ability to assign tasks to different members of your team. They take it one step further though - in the premium version, you can actually check how busy your team is before adding more to their workload - and ensure you have the resources available before saying yes to a project!
The automation features are ones to phone home about. Wrike allows you to create custom request forms for clients to fill in, so you can avoid the back and forth of emails, and keep all your communications in one place.
While there is a free version, and a 14-day trial, we suggest upgrading to make the most of it. Sitting at a higher price point than the Top 5 Project Management Softwares, the Professional plan starts at $9.80 per user, per month.
Their most popular plan (Business) starts from $24.80 per user, per month.
7. Taiga - a tool you'll love to look at
With a very intuitive user interface, Taiga is a tool that is super easy to get the hang of. And BONUS - the design of Taiga is beautiful, making you actually excited to open up your app!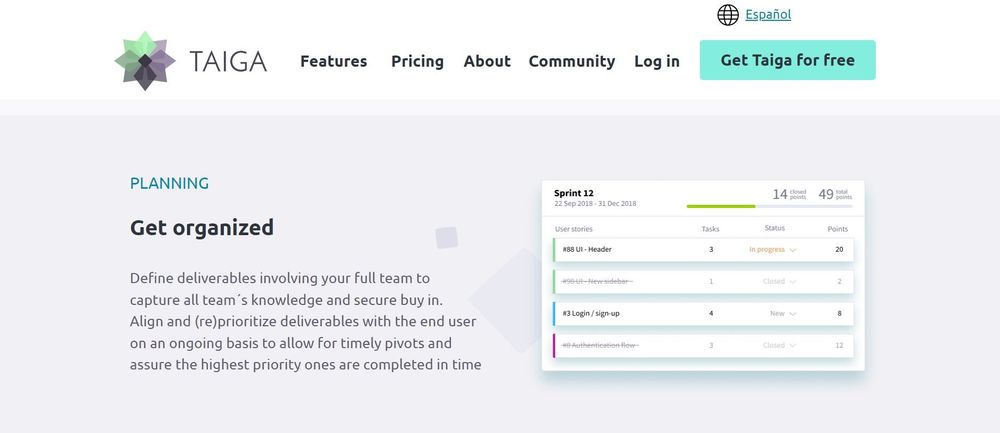 We haven't ranked Taiga as high as some of our other Project Management Tools mainly because it is a more simplified version of them. That being said, it is still a great tool for teams and individual freelancers, managing multiple projects.
The interface makes it easy to ensure you meet your deadlines with the ability to align and reprioritize deliverables. It's certainly one to look out for.
There's a free plan and from there, pricing starts from just $7 per user per month.
8. Mavenlink - track your projects and your profits
Mavenlink is a great tool for teams. You can assign tasks, see in real-time the availability of your team, and even track the profitability of projects.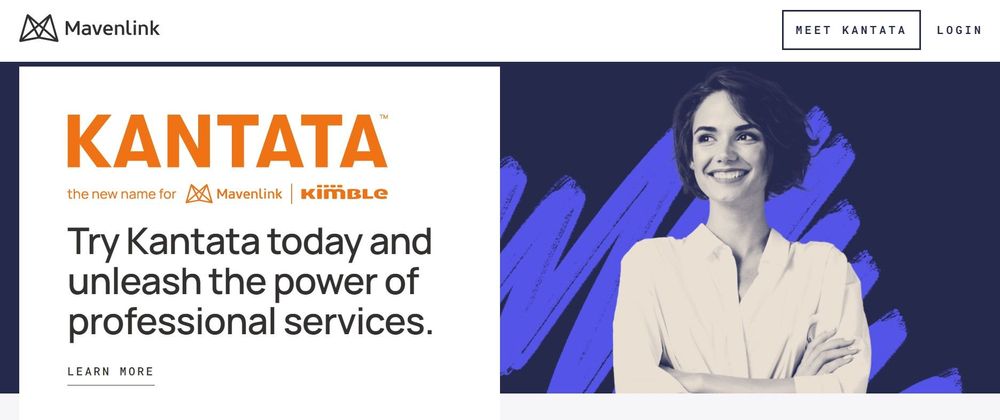 Many of the project management tools out there are purely for tracking time and tracking deadlines. Mavenlink takes it one step further and actually tracks your time against budgets for each job, so you can see in real-time how much you are making on each job (or losing).
It will help you to know what the real cost of your projects are, and charge accordingly. You'll be able to assign resources and understand the expense of each job, before you get started.
The Project Accounting addition is the real stand out feature of Mavenlink. You'll truly know where you can save money, and ensure every single job is making a buck for your business!
Mavenlink is an advanced Project Management Tool and the pricing depends on what you're looking for. There are free trials, but you must get in touch about your specific business needs before diving into your monthly price.
9. Paymo - track your projects, team & billing all in one
Paymo is a great project management system for small and medium-sized businesses, with these being their primary target market.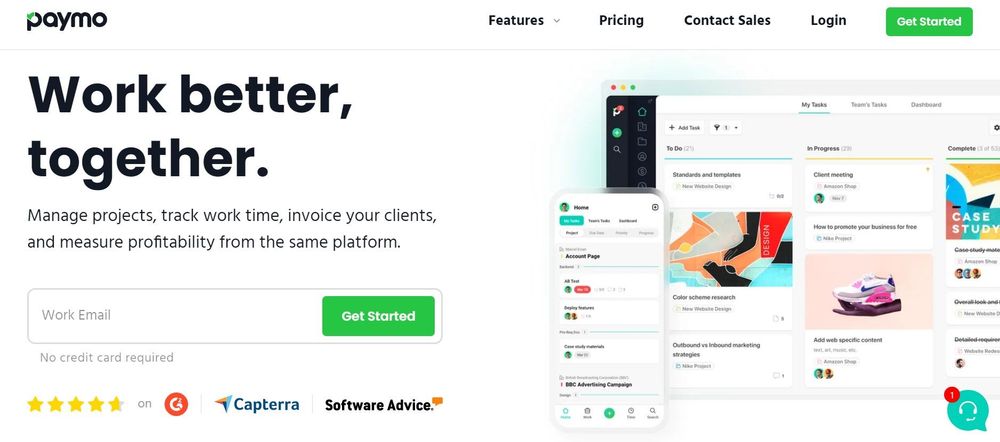 From the outset it looks like a tool that has all you need to track your time, your team, your resources, your tasks and even has a billing function. So, essentially, all of your business needs are in one place.
You can get a free trial on Paymo to see if it suits you, but unfortunately there are no free plans. However, the pricing is very affordable. Sitting for just $9.95 per user per month.
"The quality of life and open communication have been the biggest benefits Paymo has brought to our company." David Aguilar, CEO
10. nTask – project management app
nTask is one of the most affordable project management app that offers advanced project, task and time management features in less price. Used by more than 150,000 teams across the globe, nTask is loved by freelancers in many industries.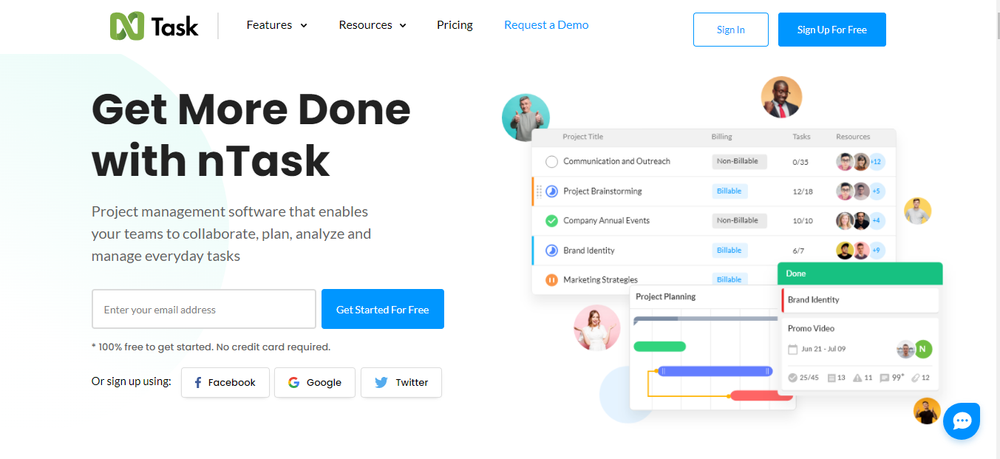 Using this tool, you can assign task to your team members, set task status and priority, set task timer and time estimates, and manage planned/actual due dates easily.
Users can give description for better project planning, manage resources and allocate resource costs, set currency, manage budget and financial summaries, and help you manage task for your whole team.
The timesheet feature is loved by remote teams and freelancers to help in logging time for all the tasks, and sending it to managers or clients.
nTask offers a forever free plan which users can benefit from if they have small team. The Premium plan starts at $2.99/month to get started.
11. HeySpace - "two-in-one" tool for teams
If Trello and Slack had a baby it would be HeySpace. This is a platform, which perfectly combines functions for project management and communication. An app is simple and user-friendly thanks to an intuitive interface and combination of many features like chat, boards, calendar, timeline, and overview.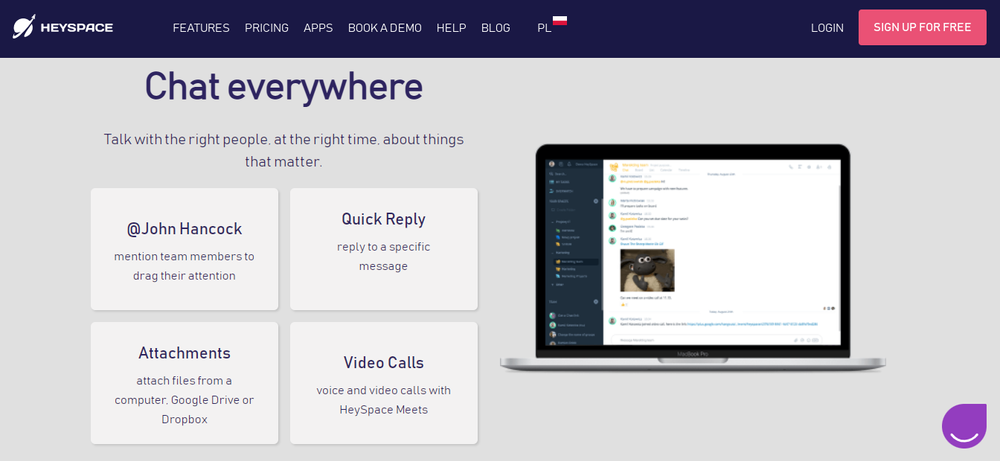 HeySpace provides integrations with Google Drive, Zapier, Dropbox or Trello, that enable planning and execution to work fast and effectively.
This collaboration software has a totally free version for small teams and a premium plan for 5$ per user/monthly dedicated to more demanding projects. HeySpace offers a 14-days free trial to see how a premium space works too.
Micah Luan Jenkins, Founder and Creative Director of Align.vn says "We have been searching for something like HeySpace for a long time. We have tried Slack and Trello and others like that but they were all missing something. We absolutely love HeySpace! Give it a try and you won't use anything else!"