The success of any project depends on how efficiently you manage tasks and resources.
A great project management software bundle can help you streamline the process, acting as a central point for all your project-related proposals, ideas, resources, and files.
Choosing the best software to help you manage any project can be tricky, and with the variety of options available, how do you choose the best one for you?
We can help you choose the best software to make managing your next project a breeze.
What is project management software?
Project management software is a key tool that helps you manage your business–from onboarding new clients to managing project work to invoicing–and can be used by just about any business owner or freelancer.
Depending on the type of project you need to complete, choosing the right software package can help you keep track of tasks, manage your time, schedule events and meetings, create contracts, send invoices, collaborate with clients, and stick to those all-important deadlines.
In short, project management software helps you streamline your processes while ensuring that projects run smoothly.
To ensure that you choose the right project management tool for you, assess each type based on its features and functions, and determine if they will help you quickly and efficiently meet deadlines.
Project management software: Features and functions
Good project management software should have the following project management features to help streamline your project:
Tools for planning your workstream
Task management
Collaboration features allowing for easy and efficient communications with clients
Time tracking functionality
Templates for outreach, onboarding, and invoicing
The key performance indicators to look out for when choosing your project management software are the following: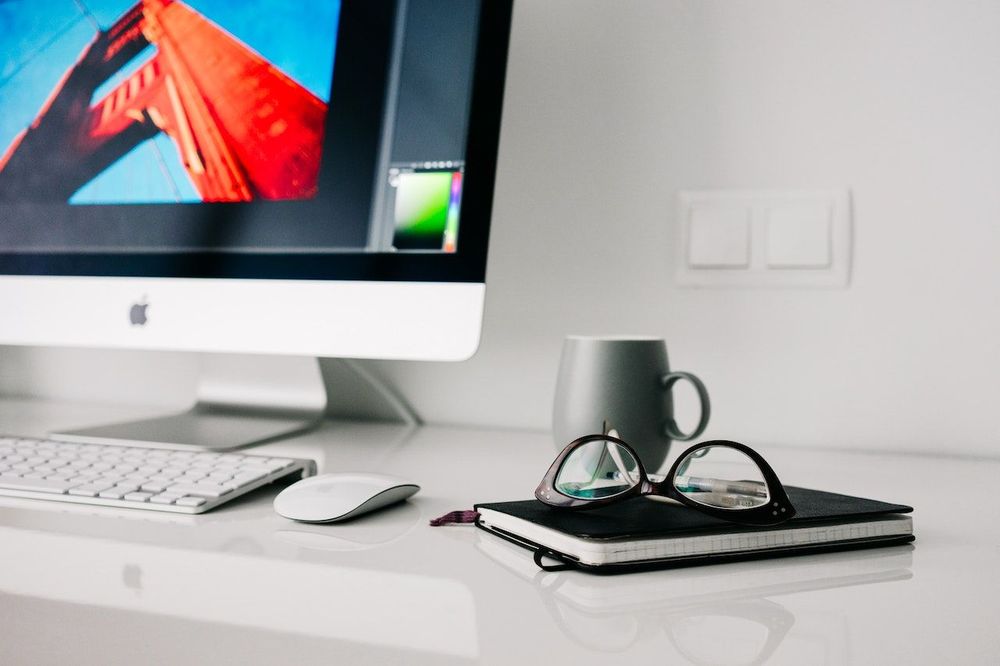 Feature 1: A project overview
A project overview lets you quickly get a view of everything you're responsible for, including how far you're into each task. For example, you can use a "board view" to create columns such as "To Do," "In Progress," and "Done," or get even more organized with your process. This gives you a better idea of where you're at in the project timeline so you can better meet goals and deadlines.
Feature 2: A task manager
When working on multiple projects, it can be challenging to keep track of every task at once. A task manager helps you create and manage tasks so you can stay on top of all your to-dos and meet deadlines.
By using a task manager, you can tackle projects much more efficiently by organizing your workload. One of the best features of task management is the ability to break tasks down into subtasks and arrange them in order of importance. The more you organize tasks, the easier it will be to plan your day and get work done.
Feature 3: Collaboration tools
A good project management software helps you collaborate in some capacity. You can use chat functionality to send messages back and forth, or collaborators can add their feedback right on the project files once it's been uploaded to the software.
Feature 4: Automatic time-tracking
One of the trickiest elements of project management is time management and tracking hours spent on a project. This feature is necessary to calculate the project's cost so you can invoice the client with precise data.
An automatic time tracker will calculate the overall hours spent on the project, monitor progress, and create the invoice for you. An automated billing and invoicing process also eliminates any errors and allows for accurate billing.
Feature 5: Customizable templates
Having templates to get important administrative tasks done like invoicing, client outreach, and creating bulletproof contracts makes this whole process much more efficient. What used to take hours out of the day can now take minutes, giving you more freedom to focus on work or to get some much-needed rest.
Why spend hours calculating the costs when a software program can accurately compile this data for you?
Project management software is available in a wide variety of packages. The simpler packages will have basic tools that help you plan or schedule tasks.
A more advanced package will have all the features of the simple package but also include tools that help you track your time, store documents and files in a centralized location, and invoice clients.
If you're looking for the best project management software for freelancers and small business owners, you can get started for free with Indy.
It is an all-in-one software package that does more than just track your time and resources but includes a bevy of helpful features that will help you meet deadlines and handle the nitty gritty side of project management.
Advantages of project management software
You are sorely missing out if you're not using a good software program to track your time and resources and assign tasks.
There are many benefits to using project management tools and software, and these include:
Better planning that leads to a successful project outcome.
More effective use of time with task management tools that help create clear guidelines of what needs to be done and when it must be done by.
Easy cost calculation through auto-tracking of time. This helps you easily bill and invoice a client for hours spent on a project.
Who can use project management software?
Project management software is great for all business types and is also a game-changer for freelancers.
No longer just for upper-level management who want to manage projects, costs, and resources, this software is great for freelancers to manage all the projects they might be working on.
Introducing Indy: The best project management software for freelancers
Indy is a great project management software solution to help freelancers streamline their work processes.
With its nine-in-one project management system, Indy provides freelancers or project managers with the best tools to manage their project tasks and keep them on top form as they navigate several projects at the same time.
Who can use Indy?
Indy is great for all freelancers. With the business world in utter chaos following the Covid-19 pandemic, many people lost their jobs, and some started freelancing to earn a living.
The need for freelancers has increased thanks to many companies moving their operations online.
How can a freelancer use Indy to coordinate their projects and ensure adequate time and attention is spent on each one?
Let's look at how the most popular freelancers use Indy to their advantage:
Web or graphic designers
A web or graphic designer often has their finger in more than one pie at any given time. Taking on more than one project at a time is often necessary and is the only way to make a good living as a freelancer.
Indy gives designers a place to easily create and manage their client proposals, draw up professional contracts with templates, and calculate their time for invoicing purposes.
You can see more about how Indy can benefit web or graphic design freelancers.
Writers
Taking in ad-hoc writing jobs is one of the best ways for writers to earn a living as a freelancer. This does, however, require great organizational skills.
Writers can use Indy to create and manage their to-dos, record their work time, and upload projects to get feedback and approval from clients.
While some clients pay according to the number of words per project, others will calculate how much they pay a writer based on the time it takes them to finish a particular project. Automatic time tracking keeps track of the time, so you can stay focused on the writing.
Virtual assistants
Work-from-home jobs have become extremely popular in the last few years as companies try to cut costs by hiring freelancers to handle diaries, set up meetings, and coordinate schedules from their homes.
Indy is great for virtual assistants and has a calendar function that allows you to see everything in one place. No more clicking through calendars to check availability.
Photographers and videographers
People care about capturing memories as a keepsake, so there is always work available for photographers and videographers.
These freelancers can use Indy to create a seamless workflow using the tools and features to keep track of time, deadlines, edits, and more.
The auto-time tracking feature is also useful when billing per hour and will generate a report on how much time was spent on each project.
Indy is great for all freelancers and is not limited to those we have listed above. Visit the website to see how Indy can work for you.
What makes Indy different?
As we have mentioned in previous sections, there are many advantages to using project management software.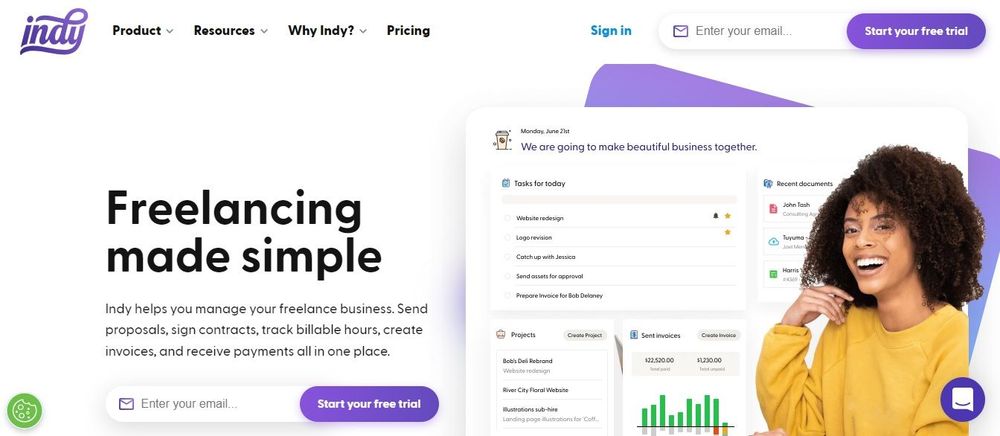 Indy has a wide range of features and tools that will help you manage your project tasks more effectively, cutting down on time spent trying to organize your workstream and on calculating costs, invoicing, and creating contracts.
Indy is a nine-in-one software system and comprises the following features:
Files
Store all your files in a central location, track any changes, make notes and comments for feedback and approve your projects in one place.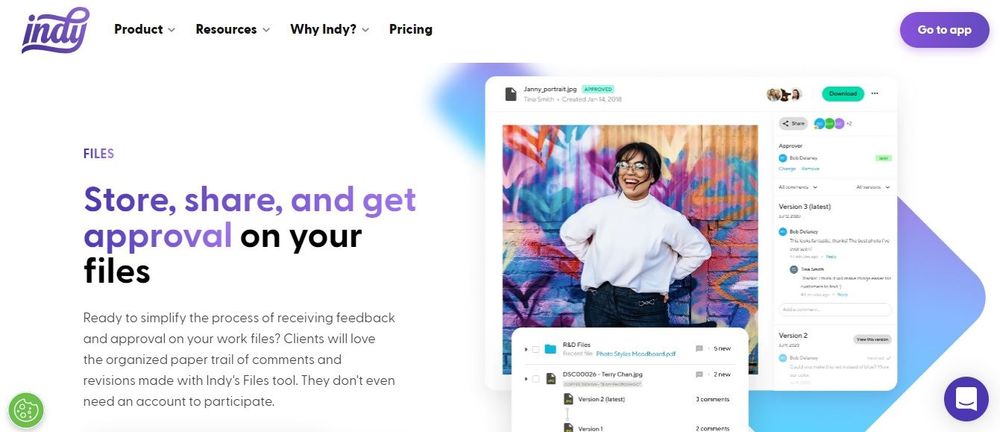 Calendar
Why have separate calendars for each project when you can have all your projects on one calendar?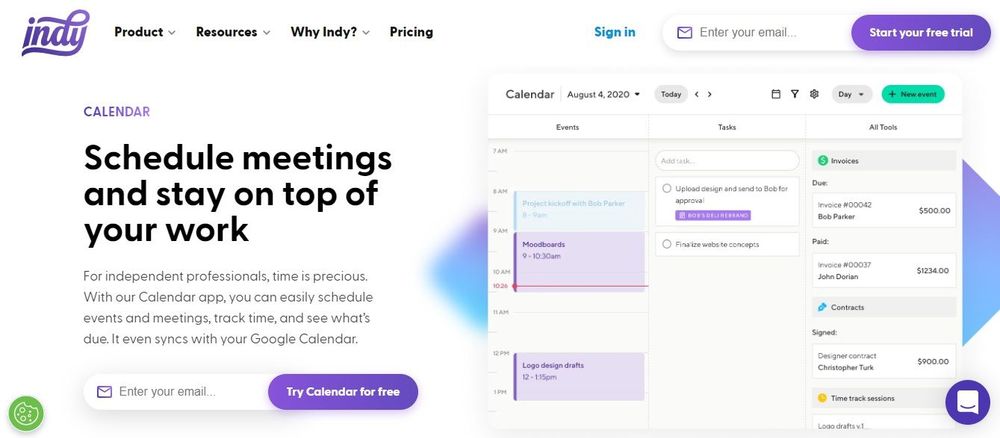 Indy's Calendar tool provides an overview of all the projects you are working on and has a day, week, and month view to choose from. It also integrates seamlessly with Google Calendar.
Invoices
With an invoice template, Indy allows you to send professional invoices to all your clients. You can even add your branding colors and business logo and set up recurring invoices to make it faster than ever to get paid.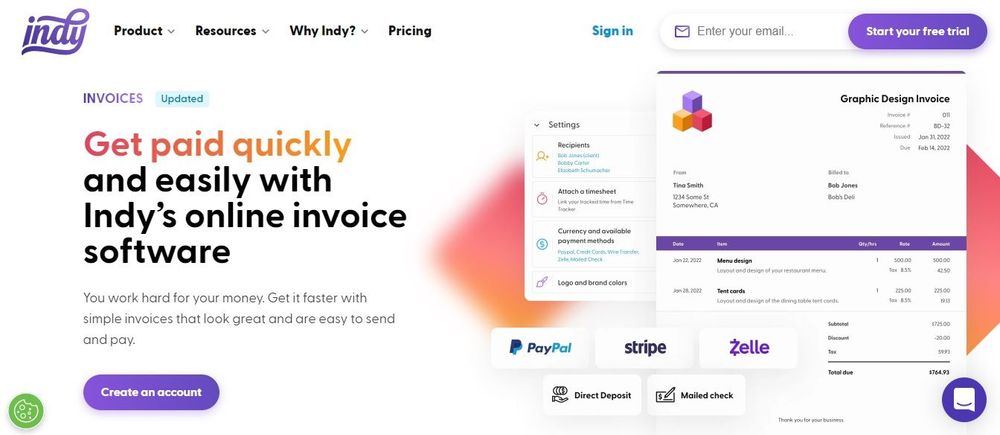 Proposals
Sending out client proposals can be tricky and time-consuming. You can secure clients fast with Indy's proposal templates to help you quickly create a winning proposal.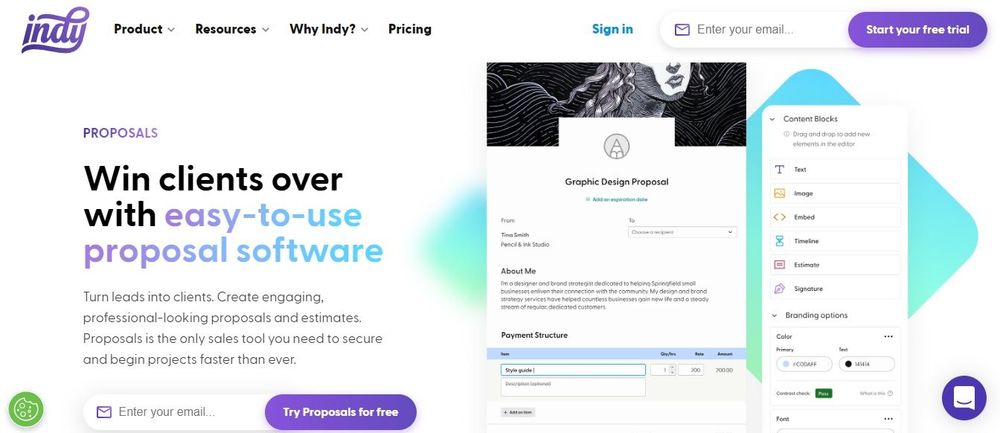 Time tracker
Isn't it funny how tracking the time spent on a project actually takes up more of your time? Well, not anymore. Time Tracker automatically calculates how much time you have spent on a project and provides a good overview of how efficient or lacking your time management skills are. Indy takes the guesswork out of tracking your time and accurately calculates the time spent on any project.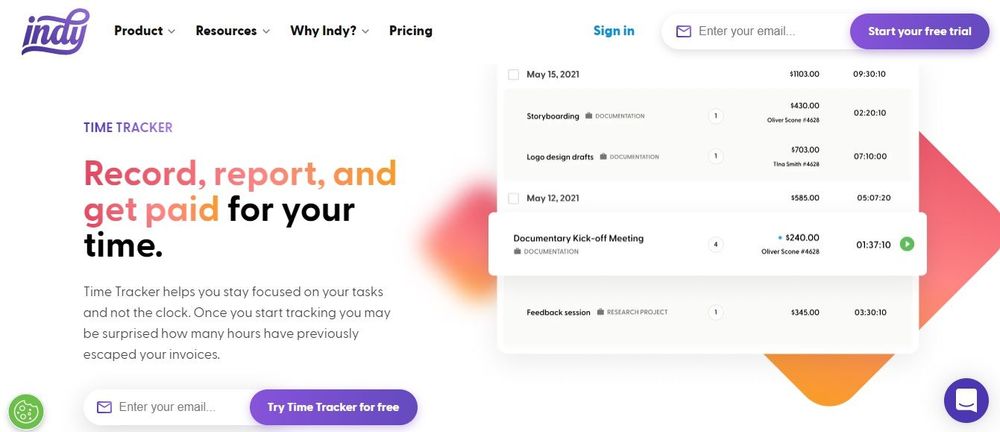 Contracts
Go paperless with Indy and create, edit, sign, and send your contracts to new and prospective clients online. Gone are the days of folders filled with contracts.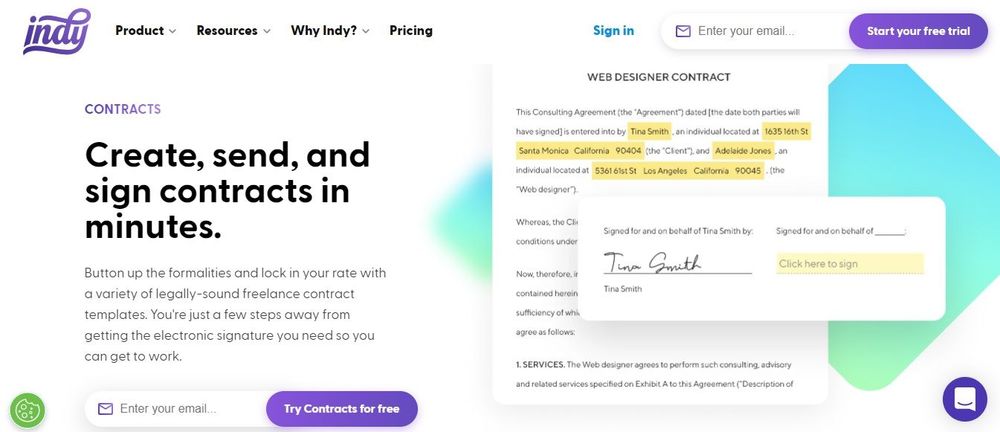 Indy will store all your contracts in one convenient place, allowing you to go back and check any details you may need.
Tasks
Is your to-do list getting too long? Indy's Tasks tool will help you manage and track your tasks efficiently, allowing you to focus on the important things.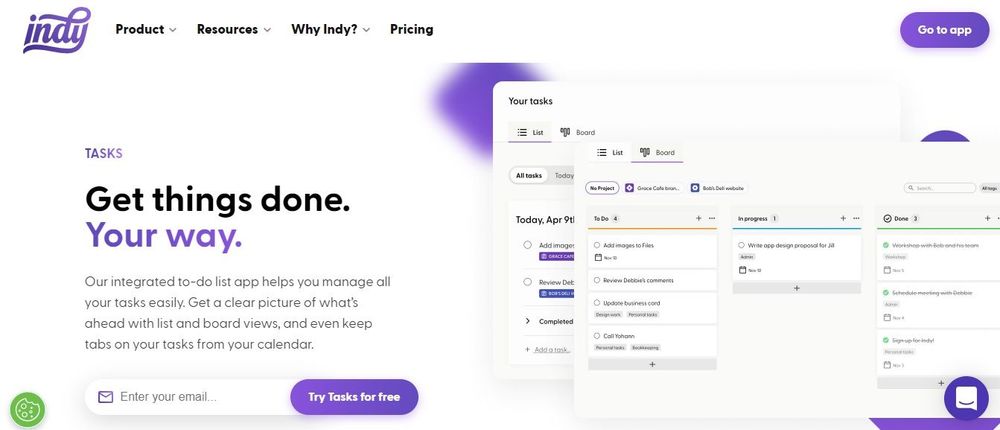 Forms
Have you received great feedback in the form of a testimonial? You can easily create forms to attract new leads, collect information from clients, send surveys, and get feedback, all in one place.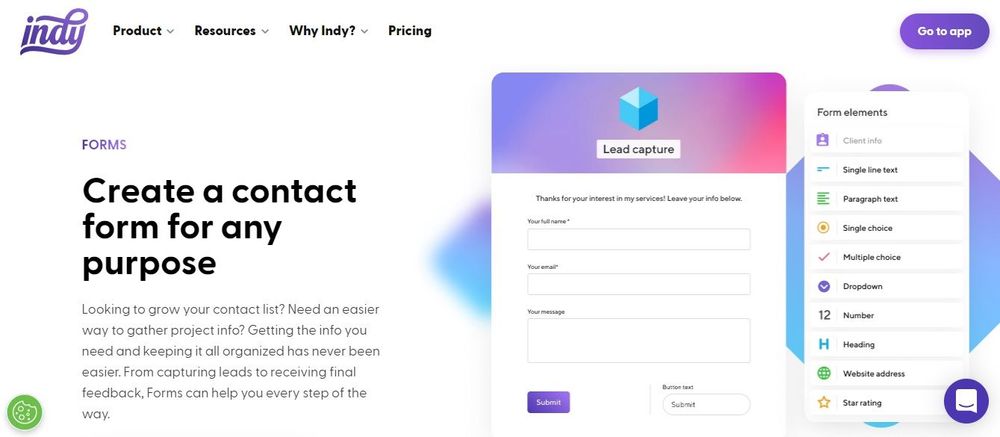 Chats
You can send and receive messages from clients with simple chat functionality, or get feedback and approval from clients right on a project file through Indy's Files tool.
These easy-to-use features will help you manage any task or project more effectively.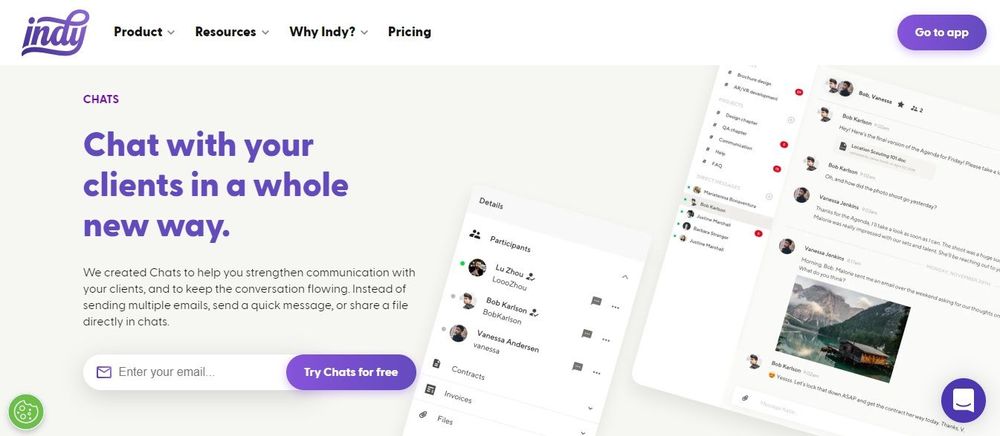 How to use Indy: Five steps to better project management
Let's take a look at the five steps you should follow when using Indy's project management software.
Step 1: The lead
Creating a database of leads is the first step in landing a project. Compile your list of leads and add these to your contacts. You can search for leads on the internet, on social media platforms, and by advertising your services on one of the many freelancing websites now available.
Step 2: Follow-up
Follow up on leads by sending proposals and contracts with Indy's handy templates and contract tools. Keep your proposals in one centralized place, and refer to them when needed.
Step 3: Create online forms
If you have a website, Indy can help you create forms for customers to complete. This allows you to have accurate customer details, and it also enables you to add deadlines and any other details to your calendar as events.
Use email invites to ensure that clients are aware of any and all steps in the process and to keep them informed on the progress.
Step 4: Project management
Use any or all of Indy's tracking tools to effectively manage your time and resources when working on a project for a client. Remember that each and every client is important, and the work you produce should be of the highest quality.
Time management is especially important when freelancing and can make or break your career as a freelancer. This, and more, is possible when using Indy.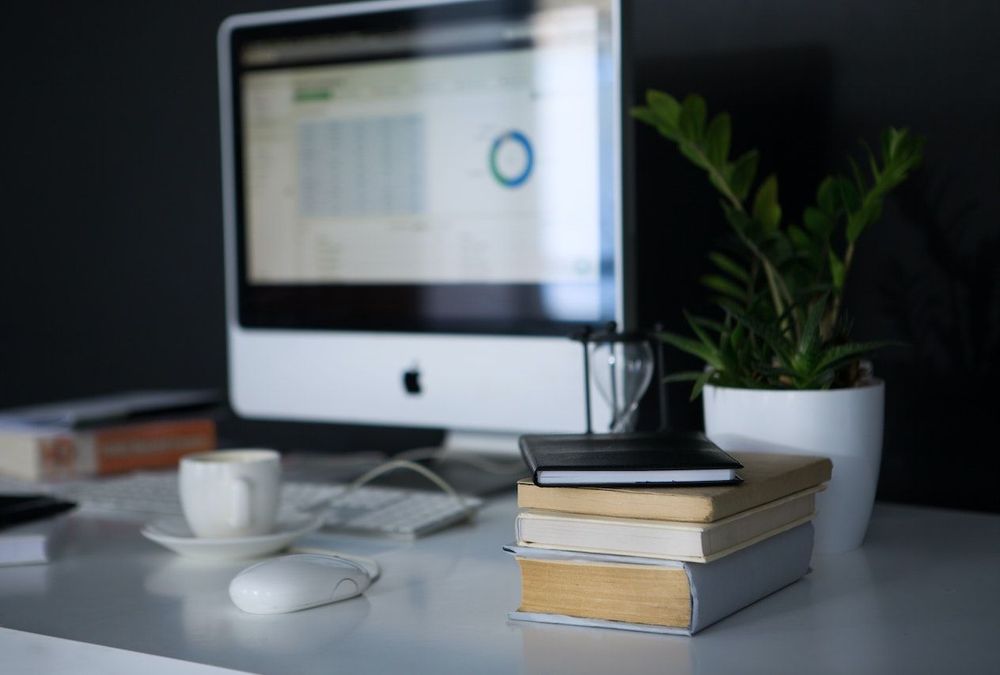 Step 5: Invoicing
Your time is precious, and any time you spend on a project should be billed. Indy's auto time-tracker will help you calculate the time spent on each project and can be used for proposals, too, to estimate costs and time allocated for each project. Invoicing is made easy with Indy and can be generated at the click of a button.
Choosing the best project management software
If you are on the hunt for the best project management software for you, there are a few things you should keep in mind. From the various options available to how much you should be spending on a software package, there are a few factors that should come into play.
Here is a checklist, if you will, of the key features that should be considered when choosing software for your project management needs:
Features and tools of various software packages
Packages and options available
Pricing
Choosing a software program based on its features and tools to help you complete a project in the least amount of time while using the best resources is always a good idea.
Compare the features and tools, focusing on those that will increase or improve your project management skills and that have automated features to make billing, sending proposals, communication, and allocating time and resources more streamlined and effective.
If you aren't dealing with too many clients at once or you manage a small business, a basic package can still be beneficial and may have the right features for your project management needs.
You can always check out the free trial to see what it can do for you.
Project management tips to make any project a success
Apart from using a project management app for effective task management, here are a few tips to ensure that the entire project is a success from start to finish:
Always have an objective and set clear goals for managing projects.
Ensure that you have effective business processes in place, like file sharing and using a project dashboard.
Keep an eye on all project expenses and track projects using a project tracking tool.
Focus on communication. Clearly communicate all goals, tasks, and project details with clients.
Document the steps you have taken to meet your goals. Use this information to improve processes on future projects.
Using a project management software solution can help you with all aspects of project management. It's a great tool for both freelancers and business owners to keep track of what needs to be done, who is responsible for what, and, of course, keeping an eye on that looming deadline with enough time to focus on the essential details.
Conclusion
Project management software is one of the most useful software programs to help you manage your time, projects, and resources more effectively.
But choosing the best project management software can be tricky. With a variety of software programs available, you need to be sure you are making the best choice for your business or freelancing project management needs.
Indy has been designed from the ground up to help freelancers effectively manage their time and resources, allowing you to manage your business from beginning to end–from onboarding new clients to managing projects to invoicing. Get started today for free!