Most of us get into freelancing because of the appeal of dropping the nine-to-five in favor of building a career out of something we're passionate about—writing, photography, design… the list goes on. The part we don't typically glamorize is tracking business expenses and managing our own taxes.
But by staying organized and learning tax laws relevant to freelancers, managing your money is nothing to be afraid of.
Organization is your BFF
You're doing what you love and you're making money from it. Life is good. But I must tell you—the taste might be a little less sweet when you find out you missed out on a tax break or didn't hit a legal deadline. Tracking business expenses and staying organized as a freelancer effectively comes down to three things:
1. Opening a business account.
Come tax season, you don't want to be digging through receipts and financial records to determine what were business expenses and what were personal expenses. Opening a separate business account will draw a hard line between the two and ensure that all business expenses are crystal clear. It also pays to put business expenses on a credit card to obtain rewards. Check out some of the best business credit cards here.
2. Saving receipts properly.
Stuffing paper receipts into a desk drawer is one way to ensure you have all the data you need. But it isn't necessary. When you make a purchase with your credit card, always select the option to receive your receipt by email if available. It's important to save all digital receipts in one location (I recommend a cloud-based software like your Google Drive account to not lose anything should your hard drive crash). For physical receipts, there are plenty of free apps you can use for scanning. And according to Entrepreneur, there's no need to keep paper receipts if you scan them.
3. Using a spreadsheet and/or cloud accounting software.
If I were to pick the best way to track business expenses, I'd recommend a cloud-based accounting software. But you can remain just as organized (and save money) with a standard spreadsheet and a bit of diligence. Let's walk through both options.
How to track business expenses with a spreadsheet
Using a spreadsheet to track your business expenses is quite simple. You only need to set up a few columns:
Date. When did the transaction take place?
Category. Was this office supplies, a client meal, a travel expense, etc.?
Vendor. What company did you purchase from?
Cost. What was the total amount?
Purpose. What was it for?
Notes. Are there any other details worth noting?
These are the necessary columns, but you can customize your sheet however you'd like. Using a spreadsheet is a manual, tedious process, but if you're meticulous and ensure you track everything, it's a simple and effective way to manage your business finances.
How to track business expenses with a cloud-based accounting software
Cloud-based accounting software is great because it's much more automatic, convenient, and reliable, and it helps ensure that your tax records are secure. The software connects to your bank account and credit card, so expenses are added automatically. And while it does cost money, your subscription to the service of your choice is usually tax deductible.
But there are plenty of options out there, so we used three criteria to narrow down the list:
Simplicity. We have enough on our plate. A non-user-friendly software isn't another item we need to add.
Key Features. Invoicing and payment tracking are must-haves.
Digitization. Let's digitize those receipts and empty the receipt drawer.
You might want to do some extra research to determine which accounting software best meets your needs. But based on the above criteria, here's a good place to start: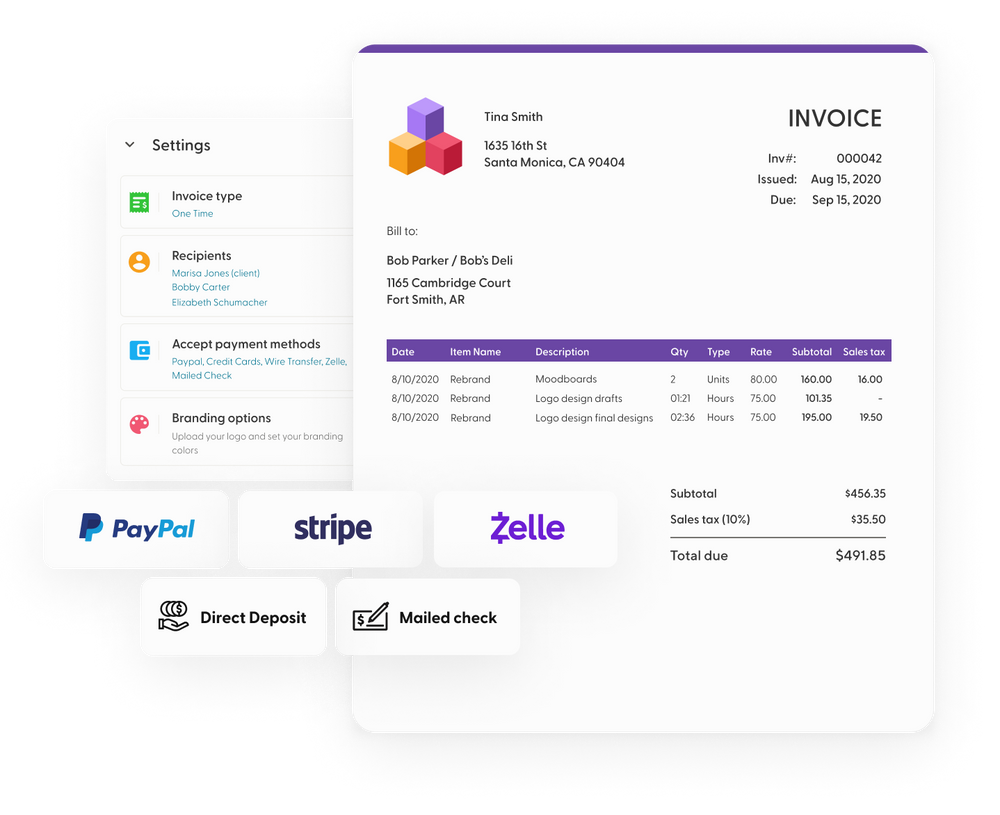 Need to send a bill to your client?
Write your next invoice quickly with Indy's Invoice Generator. All you need are your contact details, work info, and payment methods.
Try the free Invoice Generator
Staying on track with business expenses
Now all the pieces have been put together and you know how to keep track of business expenses like an expert. You can also take a look at our comprehensive list of common pitfalls that freelancers make when it comes to taxes. And lastly, remember that you can always reach out to a bookkeeper or accountant if filing on your own gets overwhelming come tax time. It'll come with a cost, but the time saved and expenses claimed could well be worth the investment.