At least 3.2 billion images are shared online every day, which is a good indication that sharing photos has become quick and easy. However, if you have just finished a shoot and want to share the pictures with a client, you have to ensure the following:
You share high-resolution images unless the client asks otherwise
Use a file-sharing service that allows for easy proofing
Deliver photos to clients in a professional manner
There are several ways to upload photos and share them with clients, from attaching them to emails to using file-sharing services like Google Photos or Apple Photos. However, the best way to send photos to clients for you will depend on your particular situation.
This article provides an overview of some of the easiest ways to deliver photos to clients and explains what you need to consider when deciding what method to use. We will also look at how you can use Indy to upload photos and videos and distribute them to the client and their family members.
What to Consider When Deciding How to Send Photos to Clients
Even if you already have some preferred photo-sharing methods, you still need to consider a few key things when deciding which one to use.
1. Cost
If you send many photos to clients, you have to think of the cost of any file-sharing sites you intend to use.
While most photo-sharing services (like Google Photos and Apple photos) have a free version, it will not be as feature-rich as the paid plans and might not allow you to send many photos or share large files. Most of the free photo storage services also have limited storage.
As a business, you probably want access to unlimited storage of documents, photos and videos.
Therefore, you should look for an affordable photo-sharing solution to accommodate your specific image-sharing needs.
2. Delivery Speed
The faster you can upload photos and share them with clients, the more satisfied they will be and more likely to give you additional work. Remember that your clients will not always have time to go through the digital files you send, given their busy life schedules.
A photo-sharing service that allows for instant delivery will be preferable. You should not have to go through multiple steps or wait for ages before the client gets the images.
3. File Size and Quantity
If you are sending print-ready digital files, the images have to be high resolution. These high-quality images will take up more space. Any tool you choose for photo-sharing should handle these large files, even more so if you will be sending them in large quantities.
Also, remember that you should be ready to share the images in different variations, such as different sizes and resolutions for each image. Such client requirements increase the file size and quantity.
Email attachments will not work well for large files and high image quality unless you are ready to share dozens of individual files. In such cases, you are better off using a file-sharing service or cloud storage service that will provide more storage space or create online photo galleries.
One option is to have access to unlimited storage. Otherwise you're limiting what you can offer clients.
4. Proofing Capabilities
Professional photographers typically have to send photos to clients for proofing before any other step, such as publication. It is good to choose a tool that makes proofing easy by allowing the clients to comment directly on the photos you share.
A photo-sharing tool with proofing capability eliminates double-checking to find the exact photo with client comments.
You might also want to include a photo editing tools as part of the suite.
5. Security Measures
Photos contain personal data, so you should take precautions when sending them to ensure maximum security. Otherwise random strangers might get access to the private photo albums.
A tool that provides private password protection ensures you can share photos privately without worrying about security breaches.
Other security features like watermarking and disabling the right-click mouse function can also help protect your intellectual property as it makes unauthorized use of the images hard.
6. Image Format and Resolution
The image type, format, and resolution are other crucial factors to consider when deciding what tool to use when sharing photos.
While most online image-sharing services are designed to accommodate almost any image, some will only support specific resolutions.
Therefore, before settling on any tool, ensure it can add photos for the specific image format, resolution, and color you intend to share.
4 Best Methods for Sharing Photos with Clients
There are several ways you can share photos with clients, and each of these methods has its merits and demerits. Here is an overview of 4 of the best and easiest ways to share your digital images and photo gallery with clients:
1. Email Attachment
Email attachment is a traditional way of sharing files, and although there are many more convenient alternatives, it is still quite common.
While sending email photos is free and fast since the emails are delivered instantly, it has several shortcomings. Images can lose quality, so sending high-resolution photos via email can reduce customer satisfaction.
Also, email attachment is not a viable option for sending large files. There are file size limits you can attach (25 MB per email). Email photos are also more casual and are not a good idea when you want clients to see you as a professional photographer.
Email can also be harder for clients to share with close friends.
2. Portable Storage Devices
If you prefer sharing photos with clients offline, you have to use portable storage devices like USB sticks, memory cards, CDs, and external hard drives.
CDs and DVDs can only accommodate a few photos, while an external hard drive will take more depending on the storage space. However, the more space you need, the more you have to pay for the portable device.
CDs and DVDs are also inconvenient given that many modern laptops will not include a slot for them.
USB sticks and hard drives are a better option as you can even brand them for extra marketing.
3. Online Client Gallery Services
An online client gallery service is perfect if you want to share photos and maintain your brand identity. A gallery is a good option when you want to impress your clients by showcasing your skills and professionalism.
While you can create your online photo gallery from scratch, online portfolio services are a better option as they look more professional and will be easier to manage.
With online galleries, the clients will not need a download link as you just need to share the photo gallery with them. A gallery allows the clients to browse all the photos at once and in a more aesthetically appealing way.
Online gallery services also provide several tools that clients can use to adjust the images to their liking, eliminating sending clients multiple photo sizes and resolutions. Also, you can set a password for the gallery to limit access and even control how long it will be available for the clients and any family members they want to show the photos too.
4. File-Sharing Services
File sharing services provide a straightforward way to allow clients to access photos and videos. Here, you only need to create and send a link to the client's email address to give them access to their images.
The client does not need any sophisticated technological know-how to view the photos with file-sharing services, as it is all about clicking and opening a link.
You might need to pay for unlimited photo storage, though you can often get a cloud storage service at a good price.
There are numerous options inlcuding Google Photos, Apple photos and others. Here are some of the most reliable file-sharing services you can use:
Indy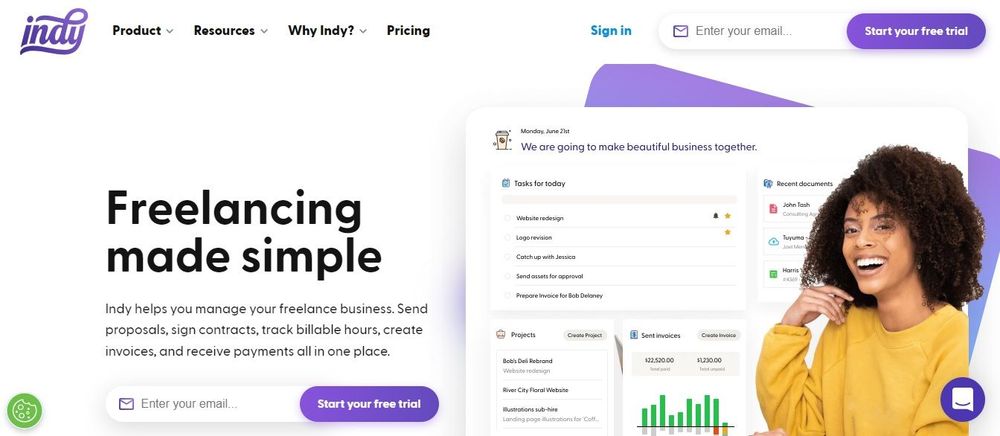 Indy aims to make it easy to receive feedback on your work files. The Files tool allows you to store, share, and get approvals on all file types, including images, videos, spreadsheets, zip files, etc.
Clients will not even need to create an account on Indy to participate. You can be sure your clients will love how organized the comments and revisions trail is and that they can keep track of all the progress using Indy's files tool.
It is also possible to organize all the images and other related files into folders to ensure easier tracking for you and your clients.
Indy allows you to determine who can view the files, which is essential for security. Access to your photos will remain private until you share them and Indy also allows you to unshare when you want to change the access permission.
Indy has a Free plan with unlimited access to all the core tools (including file sharing), but you should go for the Pro plan to get access to more advanced features like workflow automations, integrations, and tools to help showcase your branding. The paid plan starts at $9/month with annual billing or $12/month if you prefer to pay monthly.
Google Drive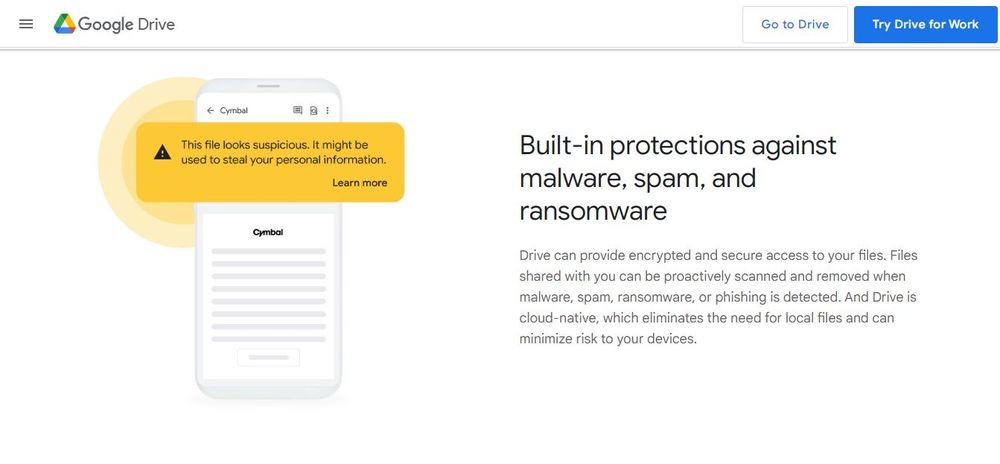 Google Drive is an excellent file-sharing service if you are on a tight budget and do not want to spend a lot of money on a premium service. Also, it provides a much better way of sharing photos instead of using email attachments, as the image quality is not affected.
When using Google Drive, you get a storage space of up to 15 GB, which is not as much as you get from a paid online service, but it is still quite decent. Google Drive allows you to share both individual files and folders, and you can even assign specific rights to the clients, such as viewing and editing.
Since many people already use Google Drive, most clients will have an easy time using it, so ease of use should never be a problem. And security is also not an issue, thanks to the high Google security standards.
Also, note that Google Drive allows you to pay for extra storage if the 15 GB you get free is not enough. The paid version includes a basic plan that starts at $1.99/month, and you get 100 GB of storage space.
To share photos and videos on the platform, you can send a shared link to group members. These can be viewed even on mobile devices. Video files are a little more challenging, but it is possible.
Pixieset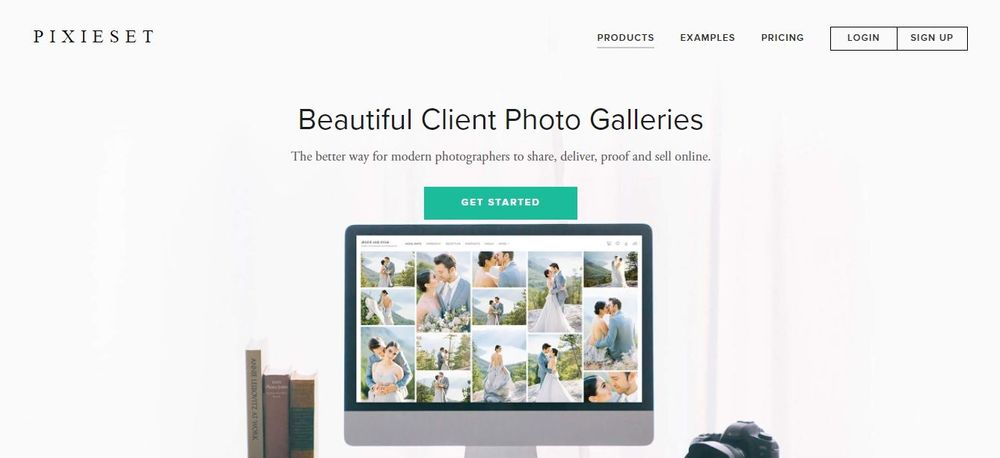 Pixieset is designed for photographers, and it will be a perfect tool for you if you want to make a professional impression with your image delivery.
The platform allows you to upload high-resolution photos and videos and create galleries for specific clients. Besides looking fantastic on both mobile and desktop views, the galleries also give the client freedom to adjust the images to their liking.
Clients can select specific photos, download images directly from the gallery and even share them across different social media platforms. Since Pixieset allows you to have everything in one place, it will be easy to keep track of individual client projects.
Pixieset has a free and paid version. However, the free version will allow you to upload and share a maximum of 1,000 photos or up to 3 GB.
Their other plans start at $8/month for the basic package that will allow you to send up to 3,000 photos or up to 10 GB. However, if you want unlimited access to their resources and photo sharing capability, you should pay for the $34/month Ultimate plan.
WeTransfer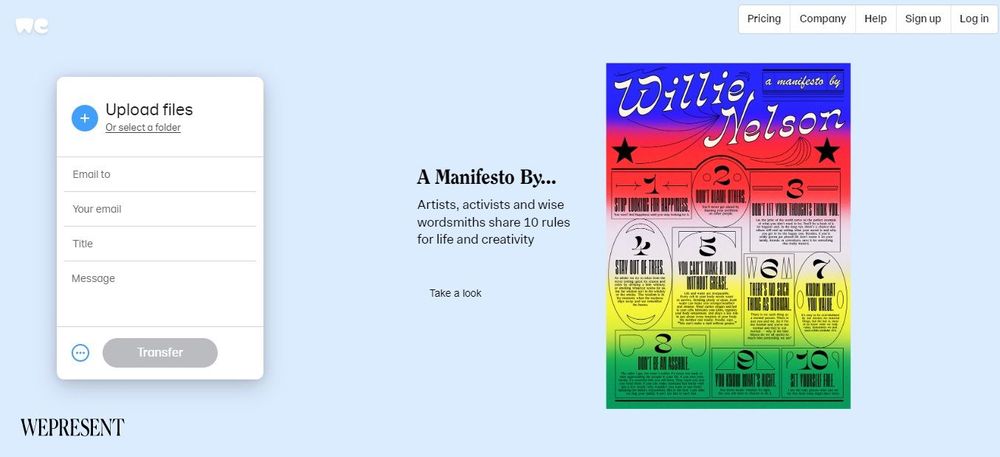 WeTransfer is your best bet if you want a reliable free file-sharing platform. The service is free, and you will not even need to register an account to start sharing your photos.
Transferring images only requires you to enter your email and the client's email and then attach the photos you want to send before clicking the send button. Clients then get an email notification. The email will list the images you sent, and the client can then choose which ones to download.
However, you can only transfer a maximum of 2 GB at a go. If you have anything larger than this to transfer, for example, 10 GB worth of images, you have to divide it into five different 2 GB transfers.
It is also worth noting that WeTransfer has a paid version for those that want more space and a few extra features to make photo sharing even smoother. The paid plan starts at $12/month, and you get up to 20 GB of space per email and other features like password protection.
Dropbox
Dropbox works more like Google Drive as it offers cloud storage for your images and gives you multiple ways to share them with different permission levels. If you do not have a Gmail account or don't want to use Google Drive, Dropbox is an excellent alternative.
You will not need to zip and upload files like you do when using other file-sharing platforms. When you create an account, you get a Dropbox folder, and its content is synced to the cloud.
When you want to share images with your clients, you only need to export them to the folder, and Dropbox will sync them with the cloud and create a sharable link. You can then forward the link to clients to view the images.
Dropbox offers offline editing capability and limited free storage. You can still save photos to your dropbox when offline, and once you get an internet connection, they will be synced to the cloud automatically.
The free file sharing solution has 2 GB storage and will allow you to share up to 100 MB per transfer. Their paid plans start at $19.99/month, and this plan will give you up to 3 TB of storage space, which can help you share as many albums with clients as possible.
Smash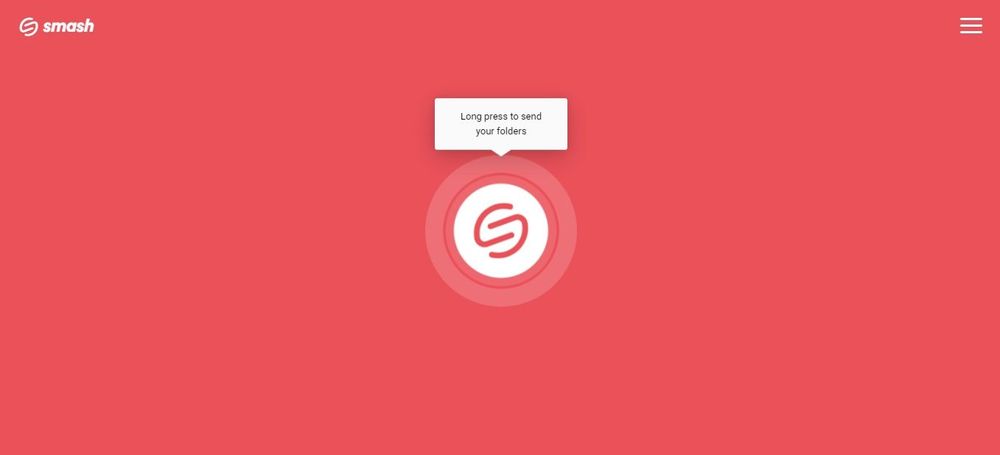 Smash is a good option if you plan to send larger files as it does not limit the file size you can send, even when using their free version. You will not even need to register an account to use the platform, so you can upload and send your files immediately.
You can choose to email the images to the client from Smash or embed the link on an email and other media types. It has an easy-to-use interface, allowing it to be used by anyone, even those without any technical skills.
Smash will allow you to choose the length of availability for your files once you upload them. However, files are deleted automatically after 14 days if you use the free version, but you can keep them for up to 1 year with the paid version.
It is also possible to protect the images with a password for invited users if you prefer an extra layer of security. But, to get this and many other features, you should go for their paid online services that start at $5/month for the Pro package that accommodates one user.
Lightroom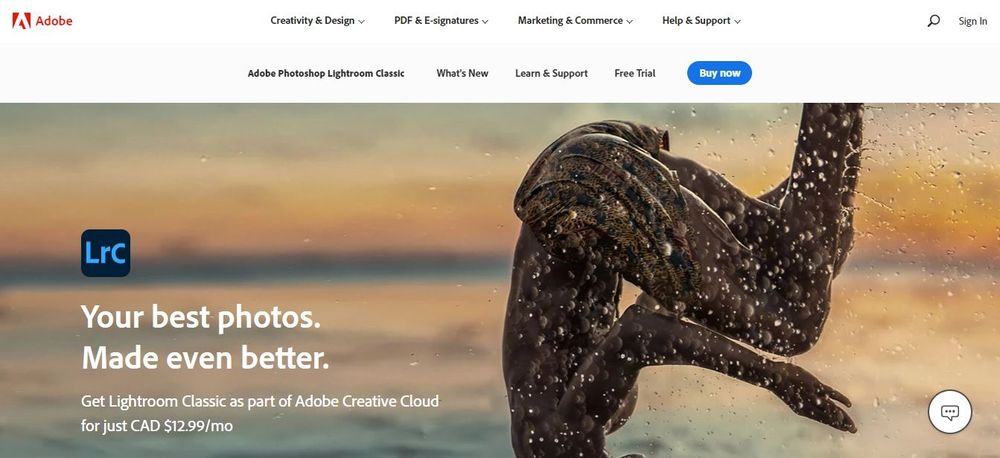 Like many photographers, the chances are you are already using Adobe Lightroom for photo editing during the post-production stage. The tool is handy in the photography business as it is also great for sharing images with clients.
With Lightroom, you can finish editing the photos and send them to the client for proofing. You will not need to use any other tool or even open another tab on your browser, which is highly convenient.
The only downside is that you have to send the photos by email, limiting the file size you can attach and send. However, the convenience you get and editing tools are still worth it.
You can get Lightroom for $9.99/month, and this plan will give you access to 1 TB of storage space.
Final Thoughts
It takes many years of practice and a lot of talent to take some fantastic photos clients will love. However, for your photography business to succeed, you also need to have a reliable and secure way of sharing all your photos with clients.
The good news is that there are many ways of delivering photos to clients, and you only need to decide what is affordable to you and can accommodate the image resolution or sizes you want to send.
FAQs
What is the best way to share photos with clients?
There are numerous ways to share photos online, with cloud storage services one of the best options online. When you share photos, you need to consider the security, cost and ease of use.
What site can I use to share photos with my clients?
Indy is one of the best services that allows you to share photos with clients, because of all the options that are available to protect your brand. You can invoice, and manage tasks better.
What is the best way to share large amounts of photos?
Using cloud storage services is one of the best ways to share large amounts of photos because it allows the customers to get access to the photos regardless of where they are.
Is there a site for multiple people to share photos or an album?
Yes, Indy allows freelancers and photographers to share photos with multiple clients and. It takes just a few settings to share photos with multiple, selected clients.
You can use both offline and online file-sharing methods, but using an online image gallery or photo-sharing service is always the best idea. It is a good idea to take some time to compare the features and pricing of the different photo-sharing methods before deciding what will work best for you.