To generate leads, a good place to make a start is offering a free consultation form! Whether you are a small entrepreneur, advertising and marketing head, or administrator for a technology firm, easing the intake and follow-up practices for prospective new clients can work for you in amazing ways. Using online free client consultation forms will help you rapidly and easily collect data on all your potential customers and schedule that initial meeting in a simpler manner.
The first impression is very important, and your client consultation form is the impression you make in front of your client. There are different types of online form templates available online. All you need to do is pick the one feasible for you, edit it, customize it as per your requirements and embed it on your website.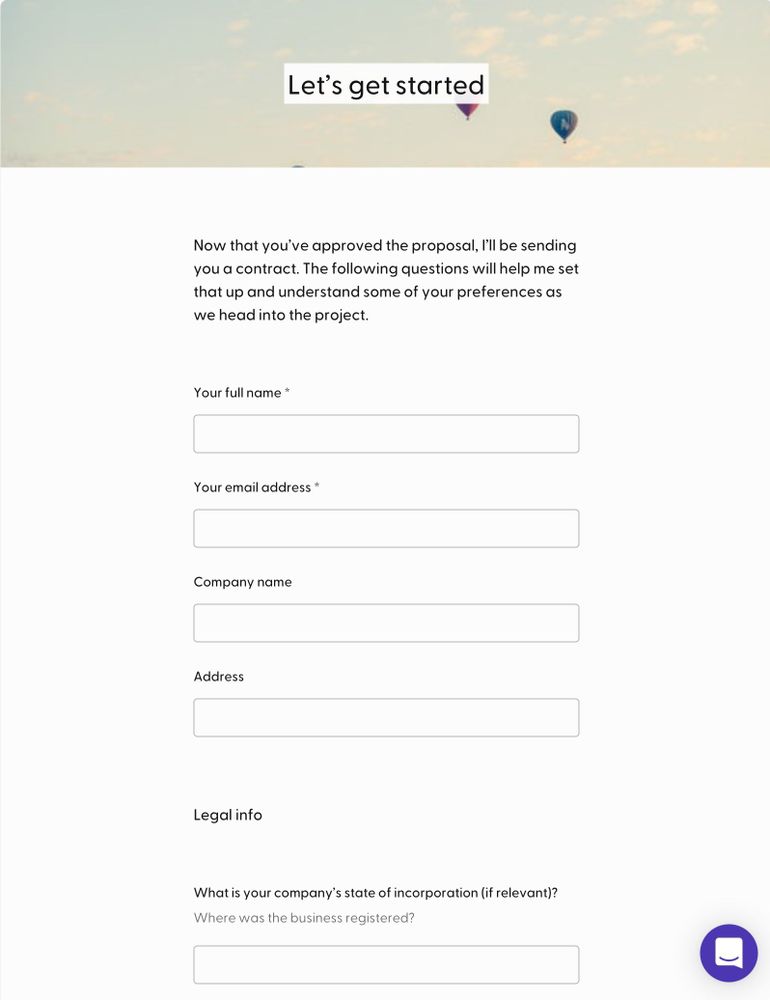 Description of Free Client Consultation Form
A client consultation form has nine sections.
The first section includes the name of your client.
The second section demands the email address of your client.
The next section is about the contact details of your client.
The fourth section includes the name of the company
The fifth section involves the interest of the client in your business.
The sixth section consists of a space to write a note about the client's consultation.
The seventh section is about the date on which the consultation was raised.
The eighth section included the consultation time.
And, the last section involved the addition of any specific comment or information skipped earlier.
Once the form is filled in, click Submit.
How to enhance your business by using Client Consultation Forms?
Often, companies have to enquire pre-required questions to their potential clients before the consultation. And, with the help of online consultation forms, the process has become simpler, shorter, and more flexible, not just for the companies but also for their potential clients. These online forms gather contact and client details for you and save your research time, money, and effort.
For instance, if you have a hair salon, you can use a client consultation form to collect the necessary information about the services your customers are looking for and then prepare yourself and your tools accordingly. It gets easier to meet your client's needs more effectively and efficiently with form responses. You can choose an online client consultation form template for a hair salon to draft a form within minutes.
Steps to create an efficient client consultation form
Client consultation forms can include different questions and designs depending on your niche. For instance, health professionals may prefer simple and professional forms, while beauty salons may go with colorful and casual templates. Similarly, a law firm may have a basic and serious template design. But, here are a few common points that may help you create a consultation form.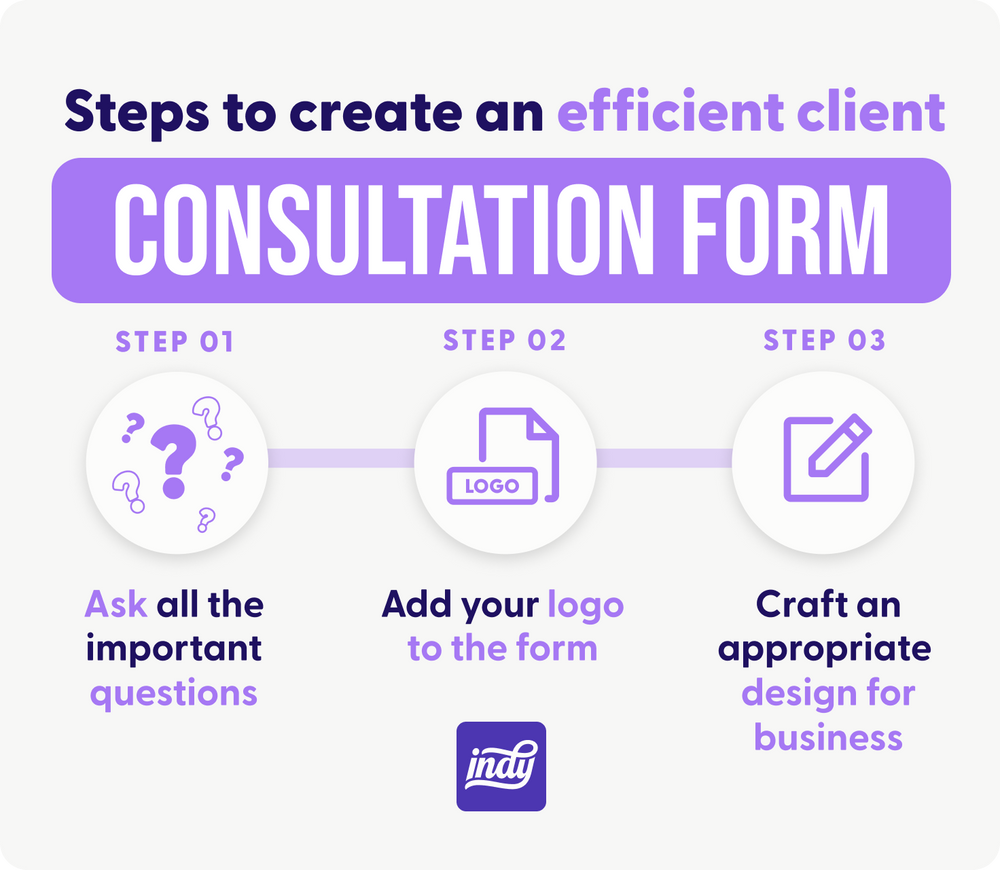 Ask all the important questions
The client consultation form usually features general questions. But, if you want to customize it as per your organization, you can add or delete the questions. Because your working with clients will depend on the questions mentioned in the form, make sure that no important question is skipped.
Add your logo to the form
Sometimes, some of the questions in the consultation form can be confidential, especially if it is about a patient sharing his health details or a law client sharing his lawsuit. During such a situation, adding your logo will make your prospective customers feel secure. It further helps to build trust and create a brand image.
Craft an appropriate design for your business
Your first impression will determine your success. An efficient and relevant design will motivate more potential customers to fill the form.
Tips to edit an existing form
You can edit the free client consultation form template and customize it according to your business requirement. You can use a client consultation form template without editing a single feature in it. But, customizing a form may offer you better results if you work in a particular niche. For instance, wedding planners can include a consultation form with the number of guests, menu requirements, venue suggestions, and more.
There are options available to customize the form as you wish. Visit the edit page, and make the changes to the form.
You can add and remove questions.
Amend the question types.
Provide conditions for specific questions.
Include additional requests, if any.
Add the logo of your company.
Add multiple choice for easy selection.
In the case of a small business owner, personalizing the consultation form will help you meet the needs and requirements of your protective customers in a better way.
Tips for designing your Client Consultation Form Extravagantly
Your form design speaks a lot about your business, approach, and thinking. Regardless of your business type, consultation form templates can help you select a free to make an efficient and rapid beginning, or you can also design your form from scratch.
The client consultation form template is available in a simple design for general usage. But, you can choose different colors, font types, border shapes, varying backgrounds till you can select a suitable layout. Once you are satisfied with the client consultation form design, click on the preview button to discover how it appears on different devices. This feature will help you create a seamless and soothing experience for your new customers.
General Guidelines for your new Client Consultation Form
There are a lot of options available online for your client consultation form. You can either embed the form on your website, add it to your special media account or send it as emails to your prospective customers. While the questions added to the online forms may differ from one business to another, you should focus on these points when creating a form.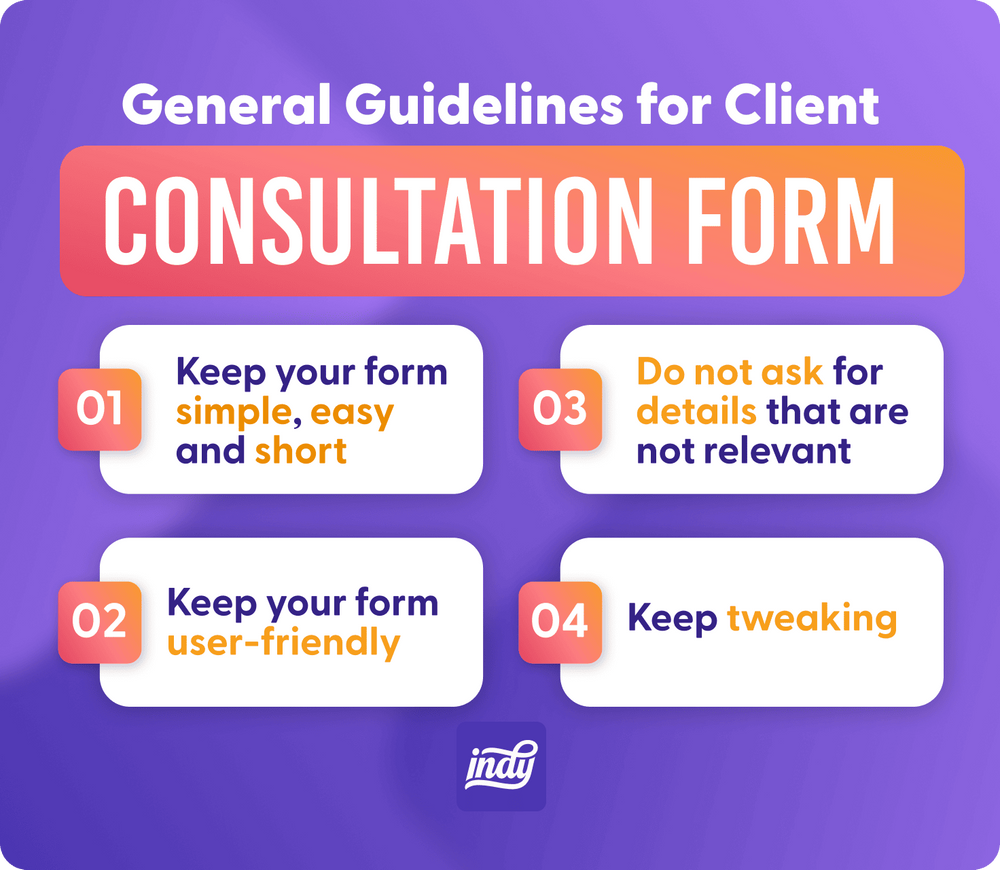 Keep your form simple, easy, short and straightforward
Anything complex or long will put your potential customers offs. It means they will either delay in finishing it or will not start filling it.
Keep your form user-friendly
When creating your client consultation form, do not just consider your needs. Think about providing a good user experience to your clients too. Always keep your form user-friendly, or it may not leave a good impression your clients.
Do not ask for details that are not relevant
Never complicate the procedure. Always ask for relevant information. If you don't need the birthdate of a person or marital status or salary details, then don't ask!
If you notice that the quality of your consultation form isn't up to the mark, and the questions put by you arent precise and crisp, you should edit the questions. Always adapt and tweak as and when needed.
How to use the Best Free Client Consultation Template?
Find out what your customers need
It is important to know the needs and demands of your customers before choosing a template. The online form is where you ask for all the information related to your customer. Hence, make sure you choose a reasonable, objective and precise template.
You can customize the form according to your business by just including the logo, colors, typography, and brand name on the form. Have an appealing landing page crafted as a consultation form, needing your customization!
Make sure the form is simple to read and understand. You are dealing with different types of people as prospective customers. Hence, do not make it complicated to enhance it. Remember your form is your first chance to know your client before the meeting. Hence, it is essential to add all the right questions. Some of the basic details that a form should have are:
Name
Residential address
Contact information
Purpose of contacting
How did you find us?
Your form should ask the person to add any other necessary details that he would like to include.
You can integrate amenities like Google Calendar to optimize the process. There are several integrations available. It helps to boost your workflow.
Include a welcome message
As soon as the client fills the form, make sure you send an automated message to their email. It is more like a welcome message to give your prospective client a feeling of belonging and admiration. Use this as a chance to share more about your business.
Leave some area for e-signature
It works as a confirmation to assure you that your client abides by the terms and conditions of your website and confirms that all the details provided by him is true.
Why should you use an online client consultation form templates?
There are innumerable reasons to use client consultation form templates. Some of them are given below:
Saves time
Of course, you don't have to spend time creating a form from scratch. You can download a readymade template and use it after a little tweaking. There is no programming involved. It is a simple and easy process.
Simple for everyone
Even if you don't have a technical background, you can download a template form according to your business requirements and use it. For doctors, you have a patient consultation form template available online. For hair salons, you have a parlor and hair salon consultation form template. Just pick your niche and find a relevant form template for you. You can create the form fields required so that you can collect all the data needed.
Wrapping Up
It is not easy to seek information from clients. Most of the times, clients also tussle to articulate what they need, which can cause miscommunication and loss of sale. You can take complete control in your hand by choosing an apt consultation form for your venture and getting answers to the questions you know are needed for the success of your venture.
An online consultation form is an excellent method to get information about your lead and know what they are after. Optimize the procedure by picking the best template.