Did you know that 89% of B2B marketers say that brand awareness is the most crucial goal for any business? In fact, 7 seconds is all a brand gets to make the first impression, and so branding has to be top-notch to send the right message.
It's clear from these stats that branding is essential for the success of every business, from a marketing agency to a freelancer. That's why, in this article, we'll show you the essential things you need to know about creating a winning branding proposal. But first, it is essential to understand what a branding proposal is.
What is a branding proposal?
A branding proposal is a document that a branding specialist, marketing agency, or freelance marketer will prepare and send to potential clients. Branding proposals aim to convince prospects to invest in your branding services.
A branding proposal is the best way to market your branding business, whether you are new in the market or an already established specialist.
If your branding proposal is well-written, it will cover all the crucial elements the prospect needs to know. They include the branding strategy you intend to use, how the branding campaign will benefit the client, complete budget and timelines for the branding project.
Who should write a branding proposal?
Anyone that intends to provide a business branding service or share their branding expertise with prospects will have to write a branding proposal. The proposal will provide an easy way to share what you can do and the value you can add to your prospects' brand.
Typically, these proposals will be written by branding specialists, brand marketers, branding agencies, and freelancers specializing in branding.
Many businesses that want to brand or rebrand are already looking for branding experts. As a branding specialist, it is up to you to research the companies you would like to work for and design a proposal to market your branding services.
In simple words, anyone looking for business branding projects will have to write a proposal to sell their services and experience or explain to the prospective client why they are best suited for the job.
Essential things to include in branding proposals
Whether using a free branding proposal template or creating your branding proposal from scratch, you will need to include a few key things.
Here is an overview of the main elements of a branding proposal:
1. Visually appealing cover
You can't afford to get the first impression wrong, even when using a free branding proposal template. Hence, it is vital to pay a lot of attention to your cover page to grab potential clients' attention, as it is the first thing your prospects will see.
Make sure your proposal cover page is professionally designed and reflects your unique brand identity. Remember that your cover page is your first chance to stand out in the eyes of your prospects, and so you should never compromise on its visual appeal.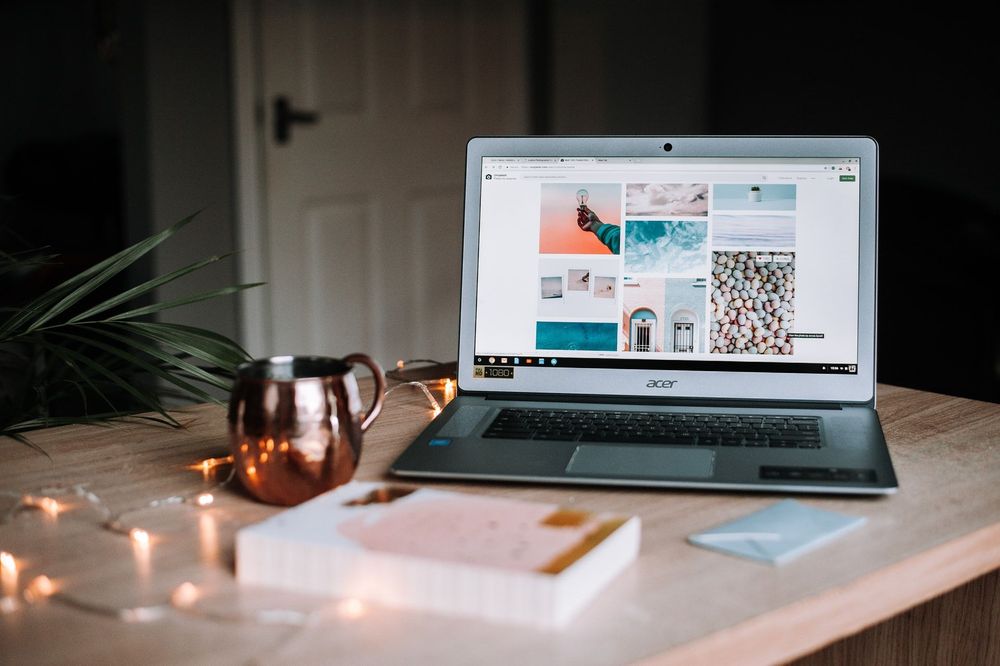 2. Agency/company overview
Next, you need to include a section that gives the potential clients an overview of your branding services and what makes your agency or company the perfect fit for them.
This section is your opportunity to shine, and it is essential to make use of it, given that the prospects will receive proposals from various other agencies.
However, it is essential not to be too pushy, as the goal is to help the client understand the value that your services will bring to their brand. It would be best if you did not sound like you are trying too much to make a sale.
A well-written but straightforward executive summary or an overview of your company and its goal should be enough.
3. Service package
Once you introduce your company to the prospective client in the section above, the next step, perhaps the most crucial, is to lay out your scope of service.
Here is where you tell the potential client what you are pitching. Whether you are offering complete branding, branding strategy, identity, or even just branding guidelines, you should make it clear.
Describe your services clearly and explain why you think they will add value to the client's brand. You can focus more on what you believe the specific client is looking for, but it is still vital to give a complete scope of your services.
4. Project timeline
Your potential client needs to know about the project's timeframe. It is vital to answer questions like how long it will take to execute the brand strategy and whether you need any input from the client before starting.
The project timeline is an important consideration for most clients as a majority will want to have the project complete within the shortest time.
It is good to break down the project into different stages and give the client a timeframe estimate for each step. This makes it easy for the clients to keep track of the project and know when to expect results.
5. Project cost
The last thing that all branding proposals should include is the project cost estimates. You might not know the exact cost of the project before getting more information from the client, but you can still make an accurate estimate using your experience with similar projects.
Make sure that you present the cost estimates clearly to make them easy for the clients to understand. Also, it is better to break down the fees for different items and include other things like discounts and taxes to ensure the clients get a comprehensive cost overview.
These 5 key elements we've outlined will help you pitch any branding project you want to create for a business.
Using a branding proposal template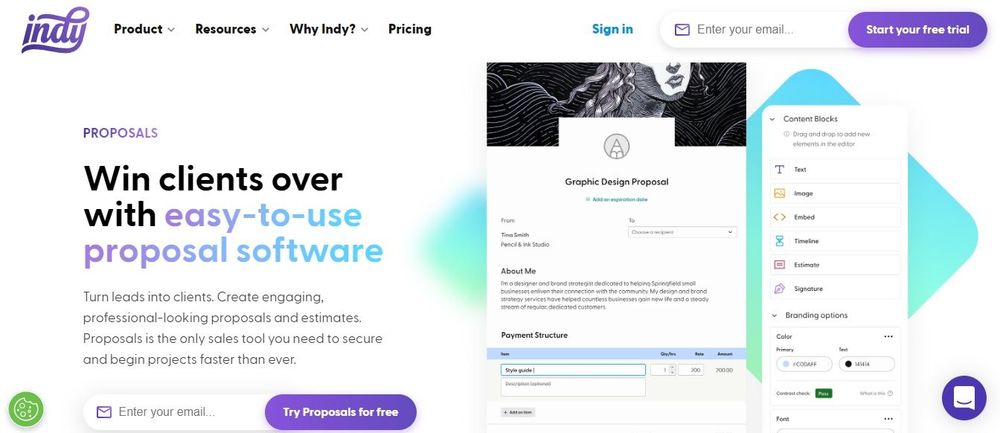 A branding proposal template makes work easier for you as it does most of the work, including giving you ready language. And so you only need to customize and fill out a few sections, and the proposal will be ready to send out.
Several platforms offer paid or free templates for your branding proposals. However, Indy is one of the best ones you can turn to for free branding proposal templates. Indy provides some beautiful and professional-looking templates that you can customize in a few minutes by adding your company's details.
There are many other advantages of using a brand design proposal template, and here is an overview of some of the main ones:
1. Clear structure
Proposal templates will give you a clear structure that is easier for your prospects to navigate and keep your pitch more organized.
A clear structure also ensures you do not leave out anything important, as there are sections for all the crucial things that a brand proposal must include.
2. Right tone
A proposal template will give you the right tone for communication with your prospect. Using a proper tone is essential as it shows your potential client that you know what they want. Also, it is a good indication that you are involved and ready to solve their branding problem.
3. Proper visuals
A good branding proposal template will also include good visuals. These visuals effectively engage the prospective client subconsciously, making them want to work with you.
4. Time-saving
Time-saving is perhaps the biggest advantage of a proposal template. Not having to design and write the branding proposal from scratch saves you a lot of time researching and brainstorming how to structure the proposal and what to include.
How to write a branding proposal (step-by-step)
Proposal templates will make things easier for you and also speeds up the process. However, there are still some crucial steps you need to follow when writing a branding proposal.
Here are the steps to follow when writing a branding proposal:
Step 1: Conduct market research
Whether you are a freelancer marketer or run one of the top branding agencies, it's essential to conduct proper market research before writing any branding proposal.
The more you know about the market, the easier it will be to convince a client you have the solution for their branding problems.
Proper research ensures you understand more than just the surface-level issues that everyone knows. You should spare enough time to understand the client's market standing and other things like what is causing a disconnect between their brand and customers.
Deep market research takes more time, but it will increase the likelihood of landing clients, even if you send fewer branding proposals.
Step 2: Identify specific client needs
The second step is to identify the specific needs of your prospective client. Does the client want to increase brand awareness, create a corporate identity, or build a strong brand identity?
You have to understand the client's pain points and those branding elements that give them sleepless nights.
As a branding expert, you have to narrow down the specific issues that you believe the client wants you to address so that you will do it in your proposal.
Step 3: Create the branding proposal
The next step is the actual branding proposal creation. You will have to include the elements explained in the section above (cover page, scope of service, timeframe, cost).
When writing the proposal, make sure you recommend a specific branding solution for the client using the deep research you have conducted. Also, the branding solution you propose should help the client overcome their changes and connect with their existing customers better.
After proposing solutions for the company's branding problems, you also need to describe the services you offer and how they benefit the client.
Once this is done, you should also address the cost of everything you have to offer. Make sure you do not overwhelm the client with large numbers and use more straightforward ways of explaining costs, such as tables.
Also, explain the timeframe for the client before finishing your proposal. Having a section dedicated to the timeframe makes it easy for the client to know when you will complete specific milestones.
Step 4: Final steps
The last step should be to let the client know what they should do to engage you further on the project. Your call to action should be simple and entail a few steps that the client can follow easily. Here is an example of what you can write in bullet points:
Call/email us to confirm you accept the proposal or ask for adjustments
Sign the contract once you agree with everything
We will contact you and introduce you to the team so we can start working on your brand.
Common mistakes to avoid when writing a branding proposal
Even if your branding proposal looks professionally done and with an easy-to-follow structure, it can still have some mistakes that can affect its effectiveness.
Here are some of these common mistakes that you should note and avoid when creating a branding proposal:
1. Not providing concrete brand benefits
As a branding expert, you already know the many benefits that your client will get from branding. However, these intangible benefits might not be as clear to the client as they are to you.
The proposal needs to show the concrete benefits of branding and not assume that the prospects already know them and only need a little convincing.
Since branding benefits are not always easy to explain, you have to be creative with how you do it. One way to do this is by showing the clients how it will help enhance brand loyalty and improve word-of-mouth marketing in the long run.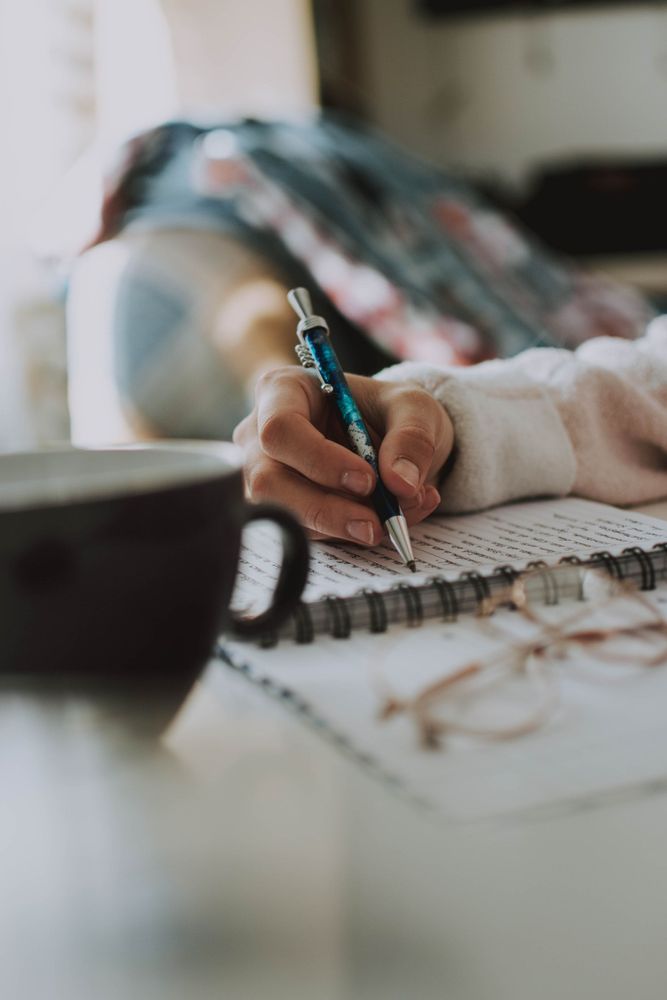 2. Failing to clearly define a brand
Many people that use the term "brand" will actually not know what it encompasses, and so as you write a branding proposal, you have to define it clearly.
Clients associate the term with visual identity, and branding will typically entail colorful logos and fonts for most. But, while this is just one element of branding, there are still many others that are even more important, such as how the client positions their company in the market.
Failing to define branding correctly means the clients will not see it as a specialized service and instead treat it as a commodity. Therefore, they may not see the importance of spending more on branding.
3. Not convincing clients that brands are valuable
Another mistake that many branding newbies ‌make is failing to convince small and medium businesses that branding is also vital for them.
A common misconception is that a brand is only suitable for large corporations. When pitching to smaller businesses, you must make sure your proposal convinces them that a brand is also valuable to them.
Show small and medium-sized business owners that branding will be their secret weapon for growth since many similar businesses are not using this strategy.
5 easy tips for writing a winning branding proposal
You have to make sure your clients believe that you can help them solve their branding problems in your proposal. Your ability to put your deliverables in writing will win you more clients.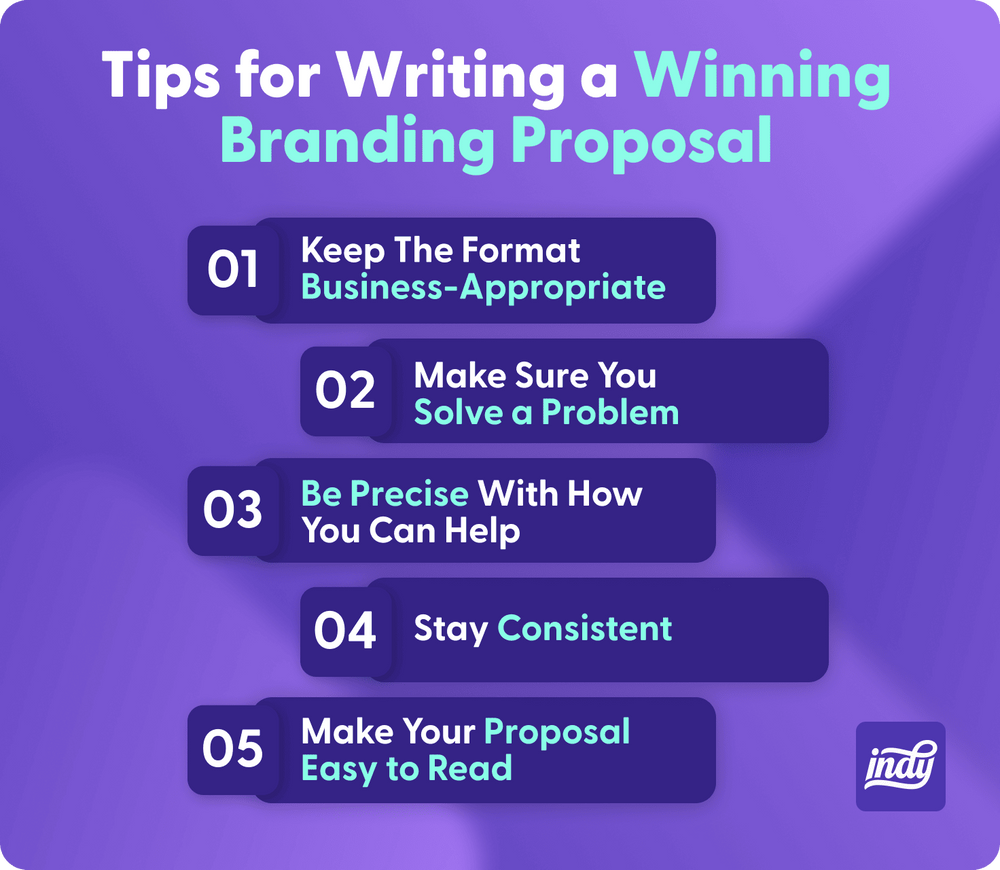 Here are a few tips to keep in mind to ensure you create a winning branding proposal:
1. Keep the format business-appropriate
Like any other business proposal, your branding proposal represents your image, and so it has to demonstrate professionalism. You can look for samples and templates online to understand how to format a branding proposal to make it business-appropriate.
2. Make sure you solve a problem
Do not just spend time talking about how you are good at branding or how you have helped grow your own brand. Instead, your proposal should focus on solving a client's problem.
No matter how good your branding services might be or what you have achieved in the past, customers will only buy if you can show them you are solving problems for them.
3. Be precise with how you can help
Precision is critical when delivering any business message. Many customers will not spend a lot of time reading your proposal as they are just after how you can help with their branding.
Your messaging needs to be brief and to the point so that clients that skim through it can still understand how you can help. Remember that this is also some kind of sales proposal, and so the more precise you are with your messaging, the higher the chances of making the sale.
Sometimes it is also better to present the solution in bullet points by offering different options that the client can choose from depending on their budget and preferences.
4. Stay consistent
The chances are that the prospects will interact with you in several other ways besides the branding proposal you send them. Therefore you need to remain consistent with your messaging across all channels.
Whether you are communicating via email or social media postings, make sure the image you portray remains consistent, as this boosts customer confidence in your business.
5. Make your proposal easy to read
Most clients don't have time to read through everything you write on your proposal template, and they will also lose interest if you give them large blocks of words.
You have to make your proposal easy to ready to allow them to skim through easily. Choose your font wisely, use short paragraphs, subheadings, and bullet points/numbers to structure the content and make it more scannable.
Conclusion
Whether you're creating branding guidelines or an entire branding strategy, a branding proposal is the best way to explain to your prospects that you can help take their brand to the next level.
The proposal helps outline the clients' problems with branding, provides possible solutions, and explains how your company or agency can help.
A branding proposal template will make the task even easier for you and ensure you end up with a better quality proposal that is more likely to win you clients.
But even as you use a proposal template, make sure you get something professional-looking, visually appealing, and highly customizable.
Start building your branding proposals by checking out some of the fantastic templates Indy has to offer!
FAQs
What should you include in a branding pitch?
A branding pitch should include a clear understanding of the client's problem and provide solutions. It covers important topics like branding research strategies and identity design.
Also, the pitch should include timeframes for achieving the different milestones n the project and cost estimates (including discounts and taxes).
What is a rebranding proposal?
A rebranding proposal is similar to a regular branding proposal but with a specific goal of helping a company with rebranding or improving its service offering.
When writing a rebranding proposal, you should show the prospects how you can help them breathe new life into their brand.
How should you send branding proposals to clients?
There are several ways of sending proposals to clients, such as via emails or by sharing a link. Emails look more official and professional, but it is easy for your proposals to end up in the spam folder where the client might never see them.
A secure link to an online folder with the branding proposal is a more efficient and reliable way.
What is the appropriate length of a branding proposal?
When it comes to proposal writing, you have to ensure you deliver the message without boring clients with too many words.
You should do your best to limit the proposal length to around 4 to 5 pages, which should be enough to identify the client's problems, propose solutions and show them how you can help.
Even if you have to write longer than this, your proposal should never go beyond 10 pages.
What are the characteristics of a good branding proposal?
A good branding proposal needs to have everything that your prospects should know to decide whether to use your services or not.
Also, it should not include too much as this will leave your clients feeling bogged with information. Keep it simple, precise, and informative enough with the following sections.
Proposal cover page
Overview and goals
Services scope
Project timeframes
Project cost estimates