If you're reading this, chances are you've just landed a new client! Or you're preparing for when that time comes so you know exactly what to do.
When working with clients, quotes are a professional way to name your price and establish yourself as a viable business option. As a freelancer, it can be easy to get lost in the shuffle of other business proposals, independent contractors, and competitive pricing. Knowing how to send a quote can help you stand out from the other freelancers vying for the same jobs.
What Is a Quote?
Before we get into how to send a quote, let's first get back to basics.
What is a business quote?
A quote, or quotation, is a document (either hard copy or digital) for the customer where a business or sole proprietor describes the goods and services requested of them and provides relevant pricing for each. Most quotes are written and sent in response to an RFP (Request for Proposal) when a client is seeking a clearer idea of whether your services match their needs.
How to Send a Quote
Sending a quotation to your customer sounds like a simple, straightforward task, but it's not as easy as it sounds. There are many mistakes and pitfalls to avoid both when you create and send a quotation to a customer, and unfortunately, any mistakes you make could cost you cash and leads.
The trick lies in knowing exactly what your client needs (i.e. communicating effectively) and tweaking your quotation to outline and meet that need clearly. This means asking the right questions and getting the most informative answers. When writing up a quote, ask yourself the following:
Is the client shopping around?
Did the client send an RFP or RFQ (request for quotation)?
Is the client ready to close the sale/sign the contract?
These questions should help guide you as you evaluate what the client is seeking from you specifically. If your services are one option among many, your quote must also persuade them to choose you over the others. If they're settled on you, have they made what they need abundantly clear? If so, can you meet those needs? Finally, is the client ready to close the sale or are they requesting a quote as part of their research?
Sending a Quotation Email
As much as sending a quotation email relies on understanding the client's needs, it also hinges on selling yourself and your goods and services effectively. As a rule of thumb, ensure that before you send a quotation email, it does the following:
Reiterates, clarifies, and responds to the client's requirements
Ensures each of the client's requests and preferences are factored into the quote
Specifically responds to the client at hand (in other words, tailored it to the client you're talking to now – a generic email may be lackluster and open you up to easily avoidable pitfalls)
Built-in Options: Templates and Management Systems
When you send a quotation to a customer, free online templates and management system suites are great options. These work well for freelancers who want to be as professional as possible, but maybe aren't as tech savvy or don't have the time to be super detailed.
In addition to help with quotations, management systems and suites come with other tools such as invoices, contracts, proposals, and even interactive chats for real-time help and feedback.
For many freelancers, downloading free templates or subscribing to a management suite is a great way to grow business, stay professional, and tie up loose legal ends that would otherwise be missed when writing contracts and proposals.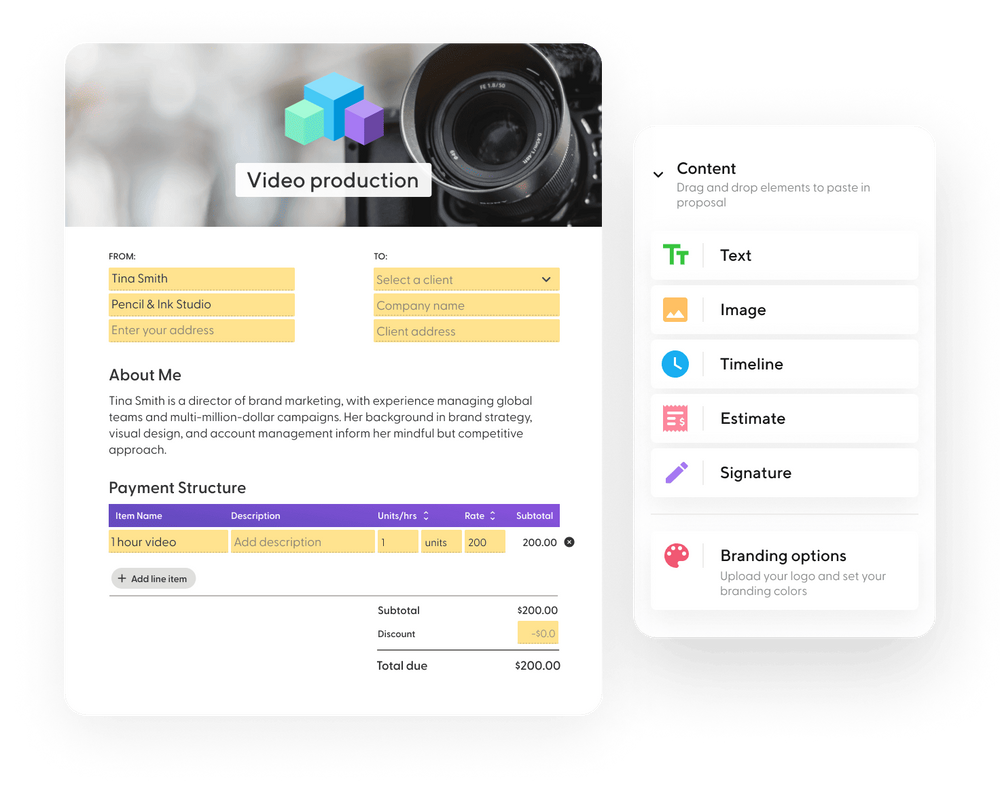 Need a new proposal fast?
Launch a proposal template from Indy to finish your next proposal in just a few minutes. Save your template to reuse it for your next job, too.
Try Indy's Proposals