As a freelancer, you can take out most guesswork relating to project deadlines and commitments using Microsoft Excel. In fact, many freelancers use Excel as a project management tool, particularly because it's free to use and easy to work with.
But can Excel really beat other dedicated project management software?
Let's take a look at Excel as a project management tool, what works and what doesn't, and if it's the perfect fit for you.
Is Excel a project management tool?
While Excel isn't advertised as a project management tool and doesn't have all of the features you'll need for project management, it has many that can make your project management journey easier.
Using tools like Gantt charts and Kanban boards, as well as the multitude of templates offered by Excel, you can manage your projects without running into any problems like delayed projects.
Excel also offers a lot of advantages when it comes to starting projects with a Work Breakdown Structure (WBS) – a deliverable-oriented hierarchical breakdown of large projects.
But will an Excel project tracker suffice, or do you need to purchase software specifically developed for project management? Before you make that choice, here's everything you need to know about Excel project management.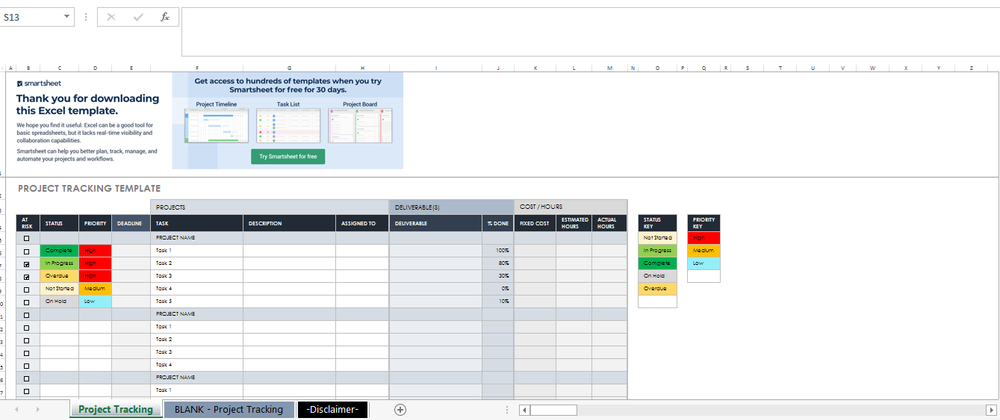 Source:https://www.smartsheet.com/top-project-management-excel-templates
What are the advantages of using Excel to manage projects?
Excel has some critical advantages over other project management software solutions. Here are several benefits of utilizing this project management software:
Simplicity
One of the most appealing features of Excel as a project management tool is its ease of use.
Excel provides many essential tools for project management without the complications that often come with more complicated software. Its ease of use is especially beneficial for small firms and freelancers.
Excel's user-friendliness makes it simple to navigate and run, saving you time when learning and optimizing the application.
Accessibility
As software created for project management frequently has comprehensive capabilities to handle specialized project management tasks, it may be more costly than a simple, generalist application like Excel.
This makes Excel a cost-effective and accessible alternative to more expensive project management software. What's more, many users already have Microsoft Office and can thus easily access the spreadsheet program.
Customizability
There are several ways to personalize your Excel spreadsheets to match your specific requirements.
You can download various free templates to organize your project management data, track budgets and timetables, and publish progress reports.
These templates are simple and offer assistance by providing predesigned functionality and layouts, but they're also configurable, allowing you to tailor them to your specific needs.
When is Excel the best option for your project management needs?
Here are some scenarios in which Excel is the best option for your project management needs:
You're a one-person show
If you're a small contracting firm or freelancer, you don't need a framework offering bells and whistles intended for giant enterprises.
You want something simple
Even the most user-friendly project management software has a learning curve. With Excel, however, you enter your task list, hours, or anything you want to track directly into a spreadsheet, and voila, you're ready to work!
You want to save money
High-quality software can cost hundreds or even thousands of dollars every year. As that money comes from your bottom line, you can save more by using Microsoft Excel.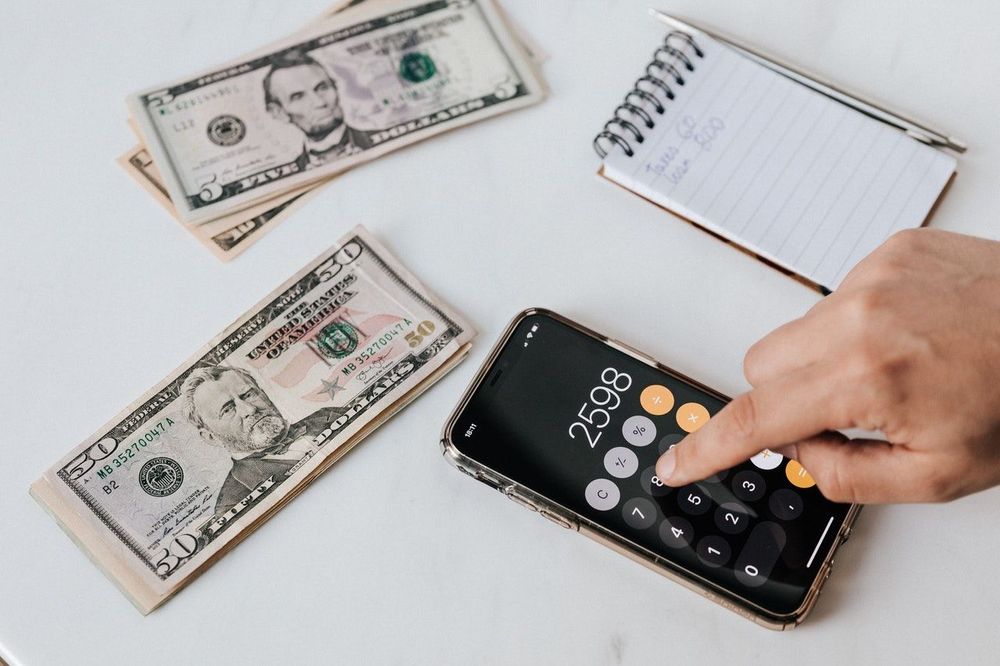 When should you not use Excel for project management?
Excel will struggle to keep up with your business as it grows. Here are a few indicators that show you've reached the point when sophisticated project management software is required:
You have many employees
Project management software becomes more valuable once you have more than five people. It's challenging to manage a business with many moving parts with a spreadsheet.
So, if you find that your projects have outgrown Excel's capabilities, it's time to think about purchasing a complex project management solution.
Calculations are complex
A significant issue with Excel is that even minor data entry errors can result in erroneous results, jeopardizing your project. As computations become more complex, you'll need project management software to automate most of your data entering.
Excel's restrictions irritate you
Excel's main draw is its simplicity rather than its functionality. Graduate from Excel to a specialized software platform if you require extras like task tracking, bid management, design, and other project management tools.
You're making costly errors
If trying to handle everything through Excel leads you to make expensive errors like missing deadlines or procuring the wrong quantities of products, you need more robust project management software.
How to get started with Excel project management
Whether you're working on a small or large project, you'll need a list to get started. You can do this by making a to-do list in Excel, prioritizing tasks you need to complete first, adding tentative deadlines, and keeping it up to date as you progress.
Here's what you need to do to manage a project with Excel:
Create a work plan that outlines the project's objectives and deliverables.
Make a document to plan the process.
Begin by using a project or task management template.
Add tasks and prioritize them accordingly.
Add targets with a start date and a deadline at every point of the project.
Distinguish subtasks from bigger tasks by creating a set of cascading rows.
Determine the duration of each task and set a deadline.
Assign tasks to other team members.
Fill out the sheet and distribute it to the appropriate people.
Invite other management teams to pitch in with setting realistic goals and deadlines. They will feel more responsible and accomplished.
Once you've completed the Excel sheet, start working on your task tracking list to keep track of each phase's development and ensure smooth delivery.
What are Gantt charts?
A Gantt chart is an essential project management tool that can help with the planning and management of projects of all kinds, but it's especially beneficial for simplifying complex tasks.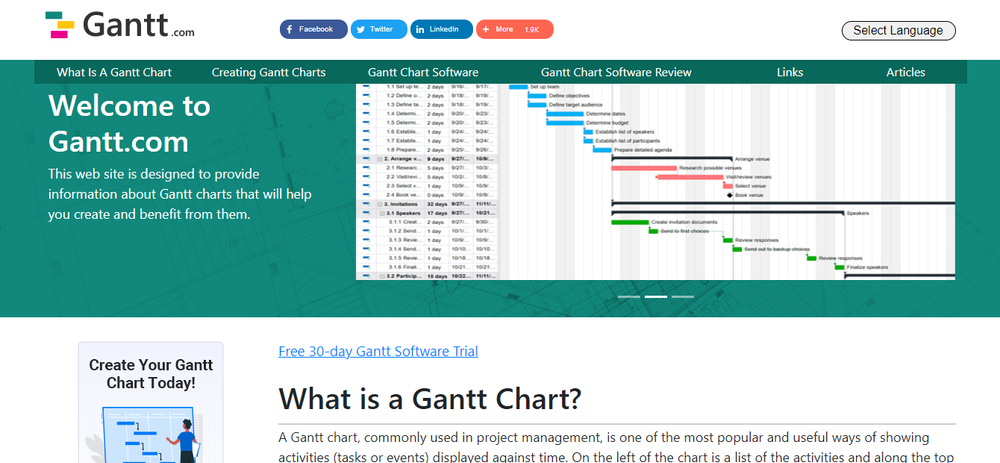 Project timelines and tasks are translated into a horizontal bar (Gantt) chart that displays the starting and finishing dates of a project, as well as dependencies, planning, and deadlines.
The chart may also display how much of the task is accomplished per stage and who is the task author.
When there is a massive team and various stakeholders involved, a Gantt chart might help keep work on schedule.
Can Excel be used for scheduling and planning?
A spreadsheet can also examine project activities and help you design a workflow for completing your assignments.
As some project activities are dependent on the completion of others, a spreadsheet can assist you in planning the scope of a project by prioritizing which assignments to do first and estimating how long the project will take overall.
You can get a critical path tracking template for your spreadsheet. The template produces a visual representation that shows which tasks are vital and which are not. It will help you sort your tasks in order of priority.
The template also includes start and end dates to keep track of your deadlines and make any necessary changes to your schedule.
Although you can create a critical path tracker without using a template, using one creates a visual chart, which may be more practical and comprehensive than making your own.
What are the best Excel templates for project management?
Excel offers several project management templates. Some of them are described below:
Excel sprint project tracker template
Agile programs require meticulous sprint planning and execution. Individuals and managers can use Excel to monitor and coordinate their agile projects and prioritize features to deliver every sprint.
Sprint project tracker spreadsheets typically include the start, end, and length of each task and the percentage of work accomplished. Color codes can also be used to display the status of jobs quickly.
Excel project schedule template
A detailed picture of all the work involved in completing a project is required for effective project management.
Professionals can use project schedule spreadsheets to successfully handle their project by the hour, seeing exactly how much time is left to accomplish a task or whether any work is overdue.
Excel project status report template
Project managers can use Excel to display and track the status of all critical activities included in a project to inform team members, managers, and clients.
Project status spreadsheets keep track of the project's essential deliverables, advancements, dangers, and progress toward achieving each goal.
Excel project management template
All planned work or tasks must be tracked as part of project management. A project monitoring spreadsheet can track how each task progresses concerning the original plan.
All duties, their status, the task owner, percent completion, and the projected versus actual length should be included in the spreadsheet.
Excel milestone tracker template
Projects must be managed according to a schedule. Monitoring the progress of a project by tracking progress toward major events or specific points on a timetable is an intelligent strategy.
Project managers can use an Excel milestone tracker to keep track of their essential deadlines and track their progress against them.
All of the above-mentioned project management templates can be used by freelancers and small firms to achieve their project targets. They can be modified or used as-is.
Why use MS Project vs. Excel?
MS Project includes more built-in tools than Excel for organizing project information such as structure (phases, assignments, milestones, and deliverables), durations (schedules and deadlines), and resources (tasks, commitment, availability, and costs).
However, using MS Project is complex and takes practice, while using Excel is easier in comparison.
Moreover, Excel is versatile enough for a single person or small firm to run a simple project, but MS Projects requires an intensive time investment that most small firms and freelancers aren't able to meet.
The takeaway
Using Excel as a project management tool can save you time and money if you're a freelancer or small business owner – especially if you are unable to spend on expensive project management solutions.
If you haven't tried or thought about Excel as a project management tool, now is your time.
Not only can Excel help you manage your future projects without needing to hire a project manager to navigate its complexities, but it also offers a multitude of templates that you can use to create time trackers, project trackers, or milestone trackers that can help you take your business to the next level.