Whether you send text messages to your mom or give a speech at the Oscars, saying thank you means a lot. In fact, saying please and expressing thanks are some of the first things we are taught as little kids. As a freelancer, taking time to send thank you messages to business partners and clients or customers can be the secret sauce that creates a helpful, supportive network for future work. This can boost customer loyalty and ensure that your valued customer and clients always think of you when they need some help. A loyal customer is a valued customer that you want to keep and wants to keep working with you. Additionally, it's also just a lovely thing to do and makes everyone feel good because seriously, who doesn't love a bit of appreciation?
So, if you have ever wondered how to write professional thank you messages to clients or customers, we've put together a few tips to write a strong, sincere business or company thank you letter.
Getting into the habit of sending a thank you letter can seriously enhance customer satisfaction and ensures that every business project ends on a positive note. It also shows that you take a genuine interest in your clients and customers and can do wonders for a business relationship.
So let's get into the nitty-gritty of writing a brilliant thank you letter.
When Writing a Business Thank You Letter, Make Sure You Say Thank You
This sounds pretty basic, doesn't it? Saying thank you is the whole point of business thank you letters. However, it's actually really important to include the specific phrase "thank you" in your business appreciation letter.
According to research by psychologists, when people say thank you before asking for something else, the recipient is twice as likely to provide further assistance. As a freelancer who is looking to build a business or establish their company, expressing appreciation just makes business sense and sets you apart from those who forget to send these all-important thank you letters. While it might seem like a simple gesture, it can really go a long way in building meaningful and long-lasting business relationships. After all, customer appreciation is one of the main reasons why we remain loyal to our favorite businesses. We all like to feel appreciated and a thank you note is one of the best ways to do so.
Thank you letters are a great way to stay in contact, keep the door open for future work and also create opportunities for referrals. 91 percent of clients say they'd be happy to give referrals, so a few minutes of expressing appreciation can build trust and be a great start to a referral pipeline from a satisfied client or customer. It also keep the communication flow going and they will more than likely be willing to help you out down the line. After all, what can be more important than maintaining a relationship with a valued and loyal customer, or one who always shares positive customer feedback?
Be Specific About Your Thank You Message
Once you get that initial thank you in there, follow up and tell them more about exactly why you're thankful. After you conduct business, add in the specific details that show them why you appreciate their unique effort.
Here are a few best practices of specific examples you might wish to include:
Thank you for our last project together. I enjoyed your organization and attention to detail. I loved the collaboration and feel we could create some fantastic work in future. Working with your team is exactly what successful business means to me.
Thanks for your wonderful communication and support throughout the project. I learned a lot and enjoyed working together with your [company name]. I hope this business can continue on future projects.
This should be a win-win proposition. You're not just thankful for the income they provided; you're thankful that you got to collaborate with them on a project that created results, that got your creative juices flowing, or that made something that will help a lot of people. You also want to touch on the fact that you would love to work together down the line because it is never a bad idea to keep the door open when it comes to future collaborations.
When you're specific, you remind them of the value you helped to create for their organization and the benefits they received from choosing to work with you.
For example: "Your business is really making a difference in XYZ, and I am so glad I was able to play a part in increasing awareness. I'm still excited about that news segment we earned!"
The specifics make clients, customers and collaborators feel important and shows your genuine and authentic appreciation and respect for what they do.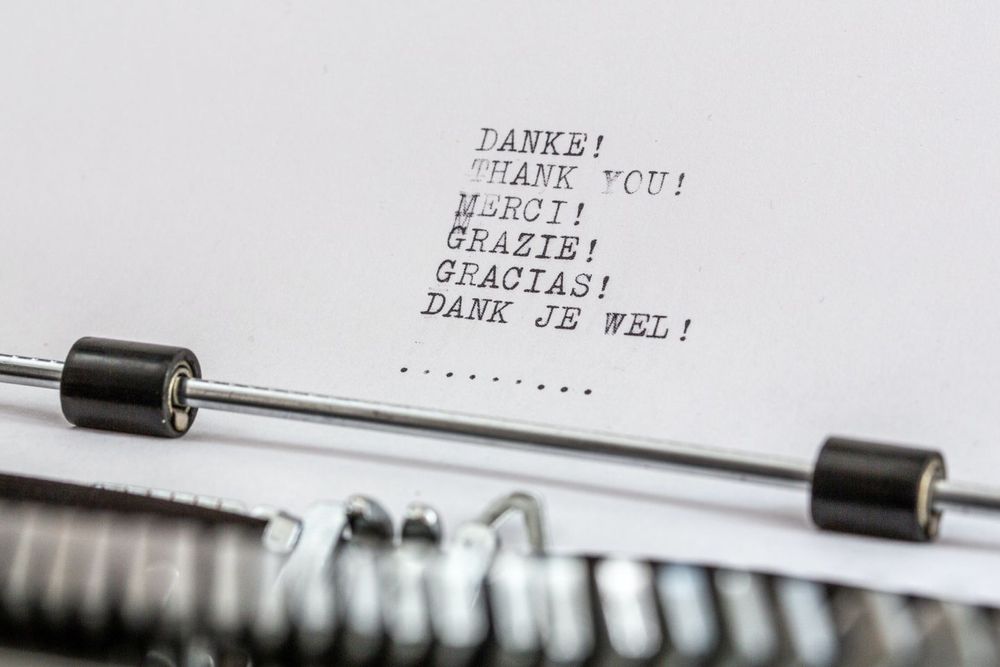 Include a Not-Too-Sales Follow-Up
Your business thank you letter should include the next step, but it should be a soft next step. It doesn't necessarily pitch a hard sell for more business; instead, it sets the stage for the next time you'll come in contact.
Your follow-up can range from offering your own services to finding an additional way to connect. While the concept of following up with a company is a good choice for all business and professional messaging, it can be especially valuable if you're sending a thank you note in appreciation of a networking chat, an interview, or a connection.
For example: "It was a pleasure meeting with you and discussing the opportunities at your business name. I hope we can stay connected and am planning to send you a LinkedIn request. Best Regards." ‍
Always end your follow-up with a proper closing. This shows that you are keen to keep this partnership active and may result in the client or customer thinking of you when future projects arise.
This step keeps the door to future work open and expands your network. If you are a freelancer or small business looking to expand your repertoire these networking strengthening skills are vital.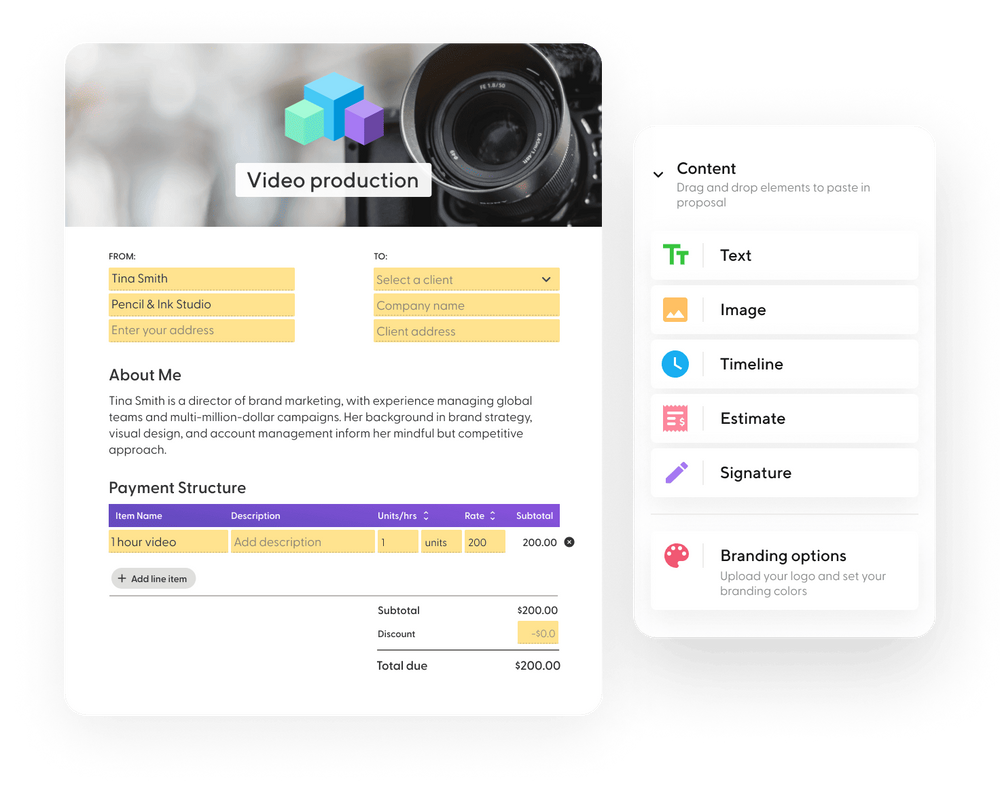 Want to win more clients?
Win more clients with Indy's Proposals tool. Easy-to-use proposal templates help you make the right pitch every time so you turn leads into customers.
Try Indy for free
Remember That "Done is Better than Perfect"
Don't let anything stand in your way when you're working on showing appreciation.
You may worry that you don't have the right words or the just-perfect business stationery embellished with your business name and logo. You may end up pushing your thank you notes to a low priority on your checklist because you have a dozen other necessary items begging for your attention.
The problem is that other things will always get in your way and seem more pressing. A business thank you note that is delayed can end up in no man's land, where you start debating whether it's too late to send and whether you should just skip it this time.
Nonetheless, even if it seems too late, late is definitely better than never. After all, the life of a business owner isn't only about chasing new clients. You want to keep your existing customers happy too. When a company's customers feel valued, the chances of repeat business drastically go up.
So if you are reading this and wishing you had sent a thank you note to a past client or customer, seize the day and send one now.
When you're developing your business processes, go ahead and add "send thank you note" to your task templates or project overview. On a platform like Indy, you can even add this to your online calendar or task checker to ensure that you never miss a thank you message again. Then, it's automatic that you'll tackle it as you start working through your list of daily must-dos.
Some people encourage a handwritten letter, handwritten notes, a handwritten thank you letter, a handwritten thank you note, or even a snail mail thank you note to customers, but a quick and heartfelt email message can be just as powerful. You can even draft a few email templates in advance so you have them waiting and ready to go when needed. And if you're working to invest in and maintain a relationship, an email can be easier to follow up on in the future with a quick reply to the original message. You can even send a text message if you are pressed for time, as long as the message is sincere and shows some specific details as to why you are grateful.
Of course, instead of trying to decide between these types of messages, you could consider doing both. Jot off an email thank you as soon as possible, then, if you have time, add a hand-written card into the equation. Both show you're thoughtful, diligent, and the appropriate person to have on a project or team.
When Should You Send Thank You Letters?
There isn't a rule, and no one is going to be upset over receiving a thank you note. However, there are some times when it just makes sense to say thank you to first time or new customers, valued customers or other professionals.
Here is a short list of those times:
Send thank you letters during your job search after any job interview.
Send a note to say "thank you for choosing our company" to new customers to demonstrate that the customer matters. This will bolster customer loyalty and make new clients and customers feel truly appreciated.
Consider writing a "thank you for making our work so good" note when you finish a project to make the other party feel valued. Thank them for their excellent service as this can lead to future collaboration and future business partnership.
Everyone appreciates a "thank you so much for your payment" message. This shows that you value their business and gratitude that they chose your product or service.
Send loyal customers an "I would like to thank you" thank you letter once or twice a year, maybe even an end of year thank you letter. This highlights your appreciation and keeps communication lines open between all business parties.
Send a thank you message if a business meeting or fellow collaborator inspired you. Even if the meeting didn't result in a tangible project, added insight and knowledge is never wasted. Moreover, it might result in a great professional friendship and knowledge sharing.
All of these are great examples of thanking customers and showing you appreciate them. By doing this you are demonstrating that you are not the wrong person for the job. In fact, your company benefits from the reputation boost and builds long-lasting business connections and contacts.
Sample Thank You Letters for Your Business
Thank you letters can be tricky: finding the right words that are heartfelt but professional. If you've found yourself with writer's block, try these note examples of thank you letters with a personal touch to a customer, vendor, and others to make a positive impact.
Sample Thank You Note to a Prospect After the First Meeting
You have a potential new client or customer and you've made introductions via email or professional chat. Then you have that critical first meeting or phone call to discuss the project and the possibility of working together.
Especially if the client or customer left that meeting saying they'd make their decision and let you know, now is the perfect time for a thank you card. It improves your relationship with the prospect and shows them your professional courtesy, making it even more likely that you'll land the contract.
Try this wording for example:
Subject
Thank you for taking the time to meet with me today.
Message
[Dear prospective client or customer name],
Thank you for taking the time to meet with me today. It was a pleasure to speak with you, and it's always great to meet another football fan [or mention something else you talked about or bonded over as this gives it that extra personal touch].
Thanks again,
[Your name]
Depending on how formal you want your thank you notes to sound, other business appropriate closings you can choose to end your message with are "Best regards" or "Best wishes."
Sample Thank You Letter to a Client or Customer After Project Completion
You've been working with a client on a project, potentially for weeks or months, and you've finally finished the last set of deliverables. After the client has accepted the finished product, a thank you letter written in a professional tone is in order. It's a great way to further improve your client relationship so you're more likely to get future contracts or referrals for other clients or customers from them.
Try this sample wording:
Subject
Thank you for your collaboration throughout the [project]
Message
[Dear client or company name],
I want to thank you for your collaboration throughout the [project]. It's always a great feeling to wrap up another successful project, but you've made the entire process a pleasure. I appreciate your responsiveness and your candid communication, and I'm thrilled that you're as proud of the finished product as I am.
It's been a joy to work with you, and I look forward to staying in touch with you and your company in the future. I hope to revisit this business partnership in the future.
Thank you,
[your name]
Sample Thank You Letter to a Contractor or Vendor
Depending on your freelance specialty and the type of services you offer, you might be hiring or collaborating with vendors, subcontractors, or other freelancers throughout a project. After the client's project is completed, it's a good idea to send those team members a thank you note as a way to maintain a collaborative relationship in the future. Remember, happy clients and customers are those who will come back.
Start with this wording for your thank you letter:
Subject
Thank you for your help with the [project name] project.
Message
[Dear Vendor name],
Thank you for your help with the [project name] project. It sounds like [client] is thrilled with the finished product. I'm so proud of the work we provided, and I hope you are as well!
It's been a pleasure to work with you. I appreciated your expertise and your responsiveness throughout the project, and I hope to work with you again in the future.
Thanks again,
[your name]
Sample Thank You Letter for a Referral
When it comes to getting new business, a freelancer's best tool is doing great work in the first place because it leads to referrals. When a client, colleague, or other members of your professional network sends a new prospect your way, it's well worth your time to write a thank you letter. Try this wording on for size when you are looking to express gratitude:
Subject
Thank you for recommending me!
Message
[Referrer's name],
I just had a great conversation with [prospect], and I was so glad to hear that you had told them about my work. Thank you for recommending me!
As you might know, it's a competitive world out there for freelancers. It's so helpful when I speak with prospects who already have a positive recommendation, and I'm honored that you thought highly of me enough to give [prospect] my name.
Thank you again,
[your name]
Mastering Thank You Notes: Advanced Tips
What can you do when sending a thank you note to make your message even more memorable? Here are three advanced tips to help you really impress your customer, or customers.
Consider handwritten letters or thank you notes. The recipient of a handwritten thank you letter will always feel impressed. How can you fit in the time to make handwritten thank you notes? Simple: create a template and only write a line or two. So, print some gorgeous thank your cards and then add a single line or two to each one to show your genuine gratitude to your customer. A simple handwritten note can certainly go a long way. I mean, who doesn't want to receive thank you notes in the mail, especially if they are your first time customer?
Make time for a "Thank you email subject line" session. Block out thirty or sixty minutes in your calendar to come up with some ideas for subject lines. Relax with a cup of coffee and try to write 6-12 good examples. Then you can use these when it's time to send more messages, or come up with more ideas for further thank you notes.
Go beyond the company or business name. Use your contact management software to add personal thank you notes to your files about each customer. Then you can start letters with "Dear Mr." or "Dear Mrs." or whatever other "Dear..." is appropriate. Adding any other personal information (while avoiding being creepy) is also very useful and can enhance your rapport, especially if you remember personal anecdotes or conversations.
These advanced tips can help you develop an even better professional relationship with your whole team and both clients and customers. Adding that extra bit of value will show them how much you appreciate the work, the relationship, the continued patronage, and the support.
Whatever your business means, whether you run a multi-national corporation or you are a solopreneur, a little thank you can go a long way.
For added professionalism, explore project management software like Indy. The one-stop solution is perfect for solopreneurs and small businesses to ensure that every aspect of their business runs smoothly.
Access vital tools to help your business shine with professionalism including invoice templates and generator, contract and proposal templates, an online chat feature to communicate with clients, customers and collaborators, and space to upload files and forms. Moreover track time and various project tasks to ensure that every project is conducted with absolute precision.
Bringing It All Together
If given a short survey to complete, most people would welcome the idea of getting a thank you letter for their time. The best business thank you letter is one that's heartfelt and that creates a stronger, more lasting connection between you and your client. What's more? These efforts help your business build customer loyalty which often leads to repeat business.
It really is the thought that counts and that will make your business thank you stand out, regardless of the exact words you choose to express yourself. Whether you send a handwritten note, a text message, or an email, a thank you is bound to strengthen professional communication and your relationships with your clients and customers.
A thank you might seem simple, but an attitude of gratitude is certainly one of the best ways to show customer appreciation. And remember, happy customers will always return.