Excellent executive summaries are essential for pitching to businesses for funding. You want to draw people in and give a perfect overview of your business plan or proposal while capturing the reader's attention.
Today, we'll look at some real-world executive summary examples and provide you with a generic template you can use to get started on writing your own executive summary.
What is an executive summary?
An executive summary is a brief overview at the beginning of a business plan or project proposal that provides a complete overview of the document. They're essential for giving people a snapshot of your idea. It's the elevator pitch in business.
Writing an executive summary should be done last. It's like the blurb of a book. You wouldn't write it before starting the first chapter because it's meant to provide an overview of what's inside. They can be changed and amended as you go and are intended to be short and compelling. You want to entice the reader to learn more about your business or project, and you need to use persuasive language to get them on board.
Tips for writing an effective executive summary
When writing a compelling business summary, every word is crucial, as is the structure of your layout. You want to break it up into easy-to-read chunks. If you can, provide graphs and lists. The more data you have behind you, the more weight your arguments will carry.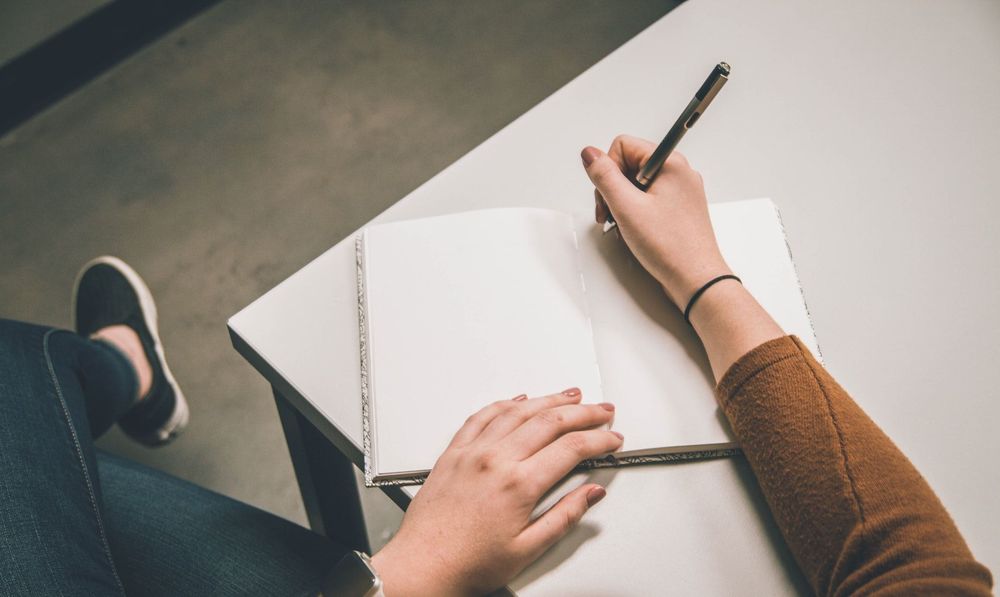 Start with the problem
Your executive summary should always begin with naming the problem your business has identified. When putting forward a business plan, this could be discussing the market opportunity your business plans to fill. When encouraging investors, you need to use a solid argument to explain why this is a genuine problem.
Follow up with the solution
As soon as you've discussed the problem, you'll quickly follow up with how you intend to resolve it. Make your writing jump off the page. You want to entice people and capture the reader's attention. Use data to strengthen your arguments for why your solution will help.
Use compelling language
Throughout your executive summary, you want to use persuasive language that will convince the reader your small business is worth investing in. It doesn't matter who you're pitching to. The end result is usually that you'll be receiving funds. It's all about selling, except you're selling yourself and your company in this instance.
Be concise
The executive summary should be a short document that is ideally only one page. It can be two at a stretch, but readers will lose interest if it's any longer. When writing a short document like this, you want to ensure every sentence has a punch which is essential when conveying your message. Every word counts.
Don't use jargon
Every industry is filled with complicated acronyms and business jargon. You don't want to include it in your executive summary. Unless you're with project stakeholders, you'll be communicating with people outside of your industry, and they might not understand all the technical jargon. You want to translate it into something that someone who has no prior knowledge of your industry can understand.
Add in colorful graphs and lists
To keep readers engaged, you can add graphs and charts to demonstrate your arguments. They are an excellent way to convey lots of information in an easy-to-digest form. If you've completed some customer feedback and have some statistics to show, you can do this via a bar graph or a pie chart.
Be clear
There is no room for you to be vague when writing a good executive summary. It would help if you considered the reader's questions about your business and the project. It could be: How long has your company been in operation? What successes have you had? Who runs the business? Who is the target market?
Take the time to think about any questions people may have as they read, and endeavor to answer them in your short executive summary.
Proofread
The last thing you want your executive summary to have is grammatical or spelling mistakes. Do a thorough proofread of your full business plan when you're finished to ensure there aren't any errors. If you want to be doubly sure, there are some tools available that will check your spelling and grammar for you.
What does an executive summary look like?
If you've never written an executive summary before, it can be challenging to picture what one looks like without seeing one. So we've put together some examples for you to see what an executive summary should look like.
New product launch executive summary example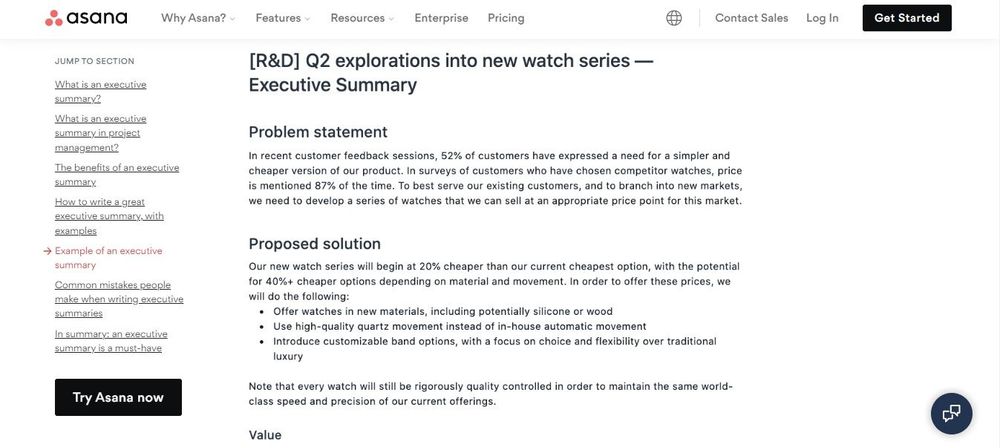 Source: https://asana.com/resources/executive-summary-examples
This example covers a company introducing a new product as part of an identified market opportunity. As you can see, they've launched straight into their problem with a data-backed statement. Providing data strengthens the argument, allowing the reader to understand why they've decided to launch their new product.
Next, they lead into their proposed plan to resolve their issue. They follow with how the new product will add value. Their value statement also provides projections of monetary benefits to the firm. They've also addressed any concerns regarding the brand's value by providing more information from the customer feedback sessions. At the end, they give more documentation for people to explore their marketing strategy and view the customer feedback documents.
This is a perfect layout for a compelling executive summary for a new product launch. It's no longer than a page and keeps the reader engaged and interested. They highlighted their key points without using complicated business jargon. They've provided a quick overview and given project stakeholders the option to get more information by providing additional documentation.
Project proposal executive summary example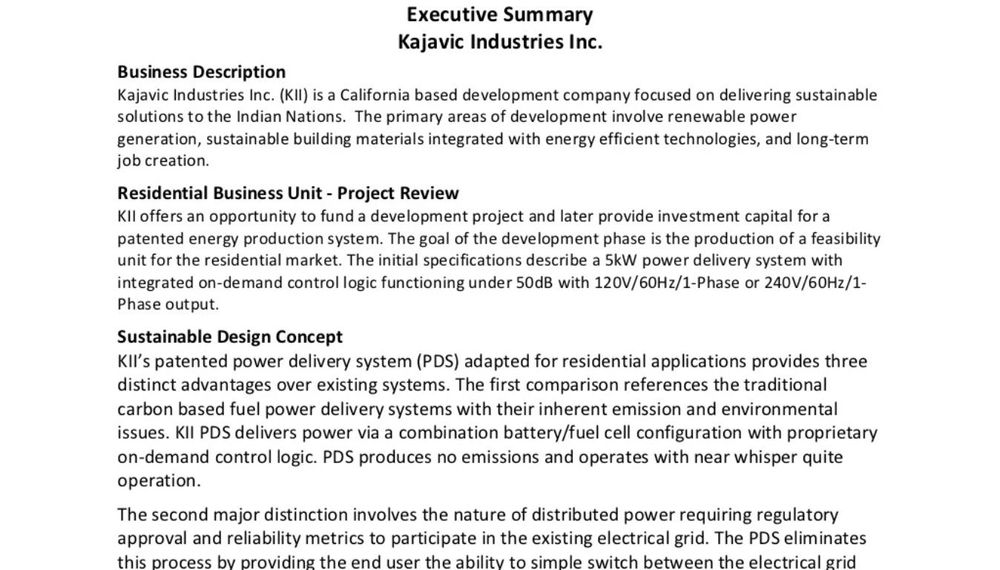 Source: https://www.slideshare.net/ExecutivePlan/executive-summary-example-kajavic-industries
This project proposal executive summary is for a prospective investor to get an overview of an investment opportunity with the company. It's a well-laid project overview, broken up into sections, and covers all the key points for current investors. They outline the project goals and provide a realistic timeline for their project plan.
They cover all the major points, referencing the value of the project to the end-users, and provide investment financial projections. When you're writing an effective executive summary, you should always be clear about the value of your project and why it'll benefit people.
Business plan executive summary example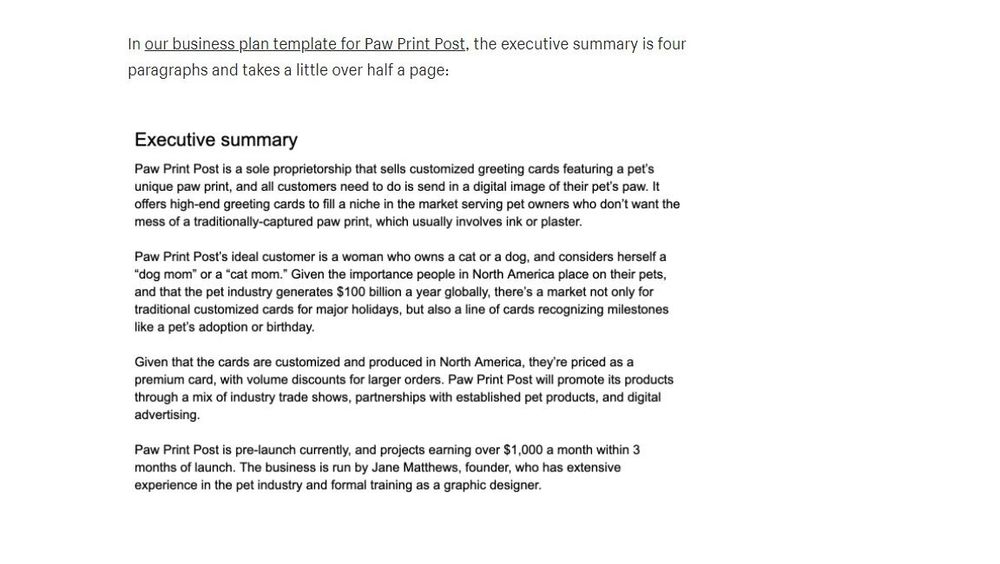 Source: https://www.shopify.co.uk/blog/business-plan-examples
This startup executive summary is even shorter than the last, providing an elevator pitch of this business. They discuss their ideal customer, providing a customer profile, which is essential in any marketing plan. They've identified their target audience straight away and given evidence to support the necessity for their business model.
They've followed up with their own qualifications and given an overview of relevant financial information. This executive summary would go as part of a complete business plan, allowing the reader to learn more when they read the rest of the documentation.
While this is a good short executive summary, the language could be more compelling and persuasive to capture the readers' interest. It's matter-of-fact and is only a few paragraphs, making it perfect for the front of a business plan.
Resume executive summary example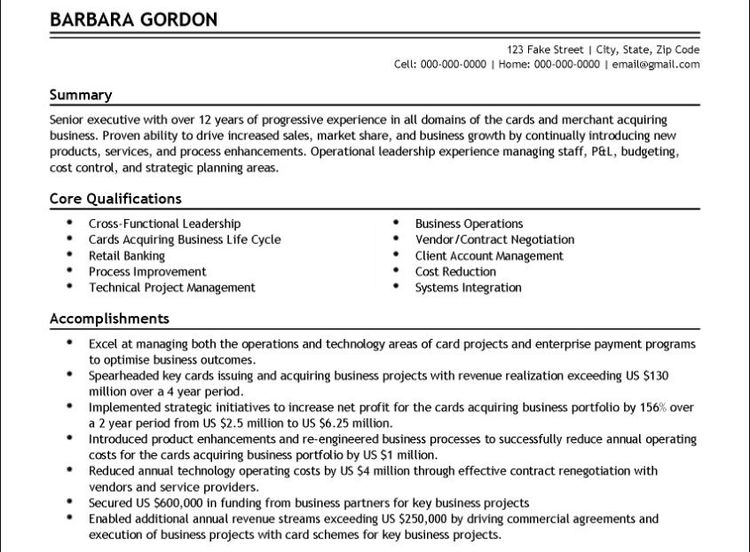 Source: https://www.myperfectresume.com/wp-content/uploads/2021/11/corporate-banking-executive-resume-example.png
This is a different form of an executive summary but another essential one. A resume executive summary is a small snapshot at the top of your resume to provide an overview of your background and skills. You've got to sell yourself and why you're suitable for the job in a couple of short paragraphs.
Unlike a business plan, a resume executive summary should not be one page. You don't want it to be any longer than a few paragraphs, and ideally, it would only be one. You need to provide a perfect explanation for your relevant skills and experience and how they apply to the job. It would be best to tailor it to every job application you do.
What to include in an executive summary
Now let's go through what to include in different executive summaries. We'll give you a helpful template you can follow when writing your opening statement to ensure you hit all the important points to get prospective investors to back your business.
Components of a business plan executive summary
Business plan executive summaries should provide an excellent overview of the gap in the market your business will fill, your identified target market, your business hopes, and a financial overview of how you intend to perform. It should be concise and to the point, with persuasive language to convince readers you're worth investing in. If you're unsure of how to proceed, you can use templates.
It's the snapshot of your full business plan that readers will have before they dive into the overall business plan. It should be no longer than one page. Let's look at the different sections you should have and the information to provide in each part.
Company mission statement
In the company mission statement, you want to provide information about your business's purpose. What are the business hopes? What gap have you identified in the market?
It should be no longer than a paragraph or two, and you can use statistics and data to demonstrate your point. Avoid too much detail. Remember, this is just a summary.
Company overview
Provide a brief overview of your company. You want to outline the name of your business, when it was established, and any achievements you've had. You can discuss your products or services here but only in a couple of sentences.
Business bullet points
Provide a shortlist of key points about your company. You could discuss revenue, customer numbers, market share, and profitability. Keep it short and engaging for the reader. You don't want more than five bullet points.
Future of company
Discuss the prospects for your company based on the investment you're looking for. You can provide expectations on how you expect market share to increase. Run through any new product lines you intend to introduce and your future goals.
Financial overview
You can project finances across the next three years for the financial overview. This is where you want to sell the profitability of your business. If you're asking prospective or current investors to give you money, how will they benefit from that? Use data and graphs to provide a three-year financial plan for your business. But remember to keep it short.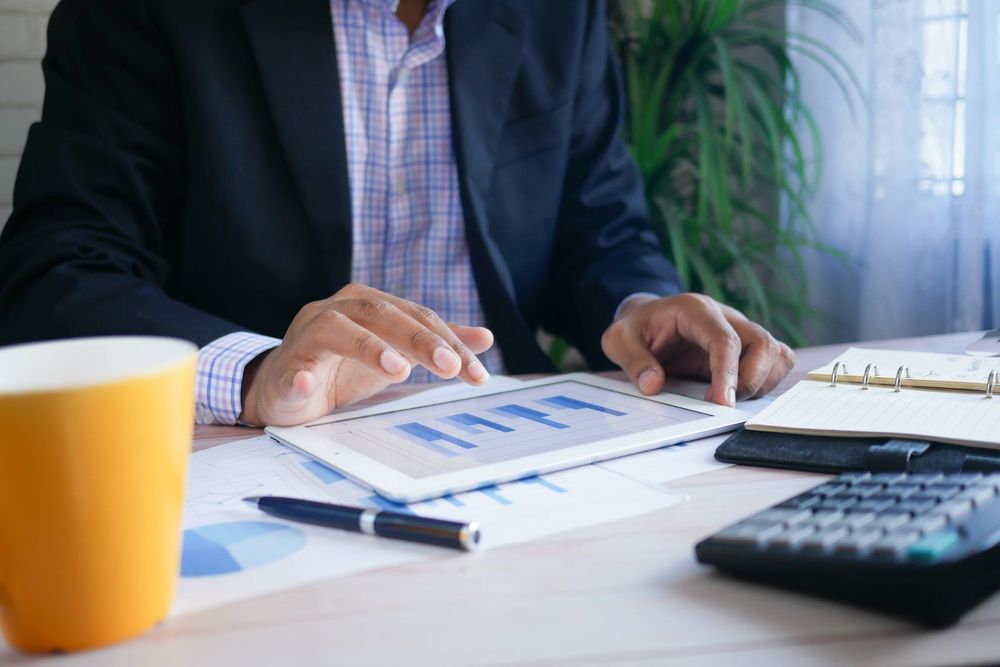 Conclusion of a business plan
It's your final paragraph to sell your plan to any readers. The conclusion should be persuasive and convincing. But it should also entice people to read the full business plan and explore the rest of your document.
Components of a project proposal executive summary
When writing a good executive summary for a project proposal, you should be clear about why the project matters. It could be introducing a new line of products or providing a brand new service, but you need to outline why the project is necessary and discuss the project management. Much like the business plan, you don't want this executive summary to be any longer than a page. It should be effective while being succinct.
Problem
Open your proposal executive summaries by identifying a problem. This could be an issue in the market where there isn't a product that has high customer demand. The challenge could be something current project stakeholders have identified as an issue.
You can provide statistics from customer feedback sessions to bolster the argument and make it more convincing.
Solution
Now you've told them what the issue is. You'll need to follow it up by offering a helpful solution. When stating how you're going to resolve the problem, outline all the key points and steps in your plan. You need to demonstrate you've thought about all aspects of the resolution.
Overview to company
At this point, you can describe the company's market share and what impact resolving this problem could have on the company. If there are any concerns you expect project stakeholders to have, mention these and alleviate them. It could be that they are concerned tapping into a new market will diminish the exclusivity of their customer base - you could provide customer feedback data to quash their fears.
To get people on board, you can also cover how you've solved similar issues in the past.
Unique value proposition
A good executive summary should consistently demonstrate your new project's value to your customer base. You can also outline the value offered to project stakeholders and investors and how it will positively impact the business. Ideally, your company will be offering something unique that other companies don't.
Financial projections
This should be a short section, no longer than a few paragraphs, that sets out the financial benefits of the new project. If you work for a third sector organization, there may be no financial implications, and you can leave this section out.
Conclusion of a project proposal
This snappy conclusion should keep readers engaged and bring them fully on board with the project. It should finish strongly, and you can summarize the information you've already provided in the executive summary. You want to convince them with a few final sentences.
Example executive summary templates
While we've gone through the important sections in an executive summary, it can be beneficial to see how these are laid out on the actual document. So, we've attached some additional example executive summary templates for you to get an idea of how to structure yours.
Business plan executive summary template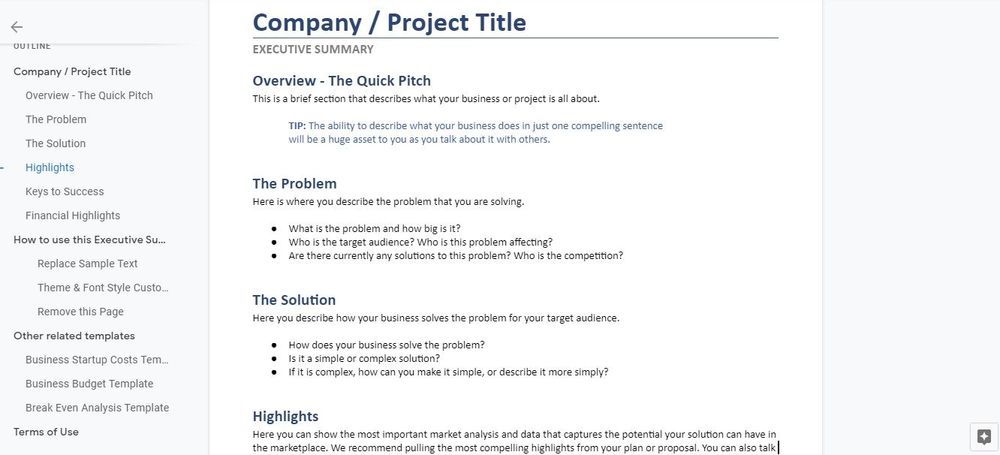 Source: https://www.vertex42.com/WordTemplates/executive-summary.html
Graphs and bullet-point lists are an excellent way to quickly convey lots of information in a way that is easier to read for the prospective investor. This template is suitable for an investment proposal or a business plan executive summary. It provides the elevator pitch for the company and provides you with all the key points and questions you want to cover.
When you're writing an executive summary for a full business plan, you'll want to outline your identified market opportunity. You'll also want to outline your target market and provide financial projections. This shows potential partners that you've thought about the relevant financial information.
You should have thought about all aspects of the business by this point and be able to discuss it seamlessly across the entire document. When marketing your business to investors, you always need to convey the benefit to them. An investor won't give you any money if they don't think they will make it back.
Startup executive summary template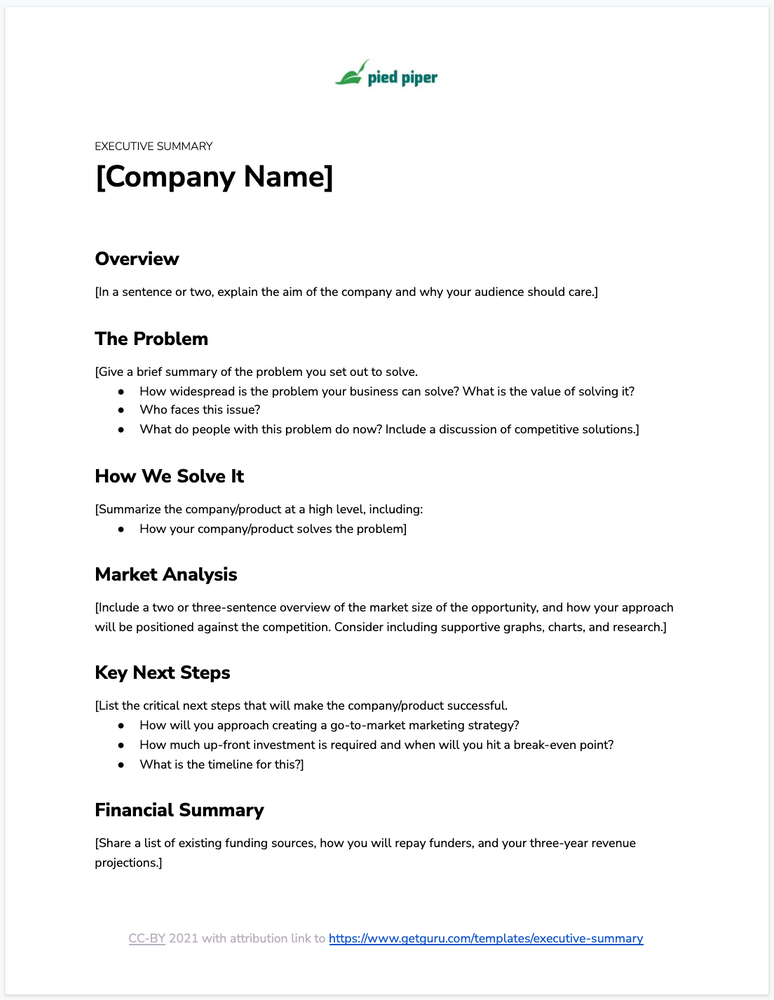 Source: https://www.getguru.com/templates/executive-summary
This is a perfect template for a small business just starting. It is a clear overview of identifying a problem, discussing the target audience, and outlining financial projections. If you follow this template when writing an executive summary, you can't go wrong.
Remember to use data to reinforce your arguments. People will respond to statistics and surveys. Remember to only focus on the important points. People can read the overall business plan to get more detail. If you want to use bullet points, you can. This is only the opening statement for readers to understand what your small business is all about.
The bottom line
We've given you all the tools to write a great executive summary in this article. When writing an executive summary, remember that it should be concise and engaging. It's a brief synopsis of your business plan, not everything. It should be no longer than one or two pages. Don't fill the page with complicated jargon. Keep things simple. You can add graphs and bullet points to make the content stand out and capture the reader's interest. Remember, you're selling yourself and your company.
Using the templates we've provided you with, you should be able to write a good executive summary that is sure to get you some extra investment or funding. And don't forget to use data, too! Write the executive summary last. The entire document should be completed before you begin.
Good luck creating your own executive summary.
Looking to win clients over? Indy makes it easy for freelancers to generate and send custom proposals to clients in minutes.